LA RAZA SUPREMACIST BACA HAS LONG STATED THE LAWS DID NOT APPLY TO HIS ILLEGALS IN MEX GANG INFESTED LOS ANGELES COUNTY. THIS IS A COUNTY THAT HANDS MEXICAN ANCHOR BABY BREEDERS MORE THAN A BILLION PER YEAR IN WELFARE AND CELEBRATES AN UNDERGROUND TAX FREE MEXICAN ECONOMY ESTIMATED TO BE IN EXCESS OF $2 BILLION PER YEAR!
"Law enforcement officers in Los Angeles County kill an average of one person per week. A 2014 report by the Los Angeles Youth Justice Coalition documented the deaths of at least 589 people since the year 2000."
Former Los Angeles County sheriff pleads guilty in jail scandal
Former Los Angeles County sheriff pleads guilty in jail scandal
By Tom Carter
13 February 2016
Former Los Angeles County Sheriff Lee Baca pled guilty on Wednesday to allegations that he lied during a federal investigation into the abuse of inmates in the massive Los Angeles jail system. Under the plea agreement he may be sentenced to no more than six months in custody.
The Los Angeles Sheriff's Department (LASD) is the largest in a country. Bloated with "war on terror" funding, it enjoys a $2.5 billion budget and employs 18,000 officers and other personnel. The Los Angeles jail system has a reputation for being one of most brutal and overcrowded in the country.
The ongoing federal investigation into conditions in the jails reveals levels of corruption and gangsterism that would make an old-fashioned mafia don blush.
While the media promotes the police as "America's finest," in reality the country's law enforcement agencies function essentially as organized criminal enterprises, where murder, mayhem and perjury are standard operating procedure.
The federal investigation has its origins in a lawsuit filed by the American Civil Liberties Union in 1975, which documented inhuman conditions in the jails and resulted in closer federal oversight. In September 2011, the ACLU submitted 70 sworn declarations in court, which described an ongoing "reign of terror," with guards beating, torturing and humiliating inmates with impunity.
Subsequently, the Federal Bureau of Investigation (FBI) recruited a prisoner to be a confidential informant. This informant was able to bribe a prison guard with $1,500 to obtain a cell phone, which he used to provide information to the FBI. When prison guards discovered the cellphone, they caused the inmate to "disappear" in order to prevent the FBI from meeting with him. A sordid game of hide-and-seek followed, during which the LASD secretly moved the inmate from place to place while the FBI tried to locate him.
In one of the most outrageous moments of the investigation, LASD deputies turned up at the home of an FBI agent and tried to intimidate and threaten her. The FBI responded by arresting the deputies.
Baca's guilty plea "demonstrates that the illegal behavior in the Sheriff's Department went to the very top of this organization," federal prosecutor Eileen Decker said. "More importantly, it illustrates that those who foster and then try to hide a corrupt culture will be held accountable."
"During this interview, Sheriff Baca lied," Decker continued. "He lied when he stated that he did not know that members of the Sheriff's Department had approached an FBI agent outside her home, and he lied when he stated he was unaware of efforts within the Sheriff's Department to keep the FBI informant away from the FBI."
In the final analysis, the prosecution of Baca likely had more to do with a turf war between the FBI and the LASD than the decades of LASD corruption and brutality. However, the episode provides a rare glimpse into the real conditions inside American law enforcement agencies, behind the puffed-up image promoted by Hollywood television dramas and the establishment media.
Hailed as a "reformer" and champion of progressive "community policing," Baca held the position of sheriff from 1998 to 2014. In 2013, he was named "Sheriff of the Year" by the National Sheriffs' Association, which represents about 2,700 sheriffs' departments throughout the country.
In naming Baca "Sheriff of the Year," Fred Wilson, the director of operations for the National Association of Sheriffs, said the award "looks at what the sheriff has done in their community but also what the sheriff has done to advance the office of sheriff nationally. Sheriff Baca certainly embodies that. He is an exemplary sheriff."
Baca was elected in 1998 when his opponent, the incumbent Sheriff Sherman Block, died shortly before the election. Under Block's administration, violent criminal gangs flourished within the Los Angeles Sheriff's Department, including, in perhaps the most infamous case, the "Lynwood Vikings," which a federal district judge labeled a "neo-Nazi, white-supremacist gang." Baca failed to curtail the gangs, and even promoted Paul Tanaka, who founded the Vikings as a watch lieutenant in Lynwood, to the rank of Undersheriff.
Tanaka is presently under federal indictment, and Baca may be called as a witness to testify against his former second in command.
New deputy gangs emerged during Baca's tenure, including the Jump Out Boys, exposed in 2012 as a secret society of deputy sheriffs who awarded themselves morbid tattoos to "celebrate" shooting civilians.
A recruiting pamphlet for the Jump Out Boys reads, "We are alpha dogs who think and act like the wolf, but never become the wolf," and "We are not afraid to get our hands dirty without any disgrace, dishonor or hesitation ... sometimes (members) need to do the things they don't want to in order to get where they want to be."
Frederick Engels described the police as belonging to the category of "special bodies of armed men" that constitute the coercive power of the state, the essential function of which are to uphold the capitalist system by force. "This public power exists in every state," Engels explained; "it consists not merely of armed men but also of material adjuncts, prisons and institutions of coercion of all kinds." The essential function of the police in capitalist society remains the same in the 21st century.
As social tensions rise, the police in American cities—armed to the teeth, militarized, dehumanized, and steeped in a thuggish culture that celebrates brutality—are poised to unleash violence against the population at the slightest provocation. This is why the capitalist political establishment, behind public displays of handwringing, is unwilling and unable to undertake any substantial measures to stem the tide of police violence.
Law enforcement officers in Los Angeles County kill an average of one person per week. A 2014 report by the Los Angeles Youth Justice Coalition documented the deaths of at least 589 people since the year 2000.
One of those deaths, by way of example, was Carlos Oliva Sola, who was shot by LASD deputies Nicolas Castellanos and Anthony Forlano in September 2013. It subsequently emerged that this represented Forlano's seventh shooting. The 23-year-old's family alleged that the police planted a gun at the scene in order to try to cover up the shooting. An eyewitness reported that the youth had said, "No! No!" in a tearful voice before he was shot in the back.
A well-known phrase employed by LASD when an unarmed person is shot is that the person was "reaching for his waistband," as if reaching for a gun, thus supposedly justifying the shooting. According to a 2011 study, almost half the people LASD sheriff's deputies shot at after they allegedly "reached toward their waistbands" were unarmed.
Baca is a prominent and well-connected figure in the military-intelligence-political apparatus. In 2010, he testified before the Subcommittee on Intelligence, Information Sharing, And Terrorism Risk Assessment of the Committee on Homeland Security in the House of Representatives, then controlled by the Democratic Party.
Most of Baca's testimony was dedicated to the importance of establishing networks of informants to detect "radicalization," a subject in which he claimed to be an expert. "To maintain a safe and free society of terrorist attacks, police need to establish public-trust policing techniques that lead to appropriate channels of communication and participation by the public," Baca said.
Baca returned to the theme in a statement in 2011. "All of these agencies recognize that you cannot arrest or enforce your way out of the radicalization issue. Outreach to community members and the building of relationships will lead to a trusted network for sharing of information and contacts. These relationships are crucial to mitigate a threat, or more importantly, recognize the threat at a stage where a person, or a group, on the wrong path can be righted."
The sheriff in neighboring Orange County, Mike Carona, was indicted on corruption charges in 2007, together with his wife and his alleged longtime mistress. He resigned in 2008 and was convicted on one count of witness tampering. He was sentenced to 66 months in prison, but actually served four years.
Baca resigned as Sheriff in January 2014. According to
The Los Angeles Times
, Baca's guilty plea will not affect his $328,000 annual pension.
THE ENTIRE REASON BEHIND AMNESTY IS TO KEEP WAGES DEPRESSED, BUILD THE DEMOCRAT PARTY'S LA RAZA SUPREMACY PARTY BASE, AND DESTROY THE GOP SO THE BANKSTER-FUNDED DEMS ESTABLISH A ONE PARTY GOVERNMENT FOR THE 1%,
"She said she still gets angry with employers and their lobbyist enablers who are "all about lining their pockets, making money off this free and cheap labor."
Rodney Johnson's widow, Houston police officer Joslyn Johnson.
After Deportation, Killer Returned Easily to U.S.
http://www.texastribune.org/2016/02/11/quintero-case-was-poster-child-porous-border/?utm_source=texastribune.org&utm_medium=rss&utm_campaign=Tribune%20Feed:%20The%20Texas%20Tribune%20Sections&mc_cid=4aa569677d&mc_eid=3ccf90ee68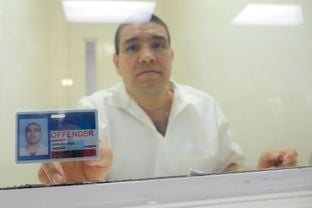 The Texas Tribune is taking a yearlong look at the issues of border security and immigration, reporting on the reality and rhetoric around these topics. Sign up to get story alerts.
IOWA PARK — Before Kate Steinle was murdered in San Francisco by a homeless immigrant with five deportations and multiple drug convictions on his record.
Before Gov. Greg Abbott
threatened
to punish Texas sheriffs who don't toe the line on enforcing federal immigration laws.
Before Donald Trump began bragging about plans to build a border wall to keep out foreign lawbreakers.
Before all that, there was the case of Juan Leonardo Quintero.
For several years, Quintero was a poster child for the perils of loose border enforcement that allowed deported immigrants with criminal records to return to the United States — and the state and local policies that helped them escape detection once they got back.
In 2006, Quintero shot and killed Houston police officer Rodney Johnson after a routine traffic stop. The case generated headlines and calls for reform throughout Quintero's trial and capital murder conviction in 2008.
Interest flared up again in 2009 after the arrest and guilty plea of the landscaper who hired Quintero. And, perhaps most famously, the case sparked a raging controversy in the 2010 race for Texas governor, when the undocumented immigrant was portrayed as a Willie Horton figure — a dangerous criminal whose misdeeds might have been prevented if only some politician had done things differently.
History faded from the front pages, and today Quintero is quietly serving out a life sentence in a maximum-security prison near Wichita Falls.
In a recent jailhouse interview with The Texas Tribune, Quintero said he's still surprised at how easily he could return to the United States and resume work after being deported for sexually assaulting a 12-year-old girl.
"
When they deported me, they just forgot about everything — that I had a driver's license or whatever I had," he said in fluent but heavily accented English. "They should be more ... I don't know a word for that — pay more attention to everything they were supposed to have."
Johnson's widow, Houston police officer Joslyn Johnson, told the Tribune she feels genuinely sorry for undocumented immigrants who just want to work and get ahead but remains angry that federal, state and local agencies still have no way of keeping out
— or keeping up with — men like the one who killed her husband.
"I do believe that most immigrants are law-abiding, hardworking people," she said. "Unfortunately, the few criminal ones that we don't know about — that's the whole problem ... we don't know if they're criminals because we don't know who's here."
On to Houston
Unlike many undocumented immigrants who cross the southern border, Quintero, 42, has no searing memories of deprivation or tales of difficult passage north in search of a better life.
Life wasn't all that bad in Celaya, Guanajuato state, in central Mexico, he said. His parents had a two-story house and he briefly attended college before dropping out to try his luck and enjoy some of that "freedom" in the United States he heard about.
Once here, keeping authorities guessing about his true identity became a way of life, Quintero said.
"When we don't have no papers, we can give you different names," he said from behind the thick glass of a visiting booth at the Allred Unit. "I never got no cars in my name, no credit cards. Nothing in my name. I didn't even get it in my driver's license."
The first time he crossed, in 1994, he paid a coyote about $350 — a tenth or less of the
estimated price
these days — to ferry him to McAllen, Texas, crossing at Matamoros, and then, at the coyote's suggestion, it was on to Houston, he says.
"What I was thinking is, I get there, stay a year, couple years. Keep going north. I was planning all the way to Canada, Alaska, stuff like that. But I didn't make it," Quintero said. "I got stuck in Houston."
It didn't take him long to get in trouble. By his count he was "picked up about nine, 10 times" during his first five years in Houston, but there are only four criminal charges on his official record during the period. He was arrested for drunk driving and for failing to stop and give information after an accident in 1995, then driving with a suspended license a year later.
In 1998 he faced far more serious charges — indecency with a 12-year-old girl. Years after the incident she said Quintero, who admitted drinking 18 beers that day, grabbed her breast three times, the Houston Chronicle
reported
in 2006. In the Tribune interview, Quintero denied touching the girl inappropriately and faulted his attorney for talking him into pleading guilty in exchange for deferred adjudication.
He said his lawyers told him he would get probation but failed to mention federal immigration officials might be notified of his plea and, if so, would likely deport him. Sure enough, in April 1999, immigration agents surprised Quintero at his probation meeting and took him into custody. He was deported to Mexico in May.
As it turned out, Quintero was sorely missed back in Houston, where he worked for Camp Landscaping in suburban Deer Park. The owner, Robert Camp, had already posted the $10,000 bond to free his worker from jail when he was charged with indecency with a child, federal records indicate. After he was deported, Quintero said, Camp lent him the money he needed to pay another coyote to smuggle him back into the United States. He crossed the border near Tucson, Arizona, and in late 1999 flew back to Texas and returned to his old job, he said.
Quintero said he was surprised the state didn't take his driver's license away when he was deported in 1999. His wife kept it for him, and when he returned to the United States it was still valid. DPS has since tightened up its requirements: To get a driver's license today, applicants must prove lawful presence in the country.
"I knew I was in trouble."
On. Sept. 21, 2006, Quintero was speeding near Hobby Airport in his employer's truck when he saw the familiar lights of a police car in his rear-view mirror. In keeping with his strategy of continual anonymity, he said he was not carrying his driver's license. In a plaintive tone, he said he expected Rodney Johnson to cite him and let him go.
"It wasn't like it was a stolen vehicle," he said. "It's just two tickets he was supposed to write right there."
That's not what happened. Johnson arrested Quintero so he could make a proper fingerprint identification. He patted Quintero down for weapons, but not thoroughly enough, missing a gun tucked inside his pants. Johnson was in the front seat filling out a booking sheet when Quintero, handcuffed, managed to pull the 9 mm semi-automatic pistol and shoot Johnson seven times — four in the back of the head.
Johnson was able to press an emergency button calling for back up before losing consciousness. When help arrived, officers found Johnson, a father of five, slumped in the front seat of his car with his leg hanging out the door and one foot touching the ground. He was pronounced dead at Ben Taub Hospital.
Quintero said in the Tribune interview that he didn't want to re-hash details of his crime. He quickly confessed to the murder at the time and cooperated with authorities, though he pleaded not guilty by reason of insanity. His lawyers contended that a childhood head injury made him act unreasonably in threatening situations.
But in the interview Quintero acknowledged a key point prosecutors argued during the trial — and one that his defense attorneys disputed: Looming over Quintero as he sat handcuffed in that squad car was the near certainty that he would go to prison for a long time if Johnson found out who he was.
"I knew I was in trouble. Since I came back, I knew I was in trouble," he said. "I was worried about being put in prison."
Quintero was convicted of capital murder, but in a decision that stunned both the defendant and the family of the police officer he murdered, the jury gave him life without parole instead of the death penalty prosecutors sought.
"I was expecting that I [would] get executed right there and then," Quintero said. "It didn't happen."
Tightening the net
By the time the verdict was announced, Johnson's murder had already sparked an outcry in Houston and beyond, immediately cranking up pressure on the city to change its immigration policy — namely, a 1992 order instructing that "officers shall not make inquiries as to the citizenship status of any person," and forbidding police to contact immigration authorities unless suspects were arrested for serious misdemeanors or felonies.
On the day of Johnson's funeral, officials with U.S. Immigration and Customs Enforcement met with city leaders, including then-Police Chief Harold Hurtt, to discuss cooperation between local law enforcement and federal immigration authorities, recalls Houston's top ICE commander, former Special Agent in Charge Robert Rutt.
"I said, 'Chief, you don't allow us in your jails. You don't notify us when you're releasing illegal aliens that we have detainers on. And he goes, 'What?'" Rutt said. "To Chief Hurtt's credit, he said, 'You know what, we're making a policy change right now.'"
The announcement came two weeks after Johnson's death, when police said they would start closely cooperating with federal authorities and would check the wanted status — including for immigration violations — of everyone arrested and incarcerated. That's still the policy.
"As of right now, ICE is allowed back in the city jail," said Rutt, now retired. "So it took the tragedy of Rodney Johnson being killed."
Craig Ferrell, HPD's former chief counsel, said Houston Police had never outright banned immigration authorities from its jails but was wary of turning over inmates based on civil violations, as many immigration infractions are. After Johnson's murder, ICE and HPD struck a formal agreement to cooperate on immigration matters.
"The agreement was they could come in immediately as long as they told us we're going to approach this from a criminal perspective," Ferrell said.
"You know people are coming here to make a living for their families, so if you take away the magnet, which is illegal employment, the people won't come."

— Robert Rutt, Houston's top ICE commander
The murder also brought big changes at Camp Landscaping. The federal government, in an unusually aggressive prosecution against an employer, arrested owner Robert Camp on charges of "harboring an illegal alien." Investigators said that Camp knowingly hired Quintero despite his lack of work authorization and that he had put the immigrant's wife on his payroll to fraudulently disguise the illegal employment.
Camp later
pleaded guilty
and was sentenced to three months in prison, three months home confinement and five years' probation, records show. A phone number found online for Camp Landscaping is disconnected, and efforts to reach Camp through his former lawyers were not successful.
Rutt said the case demonstrated that hiring undocumented immigrants "is not a victimless crime." He said people who live and work here illegally fear being apprehended by law enforcement — as Quintero did — and sometimes take desperate actions to avoid it.
"All of a sudden they get pulled over for something basically innocuous, they see their life falling apart and they do some really violent things sometimes to avoid capture," he said. "Unfortunately, the police or private citizens bear the brunt of it."
Rutt also said the Camp prosecution put the focus on a soft target elected leaders and policy makers keep ignoring: the workplace. Take away the illegal jobs, and most of the problems at the border, where elected officials keep pouring resources, will disappear, he said.
"You know people are coming here to make a living for their families, so if you take away the magnet, which is illegal employment, the people won't come," he said. "Nobody will hire them."
Even in prison, Quintero proved difficult to contain. A year and half after he killed Johnson, Quintero and four other inmates
tried to break out
of the Polunsky Unit in Livingston. Quintero got as far as the fence and cut himself on the razor wire before he was stopped. Guards shot three of the inmates, but they survived. After that incident, Quintero was sent to the maximum security Allred Unit near the Oklahoma border, where prisoners deemed to be high risk inhabit 75-square-foot cells and typically spend their days in solitary confinement.
After the escape attempt, Joslyn Johnson said it was too bad one of the guards hadn't hit Quintero. She said she still considers the life sentence Quintero received for killing her husband, who had wanted to be a cop since he was a teenager, "a slap in the face."
"We have to pay for this man to live in jail for the rest of his life," she said. "I felt he deserved to die just like Rodney died."
Rick Perry
's campaign.
In the
30-second spot
, Johnson looked straight into the camera and blamed Perry's Democratic opponent, former Houston Mayor
Bill White
, for embracing "sanctuary city" policies that made it harder for local police to find and apprehend undocumented immigrants such as Quintero, who may present a danger to public safety.
White denied the accusation, though major changes in immigrant apprehension policies were made soon thereafter. The state made changes, too, after the mayor fired back that the Texas Department of Public Safety had dropped the ball by
removing Quintero
— and 2,000 others like him — from the public list of registered sex offenders after he was deported, though he remained on a criminal history database available to law enforcement. That meant he didn't appear on the public list after sneaking back into the country several months later.
The sex offender registry snafu was fixed after White's office pointed it out to the state agency following Johnson's murder.
Before the Perry ad sank him even further in the Republican tide of 2010, the former Houston mayor bitterly accused his rival's campaign of exploiting a grieving widow for rank political purposes.
Looking back, Johnson admits that "possibly I could have been" exploited but said she wanted to do it at the time and "doesn't have any regrets."
She said she still gets angry with employers and their lobbyist enablers who are "all about lining their pockets, making money off this free and cheap labor."
What hasn't changed one bit, she said, is that local, state and federal authorities still don't have a remotely good handle on which undocumented immigrants might pose a threat because the good ones and the bad ones are all living in the shadows, mixed together in a vast black market economy.
She noted that since her husband's death, three more Houston police officers have been killed or seriously injured by undocumented immigrants with criminal records and previous removals from the United States. The officers were
Kevin Will
(killed in 2011);
Henry Canales
(killed in 2009); and officer
Rick Salter
(seriously injured in 2009).
A missed chance?
A troubling footnote closes the story of Officer Rodney Johnson's death.
In his interview with the Tribune, Quintero claimed that less than a year before the murder, he was pulled over by Houston police for driving with a noisy muffler. Lacking a license or proof of insurance, he says he was taken to jail and fingerprinted, giving a fake name.
Quintero said the charges were dropped and he was released approximately two days later, no mention made of his sex offender status or previous deportation.
"They let me go," he said. "That was their mistake."
When the Tribune attempted to verify Quintero's story, Houston authorities could neither confirm nor refute it.
Houston police spokesman John Cannon said there was no evidence of such an arrest in Quintero's homicide file, but in those days people detained for low-level "Class C" misdemeanors — representing about half of all arrests in that time period — had their names checked but did not have their fingerprints checked for warrants or wanted status by running them through state and federal databases.
If Quintero is telling the truth (the video of that part of his interview is available
here
) he slipped through the cracks of the legal system without leaving a trace, and an opportunity to remove him from the streets — and possibly the country — before he killed Johnson was missed.
House Committee on the Judiciary
Thursday, February 11, 2016
http://judiciary.house.gov/index.cfm/2016/2/is-the-investor-visa-program-an-underperforming-asset