Horse Race LiveWire*** Clinton Plays Amnesty Card to Gin Up Left-Wing Base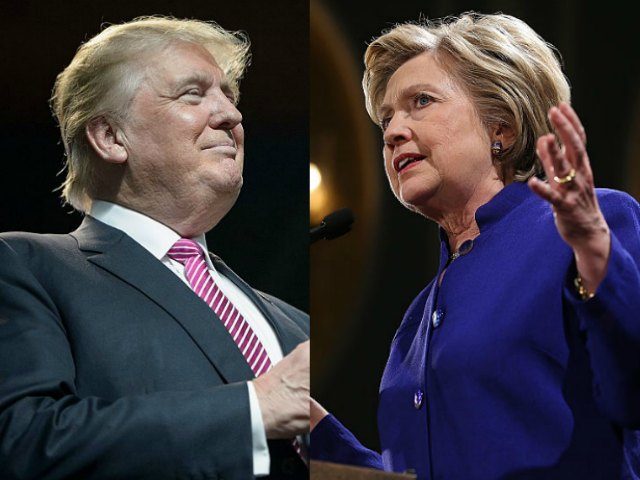 As Donald Trump trends up in national polls (again showing how clueless the GOP "smart set" and the political/media establishments are), Hillary Clinton tries to mobilize her left-wing base at the SEIU convention by pledging amnesty legislation in her first 100 days in office. Stay tuned to Breitbart News for live update of the horse race.
All times eastern.



3:40: In East L.A., Sanders hits his campaign themes about a rigged economy, raising the minimum wage, immigration reform, and the unemployment rate in minority communities (he doesn't connect illegal immigration to this like he did before he started to run for president.), criminal justice reform and campaign finance reform.
3:35: Before introducing Sanders, Rosario Dawson says it's hot under the sun today but "nothing like the bern we feel… in our hearts."
3:18: On MSNBC, Tim Canova, who is challenging Rep. Debbie Wasserman Schultz (D-FL) says the it is "myth" that Wasserman Schultz is popular because the district is heavily Dem. Canova, who has raised $250,000 since Sanders's endorsement, blasts Wasserman Schultz for supporting the Trans-Pacific Partnership trade deal. He also blasts her for supporting payday lenders and says she is a "drug warrior" who is against medical marijuana who also takes money from private prison companies. Canova says people have charged Wasserman Schultz with "rigging" outcomes when asked if she has been neutral during this election cycle. Canova cites Cantor's loss to Dave Brat and Donald Trump's rise as proof an an anti-establishment wave sweeping across the country.
3:16: East L.A. crowd at Sanders rally chanting "No More deportations" and "revolution!"
3:12: Sanders getting ready to address supporters in East Los Angeles:
Obama Allots $19 Mil to Register Immigrant Voters
: A year after President Obama launched his Task Force on New Americans the administration is injecting it with a $19 million infusion so it can achieve its key initiative of registering new voters that will likely support Democrats in the upcoming election. Officially, this is being described as enhancing pathways to naturalization by offering immigrantsRead the full post
APRIL 18, 2016