"In other words, the deluge of cheap credit
provided by the world's central governments
to their major banks has unleashed an orgy of
speculation. The world's richest are getting
even richer by doing nothing as their real
estate investments shoot through the roof.
Meanwhile the vast majority of the world's
population must pay increasingly obscene
amounts just to have a place to live."
This trend can be seen clearly in the United States. Between
2001 and 2014, the average real rental price rose 7 percent
nationwide according to Harvard University's Joint Center
for Housing Studies. During that same period,
median
household income dropped by 9 percent.
Financial parasitism and the global housing crisis
By Gabriel Black
31 May 2016
Rent and housing costs in most major cities have skyrocketed
since the financial crisis, cutting deeply into workers'
standard of living and prompting concerns about a new
global housing bubble. Driving the soaring cost of rent is a
global financial system that is being pumped full of cheap
credit by all the major central governments at the expense of
workers around the world.
Prices in some areas boggle the mind. San Francisco's average asking price for a one-bedroom apartment went from $1,258 per month in January 2010 to $4,126 in February 2016. In London, the average home price has doubled since 2009, from about £300,000 ($437,600 USD) to £600,000 ($875,100).
Hong Kong's housing market, which largely avoided the US real estate crash, more than tripled in its average sale between 2004 and today. The city is now considered the least affordable place in the world, with the median Hong Kong home price worth 19 times the city's average skilled white-collar worker's annual salary.
Housing and rental markets are so high that the Swiss bank UBS estimates that the majority of the world's urban real estate markets are now "significantly overvalued."
What is most striking about the colossal increase in prices, however, is how divorced it is from the incomes of the vast majority of the global population, which are moving in the opposite direction.
Historically, rent prices have tended to move with income and inflation. For example, in the United States the median home price adjusted for inflation remained largely flat between 1970 and 1998, fluctuating slightly above and below $160,000. This was a period in which workers' incomes were also flat. After 1998, however, the housing market skyrocketed, with the median home price rising from about $160,000 in 1998 to $275,000 in 2006, the peak of the finance-driven boom.
This jump was driven by all manner of
financial speculation, including rampant criminal behavior,
which had been let loose by the lowering of interest rates by
the US Federal Reserve.
The housing market today is going through a new version of the 2006 housing crisis. However, unlike 2006, this process is global. Nearly every major capitalist government in the world is pursuing a policy of near-zero interest rates, encouraging rampant speculation in both the stock market and the real estate market.
This trend can be seen clearly in the United
States. Between 2001 and 2014, the average
real rental price rose 7 percent nationwide
according to Harvard University's Joint
Center for Housing Studies. During that same
period, median household income dropped by
9 percent.
In Los Angeles, the second largest city in the US, 40 percent of families either make poverty wages or are unemployed. As families and individuals increasingly struggle to make ends meet, rent has increased sharply in LA. In January 2010, an average one bedroom apartment went for $1,224 a month. Six years later, the cost was $1,935. And the worst is not over. A 2016 forecast by USC Casden Multifamily predicts that in the next few years rent will "soar." It is no wonder that homeless in the city grew by 16 percent in just two years between 2013 and 2015.
Another way of capturing the growing divide between wages and rent for hundreds of millions of workers around the world is the Median Multiple, the ratio between median household income and average home price. According to the Demographia International Housing Affordability 2016 Survey, a Median Multiple of three and under is considered affordable (e.g., a family making $50,000 a year buying a house at $150,000 or less). A multiple exceeding five is considered "severely unaffordable."
In 2015 Demographia surveyed 367 cities inside the UK, US, Canada, Australia, New Zealand, Ireland and Japan. According to the group, the 10 most unaffordable cities were: Hong Kong with a Median Multiple of 19.0; Sydney (12.2); Vancouver (10.8); Melbourne, (9.7); Auckland (9.7); San Jose (9.7); San Francisco (9.4); London (8.5); Los Angeles (8.1) and San Diego (8.1). All of these cities have experienced a doubling or even tripling of their Median Multiple since 1998.
The surge in prices and collapse in income has led to more renters on the renting market, since buying has become out of reach. In the United States, between 2005 and 2015, there were 9 million new renting households. This is the largest gain on record for a 10-year period according to Harvard University's Joint Center for Housing Studies. In 2015, 37 percent of all US households rented, the highest level since the mid-1960s, and up from 31 percent in 2005.
Workers are now becoming trapped in this situation, as they spend more of their income paying for rent and are less and less likely to be able to buy a house. In 2001 in the US, 41 percent of renters spent 30 percent of their income or more on rent. This rose to 49 percent in 2014. In the same year, 26 percent of the renting population spent more than half of their income on rent. In the UK, a fifth of all young adults now stay in their parents' home until they are at least 26. In 2015, 31.5 percent of US young people aged 18 to 34 lived at home, up from 27 percent in 2005.
While workers suffer under crushing rent
burdens, landlords and investors are raking in
millions if not billions. This year, a total of
184 billionaires made their wealth through
real estate. This was up by 22 individuals
from the year before, even as the overall
number of billionaires went down from 1,826
to 1,810 individuals.
Those who make money off of rents do not add anything to the productive system. While a certain amount of money can go to maintenance and upkeep, vast and increasing sums of money made by real estate are from the pure monopoly status of owning land.
The wealth of these billionaires principally comes from the unsavory fact that in order to keep the global economy afloat, the central banks around the world have pumped the major banks full with cheap credit.
As UBS Global notes in its 2015 Global Real Estate Bubble Index, "Loose monetary policy has prevented a normalization of housing markets and encouraged local bubble risks to grow." They write that much of the "overvaluation" in the global housing stock comes from a "dependence on low interest rates."
"Price-to-rent (PR) multiples are greatest in Zurich, Vancouver, Hong Kong, Geneva and Singapore. The extremely high PR multiplies indicate an undue dependence of housing prices on low interest rates. Paris, London and Sydney follow suit and form a trio of cities with PR multiples around 30. House prices in these cities are vulnerable to a sharp correction should interest rates rise."
In other words, the deluge of cheap credit
provided by the world's central governments
to their major banks has unleashed an orgy of
speculation. The world's richest are getting
even richer by doing nothing as their real
estate investments shoot through the roof.
Meanwhile the vast majority of the world's
population must pay increasingly obscene
amounts just to have a place to live.
As Lenin noted in his work Imperialism, in capitalism's state of decay there is an "extraordinary growth of a class, or rather, of a stratum of rentiers, i.e., people who live by 'clipping coupons', who take no part in any enterprise whatever, whose profession is idleness."
This describes exactly the parasitic layer of real estate moguls, whose money comes not from producing anything of value to the world economy, but by sucking away money from the system in the form of rent. There is no one who benefits from high rents except the small layer of people who control the vast majority of the world's property.
YOU WILL NOT HEAR FROM EITHER PARTY ABOUT POVERTY FOR LEGALS IN THIS COUNTRY.
"These indices, along with a raft of reports

exposing different aspects of the acute social

crisis gripping the country—declining life

expectancy and rising mortality rates, record

rates of suicide and drug addiction, sinking

household incomes for the vast majority of

urban regions—did not prevent Obama from

declaring recently that "America is pretty darn

great right now."
"The shrinking of the American middle class is a pervasive phenomenon," said Rakesh Kochhar, associate research director for Pew and the lead author of the report. "It has increased the polarization in incomes."
"Emmanuel Saez, a professor of economics
at the University of California, Berkeley,
estimates that the top 1 percent of American
households now controls 42 percent of the
nation's wealth, up from less than 30 percent
two decades ago. The top 0.1 percent
accounts for 22 percent, nearly double the
THE BANKSTER-FUNDED DEMOCRAT PARTY IS HELL
BENT ON WIDER OPEN BORDERS, NO E-VERIFY AND NO
LEGAL NEED APPLY TO KEEP WAGES DEPRESSED AND
PROFITS HIGH FOR THEIR CORPORATE PAYMASTERS
Chicago's homeless speak on poverty, inequality and budget cuts
By Jeff Lusanne
31 May 2016
Across the state of Illinois, homelessness is on the rise under the impact of the financial crisis and major budget cuts to critical social programs in the state.
THE REALITY OF OBAMA-CLINTONOMICS HITS AMERICA!
"The slump in major chain store sales reflects the impact of a vast
reordering of class relations in the US, accelerated in the aftermath
of the 2008 financial crisis, that has benefited the rich and the
super-rich and devastated large sections of the working population.
The policies of the Obama administration, Congress and the
Federal Reserve—flooding the financial markets with virtually
free
cash while imposing brutal cuts in social programs and
wages—have facilitated a further growth of financial parasitism
"Corporate profits and CEO pay have soared not on the basis of
productive investment, but rather through new forms of financial
gambling and the inflation of stock prices. The result is a further
growth of social inequality and a deepening of the crisis of the real
US department store sales plunge, jobless claims rise
By Barry Grey
17 May 2016
Major US department store chains reported a further fall in sales
and profits last week, reflecting the growth of recessionary trends
in the real economy and the impact of declining living standards for
broad sections of the US population.
Macy's, Kohl's, JCPenney and Dillards, all of which depend largely on mid- and lower-income customers for the bulk of their revenues, reported sharply lower figures for the first quarter of 2016 and did worse than analysts had predicted. Nordstrom, which targets a more affluent clientele, also reported poor results.
The dismal results sparked a sell-off of the firms' stocks. They followed a wave of store closings and mass layoffs in recent weeks by Macy's, the country's largest department store chain, and discount retailers Walmart and Sears/Kmart.
Macy's, which announced 41 store closings and thousands of job cuts in January, reported its worst quarterly sales since the recession that followed the 2008 Wall Street crash. It was its fifth straight quarterly sales decline and sparked the firm's biggest one-day stock price loss since 2008.
The company cut its sales forecast for the year to a decline of between 3 and 4 percent from an earlier estimate of a 1 percent drop and announced it would intensify its cost-cutting.
The clothing chain Gap said it was considering closing more stores after its sales continued to drop and Fitch Ratings cut its credit to junk bond status.
While the Commerce Department reported Friday that overall retail sales rose 1.3 percent in April, the biggest monthly increase in a year, the gain was driven mainly by sales of autos and gasoline, along with a boost in online shopping.
Mall traffic has continued to slump as most consumers face an increasingly difficult struggle to make ends meet.
The slump in major chain store sales reflects the impact of a vast reordering of class relations in the US, accelerated in the aftermath of the 2008 financial crisis, that has benefited the rich and the super-rich and devastated large sections of the working population. The policies of the Obama administration, Congress and the Federal Reserve—flooding the financial markets with virtually free cash while imposing brutal cuts in social programs and wages—have facilitated a further growth of financial parasitism and speculation.
Corporate profits and CEO pay have soared not on the basis of productive investment, but rather through new forms of financial gambling and the inflation of stock prices. The result is a further growth of social inequality and a deepening of the crisis of the real economy.
As Harvard economist and former Treasury Secretary Lawrence Summers is quoted as saying in the current issue of Bloomberg Businessweek, "The United States right now has the lowest infrastructure investment rate that it has had since the Second World War." The further decay of American capitalism and the country's social infrastructure is reflected in the fact that American workers' productivity is rising at the slowest five-year rate since 1982.
Global recessionary trends are finding expression in slowing job creation and an accelerating pace of layoffs in the US. Last week, the Labor Department reported that initial jobless claims in the week ending May 7 shot up by 20,000 from the previous week, hitting 294,000, the highest level in more than a year.
The employment report for April recorded the smallest increase in US payrolls in seven months and an actual decline in the labor market. This followed the dismal report on US economic growth for the first quarter of this year, which showed an increase in the gross domestic product of a mere 0.5 percent, the slowest pace in two years.
In the first four months of 2016, US employers announced more than 250,000 job cuts, the highest January-April total since the depths of the economic crisis in 2009.
These indices, along with a raft of reports
exposing different aspects of the acute social
crisis gripping the country—declining life
expectancy and rising mortality rates, record
rates of suicide and drug addiction, sinking
household incomes for the vast majority of
urban regions—did not prevent Obama from
declaring recently that "America is pretty darn
great right now."
Reports document growing income inequality, declining manufacturing pay
By Kate Randall
14 May 2016
A new study from the Pew Research Center shows that more than four-fifths of US metropolitan areas have seen household incomes decline in the new century. The research is based on data from urban centers that are home to three-quarters of the US population.
class household income has declined throughout the
population, while at the same time the gap between low- and
upper-income households has grown, demonstrating a
significant increase in income inequality across the US. A
major contributor to economic decline and inequality has
been the plunge in manufacturing jobs and wages.
The study analyzed data from 229 of the 381 metropolitan areas in the US, as defined by the Office of Management and Budget (OMB). These areas accounted for 76 percent of the US population in 2014, those that could be identified in US Census Bureau data with statistics available for both 2000 and 2014.
Middle-income households are defined as those with incomes of about $42,000 to $125,000, adjusted for a household of three. Pew found that the share of middle-income households fell in 203 of 299 metropolitan areas from 2000 to 2014. With household income falling in the middle-income tier in these areas, the share of upper- and lower-income tiers have correspondingly grown.
Based on US Census figures, the share of middle-income adults also fell nationwide, while the shares in the lower- and upper-income tiers have increased. The national share of American adults decreased, from 55 percent in 2000 to 51 percent in 2014. At the other poles of society, the share of adults in the upper-income tier increased from 17 percent to 20 percent, and the share of adults in the lower-income tier increased from 28 percent to 29 percent.
US metropolitan areas with the lowest household incomes are mainly located in the South. Areas with the highest household incomes are concentrated along the Northeast corridor and mid-Atlantic, from Boston to the District of Columbia, and in Northern California, representing the proliferation and profits of the tech, insurance and finance industries, as well as high-paid government employees and politicians.
Midland, Texas, which benefited from the rise in oil prices from 2000 to 2014, saw both a shrinking middle class, which fell from 53 percent to 43 percent, as well as a decline in lower income households, falling from 28 percent to 21 percent. The recent drop in oil prices is not reflected in these figures.
In nearly half of the metropolitan areas studied, the lower-income share of households increased. The 10 metropolitan areas with the greatest losses in overall economic status—the change in the share of upper-income adults minus the change in the share who were lower-income—have one thing in common: a greater than average reliance on manufacturing.
These include the Rust Belt areas of Springfield, Ohio, and Detroit-Warren-Dearborn, Michigan, as well as two North Carolina areas: Rocky Mount and Hickory-Lenoir-Morgantown.
In Springfield, which saw the biggest decline in economic status, a 16 percent drop, the truck assembly plant owned by Navistar employs thousands fewer workers than it did in its heyday.
The Detroit metropolitan area has seen a dramatic decline in auto jobs, as well as a drastic drop in wages through two-tier systems introduced in large part as a result of the Obama administration's auto bailout with the collaboration of the United Autoworkers Union.
The Hickory-Lenoir-Morgantown area, once a thriving center of furniture manufacturing, has seen the demise of this industry, with an accompanying decline in household incomes and an increase in poverty.
The study shows that wages in manufacturing are falling to the levels of those in the fast-food industry and at big-box retailers. In 2013, the typical manufacturing production worker made 7.7 percent below the median wage for all occupations. The median wage of these production workers was $15.66, with a quarter making $11.91 or less.
The National Employment Law Project (NELP) also found that since 1989 there has been a significant increase in the hiring of frontline production workers through temporary staffing agencies. Frontline workers are defined as non-supervisorial production workers who work at least 27 hours per week in the manufacturing industry or those highly associated with it.
The Berkeley study found that high utilization of government programs by manufacturing workers was primarily due to low wages as opposed to inadequate work hours. Economic Policy Institute researchers found that as manufacturing wages have declined, manufacturing labor productivity grew by an average of 3.3 percent a year from 1997 to 2012, nearly one-third greater than in the private, nonfarm economy as a whole.
This means that the manufacturing industry is sucking more and more productivity out of workers, while catapulting them out of the "middle class" and into poverty through low wages.
There has been a dramatic growth in low-paying temporary positions, which now account for 9 percent of frontline manufacturing jobs—a nine-fold increase from 25 years ago. Temporary workers earn a median wage of $10.88 an hour, compared to $15.03 for those hired directly by manufacturers.
Nearly half of all manufacturing workers hired through staffing agencies are enrolled in at least one public assistance program, just below the 52 percent of fast-food workers who rely on these programs.
Ken Jacobs, chair of the Labor Center and co-author of the report, told Berkeley News, "Manufacturing has long been thought of as providing high-paying, middle-class work, but the reality is the production jobs are increasingly coming to resemble fast-food or Walmart jobs, especially for those workers employed through temporary staffing agencies."
THESE ARE THE REQUIREMENTS TO ESTABLISH A DICTATORSHIP.
"Under the Obama administration, the
Democrats have spearheaded the attack on
wages and benefits for higher paid workers as
part of an overall transfer of wealth to the
financial elite."
"I am ignorant to politics in the United States," said Oscar, who indicated that he was originally from Mexico. "But I see this country heading in the direction of revolution; there was a Civil War in this country once before, the question becomes how do we convince young people and workers that a revolution is the way forward?"
Obama's labor board intervenes on behalf of Verizon strikebreakers
By Samuel Davidson
12 May 2016
A federal district court judge has issued an order barring striking Verizon workers from picketing New York City hotels housing strikebreakers hired by the company. The court acted in response to a petition by the Obama administration's National Labor Relations Board (NLRB), which claimed the picketing violated the ban on secondary boycotts under provisions of the National Labor Relations Act.
The action follows the injury of a Verizon striker outside a New York hotel housing scab replacement workers. On Monday, a van carrying scabs from a hotel and being driven by a New York City police officer stuck and injured James Smith, a member of CWA Local 1109, who was reportedly sent to the hospital. Strikers said that the driver of the van was a police lieutenant from the 108th precinct of Long Island City.
The NLRB's general counsel has issued a complaint against the Communication Workers of America (CWA) and scheduled a hearing for June 9.
Meanwhile, no charges have been filed against the cop who injured the striking worker, and the CWA has not issued a statement on the incident.
The injunction underscores the bankruptcy of the strategy of pressuring the Democratic Party. The actions of the NLRB supplement the strikebreaking role of New York City Democratic mayor Bill de Blasio, who has penned picketers behind barricades while mobilizing scores of cops to escort strikebreakers across their picket lines.
Verizon Communications has stepped up its strikebreaking efforts against the 39,000 workers who have been off the job since April 13 against massive concession demands. It has increased the hiring of scabs to supplement the 20,000 management personnel along with contractors that have been trained to fill the jobs of the striking workers. Many managers were also transferred into the region from Verizon areas not affected by the strike. In addition, the company claims that about 1,000 striking workers have returned to work.
Other confrontations throughout the region are being reported. Verizon has apparently instructed its scabs to confront and try and provoke picketers. In Cambria County, Pennsylvania, police were called to investigate a fire affecting some Verizon equipment, which the company claims was set by strikers. During the 2011 strike, the company made hundreds of phony charges to blame strikers for the breakdown of their equipment.
The stepped-up strikebreaking by Verizon with the backing of the Obama administration follows the decision on May 1 by Verizon to terminate health insurance and life insurance coverage for the 39,000 workers and their families.
Verizon is demanding deep cuts to health care for both active and retired workers. In addition, Verizon is demanding changes to work rules that would lead to thousands of jobs being destroyed. Under Verizon's proposal, workers could be forced to transfer up to 100 miles from their current work location. In addition, workers could be forced to work anywhere in the region for up to 60 days a year. Verizon is also seeking to close 11 of its call centers, consolidating them into mega-centers as well as having an even greater share of calls handled by non-union workers. In what the company termed its "last, best and final offer," the company did not back away from any of its demands.
In the face of this assault, the CWA and the International Brotherhood of Electrical Workers (IBEW) are working to isolate the strikers and impose the vast concessions. The CWA and the IBEW kept the workers on the job for eight months, giving Verizon time to fix troubles and train its workforce before calling the strike. The IBEW, meanwhile, has told its members to go look for other jobs.
The CWA hinted in a conference call on Monday that it would order strikers back to work, even without a contract as they did in 2011, if only Verizon would give them something that they could sell to their members.
The CWA and the IBEW do not represent workers; rather, they represent a highly paid parasitic bureaucracy, which is seeking to secure its position as a second layer of management for the company.
The World Socialist Web Site , which is calling upon workers to form rank-and-file committees to take the organization and leadership of the struggle out of the hands of the union officialdom, has been receiving wide support among strikers, many of whom have signed up for the WSWS Verizon Strike Newsletter and are reading our site daily.
WSWS reporters have spoken with workers throughout the region.
Metro Washington DC

Numerous workers at a picket line in northern Virginia expressed their appreciation to the WSWS for its continued coverage of the strike; many also indicated that they have been following the web site.
"We haven't heard anything about this, no one except for you guys have reported it," said one worker, speaking of the New York City Police Department violence toward the strikers. Workers expressed dissatisfaction with the trade union and the two-party political system to reporters from the WSWS Verizon Strike Newsletter, with a common refrain being that the CWA and the Democratic and Republican parties were "in bed together."
"I am ignorant to politics in the United States," said Oscar, who indicated that he was originally from Mexico. "But I see this country heading in the direction of revolution; there was a Civil War in this country once before, the question becomes how do we convince young people and workers that a revolution is the way forward?"
Replying to this question, a reporter from the WSWS indicated that the act of social revolution was undertaken when the current social order was deemed to be intolerable to masses of people—forcing them to forge a new path forward as a social class. It was explained that a revolutionary outbreak was inevitable in America as well as internationally, and that it was the job of working people to educate themselves on the lessons of the 20th century to prepare for the struggles ahead.
Joseph, a worker with more than 10 years at Verizon, interjected, stating that younger people in America not only had it worse than their parent's generation, but "they have it worse than people their age had it just five years ago." Joseph spoke about his time living in Ohio recently: "There were only two places in town you could get a job where I was—Cooper Tire and Lexis Nexus. There were scores of young people with no jobs— underage parents, you name it. A lot of young women try to have children with older men because there's really no jobs available to anyone younger than 30."
Speaking about the New York City Police Department's efforts to aid strikebreakers, Joseph said, "It goes back to the 2001 Patriot Act; you can't even form a union today because if more than nine guys congregate out here, it can be considered a 'subversive activity.'" When WSWS reporters pointed out the relationship to the state's repression of peaceful protests and the attempts to break their strike, Joseph said, "I think we've had far too many freedoms taken from us in the name of 'freedom.' It's funny because most of the things that harm us are usually (falsely) named things; for instance, the Democratic Party isn't really democratic, and the Republican Party isn't really republican."
When asked by the WSWS about union reports about numerous striking workers in Virginia crossing the picket lines to go back to work, Joseph stated that the strike fund at the national level was only giving workers several hundred dollars a week to remain out. "The union is a multibillion-dollar non-profit corporation itself," he said, noting that it was looking out for its own bottom line.
Pittsburgh, Pennsylvania

Both Michele and Pamela work in the repair call center, taking calls from customers, fixing their troubles when they can, and dispatching technicians when needed.
"We're Bell babies," said Michele. "Both our parents worked for Verizon. My mother retired 16 years ago after working 42 years for the company. They have doubled her co-pays, and now they want to make her pay for her benefits.
"It is not just us, but we are fighting for all the people who built this company. Every three years, the company is trying to take more and more away from us. You work all that time, with the expectation that you will get a pension and health care, and now they are saying they could take it away at any time.
"I'm not old enough to retire, and I have a 16- and a 19-year-old. One's in college and the other's in high school."
Pamela agreed. "My parents worked all these years to make this company, and all they care about is making more money."
Describing the working conditions, Pamela said, "they make it impossible to get a satisfactory rating. We have to finish each call within four minutes, but sometimes the customers are very angry and it takes time to calm down and work on their problem. Then the customer gets a survey, and if we don't score a 5, we get 0 points toward our review.
"The company also records every call. You have to end every call by asking the customer if they received five-star service. If you forget to ask, you get a bad rating. If management doesn't like you, they can look through the calls to find stuff against you."
Boston, Massachusetts

Verizon strikers in the Boston area, members of the IBEW, held a noon-time rally Wednesday, calling on workers from across Greater Boston to support the strike. Fast food workers, nurses, school bus drivers and other workers came out to support the strikers.
Speakers addressing the rally included union bureaucrats, local Democratic Party politicians and a sheriff. The various speakers denounced Filipino and Mexican workers for stealing Verizon workers' jobs and blamed union members for not fighting hard enough.
No mention was made of the strikebreaking operation in New York or the worker who was struck by a van carrying scabs in Queens.
One worker told the WSWS Verizon Strike Newsletter that similar striking-breaking operations were underway in Nashua, New Hampshire, and possibly other New England locations.
"We went up to Nashua one morning and confronted them there," he said. "The police blocked off every street in the neighborhood to let all of them leave." He said the scab contractors were housed in a motel, and no one knew where they were headed, and the police didn't let anyone follow them.
Another worker said the current union strategy was to go after Verizon's retail stores, and they received a lot of public support when they mentioned wages and benefits and the profits of the company.
"This is happening everywhere in the country," he said. "You've got the one-percenters, and they want it all. It's just corporate greed. It's been going on for years, the separation of the classes."
Middle Class in Major U.S. Cities is Shrinking, Pew Study Says
"The shrinking of the American middle class is a pervasive phenomenon," said Rakesh Kochhar, associate research director for Pew and the lead author of the report. "It has increased the polarization in incomes."
In cities across America, the middle class is hollowing out.
A widening wealth gap is moving more households into either higher- or lower-income groups in major metro areas, with fewer remaining in the middle, according to a report released Wednesday by the Pew Research Center.
Read More: Middle Class Americans 'No Longer Majority,' New Report Says
In nearly one-quarter of metro areas, middle-class adults no longer make up a majority, the Pew analysis found. That's up from fewer than 10 percent of metro areas in 2000.
Pew defines the middle class as households with incomes between two-thirds of median income and twice the median, adjusted for household size and the local cost of living. The median is midway between richest and poorest. By Pew's definition, a three-person household was middle class in 2014 if its annual income fell between $42,000 and $125,000.
Middle class adults now make up less than half the population in such cities as New York, Los Angeles, Boston and Houston.
That sharp shift reflects a broader erosion that occurred from 2000 through 2014. Over that time, the middle class shrank in nine out of every 10 metro areas, Pew found.
Read More: Belief in the Middle Class Unshaken by Economic Shifts
"The shrinking of the American middle class is a pervasive phenomenon," said Rakesh Kochhar, associate research director for Pew and the lead author of the report. "It has increased the polarization in incomes."
The squeezing of the middle class has animated this year's presidential campaign, lifting the insurgent candidacies of Donald Trump and Bernie Sanders. Many experts warn that widening income inequality may slow economic growth and make social mobility more difficult. Academic research has found that compared with children in more economically mixed communities, children raised in predominantly lower-income neighborhoods are less likely to move into the middle class.
Nationally, the proportion of middle class adults shrank to 51 percent in 2014 from 55 percent in 2000, Pew found. Upper-income adults now constitute 20 percent of the population, up from 17 percent. The lower-income share has risen to 29 percent from 28 percent.
Read More: Though Hispanics See Small Increase, Middle Class is Losing Ground, Report Says
Yet the changes have been much more dramatic at the local level. There are now 79 metro areas in which the proportion of adults in upper-income households equals or exceeds the national average of 20 percent. That's more than double the 37 cities in which that was true in 2000.
The report studied 229 of the largest U.S. metro areas, which constituted 76 percent of the U.S. population.
Amnesty..... it's all about keeping wages DEPRSSED!
UNDER BANKSTER-OWNED BARACK OBAMA, TWO-THIRDS OF ALL JOBS WENT TO FOREIGN BORN, BOTH LEGAL AND ILLEGAL.
Poverty has become more concentrated under Obama
By Nancy Hanover
2 May 2016
Under the Obama administration, more Americans have found themselves consigned to economic ghettos, living in neighborhoods where more than 40 percent subsist below the poverty level.
Millions more now live in "high poverty" districts of 20-40 percent poverty, according to recently released report by the Brookings Institution.
All in all, more than half of the nation's poor are now concentrated in these high-poverty neighborhoods. This means that on top of the difficult daily struggle to make ends meet, they face a raft of additional crushing barriers because of where they live.
The Brookings' Metropolitan Policy Program report, "Concentrated poverty continues to grow post recession," is authored by Elizabeth Kneebone and Natalie Holmes and scrutinizes this unprecedented shift in the aftermath of the 2008 financial meltdown.
The report, based on an analysis of US census tracts, shows that concentrations of poverty have grown under the Obama administration in all geography types: large metropolitan areas, small cities and rural areas. In fact, the number of poor people living in concentrated poverty in suburbs grew nearly twice as fast as in cities, putting paid to the myth of affluence or even stability in America's suburbs.
The growth of social and economic distress within large parts of the US is demonstrated by the statistics. Pockets of high poverty exist in virtually every part of the country, including adjacent to the nation's wealthiest neighborhoods.
Since 2000, according to the report, the total number of poor people living in high-poverty neighborhoods has doubled to 14 million Americans

.
This is five million more than prior to the Great Recession.
Referring to the "double burden" facing the poor when they live in high-poverty neighborhoods, Kneebone and Holmes say, "Residents of poor neighborhoods face higher crime rates and exhibit poorer physical and mental health outcomes. They tend to go to poor-performing neighborhood schools with higher dropout rates. Their job-seeking networks tend to be weaker and they face higher levels of financial insecurity."
These effects are clearly discernible once a neighborhood's poverty rate exceeds 20 percent, the report explains. During the study period, between 2005-09 and 2010-14, the number of such high poverty neighborhoods grew by more than 4,300.
Across many demographics: City and suburb, black and white
Suburbs accounted for one-third of the newly high-poverty neighborhoods, a higher share than cities, rural or small metro areas. The share of poor black and Hispanic suburban residents climbed by 10 percent while poor white residents climbed by eight percent, almost as much.
BLOG: OBAMANOMICS; FUCK THE WORKER TO SERVE THE SUPER RICH
The palpable effects of the auto industry restructuring, with the Obama administration's stipulation of a 50 percent cut in wages for new autoworkers, is demonstrated in the growth of poverty in the sprawling auto-dominated Detroit region. Out of metro Detroiters living in poverty, 58 percent now reside in suburban districts, according to
a survey
by Oakland County Lighthouse.
A recent and similar demographic study by the Century Foundation states that the six-county region has the highest concentration of poverty among the top 25 metro areas in the US by population. This represents 32 percent of the poor living in concentrated tracts.
There has been a staggering growth of poor neighborhoods in and around Detroit, Kneebone told the Detroit Free Press, adding that the number "grew almost fivefold between 2000 and 2010-14." Detroit now has an official poverty rate of 39 percent, the highest in the US among cities with more than 300,000 residents.
"Sadly this report reinforces what we have been seeing year after year in Detroit and across Michigan." Gilda Jacobs, of the Michigan League for Public Policy told the World Socialist Web Site. "Poverty is too high, and where people—especially kids—live has a direct and significant impact on their economic standing, health and other outcomes."
From the Rust Belt to the Sun Belt
Detroit, however, is just the most concentrated expression of the national trend. "Among the nation's largest metro areas, two-thirds (67 percent) saw concentrated poverty grow between 2005-09 and 2010-14," the Brookings study found. The authors note that some of the "largest upticks included a number of Sun Belt metro areas hit hard by the collapse of the housing market—like Fresno, Bakersfield and Stockton in California and Phoenix and Tucson in Arizona—and older industrial areas in the Midwest and northeast—like Indianapolis, Buffalo, and Syracuse."
Eight metro areas now show concentrated poverty over 30 percent: Milwaukee-Waukesha-West Allis, Wisconsin (30.1 percent); Memphis, Tennessee (31.1 percent); Bakersfield, California (31.7 percent); Detroit-Warren-Dearborn, Michigan (32 percent); Syracuse, New York (32.4 percent); Toledo, Ohio (34.9 percent); Fresno, California (43.8 percent); and McAllen-Edinburg-Mission, Texas (52.3 percent).
As the WSWS has
previously reported
, all job growth over the last decade has been "temp" or contingency employment, traditionally the lowest wage levels of any job and paying no benefits. This loss of hundreds of thousands of good-paying jobs has impacted communities throughout the US. Concentrated poverty in suburbs has jumped 2.4 points in the wake of the recession, to a record high of 7.1 percent.
What is the "double burden" of concentrated poverty?
In her remarks to the WSWS, Gilda Jacobs elaborated on the double burden of concentrated poverty: "So many detrimental factors come with living in high-poverty neighborhoods. There are no viable jobs, public transportation, childcare, or grocery stores. Crime rates are high, there's blight and abandoned buildings, and the health risks of lead exposure and asthma. Even Detroit's public schools are unhealthy and even dangerous.
"This is what Detroit kids and other low-income children are dealing with every day, and what they have to try to overcome in improving their futures. These living and learning conditions are all connected, and harm kids' development and learning, their academic outcomes and their future job prospects. It is called toxic stress when kids are under constant strain. This study reiterates that so many factors affecting poverty are external and environmental, making them nearly impossible to defeat alone," she stressed.
A series of studies [including George Galster's "The Mechanism(s) of Neighborhood Effects Theory, Evidence, and Policy Implications" and others] have documented how poor neighborhoods undermine even the most determined individual efforts to escape poverty.
Taken together, these studies demonstrate how the escalating growth of poverty concentration exacts an ever-higher toll on American society, affecting many aspects of life and particularly destroying the potential of the next generation.
OBAMA'S BANKSTER RULED AMERICA - THE LOOTING NEVER ENDS!
*Education. High-poverty neighborhoods exert "downward pressure" on school quality. Data from the Stanford Data Archive has recently shown a staggering effect upon child learning capacities of attending impoverished school districts. Utilizing 215 million state accountability test scores, the study showed that "Children in districts with the highest concentrations of poverty score an average of more than four grade levels below children in the richest districts [emphasis added]."
*Violence. Exposure to violence has reached epidemic proportions for low-income youth, particularly among minorities. Parental stress over neighborhood violence is a substantial factor motivating families to move—when they can—from high-poverty neighborhoods, compounded by fears of negative peer influences upon their children. Youth and adults who have been exposed to violence as witnesses or victims suffer increased stress and documented declines in mental health.
*Toxic exposures. Poor areas are chronically associated with higher concentrations of air-, water- and soil-borne pollutants. Lead poisoning is most often associated with older housing stock.
Researchers have demonstrated that depression, asthma, diabetes and heart ailments are correlated with living in high-poverty neighborhoods. Additionally, individuals in poor neighborhoods often receive inferior health care and reduced government services.
* Other effects of physical decay . The inability to exercise outdoors is a known factor in the rise of obesity, especially among children. High levels of noise pollution produce stress, and prolonged exposure to run-down surroundings can lead to hopelessness.
*The poor pay more. Prices in poor neighborhoods are notoriously higher and the goods of poorer quality than those in better-off areas. Food and health-care "deserts" are common. The costs of home and car insurance are usually substantially higher.
*Lack of social cohesion. Disorder and lack of social cohesion are associated with both crime and mental distress. Children who live without a cohesive neighborhood network are more likely to have behavioral problems and have lower verbal skills. Those in areas of concentrated poverty are typically more isolated within their households and have fewer educated or employed friends and neighbors. Low levels of employment in distressed neighborhoods also destroy the informal networks crucial for workers to find good jobs.
THE LA RAZA MEXICAN FASCIST PARTY AND THE DEMOCRAT PARTY PARTNER TO SURRENDER OUR BORDERS TO NARCOMEX.
AMERICA'S ROAD TO REVOLUTION
MORE HERE:
"This dangerous power vacuum has fueled frustration and
created an entirely new breed of disenfranchised voters who are
fed up with the status quo. These are real people, their anger is
palpable, and it's not going away anytime soon."
THE DAILY SIGNAL
Why Washington's Political Class Is Losing Control
AMERICA'S ROAD TO REVOLUTION
CAN WE REALLY AFFORD ANOTHER WALL STREET-OWNED PRESIDENCY THAT CLINTON 2 WOULD ESTABLISH???
Independent news at its best. If it's blacked-out, covered-up or censored, you can find it here!
Statistic of the Week:

The amount of assets/wealth the average adult has in each country:
-from Credit Suisse via Institute for Policy Studies
BANKSTER-OWNED BARACK OBAMA ORCHESTRATED
THE GREATEST TRANSFER OF AMERICA'S ECONOMY
TO THE RICH SINCE BILL CLINTON.
"Emmanuel Saez, a professor of economics
at the University of California, Berkeley,
estimates that the top 1 percent of American
households now controls 42 percent of the
nation's wealth, up from less than 30 percent
two decades ago. The top 0.1 percent
accounts for 22 percent, nearly double the
DURING THE EIGHT YEARS OF OBAMA'S "HOPE AND
NO CHANGE", TWO -THIRDS OF ALL JOBS WENT TO
FOREIGN BORN, BOTH LEGALS AND ILLEGALS.




THE MILLIONS OF AMERICAN THAT SUNK INTO
POVERTY HAS SOARED, JUST AS THE CRIMES AND
PROFITS OF OBAMA - CLINTON CRONIES ON WALL
"To this, we say: we hear you.
The

system

is

corrupt. The economy

is

rigged.
Big

campaign contributors do pull the strings in Washington. Working people are right to be

angry about trade policy and the betrayal of

the middle class, working families, and the

poor by an elite establishment that profits

from the status quo."
Independent news at its best. If it's blacked-out, covered-up or censored, you can find it here!
Statistic of the Week:

The amount of assets/wealth the average adult has in each country:
-from Credit Suisse via Institute for Policy Studies
The biggest tax dodger is technology giant
Apple, with $181 billion held offshore.
General Electric had the second-largest
stash, at $119 billion, enough to repay four
times over the $28 billion GE received in
federal guarantees during the 2008 Wall
Street crash. Microsoft had $108 billion in
overseas accounts, with companies like
Exxon Mobil, Pfizer, IBM, Cisco Systems,
Google, Merck, and Johnson & Johnson
rounding out the top ten.
Sharp rise in US suicide rate
OBAMA-CLINTONOMICS AND THE FINAL
DEATH OF THE AMERICAN MIDDLE
CLASS
Sharp rise in US suicide rate
Eighty percent increase among middle-
aged white women
By Kate Randall
23 April 2016
The suicide rate in the United States has increased sharply since the beginning of the current century, according to federal data released Friday by the Centers for Disease Control and Prevention (CDC). The increase is led by a particularly sharp rise in suicide among middle-aged white people, especially women.
The study by the CDC's National Center for Health Statistics
follows recent reports documenting a decline in life
expectancy among whites and sharp increases in lifespan
divergences between rich and poor in America.
As with life expectancy, the incidence of suicide is a key barometer of the health of a society. The rise in the rate at which people choose to take their own lives is yet another indication of the social crisis gripping America.
The new data shows that the age-adjusted suicide rate in the US jumped 24 percent between 1999 and 2014, from 10.5 per 100,000 people to 13 per 100,000 people. The figures show a 1.0 percent annual increase in suicide between 1999 and 2006 and a 2 percent yearly rise from 2007 to 2014. In total, 42,773 people died from suicide in 2014 compared to 29,199 in 1999.
The accelerated rise in the suicide rate from 2007 to 2014 coincides with the Great Recession and its aftermath and demonstrates the tragic impact of economic distress on significant layers of the population. Other contributing factors cited by the study's authors include rising drug addiction and overdoses, growing divorce rates among older Americans, increased social isolation and a health care system ill-equipped to deal with mental health issues and suicide prevention.
Over the period of the study, the suicide rate for women aged 45-64 jumped by 63 percent and by 43 percent for men in the same age range. White middle-aged women had a shocking 80 percent increase in suicide during this period, three to four times higher than for females in other racial and ethnic groups.
Suicide rates for non-Hispanic black females rose by 0.8 percent among women 45-64; the rate for Hispanic women in this age group rose by 0.7 percent. Non-Hispanic black males were the only racial and ethnic group of either sex to have a lower suicide rate in 2014 than in 1999, declining by 8 percent.
The suicide rate in the American Indian and Alaska Native population surged from 1999 to 2014, rising by 90 percent for women and 38 percent for men. Among this group, 188 women and 348 men took their own lives in 2014.
Suicides among men were still more than three times the rate among women in 2014, but the study shows that the gap between the genders is closing. The higher rate among men is in part attributed to a higher suicide success rate through the use of firearms, fatal jumps and other methods.
Although based on a small number of suicides when compared to other age groups (150 in 2014), the suicide rate for females aged 10-14 had the largest percentage increase, tripling from 0.5 per 100,000 in 1999 to 1.5 per 100,000 in 2014. The suicide rate increased for women in all age groups except those 75 and above, where it declined by 11 percent.
Suicide rates for males were also higher in 2014 than in 1999 for all age groups under 75 years. However, despite an 8 percent decline for men 75 and older, this age group saw the highest rate of suicide in 2014, with 38.8 per 100,000, or 3,106 male seniors, taking their own lives.
The data shows that from 1999 to 2014, the percentages of suicides involving firearms and poisoning declined, while those involving suffocation increased. For both males and females, about one in four suicides in 2014 was attributable to suffocation, which includes hanging, self-strangulation and other methods of asphyxia. Experts note that such suicides are difficult to prevent as almost all people have the means to carry them out.
Poisoning was the most common method of suicide for women in 2014, making up about one-third of all female suicides. Poisoning agents include prescription opioids, heroin and other toxic substances. While accidental overdoses from opioids have skyrocketed in recent years, purposeful fatal overdoses have also increased.
The most frequent "other" suicide methods for females in 2014 were falls (2.8 percent) and drowning (1.4 percent). For males, "other" methods included falls (2.2 percent) and cutting or piercing (1.9 percent).
According to the CDC data, 33,113 people committed suicide in 2014. Suicide is one of the 10 leading causes of death for Americans. While death rates for major killers such as some cancers and heart disease have seen a long-term decline in recent decades, the suicide rate is rising precipitously.
Psychiatric conditions--including depression, bipolar disorder and schizophrenia--as well as other chronic medical problems undeniably play a role in suicide. The lack of access to high quality, affordable medical care leads to isolation and marginalization for increasing numbers of those in need of counseling and treatment.
The intersection of these very real medical and mental health issues with the economic devastation faced by millions in 21st century America is pushing increasing numbers of people over the brink. While the Obama administration declared economic "recovery" from the recession in mid-2009, the reality is starkly different for the vast majority of Americans today.
The new CDC study does not break down the incidence of suicide by income level, but its victims are undoubtedly predominantly poor, working class and lower middle class, similar to those in recent studies on US life expectancy.
America is a society in which growing numbers of people survive on low-wage, part-time, temporary and contingent jobs, often holding down two or more jobs to make ends meet. Working families are burdened by soaring medical costs and rising mortgage or rent payments. Many college graduates are saddled with debt and unable to find secure and decent-paying work. Veterans suffer from post-traumatic stress syndrome. Retirees are unable to survive on paltry Social Security benefits. Millions have been driven out of the labor market and subsist at the margins of society.
This reality does not enter into the current presidential campaign debate. While "democratic socialist" Bernie Sanders rails against the "billionaire class," the main aim of his campaign is to divert growing anti-capitalist sentiment among workers and young people back into the confines of the Democratic Party.
A
longtime ally of the Democrats and
defender
of capitalism, he has pledged to
support the
Democratic frontrunner, former
Secretary of
State Hillary Clinton, a
personification of
militarism and corruption,
should she secure
the nomination.
Billionaire businessman Donald Trump, the likely Republican candidate, promotes a fascistic and anti-working class agenda, scapegoating immigrants and Muslims. None of the candidates of the political establishment have answers to the economic and social crisis and the personal toll it takes on working people and youth.
US corporate tax cheats hiding $1.4 trillion in profits in offshore accounts
US corporate tax cheats hiding $1.4 trillion in profits in offshore accounts
By Patrick Martin
15 April 2016
A report issued Thursday by the British charity Oxfam found that the 50 largest US corporations are hiding $1.4 trillion in profits in overseas accounts to avoid US income taxes, much of it in tax havens like Bermuda and the Cayman Islands.
The biggest tax dodger is technology giant
Apple, with $181 billion held offshore. General
Electric had the second-largest stash, at $119
billion, enough to repay four times over the
$28 billion GE received in federal guarantees
during the 2008 Wall Street crash. Microsoft
had $108 billion in overseas accounts, with
companies like Exxon Mobil, Pfizer, IBM,
Cisco Systems, Google, Merck, and Johnson
& Johnson rounding out the top ten.
Overseas tax havens have been the focus of recent revelations about tax scams by wealthy individuals, based on the leak of the "Panama Papers," documents from a single Panama-based law firm, Mossack Fonseca, involving 214,000 offshore shell companies. The firm's clients included 29 billionaires and 140 top politicians worldwide, among them a dozen heads of government.
But the sums involved in corporate tax scams dwarf those hidden away by individuals. According to the Oxfam report, the offshore manipulations by the 50 largest US corporations cost the US taxpayer $111 billion each year, while robbing another $100 billion annually from countries overseas, many of them desperately poor.
The $111 billion a year in US taxes evaded would be sufficient to eliminate 90 percent of child poverty in America, effectively wiping out that social scourge. It is more than the annual cost of the food stamp program, or unemployment benefits, or the total budget of the Department of Education.
Oxfam timed the release of its report for the April 15 income tax deadline in the United States (actually Monday, April 18 this year), when tens of millions of working people must file their income tax returns or face federal penalties. Working people could face additional tax penalties of up to 2 percent of household income, to a maximum of $975, under the Obamacare "individual mandate," if they have not purchased private health insurance.
There is a stark contrast between the IRS hounding of working people for relatively small amounts of money—but difficult or impossible to pay for those on low incomes—and the green light given to corporate tax cheats who evade taxation on trillions in income.
"As Americans rush to finalize tax returns, multinational corporations that benefit from trillions in taxpayer-funded support are dodging billions in taxes," said Raymond C. Offenheiser, President of Oxfam America. "The vast sums large companies stash in tax havens should be fighting poverty and rebuilding America's infrastructure, not hidden offshore in Panama, Bahamas, or the Cayman Islands."
The Oxfam report, titled "Broken at the Top," expresses concern that "tax dodging by multinational corporations…contributes to dangerous inequality that is undermining our social fabric and hindering economic growth."
It continues: "This inequality is fueled by an economic and political system that benefits the rich and powerful at the expense of the rest, causing the gains of economic growth over the last several decades to go disproportionately to the already wealthy. Among the most damning examples of this rigged system is the way large, profitable companies use offshore tax havens, and other aggressive and secretive methods, to dramatically lower their corporate tax rates in the United States and developing countries alike."
Oxfam collected figures available from the 10-K reports and other financial documents issued by the 50 largest US companies, covering the period since the Wall Street crash, 2008 through 2014, and presented them in an interactive
table
. The figures included total profits, federal taxes paid, total US taxes paid (including state and local), lobbying expenses, tax breaks, money held in offshore accounts, and benefits received from the federal government, including loans, loan guarantees and bailouts.
Among the most important findings:
* The top 50 companies made nearly $4
trillion in profits globally, but paid only $412
billion in federal income tax, for an effective
tax rate of barely 10 percent, compared to the
statutory rate of 35 percent.
* The 50 companies spent $2.6 billion to
influence the federal government, while
reaping nearly $11.2 trillion in federal support,
for an effective return of 400,000 percent on
their lobbying expenses.
* The overseas cash stashed by the 50
companies, nearly $1.4 trillion, is larger than
the Gross Domestic Product of Russia,
Mexico, Spain or South Korea.
* US multinationals reported 43 percent of
their foreign earnings from five tax havens,
countries that accounted for only 4 percent of
their foreign workforce and 7 percent of
foreign investment. All told, US companies
shifted between $500 billion and $700 billion
n in profits from countries where economic
activity actually took place to countries where
tax rates were low.
* In the year 2012 alone, US firms reported
$80 billion in profits in Bermuda, more than
their combined reported profits in the four
largest economies (after the US itself): China,
Japan, Germany and France. This figure was
nearly 20 times the total GDP of the tiny
island country.
The Oxfam report also pointed to an estimated $100 billion in taxes evaded in foreign countries, many of them rich in natural resources extracted by such global giants as Exxon, Chevron and Dow Chemical. According to the report, "Taxes paid, or unpaid, by multinational companies in poor countries can be the difference between life and death, poverty or opportunity. $100 billion is four times what the 47 least developed countries in the world spend on education for their 932 million citizens. $100 billion is equivalent to what it would cost to provide basic life-saving health services or safe water and sanitation to more than 2.2 billion people."
The report cited former UN Secretary-General Kofi Annan's assessment that "Africa loses more money each year to tax dodging than it receives in international development assistance."
Oxfam offered no solution to the growth of inequality and the systematic looting by big corporations that its report documents, except to urge governments around the world to close tax loopholes. The group also pleads with the corporate bosses themselves not to be quite so greedy. Neither capitalist governments nor the CEOs will pay the slightest attention. But the working class should take note of these figures, which provide ample evidence of the bankrupt and reactionary nature of capitalism, and the urgent necessity of building a mass movement, on a global scale, to put an end to the profit system.
DURING THE EIGHT YEARS OF OBAMA'S "HOPE AND NO CHANGE", TWO -THIRDS OF ALL JOBS WENT TO FOREIGN BORN, BOTH LEGALS AND ILLEGALS.
THE MILLIONS OF AMERICAN THAT SUNK INTO POVERTY HAS SOARED, JUST AS THE CRIMES AND PROFITS OF OBAMA - CLINTON CRONIES ON WALL STREET!
OBAMA-CLINTONOMICS: Serve the Rich, Obama's Crony
Banksters, and the Mexican Fascist Party of LA RAZA to
keep wages depressed and corporate profits even greater!
CAN WE REALLY AFFORD ANOTHER WALL STREET-OWNED PRESIDENCY THAT CLINTON 2 WOULD ESTABLISH???
Whiteout Press
Independent news at its best. If it's blacked-out, covered-up or censored, you can find it here!
March 23, 2016
Statistic of the Week:

The amount of assets/wealth the average adult has in each country:
Belgium - $150,348
UK - $126,472
Norway - $119,634
Japan - $96,071
France - $86,156
Canada - $74,750
Netherlands - $74,659
-from Credit Suisse via Institute for Policy Studies
New study says entire regions of US will
remain in slump until the
2020s
By Jerry White

21 March 2016
A new study by a University of California-Berkeley economist says that at current sluggish levels of job growth, entire regions of the United States, which were hit hardest by the Great Recession will not return to "normal" employment levels until the 2020s. This amounts, to "more than a 'lost decade' of depressed employment" for "half of the country," wrote economist Danny Yagan.
The new study is one of many showing that the fall of the official unemployment rate, touted by the Obama administration and the news media as proof of a robust economic recovery, if not a return to "full employment," is largely based on the fact that millions of workers fell out of the labor force in the years preceding and following the 2008 financial crash.
The labor-force participation rate fell to a 38-year low of 62.4 percent last fall, and only climbed up to 62.9 percent in February. According to the Economic Policy Institute, February's official jobless rate of 4.9 percent—the lowest since the pre-recession level of 4.7 percent in November 2007—would really be 6.3 percent if the country's "missing workers" were included. These include 2.4 million workers who have given up actively looking for work.
Yagan based his findings on a detailed study of some 2 million, similarly paid workers in the retail industry in order to calculate employment patterns across different local areas and to account for occupations that might have been particularly hard hit in one region.
He found that the areas hardest hit by the recession, which began in December 2007 and officially ended in June 2009, continued to have high levels of joblessness in 2014. His map of these distressed areas includes all of Florida and parts of Arizona, Nevada, California, Colorado, New Mexico, the Dakotas, Michigan, Indiana, Ohio, Georgia, Connecticut, New Hampshire and other states.
While different areas of the country are often hit differently by an economic downturn, an article in the
Wall Street Journal
on Yagan's study noted, these economically distressed areas generally return to normal levels of employment chiefly because workers move to find work in areas with a higher demand for labor. In the case of the "Great Recession," however, the mass layoffs resulted in "muted migration," according to other studies cited by the
Journal
,
and workers simply fell out of the labor market.
"Unlike the aftermath of the 1980s and 1990s recessions," Yagan wrote, "employment in hard-hit areas remains very depressed relative to the rest of the country." Living in areas like Phoenix, Arizona, or Las Vegas, Nevada means confronting "enduring joblessness and exacerbated inequality," Yagan wrote. "If the latest convergence speed continues, employment differences across the United States are estimated to return to normal in the 2020s—more than a decade after the Great Recession."
The lack of decent job opportunities in large swathes of the country has created a reserve army of unemployed and underemployed workers who are competing for a shrinking number of jobs in areas that are more or less permanently distressed. Last month's Labor Department employment report noted that the average annual unemployment rate in 36 states, plus Washington, D.C. was higher in 2015 than the average unemployment rate for those states in 2007.
The majority of unemployed people in the US do not receive unemployment insurance benefits, according to the National Employment Law Project, with just over one in four jobless workers (27 percent), a record low, receiving such benefits in 2015.
The details of these studies will come as no surprise for tens of millions of workers across the United States who face unprecedented levels of economic insecurity, ongoing mass layoffs, and more than a decade of stagnating or falling real wages. This has fueled the growth of enormous discontent and the initial stirrings of class struggle by American workers, which the trade unions and both big business parties have sought to channel in the direction of economic nationalism and hostility to workers in China, Mexico and other countries.
In fact, US workers are being subjected to the same attacks as workers around the world. The reports on the employment situation in the US coincide with a continual massacre of jobs in the world's steel, oil and mining industries, with 1.2 million steel and coal mining jobs targeted for destruction in China alone.
Continual layoffs in the US have been driven by the plunging price of steel, petroleum, coal and other commodities, which has been generated in large measure by the fall in demand from China and other so-called emerging economies. Last week, St. Louis, Missouri-based Peabody Energy, the largest coal mining company in the world, announced it could soon file for Chapter 11 bankruptcy, after its share values fell 46 percent over the last six months.
Peabody has already cut 20 percent of its global workforce since 2012, while spinning off large sections of its operations in order to cheat retirees out of their pensions. The company's announcement follows bankruptcy filings by both Arch Coal and Alpha Natural Resources and a similar threat from coal mining giant Foresight Energy. In its press release, Peabody pointed to the collapse in the coal market, where the price per ton has fallen to $40 from $200 in 2008.
The steel industry continues to wipe out jobs, with 12,000 steelworkers already laid off or facing imminent job cuts. The largest US steelmaker, US Steel, has slashed thousands of jobs in Texas, Illinois, Ohio, Indiana and Pennsylvania. The aluminum giant Alcoa is just weeks away from closing its smelter in Warrick County, Indiana, wiping out another 600 jobs. Meanwhile, the United Steelworkers (USW) union is pushing for protectionist measures against China, Brazil, Russia and other countries, even as it pushes through concession-laden contracts at US Steel, Allegheny Technologies and now ArcelorMittal.
Early last year, the USW betrayed the strike by thousands of oil refinery workers, blocking any struggle against the brutal restructuring of the industry that is now underway. The plunging of oil prices triggered more than 258,000 layoffs in the global energy industry in 2015—with the number of active oil and gas rigs in the US falling 61 percent. Analysts anticipate a new round of job cuts and bankruptcies in early 2016.
Texas has lost 60,000 energy-related jobs alone, or one-fifth of the workforce in that sector in the state, with North Dakota and Pennsylvania also being hard hit. The current US unemployment rate for the oil, gas and mining sector is 8.5 percent, but could top 10 percent by February, double the national jobless rate.
Last month, the air conditioner maker Carrier announced it was eliminating 1,400 jobs at its Indianapolis plant and a nearby facility, and shipping production to Monterrey, Mexico where wages are approximately $6 an hour. A video shot by a worker, capturing the explosive anger at a meeting of plant workers when a manager makes the announcement, has been viewed millions of times.
Far from organizing any resistance to the closure of the factory and destruction of jobs, however, the USW is collaborating with United Technologies Carrier management to carry out an orderly shutdown and the retraining of displaced workers for lower-paying jobs.
The USW is hostile to any fight to unite American workers with their brothers and sisters in Mexico, who have been engaging in growing resistance to the exploitation by the transnational corporations. USW officials are telling workers to rely on the Democratic Party to implement protectionist trade measures to "save jobs" and "take our country back." Local and regional union officials have had nothing but kind words about Donald Trump's efforts to swindle workers with economic nationalist appeals.
The unions have long used economic nationalism to undermine the class-consciousness of workers and to promote the corporatist outlook of "labor-management partnership." In the name of making the corporations "competitive," the USW and other unions have suppressed every struggle against plant closings, job cuts and the destruction of wages and benefits.
This has coincided with the political subordination of workers to the Democratic Party, which under the Obama administration has spearheaded the attack on workers' jobs and wages and the historic transfer of wealth from the bottom to the top.
USW Local 1999, which claims to represent Carrier workers, is urging them to support Democrat John Gregg for Indiana governor. A former land agent for Peabody Coal and lobbyist for Amax Coal Company, Gregg served as the honorary chair of Hillary Clinton's 2008 campaign in Indiana, and was a proponent of austerity and corporate tax cuts while Speaker of the state Legislature.
IT WAS BILL CLINTON WHO UNLEASHED WALL
STREET'S BIGGEST CRIMINAL BANKSTERS ON US.
IT WAS BILL CLINTON WHO HANDED PARDONS TO
NUMEROUS CRIMINAL BILLIONAIRES.
IT IS BILL CLINTON THAT OPERATES THE PHONY
CLINTON FOUNDATION WHICH IS FUNDED BY
CRIMINAL
CRONY BILLIONAIRES, DICTATORS AND BANKSTERS
THAT OWN HILLARY!
Strike 2: Bill Clinton again hits Obama and his
'awful legacy'
:
For the second time this month,
Bill Clinton has slammed President Obama's economy, the latest a
junking of his whole seven-plus years in office as an awful legacy.
In comments video-captured and distributed by the Republican
National Committee, Hillary Clinton's hubby said, If you believe
we've finally come to the point where we can put the awful legacy
of the last eight years behind us, and the seven years before
that...then you should vote for her. A quick calculation of his years
would mean that the gravy years were when he was president.
AMERICA'S DRIFT TO CIVIL WAR or
REVOLUTION
The strangled American middle class
vs
Wall Street's Looters, the Mexican Fascist
Party of LA RAZA "The Race", and both
corporate bought and owned political parties!
more here:
http://mexicanoccupation.blogs...
AMERICA'S DRIFT TO REVOLUTION OR
CIVIL WAR
AND NO LEGAL NEED APPLY PHONY RECOVERY
THE DAILY SIGNAL
Why Washington's Political Class Is Losing Control
Commentary By
The Washington political establishment has hit the panic button. Not because they are afraid of any one individual or candidate, but because they are afraid of losing their own political power.
The Washington political establishment
has hit the panic button.
This town is filled with well intentioned people who believe they are doing the right thing, but far too many have lost their way after years in Washington. Politicians pay more attention to special interests groups and powerful lobbyists writing checks to their next campaigns than listening to the people back home who sent them here in the first place.
This dangerous power vacuum has fueled frustration and
created an entirely new breed of disenfranchised voters who
are fed up with the status quo. These are real people, their
anger is palpable, and it's not going away anytime soon.
The Daily Signal is the multimedia news organization of The Heritage Foundation. We'll respect your inbox and keep you informed.
A recent survey of likely Republican primary voters showed that 86 percent believe that "people like me don't have any say about what the government does." Another recent exit poll in my home state of Georgia showed that six in ten Republicans felt "betrayed" by their political party.
This sentiment is something I heard countless times during my campaign for the United States Senate just over a short year ago. It is what pulled me to get involved personally to try and make a difference. But this is not just happening in Georgia. People across America are angry, frustrated, and scared because they feel as though Washington is not listening to them.
A growing number of Americans are more motivated by this feeling of frustration than any individual political ideology.
A growing number of Americans are more motivated by this feeling of frustration than any individual political ideology. The rise of career politicians has completely shifted the political paradigm from just liberal versus conservative. There is now a disconnect between the Washington political class and everybody else—the insiders versus the outsiders.
When most Americans look at the federal government, all
they see is years of failed policies that have made life harder
for them and their families, and a political class that is well
connected and uninterested in giving them a say in how to
right the ship.
People are still hurting, and they are weary of Washington's penchant for business as usual.
Georgians sent me—someone who had never run for elected office—to the United States Senate to try and do something about it and change the system. In state after state this year, voters have voiced support for presidential candidates who are not part of the political class.
This is a growing movement, and it is bigger than any one candidate or election victory. Unless the political establishment is willing to learn from the anger felt by millions of Americans who feel left behind, this will not end in November.
True to form, though, political elites prefer tearing down individuals to understanding what created this movement. This movement of Americans wants nothing to do with Washington, and neither endorsements nor criticisms are going to change that.
No matter who our Republican presidential nominee is at the end of this process, one thing is clear: We cannot allow Democrats to double down on the failed policies of the last seven years.
A better course of action would be a candid examination of what can be done to regain the trust of the American people.
Let's start with simply listening to them.
"Let's start with simply listening to them"
BLOG:
EVEN WITH POLLS DOCUMENTING THAT
ONLY 9% OF THE AMERICAN PEOPLE
APPROVE OF CONGRESS, IT IS BUSINESS AS USUAL;
ENDLESS LOOTING FOR THEIR PAYMASTERS ON WALL
STREET AND SURRENDERING MORE OF OUR BORDERS,
JOBS AND WELFARE TO INVADING MEXICANS!
HILLARY CLINTON SAYS MILLIONS MORE VOTING
ILLEGAL SHOULD BE HANDED OBAMACARE!
CLINTON'S PLATFORM IS SIMPLE: BUILD THE MEX
WELFARE STATE ON AMERICA'S BACK TO BUY THEIR
ILLEGAL VOTES.
THEY ALREADY GET MILLIONS OF OUR JOBS AND
BILLIONS IN WELFARE!
THE AMERICAN THINKER
MORE HERE
More free stuff for people who violate our immigration laws! Hillary Clinton and her daughter have teed up a ball for the Republican nominee, whether Trump or Cruz, to hit 400 yards down the fairway.  Just over a week ago, Hillary reversed her f...
NO ONE SERVES HIS PAYMASTERS ON WALL STREET MORE THAN
BARACK OBAMA!
HE SMELLS THOSE SPEECH FEE BRIBES ALREADY!
AND HILLARY IS OBAMA'S CLONE!
Drug prices have also been a theme in the presidential campaign. The
Democratic frontrunner Hillary Clinton, for example, released a campaign
advertisement earlier this month attacking the "predatory pricing" of
Valeant Pharmaceuticals. Like the congressional hearing, this is all for
show.

Of all the presidential candidates, Clinton is the top recipient of
donations from the pharmaceutical and health products industry,
taking in $410,460 according to data from the Center for Responsive
Politics.
OBAMA-CLINTONOMICS: FEEDING THEIR
BIG PHARMA CRONIES!
US drug prices doubled since 2011
By Brad Dixon
18 March 2016
According to a new
report
by the pharmacy benefits manager Express Scripts, the average price of brand-name drugs increased by 16.2 percent last year. Between 2011 and 2015, branded prescription drug prices have nearly doubled, rising 98.2 percent. Since 2008, the prices have increased by a whopping 164 percent.
Drug spending rose by 5.2 percent in 2015. This was about half the increase seen in 2014, the year of the largest hike since 2003.
The report is based upon prescription use data for members with drug coverage provided by Express Scripts plan sponsors. In assessing changes in plan costs, the report distinguishes between the relative contributions from changes in patient utilization (e.g. more patients being prescribed the drug) and changes in the unit price of the drug (e.g., price hikes).
In the late 1980s and early 1990s, most drug spending was on traditional drugs (small-molecule, solid drugs) to treat conditions such as heartburn, depression and diabetes. The recent trend has been a shift to specialty drugs. Still, within traditional therapy categories there were significant increases in spending on medications to treat diabetes, heartburn and ulcers, and skin conditions.
Diabetes medications remain the most expensive of the traditional drug categories. Drug spending in this category increased by 14 percent, with the hike being equally influenced by increased utilization of the drugs and rise in unit cost. Three diabetes treatments—Lantus, Januvia and Humalog—were among the top five drugs in terms of spending across all traditional therapy classes.
Although not discussed in the report, an investigation by
Bloomberg News
last year
found
evidence of "shadow pricing" by drug manufacturers, where companies raise their prices immediately after their competitors do so. The investigation found that the prices of diabetes drugs Lantus and Lemivir had increased in tandem 13 times since 2009, and evidence of similar shadow pricing for the drugs Humalog and Novolog.
Heartburn and ulcer drugs saw a 35.6 percent increase in spending, almost solely due to the rise in unit cost. Although 92.3 percent of the medications filled in this category were generic, the price unit trend was heavily influenced by the increase in prices of branded drugs such as Nexium, Dexilant and Prevacid.
Treatments for skin conditions also saw a significant increase of 27.8 percent in spending, again due almost completely to rises in the unit costs of the medications. The report notes that these increases occurred for both generic and branded therapies, largely due to industry consolidation through mergers and acquisitions leading to less competition in the market. While 86.3 percent of the drugs filled were generic, many of the generic versions saw sharp increases in unit cost, including the two most widely used corticosteroids, clobetasol (96.2 percent) and triamcinolone (28 percent).
While the overall spending increase for traditional therapy classes was nominal (0.6 percent), the primary factor for the increase in spending came from specialty medications. Specialty medications require special education and close patient monitoring, such as drugs to treat cancer, multiple sclerosis or cystic fibrosis. Spending on specialty drugs rose by 17.8 percent in 2015. The report found that 37.7 percent of drug spending was for specialty drugs in 2015, and the figure is expected to rise to 50 percent by 2018.
Spending in this category was topped by inflammatory conditions—such as rheumatoid arthritis, inflammatory bowel diseases and psoriasis—which rose by 25 percent, driven by a 10.3 percent increase in utilization and 14.7 percent rise in unit cost. The average cost per prescription in 2015 was $3,035.95. The medications Humira Pen and Enbrel, which captured more than 66 percent of the market share for this class, saw unit cost increases of more than 17 percent.
Spending on oncology therapies increased by 23.7 percent, due to both increased use (9.3 percent) and increased unit cost (14.4 percent). New cancer therapies average $8,000 per prescription and the average cancer regimen is around $150,000 per patient. Between 2005 and 2015, the anti-cancer drug Gleevec, manufactured exclusively by Novartis, has seen its price more than triple, with an annual cost of $92,000. In 2015, the year prior to the drug's patent expiration, Novartis increased the unit cost of the drug by 19.3 percent. This is a common practice for companies facing patent expiration.
Drug spending on cystic fibrosis treatments rose by a significant 53.4 percent, largely based on increases in unit cost (40.9 percent vs. 13.3 percent from patient utilization). This rise was largely due to use of the new oral combination therapy, Orkambi, which became available in mid-2015. The drug costs more than $20,000 per month.
The report forecasts that between 2016 and 2018 spending will increase annually by 7-8 percent for traditional drugs and around 17 percent for specialty drugs.
The prices of generic drugs have on average decreased, although there are notable exceptions. Pharmaceutical companies like Horizon Pharma, Turing Pharmaceuticals, and Valeant Pharmaceuticals have purchased generic drugs and then significantly hiked their prices.
The report notes the emergence of "captive pharmacies" in 2015 as another factor responsible for higher drug spending. Captive pharmacies are owned or operated by pharmaceutical manufacturers and tend to promote their manufacturer's drugs, rather than generic or other low-cost alternatives. The report gives as examples the arrangements between Valeant Pharmaceuticals and Philidor Rx Services, and between Horizon Pharma and Linden Care Pharmacy.
The Express Scripts data matches the findings released earlier this year by the Truveris OneRx National Drug Index, which found that branded drugs rose by 14.8 percent in 2015.
Despite the widespread media publicity of the notorious drug price hikes by companies like Turing and Valeant, pharmaceutical companies have continued to
inflate prices in 2016
, with Pfizer leading the way with an average price hike of 10.6 percent for 60 of its branded drugs.
Workers are rightly outraged at the skyrocketing price of drugs. A Kaiser Family Foundation poll conducted last year found that 74 percent of respondents felt that the drug companies put profits before people.
The political establishment, however, has sought both to exploit this anger for electoral support and to direct it into safe channels that do not disrupt the status quo.
A congressional
hearing
held in January placed a spotlight on the price-gouging practices of HYPERLINK
Valeant Pharmaceuticals
and
Turing Pharmaceuticals
, whose dubious activities were highlighted in a pair of congressional
memos
. The purpose of the hearing, however, was not probe the underlying causes of the sharp rise in drug prices. Instead, legislators sought to safeguard the profits of the pharmaceutical industry as a whole through a verbal lambasting of the industry's most notorious culprits.
Drug prices have also been a theme in the presidential campaign.
The Democratic frontrunner Hillary Clinton, for example, released
a campaign advertisement earlier this month attacking the
"predatory pricing" of Valeant Pharmaceuticals. Like the
congressional hearing, this is all for show. Of all the presidential
candidates, Clinton is the top recipient of donations from the
pharmaceutical and health products industry, taking in $410,460
according to data from the Center for Responsive Politics.
Clinton's rival, Bernie Sanders, who has stated that he will support Clinton if he loses the Democratic nomination, received $82,094 in donations from the industry. Sanders has proposed a series of minor reforms to address drug prices, such as the re-importation of drugs from Canada, allowing Medicare to negotiate prices with drug manufacturers, and decreasing the patent life of branded drugs.
None of the candidates, including the "democratic socialist" Sanders, challenge the private ownership of the pharmaceutical industry in which everything from research and development and clinical testing to drug pricing and promotion are subordinated to the profit interests of corporations.
.............. what would have happened to this once great nation if
instead of handing billions in welfare to criminal banksters, and
millions of our jobs to illegals.... we handed free education to
America's youth.
but then we wouldn't need to import boatloads of educated people
to take our tech jobs!!!
OBAMA-CLINTONOMICS: TRANSFERRING THE NATION'S
WEALTH TO THE 1%, JOBS AND WELFARE TO ILLEGALS
TO KEEP WAGES DEPRESSED AND BUILD THE DEM
PARTY BASE WITH MEX FLAG WAVERS
"My greatest worry is working all my life, constantly chasing debt
and never being to own a house or have children," writes a
millennial named "Gemma" in a section of the series entitled
"#Itsnotjustyou: Millenials share their secret fears." Continuing,
she states: "The cost of renting privately is rising, the cost of
travelling is rising, the cost of living is rising and yet the salaries
don't reflect this rise. … I am worried that capitalism is pushing
this and creating a greater wealth inequality gap. It seems
unsustainable and to be driving people apart—a recent example is
the demonization of our own NHS service and the junior doctors."
Study: Worsening conditions for young people throughout the developed world
Study: Worsening conditions for young
people throughout the developed world
By Nick Barrickman
15 March 2016
Incomes for young people born between 1980 and 1994 have hit unprecedented low levels in the aftermath of the 2008 financial collapse, according to a recent investigative series conducted by the UK's
Guardian
publication titled "
Millenials: The Trials of Generation Y
." The study draws on income statistics from eight of the world's 15 most advanced economies, including the US, Canada, Great Britain, Australia, France, Italy, Spain and Germany to paint a picture of dimming social prospects for young people throughout the developed world.
The Guardian cites as contributing factors "a combination of
debt, joblessness, globalization, demographics and rising
house prices" which "have grave implications for everything
from social cohesion to family formation." Whereas during the
1970s and 1980s people in their 20s averaged more than the
national income, the study found that young couples and
families in five of the eight countries listed made 20 percent
less than the rest of the population today.
"It is likely to be the first time in industrialized history, save for periods of war or natural disaster, that the incomes of young adults have fallen so far when compared with the rest of society," the British newspaper states.
In the US and Italy, incomes were lower in actual figures than they were a generation ago, with Americans averaging a yearly salary of $27,757 in 2010 compared to $29,638 in 1979. The study notes that young US workers currently make less than those in retirement. In France, households headed by individuals under the age of 50 made less disposable income than recent retirees. In Italy, an 80-year-old pensioner possesses more income than someone under the age of 35.
In many cases, the 2008 financial collapse simply accelerated trends that were already underway. Housing prices in Great Britain and Australia are among the most expensive in the developed world. The average price for a home in Sydney, Australia, is $1 million in Australian dollars, more than 12 times the median household income in the city. The average home loan for first-time buyers in New South Wales is A$424,000. This figure has increased by 43 percent in the past four years alone.
According to the Australian Bureau of Statistics, housing prices have increased more sharply and for a longer period in the past 20 years than at any time since 1880. The
Guardian
notes that housing costs in the UK and Australia have been increasing at a "neck and neck" pace ahead of the average household income. "We're heading for a world where rates of home ownership among young people are below 50 percent for the first time," states Alan Milburn of the Social Mobility and Child Poverty Commission, adding that the UK is heading toward becoming "a society that is permanently divided." Income for those in their late 20s in the UK remain below levels seen in 2004-2005.
A recent survey by British polling firm Ipsos Mori found that 54 percent of those questioned thought the next generation was or would be worse off than the previous. "It's the highest we've measured—it's completely flipped around from April 2003," stated Bobby Duffy, managing director of Ipsos Mori's Social Research Institute of the findings.
In addition, more than a quarter of individuals in this age group live with their parents. An average woman in this age group today waits 7.1 years longer to become married than in 1981; and the average age of childbirth for young families is nearly four years later than those in 1974.
"My greatest worry is working all my life, constantly chasing
debt and never being to own a house or have children,"
writes a millennial named "Gemma" in a section of the series
entitled "#Itsnotjustyou: Millenials share their secret fears."
Continuing, she states: "The cost of renting privately is rising,
the cost of travelling is rising, the cost of living is rising and
yet the salaries don't reflect this rise. … I am worried that
capitalism is pushing this and creating a greater wealth
inequality gap. It seems unsustainable and to be driving
people apart—a recent example is the demonization of our
own NHS service and the junior doctors."
Many others share similar nightmares.
The study comes amid other findings revealing similar declines in living standards for youth in the developed world. A 2013 Organization for Economic Co-operation and Development (OECD) report found nearly 30 million youth in the developed capitalist countries without a job or an education, the basic requirements for functioning in society.
The circumstances faced by young people throughout the world speak to a systemic breakdown of the social order in both the so-called developing and advanced countries, which has been compounded by war and militarism, consecutive attacks on living standards and cuts to social programs, which invariably hit the youngest and most vulnerable the hardest. Though not covered by the study, European nations such as Greece have been reduced to conditions unseen in the developed world, with youth unemployment at over 60 percent due to attacks on living standards demanded by the European Union and enforced by consecutive governments, both right and "left," under Syriza.
The authors of the
Guardian
investigation, in an effort to divert rising anger away from the social system responsible for the poverty, destruction of living standards and attendant social misery, single out the relatively-better off living conditions of retirees in order to make a case for attacking pensions and other benefits accruing to the older generation. The publication quotes a recently published interview with Mario Draghi, head of the European Central Bank (ECB), who states "in many countries the labor market is set up to protect older 'insiders'—people with permanent, high-paid contracts and shielded by strong labor laws. … The side-effect is that young people are stuck with lower-paid, temporary contracts and get fired first in crisis times."
Rather than receiving expanded employment, pay and
access to better living conditions, it is proposed that the
young and the old fight over the rapidly diminishing
resources made available by bourgeois public officials and
the wealthy.
While Draghi advocates attacking the pay and benefits of older workers, the ECB head has funneled billions into the hands of European banking institutions; recently upping the monthly total of cash infusions to €80 billion from €60 billion previously and adding to the wealth of the financial elite.
The fate of retirement benefits and wages under the profit-system is pointed to when the newspaper notes "pensioners' incomes are likely to rise for at least the next decade, after which future generations will be unlikely to benefit [due to] a drop in home ownership, weaker private sector pension schemes and the expectation that state pensions will be less generous in the future."
OBAMA-CLINTONOMICS: SERVE THE
RICH, WALL STREET CRONIES AND LA
RAZA, THE MEX FASCIST PARTY of
AMERICA....
Then hand what is left of the American middle
class the tax bills for bailouts and Mexico's
crime wave in our open borders and LA
RAZA "The Race" welfare state on our backs!
"The Clinton family charities have outsourced many U.S. white-collar jobs to foreign college graduates instead of hiring American college graduates."
March 11, 2016
Oops! Clinton Foundation outsourced tech jobs to
H-1B visa holders
The Bill, Hillary, and Chelsea Clinton Foundation, which does "wonderful work" (if you ask Hillary), also has sought to hire a lot of foreign tech workers brought to the country under the H-1B visa program to fill jobs Americans supposedly can't be found to perform. Breitbart reports:
The Clinton family charities have outsourced many U.S. white-collar jobs to foreign college graduates instead of hiring American college graduates.





The outsourcing started in 2004 and it continues to this year. When asked if the foundation is still hiring foreign white-collar workers via the controversial H-1B visa program, Vena Cooper, one of the foundation's personnel officers, responded "We do."






The foundations declined to answer questions from Breitbart News, but available data shows they sought to hire up to 130 foreign graduates. That's roughly half the number of 250 jobs outsourced by Disney last October, which has reignited political criticism of the middle-class outsourcing program.






The 130 foreign graduates sought by the Clinton's foundations were and are not immigrants. Instead, they're temporary "guest" workers who fill outsourced professional jobs for up to six years.




The Clintons' foreign graduates have been hired via the H-1B visa program that also is used by Disney and U.S. corporations and universities to employ a population of roughly 650,000 young and cheap foreign professionals in business, design, healthcare, software, science, education, p.r. and media and pharmaceutical jobs. After their six years in the United States, most H-1Bs return
home with the work-experience and connections that help them compete against U.S. professionals in the global marketplace.




The young foreign H-1B professionals are also used to push down average salaries earned by experienced and older American professionals. In turn, those salary cuts boost profit margins and company values on Wall Street.




Hey, those private jets and 5-star luxury hotels favored by the traveling Clintons don't come cheap, so they've got to pinch pennies wherever they can. And besides, a lot of their money comes from foreign sources, so
they're just returning it to some of the home countries.
Read more:
http://www.americanthinker.com/blog/2016/03/oops_clinton_foundation_outsourced_tech_jobs_to_h1b_visa_holders.html#ixzz42cTZSzX3
Follow us:
@AmericanThinker on Twitter
|
AmericanThinker on Faceboo
US employment report: Payrolls rise,
wages fall
By Barry Grey
5 March 2016
President Barack Obama seized on the February employment report, released Friday morning by the Labor Department, to tout the supposed "success" of his economic policies and paint a picture of a thriving US economy. The report, which showed a larger-than-predicted growth in private nonfarm payrolls of 242,000 jobs, confirmed that the US economy was "the envy of the world," Obama told reporters at a White House appearance.
"The fact of the matter is that the plans that we have put in place to grow the economy have worked," he boasted." He derided "an alternative reality out there from some of the political folks that America is down in the dumps." He countered, "America is pretty darn great right now."
He did not attempt to explain why the "alternative reality," which his labor secretary, Thomas Perez, attributed to "fear-mongers and fact-deniers," is believed by tens of millions of Americans, whose anger over economic injustice is dramatically reflected in the current election campaign.
One does not have to look too closely at the Labor Department's report, however, to get an idea of what is fueling the social indignation of working people in the eighth and final year of the Obama administration. Behind the top-line number for new jobs and the quasi-fictional official unemployment rate of only 4.9 percent, ongoing trends with disastrous consequences for the working class are evident. They account for two other important indices in the report: a decline in average earnings from the previous month of 3 cents, or 0.1 percent, to $25.35, bringing the increase for the year down to just 2.2 percent, and a fall in the average private-sector workweek of 0.2 hours to 34.4 hours, a two-year low.
These two figures arise from the fact that the vast bulk of new jobs created in February were low-wage and a huge percentage were part-time. The low-paying service sector—retail, bars and restaurants, health care—accounted for 245,000 jobs. The reality of recession in basic production was reflected in a 16,000 decline in manufacturing and the loss of another 19,000 mining jobs, bringing to 171,000 the total decline in mining since September 2014. The only better-paying industrial sector that saw an increase was construction, which recorded a gain of 19,000.
Another figure highlights the hollow and socially regressive character of Obama's so-called "recovery." The financial cable network CNBC pointed out that according to the Labor Department's household survey, which is the basis for the unemployment rate figure (the figure on payroll growth is derived from a separate survey of business establishments), full-time jobs increased in February by only 65,000, while part-time positions increased by 489,000. This means that a mere 11.7 percent of new jobs in February were full-time!
These statistics point to the fact that the American ruling class, through its instrument, the Obama administration, has utilized the financial crash of 2008, for which it was responsible, to fundamentally reorganize the US economy, transforming it into a low-wage system. The millions of decent-paying jobs that were destroyed have been largely replaced by poverty-wage, part-time and temporary jobs.
The median household income has fallen sharply. Pensions and health benefits have been gutted, schools closed by the thousands, teachers and other public workers laid off by the millions. At the other end, the Federal Reserve and the US Treasury have pumped trillions of dollars into the financial markets, driving up the stock market and bringing the concentration of wealth at the very top to unprecedented levels. This is what Obama lauds as "success."
Meanwhile, millions of Americans remain mired in long-term unemployment. The number of long-term unemployed, defined as without work for 27 weeks or more, was essentially unchanged at 2.2 million in February. This number has not shifted significantly since last June. The long-term jobless accounted last month for 27.7 percent of the unemployed, a far higher percentage than in any previous period categorized as an economic recovery.
A broader measure of unemployment that includes people working part-time but wanting full-time work and those too discouraged to seek employment registered 9.7 percent last month, nearly double the official jobless rate. There are, in addition, millions of people who have dropped out of the labor market and are not even counted in government employment reports.
While the employment-to-population ratio edged up to 59.8 percent and the labor force participation rate rose slightly to 62.9 percent, both measures remain extraordinarily low by historical standards.
The impact of soaring social inequality and falling living standards for broad sections of the population is reflected in a growing crisis in the retail sector. This week, sporting goods chain The Sports Authority filed for Chapter 11 bankruptcy protection and announced it was closing at least 140 of its 463 stores and laying off 3,400 of its 13,000 employees. This follows recent announcements by Walmart, Sears/Kmart and Macy's of hundreds of store closures and thousands of layoffs.
Hillary Clinton repeatedly claims that she is the
champion of the little guy. It has always been a
risible claim, but if any of her supporters
(including at the Post) are actually paying
attention to the scoundrel, this latest gambit ought
to disabuse them of the notion.
March 7, 2016
The last refuge of the scoundrel Hillary
Samuel Johnson's aphorism that patriotism is the last refuge of a scoundrel doesn't apply to Hillary Clinton in her email scandal, because nobody – not even her die-hard supporters – would believe her if she said that she set up the private email server in the interests of the United States. Rather, the last refuge of this scoundrel is to blame everybody else she dealt with at the State Department, in the process impugning not only her own close aides, but career diplomats and other nonpolitical professionals who deserve better.
This strategy is reflected in the campaign's current mantra that "everybody," including former secretaries Colin Powell and Condoleezza Rice, at one time or another sent emails that were later determined to be classified. A recent Washington Post analysis of Hillary's released classified emails demonstrates that she directly sent at least 104 to various aides and officials, and that they too, including the current secretary of state, John Kerry, occasionally sent out emails through nonsecure servers that were later deemed classified. However, what the analysis also shows is that these government officials, when they did use unsecured servers, at least used government accounts, which provide a measure of security, not a private home-brewed server like Mrs. Clinton's.
The Post's news editors must be popping a lot of Thorazine, because their coverage of Clinton is increasingly schizophrenic. As longtime readers of the paper know, the news operation is considerably more left-leaning than the editorial side (which occasionally takes a more centrist view). News stories are routinely slanted to present the most favorable liberal perspective and mock or demean opposing outlooks. This tendency is apparent in the Clinton case as well. The Post has broken some important stories in the email scandal, like the recent revelation that the Justice Department granted former Clinton I.T. aide Bryan Pagliano immunity. And the Post's most heroic figures, Bob Woodward and Carl Bernstein, have separately suggested that the Clinton scandal is the real thing. But since Hillary is the Post's gal, they seeded the Pagliano report with expert liberal analysis that suggested that the immunity deal is either nothing to get excited about (a weird way to promote a scoop) or actually a good thing for Clinton, while omitting contrary interpretations.
The Post's analysis of her emails follows the same pattern. On the one hand, the news that Clinton herself personally authored over 100 classified items cuts against her chosen narrative that she got a lot of emails and that she can hardly have been expected to actually read and analyze them all for security issues as she received them or passed them on. On the other hand, the article goes out of its way to suggest that this was an endemic problem at State. And strangely again, the explanation is rather contradictory. We are told that the sending and receipt of classified information was the result of poor security procedures that preceded Clinton's arrival. But we are also told (in line with claims made by Clinton and her campaign) that there is a culture of "over-classification" in the government. So which is it? Were officials at State too lax about security procedures or too anal? If nothing else, one thing this controversy demonstrates is that the Clinton State Department was pretty much a mess.
But besides the country itself, which is now enduring yet more Clintonian malfeasance in the midst of a critical election, are many individuals that Clinton is cold-bloodily demeaning in an attempt to exonerate herself with the "everybody did it" canard. This rests on the weak premise that other government officials – aides, ambassadors, career officials – occasionally misidentified information as innocuous or insufficiently sensitive to merit security classification. There is little doubt this happened, and continues to happen, as government employees do their best to protect sensitive information but not bog the government down in layers of unnecessary security protocol. But none of the officials identified in the Post analysis did this deliberately by establishing a private home-brewed email system to avoid State Department classification procedures entirely – and this no less, by the head of the State Department itself.
The Post article anonymously quotes one poor soul (identified as a former senior official) whose good name has now been impugned as a careless operator: "I resent the fact that we are in this situation – and we're in this situation because of Hillary Clinton's decision to use a private email server."
Hillary Clinton repeatedly claims that she is the
champion of the little guy. It has always been a
risible claim, but if any of her supporters
(including at the Post) are actually paying
attention to the scoundrel, this latest gambit ought
to disabuse them of the notion.
"As alarming as those numbers are, it's gotten a whole lot worse.
It's the reason why in both 2013 and 2015 I introduced legislation,
the "Remittance Status Verification Act," to fix this. I call this the
"Wire Act" for short."
"My bill would require a fee on remittances for customers who
wire money to another country but cannot prove that they are in the
United States legally. The fee would be used to enhance border
security. Basically, we would be able to dramatically improve
border security while making illegal immigrants pay for it."
"
We also have evidence that many of those illegals who are
remitting money are more likely to be illegal immigrant
households receiving Social Security, health care benefits,
unemployment insurance and/or stimulus money. Is it really fair for
those individuals to live off our tax dollars but send untaxed, under-
the-table money abroad?"
There are the billions of taxpayer dollars used to
subsidize illegal immigrants' health care and education.
There's the revenue we lose out on when illegal
immigrants don't pay income taxes. And there's a less
recognized pot of billions — the billions of dollars of
earnings that illegal immigrants wire out of the United
States with no tax or penalty.
more here:
We need to crack down on illegal immigrants
wiring money out of the U.S.: We need to
crack down on illegal immigrants wiring
money out of the U.S.
TSA Airport Credentialing Process
Overlooks Terrorists, Criminals, and Illegal
Aliens on a Large Scale
By Dan Cadman
CIS Immigration Blog, February 16, 2016
. . .
Calculating those figures, it means that more than 16 percent of the individuals who were subjected to these secondary inquiries (which represent only a small fraction of the workforce) — and, as Roth notes, already recipients of airport clearances — were illegal aliens with no right to work. What's more, Roth also notes that airport authorities routinely fail to annotate their security credentials with the expiration date of aliens' employment authorization documents, meaning that such persons are routinely employed in sterile areas long past their legally authorized right to work.
Which raises the question: Why have rules not been written that simply preclude individuals with limited time authorizations on their work permits or, better yet, who are not legally authorized to live in the United States on a permanent basis, from being employed in secure areas of airports? Is this so onerous, given the importance of securing the safety of the traveling public?
But back to the immediate issue of TSA and its oversight of airport authorities doing the credentialing. There is obviously something seriously amiss.
Why, for instance, is E-Verify not being used
in each and every application for credentialing
?
. . .
http://www.cis.org/cadman/tsa-airport-credentialing-process-overlooks-terrorists-criminals-and-illegal-aliens-large-sca
HAVE MEXICANS DESTROYED
AMERICA'S EDUCATION SYSTEM?
Schools Undergo Comprehensive Immigration Reform
By John Wahala
CIS Immigration Blog, February 19, 2016
. . .
Given the obstacles they face, the poor academic performance of immigrant students is not surprising and has been well documented. English-language fluency, test scores, and graduation rates lag far behind. Some researchers have even called the situation a crisis that threatens democracy itself. But more troubling than slow academic progress is the way mass immigration is shifting the educators' focus. When resources and time are diverted from teaching, the quality of education deteriorates. Learning becomes secondary when teachers are trying to keep children safe and well-adjusted.
. . .
http://www.cis.org/wahala/schools-undergo-comprehensive-immigration-reform
Border Surge Solution: Send 'Em to Camp
David!
By Michelle Malkin
Human Events Online, February 17, 2016
. . .
As Brandon Judd of the National Border Patrol Council testified on Capitol Hill recently: "The cartels understood that the unaccompanied minors would force the Border Patrol to deploy Agents to these crossing areas in order to take the minors into custody. I want to stress this point because it has been completely overlooked by the press," he told the House Judiciary Committee. The unaccompanied minors could have walked right up to the port of entry and requested asylum if they were truly escaping political persecution or violence. "Why did the cartels drive them to the middle of the desert and then have them cross over the Rio Grande only to surrender to the first Border Patrol Agent they came across?" Judd challenged.
"The reason is that it completely tied up our manpower and allowed the cartels to smuggle whatever they wanted across our border."
This is just another maddening example of Obama's warped priorities at work. Instead of building effective walls and enforcing our borders to prevent the coming illegal immigration waves manufactured by criminal racketeers, this administration rushes to build welcome center magnets that shelter the next generation of Democrat voters.
. . .
http://humanevents.com/2016/02/17/border-surge-solution-send-em-to-camp-david/
U.S. Failed Three Times to Deport Illegal
Alien Who Murdered Woman
Judicial Watch Corruption Chronicles,
February 18, 2016
. . .
Here's what we already know from local media reports in Norwich, the city of about 40,000 residents where the murder occurred; the DHS agency responsible for deporting illegal immigrants, Immigration and Customs Enforcement (ICE), failed to remove Jacques at least three times dating back to 2002. As if this weren't atrocious enough, Jacques spent 17 years in prison for attempted murder before authorities released him—instead of deporting him—in January of 2015, the Norwich Bulletin reports. Six months later the 41-year-old illegal alien convict stabbed 25-year-old Casey Chadwick to death. Police said Chadwick died of sharp forced injuries to the head and neck. Jacques is being held on a $1 million bond.
Unfortunately, this is not an isolated case. In the last few years illegal immigrants with lengthy criminal histories have been allowed to remain in the U.S. despite being repeat offenders. Judicial Watch has investigated several of the cases and obtained public records from the government. For instance, back in 2008 JW launched a California public records request with the San Francisco Sheriff's Department to obtain he arrest and booking information on Edwin Ramos, an illegal alien from El Salvador who murdered three innocent American citizens. Ramos was a member of a renowned violent street gang and had been convicted of two felonies as a juvenile (a gang-related assault on a bus passenger and the attempted robbery of a pregnant woman) yet he was allowed to remain in the country.
. . .
http://www.judicialwatch.org/blog/2016/02/u-s-failed-3-times-to-deport-illegal-alien-who-murdered-woman/
UNIVISION: MOUTHPEICE FOR LA RAZA
"The Race" FASCISM
Univision News Howls 'Anti-Immigrant' at
Proposed Wisconsin Laws
By Jorge Bonilla
NewsBusters.org, February 12, 2016
Univision News' national broadcast continues to howl at any legislative attempt to protect local communities by enforing our immigration laws. The latest instance comes from efforts in Wisconsin.
Wednesday evening's newscast featured a story about two enforcement proposals recently filed in Wisconsin: one to ban sanctuary city policies, and the other to ban local governments from issuing official alternate ID's to illegal immigrants.
Anchor María Elena Salinas' introduction to the story was less incendiary than her late-night counterpart, which we covered last week. The "anti-immigrant" framing was presented indirectly ("activists say"...), as opposed to Ilia Calderón's direct indictment of Florida's HB675 (which overwhelmingly passed the House but seems destined to die in the Senate). Nonetheless, the screengrab above (which reads "anti-immigrant proposals") reflects a reversion to classic form.
. . .
http://newsbusters.org/blogs/latino/jorge-bonilla/2016/02/12/univision-news-howls-anti-immigrant-proposed-wisconsin-laws
Largest Civil Disobedience Action of the Century isn't Anti-Trump, It's Pro-Democracy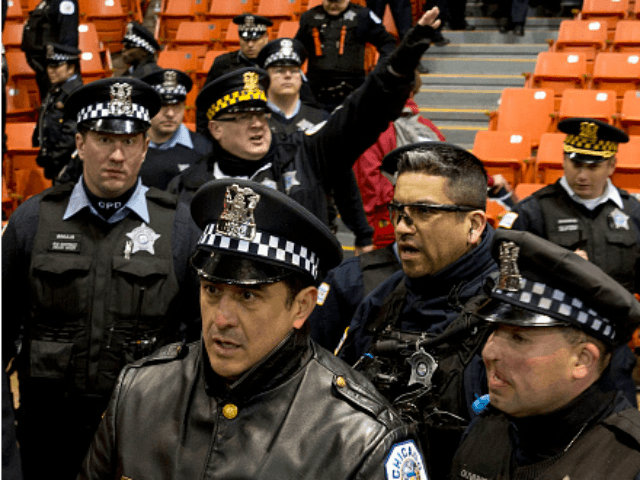 In an article published here Wednesday, Aaron Klein wrongly characterized Democracy Spring as an "Anti-Trump" campaign organized by "radicals…involved in shutting down Donald Trump's Chicago rally."
We want to set the record straight, make it clear where we stand on Trump, and reach out to the all the conservatives who agree with us that big money is corrupting our political system.
First, setting aside any opinions on it, the assertion that the Chicago disruption was the work of Democracy Spring is simply untrue. Over 100 organizations have endorsed Democracy Spring. Their independent actions (and funders – George Soros hasn't given us a dime) are distinct from our collective effort.
Second, while the leaders, organizations, and the vast majority of participants in Democracy Spring have profound and severe disagreements with Donald Trump, our nonviolent, non-partisan campaign is not a response to him.
Nor is it a response to any single candidate, party, or election. Democracy Spring is a response to the corruption of our entire political system, a system dominated by big money and inaccessible to many Americans who face growing barriers to the ballot box.
No matter who you support for president this year, surely we can all agree that our elected officials should work for all of us – not just wealthy special interests and big campaign contributors. In fact, we know many voters support Trump because he calls out this corrupt system and claims to stand outside of it as a self-financing candidate.
To this, we say: we hear you. The
system is corrupt. The economy is rigged. Big
campaign contributors do pull the strings in
Washington. Working people are right to be
angry about trade policy and the betrayal of
the middle class, working families, and the
poor by an elite establishment that profits
But we also challenge Trump supporters to consider a few things. Our corrupt campaign finance system goes far beyond presidential races and will not change by simply electing a president who supposedly can't be bought. Without serious policy solutions, whoever we elect Commander-in-Chief will still have to deal with 435 members of Congress who are more eager to appease their donors than their own constituents.
Trump has yet to propose any solutions that would ensure every member of Congress and candidate for local and state office in America are elected in a way that makes them, as James Madison wrote, "solely dependent upon the People as whole – not the rich more than the poor." If our system only allows us to choose between candidates who are bought by billionaires and billionaires themselves, then it is not a democracy. It is plutocracy.
That is why more than 2,600 American patriots have pledged to risk arrest in Democracy Spring, a massive nonviolent sit-in at the U.S. Capitol this April. The campaign will force Congress to choose between putting hundreds of peaceful defenders of the republic in handcuffs, or simply doing their job and passing reforms to fix our broken system.
It's true Democracy Spring is led by many organizations associated with the left. But there's no reason it must remain that way. We are a nonpartisan campaign open to all. And conservatives and liberals agree when it comes to the urgent need for solutions to rebalance the system.
Last year, John Pudner, the political strategist who helped lead
's 2014 upset over former House Majority Leader Eric Cantor,
launched Take Back our Republic
to advance conservative solutions to the problem of money in politics. For example, Take Back supports tax credits for small donations to political candidates to encourage more people to become involved in the political process. The group also supports more disclosure of large donors to ensure voters' right to know who is trying to influence their vote and their lawmakers.
In
a recent column
, Richard Painter, President George W. Bush's chief White House ethics lawyer, explained why the current system fails to address the needs and concerns of conservatives. He wrote, "campaign contributions drive spending on earmarks and other wasteful programs — bridges to nowhere, contracts for equipment the military does not need, solar energy companies that go bankrupt on the government's dime and for-profit educational institutions that don't educate." Moreover, he writes, "campaign contributions breed more regulation" as companies use campaign cash to win special legal advantages over their competitors.
Progressives would disagree on public funding to spur clean energy innovation and the characterization of more regulations as necessarily bad, but we stand fully with Painter on his core point: "[Today's] system is a betrayal of the vision of participatory democracy embraced by the founders of our country."
Indeed, there is an opportunity today for progressives and conservatives to stand together to defend our republic and win reform that will let us settle our other differences on an even, open playing field where the best ideas and the broadest support are what count – not the backing of a moneyed elite.
Yet – and allegiance to the values that truly make America a great country demand that we make this crystal clear – Donald Trump's candidacy is making this kind of unity across differences incredibly difficult. We are a nonpartisan campaign but not an amoral one. We are compelled to speak (and I am confident that I can speak for us all) when I say that Trump's statements, proposed policies, and threats of violence concerning undocumented immigrants, Muslims, the KKK, protesters exercising their First Amendment rights, and others have crossed a very serious line into the territory of fascism and hate speech.
America is better than this. Conservatives are better than this.
Democracy Spring is a nonviolent campaign and, in the tradition of the civil rights movement, will strive to reach out to our most bitter opponents. We will seek unity with all who agree that every American deserves an equal voice and a government of, by, and for the people. Rather than letting our differences divide us, conservatives and progressives of conscience should come together on this common ground and renew our republic.
Politicians from both parties broke the system. It's going to take voters from both parties — and independents committed to neither — to force our representatives to fix it.
It's time to demand that Congress listen to the people and pass common-sense solutions to return our government to us all.
Kai Newkirk is lead organizer of Democracy Spring.
The message of Wisconsin
"The Sanders campaign represents a
historical milestone in American politics.
Some seven million people have gone to the
polls or attended caucuses to vote for a
candidate identified as a socialist, who calls
for a "political revolution" to end the
domination of billionaires over American
political life."
"The 2016 election campaign is unfolding against the
backdrop of eight years of economic upheaval and slump in
the wake of the Wall Street crash, and eight years of the
Obama administration, which bailed out the banks
at the expense of working people and presided over a
further concentration of wealth at the top alongside
a further deterioration of jobs and living standards
for the vast majority."
The message of Wisconsin
7 April 2016
In the wake of Senator Bernie Sanders' crushing victory over former secretary of state Hillary Clinton in Tuesday's Wisconsin primary, the corporate-controlled media and the political establishment have been at pains to dismiss the significance of half a million people voting for a candidate claiming to be a socialist.
Sanders outpolled Clinton in 79 of the state's 82 counties and dominated nearly every demographic and income group. He won more than 80 percent of the vote among those aged 18 to 29, more than 70 percent of the vote among independents, and defeated Clinton by 54 percent to 44 percent among nonwhite voters under 45 years of age. He has now won seven of the last eight contests for the Democratic presidential nomination.
In its election night coverage, the American media barely reported these figures, showing far greater interest in the fortunes of billionaire demagogue Donald Trump, the Republican frontrunner. The media portrayed the victory of Texas Senator Ted Cruz over Trump as a political earthquake while downplaying Sanders' more sweeping victory over Clinton.
The media consensus was that the Wisconsin result meant little in terms of the Democratic presidential contest. The
Washington Post
headlined its report, "Sanders wins in Wisconsin, keeping alive his improbable bid for the nomination," referring in the second paragraph to "Clinton's still-overwhelming lead in delegates."
The
New York Times
wrote off the across-the-board rout of the Democratic frontrunner, declaring, "Mrs. Clinton's defeat does not significantly dent her comfortable lead in the race for the 2,383 delegates needed to secure the Democratic nomination."
Neither the major newspapers nor the television networks have attempted to grapple with the political implications of a candidate claiming to be socialist locked in an increasingly tight race with the near-unanimous choice of the Democratic Party establishment. On Wednesday, a McClatchy-Marist poll found that Sanders has taken a two-point lead over Clinton among likely Democratic voters nationwide, 49 percent to 47 percent.
The Sanders campaign represents a historical
milestone in American politics. Some seven
million people have gone to the polls or
attended caucuses to vote for a candidate
identified as a socialist, who calls for a
"political revolution" to end the domination of
billionaires over American political life.
Two million people have donated to the Sanders campaign, and his rallies routinely attract crowds of 15,000 to 25,000 people. Among young people, in particular, support for Sanders is immense. More people aged 18-29 have voted for Sanders than for Clinton and Trump combined.
The media silence on the subject of the Sanders surge is an expression of political nervousness in the ruling elite. Its concern is not over the messenger, a Vermont senator who has long functioned as a reliable Democratic Party ally. Rather, it is deeply shaken by the message of social and political discontent delivered by millions of people in the United States who are voting for a self-proclaimed "democratic socialist."
The mass vote for a candidate claiming to be socialist discredits what has become a foundational narrative of American politics: that the United States is a country where the working class is unalterably hostile to any alternative to the "free enterprise" system. Not only socialism, but even liberalism has been virtually banned from official politics, referred to by cowering Democrats as the "L-word," from which they seek to distance themselves.
Marxists have always insisted that "American exceptionalism" was of a historically limited and relative character. The slow political development of the American working class was bound up with the privileged position of American capitalism, which made possible steadily rising living standards for the working class and thus encouraged illusions in the viability of the profit system.
The change in the objective situation is beginning to produce a corresponding change in consciousness. It is of enormous significance that Sanders has won his greatest support among working class voters under the age of 45. This generation is being politically radicalized by the protracted decay of American capitalism--its decline on the world market and the resulting devastating impact on the jobs and living standards of American workers.
It required social processes maturing over many years to create the conditions where a somewhat anomalous figure, a little-known senator from a tiny state, could disrupt the planned coronation of the Democratic presidential frontrunner.
The 2016 election campaign is unfolding against the backdrop of eight years of economic upheaval and slump in the wake of the Wall Street crash, and eight years of the Obama administration, which bailed out the banks at the expense of working people and presided over a further concentration of wealth at the top alongside a further deterioration of jobs and living standards for the vast majority. It comes as well after 25 years of nearly uninterrupted imperialist war, with vast resources squandered, human and material.
Sanders is riding a wave of economic anger and hostility over social inequality. Despite all efforts to cover it up, it has proven impossible to conceal the deeply rooted sickness of American society: the ever-widening economic gulf between the top one percent (or one-tenth of one percent) and the broad masses who work for a living and produce the wealth. By now, the economic figures are familiar: the financial aristocracy has seized virtually the entire increase in national income over the past two decades; wages and living standards for working people have stagnated or declined; temporary and contract jobs account for all the increase in employment since the 2008 financial crash.
It is under these conditions that there is such a broad popular response to Sanders' critique of Wall Street and corporate greed. Millions of young people and workers are looking for a way to fight back against the attacks on jobs, living standards and democratic rights, and the mounting threat of war, and they have seized on the Sanders campaign as a means of doing so. As it moves to the left, the American working class is beginning to take up political questions.
Nowhere is this process clearer than in Wisconsin. This is the state where in 2011 a mass movement erupted in the working class and among young people, triggered by the reactionary anti-worker legislation pushed by Governor Scott Walker and enacted by the Republican-controlled state legislature. Demonstrators flooded the state capitol and there was a growing movement for a general strike. This was forestalled only by the intervention of the AFL-CIO unions, which blocked any direct action by the working class and diverted the mass opposition into a campaign to recall Walker and replace him with a Democrat committed to similar cuts in wages, benefits and jobs, only carried out in collaboration with the unions.
The Democratic Party cannot be an instrument for combating the social crisis. Like the Republicans, it is unalterably committed to the defense of the profit system and shares responsibility for the bipartisan assault on the working class. The Democrats have moved steadily to the right over the past four decades, abandoning whatever remained of the reformist policies of New Deal liberalism and the social-welfare programs of the 1960s.
The Clintons are the personification of this process. Bill Clinton won the presidency in 1992 as the candidate of the Democratic Leadership Council, the right-wing formation that embraced the reactionary policies of the Reagan-Bush era. He notoriously pledged to "end welfare as we know it," eliminating the federal program dating from the 1930s that provided financial support for the long-term unemployed, while unleashing a law-and-order campaign that ended with more black men in prison than attending college.
Hillary Clinton continues this tradition, running as the continuator of the policies of the Obama administration, which has escalated US military aggression in the Middle East while preparing for war with China and Russia, massively expanded the surveillance state, and single-mindedly promoted the interests of Wall Street and the super-rich.
Sanders is likewise a defender of American capitalism, and no one has been more surprised than the candidate himself at the mass response to his campaign. He initially intended to serve as a lightning rod, drawing discontented workers and young people back into the embrace of the Democratic Party, following in the footsteps of Dennis Kucinich, Al Sharpton, Howard Dean and Jesse Jackson.
His "socialism" goes no further than 1960s liberalism. While he criticizes Clinton for having supported the 2003 invasion of Iraq, he explicitly backs the war policies of the Obama administration.
Throughout his political career as mayor of Burlington, congressman and US senator from Vermont, Sanders has never supported any wider challenge to the domination of the corporate-controlled two-party system. He has caucused and voted with the Democrats in both the House and Senate and has supported every Democratic presidential candidate since Walter Mondale in 1984. He is committed to backing Hillary Clinton if she staggers across the finish line ahead of him, telling the
New York Daily News
this week that Clinton was "far, far preferable to any of the Republican candidates."
Sanders has won the support of millions not
despite
, but
because of
his professions of "democratic socialism." These have been taken seriously by an electorate that sees socialism as an alternative to the conditions of life created by capitalism. But there is nothing genuinely anti-capitalist in Sanders' perspective. This was shown most recently in his interview with the
Daily News
. When asked about his repeated calls to break up the Wall Street banks, Sanders could not explain how it was to be done, in the end declaring that the banks would be allowed to decide how to break themselves up.
It is one thing to recognize the objective significance of the mass support for Sanders. It is quite another to adapt to Sanders politically. The Socialist Equality Party opposes his campaign for president and warns that if he were elected, a Sanders administration would be an instrument of the American ruling elite to confuse and disorient the working class and prepare new attacks, while defending the worldwide interests of American imperialism.
The task of the SEP is to prepare the working class by making clear what it means to fight for socialism, combating illusions in Sanders and all other efforts to divert working people away from a struggle against the capitalist system, and advancing a genuine revolutionary alternative.
Patrick Martin
UNDER BARACK OBAMA (OBAMA-CLINTONOMICS) TWO-THIRDS OF ALL JOBS WENT TO FOREIGN BORN, BOTH LEGAL AND ILLEGALS.
"Under the Obama administration, the
Democrats have spearheaded the attack on
wages and benefits for higher paid workers as
part of an overall transfer of wealth to the
financial elite."
Whiteout Press
Independent news at its best. If it's blacked-out, covered-up or censored, you can find it here!
March 23, 2016
Statistic of the Week:

The amount of assets/wealth the average adult has in each country:
Belgium - $150,348
UK - $126,472
Norway - $119,634
Japan - $96,071
France - $86,156
Canada - $74,750
Netherlands - $74,659
-from Credit Suisse via Institute for Policy StudiesV