"There is symmetry involved: we are witnessing a war on public education waged by the ruling elite."
OBAMA-CLINTONOMICS: SOARING POVERTY FOR LEGALS!
http://mexicanoccupation.blogspot.com/2016/05/poverty-has-become-more-concentrated.html
AMERICA'S ROAD TO REVOLUTION
http://mexicanoccupation.blogspot.com/2016/03/drift-to-revolution-or-civil-war-this.html
"This dangerous power vacuum has fueled frustration and
created an entirely new breed of disenfranchised voters who are
fed up with the status quo. These are real people, their anger is
palpable, and it's not going away anytime soon."
The dismantling of public education and Obama's education legacy
Part 1
By Nancy Hanover
3 June 2016
Under the Obama administration, public education in America has faced an unremitting assault. Never in the history of the United States has schooling—from kindergarten through college—sustained such massive funding cuts as it has during the last seven-and-a-half years.
It has become national policy to de-fund education claiming there is "no money," for school improvements and the hiring of more teachers even as the US engages in a massive expansion of military and intelligence funding to escalate its unending wars abroad.
There is symmetry involved: we are witnessing a war on public education waged by the ruling elite.
Funds have been drained from classrooms and art, music, foreign languages and gym have become luxuries. Up-to-date textbooks and even qualified teachers are disappearing. Sports and other extra-curricular activities have become "pay for play" among endless miscellaneous fees imposed by public schools on families. There has been a proliferation of highly lucrative for-profit "cyber" schools where children's education consists of sitting in front a computer at home. Public colleges are poorly funded, increasingly overcrowded and have become the source of a lifetime of debt peonage for those choosing to attend.
Paralleling the ever-escalating growth of social inequality, the once-touted "universal leveler," public education, has become an openly class-based system.
The financial elite and its political spokesmen—both Democrat and Republican—in the White House, the state legislatures and at the local level—have used the economic crisis from 2008 on as a pretext to transfer vast sums out of social programs including education. In addition to funding military aggression overseas, they have provided huge tax cuts for the wealthy and business opportunities in the for-profit sector at the direct expense of educating the working class. Meanwhile Wall Street stock exchanges, corporate cash hoards,and CEO pay have shot to record highs as the financial aristocracy essentially loots society.
This social counterrevolution has been aided and abetted by the collaboration of the teachers' unions—the American Federation of Teachers (AFT), the National Education Association (NEA) and their state and local affiliates.
Hundreds of millions of dollars have been diverted from union dues to support Obama, and his heir apparent Hillary Clinton.
The AFT supported Obama in both 2008 and 2012 and was the first to officially endorse Clinton. The NEA has likewise thrown tens of millions of dollars behind their Clinton who as first lady in the 1990s supported her husband's right-wing policy of "school choice," which paved the way for the expansion of charter schools.
Corralling workers' opposition behind Democratic Party politicians has been an essential part of the unions' suppression of the independent struggles by education workers. The AFT and NEA have worked overtime to betray struggles when they threatened to challenge the status quo, as in Chicago 2012 and 2016, or attempt to divert or snuff out resistance, as in the Detroit teacher walkouts of 2016. Ever eager to remain a partner in education "reform" with the capitalist politicians and fully on board with pro-war policies and nationalism, there is no line the unions will not cross in order to retain their dues base and "seat at the table."
It is no exaggeration to say that public education has been upended nationally as a result. Under Obama, there has been a net loss of 300,000 school workers while K-12 student enrollment has actually increased. It has become routine for states to cut as much as $1,000 per pupil in a single year from their public schools. In North Carolina and Florida, staggering drops in per-pupil funding have been enacted, from over $10,000 to some $7,000 respectively. Such draconian cuts barely make the news.
Obama's signature education policy, Race To The Top (RTTT), continued but vastly intensified the pro-charter and edu-business agenda of George W. Bush's No Child Left Behind act (whose co-sponsor was the liberal Democratic stalwart Edward Kennedy). Charter schools, largely run by for-profit management companies and routinely channeling huge sums to outsourcing business entities, mushroomed under the demands of the federal RTTT competition. The federal government dangled competitive grant money, forcing school districts already reeling from state budget cuts to compete with each other in the race to enact privatization policies. At the same time, hedge fund managers and private investors dove into the education services and high-stakes testing market.
By 2012, 42 out of 50 states passed legislation authorizing charter schools, many allowing teachers without state certification or with "alternate certification." In general, these new instructors were paid less, had no tenure rights and received substandard health and pension benefits, if any at all. By 2012, the number of charter school students had doubled from their 2007 numbers.
New Orleans was the first city to be entirely charterized, with Detroit now facing the same threat. The city with the highest numbers of charters is Los Angeles, where a reported 100,000 students now attend charters, channeling $500 million annually out of the public school budgets. LA is followed by New York and Philadelphia. Cleveland has 39 percent of their students in charters and Toledo 29 percent with dozens of other American cities running a hybridized traditional/charter educational system.
Under pressure from RTTT, the states not only enacted the legal modifications to make it far easier for charters to open, in many cases they then imposed substantial portions of charter school operating costs on local districts.
In Pennsylvania, where local school districts must transfer a portion of funds to charters, this has led to the near bankruptcy of both Philadelphia and Chester schools. While Philadelphia operated at a $70 million deficit between 2008 and 2013, the city's charter schools ran a surplus of $117 million. For the 2013-14 school year, the district paid $146 million in interest, with a structural deficit totaling more than half a billion dollars. The district has closed more than 30 schools and reduced 20 percent of its staff since 2012.
The teachers' unions not only failed to oppose the exponential growth of for-profit charters, their well-heeled union bureaucrats put a major effort into "organizing" them, turning the charters into dues-collection sources.
Not unsurprisingly, Obama's final education policy initiative—the Every Student Succeeds Act—includes no meaningful new money for traditional public schools but provides substantial new incentives for charter schools. His 2016 budget called for a 50 percent increase in federal support to charters as well, which received bipartisan support.
As part of its promotion of charters, the US Department of Education and the federally funded AmeriCorps have joined with major big business foundations [Walton, Broad] to pour hundreds of millions of dollars into Teach for America (TFA). TFA is both a beneficiary and a driver of the privatization movement. Students in TFA-run classrooms, however, are consigned to untrained young adults—who generally quit after one or two years—in what has aptly been called the "amateurization" of teaching. The TFA model has been used to successfully undercut teachers' rights, pay standards and pension benefits.
In another aspect of the criminal destruction of America's public education system, thousands of school buildings across the country are rotting on their foundations. The scandalous and unsafe conditions of schools in Detroit and the fact that lead piping was poisoning students is just the tip of the iceberg. The average age of school buildings in the US is 44 years old, with many more than twice that age. A recent study calls for $145 billion per year to bring America's K-12 public school facilities up to code, a sum that is not even remotely being considered.
Elementary and high schools have, in fact, cut capital spending by 37 percent between 2008 and 2013, with a total of 38 states cutting spending. Nevada, for example, cut capital spending by a massive 81 percent. Some states, such as Michigan and 11 others, provide absolutely no support for capital construction. Moreover, the federal government does not provide support for school building or maintenance. This requires hard-hit localities to fund their school buildings through supplemental property tax levies.
Scandalously, public schools have increasingly become of the objects of charities, GoFundMe campaigns and big business philanthropies.
.................... from day one the OBOMB has given the American
middle class the shaft and then told us how good it felt to him!
THE BANKSTER-OWNED PSYCHOPATH'S
REALITY: I FUCKED THEM ALL OVER FOR
MY BANKSTERS AND TOLD THEM IS WAS
CALLED "HOPE AND CHANGE"!
"After eight years of the candidate of "hope and change," a period in which 95 percent of income gains (since 2009) have gone to the top one percent, there is a general sense that the entire political system is rotten and the economic order is rigged."
Obama to American youth: Stop complaining, things have never been better!
Obama to American youth: Stop complaining, things have never been better!
By Niles Niemuth
17 May 2016
Niles Niemuth is the Socialist Equality Party's candidate for vice president in the United States
US President Barack Obama used his commencement address Sunday at Rutgers University in New Jersey to express contempt for those who are supporting either the campaigns of Republican presidential nominee Donald Trump or self-proclaimed socialist Democratic Senator Bernie Sanders.
While the media has focused on Obama's thinly-veiled swipes against Trump's promise to build a wall along the Mexico border and his foreign policy, more significant was the president's clear rebuke of students and others for supporting Sanders.
The conclusion to be drawn from his speech is that workers—and particularly youth—need to stop complaining and do what they are told. Obama insisted, in what has become his mantra, that things have never been better in America and chastised young people for supporting calls for a "political revolution."
In a reference to Republican presidential nominee Donald Trump, who has promised that if elected he will "Make America Great Again," Obama insisted that social and economic conditions have never been better than they are now. "In fact, by almost every measure, America is better, and the world is better, than it was 50 years ago, or 30 years ago, or even eight years ago."
Among other trends, Obama cited the decline in crime rates, teenage pregnancies, the percentage of people living in poverty and an overall increase in life expectancy as proof that life in America is better than it has ever been. He also cited the fact that a greater share of Americans have a college education and more blacks and Latinos sit on corporate boards and hold political office than ever before.
In the course of his remarks, Obama complained that access to the Internet and smart phones has "in some ways… made us more confident in our ignorance… We have to agree that facts and evidence matter. And we got to hold our leaders and ourselves accountable to know what the heck they're talking about."
It would have been appropriate for someone in the audience to have shouted out at this point, "Physician, heal thyself!"
Obama's rose-colored account flies in the face of the reality of life confronted by the vast majority of Americans in 2016. Over the last eight years workers have experienced declining incomes and wages, and rising death rates among working class men and women due to an increase in suicides, drug overdoses and alcoholism. Entire cities and regions have been devastated by decades of deindustrialization, with the rate of poverty higher than ever in urban and suburban areas across the country.
Obama was addressing an audience that is part of a generation saddled with more than $1.3 trillion dollars in student loan debt. The first generation worse off than their parents, millions of college graduates who entered the job market after the 2008 economic crisis are either unemployed or underemployed, with an average student loan debt of $30,000.
A majority of individuals with onerous debt payments are unable to afford to buy a car, buy their own house and many delay getting engaged or married. A recent poll found that 77 percent of respondents found it more difficult to live due to their student loan debt.
After eight years of the candidate of "hope and change," a period in which 95 percent of income gains (since 2009) have gone to the top one percent, there is a general sense that the entire political system is rotten and the economic order is rigged.
Obama's remarks expressed concern within the ruling class not over Sanders himself, who is working to redirect opposition back into the Democratic Party. Rather, it is over the anti-capitalist sentiments that are motiving an overwhelming turn out among young voters for the self-declared socialist.
He lectured students with a potted version of history in which activists and organizers engaged in "alliance-building and deal-making" are the source of all social progress in America. Lest they get any ideas, Obama warned his young audience that change "didn't happen because some massive
political revolution occurred."
Even as Obama argued that social and economic conditions in America are better than ever, he insisted they could be even better if only more people, especially students, voted in even greater numbers for the Democrats! He cited 2014 voter turnout, which was the lowest since the World War II era, and warned that "apathy has consequences."
Obama cynically counseled the students to "have faith in democracy," by which he meant they should support a political set-up entirely controlled by and subservient to the interests of the wealthiest individuals and corporations. The accusation that those who do not vote are apathetic is slander. The general sentiment is not apathy, but hostility and anger over a corrupt two-party system over which Obama himself presides.
In an additional jab at students, Obama went on to criticize protests at Rutgers over a previous announcement that Condoleezza Rice, one of George W. Bush's secretaries of state, would speak at a commencement. That students should object to having to listen to a war criminal upon their graduation is, according to Obama, an outrageous violation of the principle that is is necessary to "listen to those who don't agree with you." Obama perhaps worried that he could be the object of similar protests and denunciations in the not-so-distant future.
Even as he admitted that "big money in politics is a huge problem," he cynically asserted that "the system isn't as rigged as you think, and it certainly is not as hopeless as you think…if you vote and you elect a majority that represents your views, you will get what you want. And if you opt out, or stop paying attention, you won't. It's that simple."
It was apparently lost on the president that the history of his own administration is ample proof that the anger and hostility he sought to counter is, in fact, entirely justified.
Billary and Hillary: these fuckers would parasite off anyone and anything that moves and smells of money!
Hillary University: Bill Clinton
Bagged $16.46 Million from
For-Profit College as State
Dept. Funneled $55 Million
Back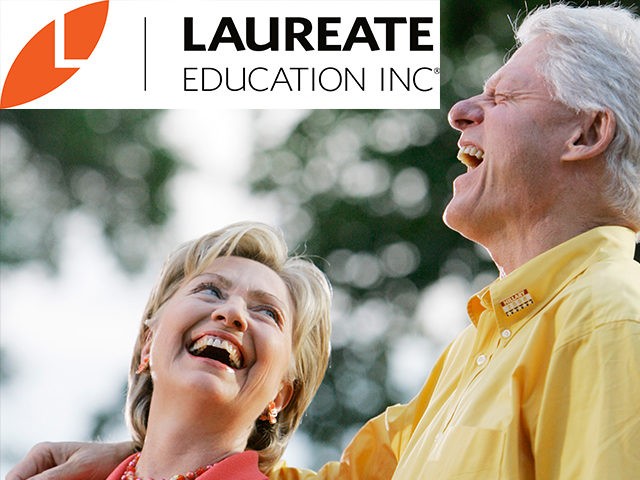 With her campaign sinking in the polls, Hillary Clinton has launched a desperate attack against Trump University to deflect attention away from her deep involvement with a controversial for-profit college that made the Clintons millions, even as the school faced serious legal scrutiny and criminal investigations.
In April 2015, Bill Clinton was forced to abruptly resign from his lucrative perch as honorary chancellor of Laureate Education, a for-profit college company. The reason for Clinton's immediate departure:
Clinton Cash revealed
, and
Bloomberg confirmed
, that Laureate funneled Bill Clinton $16.46 million over five years while Hillary Clinton's State Dept. pumped at least $55 million to a group run by Laureate's founder and chairman, Douglas Becker, a man with
strong ties
to the Clinton Global Initiative. Laureate has donated between $1 million and $5 million (donations are reported in ranges, not exact amounts) to
the Clinton Foundation
. Progressive billionaire
George Soros
is also a Laureate financial backer.
As the
Washington Post
reports, "Laureate has stirred controversy throughout Latin America, where it derives two-thirds of its revenue." During Bill Clinton's tenure as Laureate's chancellor, the school spent over $200 million a year on aggressive telemarketing, flashy Internet banner ads, and billboards designed to lure often unprepared students from impoverished countries to enroll in its for-profit classes. The goal: get as many students, regardless of skill level, signed up and paying tuition.
"I meet people all the time who transfer here when they flunk out elsewhere," agronomy student Arturo Bisono, 25, told the Post. "This has become the place you go when no one else will accept you."
Others, like Rio state legislator Robson Leite who led a probe into Bill Clinton's embattled for-profit education scheme, say the company is all about extracting cash, not educating students. "They have turned education into a commodity that focuses more on profit than knowledge,"
said
Leite.
Progressives have long excoriated for-profit education companies for placing profits over quality pedagogy. Still, for five years, Bill Clinton allowed his face and name to be plastered all over Laureate's marketing materials. As Clinton Cash reported, pictures of Bill Clinton even lined the walkways at campuses like Laureate's Bilgi University in Istanbul, Turkey. That Laureate has campuses in Turkey is odd, given that for-profit colleges are illegal there, as well as in Mexico and Chile where Laureate also operates.
Shortly after Bill Clinton's lucrative 2010 Laureate appointment, Hillary Clinton's State Dept. began pumping millions of its USAID dollars to a sister nonprofit, International Youth Foundation (IYF), which is run by Laureate's founder and chairman, Douglas Becker. Indeed, State Dept. funding skyrocketed once Bill Clinton got on the Laureate payroll, according to
Bloomberg
:
A Bloomberg examination of IYF's public filings show that in 2009, the year before Bill Clinton joined Laureate, the nonprofit received 11 grants worth $9 million from the State Department or the affiliated USAID. In 2010, the group received 14 grants worth $15.1 million. In 2011, 13 grants added up to $14.6 million. The following year, those numbers jumped: IYF received 21 grants worth $25.5 million, including a direct grant from the State Department.
Throughout ten Democratic Party debates, Establishment Media have not asked Hillary Clinton a single question about she and her husband's for-profit education scam.