94,333,000 Americans Out of the Labor Force in July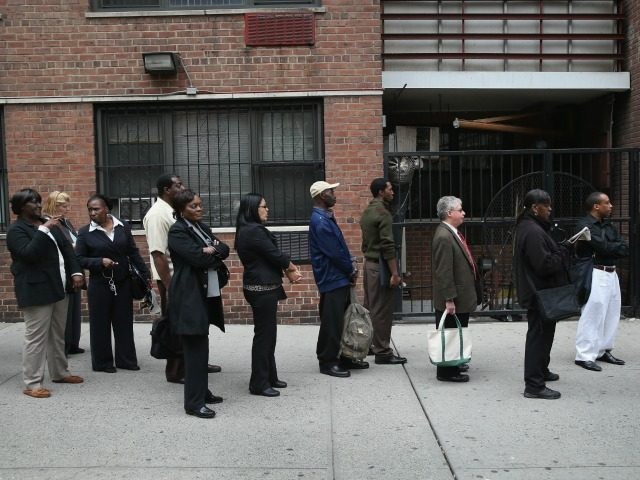 The number of Americans not in the labor force declined but still topped 94 million last month, according to data released Friday by the Labor Department.
The Bureau of Labor Statistics reports that 94,333,000 Americans were neither employed nor had made an effort to find work in July — down 184,000 compared to the month prior.
The labor force participation rate also increased slightly, hitting 62.8 percent in July.
While tens of millions of Americans were out of the workforce — due to discouragement, schooling, retirement or otherwise — and the participation rate remained at levels not seen since the 1970s the BLS reported a relatively decent level of job growth.
According to the government data, last month the economy added 255,000 jobs and the unemployment rate remained at 4.9 percent.
The labor force also grew by 407,000 people, reaching 159,287,000. Of those participating in the labor force, 151,517,000 were employed and 7,770 were unemployed.
Broken down by gender, the unemployment rate and participation rate for working-age men was 5.0 percent and 69.2 percent, respectively. Among working-age women the unemployment rate was 4.7 and participation rate was 56.8 percent.
Among whites last month, the unemployment rate was 4.3 percent and the participation rate was 62.9 percent. Black unemployment was 8.4 percent with a participation rate of 61.2 percent. Asian unemployment was 3.8 percent and the participation was 63.4 percent and Hispanic unemployed was 5.4 percent with a 65.8 percent participation rate.
Record 25,984,000 Immigrants Employed in the United States in July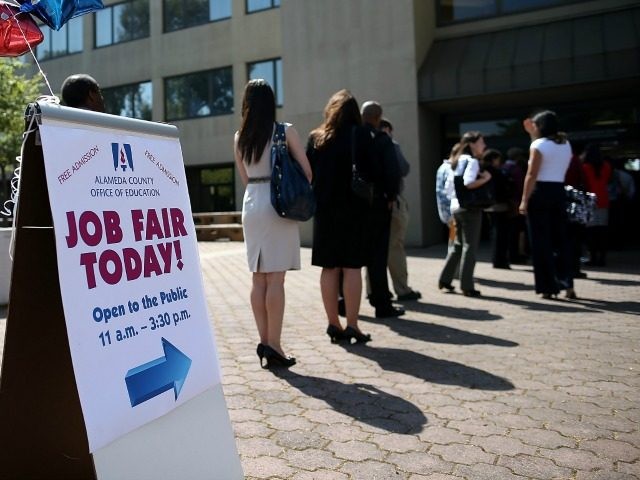 The number of immigrants employed in the United States reached another monthly record high in July, according data released Friday by the Bureau of Labor Statistics.
The BLS reports that 25,984,000 foreign-born people had a job in the U.S. last month, up 133,000 compared to the previous record set in June.
The Labor Department defines the "foreign-born" as "those residing in the United States who were not U.S. citizens at birth."
In other words, the BLS says that the "the foreign-born" are people born to foreigners in areas outside the U.S. or U.S. territories like Puerto Rico or Guam.
By contrast, the BLS explains, "The native born are persons who were born in the United States or one of its outlying areas such as Puerto Rico or Guam or who were born abroad of at least one parent who was a U.S. citizen."
Meanwhile, according to Friday's not seasonally-adjusted data, the unemployment rate among the foreign-born was 4.2 percent and the labor force participation rate was 65.7 percent.
The number of native-born Americans with a job also saw improvements last month. According the BLS, native-born Americans added 313,000 more jobs, reaching 126,453,000 in July.
Additionally, the unemployment level among native-born Americans was 5.3 percent and the labor force participation rate was 62.9 percent in July.
In recent years the immigrant population in the U.S. has been experiencing a more fruitful rate of job growth compared to native-born Americans. Since President Barack Obama took office, the civilian noninstitutional population of immigrants has grown by 6,304,000 and experienced a net job growth of 4,609,000. The native-born population has grown 12,579,000 and added 7,392,000.
Overall last month the economy added 255,000 jobs and the unemployment rate was 4.9 percent in July.
AMERICA'S ROAD TO REVOLUTION
…..will pass right through Hillary Clinton's Mansion door!
"This dangerous power vacuum has fueled frustration and created an entirely new breed of disenfranchised voters who are fed up with the status quo. These are real people, their anger is palpable, and it's not going away anytime soon."
THE OBAMA-CLINTON ECONOMIC MELTDOWN ----- HOME OWNERSHIP – ECONOMIC MELTDOWN
THE OBAMA DOCTRINE: ABET CRONY BANKSTERS SO THEY CAN FINSISH OFF THE AMERICAN MIDDLE CLASS. KEEP BORDERS WIDE OPEN TO EASE MILLIONS OF MEX FLAG WAVERS INTO OUR JOBS, WELFARE OFFICES AND VOTING BOOTHS, AND EXPAND THE MEXICAN DRUG CARTELS' MARKETS IN AMERICA'S OPEN BORDERS TO KILL OFF AMERICA'S WHITE POPULATION TO BUILD A MUSLIM-STYLE DICTATORSHIP FOR ONE BARACK OBAMA, THE "Hope & Change" HUCKSTER FROM CHICAGO.


"The decline in homeownership is one sign of the deep social crisis in the United States. As rents and housing costs have soared, spurred on by financial speculation that has enriched the ruling elites, incomes and jobs for most Americans have shriveled."
OBAMA'S GIFT TO HILLARIA:
OPEN BORDERS AND A MILLION
MEXICAN CRIMINAL LINNING UP TO
VOTE FOR MORE LA RAZA SUPREMACY!
Most Americans (legals) would be appalled to know that from day one the Obomb has funded the MEXICAN FASCIST PARTY of LA RAZA "The Race" with U.S. tax dollars and this racist party has operated out of the white house under LA RAZA V.P. Cecilia Munoz.
TIM KAINE'S OPEN BORDERS AND THE
MEXICAN GANGS HE PROTECTS WITH
ENDLESS PROMISES OF AMNESTY!
MILLIONS OF AMERICAN JOBS HANDED OVER TO ILLEGALS ALONG WITH BILLIONS IN WELFARE.... AND THE PARTY HAS JUST BEGUN!
THE DEMOCRAT PARTY PLATFORM: KEEP CRONY BANKSTERS OUT OF PRISONS WITH ENDLESS BAILOUTS AND NO DAMNED LEGAL NEED APPLY!
VIVA LA RAZA FASCISM? THEN VOTE DEM!
"Republicans should call for lower immigration to stop the Democrat voter recruitment. But more importantly, all Americans should call for lower immigration in order to offer a better opportunity of finding jobs for those millions of their fellow Americans of all political persuasions who would like to work."
IMAGES OF AMERICA UNDER
NARCOMEX
OCCUPATION…. THE PRICE
WE PAID FOR THE CLINTON-BUSH-
OBOMB SABOTAGE OF OUR BORDERS
TO THE MEXICAN DRUG CARTELS
…. After the Clinton-Kaine and Speaker Paul Ryan's AMNESTY and expanded open borders
OBAMA'S OPEN BORDERS TO DESTROY THE AMERICAN MIDDLE CLASS
- MILLIONS OF INVADING CRIMINALS NOT DEPORTED
OPEN BORDERS KEEPS WAGES FOR LEGALS DEPRESSED AND BUILDS THE LA RAZA SUPREMACY PARTY BASE FOR THE DEMOCRAT PARTY HELL BENT ON DESTROYING THE GOP WITH AN ENDLESS INVASION BY MEXICO!
LA RAZA ILLEGAL CARLOS ESPARAZA RAPED A 7 YEAR OLD. THEN HE WENT OUT AND VOTED DEM FOR WIDER OPEN BORDERS!
925k CRIMINAL ILLEGALS NOT
DEPORTED
OBAMA'S OPEN BORDERS TO DESTROY THE AMERICAN MIDDLE CLASS - MILLIONS OF INVADING CRIMINALS NOT DEPORTED
OPEN BORDERS KEEPS WAGES FOR LEGALS DEPRESSED AND BUILDS THE LA RAZA SUPREMACY PARTY BASE FOR THE DEMOCRAT PARTY HELL BENT ON DESTROYING THE GOP WITH AN ENDLESS INVASION BY MEXICO