THE DEMOCRAT PARTY:
HELL BENT ON FINISHING OFF THE AMERICAN WORKER!
"At one point she hailed the "record profits" of the auto companies. She did not mention that these profits came at the expense of the jobs, wages and retirement benefits of thousands of auto workers, decimated under the terms of the auto bailout organized by the Obama administration."
Workers and youth largely absent at Clinton rally in Detroit
Workers and youth largely absent at Clinton rally in Detroit
By Shannon Jones
5 November 2016
Presidential candidate Hillary Clinton made a campaign stop in Detroit Friday to shore up support in a Midwest industrial state the Democrats had just a week ago considered firmly in their camp. The fact that the Clinton campaign felt it necessary to visit Detroit, with its large working class and African-American population, reflected concerns that a lack of enthusiasm for Clinton and a lower than anticipated turnout, particularly by black voters, could tip Michigan, with its 16 electoral votes, into the column of Republican candidate Donald Trump.
A World Socialist Web Site reporting team covering the event noted that workers and young people were largely absent from the audience. Most of those in attendance were older middle-class professionals and people close to the trade union bureaucracy.
The event, held at Detroit's Eastern Market, seemed to have been hastily cobbled together. The venue was too small to hold all those who came to hear Clinton speak and hundreds of people were turned away after waiting in line for more than an hour.
Clinton herself spoke fairly briefly. In what was billed as a "get out the vote rally," the former first lady, senator and secretary of state began by thanking a long list of local Democratic officials. She followed this by touting her record as secretary of state under President Obama.
She then issued a string of empty platitudes and made her standard appeals based on race and gender issues.
At one point she hailed the "record profits" of
the auto companies. She did not mention that
these profits came at the expense of the jobs,
wages and retirement benefits of thousands of
auto workers, decimated under the terms of
the auto bailout organized by the Obama
administration.
Speaking in a city devastated by decades of corporate
downsizing, standing within blocks of shuttered and
dismantled factories and entire neighborhoods blighted by
intense poverty—a city that was thrown into bankruptcy in
order to rob city workers of their pensions—Clinton, a
multimillionaire, said virtually nothing about unemployment
or poverty. Instead, she touted the record of the Obama
administration, which supported the Detroit bankruptcy and
has presided over an enormous growth of social
inequality t
hroughout the US
.
She made vague promises about a "fairer" economy, advancing a series of tepid economic proposals, including an unspecified increase in the minimum wage and help with student loan debt. She spoke of a jobs program to repair infrastructure, without explaining that her plan is based on providing tax windfalls and other handouts to induce businesses to hire workers at near-poverty wages.
The WSWS spoke with audience members, including firm Clinton supporters, who did not hide their doubts and general lack of enthusiasm for the Democratic candidate. One person in attendance said she was concerned by the failure of both candidates to seriously discuss substantive issues. "I think at this point they are playing the game the media controls," she said. "Each campaign is centering on the media."
Kathy, who holds a professional position with the energy monopoly DTE, said that while she was planning to vote for Clinton, she was appalled by the ongoing wars in the Middle East. "I wouldn't fight," she told the WSWS. "I don't think it is fair for the poor people to make all the sacrifice in these wars. We have to learn to live in peace. That is the only way for mankind to survive. I do not believe in war."
Lori, a software engineer, said she agreed that there was little difference between Trump and Clinton on many issues. "Both candidates are ignoring the North Dakota oil pipeline," she said, referring to recent protests by Native Americans in North Dakota over attempts to build a pipeline across tribal lands.
"Neither candidate is looking to the future, to what can be done for the economy," she added.
She was also disturbed by Clinton's attempts to bait Trump over his alleged ties to Russian President Vladimir Putin. "I am not sure how much is reality and how much is propaganda," she said. "I don't think the US should be antagonizing Russia. We should not push Putin away. The last thing we need is a US-Russia nuclear war. Russia is weaker than when it was part of the Soviet Union. Therefore it is more likely to react in a defensive manner."
Christina, a Detroit-based photographer, arrived late for the rally and was one of those excluded. She said she planned to vote for Clinton, but then confessed bitterly, "I don't want to vote for either one of them. I don't want either one in office."
Trump, she said, "lacked common decency." But, she noted, "Clinton has lied and tried to avoid direct questions. I don't feel that she is any more trustworthy than Trump. The real questions are not being addressed. The debates are a joke. They are not talking about anything pertinent.
"Health care is a mess. I haven't had health care since April. I am terrified of another major recession."
Christina said she had voted for third party candidates in the past, but now felt it was a waste of her vote, given the political monopoly enjoyed by the Democrats and Republicans. She explained that she had voted in the Republican primary to keep Trump out and would now cast an unenthusiastic vote for Clinton for the same reason.
"Between 2002 and 2015 annual earnings for
the bottom 90 percent of Americans rose by
only 4.5 percent, while earnings for the top 1
percent grew by 22.7 percent, according to the
Economic Policy Institute. Under the Obama
administration, more than 90 percent of
income gains since the so-called "recovery"
began have gone to the top one percent."
WHY OBAMA'S CRONY BANKSTERS WANT MORE OBAMA-CLINTONOMICS
"Clinton has also stepped up her efforts to woo billionaires who have traditionally supported Republican campaigns on the grounds that she will be a more effective "commander in chief" and defender of the interests of Wall Street."
AMERICA'S ROAD TO REVOLUTION
…..will pass right through Hillary Clinton's Mansion door!
"Our entire crony capitalist system, Democrat and Republican alike, has
become a kleptocracy approaching par with third-world hell-holes. This is
the way a great country is raided by its elite." ---- Karen McQuillan THE
AMERICAN THINKER.com
WAKE UP, FOOLS! It's already here!!!
AMERICA'S TWISTED ROAD TO REVOLUTION:
Fighting back Wall Street's Looting and Rule
A NATION OF 60 MILLION ILLEGALS AND COUNTING!
94.6 Million People Out of Labor Force in October
U.S. Adds 161,000 Jobs in Oct., Jobless Rate at 4.9%
U.S. Adds 161,000 Jobs in Oct., Jobless Rate at 4.9%
Class struggle in US intensifies on eve of election
In the run-up to Tuesday's national election, a significant number of strikes have broken out among a wide variety of workers in many parts of the United States. The biggest action is a walkout by nearly 5,000 transit workers in Philadelphia. The strike, now in its fifth day, has shut down the nation's sixth largest public transit system and brought the city of 1.5 million people to a virtual halt.
The main issue in the strike is the demand of the Southeastern Pennsylvania Transportation Authority (SEPTA) for an eleven-fold increase in the workers' out-of-pocket health costs.
Other workers currently on strike include Pittsburgh Symphony Orchestra musicians, who are in the fifth week of a struggle against wage and pension cuts; 700 chemical workers at Momentive Performance Materials in New York State and Ohio, who are fighting health and pension cuts; and 300 video game voice actors in Los Angeles, who are demanding improved compensation and working conditions.
In addition, some 400 workers in Indiana and New York State are in the seventh month of a lockout imposed after they rejected demands for health care concessions from the aircraft component manufacturer Honeywell International.
Another series of recent strikes were terminated by the trade unions, which are seeking to prevent walkouts wherever possible and quickly end those that break out in the interests of promoting their campaign for the election of Democratic presidential candidate Hillary Clinton.
Over the past several weeks, the unions have shut down strikes by state university faculty members in Pennsylvania, Minnesota nurses, Libbey Glass workers in Ohio, Jim Beam whiskey workers in Kentucky, and cafeteria workers at Harvard University in Massachusetts. These walkouts followed the strike by 40,000 Verizon telecom workers earlier in the year.
Thousands of other workers, including 95,000 California state employees, United Parcel Service aircraft mechanics, General Electric appliance workers in Kentucky, and bus drivers in Ohio and Illinois, could soon be on strike.
The increase in working class struggles in the US coincides with a growth of the class struggle internationally, including last month's strikes by tens of thousands of autoworkers, rail workers and hospital workers in South Korea, and a record number of strikes in China.
The artificial suppression of the class struggle by the unions, which during the Obama presidency held strikes to the lowest level since the end of the Second World War, has allowed the corporations to restructure their operations and slash their labor costs in the aftermath of the 2008 financial crash. This has entailed the shifting of health and pension costs onto the backs of workers and the transformation of millions of workers into casual laborers.
A common thread in virtually all of these struggles is opposition to corporate demands for higher out-of-pocket health care costs. The offloading of the cost of health coverage from the companies to the workers has escalated alongside the implementation of Obamacare, the central domestic "achievement" of the outgoing administration.
According to a survey by the Kaiser Family Foundation, premiums in the US rose by 3.4 percent and deductibles by 12 percent last year, more than eating up the average 3 percent increase in wages, which followed nearly a decade of falling or stagnant real wages. Another study shows that over the past five years, the share of employees enrolled in high-deductible insurance plans has more than doubled, reaching 29 percent, or 50 million workers.
Between 2002 and 2015 annual earnings for
the bottom 90 percent of Americans rose by
only 4.5 percent, while earnings for the top 1
percent grew by 22.7 percent, according to the
Economic Policy Institute. Under the Obama
administration, more than 90 percent of
income gains since the so-called "recovery"
began have gone to the top one percent.
Meanwhile, the percent of Americans below 125 percent of the official poverty rate has been higher every year under Obama than during the Bush presidency.
These are the conditions for millions of workers on the eve of an election that pits a billionaire real estate mogul, Donald Trump, against a multi-millionaire long-time politician, Hillary Clinton. Neither of these right-wing defenders of the capitalist system offers any policies to address the social needs of working people.
The elections have been conducted at the most degrading level in order to exclude the real issues confronting the broad mass of working people: economic insecurity and poverty and the growth of militarism and war.
The real sentiments of working people can find no expression within the framework of the existing political system.
The ruling
elite was shocked and frightened when
millions of workers and young people voted
for Bernie Sanders to register their opposition
to the capitalist system and the tyranny of
The 13 million votes for what was presented—falsely and cynically—
as a "democratic socialist" campaign reflected a profound shift in
consciousness to the left, developing alongside a revival of working
Sanders' endorsement and vote-hustling for Clinton, the favored candidate of the financial-corporate elite, thoroughly exposed his reactionary role as an instrument of the ruling elite for channeling social opposition back into the dead end of the Democratic Party.

He has played a central part in giving Trump an open road to exploit the social grievances of those who have been economically devastated and seek to channel discontent in a reactionary nationalist direction.
Clinton, taking advantage of Sanders' capitulation and the backing of the complacent and reactionary liberal and pseudo-left milieu, has redoubled her efforts to promote race and gender politics, and attribute the support for Trump to the supposed racism of the "white working class."
The greatest exposure of such lies is the class struggle itself. The initial stirrings of a new period of class struggle, involving workers of all races and nationalities, underscores the basic fact, as Marx put it, that society is split "into two great hostile camps, into two great classes directly facing each other," the capitalists and the working class.
The political radicalization that found initial expression in the mass support for Sanders has not gone away. It will intensify under a new administration that will escalate US military violence abroad and the attacks on the working class at home.
THE SMELL OF MONEY

:
Senator Bernie Sanders Takes the Crooked Road For Obama's Crony Banksters for
KILLARY KROOKED KLINTON
Much more here:
"The response to the publication of these speeches by so-called "socialist"
Bernie Sanders
exposes the utterly fraudulent character of his entire presidential bid. While he postured during the Democratic Party primaries as a proponent of a "political revolution" against the "billionaire class,"
Sanders
now functions shamelessly as a sideshow for the Clinton campaign, browbeating his (now much smaller) audiences with admonitions to vote for the preferred candidate of the "billionaire class" he claimed to oppose."
THE GIG ECONOMY
As Barack Obama invites hordes to jump our borders jobs, welfare offices and voting booths…. WHAT IS LEFT FOR THE AMERICAN MIDDLE CLASS HE HATES SO MUCH?
HILLARY CLINTON HAS PROMISED AMNESTY IN 100 DAYS, NO BORDERS AND GLOBALIZATION FOR ALL HER FOUNDATIOIN DONOR CRONIES.
TO KEEP WAGES DEPRESSED REQUIRES
OPEN BORDERS AND ENDLESS HORDES
OF FOREIGN BORN JUMPING OUR
HILLARY'S PLAN TO SURRENDER OUR BORDERS TO OBAMA'S INVADING MUSLIMS
"We're being invaded and Hillary aids, abets and promotes this immigration invasion."
"We must stop all Muslim immigration because, in the end, those Muslims all intend to dominate and overrun our country. We need to stop this "oligarchy" by our votes."
FROSTY WOOLDRIDGE
SERGIO RAMSES MUCINO HIRED ILLEGALS
ICE ROUNDED THEM UP AND TOOK HIS PORCHE AND
CADILLAC.
40 MILION MEX FLAG WAVERS TO GO!
FROSTY WOOLDRIDGE:
MEXICO'S STAGGERING LOOTING IN OUR OPEN BORDERS….
ARIZONA…. MEXICAN WORLD CAPITAL FOR LA RAZA CAR THEFT
Where did those vehicles go? Who stole them? Take a guess. Arizona is the temporary home of 500,000 illegal aliens. They cost Arizona taxpayers over $1 billion annually in services for schools, medical care, welfare anchor babies, loss of tax base and prisons. Illegals use those vehicles for smuggling more people and drugs from around the world into our country. When the vehicles are recovered, they are smashed-up wrecks in the desert. If not found, they have new owners south of the border as thieves drive the cars through the desert and into Mexico as easily as you drive your kids to soccer practice. THAT'S how porous our borders are!
HILLARY CLINTON'S ADMIN:
CUT SOCIAL SECURITY, ELIMINATE BORDERS WITH NARCOMEX, AND END REGULATION OF OBAMA'S CRONY BANKSTERS
"Hillary Clinton is a known liar, a criminal of monstrous proportions; others have gone to prison for crimes she has committed over and over: lying to Congress, lying to the FBI, violating national security laws by which she was bound as Secretary of State, etc. It's a long list."
Clinton, the candidate favored by most of Wall Street and the corporate elite and large sections of the Republican Party establishment, is seeking to assemble something akin, within the framework of the US political setup, to a grand coalition between the Democratic Party and the Republican leadership.
Transcripts released by WikiLeaks of Clinton speeches to Wall Street bankers, for which she received six-figure paychecks, show her praising the recommendations of the 2010 Simpson-Bowles deficit-reduction commission, which called for sweeping cuts to Social Security, Medicare and Medicaid; the elimination of 200,000 federal jobs; a tax on employees' health benefits; and huge cuts in income taxes for the wealthy and corporate taxes.
"But what the Clintons do is criminal because they do it wholly at the expense
of the American people. And they feel thoroughly entitled to do it: gain power,
use it to enrich themselves and their friends. They are amoral, immoral, and
venal. Hillary has no core beliefs beyond power and money. That should be
clear to every person on the planet by now."
ALARMING!
AMNESTY WILL ALLOW 100 MILLION MORE ILLEGALS
HOW MEXICO KILLED AMERICA FROM BORDER to OPEN BORDER…. By invitation of the Democrat Party
OPEN BORDERS – HOW THE DEMOCRAT PARTY DESTROYED THE GOP, THE AMERICAN WORKER and then AMERICA!
MEXICANS JUMP AMERICA'S OPEN & UNDEFENDED BORDERS FOR HILLARIA'S AMNESTY
"Even though it has gone virtually unreported by corporate media,

Breitbart

News

has extensively documented the Clintons' longstanding support for "open borders." Interestingly, as the

Los

Angeles

Times

observed in 2007, the Clinton's praise for

globalization and open borders

frequently comes when they are speaking before a wealthy foreign audiences and donors."
SOARING POVERTY AND UNEMPLOYMENT UNDER OBAMA'S
OPEN
BORDERS
POLICIES.
HILLARY WILL HAND 40 MILLION LOOTING MEXICANS AMNESTY, AMERICAN JOBS AND BILLIONS IN WELFARE.
Wikileaks exposed!
BARACK OBAMA AND THE GOLDEN AGE OF CRONY BANKSTER LOOTING…. And not one went to prison!
"Citigroup's recommendations came just three days after then-President George W. Bush signed into law the Troubled Asset Relief Program, which allocated $700 billion in taxpayer money to rescue the largest Wall Street banks. The single biggest beneficiary was Citigroup, which was given $45 billion in cash in the form of a government stock purchase, plus a $306 billion government guarantee to back up its worthless mortgage-related assets."
"As president, Obama not only funneled trillions of dollars to the banks, he saw to it that not a single leading Wall Street executive faced prosecution for
the orgy of speculation and swindling that led to the financial collapse and Great Recession, and he personally intervened to block legislation capping
executive pay at bailed-out firms."
"So when Clinton was hobnobbing with Goldman Sachs CEO Blankfein in 2013, while investigations of wrongdoing by Goldman and the other Wall Street banks were still ongoing, she was consorting with a man who belonged in prison."
OPEN BORDERS: The Democrat Party's Weapon of Mass Destruction on the American Worker
"Los Angeles saw all crime rise in 2015: violent crime up 19.9 percent, homicides up 10.2 percent, shooting victims up 12.6 percent, rapes up 8.6 percent, robberies up 12.3 percent, and aggravated assault up 27.5 percent,"Landry said."
OBAMA-CLINTONOMICS:
THE FINAL TRANSFER OF AMERICA' ECONOMY TO THE SUPER RICH!
THE GREAT DEPRESSION IS JUST AROUND THE/ALL CORNERS!
AMERICA'S ECONOMIC ARMAGEDDON – The Impact of Obama-Clintonomics
Under Obama-Clintonomics, the rich became VERY rich and we got the tax bills for their bailouts and crimes!
OBAMA-CLINTONOMICS:
You were wondering how many jobs went to illegals and how well Obama's crony banksters have done???
The sputtering economic recovering under President Obama, the last to follow a major recession, has fallen way short of the average recovery and ranks as the worst since the 1930s Great Depression, according to a new report.
Had the recovery under Obama been the average of the 11 since the Depression, according to the report, family incomes would be $17,000 higher, six million fewer Americans would be in poverty, and there would be six million more jobs.
SOARING POVERTY AND DRUG ADDICTION UNDER OBAMA
"These figures present a scathing indictment of the social order that prevails in America, the world's wealthiest country, whose government proclaims itself to be the globe's leading democracy. They are just one manifestation of the human toll taken by the vast and all-pervasive inequality and mass poverty
OBAMA-CLINTONOMICS TO SERVE THE SUPER RICH: The slow and painful death of America that dominates American society."


THE OBAMA SOLUTION TO END WHITE CHRISTIAN AMERICA:
MEXICO: AMERICA'S DRUG DEALER!
\
The same period has seen a massive growth of social inequality, with income and wealth concentrated at the very top of American society to an extent not seen since the 1920s.
"This study follows reports released over the past several months documenting rising mortality rates among US workers due to drug addiction and suicide, high rates of infant mortality, an overall leveling off of life expectancy, and a growing gap between the life expectancy of the bottom rung of income earners compared to those at the top."
THE MEXICAN DRUG CARTELS HAVE GREATLY BENEFITED FROM BARACK OBAMA'S SABOTAGE OF HOMELAND SECURITY.
THE CLINTON "JOBS" PLAN ENDORSED BY NARCOMEX
– IT'S CALLED AMNESTY!
Clinton, in the guise of a "jobs" and "infrastructure" program, promoted yet another scheme to hand out tax cuts and other incentives for companies to hire workers at poverty-level wages, with the trade unions brought in to keep the workers in line in return for a cut in the spoils.
OBAMA-CLINTONOMICS FOR THE RICH:
On behalf of bankster-owned Barack Obama, Yellen vows to the rich and crony banksters that they will be protected and subsidized with no strings bailouts during the next looming economic meltdown around the corner from elections.
"In fact, these policies have already produced financial and asset bubbles that are unsustainable, and there are increasing signs of financial instability and crisis. There are growing warnings that the spread of negative interest rates is leading to a new financial meltdown even worse than the disaster that struck eight years ago."
"The same period has seen a massive growth of social inequality, with income and wealth concentrated at the very top of American society to an extent not seen since the 1920s."
THE OBAMA DOCTRINE: ABET CRONY BANKSTERS SO THEY CAN FINSISH OFF THE AMERICAN MIDDLE CLASS. KEEP BORDERS WIDE OPEN TO EASE MILLIONS OF MEX FLAG WAVERS INTO OUR JOBS, WELFARE OFFICES AND VOTING BOOTHS, AND EXPAND THE MEXICAN DRUG CARTELS' MARKETS IN AMERICA'S OPEN BORDERS TO KILL OFF AMERICA'S WHITE POPULATION TO BUILD A MUSLIM-STYLE DICTATORSHIP FOR ONE BARACK OBAMA, THE "Hope & Change" HUCKSTER FROM CHICAGO.
AMERICA THE HOME OF THE HOMELESS:
OBAMA-CLINTONOMICS AT WORK!
"The decline in homeownership is one sign of the deep social crisis in the United States. As rents and housing costs have soared, spurred on by financial speculation that has enriched the ruling elites, incomes and jobs for most Americans have shriveled."
Build the La Raza Democrat Party base with open borders, no ID to vote Democrat, no E-VERIFY and NO DAMNED LEGAL NEED TO APPLY.


Keeping wages DEPRESSED with endless hordes of looting Mexicans invading keeps these corrupt politicians' paymasters on Wall Street generous$.


"Republicans should call for lower immigration to stop the Democrat voter recruitment. But more importantly, all Americans should call for lower immigration in order to offer a better opportunity of finding jobs for those millions of their fellow Americans of all political persuasions who would like to work."
MILLIONS OF AMERICAN JOBS HANDED OVER TO ILLEGALS ALONG WITH BILLIONS IN WELFARE.... AND THE PARTY HAS JUST BEGUN!
THE DEMOCRAT PARTY PLATFORM:
NO DAMNED LEGAL NEED APPLY!
VIVA LA RAZA FASCISM? THEN VOTE DEM!
"Republicans should call for lower immigration to stop the Democrat voter recruitment. But more importantly, all Americans should call for lower immigration in order to offer a better opportunity of finding jobs for those millions of their fellow Americans of all political persuasions who would like to work."
http://mexicanoccupation.blogspot.com/2016/07/hillary-clinton-and-mexicos-vision-of.html
EXCLUSIVE: Leaked Images
Show Illegals Casually
Strolling Across Open Border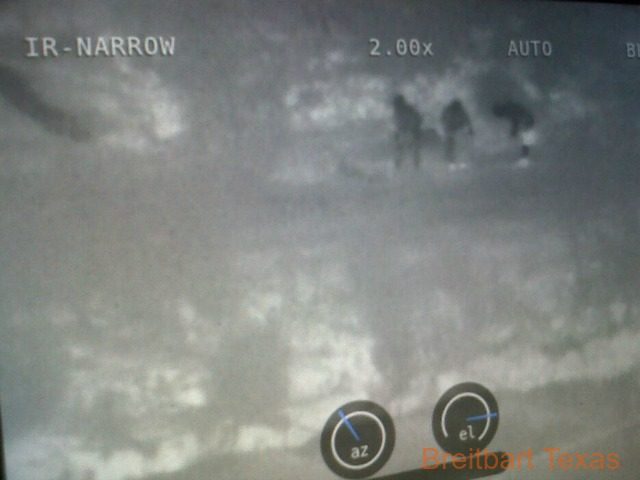 A series of leaked images reveal how groups of illegal immigrants continue to flow over the Texas border in unprecedented numbers. The lack of physical barrier and real border security allows human smugglers and their cargo to simply wade across the shallow waters of the Rio Grande.
Breitbart Texas exclusively obtained leaked law enforcement images of a crossing attempt by human smugglers in an area between Del Rio and Laredo, Texas. According to various sources on both sides of the border, the area where the crossing took place
is under the control of the Los Zetas cartel
.
The black and white images were taken using night vision equipment in order to record the smuggling operations. The images reveal that human smugglers appear to operate with little concern due to the lack of presence by U.S. law enforcement.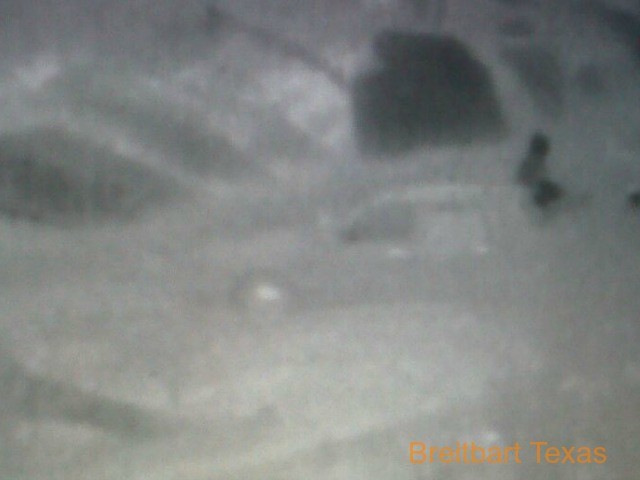 The human smugglers can be seen driving in SUVs to the Mexican side of the river before disembarking. The illegal immigrants then hoist their belongings over their heads and proceed to wade through the water onto the U.S. side of the border where more human smugglers await.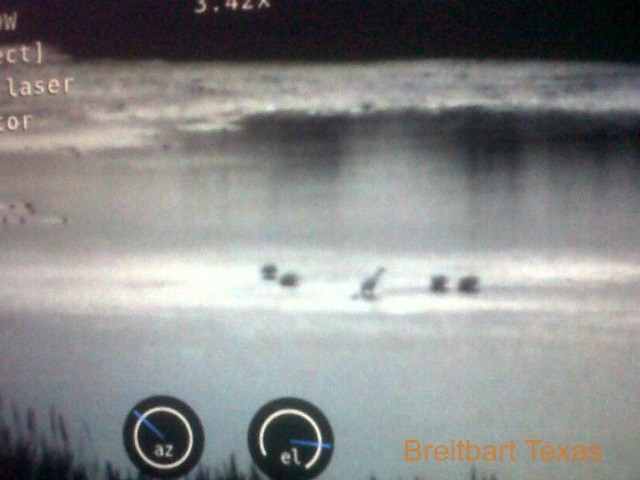 Border Patrol Agent Shawn Moran, speaking to Breitbart Texas in his role as National Border Patrol Council Vice President, cautioned that many would assume the fact that technology identified these unknown aliens crossing does not mean they were apprehended.
Agent Moran stated, "We have a manpower shortage and have seen instances where were could only respond to 40 percent of the crossings we knew were occurring. The technology is great at letting us know a crossing is occurring, but what good is it if we don't have the agents to respond."
Ildefonso Ortiz is an award winning journalist with Breitbart Texas. He co-founded the Cartel Chronicles project and you can follow him on

Twitter

and on

Facebook

.
Brandon Darby is managing director and editor-in-chief of Breitbart Texas. Follow him on Twitter and Facebook.
DISCLOSURE: Breitbart News sponsors the National Border Patrol Council's radio program, The Green Line. The author of this article received an award from the Laredo chapter of the National Border Patrol Council for his "being a voice and staunch advocate for Border patrol agents." Breitbart News previously covered the costs of a slain Border Patrol agent's funeral. The National Border Patrol Council endorsed Donald Trump for President after the candidate vowed to give veteran Border Patrol agents a voice in what is needed to properly secure the U.S.-Mexico border.