'Sanctuary' NYC Released Criminal Illegal Alien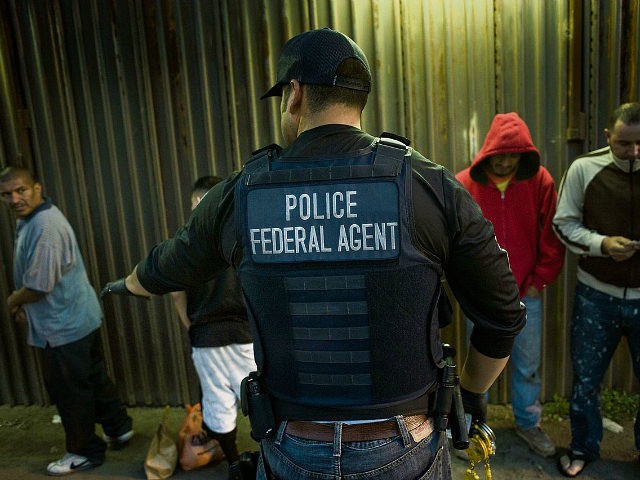 A previously deported, convicted criminal illegal immigrant was released by the New York City Police Department (NYPD) last year after failing to detain the Mexican national for the Immigration and Customs Enforcement (ICE) agency.
In a
news release by ICE
, the agency announced it has captured 31-year-old Luis Alejandro Villegas after the illegal immigrant was released onto the streets due to New York City's sanctuary city policy which refuses cooperation with federal authorities to help deport criminals.
"Villegas is a criminal alien who was released back into our New York communities, posing an increased and unnecessary risk to those who live in this great city," Thomas Decker, field office director for ICE's deportation force in New York, said in a statement.
"This level of risk can be mitigated in many instances and ICE welcomes changes to the current policy which is creating a potentially unsafe environment for the city's residents," Decker continued. "ICE is committed to strengthening its relationship with local law enforcement in the interest of public safety and national security while preserving the critical community-police bond."
Villegas previously served five years in a U.S. prison after being convicted of forcible theft with a deadly weapon. After his term, Villegas was deported back to Mexico in 2007.
Last year, Villegas was taken into custody by the NYPD on drunk driving charges. This is when ICE filed a detainer on Villegas, asking that local authorities hold the criminal illegal immigrant until they could take over the case and deport the man.
NYPD, though, ignored the detainer and released Villegas back onto the streets on Dec. 31, 2016.
Immediately following his release, ICE filed a criminal warrant for Villegas' deportation. On January 25, ICE officers captured Villegas in the East Harlem neighborhood of New York City.
Vallegas is now in federal custody.
John Binder is a contributor for Breitbart Texas. Follow him on Twitter at
@JxhnBinder
.
CAUTION!
GRAPHIC IMAGES of America coming under Mex Occupation
The NARCOMEX drug cartels now operate in all major American cities and haul back to NARCOMEX between $40 top $60 BILLION from sales of HEROIN!
OPEN BORDERS: The Democrat Party's Weapon of Mass Destruction on the American Worker
"Los Angeles saw all crime rise in 2015: violent crime up 19.9 percent, homicides up 10.2 percent, shooting victims up 12.6 percent, rapes up 8.6 percent, robberies up 12.3 percent, and aggravated assault up 27.5 percent,"Landry said."
MEXICANS: MURDER, RAPE, ROB, HOME INVADE, and SHOVE THEIR MEX FLAGS UP OUR NOSES!
70,000 American women raped by illegals.
The illegal broke into her place.
Using a claw hammer, he beat her, broke her neck and raped her!
Marilyn Pharis was 64 when she died from her assault.
VIVA LA RAZA SUPREMACY AND OPEN BORDERS?
According to a 2011
report
from the Government Accountability Office, there are 70,000 sexual offenses attached to the incarcerated criminal alien population.
A Mexican illegal alien allegedly raped a girl in Kansas in September after being deported ten times in the past six years alone, according to reports.
*
INVADE, RAPE, MURDER and then vote Democrat for more!
Illegals Committing Heinous Acts Against Children & civilians in U.S.
A Mexican illegal alien allegedly raped a girl in Kansas in September after being deported ten times in the past six years alone, according to reports.
HOMELAND SECURITY IS NOT A JOKE, EXCEPT TO MEXICANS!
AMERICA DEMANDS SOVEREIGNTY FROM LA RAZA CRIME TIDAL WAVE!
40% of all Federal Border Crimes are by invading Mexicans!