Sen. Tim Scott: I Support Jeff Sessions for Attorney General Because of 'What Is in his Heart'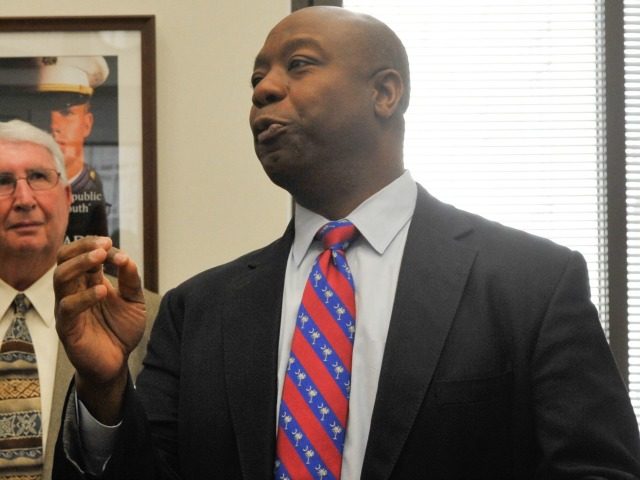 South Carolina Senator Tim Scott is firing a shot across the bow of Democrats accusing Sen. Jeff Sessions (R-AL) of racism.
Sessions faces confirmation hearings regarding his nomination for U.S. Attorney General on Tuesday. "It is no secret that in 1986, Senator Sessions was not chosen as a federal judge," Scott says. He succeeded Jim DeMint in the Senate, when DeMint left to lead the Heritage Foundation in 2013.
"That is why even though I do not serve on the Senate Judiciary Committee, I have put a special emphasis on this nomination in terms of doing my own homework and determining the facts from the allegations. I owe it to the people of South Carolina, and the people of the United States, to make the right decision," he said.
"We may not agree on everything, but you would be hard pressed to find a nominee for any post that any Senator is in 100 percent agreement with," the senator said.
""I have gotten to know Jeff over my four years in the Senate, and have found him to be a consistently fair person," he said.
Booker announced Monday that he would break with Senate tradition and testify as a sitting senator against the confirmation of a sitting senator.
A Capitol Hill source familiar with Scott's motivations for speaking out in favor of Sessions told Breitbart News Scott's statement was not prompted by Booker's break of protocol. Rather, the source said, Scott was motivated by his own friendship and working relationship with Sessions, whose reputation under an unfair attack.
"After his nomination, I invited Senator Sessions to Charleston, South Carolina in December of 2016 to meet with African-American pastors, law enforcement and leaders of color," Scott said.
"We had what both the attendees and I believe to be a very productive conversation, which gave us all a clearer picture of not only Jeff's policy positions, but what is in his heart," he said. "I have also talked on multiple occasions with leaders from Alabama, closely reviewed both the Congressional testimony and news coverage of Senator Sessions' hearing in 1986, and studied Jeff's career as a whole."
Scott said he would not weigh in on disputed allegations from three decades ago.
Instead, Scott said he based his support of Sessions on what he knows is solid.
"There are many facts that are absolutely clear. Jeff is committed to upholding the Constitution of the United States," he said. "He joined multiple desegregation lawsuits while serving as a U.S. Attorney, protecting the civil rights of students seeking equal educational opportunity. He ensured a KKK murderer received the death penalty. He voted for the first black Attorney General of the United States, and championed the effort to award Rosa Parks the Congressional Gold Medal."
Sessions understands the price paid by Americans for the freedoms protected by the Constitution, he said.
"The United States Department of Justice is charged with upholding some of the most basic tenets of our Constitution, as well as laws that were forged through the blood, sweat and tears of generations of Americans, including many people of color," he said.
"As our nation endures racial and societal unrest like we have not seen in a generation, I know that whomever serves as our nation's Attorney General must be committed to ensuring that those laws and tenets are fully enforced and protected," he said.
"For all of these reasons, today I am announcing my support for Sen. Jeff Sessions as Attorney General of the United States."
Chuck Grassley: 'Sessions Will Be a Leader for Law and Order Administered Without Regard to Person'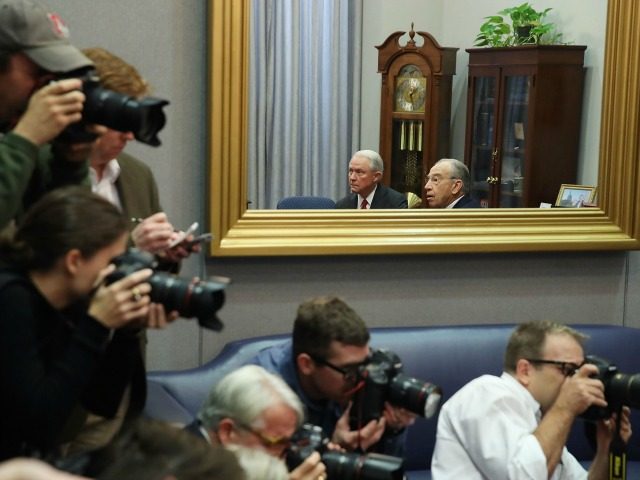 Ahead of confirmation hearings for U.S. Attorney General nominee Sen. Jeff Sessions, Senate Judiciary Committee Chairman Chuck Grassley says Sessions, "will be a leader for law and order administered without regard to person."
Grassley released the following excerpted statements:
Our hearing today hardly introduces Senator Sessions to the committee. No, we're here today to review the character and qualifications of a colleague who has served alongside us in the Senate for twenty years. That includes time as the Ranking Member of this committee. We know him well. We know the policy positions he has taken as a legislator. I've been on both sides of debates with Senator Sessions. Having served with him for so long we pretty well know whether he supports your policy positions or opposes them.

Throughout his (Sessions') public service, both within the department and outside of it, he has raised his hand and served when called upon. He has done his duty, enforced the law fairly, and let the chips fall where they may.

And every member of this committee knows from experience that, in his new role, Senator Sessions will be a leader for law and order administered without regard to person. Leadership to that end is exactly what the department now needs. It should go without saying that the department is tasked with the responsibility of enforcing our laws—ALL of our laws—in a dispassionate and even-handed way.
At 9:30 a.m. on Tuesday morning Sessions will face a committee of his peers as the Senate Committee on the Judiciary holds the Attorney General nomination hearing. A schedule for the hearing lists Sen. Richard Shelby (R-AL) and Sen. Susan Collins (R-MA) as introducing Sessions for the hearing.
Trump announced his intention to nominate Sessions back on November 18, just days after winning election.
Sessions Is a Highly Qualified Pick for Attorney General
Thomas Jefferson, in his first inaugural address as president in 1801, deemed "equal and exact justice to all men, of whatever state or persuasion, religious or political" one of the essential principles of our government. President-elect Donald Trump has demonstrated his intent to uphold this principle by nominating Sen. Jeff Sessions, R-Ala., to serve as attorney general.
In a nation of over 300 million people, there is no other individual more qualified or capable of upholding Jefferson's vision of the federal justice system than Sessions.
As a four-term member of the Senate, Sessions has a distinguished record on the Judiciary Committee and has extensive experience within the federal judiciary as assistant U.S. attorney and U.S. attorney for the Southern District of Alabama. He also has experience at the state level as former attorney general of Alabama.
As a prosecutor and Alabama attorney general, he aggressively pursued and obtained criminal convictions for violent felonies and drug crimes, effectively pursued criminal charges against members of the Ku Klux Klan, and worked to desegregate Alabama schools.
The Daily Signal is the multimedia news organization of The Heritage Foundation. We'll respect your inbox and keep you informed.
A number of distinguished federal and state law enforcement officers—including former National Drug Control Policy Director Bob Bennett, National Sheriffs' Association Executive Director Jonathan Thompson, and former Deputy Attorney General of the United States Larry Thompson—have praised Sessions' nomination.
Thompson offered an impassioned endorsement, noting:
Jeff knows the workings of the Justice Department inside and out. He is thoroughly familiar with the legal issues the department will face. He understands the mission of the department and will carry out his duties in a professional, thoughtful, and balanced manner.
The first order of business for Sessions as attorney general will be to restore the relationship between the Justice Department and federal, state, and local law enforcement agencies.
America's law enforcement officials have been under attack from President Barack Obama's Justice Department for the past eight years, but with Sessions leading the agency, rank-and-file officers who put themselves in harm's way every day will have a reliable ally and champion.
His experience and expertise working alongside law enforcement will bring, in Jefferson's words, "equal and exact justice to all," while making sure officers have the resources and support at the federal level to effectively administer justice.
As attorney general, Sessions will control more than $2 billion in federal grant funding to local jurisdictions—funds to support crime-fighting efforts in communities across the country.
Millions of voters across America went to the polls in November and strongly repudiated the failed policies of the past eight years, and voted to take our nation in a better direction. A majority of Americans from across the demographic and political spectrum told Gallup last year that they were more concerned about crime than at any time in the past 15 years.
Trump promised action to address the problem, and as attorney general, Sessions will deliver on that promise. Law enforcement officers and American citizens will be safer, the Constitution will be better protected, and the rule of law will be properly enforced with Sessions as attorney general.
People of faith call on members of the U.S. Senate to quickly and overwhelmingly vote to confirm Sessions and let him get to work getting America's law enforcement system back on track.