Trump: Christian Refugees 'Horribly Treated,' 'We Are Going to Help Them'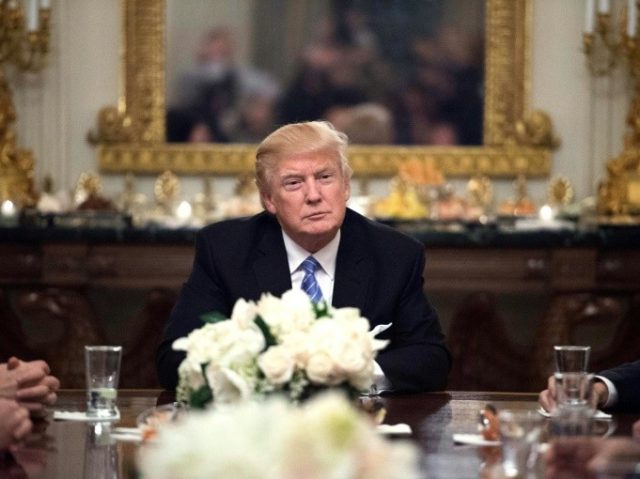 In an interview with theChristian Broadcasting Network recorded on Thursday, but set to air in full on Sunday, President Trump said Christian refugees have been "horribly treated" and "we are going to help them."
"The refugee changes that you're looking to make, as it relates to persecuted Christians, do you see them as kind of a priority here?" CBN's David Brody asked the President.
"Yes," Trump replied. "They've been horribly treated."
"Do you know if you were a Christian in Syria it was impossible – or at least very, very tough – to get in to the United States?" he asked. "If you were a Muslim, you could come in. But if you were Christian, it was almost impossible."
"And the reason that was so unfair, is that everybody was persecuted in all fairness, they were chopping off the heads of everybody, but more so the Christians. I thought it was very, very unfair," Trump continued. "So we are going to help them."
While the administration of Trump's predecessor Barack Obama significantly increased the number of Syrian refugees allowed into the country, an overwhelming majority of these were Muslim, despite the Islamic State's systematic attempts to convert or kill both Syria and Iraq's Christian population. In June 2016, for example, the United States accepted a record number of 2,300 refugees from Syria. Eight
were Christian
. As a presidential candidate, Trump made the case that the number of Christian refugees being accepted into the United States
was too low
, while the number of undervetted Syrian Muslim refugees could pose a danger to the safety of U.S. citizens.
THE OBAMA SOLUTION TO END WHITE CHRISTIAN AMERICA:
MEXICO: AMERICA'S DRUG DEALER!
The same period has seen a massive growth of social inequality, with income and wealth concentrated at the very top of American society to an extent not seen since the 1920s.
http://mexicanoccupation.blogspot.com/2016/08/obama-clintonomics-their-crony.html
"This study follows reports released over the past several months documenting rising mortality rates among US workers due to drug addiction and suicide, high rates of infant mortality, an overall leveling off of life expectancy, and a growing gap between the life expectancy of the bottom rung of income earners compared to those at the top."
THEIR INVASION of AMERICA CONTINUES: Closet Muslim Obama and his Muslims
"Mexican drug cartels are the "other" terrorist threat to America. Militant
Islamists have the goal of destroying the United States.
Mexican drug cartels
are now accomplishing that mission – from within, every day, in virtually
every community across this country." -
JUDICIAL WATCH
ISLAM: GLOBAL HATE MONGERS AND MURDERERS