Pope Francis: 'Muslim Terrorism Does Not Exist'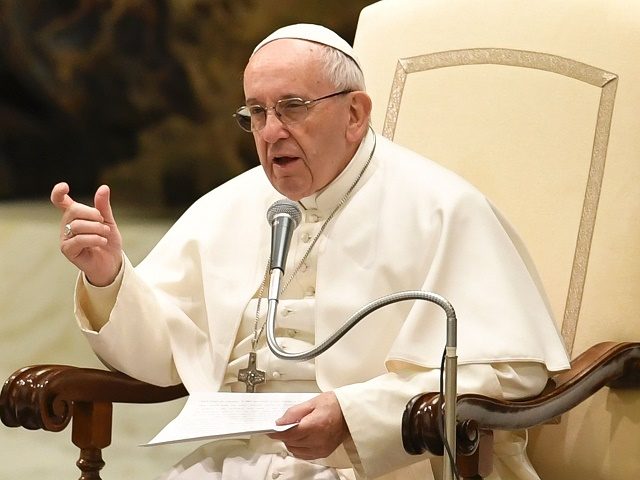 In an impassioned address Friday, Pope Francis denied the existence of Islamic terrorism, while simultaneously asserting that "the ecological crisis is real."
Pope Francis: 'Muslim Terrorism Does Not Exist'
SIGN UP
FOR OUR NEWSLETTER
In an impassioned address Friday, Pope Francis denied the existence of Islamic terrorism, while simultaneously asserting that "the ecological crisis is real."
"Christian terrorism does not exist, Jewish terrorism does not exist, and Muslim terrorism does not exist. They do not exist," Francis said in his

speech

to a world meeting of populist movements.
What he apparently meant is that not all Christians are terrorists and not all Muslims are terrorists—a fact evident to all—yet his words also seemed to suggest that no specifically Islamic form of terrorism exists in the world, an assertion that stands in stark contradiction to established fact.
"No people is criminal or drug-trafficking or violent," Francis said, while also suggesting—as he has on other occasions—that terrorism is primarily a result of economic inequalities rather than religious beliefs. "The poor and the poorer peoples are accused of violence yet, without equal opportunities, the different forms of aggression and conflict will find a fertile terrain for growth and will eventually explode."
The Pope also reiterated his conviction that all religions promote

peace

and that the danger of violent radicalization exists equally in all religions.
"There are fundamentalist and violent individuals in all peoples and religions—and with intolerant generalizations they become stronger because they feed on hate and xenophobia," he said.
While denying the existence of Islamic terrorism, Francis also seemed to condemn the denial of global warming, asserting that "the ecological crisis is real."
"A very solid scientific consensus indicates that we are presently witnessing a disturbing warming of the climatic system," he said.
We know "what happens when we deny science and disregard the voice of Nature," the Pope said. "Let us not fall into denial. Time is running out. Let us act. I ask you again—all of you, people of all backgrounds including native people, pastors, political leaders—to defend Creation."
While acknowledging that science is not "the only form of knowledge," and that "science is not necessarily 'neutral'" and often "conceals ideological views or economic interests," he still insisted that people of good will should not oppose "scientific consensus" regarding global warming.
Leftist media like the

liberal

Guardian

in the U.K. immediately politicized the speech, predictably claiming that the Pope was backing "anti-Trump protests," despite the fact that the Pope himself denied such a claim, explicitly declaring that "I am not speaking of anyone in particular."
"I am not speaking of anyone in particular, I am speaking of a social and political process that flourishes in many parts of the world and poses a grave danger for humanity," he said.
Moreover, although the

Guardian

claimed

that the Pope was "condemning populism," in point of fact, he was speaking to populist movements and praised their commitment to democracy.
"The direction taken beyond this historic turning-point," Francis said, "will depend on people's involvement and participation and, largely, on yourselves, the popular movements."
Nevertheless, the Vatican's Secretary of State, Cardinal Pietro Parolin, said Monday that the Holy See is concerned over growing populist and nationalist movements, both in Europe and in the United States.
In an interview for the Italian evening

news

on the state-owned RAI network, the Cardinal was asked whether the Vatican is worried about what the interviewer called "the spread of nationalism and populism not only in Europe but also in the United States with Donald Trump."
"I think so, I think so," Parolin said. "Certainly these closings are not a good sign," since many of them "are born of fear, which is not a good counselor."
In his address Friday, the Pope denounced "the guise of what is politically correct or ideologically fashionable," which he described as a "hypocritical attitude," while urging real solutions to unemployment, corruption, the identity crisis, and "the gutting of democracies."
"The system's gangrene cannot be whitewashed forever because sooner or later the stench becomes too strong," he said.
THIS IS FOR YOU, FRANCIS!
Sick ISIS savages film themselves burning two Turkish soldiers alive in disturbing new execution video after capturing them in Aleppo
"Mexican drug cartels are the "other" terrorist threat to America. Militant
Islamists have the goal of destroying the United States.
Mexican drug cartels
are now accomplishing that mission – from within, every day, in virtually
every community across this country."
JUDI CIAL WATCH
HOW MANY CHRISTIAN CHURCHES IN MUSLIM DICTATORSHIPS?
Koran 2:191 "Slay the unbelievers wherever you find them."
Koran 3:28 "Muslims must not take the infidels as friends."
Koran 3:85 "Any religion other than Islam is not acceptable."
Koran 5:33 "Maim and crucify the infidels if they criticize Islam"
Koran 8:12 "Terrorize and behead those who believe in scriptures other than the Koran."
Koran 8:60 "Muslims must muster all weapons to terrorize the infidels."
Koran 8:65 "The unbelievers are stupid; urge the Muslims to fight them."
Koran 9:5 "When opportunity arises, kill the infidels wherever you catch them."
Koran 9:28 "The infidels are unclean; do not let them into a mosque."
Koran 9:30 "The Jews and the Christians are perverts; fight them."
Koran 9:123 "Make war on the infidels living in your neighborhood."
Koran 22:19 "Punish the unbelievers with garments of fire, hooked iron rods, boiling water; melt their skin and bellies."
Koran 47:4 "Do not hanker for peace with the infidels; behead them when you catch them."
THEIR INVASION of AMERICA CONTINUES: Closet Muslim Obama and his Muslims
"Mexican drug cartels are the "other" terrorist threat to America. Militant
Islamists have the goal of destroying the United States.
Mexican drug cartels
are now accomplishing that mission – from within, every day, in virtually
every community across this country." -
JUDICIAL WATCH
ISLAM: GLOBAL HATE MONGERS AND MURDERERS, RAPIST, THIEVES….
Who does not remember the Obomb bending over to kiss the hem of the 9-11 invading Saudi dictator, King Lardbucket the Fornicator?
THE SAUDIS ROYAL LARDBUCKETS and their boy Obomb:
Let us see if the SAUDIS invaders will finance Obomb's
PRESIDENTIAL LIBRARY like they did Bush and Billary's!
Selling Out America and Sucking In the Bribes!
BILL CLINTON SUCKS IN BRIBES FROM ISIS DONORS!
The Muslim Sheikhdom Qatar is a major sponsor of ISIS and global anti-American terrorism. How disturbing is it that Bill Clinton sucked in a bribe of ONE MILLION DOLLARS under the guise of a birthday gift? There is NO one the Clintons will not sell us out to and have already!
http://mexicanoccupation.blogspot.com/2016/10/the-muslim-conspiracy-in-america-will.html
Shortest Letter in the Bible Solves Illegal Immigration Problem
By Michael R Shannon
ConservativeDailyNews.com, January 11, 2017
. . .
Paul's Letter to Philemon makes Hynicka uncomfortable because Paul demonstrates Christians are required to follow the path of truth. The letter concerns Onesimus; a runaway slave who stole from his master and fled to Rome while Paul was imprisoned there.
In contrast to Hynicka's "come and sin some more" philosophy, Paul converted Onesimus. He repented under Paul's guidance and became a new man. Then came the hard part. Paul loved Onesimus and, like the freelance landscapers in the 7/11 parking lot, he was useful around the house.
Paul recognized that like all Christians he has personal and public obligations. He fulfilled his personal obligation to Onesimus by introducing him to Christ, changing his life and making him part of his household. Paul's public obligation was harder. He was required to "render unto Caesar" and obey the law.
Instead of offering Onesimus sanctuary, Paul sent him back to his master, Philemon, with the letter that forms the book. Onesimus faced a penalty much worse than an ankle bracelet and a bus ride. Under Roman law both theft by a slave and running away merited the death penalty. Fortunately, Philemon was a friend and fellow Christian.
The letter acknowledges the violation of the law and the consequent requirement for restitution or recompense. Paul personally offers to pay any damages or compensation owed by Onesimus. Then he asks Philemon as a fellow Christian to greet the returning slave as a brother and to free him.
The request for freedom adheres to God's law and the decision to grant or not grant it is in accordance with Caesar's law.
http://www.conservativedailynews.com/2017/01/shortest-letter-in-the-bible-solves-illegal-immigration-problem/