CALIFORNIA'S STATE GOVERNMENT, NOW LA RAZA CONTROLLED, HANDS ILLEGALS $30 BILLION IN SOCIAL SERVICES.
CA HAS THE LARGEST AND MOST EXPENSIVE PRISON SYSTEM IN THE NATION... HALF THE INMATES ARE MEXICANS.
HALF THE MURDERS IN MEXIFORNIA ARE NOW BY MEX GANGS!
FORMER LOS ANGELES MAYOR AND MEX FASCIST ANTONIO "Taco Runt" VILLARAIGOSA
DECLARES MEXIFORNIA'S SURRENDER TO LA RAZA SUPREMACY
"Taco Runt" is a member of the Mexican Fascist Movement of M.E.Ch.A. and a racist (yes, Mexicans think of themselves as a unique "race") LA RAZA supremacist.
He is proud of the fact that he FAILED California's State Bar test more than any other illiterate Mexican on earth and that qualifies him to operate California's Mexican Welfare State for LA RAZA.
BELOW LINK IS TO THE LA RAZA "THE RACE" MEXICAN FASCIST AND RACIST ANTI-AMERICAN SEPARATIST MOVEMENT
M.E.Ch.A.
Movimiento Estudiantil Chicano de Aztlan, or Chicano Student Movement of Aztlan. (WARNING GRAPHIC!)
They claim all of North America for Mexico!
LOS ANGELES, MEXICO'S ANCOR BABY FACTORY, CARTEL GATEWAY AND CENTER FOR THE EMPOWERMENT OF MEXICAN ILLEGAL UNREGISTERED DEMS.

LA RAZA "THE RACE" NEIGHBORHOOD
DRUG DEALER MARIA "LA CHATA"
LEON… she voted dem for more!
"From the house, Maria "Chata" Leon, an illegal immigrant, her family and associates controlled drug and gang activity on the street for years, police said."
The two-bedroom stucco house at 3304 Drew St. in Glassell Park was once the center of one of the most menacing drug marketplaces in Los Angeles.
From the house, Maria "Chata" Leon, an illegal immigrant, her family and associates controlled drug and gang activity on the street for years, police said.
During at least two raids at the house, according to court documents, officers found guns and drugs as well as surveillance cameras, laser trip wires and a shrine to Jesus Malverde, a Mexican folk hero whom drug traffickers have made their patron saint.
MICHELLE MALKIN: 15 THINGS TO KNOW ABOUT LA RAZA "The Race".
"The Race" gives mainstream cover to a poisonous subset of ideological satellites, led by Movimiento Estudiantil Chicano de Aztlan, or Chicano Student Movement of Aztlan
(MEChA
). The late GOP Rep. Charlie Norwood rightly characterized the organization as "a radical racist group …
one of the most anti-American groups in the country, which has permeated U.S. campuses since the 1960s, and continues its push to carve a racist nation out of the American West."
The staggering cost of all that "cheap" Mexican labor:
MEXICANS SUCK IN MORE WELFARE THAN LEGALS!
"The lifetime costs of Social Security and Medicare benefits of illegal immigrant beneficiaries of President Obama's executive amnesty would be well over a trillion dollars, according to Heritage Foundation expert Robert Rector's prepared testimony for a House panel obtained in advance by Breitbart News."
California Tops List of 10 States With Highest Taxes
(CNSNews.com)
– The Tax Foundation has ranked the states by their state income tax rates and among the highest are California, Hawaii, and Oregon.
On a U.S. map, the Tax Foundation shows that the following 10 states (and counting the District of Columbia) have the highest individual income tax rates in 2014:
California, 13.3%
Hawaii, 11.0%
Oregon, 9.9%
Minnesota, 9.85%
Iowa, 8.98%
New Jersey, 8.97%
District of Columbia, 8.95%
Vermont, 8.95%
New York, 8.82%
Maine, 7.95%
Among those states, seven are headed by Democrat governors (and one Democrat mayor for D.C.) – California, Oregon, Minnesota, Hawaii, District of Columbia, Vermont, and New York – and three are headed by Republican governors -- Iowa, New Jersey and Maine.
Seven states – Florida, Texas, South Dakota, Wyoming, Nevada, Washington and Alaska – have no state individual income taxes.


Source URL:
http://www.cnsnews.com/news/article/michael-w-chapman/california-tops-list-10-states-highest-taxes
The Great California Earthquake of 2018: First State To Default
If only it were just an earthquake. We could then just repair some damaged roadways or condemn a couple dozen buildings, then resume our lives. Maybe the Bay Bridge would need a section reattached. Or the last letter "D" in Hollywood would tip over. We'd send over some lumber reinforcements. No problem. This tragedy, however, has no asphalt-rending fault lines, except the ones in government, where the fault lies.
I would like to direct your attention to something boring but infinitely informative regarding the nature of this mismanaged state. Employers who utilize labor pay into the FUTA, or the federal unemployment tax, at a rate of 6% and are credited back an offset of 5.4% that they previously paid the state, leaving a small federal liability of only 0.6%.
However, if the state-run U.I. trust gets overdrawn, as it did in California for going on its third year now, it automatically pulls an emergency loan out from the federal government to service the underfunded account. And if that is not repaid by November 10, and it defaults, then the government forces employers to pay it.
They just defaulted. Our company received a mystery bill in the mail two weeks ago, explaining our new $15,000 owed. We got a shock, as it was not expected. I presume that many employers won't be able to pay it. I'm still not quite sure if we can ourselves, considering how much the minimum wage hikes, the new mandatory paid sick leave, and Obamacare have impaired our cash reserves.
To appreciate what is going on here in the lousy 14K Golden Alloy State, we need to connect a few moving pieces that the media won't report on, but I'm here to help. First, why is U.I. getting robbed when the BLS has said this is such a great jobs economic recovery? California, one of the most populous states, has a 6.3% U.R. The national average for the rest of the country is 4.7%. Ignore that both numbers are a lie and shadow stats have them both well north of that, but why is California's percentage higher?
California is a sanctuary state, a rogue state, mining votes openly from the southern border in exchange for welfare benefits but also for under-the-table Home Depot cash jobs.
It is indeed a "depot" station, but not one visa overstay violator will ever be depot'ed here or asked for authenticating ID. ICE officers in the state have probably never walked onto a hardware store parking lot looking for violators – and why would they?
T
o be harassed by Jerry Brown's free legal advice now given to illegal aliens, paid for by the taxpayer?
California's U.I. trust is being kneecapped because of arms-wide-open amnesty that is removing jobs from those born here, and thus sending the U.I. rate ever higher. And the employer is the fall guy politicians will use to force you to buy votes for them. Isn't helping a Democrat hold on to power using your taxes great?
I've been telling women upset with mandatory vaccinations the same thing for years. Politicians are inviting hordes of illegals, unvetted, infected with TB, and, like

A Clockwork Orange, you, civilian, must sit in that chair squirming, getting the needles placed under your skin, because don't you realize how important it is to get Democrats elected.
So sit in the chair and take it. Jerry Brown has important things to get done that don't involve you. Never have.
And so, with record-low interest rates now going on our ninth year and federal debt that could reach Saturn's rings and back, the real fault lines will be seen first emerging in the states, since they can't print their own money, unlike the feds.
California is the first one to emerge with fiscal cracks invading the farcical narratives of Hopeychangey Land. It won't be the San Andreas that swallows us whole, or causes us to drift off the coast. It will be more and more little things like an employer tearing open a tax bill and seeing an entirely new line item that never existed before. And the business asking why they continue to remain behind the Democratic Party's cocky supermajority iron curtain. And, as the seismic plates shift in their mind as they ask that question and it later moves under their feet, mobilizing them, then a Randian exodus out to healthier, less shaky, more stable state economies, where businesses will be respected, maybe even wanted, and not used like a kicked vending machine for extra change in the coin slot every time they run out of other people's money to buy votes from border-crashers.
I am sure that some businesses will stay waiting for the Big One. Then perhaps FEMA can step in and slap all of its fresh printed digital mint across the barren land in an equal exchange of debt for debt. Problem solved.
BOOK: MEXIFORNIA: DEATH OF THE AMERICAN DREAM
NOV 17 2012
Mexico Finds 2 Border Tunnels Leading from Tijuana Into U.S.
MEXICO CITY (AP) — Mexican police and soldiers have discovered two tunnels in the border city of Tijuana that lead into California.
The tunnels were found in an area of warehouses across from Otay Mesa.
Prosecutors said Monday that one of the tunnels reached to San Diego, California, and the other was unfinished.
The Attorney General's Office said the tunnels were apparently used by the Sinaloa drug cartel to move drugs into the United States.
It said it found the tunnels after the U.S. consulate in Tijuana determined the tunnels were being reactivated after apparently falling into disuse.
Source URL:
http://www.cnsnews.com/news/article/mexico-finds-2-border-tunnels-leading-us
The Disunited States of America
The election of Donald Trump to the presidency has shed a spotlight on our divisiveness. We are in the throes of a nonviolent civil war where members of families no longer speak to each other and long held friendships have been discarded. Although the Left would like to point the finger at Trump as the reason for the division, it actually began decades earlier with the takeover of the Democratic Party by socialists, communists, and multiculturalists. Their emphasis on what divides us instead of what unites us took root and blossomed at our universities, public school systems, unions, the media, and our universities. The election of Trump is a culmination bred from years of quiet resentment and silent frustration experienced by mainstream Middle America. In Trump, they saw a man who was willing to fight for their representation.
With no identity politics to cling to and no
advocacy groups to lobby for them, white
working/middle class stiffs who make up
the
masses, needed a leader who would
take on the
system that no longer included them.
As the Left and their Democratic cohorts made race, gender, illegals, Hispanics, Muslims, and the Gay lobby the cornerstone of their political ideology and policy, mainstream white Christian working men and women began to question who was looking out for them and where was their voice in policy making decisions affecting their governance.
The emphasis on class warfare, open borders,
secularism, and multiculturalism at the expense of
Americanism by not only the Democratic Party,
but by their cohorts in the media and
universities has led to a very divided America with
each having a separate vision for the United
States. The Left as represented by the Democratic
Party seeks an open-border stateless America
where anyone who sets foot on our soil is free to
practice their branch of identity within our borders
and with no allegiance to American sovereignty.
They seek an America where equality reigns supreme and a statism
to ensure it. They view socialism as noble and resent free market
capitalism as potentially damaging their quest for equality.
While the French were motivated by egalitarianism, our founding fathers had a different vision for America. They sought an America defined by three principles. Liberty, Faith, and E Pluribus Unum, the motto that shaped our republic and is responsible for its greatness. There are still Americans who cling to these principles and they are the people who reside in the vast territory that elitists on both coasts view as "flyover country". It is they who cast their votes for Donald Trump. These free market capitalist Americans have a radically different vision for America than those of Socialist Egalitarian Democrats.
They seek an America where everyone has equal opportunities, but not necessarily equal outcomes. They seek an America where faith in G-d is restored in our schools and public sphere, and an America governed by our Constitution and not the rule of man. They seek an America where our sovereignty is restored and respected while the opportunity to immigrate is granted only to those who share our values and respect our customs.
On the other hand, the Left seeks a borderless
America without BOundaries.
Social taboos that were
once considered the norm and that held personal conduct in check
are relegated as ancient and irrelevant by elitists in the media and
in
our universities. Be it the murder of the unborn, out-of-wedlock
pregnancy, recreational drugs, alternative sexual lifestyles, illicit
language, all is desired and permissible for the Left. They
are defined by their feelings while conservatives on the right are
defined by reason. They emote while we on the right think.
Because they are guided by their feelings, they view conservatives
as mean-spirited and lacking compassion for the common man
while conservatives correctly view the Left as foolish,
The election of Trump has led Californians to
threaten to leave the union, and there are
many Americans who are eager to see them
leave. Their secession would end the flow of
illegals from that state and the millions in
federal grants they now receive. They would be
free to run that state as a haven for criminals
and entitlement seekers. Strict corporate
regulations and high taxes will ensure the
continuation of corporations fleeing a socialist
bureaucracy, and in the end, California will
become a morally and financially bankrupt
state.
"Let's see how long they will last" and "build a wall
around
them" is the sentiment expressed by the rest of America
caught living between the Leftist East and West Coasts. With no
funds and no defense, California would most likely shrivel and it
wouldn't take long before regret set in.
It is difficult to fathom that a country so divided can unite for the common good when what is considered "good" is radically different for both camps. We have become a Disunited States and no amount of cajoling can unite us. It is time to admit that the differences are perhaps greater than the commonalities. Today, in these Disunited States, many view the enemy is not only from without, but from within.
Shari Goodman, educator and political activist, has written for World Net Daily,
Israel Today, Family Security Matters, and Eagle Rising. She is a red dot in the blue state of California.
California Declares War on Immigration Enforcement
Legislative initiatives in Golden State seek to undercut Trump before he even takes office
Lifezette, December 16, 2016
State agencies would be required to update confidentiality policies, and immigration enforcement would be banned at public schools, hospitals, and courthouses.
The law, an extension of "sanctuary" policies already adopted by California and many local jurisdictions in the Golden State, would run headlong into Trump's vow to stamp out such resistance. The Center for Immigration Studies this week outlined a long list of options at the new president's disposal, including cuts in federal funding, civil suits — and possibly even criminal charges under alien-harboring statutes.
MEXIFORNIA: THE LA RAZA MEXICAN FASCIST PARTY AND LA RAZA DEM POLICITICIANS GEAR UP TO FORMALLY SURRENDER TO MEXICO.
"The election of Trump has led Californians to threaten to leave the union, and there are many Americans who are eager to see them leave. Their secession would end the flow of illegals from that state and the millions in
federal grants they now receive."
"The American Southwest seems to be slowly returning to the jurisdiction of Mexico without firing a single shot." --- EXCELSIOR --- national newspaper of Mexico
ONE OF THE MOST DISTURBING BOOKS OUT THERE ON MEXICO'S INVASION, OCCUPATION AND LOOTING of CALIFORNIA
MEXIFORNIA: The Shattering of the American Dream
MILLIONS of JOBS and BILLIONS in WELFARE and they commit most of the MURDERS
SANCTUARY CITIES AND STATES: AMERICA FALLS TO LA RAZA SUPREMACY!
"What we're seeing is our Congress and national leadership dismantling our laws by not enforcing them. Lawlessness becomes the norm, just like Third World corruption. Illegal aliens now have more rights and privileges than Americans. If you are an illegal alien, you can drive a car without a driver's license or insurance. You may obtain medical care without paying. You may work without paying taxes. Your children enjoy free education at the expense of taxpaying Americans."
AMERICA THE ADDICTED: 1 in 7 are addicted
MEXICO'S BIGGEST EXPORTS TO U.S.: Heroin, Criminals, Anchor baby breeders for 18 years of gringo-paid welfare.
AMERICA'S LAST DAYS AS THE MEXICAN DRUG CARTELS' OPEN BORDERS MARKET
THE FASTEST GROWING POLITICAL PARTY IN AMERICA IS THE MEXICAN FASCIST PARTY of LA RAZA. IT IS AN AMERICAN TAX SUPPORTED POLITICAL PARTY.
15 THINGS YOU SHOULD KNOW ABOUT LA RAZA "THE RACE"
"The American Southwest seems to be slowly returning to the jurisdiction of Mexico without firing a single shot." ---

EXCELSIOR

--- national newspaper of Mexico
MEXICO'S CITY of SANTA ANA, in the ORANGE COUNTY, California should secede and join Mexico.
It is not an American city.
HOW MANY CITIES OR STATES SHOULD SECEDE TO MEXICO?
MEXIFORNIA: LA RAZA-OCCUPIED AND LOOTED
LA RAZA MEX ETHNIC CLEANSING IN CALIFORNIA…. of legals.
SANTA ANA SURRENDERS TO LA RAZA FASCIST MOVEMENT
Another California City Waves the Mexican Flag
ATTORNEY GENERAL IN LA RAZA-OCCUPIED MEXIFORNIA … a state where half the murders are by mexican gangs!
LA RAZA FASCIST XAVIER BECERRA – HIS CAMPAIGN BRIBES AND THE MEX DRUG DEALER
It didn't stop Becerra, a prominent Latino rights advocate who has served in Congress since 1993, from pushing for the dealer's release at the request of his
father, Horacio. The elder Vignali, a rich Los Angeles businessman, contributed thousands of dollars to Becerra's various campaigns and a favor was in order.
Iconic CA Company Carl's Jr. Flees 'Golden State' for TN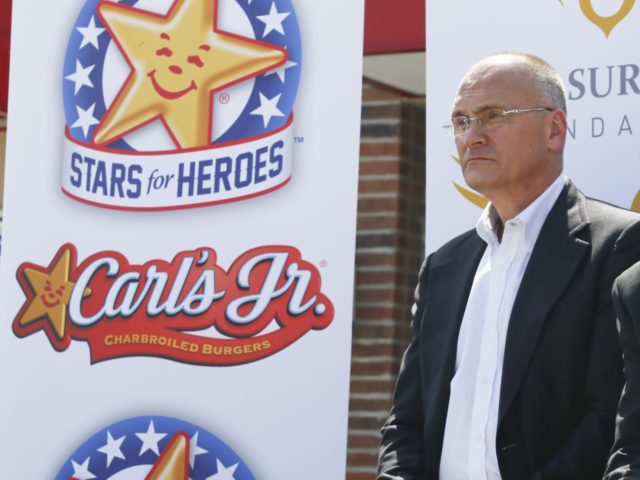 Carl's Jr., the iconic California "healthier" fast-food chain, announced earlier this month that it is quitting the Golden State for greener pastures in Tennessee.
Investors Business Daily
reports: "CKE Restaurants (Carl Karcher Enterprises), the corporate parent of Hardee's and Carl's Jr. restaurants, announced that they are relocating to Nashville, Tennessee."
According the
company's website
, it was in 1941 that a young "Carl N. Karcher and his wife, Margaret, [made] a leap of faith … For 70 years and over 1,200 restaurants later, Carl's Jr.
®
has become known as the place to go all across the West for juicy, delicious charbroiled burgers."
The move to the deep South by a company that self-identifies as "Western" should come as no surprise to anyone whose paying attention to California politics.
Andy Puzder, CKE's CEO, has been threatening to move for several years, warning California's elected officials and regulators that if they did not do something to reign in the prohibitively high cost of building a new store and doing business in California, CKE would leave.
That day has finally come, even though
the IBD story
notes that "CKE's official line is that the firm is relocating because it has less need for office space as it consolidates operations."
It adds, however, that "company executives say this with a wink. Tax savings are a big factor, as is the stifling regulatory environment on the left coast, where businesses are treated like villains and rich people as cash dispensers for big government programs."
Tennessee is one of several states aggressively recruiting California companies with generous incentives including free or heavily subsidized real estate, expedited project approvals, and low or no state income tax. If California continues its current course — and there is no indication of any course correction — more
California companies will be tempted
to relocate to friendlier climes.
In spite of making noise in Sacramento about addressing California's notoriously unfriendly business climate — with the creation of yet another bureaucracy known as "GoBiz" ostensibly designed to spur economic growth — Gov. Jerry Brown has signed hundreds of new regulations every year, suffocating business owners with more paperwork, requirements and restrictions that suck up their time, and tax their resources.
One of the most disturbing sections in
Spectrum's 2016 report
on why businesses leave California is titled: "Why California's Business Environment is Likely to Worsen." Most of the author's more fearful predictions have already come true, making his summation sound prophetic:
"California is considering imposing a broad set of taxes on businesses in 2016 and 2017 — a 'tsunami' of levies that may trigger the harshest levies on private-sector finances ever organized by the state. The proposals, if enacted, will worsen California's business environment, so much so that a result may be an increasing number of businesses leaving California for greener domestic or international pastures."
The only real question remaining is: which California company will be next to leave?
Author, Patriot Not Politician: Win or Go Homeless
70% OF ILLEGALS GET WELFARE!
"According to the Centers for Immigration Studies, April '11, at least 70% of Mexican illegal alien families receive some type of welfare in the US!!! cis.org"
So when cities across the country declare that they will NOT be sanctuary, guess where ALL the illegals, criminals, gang members fleeing ICE will go???? straight to your welcoming city. So ironically the people fighting for sanctuary city status, may have an unprecedented crime wave to deal with along with the additional expense.
$17 Billion dollars a year is spent for education for the American-born children of illegal aliens, known as anchor babies.
$12 Billion dollars a year is spent on primary and secondary school


education for children here illegally and they cannot speak a word of


English.
$22 billion is spent on (AFDC) welfare to illegal aliens each year.
$2.2 Billion dollars a year is spent on food assistance programs such as


(SNAP) food stamps, WIC, and free school lunches for illegal aliens.
$3 Million Dollars a DAY is spent to incarcerate illegal aliens.
30% percent of all Federal Prison inmates are illegal aliens.Does not include local jails and State Prisons.
2012 illegal aliens sent home $62 BILLION in remittances back to their


countries of origin. This is why Mexico is getting involved in our


politics.
$200 Billion Dollars a year in suppressed American wages are caused by the illegal aliens.
Nearly One Million Sex Crimes Committed by Illegal Immigrants In The United States.
Center for Immigration Studies.
Federation for American Immigration Reform.
House Committee on Homeland Security, Subcommittee on Investigations.
Inter-American Development Bank.
Violent Crimes Institute.
Federation for American Immigration Reform.
Immigration Studies Program.
Illegal Alien Crime Report.


Memorial to victims of Illegal Alien Crime.