Trump OKs DACA Amnesty: 'This Is a Case of Heart'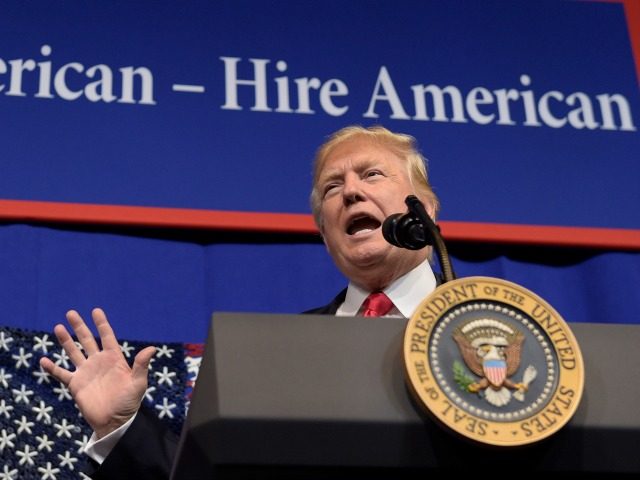 Illegal aliens who crossed the border as children don't have to worry about being sent home, President Donald Trump told the Associated Press in a Friday interview.
Illegals enrolled in the President Barack Obama's "Deferred Action for Childhood Arrivals" DACA program can "rest easy," Trump said, because "this is a case of heart."
Federal enforcement agencies are "not [going] after the 'dreamers,' we are after the criminals," he said, using the Democrats' 'dreamer' euphemism for young illegal immigrants. "That is our policy," he added.
The Friday comments confirm Trump's reversal of his 2016 campaign promise to stop the DACA quasi-amnesty created by Obama during his 2012 reelection campaign. He created the program in 2012 by telling his immigration enforcement officers to provide young illegals with free work permits instead of repatriation orders. The program has allowed at least 770,000 illegal immigrants to find jobs in major U.S. cities, even though tens of millions of Americans outside the cities are unemployed or have given up trying to find work.
Since his inauguration, Trump's deputies at the Department of Homeland Security have awarded new work permits to illegals who claim they arrived before age 16, despite Trump's "Buy American, Hire American" slogan.
Trump's support for the DACA program is one of his biggest "flip-flops," said Mark Krikorian, director of the Center for Immigration Studies. "During the campaign, now-President Trump had said he was going to end that on day one because it's an unconstitutional action by the president," Krikorian told Breitbart News Daily SiriusXM host Alex Marlow on Friday. Krikorian continued:
And of course he's right, it's illegal. And they've done nothing to it. They've done absolutely nothing."
Trump's post-inauguration turnabout on DACA means that pro-American reformers who want to reduce the impact of illegal-alien workers in the job market will need to bring a lawsuit arguing that the federal government illegally awarded work permits to illegal immigrants, say advocates.
Trump's refusal to reverse or even stop the DACA program is also a bad sign for future immigration reforms, says Krikorian. That's because he could stop the program and then use the resulting public outcry to pressure Democrats to establish pro-Americans immigration policies. Those policies could include a mandatory requirement that employers check that job applicants are legal residents in the United States.
In August 2016, Obama's chief economist said the federal is imposing the economic pain of five simultaneous recessions on less-educated Americans, thereby pushing millions of working-age men off jobs, out of the workforce, and into poverty.
Roughly 10 percent of American "prime age" men, or 7 million men aged 25 to 54, have dropped out of the nation's workforce of 150 million. They are not trying to get jobs, and are not participating in the nation's labor force.
"This [dropout] is caused by policies and institutions, not by technology," admitted Jason Furman, an economist who chaired the president's Council of Economic Advisors. "We shouldn't accept it as inevitable," he told a Brookings Institute expert, Dave Wessel on August 10. The primary reason for reduced employment is that "the amount [of money] that employers would want to hire them for some reason has gone down," he said.
In February, Trump told that the AP that "DACA is a very, very difficult subject for me … It's one of the most difficult subjects I have because you have these incredible kids."
April 23, 2017
Trump welcomes Syrian illegal aliens Australia doesn't want
It's bad enough that President Trump violated his own campaign promise and continues the illegal, unconstitutional "DREAMer" amnesty created by President Obama. But now Trump is going out of his way to take the most dangerous illegal aliens that other countries don't want!
The United States will honor an Obama-era agreement with Australia to help resettle Syrian refugees, despite the Trump administration not favoring the arrangement, Vice President Mike Pence announced Saturday.

"President Trump has made it clear that we'll honor the agreement — that doesn't mean we admire the agreement," Pence said during a joint news conference....
He's honoring it but not admiring it? That's the kind of doubletalk we expect from politicians. Well, I honor President Trump but don't admire him either.
Up to 1,250 refugees housed in Australian detention camps on Nauru and Papua New Guinea would come to the U.S. under the agreement made with President Barack Obama.

Within the first 10 days as president, Trump had a tense phone call with Turnbull about the agreement. He followed up the phone call with a tweet several days later where he called the deal "dumb."
Trump was right. But you see that was the view of the January 2017 Donald Trump, whose views are different from the February 2017 Donald Trump and the March and April version as well. This is what you get when you have a president unmoored by a coherent belief system.
Obama made this bad deal, but Trump was not obligated to comply with it. And these are not just any refugees, these are refugees (probably mostly Muslim) from war-torn Syria. There is absolutely no way to vet these refugees, because there is no central, reliable government we trust to get this information from.
Candidate Trump had said that not only would he not admit any more refugees from Syria, he would send the ones here home. President Trump, meanwhile, has been admitting refugees from Syria at a faster rate than Obama, and now is taking in problematic refugees who weren't even trying to come to America.
How many "Trump refugees" will turn around and kill Americans? How many "Trump refugees" will walk around wearing burkas and demand special accommodations? How many "Trump refugees" will build mosques which blare the call to prayer, five times a day, over loudspeakers starting at 6 a.m.?
What's next? Will we start accepting Muslim refugees bound for Germany and France? Is this what Trump supporters voted for?
Ed Straker is the senior writer at NewsMachete.com.
HOMELESS ELDERLY in AMERICA UNDER MEX OCCUPATION
A Nation dies young, poor, addicted and homeless…. It's the American dream as the rich get super rich!
According to the National Alliance to End Homelessness, the number of elderly persons who are homeless in the US will have doubled by 2050.
America's Super-rich Live 15 Years Longer!
………….. America's Bludgeoned Middle-Class Dies Young, Addicted and Poor!
GLOBAL LOOTING of the POOR
TRUMP and FAMILY, BILL, HILLARY & CHELSEA CLINTON, MICHELLE AND "HOPE & CHANGE" PSYCHOPATH MUSLIM BARACK OBAMA!
Will they finish off America as they serve themselves and the super rich???
CUT MEDICAID AND SOCIAL SECURITY TO FINANCE TAX CUTS FOR THE SUPER RICH!
OBAMA-CLINTON-TRUMPERnomics: America's Road to REVOLUTION
….. but will they finish off the American middle-class first???
"The Tax Policy Center finds that for the top 0.1 percent of income earners—those making more than $3.75 million annually—repealing this investment tax would amount to an average tax cut of $165,090."
TRUMPERNOMICS: IMPLEMENTING SEVERE
OBAMA-CLINTONOMICS TO SERVE THE SUPER
RICH!
"The Republican proposal builds on the core features of Obamacare, designed to boost the profits of the private insurers and slash health care costs for the government and big business."
"The lifetime costs of Social Security and Medicare benefits of illegal immigrant beneficiaries of President Obama's executive amnesty would be well over a trillion dollars, according to Heritage Foundation expert Robert Rector's prepared testimony for a House panel obtained in advance by Breitbart News."
THE TRUMPER CIRCUS: SELLING US OUT ON
A
WAVE OF BROKEN PROMISES!
TRUMP BACK-PEDDLES ON LEGALS AND KEEPS
OBAMA'S ILLEGAL AMNESTY OPERATING….
It's all about keeping wages DEPRESSED!
TRUMP FOLDS TO LA RAZA MEX FASCIST MOVEMENT
Says the "WALL" will now be only "NO TRESSPASSING" signs posted every hundred miles!
"He's showing more empathy for illegal aliens than he is for American citizens. Shouldn't it be the concerns of Americans he should be considering first, before the feelings of illegals? These people are taking taxpayer money and American jobs, some committing crimes, and many are not assimilating and speaking English, and Trump wants them to stay?"
The Obama's Lay the Grounds for a third-world Muslim-style dictatorship funded by open borders advocate George Soros.
"Mark Levin called Obama's effort "police state" tactics, and suggested that Obama's actions, rather than conspiracy theories about alleged Russian interference in the presidential election to help Trump, should be the target of congressional investigation."
THE CONSPIRACY OF TRAITORS:
THE CLINTON-OBAMA PLAN TO DESTROY DEMOCRACY IN AMERICA FOR GLOBALIST BILLIONAIRES INCLUDING THEIR PAYMASTER GEORGE SOROS!
"When it comes to Islamic terror or shariah imposition, Obama and other globalists preach a type of defenselessness and impotence: something we have to abide. For many liberals, virtue signaling, the epitome of
vanity
, is more important than saving lives, even the lives of their countrymen."
Many making the accusations of xenophobia
live in rarified societies and neighborhoods
or in high-end and fashionable apartment
buildings with security guards and doormen,
immune from the consequences of

Open
Borders

, loss of manual jobs, overseas
nation-building, and the harmful effects
arising from perfunctory background checks