Philly finally figured it out. So did Chicago and Portland and Dallas: the reason why black crime and violence are so wildly out of proportion: White racism. The Philadelphia epiphany arrived during the recent election for district attorney. The s...
Philly Figures It Out: White Racism Causes Black Crime
Philly finally figured it out. So did Chicago and Portland and Dallas: the reason why black crime and violence are so wildly out of proportion: White racism.
The Philadelphia epiphany arrived during the recent election for district attorney. The seven Democrat candidates only disagreed on one thing: who was the most outspoken in their belief in the white boogie man.
"There's no question we have systemic racism in this country that came about long before any of us were born," said Joe Kahn, a white guy who would finish second in the DA race. "Right? It's something that we live with and what we have to do, as prosecutors, is we have to be honest in recognizing that and be vigilant about stamping out that problem and using our power as public servants -- as prosecutors -- to not just recognize that problem, not just push back against it, but be proactive in doing what we can to uplift society and do what we can to push back against the trend in American society with respect to race."
"We see this happening with the disenfranchisement of African Americans in this country particularly, losing their voting rights."
During the same candidate's forum, a white judge said her first task as DA would be to hire more black people because of institutional racism in the prosecutor's office. Other candidates joined the white racist rhetorical slugfest.
But most were just Malcolm come latelys. The real veteran of the 'white racism is to blame for everything' crowd was Larry Krasner, a white defense attorney. Krasner spent the last 25 years preaching the gospel of white racism and defending every black activist criminal movement in the city that would have him, most recently Black Lives Matter.
Think William Kunstler with a better haircut.
And now, thanks to $1.4 million from a George Soros front group -- that surprise, even the local media could not ignore -- Krasner will soon be in charge of prosecuting the same violent criminals he has devoted his life to describing as victims.
Score one more for smashing the white racism in that chocolate city of brotherly love.
Next stop Chicago, where the mayor and the city's "most powerful" alderman is taking the fight against relentless white racism to the next level: Entrance exams to become a Chicago cop.
The headline and first sentence from the Chicago Sun-Times tell the story: (Mayor) "Emanuel opens the door to relaxing police hiring standards," it proclaims. "...allowing candidates with minor drug and criminal offenses to become Chicago Police officers to attract minorities at a time of high crime and deep distrust."
The mayor and aldermen agree that written tests, background checks, and mental evaluations discriminate against black people. The proof of that, they say, is the fact that black people fail so many of them so often.
Some of the black police hopefuls rejected over the last few years successfully appealed their denials. "They included former gang members, admitted pot smokers, a man who slashed someone in a bar fight, former military veterans with personality disorders, and a woman whose husband was convicted of murder," said the Sun-Times. "Three aldermen wrote letters endorsing candidates with arrests in their backgrounds."
"Former Police Supt. Phil Cline unsuccessfully tried to do away with that appeal process. At the time, retired police personnel chief Brad Woods said some of the candidates put back on the list later became officers and "did not do well at all."
Which does not really matter. Not in Chicago. Not compared to rooting out the white racists who arrest black people for no reason whatsoever.
In Portland, Oregon last week, the white mayor also confronted the white racism that has oppressed so many black citizens in the Northwest, forcing them to commit crime and violence wildly out of proportion to their more mellow fellow citizens.
A state of affairs documented in that scintillating best seller, Don't Make the Black Kids Angry.
In a job description for the new police chief, the mayor said he was looking for a "transformative" leader who recognized that Portland has a "history of legally sanctioned systemic racism with legally enforced exclusionary practices."
Which of course means the new chief has to "improve relationships with and service provision to Portland's communities of color, ensuring that equity is a bedrock of policing in Portland."
Lots and lots of people in Portland took the news in stride, because they know that pretty much every else in Portland -- except for them -- is a racist.
It was left to the black head of the local police union to tell the white mayor how ridiculous he sounded.
Meanwhile, down in Dallas, violent crime is up 30 percent over last year -- and stop me if you've heard this before -- black participation in that trend is wildly out of proportion. Not to worry, the World Health Organization figured that out, said the Dallas Morning News.
"According to the World Health Organization, risk factors for many common mental illnesses are strongly associated with systemic social inequalities. The greater the inequality, the higher the risk. Chronic stress and discrimination based on race are among the risk factors. Put simply, being black itself is a risk factor."
It certainly is a risk factor in the Deep Ellum, the Dallas entertainment district that is now a frequent site of black mob violence, most recently directed at a white musician going back to his car after the clubs closed. He lived.
The article echoes comments from a black city councilmember in Wilmington, Delaware ("Murder Town USA," said a Newsweek cover story) who said black people in that dangerous chocolate city are so violent because of Post Traumatic Slavery Disorder.
Sound crazy? If so, then know this: t's a black thing. You wouldn't understand. But it does explain why last year, immediately after a black person killed five Dallas cops, 100 black people looted a convenience store, then stayed in the parking lot to dance with joy. Yes, dance. On video. In front of cops.
And no, I would not believe that either if I did not see it for myself on YouTube.You can too.
At the University of Hawaii, a professor of statistics says white people should quit their jobs and give them to black people because that is the right thing to do.
In Madison County, Tennessee, they have another explanation, and we got a chance to hear it from a member of the sheriff's department when he was explaining why five black people tried to rob a white mom in her home, in front of her children.
The mom pulled a gun and, presumably because the hoods were still sane enough to figure out what that meant, they ran like hell -- into the waiting arms of some white cops soon after.
The deputy said the black criminals were just "bored."
Colin Flaherty is the author of the Amazon #1 Best Sellers
Don't Make the Black Kids Angry
and
White Girl Bleed a Lot
. As usual, he does not expect you to believe any of the crazy stories cited in this article, so he created a YouTube playlist for them. For you: Find it by clicking here.
Police: Three Teens Stole Car, Killing 6-Year-Old Boy in Back Seat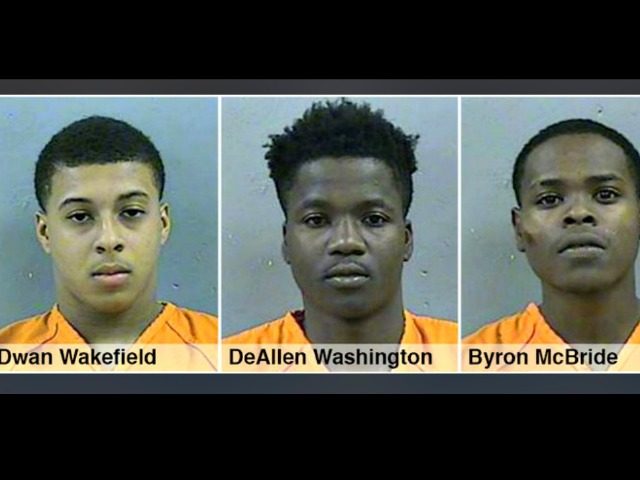 Three Mississippi teenagers were arrested after a 6-year-old boy was killed in the back seat of a stolen car, police said.
Byron McBride, 19, along with D'Allen Washington and Dwan Wakefield, who are both 17, were charged with capital murder in connection with the child's death, the Associated Press reported.
Police found 6-year-old Kingston Frazier with multiple gunshot wounds in the back of his mother's stolen car that was abandoned in Gluckstadt, 15 miles north of Jackson, the state capital.
Authorities say Frazier went missing around 1 a.m. Thursday after a man drove a Toyota Camry out of a supermarket parking lot in Jackson.
Nine hours later, a man reported the missing vehicle found on a dead-end road in Gluckstadt.
Ebony Archie, the child's mother, collapsed and broke down in sobs when she heard the news that her son had been killed at the district attorney's office in Jackson.
Archie's family members said that Ebony had just picked up Frazier from his grandmother's house and decided to go the store to pick up party supplies for Frazier's kindergarten graduation when the men broke into her car and drove away.
"She feels guilty for the fact that she decided to go inside the store and leave the car running when she went inside the store," David Archie, Ebony Archie's uncle, told WLBT.
Wakefield told investigators that McBride was the only one out of the three who was responsible for actually killing Frazier and stealing the vehicle.
Wakefield, McBride, and Washington all face charges of capital murder and will be tried as adults. However, only McBride could face the death penalty because of a Supreme Court ruling that outlawed the death penalty for anyone younger than 18.
The three of them are being held without bail in Madison County and are expected to appear in court Monday.
EYE ON THE NEWS
Some Black Lives Don't Matter
Black-on-black homicide is rampant, but professional agitators couldn't care less.
May 18, 2017
or MSNBC: Last November, 33-year-old Antwan
McNutt beat a man to death with a bottle of liquor
on the South Side of Chicago. Onlookers took video
and posted it to Facebook; no one intervened to help.
has prior convictions for manufacturing and
delivering a controlled substance, attempted
aggravated carjacking, possession of a stolen motor
vehicle, and battery and resisting arrest, according
to
DNA Info. But he was back on the streets
committing more mayhem, contrary to the "mass
incarceration" conceit that black males are targeted
with endless draconian punishment for minor
transgressions of public order.
We rightly hold our police officers to the highest standards of conduct. Had a cop beaten a black man to death it would justifiably have been international news, especially if the beating had been caught on video. Likewise, if a white man had beaten a black man to death, it would have been international news and cause for public mourning and admonition. But the routine taking of black lives by other blacks generates no interest in the mainstream media. Forty-three hundred people, including two dozen children under the age of 12, were shot in Chicago last year. Had 4,300 white people been shot, there would have been a revolution, and the media would have set up headquarters in the city to cover the breakdown of law and order. But because the victims were nearly all black, few pay attention—besides the police.
Nor have the Black Lives Matter activists, who pour out by the thousands, sometimes to riot, in the case of alleged officer misuse of force, ever protested the killing of blacks by other blacks. If one-one-hundredth of the attention that has been paid to phantom police racism over the last two decades had been devoted to rebuilding the black family, no one would be talking about policing today. Policing is an epiphenomenon of crime. If you want fewer police in your neighborhood, make sure that people are not killing each other.