President Trump has decided to double the number of refugees admitted every week, but hasn't made a major announcement about it. Why not? Won't that help make America great again? Despite repeated efforts by President Trump to curtail re...
Trump quietly doubling number of refugees entering U.S.
President Trump has decided to double the number of refugees admitted every week, but hasn't made a major announcement about it. Why not? Won't that help make America great again?
Despite repeated efforts by President Trump to curtail refugee resettlements, the State Department this week quietly lifted the department's restriction on the number of refugees allowed to enter the United States.

The result could be a near doubling of refugees entering the country, from about 830 people a week in the first three weeks of this month to well over 1,500 people per week by next month, according to refugee advocates. Tens of thousands of refugees are waiting to come to the United States.

The State Department's decision was conveyed in an email on Thursday to the private agencies in countries around the world that help refugees manage the nearly two-year application process needed to enter the United States.

Although it came the same day as an appeals court ruling that rejected government efforts to limit travel to the United States from six predominantly Muslim nations, the move by the State Department had nothing to do with the court ruling.

Refugee groups now predict that entries into the United States could increase so rapidly that the total number of refugees admitted by Sept. 30, the end of the fiscal year, could exceed 70,000. That is well below the 84,994 refugees admitted in fiscal year 2016, but not by nearly as much as many advocates had feared.

Refugee advocates were delighted by the State Department's decision.
Many of those refugees are coming from unvettable countries like Syria.
Questions for discussion:
1) Is admitting refugees from unvettable countries part of "Putting America First?"
2) If a refugee whom Trump admits to the U.S. later kills some Americans, will Trump supporters say it could have been worse because at least Hillary Clinton wasn't the one to admit them?
3) If Trump truly believes in security for our nation, can you think of any rational reason why he is doing this?
DESTROY AMERICA TO BUILD A MUSLIM-STYLE DICTATORSHIP WHERE LA RAZA MEXICANS VOTE HIM PRESIDENT FOR LIFE
"He is intent on maximizing the damage he inflicted on the country during the two terms of his faux presidency, having now set up shop in Washington to pursue a post-presidency agenda advancing a left-wing insurgency, civil unrest, racial
conflict and the destabilizing activities of a shadow."
CAMPAIGN TO DESTROY AMERICA and take a THIRD TERM FOR LIFE….
Barack Obama's 8 year sabotage of Homeland Security: His Crony Banksters, La Raza Drug Cartels and MS-13 are right behind his sabotage of U.S. borders!
"Mexican drug cartels are the "other" terrorist threat to America. Militant
Islamists have the goal of destroying the United States.
Mexican drug cartels
are now accomplishing that mission – from within, every day, in virtually
every community across this country."
JUDICIAL WATCH
http://www.breitbart.com/texas/2017/05/27/trumps-1-6-billion-budget-border-walls-mostly-south-texas/
Trump's $1.6 Billion Budget for Border Walls — Mostly for South Texas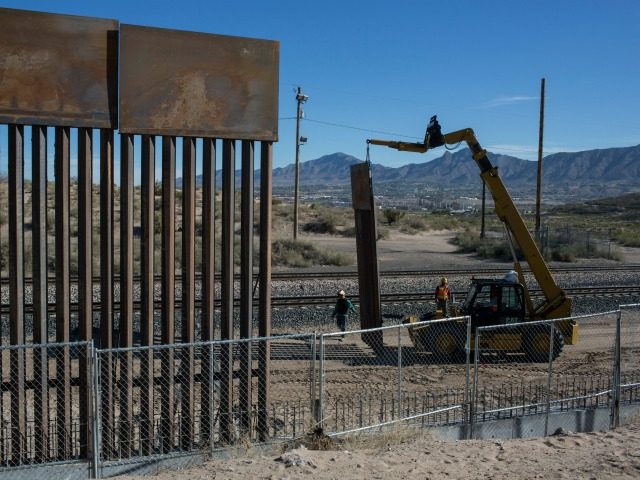 Trump's $1.6 Billion Budget for Border Walls — Mostly for South Texas
SIGN UP
FOR OUR NEWSLETTER
President Donald Trump's 2018 budget asks Congress to construct 60 miles of new border walls along the U.S./Mexico border – all of which would be located in Texas.
The plan is for the

Rio Grande Valley Sector

to receive 32 miles of a new border wall, and 28 miles of a new levee wall. The levee in Hidalgo County is designed to address flooding. The budget refers to the new border wall as "a physical wall."
Budget Director Mick Mulvaney said, "We are absolutely dead serious about the wall." He called it one of President Trump's "top three" budget priorities,

reported

Breitbart News on Tuesday. Mulvaney denied that the administration was

scaling back

funding for border walls by saying the Trump administration's budget was a striking hike from the 2017 budget. The 2018 budget increases allocations for border security by $1.1 billion, and $1.5 billion for the U.S. Department of Homeland Security (DHS).
The director of the Office of Management and Budget also urged Trump voters to be patient and said this proposed action was a beginning for a project that will be protracted. "Keep in mind; you can't just … you don't automatically magically build a wall in the middle of nowhere," the director stated.
The budget for the U.S. Department of Justice also asks for $1.8 million to "meet litigation, acquisition, and appraisal demands during the construction along the border between Mexico and the United States." Breitbart News reported that the funds would be used to hire 12 attorneys and eight staff members for the section of the DOJ that defends litigation arising from eminent domain proceedings (the Environmental and Natural Resources Division's Land Acquisition Section, "LAS").
Those who are fighting the construction of border walls are mostly on partisan lines. Democratic U.S. Rep. Lloyd Doggett (D-Austin) said "Putting taxpayers on the hook to pay for it is just the latest brick in a wall of broken campaign promises. If we are going to pour billions into concrete, it ought to be an investment in ourselves, rebuilding our crumbling infrastructure,"

reported

Dallas' WBAP 820 AM on Thursday. However, landowners in Texas say they will fight mightily to keep their property, and they hope the litigation will be protracted beyond any Trump administration tenure. The

New York Times

report

also said there are more than 90 eminent domain lawsuits from landowners in South Texas and they have been pending since 2008.
The Dallas radio station reported that Senator John Cornyn (R-TX) who serves as chairman of the Senate Judiciary Committee's Subcommittee on Border Security and Immigration said, "If we really want to secure our borders, and I think the voters in this last presidential election indicated they did, we must be willing to devote the necessary level of funding to achieve it."
Bob Price
serves as associate editor and senior political news contributor for Breitbart Texas. He is a founding member of the Breitbart Texas team. Follow him on Twitter
@BobPriceBBTX
and
Facebook
.