Record-breaking 'Official' Mexican Crime Stats Ignore Cartel Violence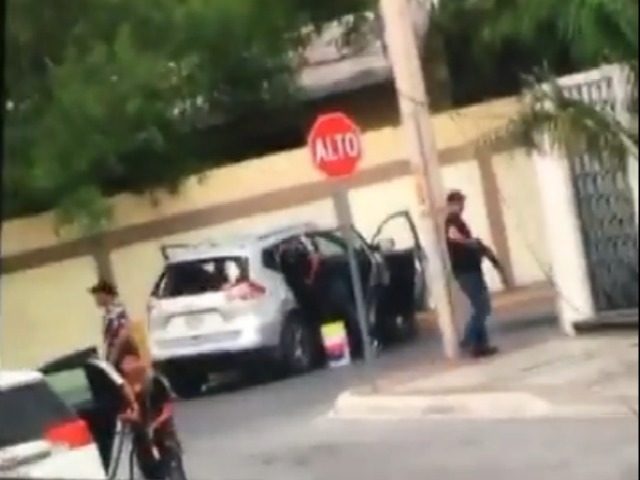 The cartel violence in Mexico appears pushed "official" crime statistics to their highest levels in decades. Statistics indicate Mexico is undergoing one of the deadliest seasons recent history–yet they only account for crimes acknowledged by Mexican authorities and overlook the thousands incinerated or "disappeared" by drug cartels.
A new report by Mexico's

National Public Security System (SESNSP)

reports that from January to May 2017, state officials recorded more than 18,880 homicides, 586 kidnappings, and 2,480 cases of extortion. The new statistics mark May as the deadliest month in recent history with 2,186 official murders, resulting in 3,998 victims. The statistics only date back to the late 1990s, but provide a glimpse into how violence appears to be surpassing all previously recorded years.
The statistics help dispel the myth of "No Pasa Nada", or "nothing bad is happening" that is routinely pushed by Mexican officials at all levels. However, the statistics do not paint a complete picture of the raging cartel violence that continues to take hold throughout Mexican border cities and key cartel trafficking areas. As Breitbart Texas reported, in Coahuila, Nuevo Leon, Tamaulipas, Veracruz, and others,

many of the crimes are not reported since residents do not trust the Mexican law enforcement

due to a long history of corruption.
The statistics compiled by the SESNSP only take into account crimes acknowledged by attorneys general offices in the 32 states. The numbers, however, do not take into account the victims of cartel kidnapping and murder. The statistics also do not include the murders of cartel gunmen whose bodies are collected by allies or rivals.
Ildefonso Ortiz is an award-winning journalist with Breitbart Texas. He co-founded the Cartel Chronicles project with Brandon Darby and Stephen K. Bannon.

You can follow him on Twitter and on Facebook.
Brandon Darby is managing director and editor-in-chief of Breitbart Texas. He co-founded the Cartel Chronicles project with Ildefonso Ortiz and Stephen K. Bannon. Follow him on
Twitter
and
Facebook
. He can be contacted at
bdarby@breitbart.com
.
Tony Aranda contributed to this report.
Barack Obama's 8 year sabotage of Homeland Security: His Crony Banksters, La Raza Drug Cartels and MS-13 are right behind his sabotage of U.S. borders!
"Mexican drug cartels are the "other" terrorist threat to America. Militant
Islamists have the goal of destroying the United States.
Mexican drug cartels
are now accomplishing that mission – from within, every day, in virtually
every community across this country."
JUDICIAL WATCH
THE MAP OF LA RAZA MEXICAN OCCUPATION of what was America
AZTLAN FASCISM AT OUR DOOR
"The American Southwest seems to be slowly returning to the
jurisdiction of Mexico without firing a single shot." -- -
EXCELSIOR
--- national newspaper of Mexico
HOW MANY ILLEGAL CRIMINALS IN YOUR COMMUNITY…. ARE THEY REGISTERED TO VOTE DEMOCRAT?
206 Most wanted criminals in Los Angeles.
Out of 206 criminals--183 are hispanic---171
of those are wanted for Murder.
Why do Americans still protect the illegals??
http://www.dailybreeze.com/ci_11255121
IMMANENT COLLAPSE THE PENA-NIETO REGIME AND FALL TO THE LA RAZA DRUG CARTELS ON AMERICAN OPEN AND UNDEFENDED BORDERS.
More significant still, a former Mexican official, Jorge Castañeda, threatened to unleash Mexican cartels onto the U.S. to retaliate for deportations of illegal immigrants and the construction of a border wall
.
"Mexico in a country whose four wealthiest
billionaires control as much wealth as the
bottom half of the population—the 65 million
that live in poverty (which includes 13 million
living in extreme poverty)—and where the
top
10 percent as a whole accounts for 67
percent of Mexico's national wealth."
A very bad month for Mexico
Mexico registered a record number of murders last month, officials said, underlining the country's struggles to deal with the horrific violence surrounding the multi-billion-dollar narcotics trade.
There were 2,186 homicides in May, said a report from the National Public Safety System – the highest figure since the country began keeping track 20 years ago.
The deadliest state was Guerrero, in the south, a hotspot in Mexico's war on drugs where 216 people were killed.
In the western state of Sinaloa – where rival factions have been battling for control of the Sinaloa drug cartel since its kingpin, Joaquin "El Chapo" Guzman, was extradited to the United States in January – 154 people were killed, the highest number in six years.
Since Mexico first sent the military to fight drug trafficking in 2006, a wave of bloodshed has left more than 200,000 people dead or missing, as rival cartels wage war on each other and the army.
Depressing, indeed. By the way, the resort of Acapulco is in the aforementioned state of Guerrero.
It's interesting to see how Mexico has dropped from the news radar in recent weeks. It has been replaced by North Korea, Syria, Russia, and our own fanatical and ridiculous obsession with the Trump-Russia collusion. Yet I submit that Mexico is undergoing a critical time, and we need to sit down and find ways of helping each other.
What can we do? There aren't many options, but we can start by expanding The Merida Initiative (aka Plan Mexico) that President Bush approved in 2007. It provided the Mexican armed forces with up-to-date technology to fight the cartels. The bad news is that the cartels have the best of weapons. The good news is that the Mexican Army is willing to fight them, as they've been doing since late 2006.
We must also take Central America into consideration. El Salvador is a killing field at the moment, and people are leaving to make it to the U.S.
We should discuss how our drug consumption is killing our young people and funding these cartels.
It's complicated and very depressing, what's going on south of the border. I was fortunate to live and work in Mexico years ago. Mexico had problems then, but nothing like what we see every day on the front pages of newspapers. The daily killings are tearing up the country.