Dropping the mask: A war of plunder in Afghanistan
27 July 2017
In less than three months, Washington will mark the 16th anniversary of its invasion of Afghanistan, which initiated the longest war in American history.
The attack on this impoverished and war-torn south Asian country was cast as the opening shot in a "global war on terrorism," a crusade for justice and revenge for the terrorist attacks of September 11, 2001 centered on the ludicrous pretext of hunting down one man, Osama bin Laden.
In response to the invasion, the

World Socialist Web Site

dismissed these official claims, condemning the US action as an imperialist war. In an October 9, 2001 statement titled "Why we oppose the war in Afghanistan," we wrote:
The US government initiated the war in pursuit of far-reaching international interests of the American ruling elite. What is the main purpose of the war? The collapse of the Soviet Union a decade ago created a political vacuum in Central Asia, which is home to the second largest deposit of proven reserves of petroleum and natural gas in the world…
These critical resources are located in the world's most politically unstable region. By attacking Afghanistan, setting up a client regime and moving vast military forces into the region, the US aims to establish a new political framework within which it will exert hegemonic control.
Nearly 16 years later, nearly 9,000 US troops remain in Afghanistan. Without them and the immense fire power brought to bear by the US Air Force, the puppet regime of President Ashraf Ghani would not last a week.
According to conservative estimates, the Afghan death toll since 2001 has reached 175,000. Hundreds of thousands more have been wounded and millions driven from their homes. The last six months have seen a record number of civilians killed, with a 43 percent rise in the number dying in US air strikes compared to the same period last year.
This slaughter has been carried out in the name of fighting terrorism, building democracy, liberating women, human rights and various other phony pretexts.
In the end, however, this brutal, corrupt and bloody enterprise has been driven by the imperialist interests spelled out by the WSWS in its 2001 statement. This has been made abundantly clear as the Trump administration conducts an acrimonious internal debate over how to confront what American generals delicately describe as a "stalemate," in which the Taliban and other insurgents have gained control of an unprecedented amount of Afghan territory and the country's security forces are suffering unsustainable losses in casualties and desertions.
While Trump has given his defense secretary, the recently retired Marine Gen. James "Mad Dog" Mattis, the authority to escalate the war by sending 4,000 to 5,000 additional troops to Afghanistan, the buildup has yet to take place.
The new war strategy, first promised in advance of the NATO summit last May and then for mid-July, has yet to emerge, and Trump last week told White House reporters that he was still trying to figure out "why we've been there for 17 years." This after Washington has reportedly spent some $1 trillion on the war. Asked as he headed into a Pentagon meeting last Thursday whether more troops would be deployed, he responded, "We'll see."
Now, however, the administration appears to be warming to the idea of an escalation, focusing on the war's bottom line: plunder and profit.
According to a report published Wednesday in the

New York Times

, Trump has "latched on to a prospect that tantalized previous administrations: Afghanistan's vast mineral wealth, which his advisers and Afghan officials have told him could be profitably extracted by Western companies."
Pitching the idea to Trump are both the CEO of American Elements, a firm that contracts with the Pentagon and specializes in rare earth minerals that exist in apparent abundance in Afghanistan, and Stephen Feinberg, the hedge fund and private equity billionaire. A prominent Wall Street supporter of Trump, Feinberg also owns the giant military contractor DynCorp International and has reportedly offered the services of his mercenaries to guard US-run mines against attacks by the Taliban and other insurgents.
Afghanistan's President Ashraf Ghani, recognizing the profiteering mindset of his new master in Washington, has, according to the

Times

, "promoted mining as an economic opportunity" since his first conversation with the US president.
The idea that American capitalism could use its military might to loot Afghanistan's mineral resources is not an invention of Donald Trump. The CIA was well aware of the riches that could be tapped before the first US Special Forces troops hit the ground in 2001. "In 2006, the George W. Bush administration conducted aerial surveys of the country to map its mineral resources," the

Times

reports.
And the "newspaper of record" published its own glowing report in 2010, when it was supporting the Obama administration's 100,000-troop "surge," under the headline "US Discovers Mineral Riches in Afghanistan." The article proclaimed that, with the "help" of US-based transnational corporations, Afghanistan could "be transformed into one of the most important mining centers in the world."
But with Trump, the mask has come off. The "humanitarian" and "democratic" pretenses used to disguise US imperialism's predatory interests are being dispensed with, and the ruthless, parasitic and criminal character of the American ruling elite, personified by Trump, openly drives US foreign policy. It is altogether likely that in considering the next stage in the Afghanistan war, Trump is working out what deals can be secured by US troops for his son Donald Jr. or his son-in-law Jared Kushner.
In one of his first post-inauguration speeches, delivered at the CIA's headquarters in Langley, Virginia to an assembled audience of agents and agency functionaries, Trump spelled out his approach, extolling the principle of "to the victor belong the spoils." He said in relation to the Iraq war that "we should have kept the oil," adding for the benefit of the US military and intelligence apparatus, "But, OK, maybe you'll have another chance."
In the attempt to use US military might to lay hold of the strategic mineral wealth of Afghanistan, and more broadly, the vast energy resources of Central Asia, US imperialism is confronting not merely the problem of the Taliban insurgency, but also the opposition of major rivals that are pursuing their own interests in Afghanistan and the broader region.
China is seeking to advance a long-stalled $3 billion deal between its state-owned mining corporation and Afghanistan to exploit the country's largest copper deposits. Russia has launched its own initiative to broker a peace between the Kabul government and the Taliban, holding three rounds of talks. On the eve of the last round in mid-April, the US dropped the largest weapon used since the atomic bombing of Hiroshima and Nagasaki, hitting a target in eastern Afghanistan, but clearly sending a message to both Moscow and Beijing.
For the past quarter century, US imperialism has been engaged in continuous warfare, directed in the first instance at utilizing its military superiority to offset the decline of its influence over the affairs of global capitalism. It has sought to assert its hegemony over the oil-rich Middle East and expand its influence into the regions opened up to capitalist penetration by the dissolution of the Soviet Union.
Now, under the banner of "America First," it is prosecuting a naked struggle for markets, raw materials and related strategic interests at the expense not only of its supposed enemies, but also its erstwhile allies, particularly in Europe, whose major powers are driven to pursue their own foreign as well as military policy.
Such tensions and conflicts, which preceded both World War I and World War II, raise the threat of a third world war and with it the prospect of nuclear annihilation.
In the US, the bitter internecine struggles in Washington notwithstanding, both Democrats and Republicans support the increasing turn to militarism, while deliberately concealing the implications of their policies from a population that is overwhelmingly hostile to war.
WASHINGTON (July 27, 2017) – Attorney General Jeff Sessions moved one step closer this week to fulfilling the Trump administration promise of blocking millions in funding to sanctuary jurisdictions. The Center for Immigration Studies has a new map displaying the sanctuary jurisdictions most likely to lose access to certain DOJ grants, based on the severity of their current sanctuary policies.


Sessions announced that state and local jurisdictions will lose access to certain federal law enforcement grants in 2017 if they prohibit officials from communicating with ICE, if they block ICE from interviewing jail inmates, and if they fail to notify ICE of the pending release of criminal aliens ICE is seeking to deport. These rules apply to the Byrne Justice Assistance Grants, which are the largest source of federal criminal justice funds for state, local, and tribal authorities; Trump has requested $380 million for 2018.

View the full text and map at: https://cis.org/Vaughan/AG-Sessions-Set-Block-Millions-Funding-Sanctuaries
View sanctuary maps at: https://cis.org/Map-Sanctuary-Cities-Counties-and-States

Jessica Vaughan, director of policy studies and author of the analysis, notes, "The four largest Byrne/JAG grants in 2016, worth more than $10 million, all went to sanctuaries jurisdictions: New York City; Cook County, Ill.; the City of Los Angeles; and Philadelphia. The Department of Justice should cut them off unless they change their policies. Taxpayers should not be subsidizing local governments that interfere with immigration enforcement and endanger the public."

The Byrne/JAG grants are one of three programs now off-limits to sanctuaries. Last year, Rep. John Culberson, in his capacity as chairman of the House Appropriations subcommittee that controls DOJ's budget, imposed requirements for basic compliance with the federal law on sanctuaries for the State Criminal Alien Assistance Program, which offers partial reimbursement for the costs of incarcerating illegal aliens, and the Community Oriented Policing grant program. A number of jurisdictions have changed their policies as a result.
17 MS-13 Gang Members Arrested for Brutal Slayings on Long Island
'The acts of these defendants are unspeakable,' says police commissioner
Seventeen Mara Salvatrucha, or MS-13, gang members were charged on July 19 with a dozen murders and other violent crimes committed on Long Island.
Suffolk County Police Commissioner Timothy Sini said the arrests dealt a "huge blow" against MS-13, and that the community will "prevail against acts of savagery."
The indictment comes three months after the brutal slayings of four young men—Justin Llivicura, Michael Lopez, Jorge Tigre, and Jefferson Villalobos—in the Long Island town of Central Islip in April.
On April 11, two female associates of MS-13 allegedly lured five young men to a wooded area in Central Islip, according to the Eastern District of New York in
press release
. Once there, the females texted their location to nearby MS-13 members.
Alexis Hernandez, 20, Santos Leonel Ortiz-Flores, 19, Omar Antonio Villalta, 22, and the "other MS-13 members approached and surrounded the victims, and attacked and killed Llivicura, Lopez, Tigre and Villalobos using machetes, knives and wooden clubs," the release said. The fifth victim escaped.
The MS-13 members and associates dragged the victims' bodies to a more secluded spot and fled the scene, the Eastern District of New York said. The victims' bodies were discovered the following evening, on April 12.
William Sweeney, assistant director-in-charge of the FBI's New York field office, said MS-13 is the agency's number one priority on Long Island.
"Because much of what they do and how they behave boils down to violence for violence sake," Sweeney said in a press release. "The idea that human life means nothing to these gang members should shock the conscience, and we cannot allow this type of thinking to take hold in our youth."
MS-13 gang members have been charged with more than 40 murders in the Eastern District of New York since 2010.
MS-13, a transnational criminal organization, has flourished in places like Suffolk County in the last several years. Although the gang formed in Los Angeles in the 1980s, it has deep ties to El Salvador—and, with an influx of unaccompanied minors from Central America resettling in Suffolk County, its violence has been escalating.
Attorney General Jeff Sessions
visited Long Island
two weeks after the killings of the four men, specifically to bring federal attention and resources to the efforts on Long Island against MS-13.
"I have a message for the gangs that target young people: We are targeting you. We are coming after you," Sessions said in April at the federal courthouse in Central Islip, less than three miles from the park where the four men were found murdered. "The MS-13 motto is 'kill, rape, control.' Our motto is going to be justice for victims and consequences for criminals."
"We are committed to bringing violent criminals to justice, and this indictment is the next step in our mission of finding, prosecuting, and eradicating the MS-13 threat," Sessions said in a press release on July 19.
Bridget Rohde, acting U.S. attorney for the Eastern District of New York, said law enforcement is committed to "rid communities, including Central Islip, of MS-13, using every law enforcement resource at our disposal."
"The senseless murders charged in this superseding indictment further demonstrate MS-13's compulsion to commit horrific acts of violence in communities in our district," she said in a press release.
The charges also include the Jan. 30 murder of Esteban Alvarado-Bonilla, a suspected rival gang member of MS-13, and the assault of an innocent bystander at a deli in Central Islip.
A member of the MS-13 "Sailors" clique allegedly saw Alvarado-Bonilla inside the El Campesino Deli in Central Islip and reported the sighting to the clique leaders, according to the press release. The leaders then directed MS-13 members to kill Alvarado-Bonilla—which they did, allegedly shooting him multiple times, as well as assaulting a deli employee.
The 17 MS-13 members arrested are charged with 59 counts including racketeering, 12 murders, attempted murders, assaults, obstruction of justice, arson, conspiracy to distribute marijuana, and related firearms and conspiracy charges.
Nearly 1 Million Illegal Aliens Now Have Driver's Licenses in California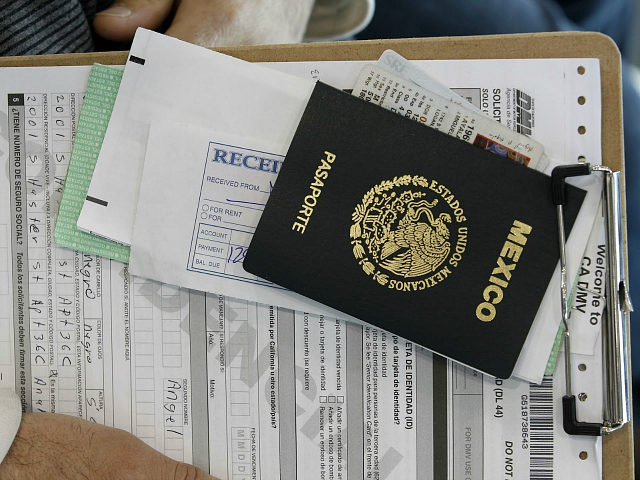 The State of California is on track to issue a total of one million driver's licenses to illegal aliens by the end of 2017.
In 2013, California lawmakers passed legislation that allowed illegal aliens to obtain driver's licenses if they can prove to the Department of Motor Vehicle (DMV) their identity and state residency. The plan was one of the largest victories to date by the open borders lobby.
Years later, an estimated 905,000 illegal aliens have driver's licenses in California, according to the Sacramento Bee, despite issuances beginning in 2015. The number of illegal aliens in California with driver's licenses is likely to surpass one million before the end of this year.
In the first half of 2017 alone, more than 83,000 illegal aliens received driver's licenses in California.
Soros groups are currently pushing a plan that would make it illegal to not rent a residence to an illegal alien because of their immigration status, Breitbart Texas reported.
John Binder is a reporter for Breitbart Texas. Follow him on Twitter at
@JxhnBinder
.
THE MEX-OCCUPIED COUNTY OF LOS ANGELES ALONE HANDS HEAVY BREEDING MEXICANS MORE THAN A BILLION DOLLARS YEARLY FOR ANCHOR BABY BREEDING. MEXICANS WILL DOUBLE AMERICA'S POPULATION BY 2050.
"Through love of having children we're going to take over."
Augustin Cebada, Information Minister of Brown Berets,
militant para-military soldiers of Aztlan shouting at U.S. citizens at an Independence Day rally in Los Angeles, 7/4/96
HERITAGE FOUNDATION:
Amnesty would add 100 million more illegals and cost Legals trillions
!
Literally, LA RAZA DEM Gov Jerry Brown headed down to the open border with NARCOMEX to meet the dictator of Mexico and proclaimed "California is Mexico's second home!"
Gov. Jerry Brown, on a trip to Mexico, seeks to position California as a more welcoming place for immigrants... $35 BILLION PER YEAR IN WELFARE NOT WELCOMING ENOUGH?!?
We've got an even more ominous enemy within our borders that promotes "Reconquista of Aztlan" or the reconquest of California, Arizona, New Mexico and Texas into the country of Mexico…. AND IT IS THE DEMOCRAT PARTY!
"WE'RE HERE... TO SHOW THE WHITE ANGLO-SAXON PROTESTANT L.A., THE FEW OF YOU WHO REMAIN, THAT WE ARE THE MAJORITY, AND WE CLAIM THIS LAND AS OURS, IT'S ALWAYS BEEN OURS, AND WE'RE STILL HERE, AND NONE OF THE TALK ABOUT DEPORTING. IF ANYONE'S GOING TO BE DEPORTED IT'S GOING TO BE YOU!"
"WE ARE THE MAJORITY IN L.A. THERE'S OVER SEVEN MILLION MEXICANS IN L.A. COUNTY ALONE."
LA RAZA – "THE (MEXICAN) RACE"….
14.
Augustin Cebada, Information Minister of Brown Berets,
militant para-military soldiers of Aztlan shouting at U.S. citizens at an Independence Day rally in Los Angeles, 7/4/96
"Augustin Cebada, Brown Berets, we're here today to show L.A., show the minority people here, the Anglo-Saxons, that we are here, the majority, we're here to stay. We do the work in this city, we take care of the spoiled brat children, we clean their offices, we pick the food, we do the manufacturing in the factories of L.A., we are the majority here and we are not going to be pushed around. We're here in Westwood, this is the fourth time we've been here in the last two months, to show white Anglo-Saxon Protestant L.A., the few of you who remain, that we are the majority, and we claim this land as ours, it's always been ours, and we're still here, and none of the talk about deporting. If anyone's going to be deported it's going to be
you! Go back to Simi Valley, you skunks! Go back to Woodland Hills! Go back to Boston! To back to the Plymouth Rock, Pilgrims!
Get out! We are the future. You're old and tired. Go on. We have beaten you, leave like beaten rats. You old white people, it is your duty to die. Even their own ethicists say that they should die, that they have a duty to die. They're taking up too much space, too much air. We are the majority in L.A. There's over seven million Mexicans in L.A. County alone. We are the majority. And you're going to see every day more and more of it, as we manifest as our young people grow up, graduate from high school, go on to college and start taking over this society. The vast majority of our people are under the age of 15 years old. Right now we're already controlling those elections, whether it's by violence or nonviolence. Through love of having children we're going to take over." Other demonstrators: "Raza fuerza (brown race power), this is Aztlan, this is Mexico. They're the pilgrims on our land. Go back to the Nina,
the Pinta, the Santa Maria."
ZOGY POLL ON MEX RACISM AND VIOLENCE….. Half the murders in CA
are by Mex gangs, and 93% of murders in La Raza-Occupied Los Angeles are by
"In Mexico, a recent Zogby poll declared that the vast majority of Mexican citizens hate Americans. [22.2] Mexico is a country saturated with racism, yet in denial, having never endured the social development of a Civil Rights movement like in the US--Blacks are harshly treated while foreign Whites are often seen as the enemy. [22.3] In fact, racism as workplace discrimination can be seen across the US anywhere the illegal alien Latino works--the vast majority of the workforce is usually strictly Latino, excluding Blacks, Whites, Asians, and others."
SICK OF THE MEX FLAG WAVERS?
An American immigrant is not someone supported by government funds in a "relocation" center; flown over here at government expense; given a cash allowance, free housing, and medical care; and then eased onto local public assistance: Section 8 rental grants, food stamps, WIC, AFDC, clothes from one government-sponsored charity or another, Medicaid, and public schooling, with free lunch and breakfasts and even help with furniture.
That's not an immigrant. That's a future Democrat voter.
----- RICHARD F. MINITER – AMERICAN THINKER COM
THE LA RAZA LOOTERS: THEY ALL VOTED DEMOCRAT FOR MORE WELFARE!
HERITAGE FOUNDATION:
Amnesty would add 100 million more illegals and cost Legals trillions
!
WE ALSO GET THEIR CRIMINALS! HALF THE MURDERS IN MEXIFORNIA ARE NOW BY LA RAZA MEX GANGS…. 93% OF ALL MURDERS IN MEX-OCCUPIED LOS ANGELES ARE BY MEXICANS… THEY ARE THE MOST VIOLENT CULTURE IN THE WESTERN HEMISPHERE… THEY DON'T JUMP OUR BORDERS, JOBS AND LAWS TO BECOME AMERICAN… THEY DO SO AS LOOTERS.
UNDERSTANDING AMERICA'S LA RAZA MEX OCCUPIERS AND THEIR CULTURE THEY IMPOSE BUT WE PAY FOR:
AMERICA vs MEXICO: CLASHING CULTURES
more at this link
– post on your Facebook and email broadcast
Illegals cheat, distribute drugs, lie, forge documents, steal and kill as if it's a normal way of life. For them, it is. Mexico's civilization stands diametrically opposed to America's culture.
The legal age of sexual consent in Mexico is 12 years old. Sex with children at this age and younger is socially acceptable in Mexico. For example: A Mexican Lopez-Mendez pleaded guilty to sexual assault on a 10 year old girl in West Virginia.
HILDA SOLIS WAS BARACK OBAMA'S SECRETARY OF ILLEGAL LABOR BEFORE MEXICANS VOTED HER IN AS LOS ANGELES COUNTY SUPERVISOR WHERE SHE IS RAPIDLY EXPANDING THE MEX WELFARE STATE IN LOS ANGELES COUNTY.
HILDA SOLIS – The Mexican Fascist Party of LA RAZA "THE RACE" building LA RAZA SUPREMACY over Legals and the Mexican welfare state in America's open borders.
"Labor Secretary Hilda Solis, a former California congresswoman with close ties to the influential La Raza movement, announced the
"We Can Help"
project with great fanfare a few days ago."
LOS ANGELES'S GIL CEDILLO, THE FACE OF LA RAZA FASCISM
"But that nickname diminishes Cedillo, who should be taken
seriously. When it comes to representing the interests of illegal
immigrants Gil Cedillo is a true believer."
LA's own 'secretary of state' not looking after our interests
Our secretary of state was one busy diplomat last week scrambling to get ahead of a mushrooming crisis.
Mexicans are the most violent and racist culture in the western hemisphere.
Mexican gangs now commit half the murders in La Raza-occupied CA and 93% of all murders in Los Angeles, Mexico's second largest city.
Mexican Gangs "Ethnic Cleansing" Blacks In L.A.
Latino thugs indiscriminately murder blacks regardless of gang membership, genocidal purge aligns with radical Aztlan theology.

Paul Joseph Watson
Prison Planet
Monday, January 22, 2007

Racist Mexican gangs are indiscriminately targeting blacks who aren't even involved in gang culture, as part of an orchestrated ethnic cleansing program that is forcing black people to flee Los Angeles. The culprit of the carnage is the radical Neo-Nazi liberation theology known as La Raza, which calls for the extermination of all races in America besides Latinos, and is being bankrolled by some of the biggest Globalists in the U.S.A story carried on the liberal website Alternet, charts an explosion in brutal murders of blacks by Hispanic street gangs in L.A. Far from being gang on gang violence, the Latinos are targeting innocent blacks in accordance with a concerted ethnic cleansing campaign that seeks to eradicate all blacks from Hispanic neighborhoods.

In one instance, 21-year-old Anthony Prudhomme was shot in the face with a .25-caliber semi-automatic while lying on a futon inside his apartment, slain by a Latino gang known as the Avenues as part of a racist terror campaign in which gang members earn "stripes" for each black person they kill.
In one typical case," writes journalist Brentin Mock, "Three members of the Pomona 12 attacked an African-American teenager, Kareem Williams, in his front yard in 2002. When his uncle, Roy Williams, ran to help his nephew, gang member Richard Diaz told him, "Niggers have no business living in Pomona because this is 12th Street territory." According to witnesses, Diaz then told the other gang members, "Pull out the gun! Shoot the niggers! Shoot the niggers!"
The fatwah against blacks began in the mid-
nineties, with a 1995 LAPD report concluding
that Latinos had vowed to "Eradicate black
citizens from the gang neighborhood." In a
follow up report on the situation in east Los
Angeles, the LAPD warned that "Local gangs
will attack any black person that comes into
The author notes that since 1990 the African-American population of Los Angeles has halved, partly as a result of rampant illegal immigration and that there are noticeably fewer blacks walking the streets because many have been forced to relocate in fear of the racist gangs.
"The LAPD estimates there are now 22,000 Latino gang members in the city of Los Angeles alone. That's not only more than all the Crips and the Bloods; it's more than all black, Asian, and white gang members combined. Almost all of those Latino gang members in L.A. -- let alone those in other California cities -- are loyal to the Mexican Mafia. Most have been thoroughly indoctrinated with the Mexican Mafia's violent racism during stints in prison, where most gangs are racially based," writes Mock.
Mock blames the "Mexican Mafia" for ordering the campaign of ethnic cleansing from prison, as part of a turf war with the Black Guerilla family, another prison gang, but fails to pinpoint the racist creed from which the Mexican kingpins draw their inspiration - the long standing Aztlan invasion agenda.

Aztlan's goal, known as La reconquista, is to cede and take over the entirety of the southern andwestern states by any means necessary and impose a Communist militant dictatorship. President
WHILE YOU WERE SLEEPING, MEXICO WAS LOOTING, MURDERING and SENDING BILLIONS BACK TO MEXICO!
THE COUNTY OF MEX-GANG INFESTED LOS ANGELES PUTS OUT ONE BILLION DOLLARS TO ILLEGALS!
(FYI – LOS ANGELES MAYOR ANTONIO VILLARAIGOSA IS A MEMBER OF THE FASCIST SEPARATIST MOVEMENT OF
M.E.Ch.A.
HE IS CONSIDERED HIGHLY RACIST AND A MEX SUPREMACIST. HE PLANS TO RUN FOR GOV OF MEX INFESTED MEXIFORNIA, AND WILL BE ELECTED BY THE VOTES OF ILLEGALS!!!)
Despite the fact that the majority of documented hispanics oppose illegal immigration, as do the majority of Americans,
Aztlan and La Raza race hate groups have become the self-appointed voice for a separatist movement that threatens a violent overthrow of the Constitutional system and a barbaric program of ethnic cleansing.
This is held up by the media as 'diversity' and to vociferously oppose it is scorned as racism.
Aztlan and Mecha groups advocate killing all whites and blacks and driving them out of the southern states by means of brutal ethnic cleansing.
Flags and placards carried at marches depict white people having their heads cut off, as seen in the picture below.

Those that protest such groups are then attacked by the establishment media and labeled as racists, despite the fact that the Plan of San Diego, a rallying cry for the hispanic Klan groups, advocates total eradication of any race but hispanics.

Mecha's own slogan reads, "For the race everything. For those outside the race, nothing."
TV stations owned by rich white industrialists erect giant billboards in Los Angeles claiming the city belongs to Mexico, as seen below.

Mainstream hispanics who love America abhor the virulent racism that the Mexican klan groups embrace.

And who bankrolls these pocket radicals? Billionaire tax-exempt foundations and NGO's owned by white men. Organizations like the Ford Foundation, groups who are zealous in their quest to eliminate the middle class and destroy America, turning it into a cashless society, compact city, surveillance control grid where only two tiers of society exist - the elite and the poor slaves.

During the May immigration protests, The Aztlanwebsite carried the following statement.

"If the racist "Sensenbrenner Legislation" passes the US Senate, there is no doubt that a massive civil disobedience movement will emerge. Eventually labor union power can merge with the immigrant civil rights and "Immigrant Sanctuary" movements to enable us to either form a new political party or to do heavy duty reforming of the existing Democratic Party. The next and final steps would follow and that is to elect our own governors of all the states within Aztlan."

Here is the open call for violent separatism and the overthrow of existing state government structures.

During the immigration demonstrations, which were orchestrated by Rob Allyn of Rob Allyn & Co. who is closely tied with George W. Bush, alarming reports of illegals carrying out violent beatings began to surface. In Santa Ana California, illegal aliens swarmed around in mobs invading schools, carrying out violent beatings and in one incident a county worker had a Mexican flag plunged into his chest.
The violent protests that began on May 1 last year were characterized by throngs marching under Mexican flags, many of which were illegal aliens, as a "day without gringos."

Imagine what the reaction would be if white middle class Americans marched in their millions and called the event "a day without blacks."

The media continues to run defense for a violent militant movement that seeks nothing less than the eradication of blacks and whites through ethnic cleansing and the takeover of the southern and western states. This is a separatist junta that has over 30,000 ruthless gang members at its disposal once the call for mobilization is heard, along with millions of illegal aliens pouring across the border.
"In Mexico, a recent Zogby poll declared that the vast majority of Mexican citizens hate Americans. [22.2] Mexico is a country saturated with racism, yet in denial, having never endured the social development of a Civil Rights movement like in the US--Blacks are harshly treated while foreign Whites are often seen as the enemy. [22.3] In fact, racism as workplace discrimination can be seen across the US anywhere the illegal alien Latino works--the vast majority of the workforce is usually strictly Latino, excluding Blacks, Whites, Asians, and others."
"Brown then let her true MSM colors show with a softball question to Murguia implying that opposition to illegal immigration is veiled racism: "What are the racial undertones to this debate for many people? Is that something that worries you?" Murguia was only too happy to be worried, alleging that there are "racial undertones, anti-ethnic overtones." That's when Dobbs got off perhaps his best line of the morning. "The National Council of La Raza is talking about race? La Raza - what does that mean? It means 'the race'!"
SOME HISTORY OF THE MEXICAN FASCIST PARTY of LA RAZA:
ON THE GROWIN POWER OF "LA RAZA" FASCISM FOR MEX SUPREMACY
Now you sound off. Should the United States taxpayer be funding the National Council of La Raza? THE MEXICAN FASCIST PARTY of LA RAZA FOR MEXICAN SUPREMACY
While the United Kingdom has about 8 consulates in America, Mexico has more than 50. The objective of these LA RAZA headquarters is to propagate Mexican "rights" in our open borders and expand the LA RAZA welfare state on our backs. Mexicans already get our jobs!
"I HAVE PROUDLY AFFIRMED THAT THE MEXICAN NATIONAL EXTENDS BEYOND THE TERRITORY ENCLOSED BY ITS BORDERS...." Former Mex President Ernesto Zedillo, La Raza Fascist Party 6/23/97
OFFICES OF UNIDOSUS MEXICAN FASCIST PARTY for LA RAZA SUPREMACY AND EXPANDED MEX WELFARE STATE
THE NATIONAL COUNCIL OF LA RAZA
"WE'RE GOING TO TAKE OVER ALL THE POLITICAL INSTITUTIONS IN CALIFORNIA. IN FIVE YEARS THE HISPANICS ARE GOING TO BE THE MAJORITY POPULATION OF THIS STATE.... ANYONE THAT DOESN'T LIKE IT SHOULD LEAVE IT!"
--- MARIO OBLEDO, LA RAZA FASCIST.
AND WHAT IS LA RAZA'S MISSION? THE EXPANSION OF LA RAZA SUPREMACY FASCISM, EXPANSION OF THE LA RAZA WELFARE STATE AND TO DRIVE THE LEGALS OUT OF COMMUNITIES THE MEXICANS OCCUPY!
President of Latino group: 'La Raza' name was 'a barrier to our mission'
Janet Murguía, the president and CEO of UnidosUS, said Tuesday that the Latino advocacy organization made a tough decision to better reflect its mission last week when it dropped "La Raza" from its name.
The influential Latino civil rights organization changed its name to UnidosUS from the National Council of La Raza (NCLR) at its 49th annual conference.
Murguía told The Hill the decision was made after three-and-a-half years of research, interviews and surveys on the organization's image.
"We really wanted to make sure what we were hearing was reflective of most of our community," she said.
"We knew this step would be a big one and that not everybody would be fully supportive, but it's hard to ignore the data and the changes that have occurred in our community," Murguía added.
The NCLR name had come under criticism from groups on the right, who pointed out that "la raza" means "the race" in Spanish, a reference that was interpreted by some as having racist undertones.
The organization got its original name in 1968 as the Southwest Council of La Raza, a reference to an academic concept put forth by Mexican intellectual José Vasconcelos in the 1930s
Vasconcelos's original idea of "la raza" was meant to unite the multi-ethnic and multi-cultural peoples of Latin America as part of one post-colonial identity group.
But Murguía says that image no longer represents Latinos in the United States.
"We're not the same Hispanic or Latino community we were in 1968," she said. "We are a younger community — six in ten [Latinos] are millennials or younger -- and we're a more diverse Latino community."
Murguía said the old name "appeared to be outdated" and "to have no resonance with our community."
"More than anything, our name appeared to be a barrier to our mission," she said.
UnidosUS is the country's largest Latino civil rights organization, with interests in political advocacy and research on issues like tax reform, healthcare, housing and immigration.
Murguía said the organization and the Hispanic community as a whole have achieved real gains over time in many of those areas.
"Real progress is achievable, but it takes sustained engagement and it happens not in a moment, but over time," she said.
She pointed at issues like the Affordable Care Act, which extended insurance coverage to nearly four million Latinos who previously didn't have health insurance, and the earned income tax credit as tangible wins for Hispanics.
But Murguía said that progress is under threat.
"There's no question that the stakes are very high for our community right now and we're dealing with a very challenging environment," she said.
The short-term priorities for Latinos, Murguía said, include protecting those policies and counteracting the Trump administration's immigration policies.
"We want to make sure we can block the funding for a mass deportation force that Trump has called for, we can block the funding for a wall that is a waste of precious resources that will accomplish very little," she said.
"Right right now there's no question that 'Dreamers' appear to be in the crosshairs of the Trump administration," she added, referring to so-called "Dreamers," recipients of the Deferred Action for Childhood Arrivals program.
The program, which protects from deportation nearly 750,000 people who were illegally brought to the United States as children, is facing legal challenges from Texas and nine other states.
The Trump administration has not yet said whether it will defend the program through the Justice Department.
"There's a real risk because we're seeing more and more that this decision making is not in the hands of the president, but also in the Attorney General [
Jeff Sessions
] and he's been antagonistic to any efforts around immigration reform or any efforts to try to promote long term relief for Dreamers and others," she said.
Ultimately, Murguía said, the challenge for Hispanics will be to encourage greater political participation to reap the demographic rewards as the country's largest minority group.
Roughly one million Latinos turn 18 every year, and Hispanics are a key voting bloc in states like California, Texas and Florida. Still, voter participation has traditionally been low in the community.
"We have got to continue to build on the rolls of voters, continue to encourage anyone who's eligible to continue to vote. Beyond that, we have to make sure there are efforts underway for those eligible to become citizens to naturalize," said Murguía.
Murguía said Latino voters, widely expected to "surge" in the 2016 election, did just that, only to be "outsurged by others."
More Latinos voted in 2016 than ever before, but participation rates remained somewhat stagnant. Still, with consistent participation rates and natural demographic growth, Latinos played an important role in states like Arizona and Colorado.
"The stakes are extremely high for our community. For those of us who maybe didn't understand how bad things could get before the election, now we know. The truth is they could get worse," she said.
"We have to take what we've learned and now use our ability to participate, to mobilize, to vote, very seriously, and we need to come together as we do that," Murguía said.
"WE WILL TAKE CONTROL OF OUR COUNTRY (U.S.) BY VOTE IF POSSIBLE AND VIOLENCE IF NECESSARY!"
more at this link
– post on your Facebook and email broadcast
LOS ANGELES'S GIL CEDILLO, THE FACE OF LA RAZA FASCISM
"But that nickname diminishes Cedillo, who should be taken seriously. When it
comes to representing the interests of illegal immigrants Gil Cedillo is a true
LA's own 'secretary of state' not looking after our interests
Our secretary of state was one busy diplomat last week scrambling to get ahead of a mushrooming crisis.
A Question of Citizenship
… IN MEXIFORNIA, ILLEGALS HAVE MORE RIGHTS THAN LEGALS!
A Commentary By Debra J. Saunders
Trust Republicans to go too far. They take a good idea -- such as the notion that the federal government should enforce immigration laws, and states should be able to help -- and then drive it into the fringes. Witness a Fox News interview in which Sen. Lindsey Graham, R-S.C., declared,
"We should change our Constitution and say if you come here illegally, and you have a child, that child is automatically not a citizen."
Graham has supported a pathway to citizenship for illegal immigrants. He opposed the new Arizona immigration law. So why would he advocate repealing part of the 14th Amendment -- which, by the way, exists because the Grand Old Party wanted to stop efforts to keep freed slaves from becoming citizens?
Graham's right about this much: Illegal
immigrants have taken advantage of the law. The
Dallas Morning News reported Sunday that
60,000 babies are born annually in Texas to illegal
immigrants. Last year, these "anchor babies"
accounted for 16 percent of the state's births.
But it's not clear how many illegal immigrants are coming here to have babies as opposed to having babies in America because they are here.
Then there's the recent Washington Post story about "birth tourism" and affluent expectant mothers paying offshore consultants a $14,750 fee to obtain tourism visas that allow them to give birth in the United States and win U.S. citizenship for their babies.
No one likes to see adults game the system. In June, pollster Scott Rasmussen found that 58 percent of voters say a child born to an illegal immigrant should not automatically become a citizen of the United States.
But there are better ways to deal with those abuses. Direct the State Department to deny visas to would-be birth tourists. Keep the heat on employers who knowingly hire illegal workers. The new Arizona immigration law is designed to achieve "attrition through enforcement." Deport more adults who, unlike children, knowingly break the law.
But some Republicans want to keep going. Rep. Lamar Smith, R-Texas, is arguing that the 14th Amendment does not and never did confer automatic birthright citizenship.
Section One states, "All persons born or
naturalized in the United States, and subject to
the jurisdiction thereof, are citizens of the
United States and of the State wherein they
"There are two elements, birth and subject to the jurisdiction," Chapman University Law School Dean John C. Eastman told me. "For about 50 years, we've just assumed birth was all you needed." But a review of the original debates and early court cases demonstrates a recognition that parents had to "show allegiance." If they broke federal law, they "never qualified" as being under U.S. jurisdiction.
This is where the argument gets dicey. Eastman has argued that a child born to a Saudi in the United States on a temporary student visa was not under U.S. jurisdiction, as the father had not declared allegiance to America. Eastman's answer is to let people come here to study or work, but as something less than guests.
This path could turn a melting pot nation into an empire of the native born and law-abiding foreign workers who never have a chance to belong. Think Old Europe. Think Saudi Arabia.
We've got an even more ominous enemy within our borders that promotes "Reconquista of Aztlan" or the reconquest of California, Arizona, New Mexico and Texas into the country of Mexico…. AND IT IS THE DEMOCRAT PARTY!
UNDERSTANDING AMERICA'S LA RAZA MEX OCCUPIERS AND THEIR CULTURE THEY IMPOSE BUT WE PAY FOR:
AMERICA vs MEXICO: CLASHING CULTURES
more at this link
– post on your Facebook and email broadcast
Illegals cheat, distribute drugs, lie, forge documents, steal and kill as if it's a normal way of life. For them, it is. Mexico's civilization stands diametrically opposed to America's culture.
The legal age of sexual consent in Mexico is 12 years old. Sex with children at this age and younger is socially acceptable in Mexico. For example: A Mexican Lopez-Mendez pleaded guilty to sexual assault on a 10 year old girl in West Virginia.