Trump Supporters at Huntington Beach Demand: 'Build That Wall!'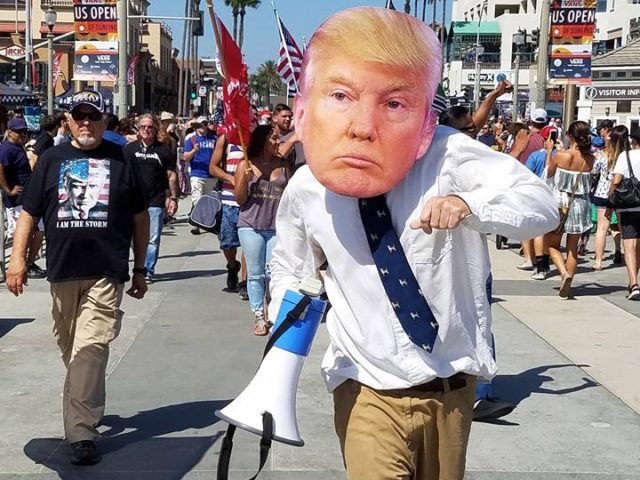 A group of Trump supporters known as "Americans for Trump" held a rally at the Huntington Beach Pier early Saturday afternoon to show support for President Donald Trump — and push for him to "Build That Wall."
The Orange County Register reported that there was a heavy police presence as pro-Trump ralliers gathered near the Huntington Beach Pier. A video shot by the Register reporter shows the Trump supporters peacefully chanting and holding signs that said "Build That Wall," and "Illegal Immigrants Got to Go."
The rally drew close to 50 Trump supporters from various activist groups all over the Southland, including a number of members of "Latinos for Trump."
The rally was reportedly peaceful overall, but given past incidents of violence in Huntington Beach, Costa Mesa and other Southern California venues (mostly against Trump supporters), the Huntington Beach Police Department maintained a strong presence throughout the rally.
But there were some tense moments and heated exchanges between beachgoers and Trump supporters.
One man confronted Harim Uziel — a self-described "Hardcore American Patriot" and "Latino for Trump" — and demanded to know why the group was "inciting violence."
"We're not inciting … by what? By being a Patriot, by being a Patriot? No, you're not going to [bleep] piss me off and my people, homie," Uziel said.
Uziel is a well-known figure within the Southern California Trump movement, and has become a lightning rod for anti-Trump protestors in recent months — including for an incident in late June where a pro-Trump protester was arrested for "brandishing a firearm" when protestors surrounded his vehicle.
That case is still pending, but Uziel, who was in the passenger seat live-streaming the event on Facebook, was released without any charges. At that same incident, an anti-Trump protester was arrested for assaulting a member of law enforcement with a bottle.
Photo: Marc Langsam / Facebook
HERITAGE FOUNDATION:
Amnesty would add 100 million more illegals and cost Legals trillions
!
WE ALSO GET THEIR CRIMINALS! HALF THE MURDERS IN MEXIFORNIA ARE NOW BY LA RAZA MEX GANGS…. 93% OF ALL MURDERS IN MEX-OCCUPIED LOS ANGELES ARE BY MEXICANS… THEY ARE THE MOST VIOLENT CULTURE IN THE WESTERN HEMISPHERE… THEY DON'T JUMP OUR BORDERS, JOBS AND LAWS TO BECOME AMERICAN… THEY DO SO AS LOOTERS.
Ted Cruz is Our Advocate in Congress, Says Border Patrol Agent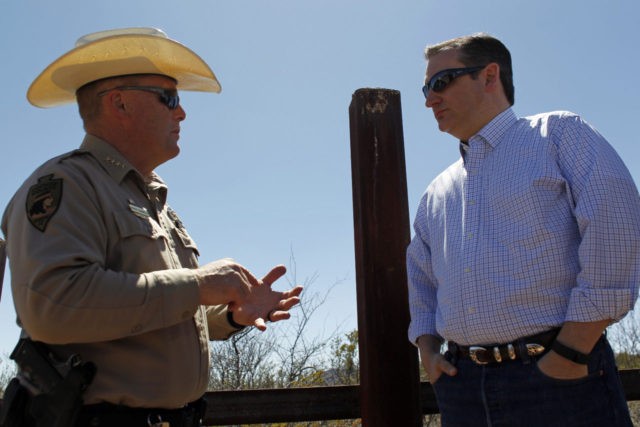 A U.S. Border Patrol agent who heads the organization that represents 18,000 men and women who protect the border said Senator Ted Cruz (R-TX) is their advocate in Congress.
Border Patrol Agent Brandon Judd, in his capacity as president of the National Border Patrol Council, said, "We have to have an advocate in Congress, which I believe is Ted Cruz." Judd's comments came during a July 17 interview on C-SPAN about illegal immigration and border security.
Agent Judd discussed several of President Donald Trump's agenda items relating to the securing the border and reducing illegal immigration. One critical part is the border walls promised by the president and how those will be paid for.
"If you look at the ideas [Cruz] has come up with, he is talking about illicit traffic," Judd explained. "This is a huge drug problem. The opioids flowing across the southwest border right now."
Judd referenced Cruz's suggestion that funds seized from drug cartels be used to pay for the border walls.
"What Ted Cruz has proposed is any funds that are seized through illicit traffic would then go toward the border wall," he said. That's ingenious. It is the outside of the box thinking that I think we need in Congress."
He said that advocates like Cruz are what is needed to make certain the cost of building the wall does not become a "burden on the taxpayers. I think [Cruz's idea] would be great," he said.
The junior senator from Texas named his proposed bill, "Ensuring Lawful Collection of Hidden Assets to Provide Order" (EL CHAPO, Breitbart Texas reported in April.
"The U.S. Government is currently seeking the criminal forfeiture of more than $14 billion in drug proceeds and illicit profits from El Chapo, the former leader of the Sinaloa drug cartel who was recently extradited to the U.S. to face criminal prosecution for numerous alleged drug-related crimes, including conspiracy to commit murder and money laundering," Cruz stated.
Later in the interview, Judd reemphasized Cruz's "El Chapo" act. "If that bill does pass," Judd stated, "then we alleviate the tax burden on the taxpayers and we are able to build the wall in a manner that I think is ingenious."
"If we want to think outside the box," Judd concluded, "we are going to have to support people like Ted Cruz, who came up with an ideal that allows us to build a wall without taxpayer funds."
Bob Price serves as associate editor and senior political news contributor for Breitbart Texas. He is a founding member of the Breitbart Texas team. Follow him on Twitter @BobPriceBBTX and Facebook.
(Disclosure: Breitbart Texas sponsored the Green Line podcast for the NBPC in an effort to provide a platform for agents to inform the public about the realities on the border and what Border Patrol agents face. Director Brandon Darby received an award from the Laredo chapter of the NBPC for his work in helping to defend and bring a voice to Border Patrol agents. Breitbart News assisted in covering funeral costs for a slain Border Patrol agent previously. Darby and Breitbart senior management have directly stated and shown that helping to bring a voice to the expressed needs and interests of Border Patrol agents is a top priority–personally, individually and together through Breitbart News.)