Cartel Gun Battles, Blockades Reach a 'Safe' Mexico City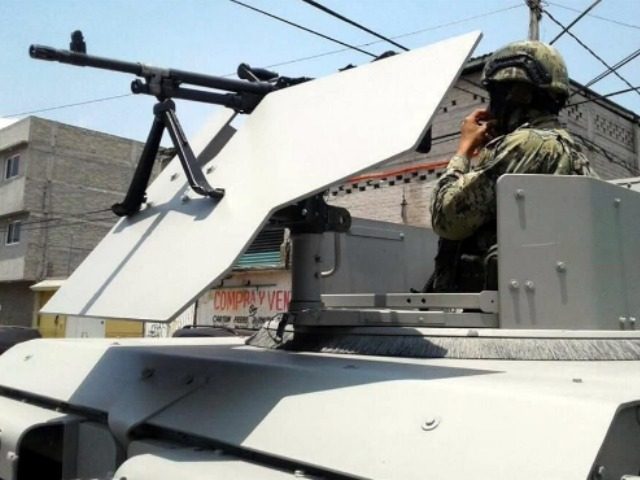 Gun battles and cartel blockades finally reached Mexico City after authorities killed a local crime boss and a team of his top gunmen in one of the areas roughest suburbs. The violence came days after top government officials claimed that Mexico City is safe and that no cartels operate in the country's capital.
The violence began this week as Mexican marines moved into the Tlahuac suburb in an effort to arrest a group of street level drug dealers led by Felipe de Jesus "El Ojos" (Eyes) Luna. When the military arrived at the Zapotitlan neighborhood they were met with heavy gunfire by a team of gunmen carrying machine guns. During the firefight, the Mexican marines killed El Ojos and seven of his gunmen.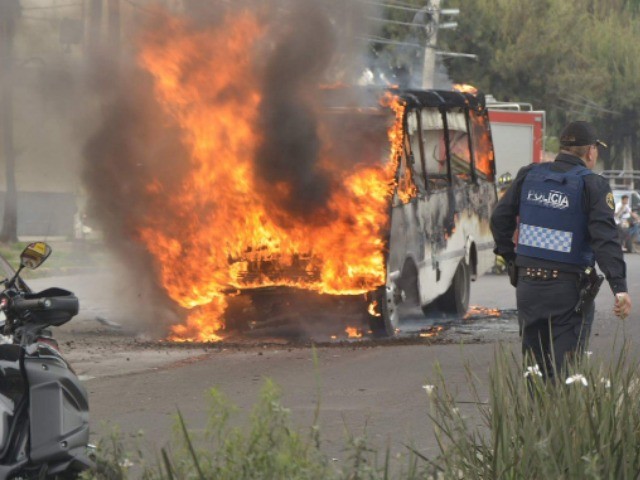 As part of their efforts to escape, dozens of motorcycle taxi drivers and bus drivers set up roadblocks and torched vehicles, tactics similar to those used by the Gulf Cartel and Los Zetas in the border state of Tamaulipas. Breitbart Texas has reported extensively on how drug cartels hijack buses and park them across main avenues in an effort to slow down military convoys during cartel gun battles.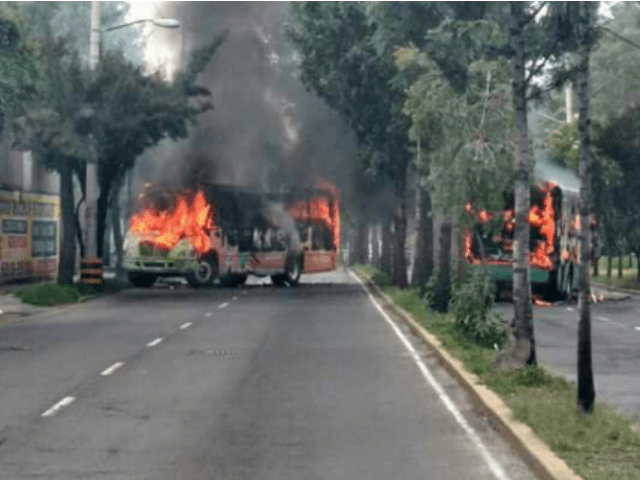 Mexican intelligence officials revealed to Breitbart Texas that the man known as Ojos is suspected of being behind the disappearance of approximately 80 victims from the region. Officials described the victims as young men who refused to work for the criminal organization.
Just one day after the fierce gun battle, Mexico City Mayor Miguel Angel Mancera claimed the group led by Ojos was not a cartel but just a gang of street level drug dealers,

Milenio

reported.

Mancera along with various other Mexican politicians have been publicly claiming that Mexico City is free of cartels and is considered safe.
The wild gun battle that led to El Ojos death came just days after Mexico City's Attorney General Edmundo Porfirio Garrido Osorio claimed that the security levels in Mexico City are considered "acceptable" as he touted a decrease in crime statistics, Mexico's

El Universal

reported.
Editor's Note: Breitbart Texas traveled to the Mexican States of Tamaulipas, Coahuila, and Nuevo León to recruit citizen journalists willing to risk their lives and expose the cartels silencing their communities. The writers would face certain death at the hands of the various cartels that operate in those areas including the Gulf Cartel and Los Zetas if a pseudonym were not used.
Breitbart Texas' Cartel Chronicles
are published in both English and in their original
Spanish
. This article was written by Tamaulipas "M.A. Navarro" and Breitbart Texas' Ildefonso Ortiz.
AMERICA THE ADDICTED: 1 in 7 are addicted




MEXICO'S BIGGEST EXPORTS TO




U.S.: Heroin, Criminals, Anchor baby breeders for 18 years of gringo-paid welfare.
AMERICA'S BLUDGEONED YOUTH: Homeless, Hopeless and Addicted…. Will they start the revolution?
"Public education as a whole came under brutal attack as part of the Obama administration's effort to shift the burden of the financial crisis onto the backs of the working class."
AMERICA THE ADDICTED: 1 in 7 are addicted
MEXICO'S BIGGEST EXPORTS TO U.S.: Heroin, Criminals, Anchor baby breeders for 18 years of gringo-paid welfare.
Congress Wades Into Sanctuary Cities, Again
ImmigrationReform.com, July 5, 2017
Washington's latest foray against sanctuary cities raises the stakes by threatening to withhold federal funding from non-compliant cities and states. One analysis estimates that the sanctuary jurisdictions of New York, Philadelphia, Los Angeles, Chicago and Seattle could lose a combined $4.448 billion under HR 3003.
But any fiscal hit presupposes: 1) the Senate will pass the House bill and, 2) the law survives inevitable court challenges. With judges blocking President Donald Trump's earlier effort to withhold federal funds from sanctuary cities, does HR 3003 provide enough legal ammunition? Though Congress has clear constitutional authority over appropriation of funds, such facts have not always deterred activist judges.
Unwilling to wait around, Texas enacted Senate Bill 4 to strip sanctuary cities of state law-enforcement funds
and
hold local officials liable for non-compliance. SB 4 does not recognize localities' right to flout state law.
SICK OF THE MEX FLAG WAVERS?
An American immigrant is not someone supported by government funds in a "relocation" center; flown over here at government expense; given a cash allowance, free housing, and medical care; and then eased onto local public assistance: Section 8 rental grants, food stamps, WIC, AFDC, clothes from one government-sponsored charity or another, Medicaid, and public schooling, with free lunch and breakfasts and even help with furniture.
That's not an immigrant. That's a future Democrat voter.
----- RICHARD F. MINITER – AMERICAN THINKER COM
REPORT: ICE Planning Raids Against Illegal Alien Teen Gang Members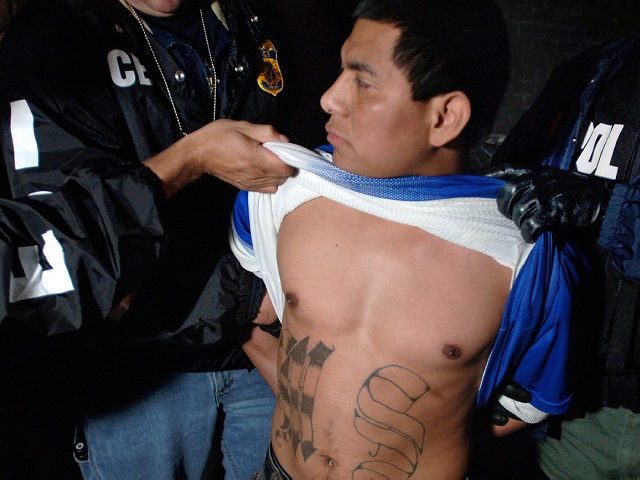 U.S. Immigration and Customs Enforcement (ICE) officers are planning a nationwide roundup of teenage gang members who entered the country illegally. Some of those being targeted include teens who entered as Unaccompanied Alien Children.
Calling the targeted enforcement action an expansion of President Donald Trump's crackdown on illegal immigrants, Reuters reported the action targets teenagers between the ages of 16- and 17-years-old.
Reuters cites an internal memo obtained from an unnamed source at ICE. The news service claims the move is an expansion of the deportation policy previously established under the Obama Administration where teens were only arrested for deportation if they had been convicted of a crime. The new action targets teens allegedly tied to criminal gangs.
The memo lists criteria for determining gang affiliation, Reuters stated. To be designated as a gang member the person must meet two of the following:
Having gang tattoos

Frequenting notorious gang locations

Wearing gang apparel
The targeted enforcement operation is scheduled to begin on Sunday, the memo states. While the agency does not officially comment on pending law enforcement actions, an unnamed official told Reuters the operation is still scheduled to begin Sunday but could be rescheduled.
Immigration lawyer David Leopold of Ulmer & Berne told Reuters they are concerned that innocent teens could be arrested during the operations.
"In many cases, children don't freely decide to join a gang. They are threatened by older gang members and forced to get a gang tattoo if they live in a certain neighborhood," he told the news service.
The memo states the operation will also target parents who crossed the border illegally with their children and who are the subject of an order of removal from an immigration judge, along with people who originally crossed the border illegally as children without their guardian and have since turned 18.
Enforcement and Removal Operations officers have been directed to identify people in their specific areas of operation who meet the above criteria.
President Trump and Attorney General Jeff Sessions have made the targeting of criminal gang members a priority. In April, Breitbart Texas reported Sessions sent a warning to MS-13 gang members, saying, "We are targeting you."
"The MS-13 motto is kill, rape, and control," Sessions said during a speech at the U.S. Courthouse in Central Islip, New York. "I have a message to the gangs that are targeting our young people: We are targeting you. We are coming after you."
In June, an FBI official testified before the House Homeland Security Committee Subcommittee on Counterterrorism and Intelligence and called MS-13 the most violent and most organized criminal gang in America.
"MS-13 is not the largest street gang in the United States; it is increasingly the most violent and well-organized," FBI Assistant Director for New York told the representatives.
On June 10, Breitbart Texas reported that the numbers of unaccompanied minors (UACs) being apprehended at our southern border with Mexico, particularly from El Salvador, was once again on the rise. Although there had been a six-month downtrend, 8,005 UACs from El Salvador have been apprehended after crossing the border illegally since October 1, 2016. There were 1,493 apprehended in May alone — nearly a fifty percent increase from the previous month.
MS-13 members frequently recruit children who are illegal immigrants. The FBI assistant director from New York told members of the Subcommittee on Counterterrorism and Intelligence that MS-13 members are "typically much younger than those connected to other street gangs." They take "cues from the gang instead of relying on a productive family structure. Also, those emigrating from El Salvador to the United States are known to be exposed and desensitized to extreme violence at an early age."
Bob Price
serves as associate editor and senior political news contributor for Breitbart Texas. He is a founding member of the Breitbart Texas team. Follow him on Twitter
@BobPriceBBTX
and
Facebook
.
Dem leaders vow 'overwhelming' opposition to Trump border wall
BY MIKE LILLIS -

07/19/17 04:23 PM EDT
257
© Getty Images