Trump administration will no longer treat Miami as 'sanctuary city'
BY RAFAEL BERNAL -

08/07/17 05:54 PM EDT
49
The Department of Justice informed Miami-Dade County Mayor Carlos Gimenez on Friday that the city is in full compliance with federal immigration requirements and will receive grants dependent on said compliance.
In a letter
to Gimenez, Acting Assistant Attorney General Alan Hanson said the county is eligible for Edward Byrne Memorial Justice Assistance Grant Program (JAG) grants.
Attorney General
Jeff Sessions
last month said the federal government would withhold those grants, which channel federal criminal justice aid, from so-called sanctuary cities that refuse full compliance with the federal goverment on immigration enforcement.
In a memo to the Miami Board of County Commissioners, Gimenez said Miami-Dade will receive a $481,347 JAG grant thanks to its compliance with the federal requirement.
In February, Miami-Dade became the first — and so far, only — major city to reverse its sanctuary policies.
Gimenez was sharply criticized by immigration advocates for the move, a reversal of a sanctuary policy in place since 2013.
While the change in policy was presumably done to shield the county from any retaliation from the Trump administration, no city has so far lost funding for its sanctuary policies, despite Sessions's warning.
Chicago on Monday
sued the Trump administration
over its threat to withhold JAG grants, saying Immigration and Customs Enforcement detainers violate the constitution and drive a wedge between local law enforcement and the communities they protect.
TAGS
JEFF SESSIONS
Sessions rips 'culture of lawlessness' in Chicago
© Getty
Attorney General
Jeff Sessions
blasted back Monday against a lawsuit from Chicago, warning the Justice Department will withdraw criminal justice funding unless the city ends its "culture of lawlessness" and complies with federal immigration mandates.
"This administration will not simply give away grant dollars to city governments that proudly violate the rule of law and protect criminal aliens at the expense of public safety. So it's this simple: Comply with the law or forego taxpayer dollars," Sessions said.
Behind Democratic Mayor Rahm Emanuel, Chicago on Monday filed a lawsuit against the federal government challenging the Justice Department's attempt to hold back money from local law enforcement under the Edward Byrne Memorial Justice Assistance Grant Program (JAG).
The Justice Department
says it will not give
the grant money to so-called sanctuary cities like Chicago that refuse full compliance with federal immigration policies.
"No amount of federal taxpayer dollars will help a city that refuses to help its own residents," Sessions said in a statement.
"To a degree perhaps unsurpassed by any other jurisdiction, the political leadership of Chicago has chosen deliberately and intentionally to adopt a policy that obstructs this country's lawful immigration system," he added.
The city of Chicago argues the funding threat from the Justice Department is unconstitutional and is asking a federal judge to intervenue.
"These new conditions — which would give federal officials the power to enter city facilities and interrogate arrestees at will and would force the city to detain individuals longer than justified by probable cause, solely to permit federal officials to investigate their immigration status — are unauthorized and unconstitutional," the lawsuit states,
according to
the Chicago Tribune.
President Trump has often portrayed Chicago as a poster child for out-of-control crime. Last month, he tweeted that killings in the city had reached "epidemic proportions."
Sessions, who has established a "Chicago Gun Strike Force" to address violence in the city, on Monday said Chicago has "adopted an official policy of protecting criminal aliens who prey on their own residents."
"The Mayor complains that the federal government's focus on enforcing the law would require a 'reordering of law enforcement practice in Chicago.' But that's just what Chicago needs: a recommitment to the rule of law and to policies that rollback the culture of lawlessness that has beset the city," he said.
Sanctuary City Objects to Arrest of Accused Illegal Alien Child Molester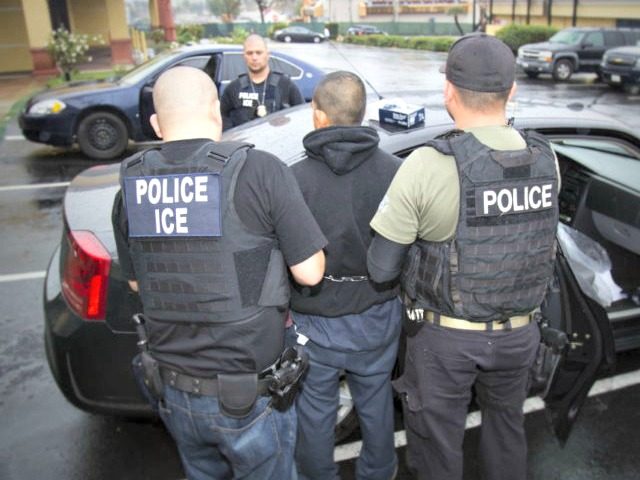 Officials in one California sanctuary city are upset after immigration agents arrested an illegal alien facing child molestation charges and another previously deported three times prior.
The recent arrest took place in Hayward, California, when officers with U.S. Immigration and Customs Enforcement (ICE) were looking for an illegal immigrant but in the course of their investigation, they found 42-year-old Jose Salgado and 34-year-old Antonio Valenzuela.
The arrest took place during an operation by ICE officers who were carrying out an enforcement operation targeting another individual in an unrelated case, said ICE Spokesman Jason Schwab. They determined that both men were in the country illegally and detained them. Salgado was arrested earlier this year by local authorities on a felony charge involving lewd and lascivious acts with a minor, Schwab said. Prior to his recent arrest by ICE agents, Salgado had not been previously encountered by federal authorities. In the case of Valenzuela, the Mexican national was previously deported three times and had one conviction of driving under the influence. Both men remain in federal custody.
Soon after the arrest, Hayward officials issued a statement expressing their concern over federal immigration arrests in the city. According to their statement, the circumstances leading to the arrest "are concerning because of the potential impact on the trust our officers and local government seek to maintain with all members of our community."
According to city officials, local law enforcement personnel are not allowed to cooperate with federal authorities in the enforcement of immigration law:
As a matter of policy, HPD and the City of Hayward employees do not seek to learn the immigration status of people with whom they come into contact in the course of providing law enforcement and other public services. No HPD officer or Hayward city employee may assist federal officials in the enforcement of U.S immigration laws. We are committed to equal treatment of all of our residents regardless of immigration status.
The City's refusal to cooperate with federal law enforcement officials in the enforcement of immigration laws follows the June 6 announcement where officials sought theclassification of sanctuary status.
"Fostering a relationship of trust, respect and open communication between city officials and residents is essential to the city's mission," the city's statement on the status revealed.
Robert Arce is a retired Phoenix Police detective with extensive experience working Mexican organized crime and street gangs. Arce has worked in the Balkans, Iraq, Haiti, and recently completed a three-year assignment in Monterrey, Mexico, working out of the Consulate for the United States Department of State, International Narcotics and Law Enforcement Program, where he was the Regional Program Manager for Northeast Mexico (Coahuila, Tamaulipas, Nuevo Leon, Durango, San Luis Potosi, Zacatecas.)
Illegal Alien Alleged Sex Offender Arrested near Canadian Border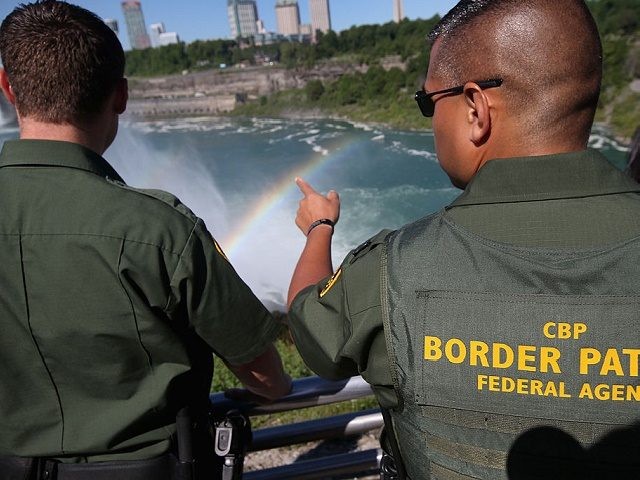 Border Patrol agents working out of the Buffalo Station in New York responded to a call about suspected illegal aliens at a gas station. After investigating, the agents arrested three, including one with an arrest warrant for indecent liberties with a child from North Carolina.
The agents received a call from a concerned citizen about possible illegal aliens at a gas station in Cheektowaga, New York. When the agents arrived on the scene, they observed a vehicle matching the description from the tipster and made contact. The agents identified themselves as Border Patrol agents and began questioning the driver and the three passengers, according to information obtained by Breitbart Texas from U.S. Customs and Border Protection officials.
Cheektowaga is a suburb of Buffalo, N.Y., and is located about 5 miles from the Canadian border.
The agents verified the driver to be a U.S. citizen. The three passengers admitted to being Mexican nationals who illegally entered the country by swimming across the Rio Grande River near Eagle Pass, Texas. The three Mexican nationals had no identification documents authorizing them to be in the U.S.
After taking the three foreign nationals into custody, agents conducted further background checks and learned that one of the men had an arrest warrant out of Mecklenburg, North Carolina. Agents confirmed the warrant to be based on a charge of alleged indecent liberties with a child.
The illegal alien with the arrest warrant and his two companions are being held at the Batavia Federal Detention Facility. He will be transferred to law enforcement officials in North Carolina when his extradition is approved. The second illegal alien is being charged with illegal re-entry after removal. The third illegal alien is being processed for removal.
"This arrest showcases the efforts of the men and women of the Buffalo Border Patrol Station and community vigilance in reporting suspicious activity to law enforcement. Apprehending and removing criminals from our communities allows us a safer place to live," Jeff Wilson, Patrol Agent in Charge of the Buffalo Border Patrol Station, said in a written statement.
Bob Price
serves as associate editor and senior political news contributor for Breitbart Texas. He is a founding member of the Breitbart Texas team. Follow him on Twitter
@BobPriceBBTX
and
Facebook
.
HOW MANY MILLIONS DOES YOUR COUNTY PAY OVER TO THE INVADERS TO KEEP THEM COMING AND VOTING DEM FOR MORE?
We've got an even more ominous enemy within our borders that promotes "Reconquista of Aztlan" or the reconquest of California, Arizona, New Mexico and Texas into the country of Mexico…. AND IT IS THE DEMOCRAT PARTY!
Map 1: Sanctuary Cities, Counties, and States
The sanctuary jurisdictions are listed below. These cities, counties, and states have laws, ordinances, regulations, resolutions, policies, or other practices that obstruct immigration enforcement and shield criminals from ICE — either by refusing to or prohibiting agencies from complying with ICE detainers, imposing unreasonable conditions on detainer acceptance, denying ICE access to interview incarcerated aliens, or otherwise impeding communication or information exchanges between their personnel and federal immigration officers.
A detainer is the primary tool used by ICE to gain custody of criminal aliens for deportation. It is a notice to another law enforcement agency that ICE intends to assume custody of an alien and includes information on the alien's previous criminal history, immigration violations, and potential threat to public safety or security.
The Center's last map update reflected listings in an
ICE report
published on March 20, 2017.
Opioid Overdoses May Have Been 24% Higher Than First Thought
4 / 56
The deadly drug overdose epidemic that has been ravaging the nation may be even worse than we realize.
A new University of Virginia study says the numbers of deaths due to heroin and opioid overdoses have actually been severely underreported.
Dr. Christopher Ruhm revisited thousands of death certificates from 2008 through 2014 and concluded the mortality rates were 24 percent higher for opioids and 22 percent higher for heroin than had been previously reported.
"Opioid mortality rate changes were considerably understated in Pennsylvania, Indiana, New Jersey and Arizona," the study states. "Increases in heroin death rates were understated in most states, and by large amounts in Pennsylvania, Indiana, New Jersey, Louisiana and Alabama."
Ruhm's awful arithmetic emerged just days after the presidential opioid commission, led by New Jersey Gov. Chris Christie, urged President Donald Trump to "declare a national emergency" to deal with the crisis.
Nearly 35,000 people across America have died of heroin or opioid overdoses in 2015, according to the National Institute on Drug Abuse.
"My message to members of a Presidential commission would be that getting the most accurate statistics possible is a crucial first step towards developing policies aimed at stemming the fatal drug epidemic," Ruhm told NBC News. "This is particularly important when we have scarce funds to allocate and so would want to target them at the hardest hit areas."
Ruhm contends that one of the reasons U.S. officials have been unable to win this war "is the lack of reliable information on the drugs causing fatal overdoses."
"This occurs when no specific drug is identified on the death certificates," he said in the study.
So Ruhm, a professor of public policy and economics, began poring over death certificate data from the federal Centers of Disease Control and Prevention.
He discovered that in 2014, a specific drug was not identified in 19.5 percent of fatal overdoses. And in 2008, that figure was even higher — 25.4 percent.
States like Rhode Island, Connecticut and New Hampshire specified the exact drug on death certificates 99 percent of the time "but only around half the time in Pennsylvania, Indiana, Mississippi, Louisiana and Alabama," Ruhm reported in his study.
Armed with that info, Ruhm estimated how many of those deaths could be blamed on heroin and how many on opioids.
His results? The national rate of fatal opioid overdoses jumped in 2014 from 9 per 100,000 people to 11.2 — and rate of fatal heroin overdoses climbed form 3.3 per 100,00 to 4.
Based on Ruhm's research, the drug problem in Pennsylvania is a lot worse than the CDC figures indicate.
The Keystone state was ranked 32nd by the CDC for opioid deaths for 2014, with 8.5 per 100,000. But Ruhm concluded the Keystone State actually has the seventh highest rate of opioid deaths that year with 17.8 per 100,000. And, based on Ruhm's calculations, it went from being the state with the 20th highest fatal heroin overdose rate to fourth.
Susan Shanaman of the Pennsylvania State Coroners Association, in an email to NBC News, said "there are many reasons that a Coroner may not list all the drugs on a death certificate," including federal and state privacy rules.
"The average family gets 20 copies of a death certificate of their loved one," she wrote. "These are used to close out bank accounts, transfer loan accounts, transfer titles to vehicles, claim insurance and the like. Not every family member wants the public to know what drugs were all found in the deceased."
Hard-hit Ohio's opioid death rate went from 18.2 per 100,000 (fifth highest in the country) to 20.5 per 100,000 (fourth highest in the country) in Ruhm's report.
Ohio also has the nation's highest rate of fatal heroin overdoses with 10.4 per 100,000. By Ruhm's reckoning, the rate is 11.2 per 100,000, which is also the highest in the country.
Unchanged in Ruhm's report is West Virginia's woeful ranking as the state with the highest rate of deadly opioid cases. But even there Ruhm concluded the death rate for opioids should have been 30.3 per 100,000 in 2014 instead of 29.9. And the state's fatal heroin overdose rate should have been 9 per 100,000 rather than 8.8.
Ruhm's research also buttresses earlier studies that identified the primary victims of this plague.
"Fatal overdose rates are higher for males than females, for whites than blacks or other non-whites," Ruhm said.
And the overdose death rates are highest for people ages 25 to 64 in the Rust Belt, in Appalachia and some western states.
"There are also pockets with high death rates in many other parts of