MEXICO: AMERICA'S DRUG DEALER!




The same period has seen a massive growth of social inequality, with income and wealth concentrated at the very top of American society to an extent not seen since the 1920s.




"This study follows reports released over the past several months documenting rising mortality rates among US workers due to drug addiction and suicide, high rates of infant mortality, an overall leveling off of life expectancy, and a growing gap between the life expectancy of the bottom rung of income earners compared to those at the top."




Not so 'green' after all: Pollution from illegal California marijuana farms is forming toxic waste dumps that span thousands of acres
In California, illegal marijuana farms are taking over thousands of acres of land as toxic wastes are increasingly corrupting ecosystems




California is responsible for the majority of illegal U.S. marijuana farming




New data says the state holds '731,000 pounds of solid fertilizer, 491,000 ounces of concentrated liquid fertilizer and 200,000 ounces of toxic pesticides.'




The United States Environmental Protection Agency announced in 2011 its planned to ban toxic fertilizers like zinc phosphide




Chemicals of the kind have been linked to serious health effects in both animals and humans



Illegal marijuana farms are taking over thousands of acres of land as toxic waste continues to corrupt ecosystems in areas along the West Coast.
According to a new report accessed by Reuters, the state of California, which is responsible for more than '90 percent of illegal U.S. marijuana farming,' has shown a drastic increase in the use of nationally restricted fertilizers and pesticides such as carbofuran and zinc phosphide, ecologists say.
'Increasingly, dangerous, unregistered pesticides are being encountered by law enforcement officers who investigate illegal marijuana grows,' Special Agent-in-Charge of the Environmental Protection Agency criminal enforcement program, Jay M. Green, announced in a public release.
Illegal marijuana farms are corrupting ecosystems on the West Coast
Thousands of used butane cans used to process concentrated marijuana dumped in the forest in Humboldt County, California
Fertilizer seen in a makeshift pond with irrigation hoses attached in order to funnel water to grow sites in Mendocino County is California
'Through their indiscriminate application, these unregistered pesticides pollute our lands and waters, create a significant safety risk to humans and animals, and present a mounting cleanup expense for taxpayers.'
Expert ecologist Mourad Gabriel, who reports over the issue for the U.S. Forest Service, said California is utilizing '41 times more solid fertilizers and 80 times more liquid pesticides' than the state's initial reported cited in 2013.
Chemicals of these kind have been linked to health defects and death in both animals and humans.
The agency cited 'a single swallow can be fatal to a small child, and carbofuran to be 'highly toxic to vertebrates and birds. In granular form, a single grain will kill a bird; for humans, one quarter of a teaspoon is a sufficient dose to be fatal.'
Ecologist Mourad Gabriel said California is utilizing '41 times more solid fertilizers and 80 times more liquid pesticides' than the state's initial reported amount in 2013
Blue tinted water with fertilizer at an illegal marijuana growing site in Mendocino County, California
The Environmental Protection Agency announced in 2011 the department would ban the inorganic chemical compound zinc phosphide.
Included in the unpublished data accessed by Reuters, Gabriel said federal land in California currently holds '731,000 pounds of solid fertilizer, 491,000 ounces of concentrated liquid fertilizer and 200,000 ounces of toxic pesticides.'
Illegal pot growers could face jail time and numerous charges for growing illegally, while taxpayers could expect to be left with hefty bills to aid in the sterilization of the toxic waste sites.
A pot growing greenhouse is nestled into a clearing in Shelter Cove
Taxpayers could expect to be left with hefty bills to aid in the sterilization of toxic waste sites
Since marijuana was legalized in the state of California, officials have been pushing to properly license growers and carefully supervise the production, testing and distribution of hemp.
Supervisor of Trinity County Keith Groves said there are roughly 4,000 illegal growers in the region currently.
'I'll be happy if we can get 500 of them to become licensed,' he told Reuters.
The expense and danger of cleanup has created a backlog of 639 illegal marijuana farms awaiting restoration in California, according to U.S. Forest Service data compiled for Reuters. Each farm covers up to 50 acres.
'We're getting contamination over and over again at those locations,' said Gabriel, as toxins move from unsafe containers into the soil and water.
At sites that state officials said they had cleaned up completely, his team found 30-50 percent of the chemicals were still there.
'They are like superfund sites,' said Assistant U.S. Attorney Karen Escobar,


Read more: http://www.dailymail.co.uk/news/article-4768664/Marijuana-farms-forming-toxic-waste-dumps-California.html#ixzz4p6uMK3Zb
Follow us: @MailOnline on Twitter | DailyMail on Facebook
Allen West: America Is Confused on Pot
There are times when I sense America is confused. I don't understand a culture that wants to pursue courses of action and policies detrimental to its very existence. How could anyone stand by an insidious declaration such as "sanctuary cities and states" and attempt to defend such an absurd proclamation? Either we're a sovereign nation of laws or we're not. Here in Texas we have a special legislative session over what is termed a "bathroom bill." It's amazing to me that we have special interests targeting the state of Texas, when they should have been asking, what place is it for the federal government to direct who goes to what bathroom … and how they will withhold federal funds without compliance? So, cities and states can disregard the rule of law on immigration but they cannot determine, within their states via the concept of federalism, who goes to what bathroom?
The federal government tells the states who can get married, and demand their obedience … while there are states who deny a constitutional right, the right to bear arms, to citizens.
I mean, just strip away the foolish emotions and ponder these issues on principle. If you did, you'd see we're really confused as a nation — well, some folks are.
And so it goes that I've found another instance of hypocrisy and confusion, which I will share.
"Last week, Senator Cory Booker introduced the Marijuana Justice Act in an effort to legalize marijuana across the nation and penalize local communities that want nothing to do with this dangerous drug.

"This is the furthest reaching marijuana legalization effort to date and marks another sad moment in our nation's embrace of a drug that will have generational consequences. Our country is facing a drug epidemic. Legalizing recreational marijuana will do nothing that Senator Booker expects. We heard many of these same promises in 2012 when Colorado legalized recreational marijuana. In the years since, Colorado has seen an increase in marijuana related traffic deaths, poison control calls, and emergency room visits.

"The marijuana black market has increased in Colorado, not decreased. And, numerous Colorado marijuana regulators have been indicted for corruption. In 2012, we were promised funds from marijuana taxes would benefit our communities, particularly schools. Dr. Harry Bull, the Superintendent of Cherry Creek Schools, one of the largest school districts in the state, said, 'So far, the only thing that the legalization of marijuana has brought to our schools has been marijuana.'

"In fiscal year 2016, marijuana tax revenue resulted in $156,701,018. The total tax revenue for Colorado was $13,327,123,798, making marijuana only 1.18 percent of the state's total tax revenue.

The cost of marijuana legalization in public awareness campaigns, law enforcement, healthcare treatment, addiction recovery, and preventative work is an unknown cost to date."
Ok, here is my issue, why are we worried about an opioid epidemic and wanting to throw $45 million worth of taxpayer funds at the problem, if we want national legalization of marijuana? After all, we say the war on drugs is a waste, a failure, so why try and stop the opioid epidemic?
If people want to take drugs, then should we just let them – let them take responsibility and suffer the consequences of their own personal decision. Someone in America is confused, the question is, who is it?
I've never smoked, consumed alcohol, or partaken in drug usage. So perhaps my analysis may not be the best. However, I'm one of those taxpayers asked to provide resources for more drug abuse programs. I don't mind doing so if we're seeking to help people struggling with substance abuse. But, if we're slowly descending towards being like an Amsterdam — nah, I ain't down with that.
The problem I see is that Senator Booker wants to drug up our American youth, and then turn them into substance abused dependents on the federal government. I've always prayed over our two daughters that they would never fall into the abyss of drug or alcohol abuse. So, at this critical time, why would Senator Cory Booker introduce a piece of legislation that promotes increased drug abuse, as the opinion piece writer presents?
Allen West is a retired Lieutenant Colonel in the United States Army. During his 22-year career, he served in Operation Desert Storm and Operation Iraqi Freedom, receiving many honors including a Bronze Star. In 2010, West was elected as a member of the 112th Congress representing Florida's 22nd District. He is a Fox News contributor and author of "Guardian of the Republic." Mr. West also writes daily commentary on allenbwest.com.
Editor's Note
: This piece was originally published by Colonel Allen West on
allenbwest.com
.
Sanctuary City Objects to Arrest of Accused Illegal Alien Child Molester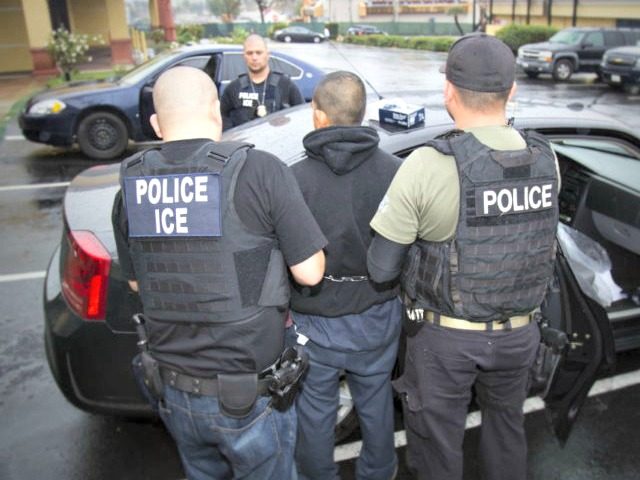 Officials in one California sanctuary city are upset after immigration agents arrested an illegal alien facing child molestation charges and another previously deported three times prior.
The recent arrest took place in Hayward, California, when officers with U.S. Immigration and Customs Enforcement (ICE) were looking for an illegal immigrant but in the course of their investigation, they found 42-year-old Jose Salgado and 34-year-old Antonio Valenzuela.
The arrest took place during an operation by ICE officers who were carrying out an enforcement operation targeting another individual in an unrelated case, said ICE Spokesman Jason Schwab. They determined that both men were in the country illegally and detained them. Salgado was arrested earlier this year by local authorities on a felony charge involving lewd and lascivious acts with a minor, Schwab said. Prior to his recent arrest by ICE agents, Salgado had not been previously encountered by federal authorities.
In the case of Valenzuela, the Mexican national was previously deported three times and had one conviction of driving under the influence.
Both men remain in federal custody.
Soon after the arrest, Hayward officials issued a statement expressing their concern over federal immigration arrests in the city. According to their statement, the circumstances leading to the arrest "are concerning because of the potential impact on the trust our officers and local government seek to maintain with all members of our community."
According to city officials, local law enforcement personnel are not allowed to cooperate with federal authorities in the enforcement of immigration law:
As a matter of policy, HPD and the City of Hayward employees do not seek to learn the immigration status of people with whom they come into contact in the course of providing law enforcement and other public services. No HPD officer or Hayward city employee may assist federal officials in the enforcement of U.S immigration laws. We are committed to equal treatment of all of our residents regardless of immigration status.
The City's refusal to cooperate with federal law enforcement officials in the enforcement of immigration laws follows the June 6 announcement where officials sought theclassification of sanctuary status.
"Fostering a relationship of trust, respect and open communication between city officials and residents is essential to the city's mission," the city's statement on the status revealed.
Robert Arce is a retired Phoenix Police detective with extensive experience working Mexican organized crime and street gangs. Arce has worked in the Balkans, Iraq, Haiti, and recently completed a three-year assignment in Monterrey, Mexico, working out of the Consulate for the United States Department of State, International Narcotics and Law Enforcement Program, where he was the Regional Program Manager for Northeast Mexico (Coahuila, Tamaulipas, Nuevo Leon, Durango, San Luis Potosi, Zacatecas.)
Illegal Alien Alleged Sex Offender Arrested near Canadian Border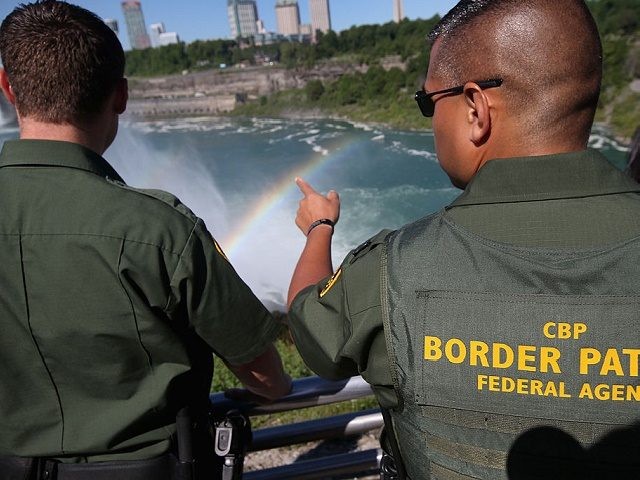 Border Patrol agents working out of the Buffalo Station in New York responded to a call about suspected illegal aliens at a gas station. After investigating, the agents arrested three, including one with an arrest warrant for indecent liberties with a child from North Carolina.
The agents received a call from a concerned citizen about possible illegal aliens at a gas station in Cheektowaga, New York. When the agents arrived on the scene, they observed a vehicle matching the description from the tipster and made contact. The agents identified themselves as Border Patrol agents and began questioning the driver and the three passengers, according to information obtained by Breitbart Texas from U.S. Customs and Border Protection officials.
Cheektowaga is a suburb of Buffalo, N.Y., and is located about 5 miles from the Canadian border.
The agents verified the driver to be a U.S. citizen. The three passengers admitted to being Mexican nationals who illegally entered the country by swimming across the Rio Grande River near Eagle Pass, Texas. The three Mexican nationals had no identification documents authorizing them to be in the U.S.
After taking the three foreign nationals into custody, agents conducted further background checks and learned that one of the men had an arrest warrant out of Mecklenburg, North Carolina. Agents confirmed the warrant to be based on a charge of alleged indecent liberties with a child.
The illegal alien with the arrest warrant and his two companions are being held at the Batavia Federal Detention Facility. He will be transferred to law enforcement officials in North Carolina when his extradition is approved. The second illegal alien is being charged with illegal re-entry after removal. The third illegal alien is being processed for removal.
"This arrest showcases the efforts of the men and women of the Buffalo Border Patrol Station and community vigilance in reporting suspicious activity to law enforcement. Apprehending and removing criminals from our communities allows us a safer place to live," Jeff Wilson, Patrol Agent in Charge of the Buffalo Border Patrol Station, said in a written statement.
Bob Price
serves as associate editor and senior political news contributor for Breitbart Texas. He is a founding member of the Breitbart Texas team. Follow him on Twitter
@BobPriceBBTX
and
Facebook
.
HOW MANY MILLIONS DOES YOUR COUNTY PAY OVER TO THE INVADERS TO KEEP THEM COMING AND VOTING DEM FOR MORE?
We've got an even more ominous enemy within our borders that promotes "Reconquista of Aztlan" or the reconquest of California, Arizona, New Mexico and Texas into the country of Mexico…. AND IT IS THE DEMOCRAT PARTY!
Map 1: Sanctuary Cities, Counties, and States
The sanctuary jurisdictions are listed below. These cities, counties, and states have laws, ordinances, regulations, resolutions, policies, or other practices that obstruct immigration enforcement and shield criminals from ICE — either by refusing to or prohibiting agencies from complying with ICE detainers, imposing unreasonable conditions on detainer acceptance, denying ICE access to interview incarcerated aliens, or otherwise impeding communication or information exchanges between their personnel and federal immigration officers.
A detainer is the primary tool used by ICE to gain custody of criminal aliens for deportation. It is a notice to another law enforcement agency that ICE intends to assume custody of an alien and includes information on the alien's previous criminal history, immigration violations, and potential threat to public safety or security.
The Center's last map update reflected listings in an
ICE report
published on March 20, 2017.
Opioid Overdoses May Have Been 24% Higher Than First Thought
4 / 56
The deadly drug overdose epidemic that has been ravaging the nation may be even worse than we realize.
A new University of Virginia study says the numbers of deaths due to heroin and opioid overdoses have actually been severely underreported.
Dr. Christopher Ruhm revisited thousands of death certificates from 2008 through 2014 and concluded the mortality rates were 24 percent higher for opioids and 22 percent higher for heroin than had been previously reported.
"Opioid mortality rate changes were considerably understated in Pennsylvania, Indiana, New Jersey and Arizona," the study states. "Increases in heroin death rates were understated in most states, and by large amounts in Pennsylvania, Indiana, New Jersey, Louisiana and Alabama."
Ruhm's awful arithmetic emerged just days after the presidential opioid commission, led by New Jersey Gov. Chris Christie, urged President Donald Trump to "declare a national emergency" to deal with the crisis.
Nearly 35,000 people across America have died of heroin or opioid overdoses in 2015, according to the National Institute on Drug Abuse.
"My message to members of a Presidential commission would be that getting the most accurate statistics possible is a crucial first step towards developing policies aimed at stemming the fatal drug epidemic," Ruhm told NBC News. "This is particularly important when we have scarce funds to allocate and so would want to target them at the hardest hit areas."
Ruhm contends that one of the reasons U.S. officials have been unable to win this war "is the lack of reliable information on the drugs causing fatal overdoses."
"This occurs when no specific drug is identified on the death certificates," he said in the study.
So Ruhm, a professor of public policy and economics, began poring over death certificate data from the federal Centers of Disease Control and Prevention.
He discovered that in 2014, a specific drug was not identified in 19.5 percent of fatal overdoses. And in 2008, that figure was even higher — 25.4 percent.
States like Rhode Island, Connecticut and New Hampshire specified the exact drug on death certificates 99 percent of the time "but only around half the time in Pennsylvania, Indiana, Mississippi, Louisiana and Alabama," Ruhm reported in his study.
Armed with that info, Ruhm estimated how many of those deaths could be blamed on heroin and how many on opioids.
His results? The national rate of fatal opioid overdoses jumped in 2014 from 9 per 100,000 people to 11.2 — and rate of fatal heroin overdoses climbed form 3.3 per 100,00 to 4.
Based on Ruhm's research, the drug problem in Pennsylvania is a lot worse than the CDC figures indicate.
The Keystone state was ranked 32nd by the CDC for opioid deaths for 2014, with 8.5 per 100,000. But Ruhm concluded the Keystone State actually has the seventh highest rate of opioid deaths that year with 17.8 per 100,000. And, based on Ruhm's calculations, it went from being the state with the 20th highest fatal heroin overdose rate to fourth.
Susan Shanaman of the Pennsylvania State Coroners Association, in an email to NBC News, said "there are many reasons that a Coroner may not list all the drugs on a death certificate," including federal and state privacy rules.
"The average family gets 20 copies of a death certificate of their loved one," she wrote. "These are used to close out bank accounts, transfer loan accounts, transfer titles to vehicles, claim insurance and the like. Not every family member wants the public to know what drugs were all found in the deceased."
Hard-hit Ohio's opioid death rate went from 18.2 per 100,000 (fifth highest in the country) to 20.5 per 100,000 (fourth highest in the country) in Ruhm's report.
Ohio also has the nation's highest rate of fatal heroin overdoses with 10.4 per 100,000. By Ruhm's reckoning, the rate is 11.2 per 100,000, which is also the highest in the country.
Unchanged in Ruhm's report is West Virginia's woeful ranking as the state with the highest rate of deadly opioid cases. But even there Ruhm concluded the death rate for opioids should have been 30.3 per 100,000 in 2014 instead of 29.9. And the state's fatal heroin overdose rate should have been 9 per 100,000 rather than 8.8.
Ruhm's research also buttresses earlier studies that identified the primary victims of this plague.
"Fatal overdose rates are higher for males than females, for whites than blacks or other non-whites," Ruhm said.
And the overdose death rates are highest for people ages 25 to 64 in the Rust Belt, in Appalachia and some western states.
"There are also pockets with high death rates in many other parts of
As sanctuary cities fight Trump, follow the money
LA made $1.3B in illegal immigrant welfare payouts in just 2 years