GLOBALIST AND OPEN BORDERS ADVOCATE MARK ZUCKERBERG IS A MAJOR DONOR TO THE MEX FASCIST PARTY of UNIDOSus - LA RAZA "The Race"
Facebook establishes new censorship centre in Germany
By Christoph Vandreier
11 August 2017
Facebook announced Wednesday that it would open a new control centre in Essen with 500 employees. The number of workers responsible for censoring and checking content in Germany will almost double as a result. The company has thus far only one such centre in Berlin.
Facebook has gone to great lengths to cover up the work of the control centres. While the training documents and internal guidelines for the workers have been kept strictly secret, the company organised a tour of the Berlin centre for selected media outlets a month ago.
The public broadcaster WDR, Die Zeit and Spiegel Online were permitted to look at locked screens and ask questions of workers specially primed for the occasion in the offices of Arvato, a subsidiary of Bertelsmann, which carries out the deletions for Facebook. All three media outlets focused their subsequent reports on the difficult working conditions of the employees and presented them as being responsible merely for deleting videos of brutal beheadings and child pornography.
In fact, millions of Internet users are being systematically censored in the hermetically sealed-off offices. Reports about the deletion of critical posts and the blocking of left-wing and progressive authors have risen rapidly in recent months.
Last December, for example, a post by the satirist Leo Fischer was deleted. Fischer placed the xenophobic headline of the right-wing Bild newspaper, "The great debate about refugees' perceptions of women," alongside the same newspaper's regular pictures of women in bikinis and took a picture of it. It was not only attacked by numerous right-wing extremists, but also deleted by Facebook, because the post allegedly breached the community's regulations.
With the same justification, Facebook blocked Austrian author Stephanie Sargnagel for 30 days. Her profile had been flagged by numerous right-wing and far-right users in a concerted campaign. Sargnagel had posted satirical comments against xenophobia and racism, and therefore ended up in the crosshairs of the far right and the Internet company.
Berlin-based blogger Jörg Kantel also reported that some of his posts were deleted. After the Bild seized on the violence surrounding the G-20 summit in Hamburg to publish unpixelated pictures of alleged rioters from Hamburg, Kantel wrote, among other comments, "Germany, a land of denunciators and surveillance. At least since 1933!" According to the blogger, Facebook deleted the post.
The list of censored authors could be extended at will. In addition, there are those who go unnoticed because they lack the prominence of the individuals involved in the cases discussed. The Guardian revealed on May 21 that Facebook was carrying out this work systematically. The newspaper obtained 100 training documents for the workers at the control centres and came to the conclusion that they were alarming for advocates of free speech.
While posts advocating extreme violence and brutal murder or containing insults were deemed unproblematic, the employees were ordered to immediately delete posts like "Someone shoot Trump," because as a head of government, Trump was part of a "protected category." Freedom of speech therefore only applies at Facebook so long as the government, which is considered worthy of protection, is not attacked.
This is an obvious violation of freedom of speech, which above all protects the population's right to criticise the government.
The close connections between the government and the major corporation's censorship apparatus is especially clear in Germany. Even though on July 1 only 1.5 percent of Facebook users came from Germany, 16 percent of Facebook's 7,500 censors will work in Germany by the end of the year when the new facility is up and running. At the end of June, the federal parliament passed the so-called Network Enforcement Law, which compels companies like Facebook to fulfill the responsibilities of a censor. Without any judicial ruling, the company must delete "obviously unlawful content" within 24 hours or face a fine of up to €50 million [$US 59 million]. The major companies are left to determine what "obviously unlawful" is.
The censoring of the Internet by the government and corporations is by no means restricted to Facebook. Google, the search engine monopoly, has disappeared entire websites from its search results, making them inaccessible to millions of readers.
This operation was also implemented in close consultation with German government circles. On April 25, Google's chief engineer of search, Ben Gomes, announced that Google would downgrade "low-quality" information such as "conspiracy theories" and "fake news."
Just three weeks earlier, Gomes met with representatives of all German state governments to discuss the functionality of search engines.
Google's censorship measures resulted in numerous anti-war websites and left-wing publications being massively downgraded. The World Socialist Web Site was targeted in particular, with its search traffic from Google declining by 67 percent.
The resort to such aggressive censorship by the government and major corporations can only be explained by mounting social conflicts. Policies of militarism and social attacks are being met with opposition from the vast majority of the working population. War and capitalism are incompatible with basic democratic rights.
This is why all of the parties represented in the German parliament are calling in their election programmes for the strengthening of the state apparatus and the censoring of the Internet. Concepts such as "fake news" or "hate speech" serve in this context to justify state repression. The lies of the major media outlets and agitation by all parties against refugees, by contrast, are being spread without hindrance.
In its programme, the Social Democratic Party (SPD) describes "fake news" as "a great danger for peaceful coexistence and for a free and democratic society." Therefore, it calls for the "better training and equipping of police authorities and judicial system in this area." The SPD intends to retain the Network Enforcement Law and cut the "reaction times" even more. "Anybody failing to abide by the provisions will be punished with painful financial penalties."
The Left Party also calls for more police and for action to be taken against "verbal attacks" online. "We want to protect the security of citizens in public spaces with more personnel," their election programme states. "On social networks, as in public spaces in general, protection against verbal attacks, hate speech and character assassination must be enforced."
It is no coincidence that this choice of words recalls the campaign of leading media outlets against the World Socialist Web Site and the International Youth and Students for Social Equality. Because they criticised right-wing extremist statements, which were subsequently confirmed as such by a court, from Humboldt University Professor Jörg Baberowski, accusations of "bullying" and "character assassination" were directed against them.
The Frankfurter Allgemeine Zeitung complained shortly prior to Gomes' visit to Berlin about "how impactful the Trotskyist splinter group is," and demanded the WSWS be censored—a demand that Google has since fulfilled.
Democrats Threaten Gov't Shutdown To Block Border Wall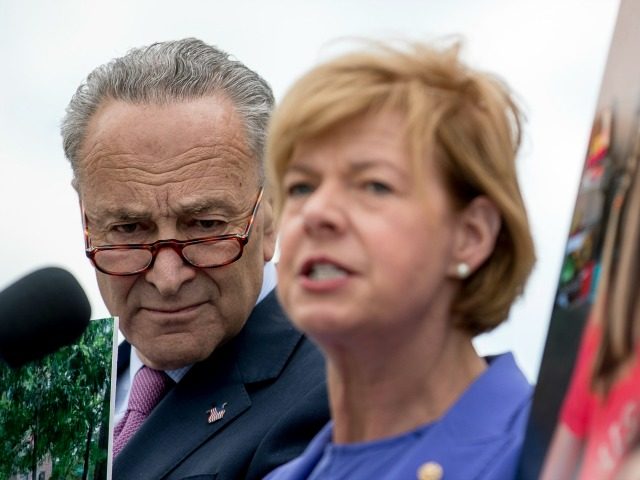 Democrats are threatening to shutter many government agencies on October 1 unless President Donald Trump gives up his popular campaign promise to build the border wall against Mexico, according to Politico.
In response, Trump's deputies are offering political compromises to Democrats, including a rise in domestic spending, says Politico:
The White House is pushing a deal on Capitol Hill to head off a government shutdown that would lift strict spending caps long opposed by Democrats in exchange for money for President Donald Trump's border wall with Mexico, multiple sources said.

Marc Short, the White House's director of legislative affairs, met with top staffers from both parties on the Senate Appropriations Committee last week to make a hard sell for the proposal, the sources said.

Short — who said the border funding would be used for a "double fence" — stressed that the White House is insisting on a down payment for construction this fall. Short also lobbied for a big budget increase for the Pentagon, another priority for Trump.
If Democrats block the spending plan, many government agencies will have to send their employees home. But national security agencies, and various aid programs, such as the Social Security program, would keep operating.
Trump's pending request for an October funding package of $1.6 billion would help build roughly 62 miles of border wall. In May, Democrats — aided by a passive GOP leadership — blocked a 2017 funding package that would have helped quickly build 42 miles of wall.
Led by Sen. Chuck Schumer, Democrats are hoping to block any wall construction, so protecting the northward flow of government-dependent workers to Democratic-run cities, and also breaking Trump's 2016 primary campaign promise.
But Democratic politicians are also being squeezed between their radical base and popular opinion, which favors Trump's immigration reform plans. For example, Politico reported that Sen. Tammy Baldwin is opposing the border fence. "I do know for a fact that every [Democrat] considers wall funding to be a poison pill," she told Politico.
But a recent poll shows that Trump's immigration reform gets overwhelming support in Wisconsin where Baldwin must faced the voters in 2018. The June poll of 1,000 likely midterm voters was conducted for NumbersUSA, which favors Trump's merit immigration reform. For example, the poll asked:
Do you strongly support, somewhat support, somewhat oppose or strongly oppose setting up rules to ensure that businesses give first preference for jobs to American workers and legal immigrants already in this country before businesses can ask for new immigrant workers?
The proposal won 53 percent strong support, and only 6 percent strong opposition, said NumbersUSA.
The NumbersUSA group also polled in Montana, where Democratic Sen. Jon Tester is also up for election in 2018. He suggested to Politico that he could support Trump's double-layer fence, saying: "There are places where the wall makes sense, and there are places where the wall doesn't make sense and there are better options … I'll just take a look at it and see."
Eight additional Democratic Senators are up for election in 2018 in states where Trump won.
In 2014, Schumer and Democrats lost 10 Senate seats after trying to push through the so-called "Gang of Eight" cheap-labor and amnesty bill.
Under pre-Trump policies, the federal government annually imports 1 million legal immigrants into the United States, just as 4 million young Americans turn 18.
The federal government also awards roughly 1.5 million temporary work permits to foreigners, grants temporary work visas to roughly 500,000 new contract workers, such as H-1B workers, and also largely ignores the resident population of eight million employed illegal immigrants.
The current annual flood of foreign labor spikes profits and Wall Street values by cutting salaries for manual and skilled labor offered by blue-collar and white-collar employees. It also drives up real estate prices, widens wealth-gaps, reduces high-tech investment, increases state and local tax burdens, hurts kids' schools and college education, and sidelines at least 5 million marginalized Americans and their families.
DHS: 23% of all federal prisoners are illegals, just 7 of 42,034 saved from deportation
Nearly one-quarter of all federal inmates are illegal immigrants and virtually all are in deportation proceedings or already face removal orders, according to a new Homeland Security report.
The Justice Department's Bureau of Prisons, fulfilling a presidential executive order requiring transparency on prisoner immigration status, said that it houses 187,855 inmates of which 42,034 are foreign born.
The DHS report said that only seven of those 42,034 have been granted deportation "relief." According to DHS:
19,749 (46.9 percent) are aliens who have received final orders of removal.

21,121 (50.2 percent) are aliens who are under ICE investigation for possible removal.

1,157 (2.8 percent) are aliens whose cases are pending adjudication before an Immigration Judge in the Executive Office of Immigration Review (EOIR).

7 (.0002 percent) are aliens who have been granted relief.
Homeland also said that the U.S. Marshal Service has a similar breakdown in its cells. Of 50,135 they've detained, 12,005 "self-report" as illegals. They are all in some type of deportation proceeding:
9,857 (82.1 percent) are aliens who have received final orders of removal.

2,047 (17.1 percent) are aliens whose cases are still pending adjudication before an immigration judge in the EOIR.

101 (.8 percent) are aliens still pending adjudication (U.S. Immigrations and Customs Enforcement has charged these aliens as removal cases, but a final disposition has not yet been reached.)
According to experts the percentage of prisoners who are illegal immigrants is down slightly, but still remain a significant population.
Jessica M. Vaughan,
director of policy studies for the Center for Immigration Studies, said "For a long time the number of non-citizens serving time in federal prison has been disproportionate to their share of the population. This is because a disproportionate number are border-related crimes, such as human smuggling and drug trafficking, and some are immigration offenders. These crimes are most often committed by citizens of other countries, and these numbers show why we need to control our borders."
Under Trump, she added, the percentage is likely to go higher.
She also said that the numbers show that illegal immigrants with criminal records need to go. Vaughan told Secrets:
"This does not mean that non-citizens are more criminal than Americans, but it does mean that they clearly are not less criminal, and that there are certain crimes that are more closely associated with non-citizens, and certain crimes that are taking place because we do not have a secure border. When we do, and when all criminal aliens are deported instead of released, then the proportion of non-citizens in federal prison will go down."
Paul Bedard, the Washington Examiner's "Washington Secrets" columnist, can be contacted at pbedard@washingtonexaminer.com
ICE Busts 36 Sex Offender Criminal Aliens in Sanctuary City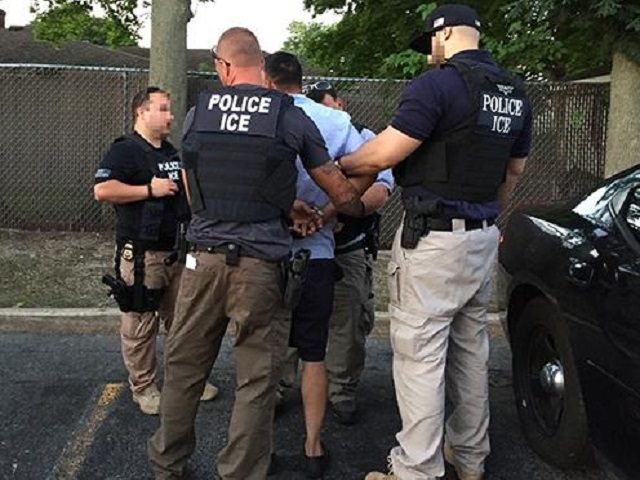 Enforcement Removal Operations (ERO)


officers of the Immigration and Customs


Enforcement (ICE) agency arrested 32


criminal aliens previously convicted of sex


crimes in the sanctuary jurisdiction of Long


Island, New York. The arrests came during


Operation SOAR (Sex Offender Alien


Removal), a 10-day operation that ended on


August 3.
ERO officers rounded up 32 criminal aliens previously convicted of sex crimes including sexual abuse, sexual assault on young children, rape, child endangerment, and promoting sexual performance of a child. The previously convicted are reported to have illegally entered the U.S. from Dominican Republic, Ecuador, El Salvador, Guatemala, Haiti, Honduras, India, Mexico, Peru, Trinidad and Tobago, according to information obtained by Breitbart Texas from U.S. Immigration and Customs Enforcement officials.
ICE officials reported a sampling of those arrested including:
A 24-year-old Salvadoran national who was arrested and charged criminally with first degree sexual abuse and sexual contact with a victim less than 11 years old. Criminal charges are still pending. The victim in this case is a 4-year-old female. He was arrested in Wyandanch, Aug. 3 and will remain in ICE custody pending removal from the United States.
A 36-year-old national of Guatemala with a prior conviction of second degree rape and endangering the welfare of a child. The victim in this case was a 13 year old female. He was sentenced to six months in jail and 10 years of probation supervision. The registered
Level 1 sexual offender was arrested in Brentwood Aug. 2 and will remain in ICE custody pending removal proceedings.
A 32-year-old Honduran man with prior convictions of criminal sexual act in the third degree, forcible touching, endangering the welfare of a child and sexual abuse in the third degree. He was sentenced to 10 years of probation supervision. The victim in this case was a 15 year-old female. He also has prior convictions of driving while intoxicated. This registered Level 1 sex offender was arrested in Brentwood, Aug. 1 and will remain in ICE custody pending removal proceedings.
A 38-year-old citizen and national of Ecuador with a prior conviction of the sexual misconduct with a 15 year-old female victim. He was arrested in Central Islip, Aug. 1 and will remain in ICE custody pending removal proceedings.
A 55-year-old Salvadoran man convicted of second degree rape and sentenced to one year in jail. The victim in this case was 12 years old. He was arrested in Copiague, July 27 and will remain in ICE custody pending removal from the United States.
A 21-year-old Haitian man with a prior conviction of two counts of promote a sexual performance by a child less than 17 years of age and sentenced to 10 years of probation supervision. The victims in this case were both 15 years of age. He was arrested in Riverhead, July 27 and will remain in ICE custody pending removal proceedings.
A 36-year-old Salvadoran man convicted of third degree rape and sentenced to 10 years of probation supervision. The victim in this case was 15 years old. He was arrested in Glen Cove, July 25 and will remain in ICE custody pending removal proceedings.
A 46-year-old Salvadoran national with a prior conviction of endangering the welfare of a child was sentenced to three years' probation. The original charge was sexual abuse in the first degree: sexual contact with an individual less than 11 years old. The victim in this case was 7 years old. He was arrested in Mineola, July 25, and will remain in ICE custody pending removal proceedings.
A 45-year-old citizen of Trinidad and Tobago convicted of third degree rape of a victim incapable of consent and sentenced to 5 years of probation supervision. This Level 1 sex offender was arrested in East Hampton, July 29 and will remain in ICE custody pending removal proceedings.
The criminal history of the illegal aliens arrested, many of whom received previous deportations, include: acting in a manner to injure a child, assault, third degree attempted rape, burglary, attempted sexual abuse, criminal sex act, endangering the welfare of a child, endangering the welfare of a physically disabled person, forcible touching, promoting a sexual performance by a child, public lewdness, first degree rape, second degree rape, third degree rape, reckless endangerment, first degree sexual abuse, second degree sexual abuse, sexual abuse, forcible compulsion, sexual contact with an individual incapable of consent and sexual misconduct.
"ICE's continuing commitment to making our communities safer is underscored by operations like this one targeting sexual offenders. These actions focus our resources on the most egregious criminals and promote public safety in the communities in which we live and work," New York Field Office Director Thomas R. Decker said in a written statement. "ERO officers are out there every day enforcing immigration law with targeted enforcement actions. ICE will not waiver in its promise to arrest and remove criminal aliens from our neighborhoods."
Bob Price
serves as associate editor and senior political news contributor for Breitbart Texas. He is a founding member of the Breitbart Texas team. Follow him on Twitter
@BobPriceBBTX
and
Facebook
.
AMERICA UNRAVELS:
Millions of children go hungry as the super- rich gorge themselves.
*
"The top 10 percent of Americans now own roughly three-quarters of all household wealth."
*
"While telling workers there is "not enough money" for wage increases, or to fund social programs, both parties hailed the recent construction of the U.S.S. Gerald Ford, a massive aircraft carrier that cost $13 billion to build, stuffing the pockets of numerous contractors and war profiteers."
LOS ANGELES: MEXICO'S ANCHOR BABY BREEDING FACTORY FOR 18 YEARS OF WELFARE. JUMP THE BORDERS, GET YOUR CHECK IN THE MAIL THE NEXT DAY!
"La Voz de Aztlan has produced a video in honor of the millions of babies that have been born as US citizens to Mexican undocumented parents. These babies are destined to transform America. The nativist CNN reporter Lou Dobbs estimates that there are over
200,000 (dated)
"Anchor Babies" born every year whereas George Putnam, a radio reporter, says the figure is closer to
300,000 (dated)
.
La Voz de Aztlan believes that the number is approximately
500,000 (dated)
"Anchor Babies" born every year."
*
In the state of California, of which Los Angeles is a large part, most payouts to illegals go first to educate them, and then to jail them after they commit crimes, and then to pay for their medical care as they clog up emergency rooms and help themselves to Medi-Cal benefits from funds they never paid into. Welfare itself rates a distant fourth.
JUDICIAL WATCH:
ILLEGALS VOTING IN MASSIVE NUMBERS IN MEX-OCCUPIED CA
''California is going to be a Hispanic state," said Mario Obeldo, former head of MALDEF. "Anyone who does not like it should leave."
And M.E.Ch.A's goal is even more radical: an independent ''Aztlan,'' the collective name this organization gives to the seven states of the U.S. Southwest – Arizona, California, Colorado, Nevada, New Mexico, Texas and Utah." (GUBENATORIAL CANDIDATE and FORMER MAYOR OF MEX-OCCUPIED LOS ANGELES, IS A MEMBER OF THE MEX FASCIST SEPARATIST PARTY of M.E.Ch.A.)
CALIFORNIA MOVES CLOSER TO FINAL ANNEXATION BY MEXICO
DE FACTO CITIZENSHIP PER LA RAZA:
NO TEST, NO BACKGROUND CHECKS ON CRIMINALITY, NO BACK TAXES, NO
FINES.... JUST JUMP STRAIGHT TO VOTING BOOTHS! AND VOTE OFTEN!!!
In 2013, California lawmakers passed legislation that allowed illegal aliens to obtain driver's licenses if they can prove to the Department of Motor Vehicle (DMV) their identity and state residency. The plan was one of the largest victories to date by the open borders lobby

.… JOHN BINDER –

BREITBART.com