MUSLIMS ARE DOING TO EUROPE WHAT MEXICANS


HAVE DONE TO AMERICA....
JUMP THE


BORDERS,
BREED
ANCHOR BABIES
FOR WELFARE...


VOTE FOR
MORE.
AMERICA vs MEXICO:
CLASHING CULTURES
more at this link
– post on your Facebook and email broadcast
Mexicans cheat, distribute drugs, lie, forge documents, steal and kill as if it's a normal way of life. For them, it is. Mexico's civilization stands diametrically opposed to America's culture.
HERITAGE FOUNDATION:
Amnesty would add 100 million more illegals and cost Legals trillions
!
Once a Muslim, ALWAYS a murderer!
Praise be to Allah the great fornicating dog!
"The Times
also reported the story of one 13-year-old victim who was
collected from a children's home, drugged with cocaine and mephedrone,
and raped by up to seven men at so-called "sessions", or sex parties, held by
MEXICO WILL DOUBLE AMERICA'S POPULATION
IMMIGRANT SHARE OF ADULTS QUADRUPLED IN 232 COUNTIES
Christian Refugee Warns Austria Will Look Like Afghanistan in 20 Years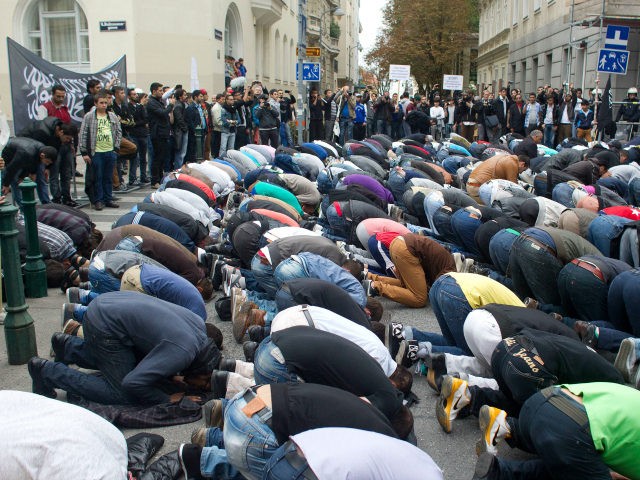 An Iraqi Christian refugee has warned lawmakers that Islamic asylum seekers want to take over Austrian society and without legal intervention, they could succeed in two decades.
The Iraqi Christian, using the pseudonym "Maria", spoke to Austrian television this week describing her personal experiences with Muslim asylum seekers living in Austrian asylum homes where she volunteered as a counsellor.
According to Maria, who fled persecution in Iraq, many Muslim migrants talk to each other about eventually taking over the country,
Kronen Zeitung
reports
.
"Religion is the core of every conversation" between Muslim asylum seekers, Maria told interviewer Gerhard Koller. Maria said that Islamic thought was omnipresent in the societies many Muslim asylum seekers had come from.
"They do not know otherwise. What do you expect from such people who come to Austria with this ideology in their heads?" she said.
She remarked that many of the Muslims were "astonished" that Austria's society was so liberal and they were shocked at the principles of religious freedom. "The freedom of religion goes too far in Austria," Maria said.
She warned that many radical Islamic groups were present in asylum homes, a trend which has also
been observed
by authorities in Germany.
"They tell them that they can quietly live their religion here and that Austria will soon be theirs," she said.
The former counsellor then gave a warning to Austrian lawmakers saying that countries like Iraq, Egypt, and Syria were moderately liberal societies 40 to 50 years ago but have radically changed. "We used lived in a liberal society," she said.
"I always say that special times need special rules and laws," Maria claimed and added: "The politicians must intervene, otherwise Austria will be in a maximum of 20 years as Afghanistan is today."
One of the most prominent Austrian politicians against Islamisation has been Freedom Party (FPÖ) leader Heinz-Christian Strache who vowed to
ban Islamisation
and radical Islamists. The FPÖ currently polls in second for the upcoming election in October leading many to speculate they will enter government for the first time since the early 2000s.
The charity which Maria worked for said they had not received any similar complaints from other workers and confirmed she had worked with them for six months.
Maria's account is similar to that of a German investigative journalist who went
undercover
in asylum homes across Germany last year. Pakistan-born journalist Shams Ul-Haq said that radical Islamic thought was rife in asylum homes across the country and that radical Islamic Salafists would spread rumours to inflame the anger of migrants in order to recruit them.
France's foremost expert on radical Islam Gilles Kepel has said there is potential that radical Islamists could lead Europe down a path to "
civil war
" in which they hope to emerge from the ensuing chaos and assert Islamic dominance over Europe.
Follow Chris Tomlinson on Twitter at @TomlinsonCJ or email
at ctomlinson(at)breitbart.com
Notice how we never hear the phony populist Trump talking about E-VERIFY!
AMERICA: NO LEGAL NEED APPLY!
"The percentage of foreign-born workers in the U.S. labor force has more than tripled over the last four decades and while the U.S. represents just 5 percent of the world's population it attracts 20 percent of the world's immigrants, according to a new report."
Open the floodgates of our welfare state to the uneducated, impoverished, and unskilled masses of the world and in a generation or three America, as we know it, will be gone.
Those most impacted are middle class and lower middle class. It is they whose jobs are taken, whose raises are postponed, whose schools are filled with non-English speaking children that absorb precious resources for remedial English, whose public parks are trashed and whose emergency rooms serve as the local clinic for the illegal underground.
In Mex-occupied CA, Mexican gangs now commit nearly half of all murders. In Los Angeles, Mexicans commit 93% of the murders. Really want open borders?
WHILE YOU WERE SLEEPING, MEXICO WAS LOOTING, MURDERING and SENDING BILLIONS BACK TO MEXICO!
THE COUNTY OF MEX-GANG INFESTED LOS ANGELES PUTS OUT ONE BILLION DOLLARS TO ILLEGALS!
ONE AMERICAN COUNTY….under Mex occupation
LOS ANGELES COUNTY HANDS MEXICO'S ANCHOR BABY BREEDERS MORE THAN A BILLION PER YEAR.
IN THE CITY OF LOS ANGELES, MEXICANS COMMIT 93% OF THE MURDERS!
America surrenders its borders to the MEXICAN FASCIST PARTY of LA RAZA, now masquerading as UNIDOSus.
An American immigrant is not someone supported by government funds in a "relocation" center; flown over here at government expense; given a cash allowance, free housing, and medical care; and then eased onto local public assistance: Section 8 rental grants, food stamps, WIC, AFDC, clothes from one government-sponsored charity or another, Medicaid, and public schooling, with free lunch and breakfasts and even help with furniture.
That's not an immigrant. That's a future Democrat voter.
----- RICHARD F. MINITER – AMERICAN THINKER COM
THE LA RAZA LOOTERS: THEY ALL VOTED DEMOCRAT FOR MORE WELFARE!
ILLEGALS VOTING IN MASSIVE NUMBERS IN MEX-OCCUPIED CA
''California is going to be a Hispanic state," said Mario Obeldo, former head of MALDEF. "Anyone who does not like it should leave."
And M.E.Ch.A's goal is even more radical: an independent ''Aztlan,'' the collective name this organization gives to the seven states of the U.S. Southwest – Arizona, California, Colorado, Nevada, New Mexico, Texas and Utah." (GUBENATORIAL CANDIDATE and FORMER MAYOR OF MEX-OCCUPIED LOS ANGELES, IS A MEMBER OF THE MEX FASCIST SEPARATIST PARTY of M.E.Ch.A.)
MEXICO WILL DOUBLE U.S. POPULATION
The LA RAZA ANCHOR BABY BREEDERS FOR WELFARE
MEXICO WILL DOUBLE AMERICA'S POPULATION
IMMIGRANT SHARE OF ADULTS QUADRUPLED IN 232 COUNTIES
"La Voz de Aztlan has produced a video in honor of the millions of babies that have been born as US citizens to Mexican undocumented parents. These babies are destined to transform America. The nativist CNN reporter Lou Dobbs estimates that there are over
200,000 (dated)
"Anchor Babies" born every year whereas George Putnam, a radio reporter, says the figure is closer to
300,000 (dated)
.
La Voz de Aztlan believes that the number is aproximately
500,000 (dated)
"Anchor Babies" born every year."