IT'S ALL ABOUT KEEPING WAGES DEPRESSED AND PASSING ALONG
THE ILLEGALS' WELFARE AND CRIME COSTS TO THE AMERICAN
Two Previously Deported MS-13 Gang Members, Child Rapist Arrested at Border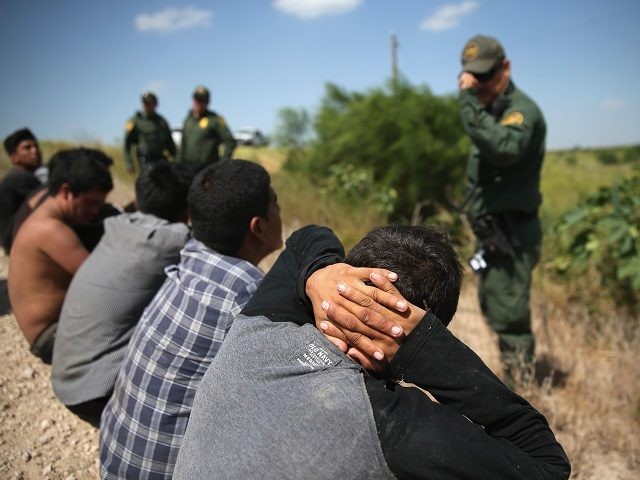 Border Patrol agents arrested two previously-deported MS-13 gang members and a convicted child rapist after they illegally snuck across the Arizona border. The arrests occurred in three separate smuggling attempts.
Federal authorities arrested 31-year old Eugenio Franco shortly after he had illegally crossed into the country just west of Nogales, Arizona, information provided to Breitbart Texas by the U.S. Border Patrol revealed. While processing the foreign national, authorities determined Franco to be an illegal alien from Mexico with a long criminal history in the U.S. He is also a known member of the MS-13 criminal gang.
While carrying out regular patrols in the desert area near Arivaca, Arizona, federal authorities also arrested 41-year-old Julio Santos, an illegal alien from El Salvador. During processing, authorities discovered the man had a long criminal history in the U.S. He is also a known MS-13 gang member.
Shortly after the arrest of the two MS-13 gang members, authorities arrested another Mexican national, 42-year-old Fernando Lopez De La Cruz, near Tucson. While processing De La Cruz, authorities learned the man had been deported and is a convicted sex offender. A Washington state court convicted De La Cruz and sentenced him to 71 months in prison on the charges of rape and attempted rape of a child.
The discovery of the two MS-13 gang members and the convicted sexual predator was made possible after border patrol agents processed the illegal aliens at the station by taking their photograph and fingerprinting them in order to find out if they are known to law enforcement.
Law enforcement officials nationwide are targeting MS-13 members, many of which are illegal aliens with violent criminal records. In October 2012, the U.S. Department of Treasury labeled the group a "transnational criminal organization," the first such designation for a street gang. During a 10-year period between 2005 and 2014, officials arrested 4,000 members of MS-13 — 92 percent of those were in the United States illegally — according to information provided by the Center for Immigration Studies.
Recently, the state of New York announced the deployment of a new Gang Violence Prevention Unit specifically tasked with combating the MS-13 crisis in Suffolk County, Breitbart Texas

reported

. The unit consists of ten state police troopers, who are being deployed to the top ten high-risk Suffolk County schools that currently serve as ground zero for gang activity and recruitment.
Most gang experts believe that the presence of illegal alien gangs in U.S. communities is due to decades of failure on the part of our federal government to secure our southern border and policies that allow such criminals to find sanctuary on U.S. soil.
Robert Arce is a retired Phoenix Police detective with extensive experience working Mexican organized crime and street gangs. Arce has worked in the Balkans, Iraq, Haiti, and recently completed a three-year assignment in Monterrey, Mexico, working out of the Consulate for the United States Department of State, International Narcotics and Law Enforcement Program, where he was the Regional Program Manager for Northeast Mexico (Coahuila, Tamaulipas, Nuevo Leon, Durango, San Luis Potosi, Zacatecas.)
CATASTROPHIC CRIME SURGE IN MEX-
Half the murders in Mexifornia are now by
Mex gangs!
Border Wall Prototype Construction Begins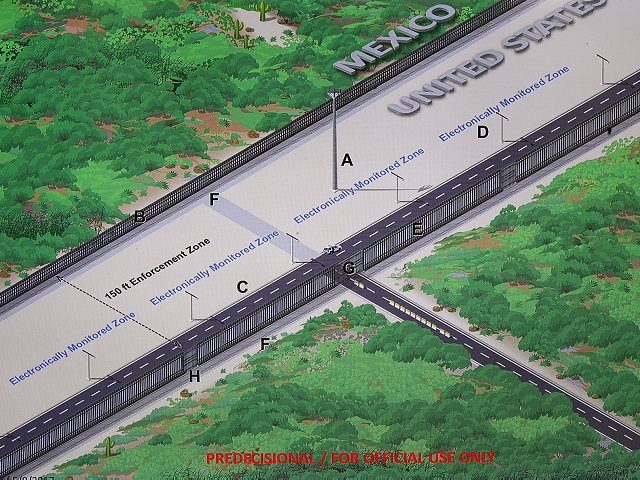 The construction of President Donald Trump's promised prototype border wall began on Tuesday. Six companies that won the competitive bidding process will begin testing various types of walls.
"Today is the day the dirt actually moves," Fox's Adam Housley reported from the area. He said it will take about a week or two before anything significant is constructed.
Just a few weeks ago, the finalists were announced by U.S. Customs and Border Protection, Breitbart News' Michelle Moons reported in August.
The companies selected to build the eight prototypes were:
Caddell Construction Co. (DE), LLC of Montgomery, AL
Fisher Sand & Gravel Co., DBA Fisher Industries of Tempe, AZ
Texas Sterling Construction Co. of Houston, TX
W.G. Yates & Sons Construction Company of Philadelphia, MS
"The concrete border wall prototypes will allow CBP to evaluate the potential for new wall and barrier designs that could complement the wall and barrier designs we have used along the border over the last several years," CBP officials stated. "As the border security environment continues to evolve, CBP will continually refresh its own inventory of tools to meet that evolution."
The prototypes will be built in the San Diego Sector in southern California.
Officials are working on establishing a "free-speech zone," where protesters will be allowed to express their opinions.
U.S. Customs and Border Protection and San Diego Sheriff's Department vehicles could be seen driving in the area on Monday in advance of the construction startup.