Speaker Ryan Asks GOP Panel For Amnesty Plan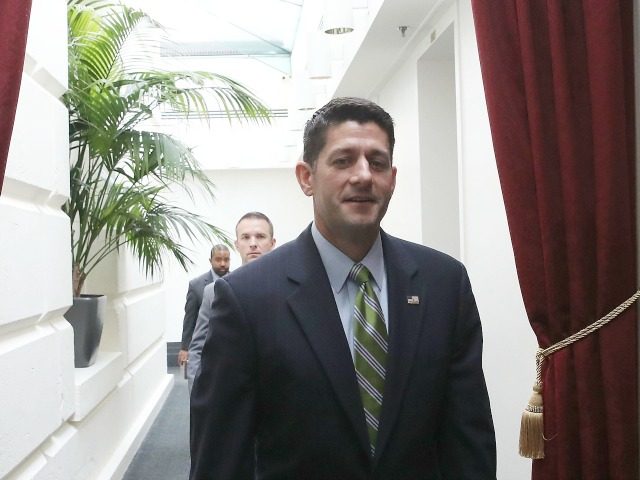 House Speaker Paul Ryan has created a ten-member panel to draft a response to President Donald Trump's no-wall agreement to support the Democrats' huge 'dream' amnesty for at least 3 million illegals.
The GOP panel includes several moderates, such as House Judiciary Chairman Bob Goodlatte, a former immigration lawyer who has seen his own state of Virginia turn from Republican to Democratic amid a huge inflow of white-collar guest-workers and cheap-labor immigrants.
The panel also includes amnesty-boosters, such as Florida Rep. Mario Diaz-Balart, who crafted a still-secret amnesty deal with Ryan in 2014 that was torpedoed by the primary defeat of Majority Leader Rep Eric Cantor. According to Politico, Texas Rep. Will Hurd and Arizona Rep. Martha McSally also are on the panel, complete with their low-ranking D and F- ratings from the NumbersUSA immigration watchdog group.
Ryan also sits on the panel and will make most decisions because he has to decide whether he wants the panel to help pass alternative legislation, or else to help stall the Trump/Schumer amnesty until it dies in the Spring when legislators begin to worry about 2018 primaries and elections.
Ryan's private priorities are key. He a long record from the 1990s favoring mass-immigration and "any willing worker" legislation which allows companies to import foreign workers whenever wages rise. His statements and his records show that he favors some form of amnesty deal, likely packaged with provisions for more foreign workers and some modest border security measures.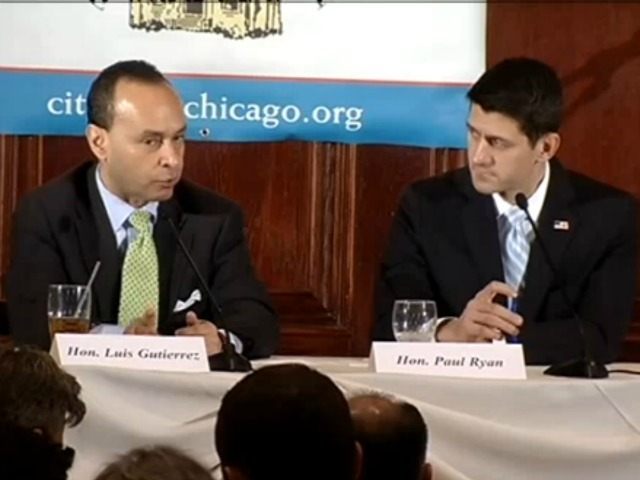 But any immigration-boosting deal will likely split the GOP from top to bottom, as it did in 2014 and again in 2016 when Donald Trump won the GOP primaries.
Moreover, any pro-business amnesty deal will immediately destroy the GOP's congressional leverage against Democrats because the amnesty will convince Democrats that the extra inflow of migrants will soon give them permanent political power without any need for negotiations, debates or even respectful treatment of the GOP and its voters. That process has already flipped California from a GOP-leaning state into a Democratic state of wealthy liberals and many poor, government-dependent voters, where GOP politicians have not won a statewide election in years.
That is a key strategic issue facing the GOP's business-funded establishment wing, even as it faces growing anger from the GOP's base voters who are angered by the business-funded influx of cheap labor, illegal-immigrant crime, civic controversies and crowded classrooms. Since Trump's election, Ryan has rebuffed voters' demands for pro-American immigration bills and has passed smaller-scale cheap-labor measures to aid business.
This week, Ryan rejected Trump's huge amnesty deal with Senate Majority Leader Chuck Schumer and explained his public views on immigration — but many pro-American reformers fear his stated support for border security is a face-saving prelude to a big amnesty-and-cheap-labor sellout. Ryan said:
You cannot fix DACA without fixing the root cause of our problem: We do not have control of our borders, so we need border security and enforcement as part of an agreement.
In a longer talk with AP editors, Ryan described GOP's members' stated explanation for rejecting Trump's amnesty:
The problem our members have, legitimately, is what they really worry about, is that if we don't actually get security of our borders and enforce our laws, then we are just going to make the same mistakes as did in the past, and that is why we have to have these [border security] things dealt with … doing border security should not be a negotiable thing, we should have security of our borders.
Ryan also explained why he wants companies to be able to hire foreign workers, instead of being pressured to develop labor-saving devices whenever Americans' salaries rise:
We've got labor shortages in areas like agriculture and high-tech that are holding back growth and I really do belives we need to fix this entire system. I don't think we can do it one big bill. I just never thought those [comprehensive] efforts could work, be succesful because they will collapse under their own weight.
Ryan's repeated call for more imported dairy workers — whose wages are determined by the central government in D.C. — contrasts with Wisconsin's farmers' increasing use of American-built robotic cow-milkers.
In the AP interview, Ryan partially endorsed a popular Trump-backed Senate merit-immigration plan but did not endorse a similar bill drafted by Rep. Lamar Smith, the chairman of the House committee on science.
I actually like the idea of moving to a merit-based immigration system for the economy's needs. I think that makes a lot of sense. I think it is [Sen. Tom] Cotton and [Sen. David] Perdue who have a bill over in the Senate, the RAISE Act … it has a lot of merit. Whether the numbers [in the bill for annual legal immigration are proper,] that should be negotiated … But moving from what people describe as "chain migration" to a skills-based, merit immigration system makes a lot of sense, while keeping nuclear families intact … In this economy going forward, boomers [are] retiring, we are going to need skills, people with skills.
Ryan did not ask Smith to serve on the panel.
Several members of Ryan's panel score well on the rating system maintained by NumbersUSA, but also have very poor sub-ratings for their past votes in job-outsourcing guest worker programs. That group includes Idaho Rep. Raul Labrador, Wisconsin Rep. Jim Sensenbrenner, Texas Rep. John Carter and Texas Rep. Michael McCaul. House Majority Leader Kevin McCarthy, is also on the panel, with an overall score of C+ from NumbersUSA, and an outsourcing score of F-.
The members' low outsourcing scores reflect the huge influence of local farmers and business groups — retailers, meat packers, restaurant chains, auto sellers, etc. — on the members' routine votes. However, legislators often demonstrate support for these local business groups by casting insincere votes for or against some proposal in legislation, knowing that the vote is harmless or useless because the parent legislation is doomed.
McCaul chairs the homeland defense committee, and Carter chairs the appropriations subcommittee for homeland defense, giving them outsized influence on the panel.
The panel includes three Texans — Carter, McCaul, and Hurd — which is notable because additional immigration is pushing the Lone Star state into the Democratic column just as it has already flipped California and Virginia from red to blue.
Many polls show that Americans strongly prefer immigration laws which help their fellow Americans get good jobs, even as they also wish to provide some support to illegal immigrants.
Four million Americans turn 18 each year and begin looking for good jobs. However, the government imports roughly 1 million legal immigrants to compete against Americans for jobs. Not all do go to work, for example, or else file for government aid, almost 100,000 legal immigrants per year are close to retirement.
Amid the growing inflow of immigrant labor, Americans' wages have stayed flat for the past 44 years since 1973, according to the Census Bureau.
JUDICIAL WATCH:
LOOK AROUND YOU. HOW MANY ILLEGALS IN OUR JOBS? EVER BEEN TO A FAST FOOD THAT SPOKE ENGLISH? EVER SEEN A CONSTRUCTION SITE THAT HAD LEGALS WORKING?
Princeton Economist: Nearly Half of U.S. Men Who Dropped Out of Workforce on Opioid Painkillers
The opioid crisis is growing in America, and it may be the reason many men are dropping and staying out of the workforce, according to a new study.
Census Bureau: Mens' Wages Remain Below 1973 Levels
Americans' median pay packets have been flat since 1973, even though the vastly expanded federal government has justified its own salaries and its many massive spending and policy programs as a sure-fire way to boost education, productivity, and wages.
'Amnesty Don' Trends at Number One on Twitter in Washington, D.C.
Following President Trump's choosing to make a deal that will give amnesty to nearly 800,000 illegal aliens currently protected by the Deferred Action for Childhood Arrivals (DACA) program, Breitbart News plastered the headline "Amnesty Don" on its front page.
JUDICIAL WATCH: