THE ONCE GOLDEN STATE of CALIFORNA, NOW A LA RAZA MEX
WELFARE STATE, IS No. 48 OF 50 STATES IN LOWER EDUCATION!
MEXICANS LOATHE LITERACY AND ENGLISH… SUCH APES THE
GRINGO WHOM THEY HATE!
"Mexicans abhor education. In their country, illiteracy dominates. As they arrive in our country, only 9.6 percent of fourth generation Mexicans earn a high school diploma.
Mexico does not promote educational values. This makes them the least educated of any Americans or immigrants. The rate of illiteracy in Mexico stands at 63 percent." FROSTY WOOLDRIDGE
"Third-generation Latinos are more often disconnected — that is, they neither attend school nor find employment."

Kay S. Hymowitz
"Because of the successful cheap-labor strategy, wages for men have remained
flat since 1973
, and a growing percentage of the nation's annual income is shifting to investors and away from employees."
DACA Migrants Have One-Quarter College-Graduation Rate of Americans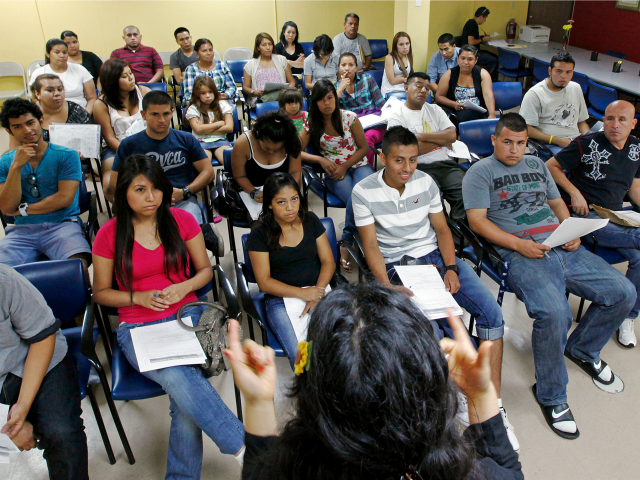 Only four percent of 'DACA' recipients have completed college, far below the roughly 17 percent of similar-aged young Americans who have college degrees, according to data released by the Migration Policy Insitute, which favors immigration.
While DACA recipients are almost as likely as U.S. adults in the same age group (15-32) to be enrolled in college (18 percent versus 20 percent), they are far less likely to have completed college (4 percent versus 18 percent).
Dreamers are vital to the future of our companies and our economy. With them, we grow and create jobs. They are part of why we will continue to have a global competitive advantage.
This is the biggest issue of our time because this goes to the values of being American. This is 'Are we human'? 'Are we acting in a track of morality?' right? These people … At Apple we have many … they love America deeply. When you talk to them, I wish everyone in America loved American this much. They have jobs, they pay taxes, they are pillars of their community, They're incredible people, and so, to me, it would be like someone coming to Mike [Bloomberg] and saying 'Mike, I just found out you aren't really a citizen here, you need to leave.' This is unacceptable. This is not who we are as a country, and so I am personally shocked that there is even a discussion of this.
In our home communities, there are Dreamers like Jessica and Javier. Jessica was brought to the United States at the age of 2 and did not know she was undocumented until middle school. In 2011, she secured a full-merit scholarship to the Macaulay Honors College at CUNY and started on her journey to becoming a doctor.

Javier studied economics and biotechnology at California State University in Northridge. He worked as a software engineer in Silicon Valley and is now a young entrepreneur. What kind of country would we be if we closed the door on Dreamers? What kind of country would we be, if we say that Jessica, Javier, and 800,000 hard-working young people just like them, are not welcome here?

We have both met Dreamers and heard their stories. We know that these young people represent what's great about our country and they should be allowed to stay. They are an integral part of our communities, and their stories, their tenacity and fearlessness make them as American as apple pie.
The occupations most commonly employing DACA holders are food preparation and servicing (16 percent, or 60,000 workers), dales (14 percent, or 54,000 workers) and office and administrative support (2 percent, or 47,000 workers) … About 5,000 work as health-care practitioners…. Almost 3,000 each work in business operations and in computer or mathematical operations.

"On most of the measures we track in Race for Results, children in immigrant families fare worse than those in U.S.-born families," the study authors purport. "Especially troubling are the large gaps in many of the education measures of both children and their parents."

For children in the 4th grade living in immigrant families, only eight percent scored at or above the proficiency level in reading. In math, the proficiency rate is even worse, with only five percent of 8th graders in immigrant households scoring at or above the proficiency level.

Compare these statistics to that of children who are born in the U.S. to non-foreign families, where 38 percent of 4th graders scored at or above the reading proficiency level and 34 percent of 8th graders scored at or above the math proficiency.
In 2012, 51 percent of households headed by an immigrant (legal or illegal) reported that they used at least one welfare program during the year, compared to 30 percent of native households. Welfare in this study includes Medicaid and cash, food, and housing programs …

Welfare use varies among immigrant groups. Households headed by immigrants from Central America and Mexico (73 percent), the Caribbean (51 percent), and Africa (48 percent) have the highest overall welfare use. Those from East Asia (32 percent), Europe (26 percent), and South Asia (17 percent) have the lowest …

The large share of immigrants with low levels of education and resulting low incomes partly explains their high use rates. In 2012, 76 percent of households headed by an immigrant who had not graduated high school used one or more welfare programs, as did 63 percent of households headed by an immigrant with only a high school education …

The high rates of immigrant welfare use are not entirely explained by their lower education levels. Households headed by college-educated immigrants have significantly higher welfare use than households headed by college-educated natives — 26 percent vs. 13 percent.
IN THE CITY OF LOS ANGELES, MEXICANS COMMIT 93% OF THE MURDERS!