Enough Fentanyl to Kill Millions Found En Route to U.S. South of Border
A traffic stop led Mexican authorities to seize enough fentanyl to kill millions of people as well as almost 1,000 pounds of crystal methamphetamine and other drugs that were headed to the California border.
This week, Mexico's National Security Commission announced the seizure of 45.5 kilograms of fentanyl that were found as part of a synthetic drug shipment in the Mexican beach resort town of Ensenada, Baja California. The seizure also included more than 914 pounds of crystal meth, 87 pounds of cocaine and 18 pounds of heroin.

Unlike the other synthetic drugs, fentanyl is a medically used opioid that is considered to be 100 times more powerful than morphine and prone to lethal overdoses.

The 45.5 kilograms of fentanyl seized is enough to fuel millions of possible lethal doses.

The seizure was made by federal police forces who spotted an SUV without license plates that had been traveling along the highway that connects Ensenada with the town of Lazaro Cardenas. The beach resort of Ensenada is directly south of the border city of Tijuana and its various ports of entry into California.

After pulling over the vehicle, authorities searched the SUV and discovered 10 bundles, three suitcases, 18 bricks and 18 plastic containers with the various drugs inside. As part of the investigation, Mexican authorities were able to confirm that the SUV is registered in California.

Ildefonso Ortiz is an award-winning journalist with Breitbart Texas. He co-founded the Cartel Chronicles project with Brandon Darby and Stephen K. Bannon.

You can follow him on Twitter and on Facebook. He can be contacted at Iortiz@breitbart.com.

Brandon Darby is managing director and editor-in-chief of Breitbart Texas. He co-founded the Cartel Chronicles project with Ildefonso Ortiz and Stephen K. Bannon. Follow him on Twitter and Facebook. He can be contacted at bdarby@breitbart.com.

ILLEGALS CLIMBING CALIFORNIA'S BORDERS FOR JOBS AND WELFARE: SAN DIEGO …

Mexicans (registered democrat anchor baby breeders (1,877).

In just the month of October 2017 CBP Border Patrol San Diego border sector

reported

apprehension of individuals from Bangladesh (12), Brazil (1), Camaroon (3), Chad (1), China (16), El Salvador (76), Eritrea (7), Gambia (4), Guatemala (178), Honduras (54), India (101), Iran (1),

Mexico (1,877),

Nepal (31), Nicaragua (1), Pakistan (13), Peru (1), Somalia (1), and "Unknown" (1) — a total of 2,379 individuals. These numbers are similar to

volumes

seen in this sector for October since 2012. MICHELLE MOONS




THE MEXICAN DRUG CARTELS OPERATING IN AMERICA'S OPEN




Overall, in the 2017 Fiscal Year, officials revealed that a record-breaking 455,000 pounds plus of drugs had already been seized. In 2016, that number amounted to 443,000 pounds. The 2017 haul is worth an estimated $6.1 billion

– BREITBART – JEFF SESSION'S DRUG BUST ON SAN DIEGO


Nine "No More Deaths" volunteers face prosecution for attempting to aid immigrants
By Meenakshi Jagadeesan
26 January 2018
Nine members of the humanitarian organization No More Deaths (NMD) are facing federal prosecution for the "crime" of attempting to provide water and medical help to immigrants in the Arizona desert. The first hearing of the case took place on Tuesday, January 23 in Tucson, Arizona.
The misdemeanor charges against the nine stem from three different incidents in June, when the volunteers drove into Cabeza Prieta National Wildlife refuge, about 125 miles outside of Tucson, in order to help those who were trying to cross the border through particularly unfriendly terrain.
The volunteers explained to the Border Patrol that they were trying to locate three people who were lost in the desert. However, they were charged with various misdemeanors, including entering the wildlife refuge without proper permits, driving a vehicle in the wilderness, and abandonment of property for leaving food, water and toiletry items in the desert. Based on the charges, each could face up to six months in prison and a fine of $400.
One of the volunteers, Scott Warren, an instructor at Arizona State University, also faces a felony charge after being arrested by Border Patrol last week for harboring two people "suspected of being in the country without authorization." Warren, who was providing the two immigrants food and water in an NMD safehouse, could face up to five years in prison.
Warren's arrest came in the immediate aftermath of the publication of a report by NMD and La Coalición de Derechos Humanos, which detailed the Border Patrol's systematic destruction of water jugs left for immigrants in the desert, and also the increasing harassment and surveillance of those providing humanitarian aid, particularly since last year.
While the report takes pains to point out that there are other potential reasons for the vandalism of supplies left for border crossers, including hunters and right-wing militia groups, their careful analysis of mapping data, land jurisdictions, and hunting seasons points to Border Patrol agents willfully destroying supplies left behind, particularly water. Between 2012 and 2015, the report states that in incidents that, on average occurred more than twice a week, 3,586 gallons of water were vandalized.
In addition, the report points to "ample anecdotal evidence of U.S. Border Patrol agents destroying and confiscating humanitarian supplies, including multiple eyewitness accounts of agents pouring out or destroying water supplies and four separate occasions when this vandalism was caught on video."
Along with the report, NMD also released a video based on clips taken between 2010 and 2017, which showed Border Patrol agents kicking over water jugs that had been left behind in the desert and puncturing a water bottle with a knife.
In a tweet following the arrests, NMD stated, "These arrests come during a nation-wide targeting of migrant justice organizers in NYC, Colorado, etc. Although Scott Warren's case differs significantly due to his US citizenship, they are all part of a disturbing pattern of immigration agencies targeting voices of dissent."
As reported in

The Intercept

, these arrests are not NMD's first brush with the law. In 2005, two young volunteers—Shanti Sellz and Daniel Strauss, were arrested by Border Patrol agents while trying to transport three undocumented migrants to a local hospital. Both faced up to 15 years in prison. However, the charges against them were thrown out by a judge who ruled that "the young volunteers were acting in accordance with a set of protocols they had been told were legally sound."
In 2010, Daniel Millis, another NMD volunteer was convicted on littering charges for leaving water for migrants in the Buenos Aires Wildlife Refuge in Arizona. The conviction was overturned by the 9th Circuit Court of Appeals, which ruled that "water did not meet the definition of waste."
In both cases, the volunteers were represented by William G. Walker, a Tucson-based attorney, who is also providing counsel to the current round of defendants.
Walker has stated that the arrest of Warren in particular is, without question, connected to the release of the NMD report highlighting the role of Border Patrol agents in the destruction of humanitarian supplies. Walker told the

Arizona Republic

that Warren's actions with regard to the migrants had been humanitarian and not criminal. "We don't smuggle them. We don't do anything to help them enter the United States. We do nothing illegal," Walker stated, "This place that they raided is not in the middle of the desert. It's not hidden anywhere. It's in the city of Ajo, and it's been used for a long time, not to help smuggle migrants but to give medical care and food and water."
The prosecution of the nine NMD volunteers is a particularly egregious illustration of the inhumanity underlying the US government's official stance towards migrants. NMD, which was the product of a 2004 interfaith cross-border conference, serves as an umbrella organization for various groups that work in some of the most inhospitable terrain along the border between the US and Mexico. In addition to leaving behind water jugs, volunteers try to provide medical assistance to those in need, and also help retrieve the bodies of those who perish while trying to make the crossing.
While Border Patrol statistics claim that crossings along the Southwestern border have claimed 7,209 lives in 20 years, a recent

USA Today

report found that the actual count was substantially higher than the official figures. Between 2012 and 2016 alone, the report states that the number of deaths ranged from 25 percent to 300 percent more than the official count in California, Arizona and New Mexico.
In Arizona, the Cabeza Prieta National Wildlife Refuge, where the NMD volunteers were initially charged, is known as the deadliest of the various crossing sites, accounting for nearly half of the deaths in the state in 2017. Volunteers have compared the area to a mass grave, given the amount of human remains that have been found.
Gregory Hess, chief medical examiner of the Pima County Medical Examiner's Office, is quoted in the

USA Today

report as saying, "A hallmark of civilized society is [the] death statistics you keep track of with the intent to decrease those deaths or take policy measures to help whatever the issue is." By that benchmark, the US government is certainly failing the test of civilization.
The increased use by migrants of the more dangerous crossings, particularly along the Southwestern border, is itself a product of a very conscious 20-year strategy adopted by the Border Patrol under both Democratic and Republican administrations. This strategy has been focused on pushing migrants away from populated areas, re-routing them, and driving them into the arms of the vicious Mexican organized crime syndicates and right-wing militias. This has only gotten worse with the Trump administration's efforts to build up the border wall, while ramping up the militarization of border areas in general.
The prosecution of the NMD volunteers is yet another step in the systematic criminalization of those who attempt to provide aid to the most vulnerable sections of society, be they migrants or the homeless population.
The Washington-imposed economic policy of economic growth via mass-immigration
floods
the market with
foreign labor
,
spikes profits and Wall Street values
by
cutting salaries
for manual and skilled labor offered by blue-collar and white-collar employees. It also drives up
real estate prices
,
widens wealth-gaps
, reduces
high-tech investment
, increases
state and local tax burdens
, hurts
kids' schools
and
college education
, pushes Americans
away from high-tech careers
, and sidelines at least 5 million marginalized
Americans
and their families, including many who are now struggling with
opioid addictions
.
Notice how we never hear the phony populist Trump talking about E-VERIFY!
AMERICA: NO LEGAL NEED APPLY!
"The percentage of foreign-born workers in the U.S. labor force has more than tripled over the last four decades and while the U.S. represents just 5 percent of the world's population it attracts 20 percent of the world's immigrants, according to a new report."
Open the floodgates of our welfare state to the uneducated, impoverished, and unskilled masses of the world and in a generation or three America, as we know it, will be gone.
Those most impacted are middle class and lower middle class. It is they whose jobs are taken, whose raises are postponed, whose schools are filled with non-English speaking children that absorb precious resources for remedial English, whose public parks are trashed and whose emergency rooms serve as the local clinic for the illegal underground.
THE SECRET REPORT ON ILLEGALS TAKING MIDDLE AND HIGH END JOBS…. What? You thought they only took the sh//// -it jobs?
NumbersUSA's Rosemary Jenks: E-Verify Ignored in DACA Negotiations Because 'Members of Congress Know It Will Work'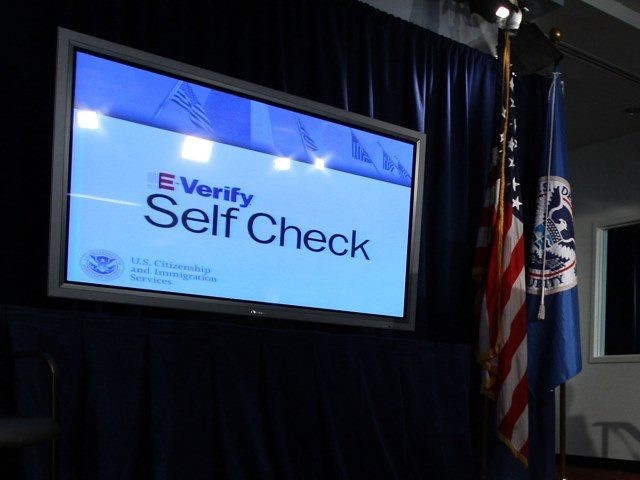 Members of Congress broadly oppose a legislative nationwide E-Verify mandate for employers because "they know it will work," said NumbersUSA's Rosemary Jenks, explaining why E-Verify is not being pushed in congressional negotiations for an amnesty deal for recipients of the Obama administration's Deferred Action for Childhood Arrivals (DACA). Jenks further noted that both parties are beholden to special interests supportive of "mass migration."
Jenks offered her analysis during a Monday interview on SiriusXM's Breitbart News Tonight with Breitbart News's Senior Editors-at-Large Rebecca Mansour and Joel Pollak.
Mansour asked Jenks why most Republicans were not supporting a legislative nationwide mandate for E-Verify use by employers. "Why do you think that this isn't being pushed, then? It seems like a no-brainer. Why is this not being included in all the negotiations?" she said.
"I think [E-Verify] is not being pushed precisely because members of Congress know it will work," said Jenks. "I think that is exactly the reason it's not being pushed. Democrats, for sure, don't want mandatory E-Verify because they know it will discourage illegal immigration, which will discourage the push for the next amnesty. And, let's face it, the establishment Republicans don't want it because they know it will be effective and eliminate their cheap labor pools."
Special interests, including "big business," "organized religion," and "ethnic advocacy groups," subvert popular American will via their funding and political agitation, said Jenks, adding,
"It's about the donors and about the Democrat Party wanting mass immigration. Those are the two factors that rule every immigration debate. It's always the big business donors, organized religion, the ethnic advocacy groups. All of the money is behind mass immigration, and then, there's the American people on the other side. That's the problem we have had. That's why we haven't controlled immigration in the last five decades."
Legislating a national mandate for E-Verify use by employers is more important than construction of a southern border wall, argued Jenks. "In our view, mandatory E-Verify is more important than a wall. So that is the one place where we're hoping that we can move the administration to saying E-Verify is a must-have."
Approximately half of "the illegal population" is composed of foreigners who lawfully entered the homeland and overstay their visas, said Jenks. An E-Verify mandate on employers, she added, would "mostly shut down" the lure of employment for illegal aliens.
E-Verify usage by employers would facilitate more effective enforcement of immigration law by allowing federal authorities to target businesses abstaining for its use, said Jenks. "They have a clearer target for enforcement measures."
Jenks listed the following elements as "must-haves" for any legislative amnesty proposal:
1) limiting the amnesty to the DACA population;
2) ending chain migration;
3) ending the "Diversity Visa Program" lottery;
4) implementation of effective border security and interior enforcement measures;
and
5) implementation of a national mandate for employer use of E-Verify.
Breitbart News Tonight airs Monday through Friday on SiriusXM's Patriot channel 125 from 9:00 p.m. to midnight Eastern (6:00 p.m. to 9:00 p.m. Pacific).
LISTEN:
KEEPING WAGES DEPRESSED REQUIRES
ENDLESS HORDES OF INVADING
ILLEGALS!
GOP Amnesty Negotiator John Cornyn Wants More White-Collar Immigrants
Texas GOP Sen. John Cornyn today called for an immigration deal to increase the supply of foreign graduates for the white-collar jobs sought by debt-burdened, college-graduate Americans.
Cornyn is under pressure from the many business groups who recognize that cheap white-collar immigrants cut payroll costs and raise profits. The greater supply of skilled labor forces down salaries for American professionals in many jobs, including technology, business, medicine, education and even journalism.
Cornyn is the second-ranking GOP Senator, and he argued that reductions to the visa-lottery and chain-migration programs can allow increases in skilled immigration programs, such as green cards for the foreign graduates of Americans colleges. He said:
We might to maybe reassign some of those visas to merit-based immigration, people who have graduated with skills that we need here in the United States, including the STEM field — science, technology, engineering, math.

I think that would — I think that makes a lot of sense. but obviously, I am not going to decide this by myself. we're going to have to build a coalition of Democrats and Republicans, and I think we can.
Under current laws, companies employ a roughly 2 million foreign graduates under various types of visa programs, including the H-1B, OPT, L-1 and J-1 visas. In 2017, Texas universities and companies got 25,000 H-1B new visas, suggesting a resident population of at least 100,000 H-1B workers in the state.
Many of the foreign graduates work at very low wages in
universities
, healthcare, technology, teaching,
accounting
, business, and
fashion
, partly because they will get a deferred bonus of citizenship from the federal government. The cheap-labor policy is backed by many business groups, including Mark Zuckerberg's
FWD.us
.
If implemented, Cornyn's proposal could add more than
300,000 foreign graduates
to the labor marketplace each year, alongside the 800,000
indebted Americans
who graduate as doctors, business managers, architects, accountants, teachers, designers, statisticians, and therapists.
But Cornyn's proposal to transfer — not eliminate — the 50,000 visa lottery visas and the roughly 250,000 chain-migration visas would also force many Americans graduates downwards to compete for jobs against blue-collar Americans. That movement would pressure wages in the United States, and conflict with Trump's "Buy Americans, Hire American" policy, which has helped raise Americans' salaries in 2017 by curbing overall immigration inflows.
Cornyn's call for raising the number of white-collar immigrants may become part of the second round of negotiations after Congress and the President come to a deal on the first four issues, said one source. In the first round, Cornyn "has been solid" in support the president's four objectives, the source said.
In his Senate speech, Cornyn also said:
Any solution we come up with … must also protect the 320 million Americans who already live in the country … We

need to correspondingly assure the American people that we are serious about border security and enforcing our laws.
Cornyn and House GOP Majority Leader Rep. Kevin McCarthy are the two GOP members of the four-man panel now trying to develop some legislative package that meets Trump's popular immigration priorities. Those priorities are labeled under four categories — ending chain-migration, ending the visa lottery, building a border wall with needed enforcement legal changes, and providing some form of amnesty to the 690,000 registered DACA enrollees.
In contrast, Democrats and some liberal Republicans have been pushing to provide an amnesty for perhaps 8 million people, without offering anything significant on chain migration, the visa lottery or the wall. That package was decisively rejected January 11 by Trump, prompting the Democrats to filibuster the federal 2018 budget.
On January 22, after Senate Democrats ended their filibuster, the White House slammed the "Gang of Six" plan:
Their proposal provides a path to citizenship or legalization to at least 8 million unlawful immigrants: "dreamers", their siblings and their parents. Flake-Graham-Durbin want to leave extended-family chain migration in place which means millions more relatives in foreign countries would be able to come to America, bringing the total covered population past 10 million …

The Flake-Graham-Durbin proposal embodies every reason Americans do not trust Washington. It puts people who are in this country unlawfully ahead of our own American citizens. The Trump Administration remains committed to bipartisan responsible immigration reform that truly secures the border and puts the interests of the American people first.
After the vote, Trump also invited several GOP Senators to the White House to discuss the next stage of the debate. They included Cornyn, Sen. Tom Cotton, Sen. Chuck Grassley, Sen. James Lankford, Sen. David Perdue, and Sen. Thom Tillis.
Four million Americans turn 18 each year and begin looking for good jobs in the free market.
But the federal government inflates the supply of new labor by annually accepting 1 million new legal immigrants, by providing work-permits to roughly 3 million resident foreigners, and by doing little to block the employment of roughly 8 million illegal immigrants.
That inflow is applauded by many GOP and Democratic Senators who face constant pressure from business groups for more cheap workers.
The cheap labor policy has hit college graduates, not just blue-collar workers.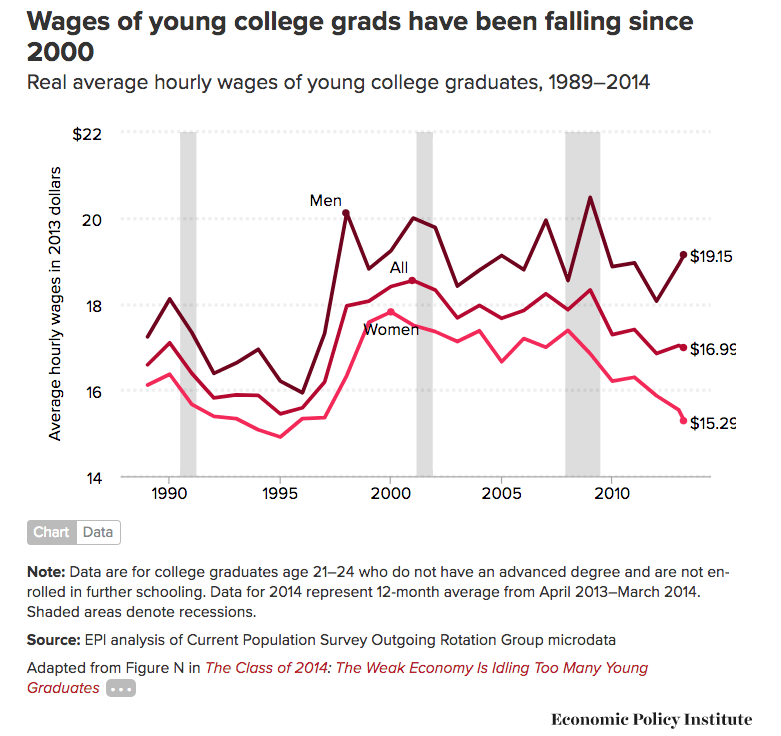 The cheap-labor policy has also reduced investment and job creation in many interior states because the coastal cities have a surplus of imported labor. For example, almost 27 percent of zip codes in Missouri had fewer jobs or businesses in 2015 than in 2000, according to a new report by the
Economic Innovation Group
. In Kansas, almost 29 percent of zip codes had fewer jobs and businesses in 2015 compared to 2000, which was a two-decade period of massive cheap-labor immigration.
Because of the successful cheap-labor strategy, wages for men have remained
flat since 1973
, and a large percentage of the nation's annual income has shifted to investors and away from employees.
Raul Labrador: Majority Leader McCarthy's Future Depends on Amnesty Fight
AP Photo/J. Scott Applewhite
House Majority Leader Kevin McCarthy won't disappoint Republican voters during the argument over immigration policy and amnesty for illegals, said Rep. Raul Labrador, one of four GOP co-authors of a major immigration and amnesty policy bill.
"I think he will be strong on this," Labrador told Breitbart News. Labrador continued:
I think he likes our bill. I don't know if he's going to champion it, but he also has a future that he needs to think about. He needs to decide whether he will stand with the American people or not and I think he will …
I think it is imperative that we stand strong on this issue. Right now the Democratic base is energized and if you want to energize the Republican base, the best thing you can do is keep your promises [to voters]. The worst thing you can do in 2018 is cave to Democrats on immigration because the base will not show up, so the Democrats will then take over the House and the Senate
The issue is a test for McCarthy's leadership, Labrador said:
The [2018] national campaign for both the House and the Senate needs to be that the Republicans understand the importance of security at the border and security at home, and the Democrats are willing … to protect an illegal population. I just don't see how that is a winning formula.
Labrador is elected from Idaho and will leave the House this year to run for governor. He chairs the judiciary committee's panel on immigration and border security, and he co-authored the GOP's "
Securing America's Future Act
" immigration-and-amnesty bill.
McCarthy's growing role has been a pleasant surprise for immigration reformers who are already worried about the
prominent role
in the amnesty dispute being played by GOP Sen. John Cornyn.
Cornyn and McCarthy are the two GOP leaders who have been planning negotiations on amnesty with top Democrats, Sen. Dick Durbin and Rep. Steny Hoyer. The pair of Coryn and McCarthy has overshadowed the role played by leading GOP immigration experts, including Sen. Chuck Grassley and Rep. Bob Goodlatte, who chair the Senate and House judiciary committees.
McCarthy represents an agricultural district where there is intense business pressure for imported cheap labor, despite the growing variety of labor-saving agricultural machinery. He is based in California, where massive legal and illegal immigration has also allowed Democrats to grab complete domination of state politics — and the ability every ten years to reshape political districts to their advantage. Both those political factors pressure McCarthy away from embracing the populist demand for a low-immigration/high-wage national economic policy.
But McCarthy stunned immigration reformers at the January 9 White House meeting when Democratic Sen. Diane Feinstein asked Trump to endorse a quick, no-strings 'DACA' amnesty while postponing border security measures to a subsequent debate. McCarthy intervened, saying:
Let's be honest. Security was voted on just a few years ago, and, no disrespect, there's people in the room on the other side of the aisle who voted for it. If I recall, Senator [Hillary] Clinton voted for it. So I don't think that's comprehensive; I think that's dealing with DACA at the same time. I think that's really what the President is making. It's kind of like three pillars: DACA, because we're all in the room want to do it; border security, so we're not back out here; and chain migration. It's just three items … And the [visa] lottery.
"That blew me away," said Rosemary Jenks, director of government relations at NumbersUSA.com.
"I was impressed," said Jessica Vaughan, policy director at the Center for Immigration Studies. "It led me to hope that Republicans had come to an agreement among themselves for what have to be the minimum requirements for a deal to give the DACAs amnesty," Vaughan said.
McCarthy also attended the January 12 White House meeting when Trump forcefully rejected the amnesty-plus deal offered by Durbin and GOP Sen. Lindsey Graham. The deal offered amnesty to a population of up to 3.25 million young illegals plus the parents who brought the young illegals into the United States, without offering any significant reform of chain-migration rules and the visa lottery.
"At the meeting yesterday when he saw what the proposal from the Senate was I think that only helps him to understand what happens in these negotiations," said Labrador. He continued:
What happens in these negotiations is that Democratic senators and moderate Republicans get together and they think they can do some weak bill … [but] that is just not going to fly in the Republican House.
McCarthy also understands that the GOP caucus in the House chooses its leadership based on their ability to handle the immigration issue, said Labrador.
The reality is that McCarthy — just like [House Speaker] Paul Ryan — understands the volatility of the issue. Remember, this was one of the issues that brought down

[House Speaker] John Boehner

… Boehner started moving further and further to the left on immigration

and that is when people started realizing it was time for a change of leadership. So I'm very optimistic that Paul Ryan and Kevin McCarthy know that this is an issue that could do them in.
Polls show that Trump's American-first immigration policy is very popular. For example, a December
poll
of likely 2018 voters shows two-to-one voter support for Trump's pro-American immigration policies, and a lopsided four-to-one opposition against the cheap-labor, mass-immigration, economic policy pushed by bipartisan establishment-backed D.C. interest-groups.
Business groups and Democrats tout the misleading, industry-funded "
Nation of Immigrants
" polls which pressure Americans to say they welcome migrants, including the roughly 670,000 'DACA' illegals and the roughly 3.25 million 'dreamer' illegals.
Four million Americans turn 18 each year and begin looking for good jobs in the free market.
But the federal government inflates the supply of new labor by annually accepting 1 million new legal immigrants, by providing work-permits to roughly 3 million resident foreigners, and by doing little to block the employment of roughly 8 million illegal immigrants.
The cheap-labor policy has also reduced investment and job creation in many interior states because the coastal cities have a surplus of imported labor. For example, almost 27 percent of zip codes in Missouri had fewer jobs or businesses in 2015 than in 2000, according to a new report by the
Economic Innovation Group
. In Kansas, almost 29 percent of zip codes had fewer jobs and businesses in 2015 compared to 2000, which was a two-decade period of massive cheap-labor immigration.
Because of the successful cheap-labor strategy, wages for men have remained
flat since 1973
, and a large percentage of the nation's annual income has shifted to investors and away from employees.
Washington, D.C. (January 12, 2018)
- A group of six senators has come up with what they call a "bipartisan deal" on a DACA amnesty, but judging by details obtained by the Center, the aim is actually maximum amnesty, minimum border security and no cuts to legal immigration, and not a good faith effort to reach a deal with either the House of Representatives or the President.
Here's what they propose:
Amnesty for Dreamers, meaning DACA beneficiaries and other illegal aliens who arrived before June 15, 2012 (or claim to have) and were younger than age 17 (or claim to be) but did not qualify for or obtain DACA benefits. It is uncertain how much larger than the DACA program this amnesty would be.
DACA beneficiaries would have a period of conditional permanent residency, which may be lifted upon completing at least two years of college or military service or three years of work, or may simply lead directly to eligibility for citizenship after at least 10 years (or 12 if they did not have DACA).
The Dreamer amnesty would allow waivers for certain criminal convictions that exist under current law, if deemed to be "in the public interest."
BLOG: 44% OF THE DREAMERS WERE/ARE USING STOLEN SOCIAL SECURITY NUMBERS TO WORK STOLEN JOBS! REWARD THESE ID THIEVES WITH AMNESTY???
Applicants for the program would have to pay up on any federal tax liability, if they had a DACA work permit, but not if they worked illegally prior to legalization. Does this mean that a lot of DACA beneficiaries have not been paying their taxes all these years?
The Gang of Six claims to address chain migration concerns by barring legalized Dreamers from sponsoring their parents for green cards. Instead, they give the parents instant, indefinitely renewable legal status and work permits, thus exacerbating the labor market disruption and fiscal costs of the presence of these illegal aliens.
The proposal claims to restrict chain migration, by eliminating the category for adult sons and daughters of green card holders, which admits about 26,000 people a year. However, it transfers those numbers to another chain migration category for spouses of green card holders and their children. So there is no net decrease in chain migration at all under this proposal.
Similarly, the proposal claims to end the visa lottery, but it preserves the numbers. It plans to take half of the lottery visas currently available and awards them to applicants from lottery countries, based on merit. The other half of the visas would be awarded to aliens who currently have Temporary Protected Status [https://cis.org/Arthur/Temporary-Protected-Status-Biggest-Misnomer-Immigration]. When those run out (which would take at least 12 years), then all of the former lottery visas would go to applicants from countries in the new merit lottery program. So there would be no decrease in annual green cards.
Finally, the Gang agrees to fund the president's request for $1.6 billion for the border wall, $1.1 billion for other border security projects, and miscellaneous other border-related projects on a smaller scale.
There is no funding for ICE or interior
enforcement, no expansion of E-Verify, nor
any provisions to address the broken
asylum system, sanctuaries, the continued
influx of illegal families and minors from
Central American, visa overstays, an entry-
exit system, the backlogged immigration
court, illegal employment, or any of the
other needs compiled at the president's
request by career immigration agency
officials and outlined in an October memo
This proposal is not a serious effort to find common ground with either the majority of congressional Republicans or the president. It pays only lip service to what is required to achieve the immigration policy improvements that Americans seek, and that they elected Donald Trump to accomplish.
TRUMP'S PROMISE TO THE DEMOCRAT PARTY, MEXICO, THE MEX FASCIST PARTY of LA RAZA AND EMPLOYERS OF ILLEGALS:
2.) NO (real) ENFORCEMENT
3.) NO CUTS IN WELFARE TO THE INVADERS
4.) NO (real) PROSECUTION OF THE MILLIONS OF EMPLOYERS OF ILLEGALS
VIVA LA RAZA SUPREMACY? TAKE A LOOK AT MEXIFORNIA AND SEE FOR YOURSELF!
Trump's U.S. Citizenship for DACA Illegal Aliens Matches Other Failed Amnesties....


BUT HASN'T THAT ALWAYS BEEN THE PLAN? WIDER OPEN BORDERS, NO E-VERIFY AND NO LEGAL NEED APPLY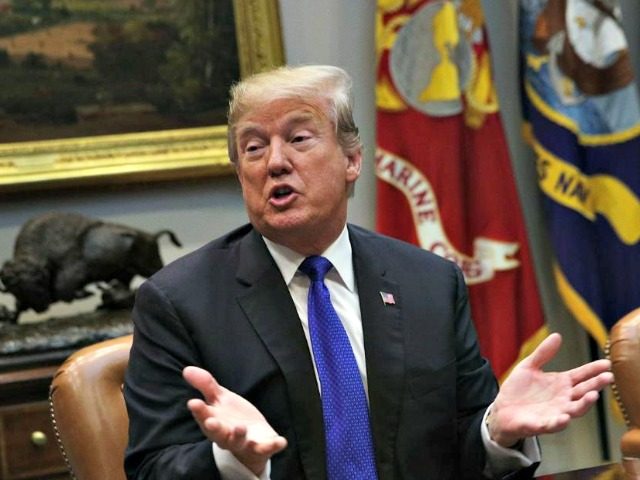 A plan by President Trump's administration to give 1.8 million illegal aliens enrolled and eligible for the President Obama-created Deferred Action for Childhood Arrivals (DACA) program a pathway to U.S. citizenship matches up with previous amnesty bills that have failed.
In the week that new polling from Harvard-Harris revealed bombshell support for his legal immigration-cutting, merit-based, and pro-American worker initiative on immigration, rather than touting the widespread support for his "America First" ideals, Trump explained why a pathway to U.S. citizenship for DACA illegal aliens would be beneficial.
When asked about citizenship for DACA illegal aliens, Trump said: "We're going to morph into it, it's going to happen. Over a period of 10 to 12 years, somebody does a great job, they've worked hard."
"It's a nice thing to have the [citizenship] incentive of after a period of years, being able to become a citizen," Trump continued.
On Thursday, senior adviser Stephen Miller revealed a few of the details from the White House's expansive amnesty. It's most prominent provision: Giving a pathway to citizenship to 1.8 million illegal aliens after a 10 to 12 year period.
The White House expansive amnesty plan is hardly different from previous amnesties, one of which failed miserably under Obama and another that the White House shot down this week.
For example, the "Gang of Eight" amnesty plan in 2013, which practically destroyed all conservative support for Sen. Marco Rubio (R-FL) in his presidential aspirations, would have given the entire illegal alien population of about 12 to 30 million illegal aliens a pathway to citizenship as early as five years after being granted amnesty.
Likewise, the current "Gang of Six" amnesty plan sitting in the Senate, pushed prominently by Sens. Jeff Flake (R-AZ), Lindsey Graham (R-SC), and Dick Durbin (D-IL), would begin giving at least 3.5 million illegal aliens a pathway to citizenship as early as ten years after getting amnesty.
On the other hand, the White House-backed House immigration plan, authored by Rep. Bob Goodlatte (R-VA), would remain in line with Trump's concession of only giving legal status to DACA-enrolled illegal aliens with no special path to citizenship.
In exchange for the amnesty solely for DACA-enrolled illegal aliens, the Goodlatte bill implements mandatory E-Verify to ban employers from hiring illegal aliens over Americans, major reductions to legal immigration levels, and full funding for a wall along the U.S.-Mexico border, as well as a slew of other reforms that would help raise the wages of America's working and middle class.
Over 100 Migrants Found Dying of Asphyxiation in Tractor-Trailer Headed for Texas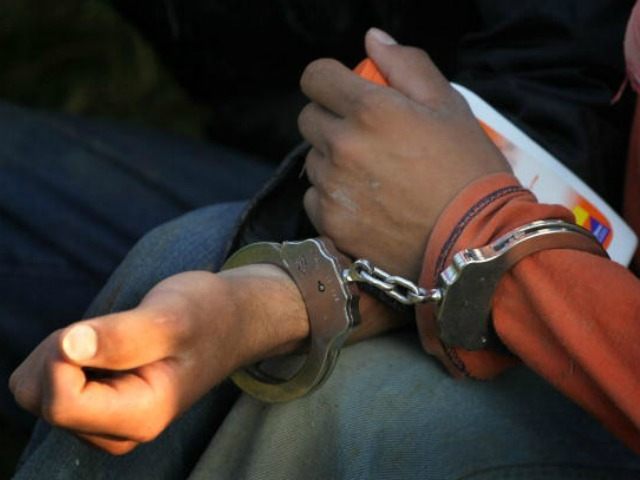 CIUDAD VICTORIA, Tamaulipas — The discovery of over 100 migrants headed to Texas took place at a military checkpoint just 30 minutes north of Ciudad Victoria, the capital of Tamaulipas. According to information released by Mexico's National Immigration Institute (INM), the discovery became a rescue operation once authorities realized the health conditions of the migrants.
According to immigration officials, the migrants showed signs of acute dehydration and asphyxia leading authorities to rush medical personnel to the scene to provide needed care. The ones that showed the worst signs were 39 underage teens and children, of those, 10 were unaccompanied.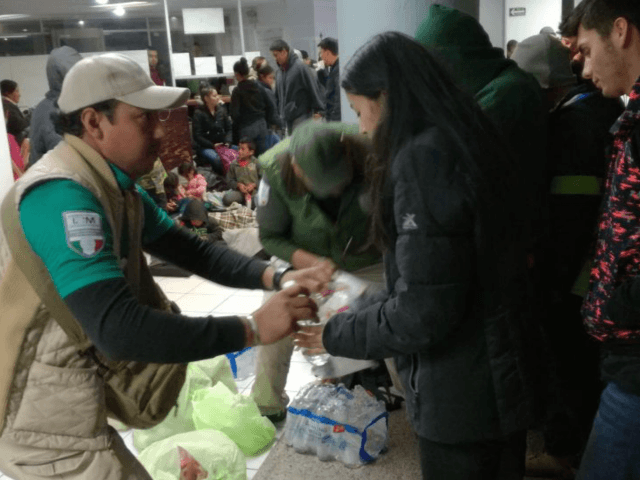 The migrants have been identified as all being from Guatemala, Honduras, and El Salvador. Authorities arrested Mexican nationals Ruben "N" and Orbelin "N" who have been singled out as the drivers and human smugglers.
The suspects claimed to have left the southern state of Chiapas and to have been headed to the U.S-Mexico border. The migrants were taken to Mexico's Attorney General's Office in Ciudad Victoria so INM could contact their respective consulates and carry out their deportations. The suspects were taken to the same building, but are facing federal charges.
Editor's Note: Breitbart Texas traveled to the Mexican States of Tamaulipas, Coahuila, and Nuevo León to recruit citizen journalists willing to risk their lives and expose the cartels silencing their communities. The writers would face certain death at the hands of the various cartels that operate in those areas including the Gulf Cartel and Los Zetas if a pseudonym were not used.
Breitbart Texas' Cartel Chronicles
are published in both English and in their original
Spanish
. This article was written by "Francisco Morales" from Tamaulipas.