"Everybody gets in," said Mark Krikorian, director of the Center for Immigration Studies. "It will be eight to 10 years before there's any reduction in immigration numbers."
WH Plan: Big Amnesty Now, Nothing for Americans Until 2027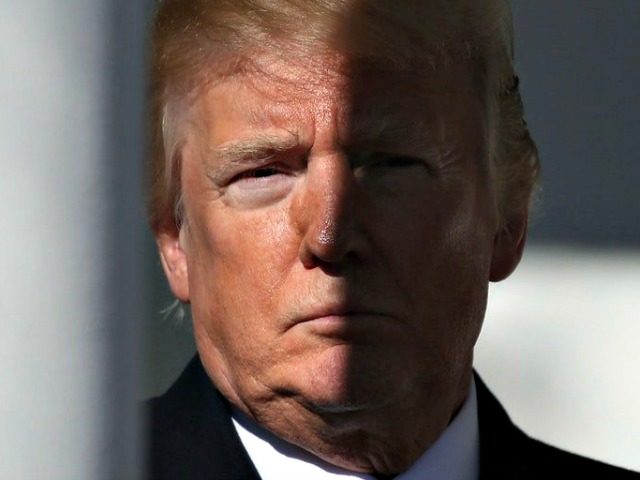 President Donald Trump's new "framework" amnesty plan would provide citizenship to at least 1.8 million illegals — but would not allow any beneficial reduction in cheap-labor immigration until 2027.
The pro-business plan, leaked to Washington insiders this afternoon, asks progressive Democrats and business-first Republicans to accept a trade-off: Amnesty for at least 1.8 million illegals in exchange for a border wall, end chain-migration and ending the visa lottery.
But the loopholes are huge — and those loopholes will flood the labor market for another decade, so helping Wall Street by cooling the current worker shortage which is now raising Americans' wages.
For example, the lottery program would be ended, but the 50,000 lottery visas per year would be given to other migrants, so doing nothing to reduce the wage-lowering inflow of cheap labor.
More importantly, chain-migration would formally end immediately, but everyone on the huge waiting list would be allowed into the United States.
That pipeline of pending chain-migration immigrants includes roughly 4 million people — many of whom will depend on taxpayer funds because they are either unskilled or too old to work. That population is enough to keep the chain-migration pipeline open for another ten years, which means the public only gains a benefit if the alliance of business groups and progressives somehow fails to expand other areas of the immigration system during the next ten years.
"Everybody gets in," said Mark Krikorian, director of the Center for Immigration Studies. "It will be eight to 10 years before there's any reduction in immigration numbers."
A one-year grace period for chain-migration people is understandable, he said. "But for everybody on the waiting list to be able to come? That is absurd."
The continued inflow means that pro-amnesty forces have a decade to reverse the workplace benefits and taxpayer benefits that Americans could gain from ending chain migration, he said. Krikorian added:
T

here's no way to know the future but it is certainly plausible that the promised immigration cuts will never actually happen … if some Democratic Congress and Democratic President take over seven, eight years from now, they can easily change all of that and the result would be no reduction in immigration …

Who knows what the heck President Kamala Harris will do at that point?
The plan fails because it front-loads the amnesty, but delays the gains and safeguards, he said. "That is exactly the same thing that the Gang of Eight bill did, and the [2006, 2007] McCain/Kennedy bill did."
Under the framework plan, the population to be amnestied is set at 1.8 million by expanding the number of people beyond the 700,000 people now enrolled in the DACA program.
That expansion also means the federal government would have to correctly identify each claimant, verify their weak or disputed claims of eligibility — and also successfully defeat a myriad number of lawsuits suits by fraudsters trying to win the huge prize of American citizenship. In the 1980s, a similar plan to provide green cards to an estimated population of 400,000 farmworkers eventually provided green cards to 1 million people who claim to be farm-workers, including an Egyptian cabby in New York who used his green card to train overseas for the first bombing attack against the Twin Towers in 1993.
"If they go beyond the population enrolled in DACA, they've got to start from scratch in verifying those people, so it will be a burden on USCIS, and it is going to make it easier for people to defraud the system," said Krikorian.
If fully completed, the $25 billion border wall might halve legal immigration, so keeping roughly 150,000 foreign workers from sneaking into the labor market. But that inflow is far below the continued legal inflow of 1.1 million legal immigrants, not counting the population of roughly 3 million short-term visa workers.
Four million Americans turn 18 each year and begin looking for good jobs in the free market.
But the federal government inflates the supply of new labor by annually accepting roughly 1.1 million new legal immigrants, by providing work-permits to roughly 3 million resident foreigners, and by doing little to block the employment of roughly 8 million illegal immigrants.

The cheap-labor policy has also reduced investment and job creation in many interior states because the coastal cities have a surplus of imported labor. For example, almost 27 percent of zip codes in Missouri had fewer jobs or businesses in 2015 than in 2000, according to a new report by the Economic Innovation Group. In Kansas, almost 29 percent of zip codes had fewer jobs and businesses in 2015 compared to 2000, which was a two-decade period of massive cheap-labor immigration.
Because of the successful cheap-labor strategy, wages for men have remained flat since 1973, and a large percentage of the nation's annual income has shifted to investors and away from employees.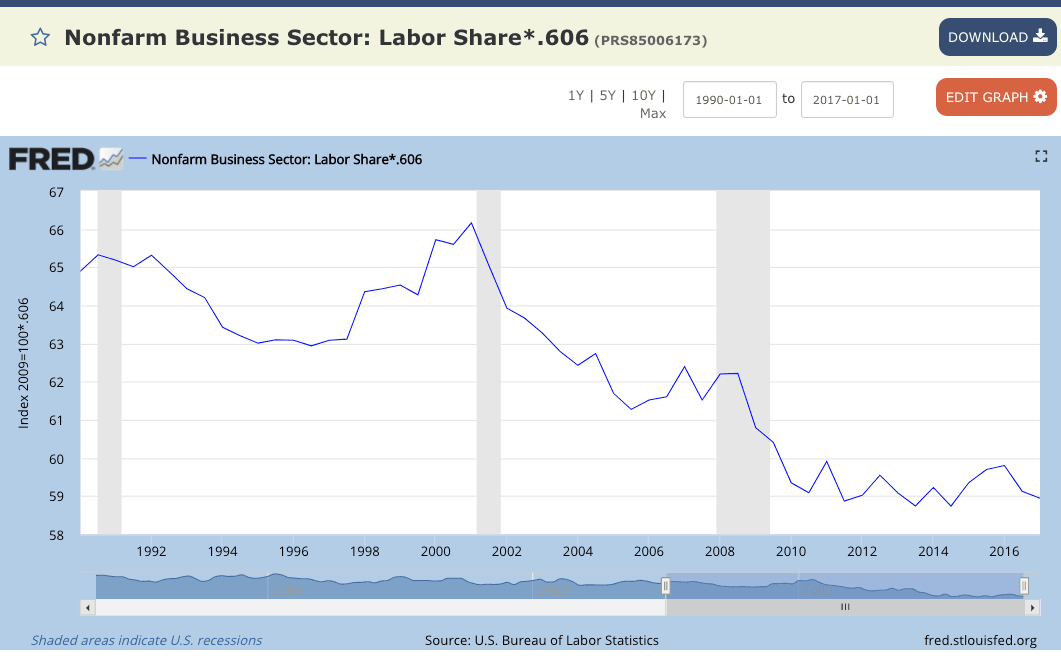 LA RAZA DRUG CARTELS CUT OUT HEART OF LIVING MAN.
NANCY PELOSI SENDS FLOWERS TO VICTIM AND SUGGESTS HE VOTE DEMOCRAT FOR GREATER ANCHOR BABY WELFARE.
500 Ex-DACA Criminals, Gang Members Still in U.S., Gov't Unaware of Whereabouts
Hundreds of criminals and gang members with revoked DACA (Deferred Action for Childhood Arrivals) are now roaming free in the U.S, and the government has no idea where they are, a new report reveals.
"More than 500 individuals who obtained DACA benefits that were later revoked due to criminal and/or gang involvement apparently are still living in the country and at large, according to

statistics

provided by USCIS to Sen. Chuck Grassley, chairman of the Senate Judiciary Committee. These cases are 25 percent of those who lost DACA status due to criminal and/or gang activity as of November 2017. Only about 30 percent of the ex-DACA criminal aliens have been removed or were in ICE custody as of November 2017.

"According to USCIS, a total of 2,127 individuals had their DACA status terminated for criminal activity and/or gang activity as of November 22, 2017. In no more than 3 percent of these cases did the termination occur merely because of gang involvement; nearly all of the terminations followed criminal convictions or arrests, according to related data on the USCIS

website

."
CIS warns that gang membership does not automatically preclude aliens from gaining U.S. government entitlements and enjoying protection from removal under DACA:
"Under current law, gang members are not automatically barred from receiving immigration benefits such as green cards, work permits, and Temporary Protected Status, and clearly many have obtained these benefits in recent years.
"THIS TURNED OUT TO BE THE GRAVE OF KENNETH
WHITEACRE, WHOM SOMEBODY HAD SODOMIZED
BEFORE STABBING HIM TO DEATH THEN CHOPPING
APART HIS HEAD WITH A MACHETE."
CORONA PARA LOS MUERTOS
Mexican mass murderer Juan Corona makes the case for border enforcement, denial of amnesty, and deportation of criminal illegals.
January 25, 2018
An ad for President Trump cites racist Mexican cop-killer Luis Bracamontes an example of "pure evil," and a reason to build a wall and stop illegal immigration. As it happens, three days after the president's 2016 election victory, California denied parole to Juan Corona, the Mexican serial killer who makes an even stronger case for border enforcement.
Corona was born in the Mexican state of Jalisco in 1934 and in 1950 illegally crossed the border into the United States. He picked carrots and melons in Imperial Valley then moved north to the Yuba City area, near Sacramento. Deported in 1956, Corona had no trouble entering the United States illegally a second time. By 1960, the Mexican became a labor contractor for local American farmers, including Goro Kagehiro.
On May 19, 1971, Kagehiro noticed that someone dug a man-sized space in his peach orchard and filled in the hole.
This turned out to be the grave of Kenneth Whiteacre, whom somebody had sodomized before stabbing him to death then chopping apart his head with a machete.
That gruesome discovery launched a search for other bodies and by June 4 police had found 25 victims, including: Charles Fleming, Melford Sample, Donald Smith, John J. Haluka, Warren Kelley, Sigurd Beierman, William Emery Kamp, Clarence Hocking, James W. Howard, Jonah R. Smallwood, Elbert T. Riley, Paul B. Allen, Edward Martin Cupp, Albert Hayes, Raymond Muchache, John H. Jackson, Lloyd Wallace Wenzel, Mark Beverly Shields, Sam Bonafide and Joseph Maczak. Four others were not identified.
The victims ranged in age from 40 to 68, and not a single one was Mexican
. All but three were white American workers and the others black or Native American. The killer had buried each one on the north side of a tree with their arms over their heads, in some cases with their pants pulled down. One had been shot and victims had been sodomized then stabbed in the chest. The killer then took a machete to the back of their heads, slashing them in the shape of a cross.
With the body of Melford Sample and other victims police found receipts made out to Juan Corona. At Corona's home they found a meat cleaver, machete, double-bladed ax and wooden club, all stained with blood. Police also found a gun and a ledger book containing the names of seven victims.
In 1973, a jury found Corona guilty of murder and sentenced him to 25 consecutive life terms. In 1978, a state appeal court overturned the conviction, charging that his lawyers failed to counter the 119 witnesses for the prosecution.
Corona's second trial in 1982 took seven months and cost taxpayers $5 million.
The Mexican had bouts of mental illness but his lawyers did not mount an insanity defense. Instead they argued that Corona's late half-brother Natividad carried out the killings. Closing arguments took 12 days and after two weeks of deliberation the jury found Corona guilty on all charges. The court duly restored the 25 life sentences.
The murder victims were all non-Mexicans, including African Americans and Native Americans, so Corona's sadistic killings could have been motivated in part by racism. The Mexican's murder spree was the worst in U.S. history before John Wayne Gacy, convicted in 1980 of killing 33 young men and boys in Chicago. Illinois executed Gacy in 1994 but Juan Corona took 25 American lives, possibly more, and got to keep his own life.
BLOG: CA HAS THE LARGEST AND MOST EXPENSIVE PRISON SYSTEM IN THE NATION. HALF THE INMATES ARE MEXICANS.
ACCORDING TO FORMER CA ATTORNEY GENERAL KAMALA HARRIS, A LA RAZA SUPREMACY DEMOCRAT, HALF THE MURDERS IN CA ARE NOW BY MEXICAN GANGS.
Like Jose Inez Garcia Zarate, the criminal Mexican who killed Kate Steinle, and Luis Bracamontes, the racist Mexican who murdered police officers Danny Oliver and Michael Davis, Juan Corona was not supposed to be in the United States in the first place. For many Americans, this depraved serial killer is a strong argument for ending chain migration, denying amnesty, strengthening the border and deporting illegals.
WHEN RACIST ILLEGALS MURDER AMERICANS
"Black lives don't matter," shouts Mexican cop-killer Luis Bracamontes.
Violent Crime Up Twice the National Average in Part of California
Violent crime is up across the country, but in some pockets of California, violent offenses — including murder, rape, robbery and assault — are up twice the national average, according to an FBI report released Monday.