THE LA RAZA SUPREMACY DEMOCRAT PARTY:
Getting LA RAZA illegals into the voting booths will assure endless hordes of "cheap" labor and destroy the GOP to make America a one-party country and massive, border to open border LA RAZA welfare state.
The Pew Research Center
found
in 2012 that a plurality of Hispanic illegal aliens are Democrats, while only 4 percent said they identified with the Republican Party.
Mitt Romney Will Announce Senate Run on Thursday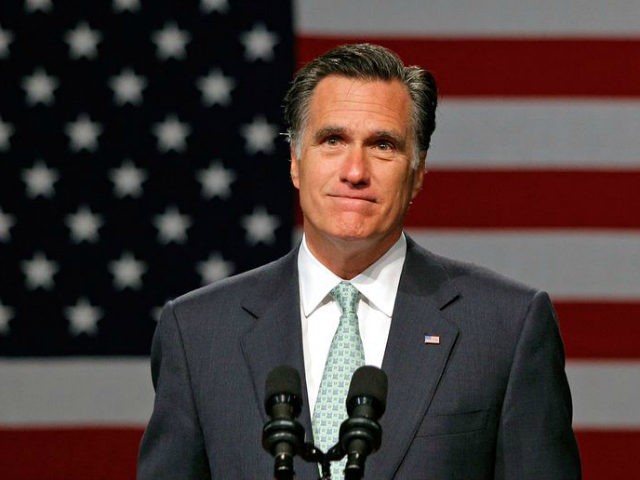 Former Massachusetts governor and 2012 Republican presidential candidate Mitt Romney will announce his intentions to run for the U.S. Senate seat in Utah on social media on Thursday.
Romney teased in a tweet on February 1 that he will announce his campaign to run for the U.S. Senate seat in Utah Senate on February 15.
The Atlantic reported last week that the National Republican Senatorial Committee (NRSC) would like to make Romney the next chairman of the organization should Romney replace the outgoing Sen. Orrin Hatch (R-UT).
NRSC chairman Sen. Cory Gardner (R-CO) revealed to a donor that he and the Senate GOP leadership "liked Romney" as a potential candidate for the NRSC chairmanship.
The Republican donor said, "It made perfect sense to me. He's got the stature and a virtually unmatched fundraising base to draw upon. And he's running because he wants a national platform to help the party anyway."
Romney and President Donald Trump have had a rivalry during the last couple of years, and reports from Politico last December suggested that President Trump wanted to block Romney from running for the Senate.
President Trump rejected having Romney serve as his secretary of state, choosing Rex Tillerson, instead.
Jeb Bush, another former governor and failed presidential candidate, backed Mitt Romney in a potential bid for the U.S. Senate in 2018.
Bush tweeted on January 15, "Mitt would make a phenomenal addition to the U.S. Senate. I hope he runs."
Evan McMullin, a former presidential candidate and "Never Trump" activist, urged Romney to run for the open Senate seat in Utah to replace Sen. Hatch.
McMullin tweeted, "Thank you for your service to our state and country, Senator Hatch. In this seat, we must have a leader prepared to meet the challenges of our day and our future. I hope that leader will be @MittRomney."
THEY DRIVE ILLEGALLY, CONTRACT IN THE TRADES ILLEGALLY, STEAL
MILLIONS
OF
JOBS WITH IDENTITY THEFT OF SOCIAL SECURITY NUMBERS....
ONLY AN IDIOT
WOULD NOT THINK ILLEGALS ARE ANSWERING THE HISPANDERING POLS' WISH THAT THEY TO HEAD TO THE VOTING BOOTHS AND VOTE
OFTEN!
Who will influence the 2018 elections more: Russia or Mexico?
Exactly how many votes is Russia alleged to have cast in the 2016 elections? I believe that the number is zero.
Exactly how many votes have citizens of Mexico and Central America cast in the 2016 elections? We don't know the exact number, but we know that it is much more than zero.
"We find that some noncitizens participate in U.S. elections, and that this participation has been large enough to change meaningful election outcomes including Electoral College votes, and congressional elections," wrote Jesse T. Richman [and] Gulshan A. Chattha, both of Old Dominion University, and David C. Earnest of George Mason University.

More specifically, they write, "Noncitizen votes likely gave Senate Democrats the pivotal 60th vote needed to overcome filibusters in order to pass health care reform and other Obama administration priorities in the 111th Congress."

Specifically, the authors say that illegals may have cast as many as 2.8 million votes in 2008 and 2010. That's a lot of votes. And when you consider [that] the population of illegal inhabitants has only grown since then, it's not unreasonable to suppose that their vote has, too.
So why is Russia getting all the attention? Russia, at worst, operated a small-scale propaganda campaign on places like Twitter and Facebook before the election. The amount of propaganda it disseminated was far, far less than 1% of the liberal propaganda put out daily by The New York Times, The Washington Post, ABC, NBC, CBS, CNN, and many others who said Trump is a racist, Trump hates women, Trump hates poor people, etc. So Russian "interference" was basically negligible.
Yet you wouldn't know that from reading the headlines.
Russia is using fake accounts on social media – many of them bots – to spread disinformation, the officials said. European elections are being targeted, too, and the attacks were not likely to end this year, they warned.

"We expect Russia to continue using propaganda, social media, false-flag personas, sympathetic spokespeople[,] and other means of influence to try to exacerbate social and political fissures in the United States," Dan Coats, the director of national intelligence, told the Senate Intelligence Committee at its annual hearing on worldwide threats.
Oh, no – bots are spreading disinformation! Let me know when these bots produce 1% of the disinformation produced by The New York Times on a daily basis.
Trump initially tried to investigate real interference in our elections. He set up a commission to investigate voter fraud chaired by Kansas secretary of state Kris Kobach. But when the liberal media cried that the commission was all about voter suppression, Trump folded like a cheap umbrella. He shut down the commission before it could complete its research into what is probably massive voter fraud on the part of Mexican and other foreign nationals.
And so Republicans have accepted Democratic talking points. They talk only about Russian "interference" and are so cowed that they won't talk about illegal aliens voting. That's why we hear only about Russia, Russia, Russia, because like so many political topics – amnesty for illegal aliens, attempting to redefine marriage, boys in girls' bathrooms – Republicans are afraid to speak out.
'Eleven of California's 58 counties have registration rates exceeding 100% of the age-eligible citizenry.'
'California has the highest rate of inactive registrations of any state in the country. Los Angeles County has the highest number of inactive registrations of any single county in the country'
(Washington, DC)
– Judicial Watch announced today that it filed a federal lawsuit against Los Angeles County and the State of California over their failure to clean their voter rolls and to produce election-related records as required by the federal National Voter Registration Act (NVRA) (
Judicial Watch, Inc.et al. v. Dean C. Logan, et al.
(No. 2:17-cv-08948)). The lawsuit was filed in the United States District Court for the Central District of California's Western Division on behalf of Judicial Watch, Election Integrity Project California, Inc., and Wolfgang Kupka, Rhue Guyant, Jerry Griffin, and Delores M. Mars, who are lawfully registered voters in Los Angeles County.
Judicial Watch argues that the State of California and a number of its counties, including the county of Los Angeles, have registration rates exceeding 100%:
Eleven of California's 58 counties have registration rates exceeding 100% of the age-eligible citizenry.
Los Angeles County has more voter registrations on its voter rolls than it has citizens who are old enough to register. Specifically, according to data provided to and published by the EAC, Los Angeles County has a registration rate of 112% of its adult citizen population.
The entire State of California has a registration rate of about 101% of its age-eligible citizenry.
Judicial Watch points out that this is due in part to the high numbers of inactive registrations that are still carried on California's voter rolls:
About 21% of all of California's voter registrations, or more than one in five, are designated as inactive.
California has the highest rate of inactive registrations of any state in the country…. Los Angeles County has the highest number of inactive registrations of any single county in the country.
Although these inactive registrations should be removed after a statutory waiting period consisting of two general federal elections, California officials are simply refusing to do so.
Judicial Watch explains that, even though a registration is officially designated as "inactive," it may still be voted on election day and is still on the official voter registration list. The inactive registrations of voters who have moved to a different state "are particularly vulnerable to fraudulent abuse by a third party" because the voter who has moved "is unlikely to monitor the use of or communications concerning an old registration." Inactive registrations "are also inherently vulnerable to abuse by voters who plan to fraudulently double-vote in two different jurisdictions on the same election day."
Judicial Watch sent a written request for public records on November 16, 2017, and another on November 29, 2017, seeking information about "the number of inactive registrations on the voter rolls in Los Angeles County," but was told each time that there were no responsive records.
Last summer, Judicial Watch sent a broader request for voter roll records that Los Angeles County and the State of California are required by the NVRA to keep and to make publicly available. Nothing was produced in response to this request. Judicial Watch points out that it is impossible to believe that there were no responsive records:
Los Angeles County, with over five million active voters and massive list maintenance responsibilities, and the Secretary of State of California [must] have exchanged emails responsive to [Judicial Watch's] request for "all email or other communications between the Secretary's Office and all California County voter registration officials concerning . . . [i]nstructions to the counties concerning their general list maintenance practices and obligations" and "[n]otices to the counties concerning any failure to comply with their voter list maintenance obligations." Such emails should have been produced.
Section 8(a)(4) of the
NVRA
requires states to implement a program to remove ineligible registrants; and to turn over relevant records and information. Judicial Watch argues:
Los Angeles County is failing to properly conduct the list maintenance required by the NVRA by failing to properly train employees, failing to require and enter registrants' birthdates, and failing to timely process reports that registrants have died, have committed disqualifying felonies, are mentally incompetent, or have registered twice.
Judicial Watch asks that the court enjoin Los Angeles County and the state of California from further violating the NRVA, and compel them to "develop and implement a general program that makes a reasonable effort to remove from Los Angeles County's rolls the registrations of ineligible registrants." Judicial Watch asks to inspect and copy the requested voter roll records.
Judicial Watch sent a
notice-of-violation letter
in August 2017 to threatening to sue California and certain of its counties over their violations of the NVRA. California was one of
12 states
to receive such letters from Judicial Watch.
"California may have the dirtiest election rolls in the country," said Judicial Watch President Tom Fitton. "Federal law requires states to take reasonable steps to clean up their voting rolls. Dirty voting rolls can mean dirty elections. This lawsuit aims to ensure that citizens of California can have more confidence that their elections are fair and honest."
Judicial Watch Senior Attorney and Director of its
Election Integrity Project
Robert Popper recently
provided testimony
to the Presidential Advisory Commission on Election Integrity concerning the NVRA. Popper was formerly Deputy Chief of the Voting Section of the Civil Rights Division of the Justice Department.
Judicial Watch sent notice-of-violation letters threatening to sue
11 other states
having counties in which the number of registered voters exceeds the number of voting-age citizens, as calculated by the U.S. Census Bureau's 2011-2015 American Community Survey: Alabama, Florida, Georgia, Illinois, Iowa, Kentucky, Maryland, New Jersey, New York, North Carolina and Tennessee. Judicial Watch informed the states that should they fail to take action to correct violations of Section 8 of the NVRA, it would file suit.
Judicial Watch previously filed successful lawsuits under the NVRA against
Ohio
and
Indiana
that resulted in those states taking several actions to clean up their voting rolls. Judicial Watch is currently suing
Kentucky
over its failure to remove ineligible voters as required by the NVRA, and is suing the State of Maryland and
Montgomery County
over their failure to release voting-related records.
Judicial Watch is being assisted by Charles H. Bell Jr., of Bell, McAndrews & Hiltachk, LLP; and H. Christopher Coates of Law Office of H. Christopher Coates.
CALIFORNIA MOVES CLOSER TO FINAL SURRENDER TO LA RAZA SUPREMACY
DE FACTO CITIZENSHIP PER LA RAZA:
NO TEST, NO BACKGROUND CHECKS ON CRIMINALITY, NO BACK TAXES, NO
FINES.... JUST JUMP STRAIGHT TO VOTING BOOTHS! AND VOTE OFTEN!!!
In 2013, California lawmakers passed legislation that allowed illegal aliens to obtain driver's licenses if they can prove to the Department of Motor Vehicle (DMV) their identity and state residency. The plan was one of the largest victories to date by the open borders lobby
.… JOHN BINDER – BREITBART.com
Trump promises Wall Street, the Plundering U.S. Chamber of Corporate Fascist, Mexico and voting illegals:
NO (real) WALL, NO E-VERIFY, CONTINUED NON-ENFORCEMENT, OPEN BORDERS ADVOCATE TO HEAD DHS….
But isn't that already the La Raza Supremacy Democrat's agenda???
ILLEGALS VOTING IN MASSIVE NUMBERS IN MEX-OCCUPIED CA
''California is going to be a Hispanic
state," said Mario Obeldo, former head
of MALDEF. "Anyone who does not
like it should leave."
(THIS IS DATED. MEXICO NOW HAS INVADED ALL STATES )
ATTORNEY GEN OF CALIFORNIA XAVIER BECERRA and FORMER LOS ANGELES MAYOR ANTIONIO VILLARAIGOSA ARE BOTH MEMBERS OF THE FASCIST SEPARATIST MOVEMENT OF M.E.Ch.A.
And M.E.Ch.A's goal is even more radical: an independent ''Aztlan,'' the collective name this organization gives to the seven states of the U.S. Southwest – Arizona, California, Colorado, Nevada, New Mexico, Texas and Utah." NOW ADD THE OTHER STATES!
WILL MEXICO ELECT ALL FUTURE U.S. PRESIDENTS?
"Mexicans cheat, distribute drugs, lie, forge documents, steal and kill as if it's a normal way of life. For them, it is. Mexico's civilization stands diametrically opposed to America's culture." FROSTY WOOLDRIDGE
'Eleven of California's 58 counties have registration rates exceeding 100% of the age-eligible citizenry.'
'California has the highest rate of inactive registrations of any state in the country. Los Angeles County has the highest number of inactive registrations of any single county in the country'
The letter notes that the percentage in
L.A.
County may be as high as 144%.
Judicial Watch Warns California: 11 Counties Have More Voters than Voting-Age Citizens
THE LA RAZA SUPREMACY DEMOCRAT PARTY:
Getting LA RAZA illegals into the voting booths will assure endless hordes of "cheap" labor and destroy the GOP to make America a one-party country and massive, border to open border LA RAZA welfare state.
The Pew Research Center
found
in 2012 that a plurality of Hispanic illegal aliens are Democrats, while only 4 percent said they identified with the Republican Party.
While California did pass a law to increase voter turnout, the state has not made it legal for undocumented people to vote.
California passed a law to allow undocumented immigrants to vote.
See Example(s)
FALSE
In February 2016, California officials
announced
that more than 600,000 undocumented people were granted driver's licenses in 2015 (the first year after
AB 60
took effect):
Some 605,000 undocumented immigrants who live in California were granted driver's licenses in 2015, the first year they have been able to enjoy that benefit, officials said Monday.
The law known as AB60 took effect on January 2, 2015. The California Department of Motor Vehicles (DMV) expects a total of about 1.4 million people will get their license under the law by late 2017.
Governor Jerry Brown, a Democrat, signed the law in October 2013 to give a legal document to the 2.5 million undocumented immigrants in California alone — most from Latin America and particularly neighboring Mexico.
That renewed interest in another California
law
, the "New Motor Voter Act," which was passed in October 2015. The combination of these two acts, one allowing undocumented people to obtain driver's licenses, the other automatically registering citizens to vote when obtaining a driver's license, sparked fears (which have been
periodically
resurrected
for more than a
decade
) that California was allowing undocumented people to vote.
Judge Andrew Napolitano gave a voice to these fears during an
appearance
on "Fox And Friends":
Judge Andrew Napolitano says that "if you are an illegal alien in California, get a driver's license, register to vote, you can vote in local, state, and federal elections in California and those votes count."
On "Fox & Friends" Tuesday, host Steve Doocy explained, "The state of California has passed legislation that will automatically register eligible voters when they obtain or renew a driver's license. Governor Jerry Brown says it's a way to increase voter turnout, but critics warn the measure could add millions of illegal people to the rolls because the state allows undocumented aliens to get driver's licenses."
But neither Assembly Bill 60 nor the New Motor Voter Act provide undocumented immigrants with any additional federal benefits:
California officials believe the program — which does not give license holders any US federal benefits — does make roads in the most populous US state safer, several state sources said.
It does not allow license holders, for example, the right to fly on airplanes inside the United States, nor does it give anyone legal residency status, the right to work or to seek a US passport.
While critics of the New Motor Voter Act fear that undocumented people may slip through the loopholes and get registered to vote, it's false to say that California has made it legal for undocumented people to vote. In fact, California Secretary of State Alex Padilla said that the new law is actually more secure:
The way automatic registration works is relatively simple: Eligible citizens are registered to vote when they show up at a Department of Motor Vehicles office to obtain a driver's license or state ID. The DMV gives the eligible voter a chance to opt out if they prefer not to register. If the person does not opt out, the DMV electronically transfers their voter registration information to the Secretary of State's office, rather than making election officials enter data by hand from paper registration forms…
"… Automated voter registration is actually a more secure way of doing things," California Secretary of State Alex Padilla told

HuffPost

in September. Potential voters "have to demonstrate proof of age, the vast majority of time people are showing a birth certificate or a passport, which also reflects citizenship. That's arguably more secure than someone checking a box under penalty of perjury," Padilla said.
While it's true that undocumented people in California can obtain a driver's license, the state has not passed any laws which also gives them the right to vote. The New Motor Voter Act was passed in an effort to improve voter turnout, and while this law does automatically register citizens to vote when obtaining or renewing a driver's license, this only applies to citizens who are already eligible to vote.
Adios, Sanctuary La Raza Welfare State of California
A fifth-generation Californian laments his state's ongoing economic collapse.
By Steve Baldwin
American Spectator, October 19, 2017
What's clear is that the producers are leaving the state and the takers are coming in. Many of the takers are illegal aliens, now estimated to number over 2.6 million.
The Federation for American Immigration Reform estimates that California spends $22 billion on government services for illegal aliens, including welfare, education, Medicaid, and criminal justice system costs.
BLOG: MANY DISPUTE CALIFORNIA'S EXPENDITURES FOR THE LA RAZA WELFARE STATE IN MEXIFORNIA JUST AS THEY DISPUTE THE NUMBER OF ILLEGALS. APPROXIMATELY HALF THE POPULATION OF CA IS NOW MEXICAN AND BREEDING ANCHOR BABIES FOR WELFARE LIKE BUNNIES. THE $22 BILLION IS STATE EXPENDITURE ONLY. COUNTIES PAY OUT MORE WITH LOS ANGELES COUNTY LEADING AT OVER A BILLION DOLLARS PAID OUT YEARLY TO MEXICO'S ANCHOR BABY BREEDERS. NOW MULTIPLY THAT BY THE NUMBER OF COUNTIES IN CA AND YOU START TO GET AN IDEA OF THE STAGGERING WELFARE STATE MEXICO AND THE DEMOCRAT PARTY HAVE ERECTED SANS ANY LEGALS VOTES. ADD TO THIS THE FREE ENTERPRISE HOSPITAL AND CLINIC COST FOR LA RAZA'S "FREE" MEDICAL WHICH IS ESTIMATED TO BE ABOUT $1.5 BILLION PER YEAR.
Liberals claim they more than make that up with taxes paid, but that's simply not true. It's not even close. FAIR estimates illegal aliens in California contribute only $1.21 billion in tax revenue, which means they cost California $20.6 billion, or at least $1,800 per household.
Nonetheless, open border advocates, such as Facebook Chairman Mark Zuckerberg, claim illegal aliens are a net benefit to California with little evidence to support such an assertion. As the Center for Immigration Studies has documented, the vast majority of illegals are poor, uneducated, and with few skills. How does accepting millions of illegal aliens and then granting them access to dozens of welfare programs benefit California's economy? If illegal aliens were contributing to the economy in any meaningful way, California, with its 2.6 million illegal aliens, would be booming.
Furthermore, the complexion of illegal aliens has changed with far more on welfare and committing crimes than those who entered the country in the 1980s.
Heather Mac Donald of the Manhattan Institute has testified before a Congressional committee that in 2004, 95% of all outstanding warrants for murder in Los Angeles were for illegal aliens; in 2000, 23% of all Los Angeles County jail inmates were illegal aliens and that in 1995, 60% of Los Angeles's largest street gang, the 18th Street gang, were illegal aliens.
Granted, those statistics are old, but if you talk to any California law enforcement officer, they will tell you it's much worse today. The problem is that the Brown administration will not release any statewide data on illegal alien crimes. That would be insensitive. And now that California has declared itself a "sanctuary state," there is little doubt this sends a message south of the border that will further escalate illegal immigration into the state.
"If the racist "Sensenbrenner Legislation" passes the US Senate, there is no doubt that a massive civil disobedience movement will emerge. Eventually labor union power can merge with the immigrant civil rights and "Immigrant Sanctuary" movements to enable us to either form a new political party or to do heavy duty reforming of the existing Democratic Party. The next and final steps would follow and that is to elect our own governors of all the states within Aztlan."
Indeed, California goes out of its way to attract illegal aliens. The state has even created government programs that cater exclusively to illegal aliens. For example, the State Department of Motor Vehicles has offices that only process driver licenses for illegal aliens. With over a million illegal aliens now driving in California, the state felt compelled to help them avoid the long lines the rest of us must endure at the DMV.
And just recently, the state-funded University of California system announced it will spend $27 million on financial aid for illegal aliens.
They've even taken out radio spots on stations all along the border, just to make sure other potential illegal border crossers hear about this program.
I can't afford college education for all my four sons, but my taxes will pay for illegals to get a college education.