"Despite a reduction overall immigration being


one

of the most important issues for Republican


voters, as

Breitbart News

reported, Congressional


Republicans and the Trump administration have


set aside border controls, wage-increasing


immigration reductions, and increased interior


enforcement of immigration by signing off on the


spending bill."


Ann Coulter Congratulates 'President Schumer' on Spending Bill, Tells Trump 'You'll Be Impeached'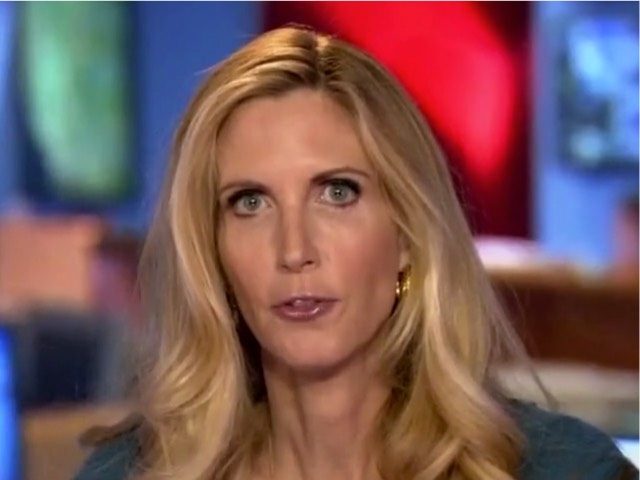 New York Times best-selling author and populist conservative columnist Ann Coulter congratulated Senate Minority Leader Chuck Schumer (D-NY) after President Trump signed off on the Republicans' omnibus spending bill that does not include a single provision from his 70-point list of pro-American immigration reforms.
In a series of online posts, Coulter told Trump he will "be impeached" after signing the spending bill ahead of the 2018 midterm elections where Republican voters are increasingly disappointed with anti-border wall, pro-immigration party leaders like House Speaker Paul Ryan and Senate Majority Leader Mitch McConnell.
Coulter wrote:
Democrats have already committed to their efforts to impeach Trump should they take the House and Senate in the midterm elections.
After Trump signed the omnibus, Democrats and their staffers cheered the move as a victory:
Despite a reduction overall immigration being one of the most important issues for Republican voters, as Breitbart News reported, Congressional Republicans and the Trump administration have set aside border controls, wage-increasing immigration reductions, and increased interior enforcement of immigration by signing off on the spending bill.
For example, the omnibus bans Trump from funding a new border wall, increases the Catch and Release program for illegal aliens, and does not fund the 1,000 new deportation agents he had previously requested.
Omnibus Spending Bill Allows More Illegal Aliens to Be Released into U.S. Through 'Catch and Release'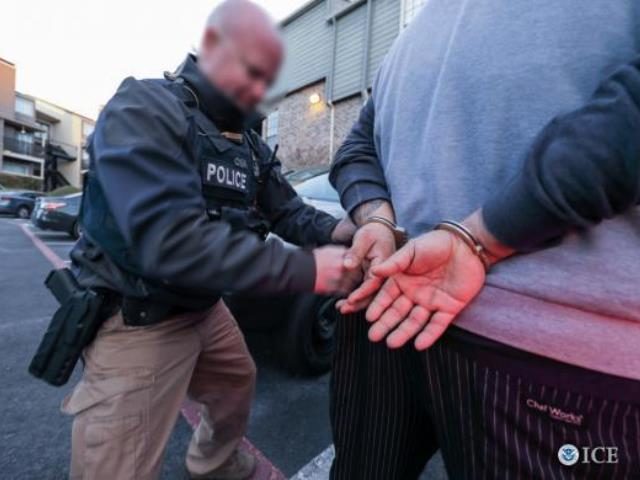 The omnibus spending bill, passed by the Republican-controlled House and Senate, will allow more illegal aliens to be released into the United States after they are caught crossing the southern border through the "Catch and Release" program.
The spending bill, which Trump signed despite opposition from conservatives and his base of supporters, paves way for the Catch and Release program to not only continue, but increase in its use.
Catch and Release is the process where illegal aliens caught by federal immigration officials are released back into the U.S. until their immigration court hearing. Part of the reason for their release into the country is because the federal government refuses to fund the space needed to detain illegal aliens until their hearing.
After being released, illegal aliens often do not show up for their court hearing and become quasi-fugitives living in the interior of the country, adding to the already booming 12 to 30 million illegal alien population.
Local media reports across the U.S. have highlighted how the Catch and Release program has continued:
Currently, according to the Washington Times' Stephen Dinan, the Immigration and Customs Enforcement (ICE) has been using about 40,761 beds in its detention centers on average to house illegal aliens awaiting their hearings.
Ryan's spending bill eliminates nearly 250 of those detention center beds, thus increasing the number of illegal aliens who will be released back into the U.S. through the Catch and Release program.
The spending bill does not include any of the provisions from Trump's list of pro-American immigration principles, where he called for the end of Catch and Release.
Trump's populist immigration agenda, wherein he has called on the Republican-controlled Congress to reduce overall immigration levels to raise the wages of American workers, has largely fallen on deaf ears in the GOP leadership.
For the 2018 midterm elections, Republican voters have said that reducing overall illegal and legal immigration levels to the U.S. — where more than 1.5 million immigrants are admitted annually — is a bigger priority than tax reform, replacing Obamacare, and even destroying ISIS.
Border Council Rips 'Catch and Release'
---
Under catch and release, federal immigration agencies are freeing illegal aliens at the border when there is no bed space at detention facilities. They're even getting taxpayer-funded air transportation into the interior U.S.
Department of Homeland Security officials revealed in January that groups of illegal aliens were put on planes in Texas and Arizona bound for Salt Lake City and Minneapolis, respectively. Accompanied by Department of Health and Human Services escorts, they were flown to destinations of their choice, with priority boarding to boot.
"We thought there would be a massive change [with President Trump taking office], but that hasn't happened," NBPC President Brandon Judd told FAIR this week.
In a January 2017 executive order, Trump directed DHS to "immediately take all appropriate actions to ensure the detention of aliens apprehended for violations of immigration law pending the outcome of their removal proceedings or their removal from the country to the extent permitted by law."
U.S. Immigration and Customs Enforcement "is committed to supporting the executive order," ICE spokesman Matthew Bourke told FAIR.
Bourke said the agency is adding detention space and working to expedite hearings at backlogged immigration courts. The average daily population at ICE detention facilities grew from 28,449 in fiscal 2015 to 38,106 in fiscal 2017.
ICE would not disclose how many migrants had been caught and released. Reuters reportedlast summer that the number of illegal immigrants awaiting court hearings while living freely in the United States was growing by 7,500 per month.
Judd said letting illegal aliens go on their own recognizance with a flimsy court "notice to appear" makes matters worse.
"The whole drive to stop illegal border crossings is predicated on deportations," Judd asserted.
While critical of ICE, Judd isn't letting his own agency off the hook.
"Border Patrol leadership could have processed our arrests in a manner that would have forced ICE Enforcement and Removal Operations to hold the individuals pending adjudication before a judge, but we didn't."
"There is no legal requirement to release (illegal aliens)," Judd concluded. "We're doing it because we're unwilling to transfer them to detention facilities in other parts of the country that have bed space. This is about money and not the protection of U.S. citizens."
And speaking of money, the $1.3 trillion spending bill in Congress won't help. It limits the number of illegal aliens ICE can detain and restricts hiring of new ICE interior enforcement agents.
If Obama holdovers won't carry out his immigration orders, the president must remove them immediately.
BORDER PATROL FIGHTS BACK
U.S. officials are refusing to hand over criminal aliens to California.
March 23, 2018
The U.S. Border Patrol is reportedly fighting back against California's openly seditious statewide sanctuary laws by refusing to hand over illegal aliens with felony warrants to police in California.
This makes perfect sense, according to the law of unintended consequences. It is an appropriate, tactically innovative way to counter California's ridiculous laws that seek to nullify federal immigration legislation.
Rodney Scott, the chief patrol agent in the Border Patrol's San Diego sector, previously said that the Golden State's sanctuary laws were making normal cooperation between his agency and local law enforcement difficult.
This is because California now largely forbids cooperation with federal immigration authorities, a violation of the U.S. Constitution's Supremacy Clause. State law there now imposes draconian restrictions on communication between local police and federal immigration enforcement, including information regarding when criminal aliens are scheduled to be released from local jails.
According to the Daily Caller, Scott recently entered into evidence a declaration in support of the U.S. Department of Justice's lawsuit aimed at California's reckless sanctuary state laws.
In the declaration Scott recounted several instances in which San Diego sector border agents determined that they could not hand over custody of a criminal alien to local law enforcement because local officials could not be trusted to return the alien to federal custody after processing by the courts.
According to the news report:
"In each instance, the Border Patrol Agent determined it was not appropriate, consistent with his or her federal responsibilities to ensure the enforcement of immigration law, to release a criminal alien to the state and local law enforcement," Scott said in a court declaration. "This was because, although the alien was subject to removal, if released to California law enforcement, the alien would ultimately be released into the public."
So now Border Patrol agents, unlike California officials, are putting the public interest first. This effort aimed at the lawlessness of sanctuary jurisdictions is something that patriotic Americans should applaud.
For years jailers in California and other liberal states have been refusing to honor detainer requests from U.S. Immigration and Customs and Enforcement (ICE), often with disastrous results.
Felon and serial deportee Jose Inez Garcia Zarate killed Kate Steinle, 32, on July 1, 2015, after then-San Francisco sheriff Ross Mirkarimi (D), a wife-beating, driver license-suspended, gun permit-revoked, illegal alien-loving radical leftist ignored a detainer notice and put the Mexican national back on the streets.
Since Steinle's untimely death, others have been killed by illegal aliens freed by detention centers that refused to respect ICE detainers, according to a long list compiled by Senate Judiciary Committee Chairman Chuck Grassley (R-Iowa).
For example, in July 2016, Marilyn Pharis, 64, was raped, tortured, and murdered in her home in Santa Maria, Calif., allegedly by illegal alien Victor Aureliano Martinez Ramirez, a Mexican national, after a detainer was ignored and he was released from jail.
Two months later Danny Centeno-Miranda, 17, of Loudoun County, Va., was murdered by illegal alien Jose Espinosa De Dios, a citizen of Mexico, after the perpetrator was set free when a detainer was ignored.
After Los Alamitos in Orange County preliminarily approved a local ordinance defying the state law and filed an amicus curiae brief in the U.S. Department of Justice lawsuit against California, officials in Orange County and other cities say they may also opt out of the sanctuary state law. Officials in Aliso Viejo and Buena Park and up to another dozen localities are also considering opting out.
"This is important for us, for our city, for our community," Warren Kusumoto (R), the mayor pro tempore of Los Alamitos and author of the ordinance said. "We are a little city in Orange County, but we're tired of things coming out of Sacramento that just don't make sense, and now others are telling us they feel the same way."
Thursday on Fox News Channel, Michelle Steel (R), an immigrant from South Korea who is now a member of the Orange County Board of Supervisors, blamed Democrats for causing the problem. "Left-wing legislators" in the state capital "created this chaos," she said.
Kusumoto said state lawmakers are "bullying" city leaders. Outside groups are having people call him at home from Washington, D.C., Wisconsin, and Florida and read from a script, he said.
Antsy Democrats have been slinging invective and abuse at Los Alamitos officials for days. California Senate President Pro Tempore Kevin de Leon (D) said the move by Los Alamitos was "a symbolic vote in favor of President Trump's racist immigration enforcement policies."
Kusumoto, whose grandparents came to the U.S. from Japan, ridiculed de Leon.
"The bullies on the left—they are out there trying to paint us as racist," he said. "We're not. Or they are trying to paint us as anti-immigrant, and we're not. I come from immigrants—I am not anti-immigrant. That's the sad part. Those who protest us paint a broad brush and they do it for effect."
News of the rebellion against oppressive California laws came as the U.S. House of Representatives voted 256 to 167 yesterday to approve an omnibus spending bill that would fund the federal government through the end of the federal fiscal year on Sept. 30. The vote took place less than 24 hours after the text of the fiscal legislation was revealed. At least a brief partial shutdown seems likely because the U.S. Senate isn't currently expected to vote on the bill until 1 a.m. on Saturday, an hour after the federal government's legal authority to spend money runs out.
As expected, at a staggering 2,232 pages, the monster spending legislation that only became public late Wednesday forsakes conservatives in a multitude of ways. (The full text of the bill is available here.)
"A more complete betrayal of the electorate I have not witnessed. #omnibus[,]" conservative Rep. Thomas Massie (R-Ky.) tweeted soon after the vote.
Rep. Jim Jordan (R-Ohio) urged President Trump to veto the bill that is larded down with left-wing priorities. "Planned Parenthood, Gateway Bridge, Planned Parenthood, trillion dollar deficit, and no wall," Jordan said.
But barring dramatic new developments, that is not going to happen. President Trump has already thrown away his bargaining power and capitulated on the Democrat-friendly omnibus bill.
"The president supports the bill, looks forward to signing it," Office of Management and Budget (OMB) Director Mick Mulvaney said yesterday.
Why President Trump supports this omnibus measure is unclear. It undermines him.
Its enactment would hand Democrats a spectacular victory by failing to block the flow of federal grant monies to illegal alien-shielding sanctuary jurisdictions like San Francisco that brazenly obstruct federal immigration enforcement. The sanctuary movement gave illegal aliens permission to rob, rape, and murder Americans by, among other things, stigmatizing immigration enforcement. Sanctuary cities should be called traitor citiesbecause they are in open rebellion against the United States every bit as much as the Confederates were when they opened fire on Fort Sumter.
The omnibus bill also provides barely any funding for the construction of the U.S.-Mexico border wall that was a centerpiece of Trump's election campaign. The bill contains $1.57 billion for limited border fencing and improved border enforcement technology, which is barely a fraction of the $25 billion the Trump administration originally sought for border security.
OMB's Mulvaney said the omnibus bill funds 110 miles of border barriers, only 33 of which cover areas of open border that currently lack walls or fencing.
Last year the president vowed to construct the wall, which would require building on 700 to 900 miles, in his first term, but according to one calculation, at this rate it would take more than a decade to finish the job.
Even though Democrats obviously ran the table on Republicans during the omnibus negotiations, it still wasn't enough for plenty of Democrats.
"Anyone who votes for the omnibus is voting for the deportation of Dreamers and other immigrants," whined small-c communist congressman Luis Gutierrez (D-Ill.) in a press release before the roll call vote.
"You will be voting to take money from law-abiding taxpayers – some of whom are immigrants – and give that money to privately-run prisons that will make a profit off of each and every human being our government hands over to them for detention and then deportation."
A legislative fix allowing those who have benefited from the Obama-era Deferred Action for Childhood Arrivals (DACA) program to receive legal certainty about their status in the country or perhaps an immigration amnesty was left out of the omnibus bill. There are around 700,000 DACA-eligible individuals who came as young people to the U.S. but they are a small subset of perhaps around 4 million or so so-called DREAMers, many of whom failed to apply for relief under DACA but who could conceivably qualify under the kind of amnesty Democrats want.
Although Trump ordered DACA ended back in September, an overreaching leftist judge ordered the administration to continue taking renewal applications under the program from status-holders who failed to meet an October deadline. The constitutionally dubious court order remains in effect.
NANCY PELOSI, and her LA RAZA SISTERS, SEN. DIANNE FEINSTEIN, FORMER SEN. BARBARA BOXER and NOW SEN. KAMALA HARRIS are a pantheon of staggering self-serving corruption.
They and their families have all gotten filthy rich off of these women's elected office.
Their endless hispandering for the illegals' votes has turned California into Mexifornia, a drug, gang and anchor baby welfare third-world dumpster!
IMPOSE E-VERIFY AND YOU INSTANTLY CREATE MILLIONS MORE JOBS AND FORCE WAGES UP!
NumbersUSA's Rosemary Jenks:
E-Verify Ignored in DACA Negotiations Because 'Members of Congress Know It Will Work'
Members of Congress broadly oppose a legislative nationwide E-Verify mandate for employers because "they know it will work," said NumbersUSA's Rosemary Jenks, explaining why E-Verify is not being pushed in congressional negotiations for an amnesty deal for recipients of the Obama administration's Deferred Action for Childhood Arrivals (DACA). Jenks further noted that both parties are beholden to special interests supportive of "mass migration."
Border Wall: GOP Makes Excuses, Pelosi Taunts Trump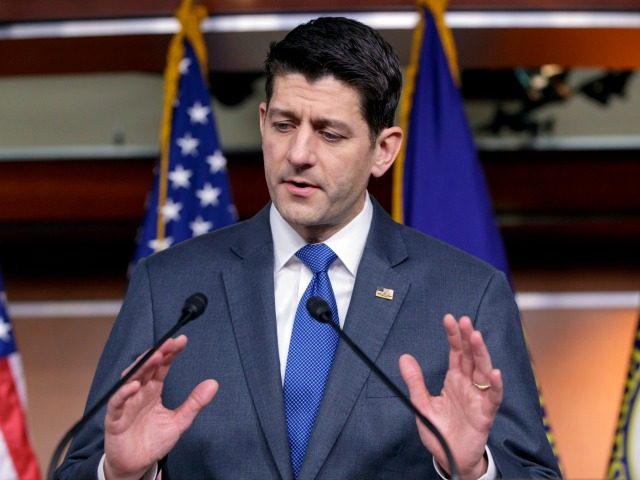 The GOP establishment is offering excuses for its refusal to fund the border wall, while Democrats are taunting President Donald Trump over their success in blocking all wall funding.
The 2018 omnibus budget includes language barring any spending on President Donald Trump's concrete-and-metal border walls, but it does fund 33 miles of extra front-line fencing. The GOP and Democratic leaders directed the extra fencing be placed in the Rio Grande area of the border, leaving cheap-labor migrants with easy passage through hundreds of miles of unrestricted border, especially if they apply for asylum.
Democratic leader Rep. Nancy Pelosi taunted Trump during the House debate on the bill on March 22, saying:
He has said in one of his tweets this morning how happy he was because he got the $1.6 billion to start the wall and more to come. That's not completely true, Mr. President. There's some resources for fencing and repairs and the rest there. But some of that money is for technology and other ways to protect our borders. We all have a responsibility to protect our borders, north and south, but if you want to think that you're getting a wall, you just think it and sign the bill.
House Speaker Paul Ryan said the budget deal is only for six months, suggesting that Congress will approve another budget by the required October deadline, just before the November election. He said March 22:
This bill has funding that lasts for six months. Six months. And we're putting the administration's full request for the border and for border security and the wall in here for the next six months — a one year's worth of requests in six months.
However, "not a single appropriations bill has been enacted on time since 2009," according to the Bipartisan Policy Center.
Also, the election is due in November, so Senate Democrats are very unlikely to approve wall funds in the 2019 budget by the October 1 deadline, especially because they successfully delayed the 2018 budget from October 2017 to March 2018 and also struck out all 2018 wall funding. Democrats — aided by business-first Republicans — also blocked wall funding in the May 2017 omnibus.
Ryan claimed that Congress followed requests from the Border patrol — not the White House — and is funding more new barriers that Trump asked for, and he described the additional fences as "walls":
This actually has more wall funding and more wall allotment than the administration's request had. So we even do more in this bill than what the President's budget asked us to do. So we're going to be getting a downpayment and starting on the border security — and by the way, border security means a lot of things. It means a wall, it means a levee, it means see-through [fence], it means resources. It's a very diverse border. What we do is we listen to the Border Patrol; What do you need? where do you need it? And we listen to them tell us, based on conditions on the ground, 'These are the physical barrier structures that are necessary.' That's what we're funding here and we're getting a good head start on it.
In Ryan's opening remarks, however, he downplayed the importance of border security, saying "the fundamental question is whether we're going to preserve the primacy of the American military."
Ryan's budget bill increased Pentagon funding by $78 billion, but only provided $641 million — or five cents of every $100 — for border fencing.
Marc Short, the White House's chief outreach aide to Congress, echoed Ryan's six-month excuse in his appearance on MSNBC, saying "the $1.6 billion is what we asked for, and keep in mind, Hallie, it is for six months."
Like Ryan, Short also argued that the fence is a wall, and the mandated fencing has been approved by the border patrol.
Short — who worked as a top deputy and never-Trump aide for the pro-migration Koch brothers — also said the federal government could not have spent additional funds efficiently in six months, even though agencies normally have up to five years to spend any money appropriated for construction.
Short said Congress approved more miles of fencing than expected, even though at least 14 miles of fencing will be a second layer of fencing in a secure zone near San Diego.
In many cases, the wall that they are actually putting down, that they are actually providing funding for, is the wall that is CBP has asked for in many places. Additionally, it is $1.6 billion for the next six months. That is what we believe that we can financially do in a sustainable manner. More funding than that in the next six months would not have been able to be completed, so it is what we asked for.

Additionally, we ended up getting more miles in new construction than was in our initial plan … there are naturally compromises that you need to make when you are working with Democrats … you need 60 votes in the U.S. Senate.
Democrats and business-first Republicans go to great lengths to protect the supply of cheap migrant labor.
Four million Americans turn 18 each year and begin looking for good jobs in the free market.
But the federal government inflates the supply of new labor by annually accepting roughly 1.1 million new legal immigrants, by providing work-permits to roughly 3 million resident foreigners, and by doing little to block the employment of roughly 8 million illegal immigrants.