OPEN BORDERS: The Democrat Party's Weapon of Mass Destruction on the American Worker
"Los Angeles saw all crime rise in 2015: violent crime up 19.9 percent, homicides up 10.2 percent, shooting victims up 12.6 percent, rapes up 8.6 percent, robberies up 12.3 percent, and aggravated assault up 27.5 percent,"Landry said."
ACLU (again) Defends Actual Lawbreakers While Stoking Fear About Fantasy Crimes
---
---
In its heyday, the American Civil Liberties Union (ACLU) spent its time waging battles against government overreach on behalf of the American people's Constitutional rights. Today, the group expends its energy and financial resources defending those who willingly violate U.S. immigration law and suing anyone who opposes their open door immigration views.
The latest sign of how the ACLU has lost its moorings is a recent Freedom of Information Act (FOIA) request the
group filed
with the Social Security Administration (SSA) in order to allay their fears the Internal Revenue Service (IRS) was sharing information with the Department of Homeland Security.
The impetus for the expedited request was not a real or even alleged crime, but a media report on efforts to "promote the sharing of information between the Social Security Administration (SSA), the Internal Revenue Service (IRS), and the Department of Homeland Security (DHS)."
That is a very long-winded way of saying a proposal to make E-Verify mandatory. According to the ACLU, requiring employers to ensure their present and potential hires are legally eligible to work and then enforcing those laws is of great and urgent concern.
The ACLU does acknowledge the SSA and IRS must treat tax information filed by illegal aliens with the same respect for privacy as American taxpayers. But their concerns seem more related to preventing workplace enforcement actions than protecting the privacy of illegals.
First, they raise red flags about any "proposal to require information sharing between the SSA, IRS, and DHS for the purpose of worksite immigration enforcement" because it "could violate existing federal law."
Okay? Then what about the "existing federal" immigration law violated when an illegal alien entered the country, as well as the "existing federal" workplace laws violated when that illegal alien took a job they are not eligible to hold?
The FOIA is overly and purposefully broad. In asking for the production of every document or communication between the SSA and any component of the DHS related to sharing (or planned sharing) of information from January 2017, the ACLU does not aim to prevent the government from abusing the law, but to prevent them from enforcing it.
Not only is the ACLU trying to obstruct the enforcement of existing laws, they want the government to pay for it. The last part of the ACLU request was for "a waiver of document search, review, and duplication fees on the grounds that disclosure of the requested records is in the public interest."
IT WILL TAKE A CIVIL WAR TO PUSH
MEXICO OUT OF OUR OPEN BORDERS
AND END LA RAZA SUPREMACY!
STAGNANT WAGES and the Dem Party's obsession with open borders, amnesty and no damned legal need apply!
THE LA RAZA SUPREMACY PARTY for OPEN BORDERS, AMNESTY, NON-ENFORCEMENT, NO E-VERIFY and no Legal need apply!!!
The Democratic Party
used to be
the party of blue collar America- supporting laws and policies that benefited that segment of the U.S. population. Their leaders may still claim to be advocates for American working families, however their duplicitous actions that betray American workers and their families, while undermining national security and public safety, provide clear and incontrovertible evidence of their lies…. MICHAEL CUTLER …FRONTPAGE mag
THE LATEST INSANE ILLEGAL ALIEN COURTRULING
April 25, 2018
The left talks about the rule of law. But by "law", it means its own power to impose its ideology.
There have almost been too many insane Federal court rulings denying Trump's right to do what every previous president could do to keep track of.
Here's the latest
DACA ruling.
Another federal judge has overruled the Trump administration's efforts to end a popular immigration program -- this time saying the government has to accept new applications.
The entire premise of DACA was that deportation was selective. The President has the power to decide whom to deport and whom not to deport. Now we've had multiple rulings by Federal judges which state, effectively, that Obama had the power to selectively deport illegal aliens, but not Trump.
And we have a court once again ruling that a unilateral move by Obama, with no legislative support, somehow has the rule of law. So that Trump not only has to abide by Obama's selective deportation policy, but that he has to perpetuate it, thereby giving Obama authority over deportation policy in the Trump admin.
Similar to the other rulings, Judge John Bates concluded that the wind-down of DACA was "arbitrary and capricious" because the Department of Homeland Security failed to "adequately explain its conclusion that the program was unlawful." The judge also accused the government of providing "meager legal reasoning" to support its decision.
We've had this same "arbitrary" nonsense in a number of areas.
And Judge Bates is actually arguing that precedent by the Fifth Circuit Court of Appeals and the lack of approval from Congress for a wholly unilateral executive move is meager legal reasoning.
In his 60-page decision, Bates took the administration to task for its justification for ending DACA, which was almost entirely based on a threat from Texas and a handful of other states to challenge DACA in court.
"Almost entirely".
We're talking about successful challenges from major states. Meanwhile the University of Hawaii somehow has the ability to block a terror travel ban.
Bates called the move "particularly egregious" given the hundreds of thousands of DACA recipients, young undocumented immigrants who came to the US as children, protected under the program over its five years. Given how many people's lives were built on the protections from DACA, Bates said, "its barebones legal interpretation was doubly insufficient."
That's not a legal decision. It's a political argument.
And that's all these decisions amount. Legislating from the bench.
Tent Cities Could Prevent Caravan of Asylum-Seekers from Becoming 'Catch and Release' Beneficiaries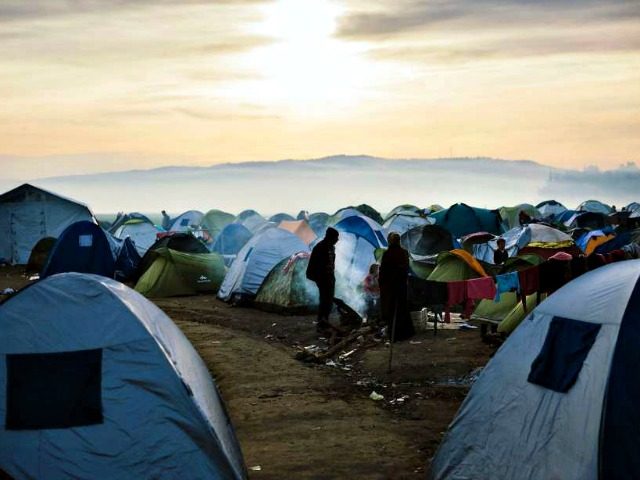 Tent cities built along the United States-Mexico border could prevent a caravan of about 1,500 asylum-seekers from Central America from becoming the beneficiaries of the ongoing "Catch and Release" program, wherein foreign nationals are released into the U.S. while they await immigration and asylum hearings.
A caravan of 1,500 Central Americans, mostly from Honduras, are arriving in the U.S. this week, most likely through ports of entry as asylum-seekers, as
Breitbart Texas
reported.
Already, Attorney General Jeff Sessions has
geared up
his Department of Justice (DOJ) to effectively deal with and prevent the asylum-seekers from being released into the U.S. through Catch and Release by delivering more immigration judges and attorneys to the border.
While Sessions is implementing a legal wall to stop the caravan, Trump's Department of Homeland Security (DHS) could ask the hundreds of National Guard troops who have already been sent to the southern border to construct tent cities that could house asylum-seekers and border-crossers while they await their hearings.
As
Breitbart News
first reported, while the troops at the border are not authorized to act as fill-in Border Patrol agents, catching and detaining illegal aliens, they can construct barriers on the border.
Former immigration judge Andrew Arthur has previously told Breitbart News that to unilaterally, temporarily end Catch and Release, the Trump administration could set up the tent cities along the southern border, similar to what President Clinton did in the
1990s
.
Detaining the asylum-seekers and border-crossers in tent cities, coupled with Sessions' deployment of more immigration judges and attorneys to the border, would speed up the court process and swiftly lead to foreign nationals either being allowed to stay in the U.S. or being deported.
Most significantly, the construction of tent cities would, at least temporarily, end Catch and Release.
John Binder is a reporter for Breitbart News. Follow him on Twitter at
@JxhnBinder
.
THE DEATH GAP: INEQUALITY IS KILLING AMERICA!
CALL IT OBAMA-CLINTONOMICS OR TRUMPERNOMICS FOR THE SUPER RICH!
IT'S ALL ABOUT KEEPING WAGES DEPRESSED AND PASSING ALONG
THE ILLEGALS' WELFARE AND CRIME COSTS TO THE AMERICAN
OBAMA'S CRONY BANKSTERISM destroyed a 11 TRILLION DOLLARS in home equity… and they're still plundering us!
Barack Obama created more debt for the middle class than any president in US
history, and also had the only huge QE programs: $4.2 Trillion.
OXFAM

reported that during Obama's terms, 95% of the wealth created went to
the top 1% of the world's wealthy.
L.A. to Pay Residents to House Homeless in Granny Units and Garages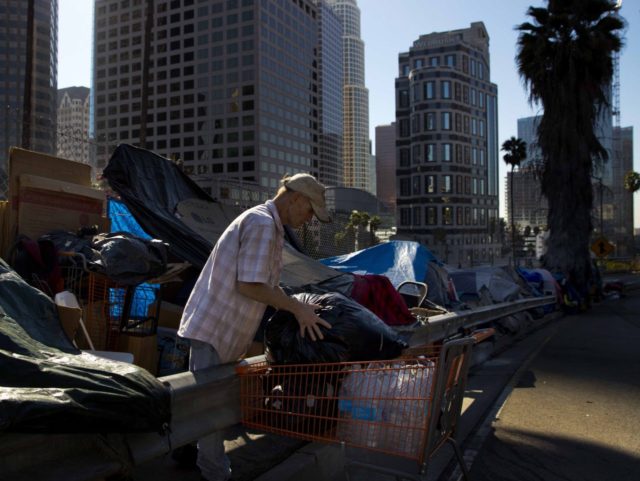 The City of Los Angeles wants to pay property owners to renovate garages and build backyard houses to rent out to the homeless.
The proposal, described by the Los Angeles Times, is mayor Eric Garcetti's latest effort to tackle the growing problem of homelessness as he attempts to build a national profile as a potential presidential candidate in 2020.
The New York Times has reported that California leads the nation with about 118,000 people experiencing homelessness on an average night — a quarter of the nation's homeless population. Many of the homeless in the state are in L.A. County.
The situation is so desperate that the Los Angeles County Board of Supervisors in August 2017 unanimously approved a $550,000 "Second Dwelling Unit Pilot Program" to pay qualifying homeowners in unincorporated areas up to $75,000 to build a second "granny" unit in areas zoned for such structures.
The pilot program will also provide grants of up to $50,000 to try to legalize some of the huge number of existing accessory dwelling units (ADUs) that were never approved by the county or city planning departments.
The City of Los Angeles had planned to build apartments for the homeless in Temple City and Boyle Heights. Butpontaneous "NIMBY" (Not In My Back Yard) protests broke out last month from local residents angry about homeless dumping in their communities.
Breitbart News reported that similar angry protests broke out at the Orange County Board of Supervisors meeting on March 23 when the county tried to move 700 homeless people evicted from the banks of the Santa Ana River to tent camps near city parks near the bedroom communities in Irvine, Huntington Beach, and Laguna Niguel.
The move would have complied with a settlement in a federal civil rights lawsuit and saved Orange County about $780,000 per month in hotel costs. But 2,500 mostly local homeowners from the affected cities shut down the plan by showing up at the weekly board meeting waving hundreds of signs and chanting, "No tent city!" and "Protect our community, protect our children."
Based on the Second Dwelling Unit Pilot Program's supposed success, and a $100,000 Mayor's Challenge feasibility planning grant from Bloomberg Philanthropies, the UK Daily Mail has reported that the City of Los Angeles intends to use a big piece of the $1.2 billion Proposition HHH bond approved by voters in 2016 to house the homeless permanently.
The grannie flats and garages will be required to include kitchenettes, toilets, and shower amenities. The prospective tenants will be screened by social workers, and will work with counselors to obtain job training and ree-nter the work force within 3 years.
FORMER SEN. BARBARA BOXER and NOW SEN. KAMALA HARRIS are a pantheon of staggering self-serving corruption.
They and their families have all gotten filthy rich off of these women's elected office.
Their endless hispandering for the illegals' votes has turned California into Mexifornia, a drug, gang and anchor baby welfare third-world dumpster!
"Liberal governing has transformed beautiful California into the
poverty capital of America
with the worst quality of life.
Crazy taxes
, crazy
high cost of living
, and crazy
overreaching regulations
have crushed the middle class, forcing the middle class to exit the Sunshine State. All that is left in California are illegals feeding at the breast of the state, rapidly growing
massive homeless tent cities
, and the mega-rich." LLOYD MARCUS
AMERICA: ONE PAYCHECK AND TWELVE ILLEGALS AWAY FROM HOMELESSNESS!


A dashcam video of downtown Los Angeles on Christmas day reveals a stunning sight: hundreds of tents and lean-tos on the sidewalks that serve as shelter for the homeless. The scene is reminiscent of a third-world country. RICK MORAN / AMERICANTHINKER com
HOMELESS CRISIS IN LOS ANGELES, MEXICO'S SECOND LARGEST
CITY, WORSENS BY THE DAY…. Approximates the great depression
93% of the murders in Los Angeles are by Mexicans
HOMELESS AMERICA'S HOUSING CRISIS as 40 million illegals have climbed U.S. open borders.
EVERY AMERICAN (Legal) only one paycheck and two illegals away from living in their cars.