GHETTO BLACK TERRORISM IN AMERICA…. BLAME WHITEY?
In 2016,
7881 blacks were murdered
, 90.1% of them by other blacks; 7100 blacks killed by other blacks. FBI crime facts show only 16 unarmed blacks were shot by police. CHRIS KEMBLE – AMERICAN THINKER
THE SUBCULTURE OF GROSS IGNORANCE, HIP HOP, MURDER, VIOLENCE, CHILD ABUSE, ABORTION and DRUGS…. And yet they blame whitey!
More Joy Reid Anti-Gay Writings Discovered — MSNBC Host Claims Site was Hacked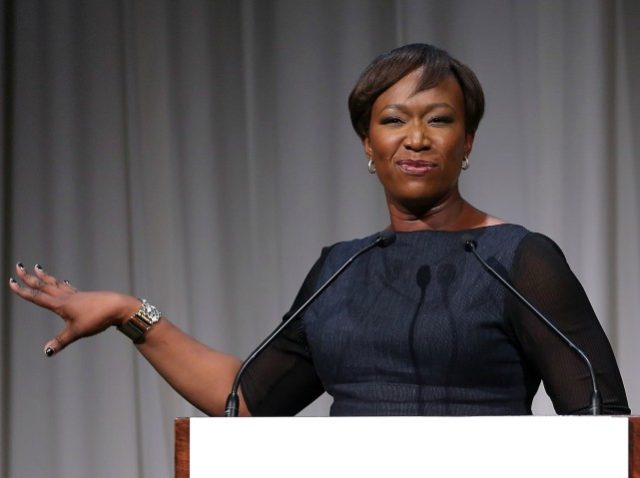 Joy Reid's old blog, The Reid Report (2000-2014), is littered with even more anti-gay posts than were originally discovered, reports the far-left blog Mediate. The MSNBC host is claiming these latest discoveries were not written by her, but by hackers as a means "to taint my character."
Earlier this year, Reid admitted to authoring a number of posts on her old site that mercilessly ridiculed then-Republican Florida Governor Charlie Crist as a homosexual (even after he married a woman). Reid was clearly using homosexuality as a pejorative, as a weapon of ridicule, so the left-wing MSNBC anchor's homophobia has already been well- established.
Here are some the new finds on Reid's old site that she claims she did not write:
Keeping it real … most straight men feel exactly the same way, and would have the exact same reaction to the idea of stripping naked in a sweaty locker room in close quarters with a gay teammate. Most straight people cringe at the sight of two men kissing… Most straight people had a hard time being convinced to watch 'Broke Back Mountain.' (I admit that I couldn't go see the movie either, despite my sister's ringing endorsement, because I didn't want to watch the two male characters having sex.)

Does that make me homophobic? Probably. And I'm not exactly proud of it. But part of the intrinsic nature of "Straightness" is that the idea of homosexual sex is … well … gross … even if you think that gay people are perfectly lovely individuals. For the record I'm sure gay people think straight sex is gross, too, it's the that the nature of political correctness is that gay people are allowed to say straight sex is gross but the reverse is considered to be patently homophobic.
While defending a Marine General who declared homosexual acts "immoral," Reid (or her hacker) wrote in 2007…
"Some people use the [word] 'immoral' when they really mean 'distasteful' — I think a lot of heterosexuals, especially men, find the idea of homosexual sex to be … well … gross, and they lump it in with immorality."
Mediaite adds that Reid (or her hacker) went on, "And then there are the concerns that adult gay men tend to be attracted to very young, post-pubescent types, bringing them 'into the lifestyle' in a way that many people consider to be immoral… Ditto with gay rights groups that seek to organize very young, impressionable teens who may have an inclination that they are gay."
Other posts included a list of the top five "totally not gay celebrities" that included CNN's Anderson Cooper, and singer Clay Aiken, who were only rumored at the time to be gay. In 2005, seven years before he came out, Reid said that Cooper is the "gayest thing on TV" and added that she has it "on good authority that Cooper is totally gay."
Interestingly enough, Mediaite adds that Reid repeatedly wrote about opposing same sex marriage.
Reid's hacker must have been fairly busy and thorough because dozens of politicians and celebrities were hit with gay jokes, according to Mediaite, including one aimed at her current colleague, MSNBC's Chris Matthews.
Here is Reid's full denial:
In December I learned that an unknown, external party accessed and manipulated material from my now-defunct blog, The Reid Report, to include offensive and hateful references that are fabricated and run counter to my personal beliefs and ideology.

I began working with a cyber-security expert who first identified the unauthorized activity, and we notified federal law enforcement officials of the breach. The manipulated material seems to be part of an effort to taint my character with false information by distorting a blog that ended a decade ago.

Now that the site has been compromised I can state unequivocally that it does not represent the original entries. I hope that whoever corrupted the site recognizes the pain they have caused, not just to me, but to my family and communities that I care deeply about: LGBTQ, immigrants, people of color and other marginalized groups.
It is worth noting, however, that Reid does admit these posts came from her blog … with the caveat that they were added by nefarious hackers after she had the site shut down. It's unclear when the nefarious hackers would have hacked her site and added the controversial content, since it has been defunct for years and still is. More importantly, NBC could or would not specify exactly which posts Reid is claiming were doctored.
On top of Reid, there is Saturday Night Live star Alex Badwin, who has long history of homophobia. Morning Joe co-host Mika Brzezinski slut-shamed a woman who had photographic proof disgraced ex-Senator Al Franken (D-MN) groped her. Despite credible allegations of "stalking, groping and making explicit comments to female colleagues," NBC still hired Mike Tircio to anchor the Winter Olympics. Andrea Mitchell is a rape denier. NBC paid off a staffer who accused Chris Matthews of harassment, and no fewer than six NBC staffers were fired for various acts of sexual misconduct, which in some cases went on for years.
Being a homophobe, sex abuser, or enabler, appears to be the opposite of a disqualifier at NBC News, so Reid has nothing to worry about.
Follow John Nolte on Twitter
@NolteNC
. Follow his Facebook Page
here
.
WANNA TALK ABOUT PREDATORS, JOY? LET US CHAT ABOUT DECADES OF PERVERSION BY BILL COSBY!
As Her 'Hack' Claim Collapses, Joy Reid's Column Is Suspended at Daily Beast
The far-left Daily Beast says it has "hit pause" on Joy Reid's columns until its own reporters have had a chance to investigate her claim that homophobic writings attributed to her were actually written by a hacker.
In other fallout news, the embattled MSNBC anchor canceled a public appearance, a high-profile panel discussion she was set to appear on in New York.
"We're going to hit pause on Reid's columns," wrote Daily Beast executive editor Noah Shachtman in an internal email. "As you're well aware, support for LGBTQ rights and respect for human dignity are core to Daily Beast. So we're taking seriously the new allegations that one of our columnists, Joy Reid, previously wrote homophobic blog posts during her stint as a radio host."
Shachtman added, "We've all said and done things in our lives that we wish we hadn't done. We deserve the room to grow beyond our past. But these allegations are serious enough that they deserve a full examination."
Hopefully, Schachtman is not talking about 12-year-old writings being a disqualifier. It would be outrageous to fire or suspend someone over something they wrote at a completely different site more than a decade ago. The only thing that should matter to the Daily Beast is if Reid follows its own editorial policies and guidelines.
But even if she is caught lying, that might not be enough for her to lose her status in an establishment media that still parades Dan Rather and Brian Williams around as Pillars Of Virtuous Journalism. Reid is seen as intellectually pure, so any loophole that can be found to keep her around will be.
Reid's biggest problem right now is that she appears to be blocking any opportunity for an independent investigation.
Moreover, Reid, who has already acknowledged writing homophobic posts and has apologized for them, has not yet detailed which one of these new discoveries from the 00's she wrote and which she claims were written by hackers.
What we do know is that if Reid was in fact hacked, it happened prior to 2006, which means someone attempted frame a local radio host … but never sprung the trap. Or this alleged hacker had the foresight no one else did, was so certain Reid would become a national media figure the following decade, he planted the seeds of her destruction 12 years in advance. Or somewhere there is a hacker with a time machine.