Three Mexican Film Students Were Murdered and Dissolved in Acid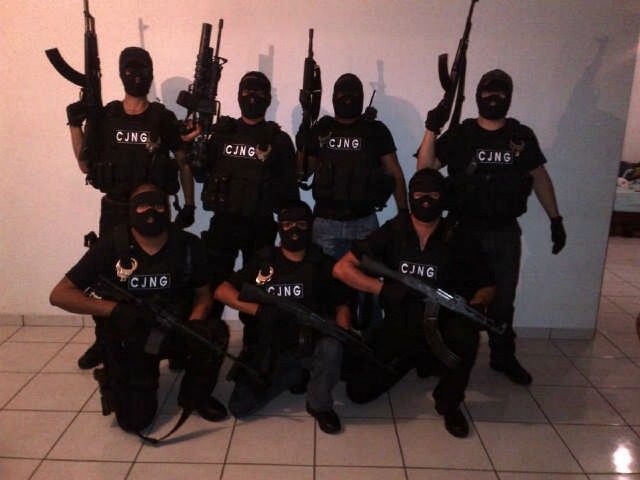 Outrage and disbelief is spreading throughout Mexico after authorities in Jalisco announced that three film students reported missing were killed and dissolved in acid. The suspects are members of Cartel Jalisco Nueva Generación (CJNG).
In a news conference, members of Jalisco's Attorney General's Office announced that they arrested two of eight cartel members in connection to the murder of film students Javier Salomon Aceves Gastelum (25),
Jesús Daniel Díaz García (20), and Marco Francisco García Ávalos (20). While the students are not linked to any cartels, they were filming for an school assignment at a cabin believed to be owned by a cartel member. The cabin is owned by the aunt of one of the students; the woman is believed to be linked to a local cartel that is at odds with CJNG.
According to Lizette Torres, the head of investigations for the Jalisco Attorney General's Office, the three film students were kidnapped on March 19 while filming a school assignment in Tonalá. The students were tortured, murdered, and dissolved in an acid. Investigators recovered what they believe to be are the remains and are carrying out forensic testing to confirm their initial findings.
Investigators revealed they had carried out 400 interviews and raided 15 cabins where they seized six vehicles and 15 weapons. Authorities found 45 vats filled with sulfuric acid and human remains that they believe belong to as many as 20 different victims.
Ildefonso Ortiz is an award-winning journalist with Breitbart Texas. He co-founded the Cartel Chronicles project with Brandon Darby and Stephen K. Bannon.

You can follow him on Twitter and on Facebook. He can be contacted at Iortiz@breitbart.com.
Brandon Darby is managing director and editor-in-chief of Breitbart Texas. He co-founded the Cartel Chronicles project with Ildefonso Ortiz and Stephen K. Bannon. Follow him on
Twitter
and
Facebook
. He can be contacted at
bdarby@breitbart.com
.
ON CALIFORNIA'S OPEN AND UNDEFENDED BORDER
Mexico murder rate soars with 7,667 killed in 3 months
Mexico City (AFP) – Some 7,667 people were killed in Mexico in the first quarter of 2018, up 20 percent on the same period last year, making it the most violent year in two decades, government figures showed Sunday.
In 2017, the figure stood at 6,406 violent deaths, according to the Mexican security services.
The worst month was March, when 2,729 people were killed, most of them shot dead. January's figure stood at 2,549 murders, with another 2,389 in February.
The bloodshed follows a proliferation of gangs involved in drug trafficking, as well as stealing fuel, kidnappings, extortion and other criminal activities.
In 2017, a total of 25,339 people were killed in Mexico, the highest number since monitoring began 10 years earlier.
The violence comes as Mexico gears up for a July 1 ballot that will include presidential elections as well as a vote for the two branches of Congress and a number of local seats
THE GRUESOME VIOLENCE OF THE MEXICAN… over, under and in our open borders.
WHO WILL RID US OF THE INVADERS?
11 Killed in Tijuana in 24 hours — 650 Murdered in 2018
Cartel violence in Tijuana continues with no end in sight as 11 killings were registered in a 24-hour period earlier this week. The deaths brought the number of homicides to 650 in 2018, according to government statistics as reported by local media. Authorities reported more than 100 homicides during the month of April.
Breitbart Texas previously reported that according to the attorney general's office of Baja California, most homicides are going unsolved. This has contributed substantially to the current drug cartel violence. Of 132 registered homicides to start 2018, only five resulted in arrests with a total of 11 suspects detained.
This week's violence began during the early morning hours of Monday, April 16 in the colonia Reforma neighborhood, local news outlets reported. Officials discovered the decapitated corpse of an unknown male, 30-35 years of age.
Later that day, at 11 am, police located the body of a 40-45-year male with gunshot wounds in the Hacienda Las Delicias Tercera Sección. At around 2 pm, in colonia El Lago neighborhood, officials located the body of a 41-year-old female who sustained numerous knife-type stab wounds.
Several hours later, a 25-30-year-old male died after being shot in a vacant lot in colonia Los Venados neighborhood. Shortly thereafter, officials discovered the decomposing corpse of an unidentified female in the colonia San Ángel neighborhood. Several minutes later, police found the body of a 35-year-old male in the colonia García neighborhood with gunshot wounds.
While investigators were at the earlier colonia García location, officers located the bullet-ridden body of a 40-year-old male inside a residence in the colonia Planicie neighborhood.
At approximately 10 pm in the colonia Cumbres de Juárez neighborhood, officials found the body of a 57-year-old male who also died from gunshot wounds.
At 1 a.m. on the morning of April 17, police found the body of a 35-40-year-old male who had been killed by gunfire near la Zona Centro.
And finally, at 7 am, law enforcement officials located the bodies of an unidentified male and female in the la colonia División del Norte — both died from multiple gunshot wounds.
The city of Tijuana sits on the U.S. border with California, approximately 17 miles south of San Diego. The cartel violence in the city has been attributed to a resurgence of remnants from the Cártel de Los Arellano Félix, which is now operating under the name of Cártel Tijuana Nueva Generación (CTNG). The group aligns itself with El Cártel de Jalisco Nueva Generación.
These two criminal groups are engaged in a turf dispute with the Sinaloa Cartel. In some areas, rival factions within the Sinaloa Cartel are fighting for control of the lucrative street-level markets and valuable routes leading into the United States. Those involved in the killings are primarily low-level street dealers, lookouts, customers and enforcers for these individual criminal gangs. Many of these street-level dealers are targets of rip-crews looking for cash and drugs.
Robert Arce is a retired Phoenix Police detective with extensive experience working Mexican organized crime and street gangs. Arce has worked in the Balkans, Iraq, Haiti, and recently completed a three-year assignment in Monterrey, Mexico, working out of the Consulate for the United States Department of State, International Narcotics and Law Enforcement Program, where he was the Regional Program Manager for Northeast Mexico (Coahuila, Tamaulipas, Nuevo Leon, Durango, San Luis Potosi, Zacatecas.)
HOW MANY PRAYERS HAS KAMALA HARRIS SAID FOR KATE STEINLE?
Everyday there are 12 Americans murdered and 8 children molested by Mexicans!
Steinle's murderer, Jose Zarate and been deported 5xs!
"While walking with her father on a pier in San Francisco in 2015, Steinle was shot by the illegal alien. Steinle pleaded with her father to not let her die, but she soon passed in her father's arms."
Heather Mac Donald of the Manhattan Institute has testified before a Congressional committee that in 2004, 95% of all outstanding warrants for murder in Los Angeles were for illegal aliens; in 2000, 23% of all Los Angeles County jail inmates were illegal aliens and that in 1995, 60% of Los Angeles's largest street gang, the 18th Street gang, were illegal aliens.
Granted, those statistics are old, but if you talk to any California law enforcement officer, they will tell you it's much worse today.
THE GRUESOME MS-13 GANGS FROM LOS ANGELES: THEIR MURDER, RAPE, AND CRIME TIDAL WAVE IN AMERICA'S OPEN BORDERS
The illegal stabbed her to death with a screwdriver and then ran her over with her car.
America builds the La Raza "The Race" Mexican welfare state
MEXIFORNIA under LA RAZA SUPREMACY RULE: CA has the largest and most expensive prison system in the nation. Half the inmates are Mexicans.

Half the murders in CA are by Mexican gangs.
In Mexico's second largest city of Los Angeles, 93% of the murders are by Mexicans.
"The state of California and the sanctuary city laws that make it a safe-haven for criminal illegal aliens is likely responsible for at least 5,000 crimes that were committed by criminal illegal aliens released by local authorities rather than being handed over to federal immigration officials."
JAMES WALSH
AMERICAN? TRAITOR: BARACK OBAMA'S
HISPANICAZATION of AMERICA
How the Democrat party surrendered America to Mexico:
"The watchdogs at Judicial Watch discovered documents that reveal how the Obama administration's close coordination with the Mexican government entices Mexicans to hop over the fence and on to the American dole." Washington Times
JUDICIAL WATCH:
"The greatest criminal threat to the daily lives of American citizens are the Mexican drug cartels."
"Mexican drug cartels are the "other" terrorist threat to America. Militant Islamists have the goal of destroying the United States.
Mexican drug cartels are
now accomplishing that mission – from within, every day, in virtually every community across this country." JUDICIALWATCH
"Mexican authorities have arrested the former mayor of a rural community in the border state of Coahuila in connection with the kidnapping, murder and incineration of hundreds of victims through a network of ovens at the hands of the Los Zetas cartel. The arrest comes after Breitbart Texas exposed not only the horrors of the mass extermination, but also the cover-up and complicity of the Mexican government."
"Heroin is not produced in the United States. Every gram of heroin present in the United States provides unequivocal evidence of a failure of border security because every gram of heroin was smuggled into the United States.

Indeed, this is precisely a point that Attorney General Jeff Sessions made during his appearance before the Senate Judiciary Committee hearing on October 18, 2017 when he again raised the need to secure the U.S./Mexican border to protect American lives."
Michael Cutler …..FrontPageMag.com
THE MEXICAN DRUG CARTELS OPERATING IN AMERICA'S OPEN BORDERS
Overall, in the 2017 Fiscal Year, officials revealed that a record-breaking 455,000 pounds plus of drugs had already been seized. In 2016, that number amounted to 443,000 pounds. The 2017 haul is worth an estimated $6.1 billion – BREITBART – JEFF SESSION'S DRUG BUST ON SAN DIEGO
THE ILLEGALS' AND THEIR CRIME TIDAL WAVE!
Heather Mac Donald of the Manhattan Institute has testified before a Congressional committee that in 2004, 95% of all outstanding warrants for murder in Los Angeles were for illegal aliens; in 2000, 23% of all Los Angeles County jail inmates were illegal aliens and that in 1995, 60% of Los Angeles's largest street gang, the 18th Street gang, were illegal aliens.