"Critics argue that giving amnesty to 12 to 30 million illegal aliens in the U.S. would have an immediate negative impact on America's working and middle class — specifically black Americans and the white working class — who would be in direct competition for blue-collar jobs with the largely low-skilled illegal alien population." JOHN BINDER
"Additionally, under current legal immigration laws, if given amnesty, the illegal alien population would be allowed to bring an unlimited number of their foreign relatives to the U.S. This population could boost already high legal immigration levels to an unprecedented high. An amnesty for illegal aliens would also likely triple the number of border-crossings at the U.S.-Mexico border." JOHN BINDER
"At the current rate of invasion (mostly through Mexico, but also through Canada) the United States will be completely over run with illegal aliens by the year 2025. I'm not talking about legal immigrants who follow US law to become citizens. In less than 20 years, if we do not stop the invasion, ILLEGAL aliens and their offspring will be the dominant population in the United States"…. Tom Barrett
Coming soon: Mass exodus from NY, CA due to high taxes
Arthur Laffer and Steven Moore have penned an interesting article in the Wall Street Journal that gauges the impact of the cap on state tax deductions in high tax states.
Their conclusions should frighten high-tax, big-spending liberals in blue states across the country.
In the years to come, millions of people, thousands of businesses, and tens of billions of dollars of net income will flee high-tax blue states for low-tax red states. This migration has been happening for years. But the Trump tax bill's cap on the deduction for state and local taxes, or SALT, will accelerate the pace. The losers will be most of the Northeast, along with California. The winners are likely to be states like Arizona, Nevada, Tennessee, Texas and Utah.

For years blue states have exported a third or more of their tax burden to residents of other states. In places like California, where the top income-tax rate exceeds 13%, that tax could be deducted on a federal return. Now that deduction for state and local taxes will be capped at $10,000 per family.

Consider what this means if you're a high-income earner in Silicon Valley or Hollywood. The top tax rate that you actually pay just jumped from about 8.5% to 13%. Similar figures hold if you live in Manhattan, once New York City's income tax is factored in. If you earn $10 million or more, your taxes might increase a whopping 50%.

About 90% of taxpayers are unaffected by the change. But high earners in places with hefty income taxes – not just California and New York, but also Minnesota and New Jersey – will bear more of the true cost of their state government. Also in big trouble are Connecticut and Illinois, where the overall state and local tax burden (especially property taxes) is so onerous that high-income residents will feel the burn now that they can't deduct these costs on their federal returns. On the other side are nine states – including Florida, Nevada, Texas and Washington – that impose no tax at all on earned income.
The authors put their finger on the real meaning of SALT: it prevents the rest of us from subsidizing the blue state model. By making rich taxpayers in blue states bear the true cost of all those goodies given out by their state governments, those living in low-tax red states will no longer subsidize the irresponsible spending habits in blue states.
Now that the SALT subsidy is gone, how bad will it get for high-tax blue states? Very bad. We estimate, based on the historical relationship between tax rates and migration patterns, that both California and New York will lose on net about 800,000 residents over the next three years – roughly twice the number that left from 2014-16. Our calculations suggest that Connecticut, New Jersey and Minnesota combined will hemorrhage another roughly 500,000 people in the same period.

Red states ought to brace themselves: The Yankees are coming, and they are bringing their money with them. Meanwhile, the exodus could puncture large and unexpected holes in blue-state budgets. Lawmakers in Hartford and Trenton have gotten a small taste of this in recent years as billionaire financiers have flown the coop and relocated to Florida. As the migration speeds up, it will raise real-estate values in low-tax states and hurt them in high-tax states.
We are the most mobile society in the history of industrialized civilization. The fact that we are a federal republic with fifty individual state governments makes choosing a place to live more than just a preference for climate or scenery. High taxes generally bring with them a higher cost of living, urban decay, crime, and a lack of economic opportunity.
So Americans are voting with their feet. And in this competition, it's no contest.
California's Rich May Leave to Avoid $12 Billion in SALT Tax Hit
President Donald Trump's new tax cut, which limiting state and local tax deductions, will cost rich Californians $12 billion more in federal taxes, with $9 billion coming from those making $1 million or more.
Recently, the California Department of Finance reported good news for Sacramento politicians: thanks largely to having the top state income tax bracket in the nation at 13.3 percent, California collected about $3.3 billion more in state taxes than forecast in the first three months of 2018, with 67 percent coming from higher than expected personal income taxes.
But the California Franchise Tax Board also warned that the Trump tax cut, which limits state and local tax (SALT) deductions to a maximum of $10,000, will cost same high income earners $12 billion a year more in federal tax.
The bigger tax bite could also be strong motivation for California's highest income earners to vote with their feet and leave California to save big bucks in a low tax state.
Maine is second to California with a top income tax rate of 10.15 percent, followed by Oregon's 9.9 percent. But Nevada, Washington, Texas and Florida have no state income tax.
Only about 61,000 households, or 0.4 percent, of the 16 million households in California reported an income of more than $1 million in 2014. But the CalMatters blog commented that of the 40 million residents in California, the top 150,000 that are in the top 1 percent of income earners pay about half of all state income taxes.
California taxpayers may already be voting with their feet, according to an analysis by CNBC. The business news team found that from 2016 to 2017, California saw a net 138,000 people leave the state, while Texas grew by 79,000 people, Arizona added 63,000 residents, and Nevada saw a 38,000 gain.
The Republican Governors' Association was quick to observe: "California Democrats imposing massive tax hikes on middle-class families, driving up their state's cost of living, residents are packing their bags and leaving for states run by GOP governors like Arizona, Nevada, and Texas with lower tax burdens and friendlier business climates."
Republican John Cox Could Succeed in California Governor Primary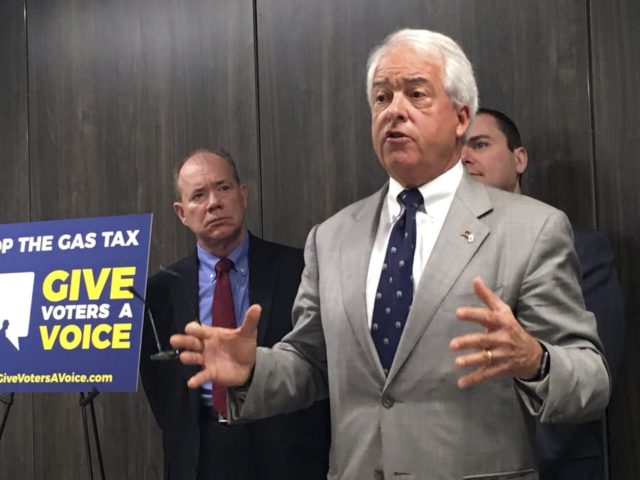 San Diego businessman John Cox, the top Republican in the Democrat-heavy field of California gubernatorial candidates, is within striking distance of second place and could proceed to the general election.
Cox will need to finish ahead of former Los Angeles mayor Antonio Villaraigosa in the June 5 primary. Both are battling for second place after Lt. Gov. Gavin Newsom, the leading Democrat for the Golden State's highest post.
According to Daily Breeze, an online Eyewitness News/Southern California News Group poll conducted by Survey USA and released Tuesday indicates that Newsom and Villaraigosa are leading with 21 and 18 percentage points respectively, and Cox has 15 percent support.
Republican Assemblyman Travis Allen (R-Huntington Beach) has 10 percent, and Democrat State Treasurer John Chiang has 9 percent.
The poll reportedly also found that 17 percent of voters are still undecided.
Newsom, the former mayor of San Francisco, reportedly has support from many unions, self-described liberals, and suburban residents with higher education.
Villaraigosa, who is of Mexican descent, has the support of the Latino community and tends to draw more from lower-income residents and women, while Cox reportedly has the support of white, conservatives and men.
In March, a poll from the nonpartisan Public Policy Institute of California (PPIC) showed Cox in second place with 14 percent support among likely voters. That same poll showed Newsom with 28 percent support and Villaraigosa with 12 percent support among likely voters.
The California governor's race has also turned into a proxy war between teachers' unions and activists who back charter schools.
Netflix co-founder and Chief Executive Reed Hastings reportedly donated $7 million to Villaraigosa's struggling campaign, and L.A. developer and philanthropist Eli Broad reportedly donated an additional $1.5 million to his campaign. Both men support charter schools.
Meanwhile, Cox has poured $4 million of his own money into his campaign, and has already has spent over $1.5 million on ads throughout California.
Adelle Nazarian is a politics and national security reporter for Breitbart News. Follow her on Facebook and Twitter.
CALIFORNIA'S LA RAZA SUPREMACIST FASCIST ATTORNEY GENERAL XAVIER BECERRA…. A LONG HISTORY OF SERVING THE INVADING MEXICANS!
California's La Raza Supremacist Attorney General Xavier Becerra mocks Trump's wall in a state where half the murders are by fellow Mexicans and the La Raza Heroin cartels walk over and under the open border!
BECERRA AGAIN GIVES THE MIDDLE FINGER TO LEGALS!
The laws don't apply to Mexicans in Mexifornia!
LA RAZA FASCIST A.G. of MEXIFORNIA TELLS MEXICANS "DON'T BE COUNTED IN CENSUS! WE DON'T WANT THE STUPID GRINGOS TO KNOW HOW GREAT THE OCCUPATION IS!"
California Attorney General Xavier Becerra and Former Los Angeles Mayor Antonio Villaraigosa….. Members of the racist, violent, fascist M.E.Ch.A. separatist movement.
"Many wonder why Xavier Becerra was chosen by Brown. But all anyone has to do is peek into the radical California Legislature, and fanatical Gov. Jerry Brown, to see the trend of militant Marxist, Socialist, Jesuit, Liberation Theology, Latino activism on the increase."
CALIFORNIA…. LAND OF POVERTY, WELFARE FOR ANCHOR BABY BREEDERS and MEXICANS WHO JUMPED THE BORDERS TO VOTE FOR MORE!
California became a Democratic stronghold not because Californians became socialists, but because millions of socialists moved there. Immigration turned California blue, and immigration is ultimately to blame for California's high poverty level.
California used to be home to America's largest and most affluent middle class. Today, it is America's poverty capital. What went wrong? In a word: immigration. SPENCER P. MORRISON
"Thirteen years after welfare reform, the share of immigrant-headed households (legal and illegal) with a child (under age 18) using at least one welfare program continues to be very high. This is partly due to the large share of immigrants with low levels of education and their resulting low incomes — not their legal status or an unwillingness to work. The major welfare programs examined in this report include cash assistance, food assistance, Medicaid, and public and subsidized housing." Steven A. Camarota
*
Is California Governor Jerry Brown Mentally Ill?

Laura Ingraham: 'California Is Almost Acting Like It's a Separate Country'
Zuckerberg's Investor Group Pushes for Pre-Election Amnesty
Silicon Valley investors, including Facebook owner Mark Zuckerberg, are joining the Koch network's push for a quick amnesty that would also keep the issue of cheap-labor immigration out of the November election.