PARTNER WITH MEXICO, the LA RAZA DEMOCRAT PARTY and the PRO-BUSINESS GOP to keep wages for LEGALS depressed (today they are depressed to 1973 levels).
But you will still get the tax bills for the Mex welfare state and crime tidal wave!
"Illegal aliens are not supposed to work, and knowingly providing shelter for illegal aliens can be construed as harboring and shielding, elements of a felony under federal law,
Title 8 U.S. Code § 1324
."
"Where aliens and jobs are concerned, even many categories of nonimmigrant aliens (temporary visitors) including aliens who lawfully enter under the Visa Waiver Program or with tourist visas may not work in the United States and immediately become subject to removal (deportation) if they seek gainful employment." ----MICHAEL CUTLER – FRONTPAGE mag
Trump Claims He Wants To Help Dreamers. Time To Put Up Or Shut Up.
Earlier this week, Judge John D. Bates of the U.S. District Court in Washington, D.C.,
issued a scathing ruling that deemed President
Donald Trump
's attempt to terminate the
Deferred Action for Childhood Arrivals
program as nothing short of "
capricious
" and "
unlawful
." The program, which was a landmark Obama-era achievement, temporarily shielded certain Dreamers from deportation and allowed them to work and drive in the United States.
Bates, a George W. Bush appointee, argued that the current administration presented no adequate basis or explanation for its decision to terminate DACA back
in September
. He is the
third judge
to rule against the administration's attempts to convert Dreamers, young undocumented immigrants who were brought to the country as children, into deportation targets.
What makes Bates' ruling unique, however, is that, unlike federal judges in the 9th and 2nd Circuits, his ruling could revive the DACA program in its entirety. That means that the same federal government that Trump and his allies are trying to reimagine in their image would be forced to accept new DACA applications and renew current permits. It would also re-establish
advanced parole
― a lesser-known provision of the original DACA program that allowed Dreamers to travel abroad under strict circumstances.
And yet this is not quite the life raft that we Dreamers were hoping for, not by a long shot.
Fernanda Duran, the communications manager at the pro-migrant organization CASA,
told The New York Times
that "this is the first ray of hope that these Dreamers have had in a very long time."
This much is true. The ruling from Judge Bates is the first hopeful sign that many Dreamers, especially teenagers currently graduating from high school and aging into the program, have experienced since
Congress failed to attach immigration measures
to any legislative vehicle that would have addressed Trump's manufactured crisis.
Bates, however, stayed his ruling and gave the federal government 90 days to resubmit its reasoning for terminating the DACA program. It's hard to envision how the administration could justify a rational policy basis for ending DACA beyond racial animus ― a point made by
U.S. District Court Judge Nicholas Garaufis in March
: "One might reasonably infer that a candidate who makes overtly bigoted statements on the campaign trail might be more likely to engage in similarly bigoted action in office."
But on Thursday, Secretary of Homeland Security Kirstjen Nielsen said during a round of questioning at a hearing in the U.S. House that the administration
will respond to the judge's request
. This means the Trump administration will strike back with force in an attempt to eliminate DACA once and for all.
So much for treating Dreamers like me "
with heart
," Mr. President!
Once again, hundreds of thousands of aspiring Americans are reminded that the country to which they pledged allegiance and to which they are actively contributing is also the same country that is trying to deport them to nations undergoing political, economic or social turbulence. Dreamers are American ― they grew up in the United States and went to local schools, but they are simply lacking a piece of paper ― and a
majority of this nation's citizens
appear to agree with this. But the idea of
granting Dreamers citizenship
has morphed into a talking point for politicians who are eager to appear like reasonable and caring people.
At the end of the day, talk is cheap, especially to those of us who wake up every morning knowing that our livelihood in the United States might come to an end after a piece of plastic in our wallet expires or once Trump and his allies accomplish their goal to deport
all immigrants and refugees
.
What we need right now is bold and decisive action. No more stalling, because we all know how this story ends if Dreamers are not given a chance to adjust their immigration status: with their swift and merciless deportations.
Right now, a bipartisan group of lawmakers in the House is attempting to force a vote on Dreamer legislation using a strategy that involves invoking an obscure rule known as the "
queen of the hill
." But for this strategy to work, Republicans will have to buck their spineless and do-nothing speaker,
Paul Ryan
, and put actual
skin in the game
.
The courts have also granted Trump a unique opportunity ― a real chance to undo this entire mess and re-establish a popular program that enables Dreamers to continue their educations and to excel in their respective fields of study. We have Dreamers who are
realtors
,
teachers
and
future doctors
. Are these the "bad" people we want to deport from our country?
Trump has a choice to make: Does he listen to voters all across America or does he continue down a nativist path?
Unsurprisingly, Trump has a record of shifting his positions based on the way the wind is blowing or who spoke to him last.
If Trump truly wants to handle his self-made DACA crisis with "heart," then he would allow Bates' order to go into effect and let Congress pass Dreamer-specific legislation that is fair and balanced ― and won't use people's lives as bargaining chips for a racist immigration agenda.
Trump has a choice to make: Does he listen to voters all across America, even
in red states
, who support protections for young immigrants brought to the country as children? Or does he continue down the nativist path that right-wing extremists, like his senior adviser
Stephen Miller
, have carved out for him?
As
Jennifer Rubin explained
in The Washington Post: "With regard to [the] resolution of the 'dreamers' issue — which some White House advisers such as Stephen Miller and some on Capitol Hill, including Sen. Tom Cotton (R-Ark.), thought would be a GOP winner — there is evidence that Republicans badly misplayed their hand."
When it comes to showing true leadership, and, dare I say compassion, this is a rare moment for the Trump administration to undo one of its harmful acts. Otherwise, the president's real sentiments will be clear: Dreamers are subhuman in his eyes, and their deportation is not a question of if, but when.
Juan Escalante is an immigrant advocate and online strategist who has been fighting for the Dream Act and pro-immigration policies at all levels of government for the past 10 years.
ONE-THIRD OF ALL IMPORTED FARM WORKERS END UP ON WELFARE
WE CAN'T TAKE CARE OF OUR OWN, AND YET WE LET MEXICO BUILD THEIR BILLION DOLLAR WELFARE STATE ON OUR BACKS!!!
70% OF ILLEGALS GET WELFARE!
"According to the Centers for Immigration Studies, April '11, at least 70% of Mexican illegal alien families receive some type of welfare in the US!!! cis.org"
So when cities across the country declare that they will NOT be sanctuary, guess where ALL the illegals, criminals, gang members fleeing ICE will go???? straight to your welcoming city. So ironically the people fighting for sanctuary city status, may have an unprecedented crime wave to deal with along with the additional expense.
$17 Billion dollars a year is spent for education for the American-born children of illegal aliens, known as anchor babies.
$12 Billion dollars a year is spent on primary and secondary school education for children here illegally and they cannot speak a word of English.
$22 billion is spent on (AFDC) welfare to illegal aliens each year.
$2.2 Billion dollars a year is spent on food assistance programs such as (SNAP) food stamps, WIC, and free school lunches for illegal aliens.
$3 Million Dollars a DAY is spent to incarcerate illegal aliens.
30% percent of all Federal Prison inmates are illegal aliens. Does not include local jails and State Prisons.
2012 illegal aliens sent home $62 BILLION in remittances back to their countries of origin. This is why Mexico is getting involved in our politics.
$200 Billion Dollars a year in suppressed American wages are caused by the illegal aliens.
Nearly One Million Sex Crimes Committed by Illegal Immigrants In The United States.
"If the racist "Sensenbrenner Legislation" passes the US Senate, there is no doubt that a massive civil disobedience movement will emerge. Eventually labor union power can merge with the immigrant civil rights and "Immigrant Sanctuary" movements to enable us to either form a new political party or to do heavy duty reforming of the existing Democratic Party. The next and final steps would follow and that is to elect our own governors of all the states within Aztlan."
THE STAGGERING COST OF THE WELFARE STATE MEXICO AND THE LA RAZA SUPREMACY DEMOCRAT PARTY HAVE BUILT BORDER to OPEN BORDER'
According to the
Federation for American Immigration Reform's 2017 report,
illegal immigrants, and their children, cost American taxpayers a net $116 billion annually -- roughly $7,000 per alien annually. While high, this number is not an outlier: a recent study by the
Heritage Foundation
found that low-skilled immigrants (including those here illegally) cost Americans trillions over the course of their lifetimes, and a study from the
National Economics Editorial
found that illegal immigration costs America over $140 billion annually. As it stands, illegal immigrants are a massive burden on American taxpayers.
POPULATION EXPLOSION FOR GRINGO WELFARE
CALIFORNIA: AMERICA'S FIRST MEX WELFARE STATE…. 49 more to go…. but nearly there!
"Over the past decade, the traditional base of the Republican party — homeowners and small business owners — has been migrating to states with lower taxes and fewer regulations. Meanwhile, California continues to attract immigrants — both legal and illegal — as well as a disproportionate share of the state's welfare recipients."
"Critics argue that giving amnesty to 12 to 30 million illegal aliens in the U.S. would have an immediate negative impact on America's working and middle class — specifically black Americans and the white working class — who would be in direct competition for blue-collar jobs with the largely low-skilled illegal alien population." JOHN BINDER
"Additionally, under current legal immigration laws, if given amnesty, the illegal alien population would be allowed to bring an unlimited number of their foreign relatives to the U.S. This population could boost already high legal immigration levels to an unprecedented high. An amnesty for illegal aliens would also likely triple the number of border-crossings at the U.S.-Mexico border." JOHN BINDER
"At the current rate of invasion (mostly through Mexico, but also through Canada) the United States will be completely over run with illegal aliens by the year 2025. I'm not talking about legal immigrants who follow US law to become citizens. In less than 20 years, if we do not stop the invasion, ILLEGAL aliens and their offspring will be the dominant population in the United States"…. Tom Barrett
Donald Trump to Farmers: We're Going to Let in Migrant Guest Workers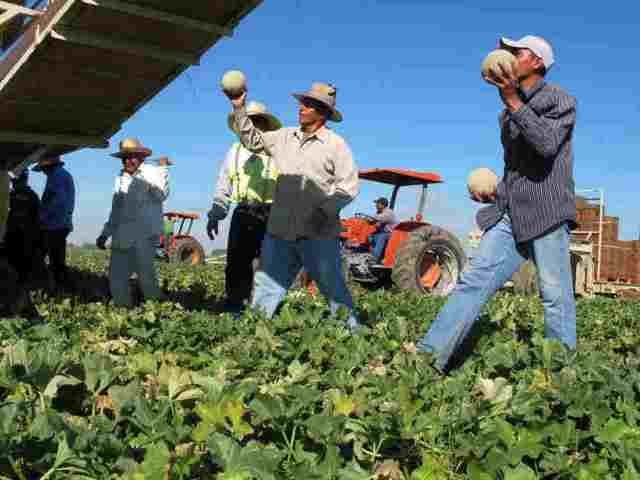 President Donald Trump told American farmers on Saturday that he would allow guest workers to come into the country, despite his promise to protect American workers.
"For the farmers, OK, it's going to get good, and we're going to let your guest workers come in, because we're going to have strong borders, but we have to have your workers come in," the president said during his campaign rally in Washington, Michigan on Saturday.
Trump said that the unemployment numbers were so good that it was possible to allow guest workers in the country to work the fields and do seasonal labor.
"We have to let people come in. They're going to be guest workers, they're going to come in, they're going to work on your farms, we're going to have the H-2Bs come in, we're going to have a lot of things happening," Trump said.
The crowd of supporters did not cheer in response to his comments.
"But then they have to go out," Trump concluded, prompting cheers again.
The president quickly changed the subject to manufacturing, talking about how Foxconn factories were being built in Wisconsin but returned to talk about guest workers.
"We need people to be able to come into our country, do your jobs, help you on the farms, and then they go out, they're going to leave," he said. "Guest workers, we're going to take care of that. Guest workers. Don't we agree? We have to have them. We have to have them."
President Trump Pushes for More Foreign Guest Workers, H2-Bs, Migrant Farm Workers at Michigan Rally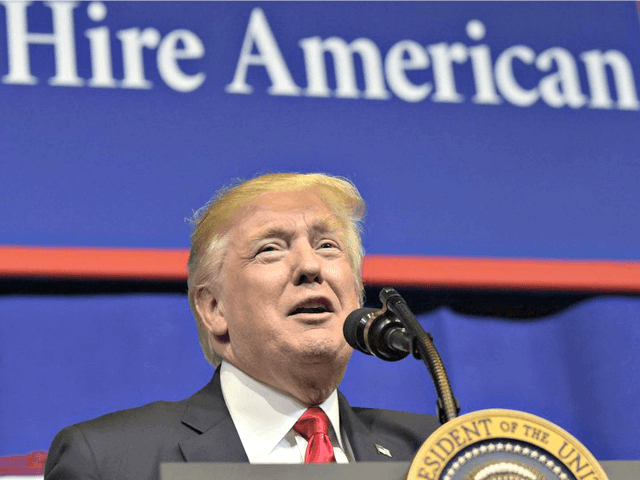 During a campaign rally in Michigan on Saturday, President Trump pushed for more foreign workers to be imported to the United States to work blue collar jobs.
And for the farmers, okay, it's going to get good. And we're going to let your guest workers come in because we're going to have strong borders, but we have to have your workers come in. You know, the unemployment picture is so good, it's so strong that we have to let people come in. They're going to be guest workers, they're going to come in, they're going to work on your farms, we're going to have the H-2Bs come in, we're going to have a lot of things happening but then they have to go out. Then they have to go out. But, we're going to let them in, 'cause you need them. You need them. [Emphasis added]

We need people to be able to come into our country, do your jobs, help you on the farms, and then they go out, they're going to leave. Guest workers, we're going to take care of that. Guest workers. Don't we agree? We have to have them. We have to have them. [Emphasis added]
The H-2B visa brings foreign nationals to the U.S. for low-skilled nonagricultural jobs, as Breitbart News has previously reported. The visa impacts working-class and poor Americans most, as labor jobs in the hotel industry, water parks, retail stores, and restaurants can all be outsourced to foreign workers under the program. Foreign workers using H-2B visas took roughly half a million jobs in the U.S. during the last five years.
Trump's promotion of more imported foreign workers to the U.S. using the H-2B visa comes as the Republican-controlled Congress has allowed the Department of Homeland Security (DHS) to import potentially 130,000 foreign workers for the big business lobby. Trump, in signing the spending measure, gives DHS the authority to import more foreign workers, should DHS Secretary Nielsen choose to do so.
Nielsen, who worked for former President George W. Bush, has already suggested that she will allow big business to import more foreign workers, as Breitbart News reported.
"The concept of limitations on H-2B [visas] originally were to protect American workers," Nielsen said weeks ago. "If, however, we are in a situation where the way in which we administer the program, legally, actually puts American businesses out of business, that clearly is not the intent."
If the H-2B visa is expanded this year by Trump's DHS, it will be the second year in a row that the Trump administration imported more seasonal foreign workers despite his "Buy American, Hire American" agenda.
As Breitbart News has reported, the H-2B visa — like other mass migration programs that import foreign workers to take U.S. jobs — has contributed to stagnant and even reduced wages for America's working class.
Analysis of the H-2B visa and its impact on U.S. wages reveals the gap between what foreign workers are offered for U.S. jobs versus what Americans are paid to do the same work.
Overall, in eight of the ten occupations analyzed, where H-2B foreign workers are brought to the U.S., employers offered the foreign workers lower wages, further solidifying pro-American workers' groups claims that foreign worker visa programs are used by businesses to import and outsource U.S. jobs to a cheaper, foreign workforce.
H-2B foreign workers in landscaping were offered nearly 7.5 percent less pay

H-2B foreign workers in forest and conservation jobs were offered nearly 24 percent less pay

H-2B foreign workers in housekeeping jobs were offered nearly 6 percent less pay

H-2B foreign workers in recreation jobs were offered nearly 14 percent less pay

H-2B foreign workers in meat and fish cutting jobs were offered nearly 19 percent less pay

H-2B foreign workers in construction were offered more than 20 percent less pay

H-2B foreign workers in counter attending jobs were offered more than 6 percent less pay

H-2B foreign workers in labor and moving jobs were offered nearly 4 percent less pay
Further research by the Economic Policy Institute has shown how wages in the top 15 H-2B jobs in the U.S. have been stagnant or slightly decreased over the last decade, as Breitbart News reported.
John Binder is a

reporter for Breitbart News. Follow him on Twitter at
@JxhnBinder
.
TRUMP PARTNERS WITH PELOSI AND SCHUMER TO KEEP WAGES DEPRESSED WITH ENDLESS HORDES OF ILLEGALS JUMPING OUR BORDERS and WELFARE LINES
OPEN BORDERS: The Democrat Party's Weapon of Mass Destruction on the American Worker
"Los Angeles saw all crime rise in 2015: violent crime up 19.9 percent, homicides up 10.2 percent, shooting victims up 12.6 percent, rapes up 8.6 percent, robberies up 12.3 percent, and aggravated assault up 27.5 percent,"Landry said."
MASSIVE TRANSFER OF WEALTH TO THE RICH: YOUR DEMOCRAT PARTY AT WORK…. for Wall Street, Banksters, Billionaires and LA RAZA.
"But a series of reports on CEO pay, bank profits and corporate cash released over the past week reveal that corporate America and the financial oligarchy are wallowing in record levels of wealth.

"
GEORGE SOROS PARTNERS WITH BARACK OBAMA and ERIC HOLDER TO CREATE A GLOBALIST REGIME FOR THE BILLIONAIRE CLASS and CRONY BANKSTERS…. Open borders and endless hordes of illegals will make it happen!
YOU WONDERED WHY OBAMA-HOLDER WORKED SO HARD TO SABOTAGE AMERICAN VOTING FOR MORE ILLEGALS???
Those are the subliterate, low-skill, non-English-speaking indigents whose own societies are unable or unwilling to usefully educate and employ them. Bring these people here and they not only need a lot of services, they are putty in the hands of leftist demogogues as Hugo Chavez demonstrated - and they are very useful as leftist voters who will support the Soros agenda.
*
Of course, the game of the Democrats is to avoid at all costs any of the safeguards against fraud, such as photo ID requirements. That should tell anyone with integrity what they are up to. But most media continue to ignore this stain on democracy. THOMAS LIFSON – AMERICAN THINKER
THE BREEDERS:
WILL MEXICO DOUBLE AMERICA'S POPULATION?
388 SHERIFFS FROM 40 STATES SAY BUILD THE FREAKING WALL!!!
Mexico says we will simply tunnel under it and our LA RAZA DEMOCRAT PARTY will buy the shovels for us to do it!
Bristol County, Massachusetts, Sheriff Thomas Hodgson state in an
open
letter,
issued on March 21, makes clear that the responsibility for the continued carnage of innocent Americans caused by those who shouldn't be present in the country in the first place lies firmly in the lap of Congress. "Because Congress has failed to enact the necessary reforms, our citizens and legal residents face even greater dangers, our national security is more vulnerable, and our enforcement efforts have been seriously compromised"
NANCY PELOSI, and her LA RAZA SISTERS, SEN. DIANNE FEINSTEIN, FORMER SEN. BARBARA BOXER and NOW SEN. KAMALA HARRIS are a pantheon of staggering self-serving corruption.
They and their families have all gotten filthy rich off of these women's elected office.
Their endless hispandering for the illegals' votes has turned California into Mexifornia, a drug, gang and anchor baby welfare third-world dumpster!
http://mexicanoccupation.blogspot.com/2018/03/nancy-pelosi-vows-to-keep-mexican.html
AMERICA: NO LEGAL NEED APPLY!
"The percentage of foreign-born workers in the U.S. labor force has more than tripled over the last four decades and while the U.S. represents just 5 percent of the world's population it attracts 20 percent of the world's immigrants, according to a new report."
Open the floodgates of our welfare state to the uneducated, impoverished, and unskilled masses of the world and in a generation or three America, as we know it, will be gone.
Those most impacted are middle class and lower middle class. It is they whose jobs are taken, whose raises are postponed, whose schools are filled with non-English speaking children that absorb precious resources for remedial English, whose public parks are trashed and whose emergency rooms serve as the local clinic for the illegal underground.
THE SECRET REPORT ON ILLEGALS TAKING MIDDLE AND HIGH END JOBS…. What? You thought they only took the sh//// -it jobs?
http://mexicanoccupation.blogspot.com/2016/12/report-illegals-taking-middle-and-high.html
ONE AMERICAN COUNTY….under Mex
LOS ANGELES COUNTY HANDS MEXICO'S
ANCHOR BABY BREEDERS MORE THAN A
IN THE CITY OF LOS ANGELES, MEXICANS COMMIT 93% OF THE MURDERS!


STAGNANT WAGES and the Dem Party's obsession with open borders, amnesty and no damned legal need apply!
THE LA RAZA SUPREMACY PARTY for OPEN BORDERS, AMNESTY, NON-ENFORCEMENT, NO E-VERIFY and no Legal need apply!!!
The Democratic Party
used to be
the party of blue collar America- supporting laws and policies that benefited that segment of the U.S. population. Their leaders may still claim to be advocates for American working families, however their duplicitous actions that betray American workers and their families, while undermining national security and public safety, provide clear and incontrovertible evidence of their lies…. MICHAEL CUTLER …FRONTPAGE mag