House Members Aim to Resurrect DACA – at Least as a Campaign Issue
---
---
Weeks after the Deferred Action for Childhood Arrivals (DACA) expiration date passed, a group of legislators hopes to "send a message" to Speaker Paul Ryan – a majority of the House supports a "full" debate on immigration.
"It is time to have a full debate for the American public and have the entire country decide what border security should look like, what a permanent fix for Dreamers should look like," declared Rep. Jeff Denham (R-Calif.) at a press conference near the steps of the Capitol building.
The stated purpose of the bipartisan event was to show Ryan that 240 House members, including 50 Republicans, support a rarely-used procedural measure to bring to the floor without the approval of a committee or the leadership four competing immigration bills.
Under the "Queen of the Hill" rule, the bill which got the most votes – and cleared the 218-threshold for passage – would move to the Senate.
A brilliant last-ditch attempt at a solution to what DACA supporters say is an urgent crisis?
Second, there is no real-world scenario in which any of the measures would succeed in the House andthen reach the Senate.
Among the four bills under consideration is a bill introduced by House Judiciary Chairman Bob Goodlatte (R-Va.) that has the support of President Trump, but would likely garner no Democrat votes. Conversely, there is little chance Democrats could pull enough Republicans over to vote for the uber-amnesty DREAM Act.
The other two options would be a bill of Speaker Ryan's choosing and the Hurd-Aguilar bill that ignores the border wall and is weak on legal immigration enforcement.
Lastly, if they truly saw an "urgent" need to find a permanent fix for those nearly 1.8 million individuals who are eligible for DACA, why not commit to using a discharge petition and force a vote even if the leadership refuses to put it on the floor?
Maybe Denham, who is in a tough fight in a district that is 45 percent Latino, and his Republican colleague Will Hurd, whose district in Texas is 72 percent Latino, believe there is benefit to their reelection prospects to paying lip service to open border special interest groups.
If that is the case, can you really believe anything they say?
Paul Ryan's Globalist Legacy: Ignoring America's Working Class at the Behest of Billionaire Koch Brothers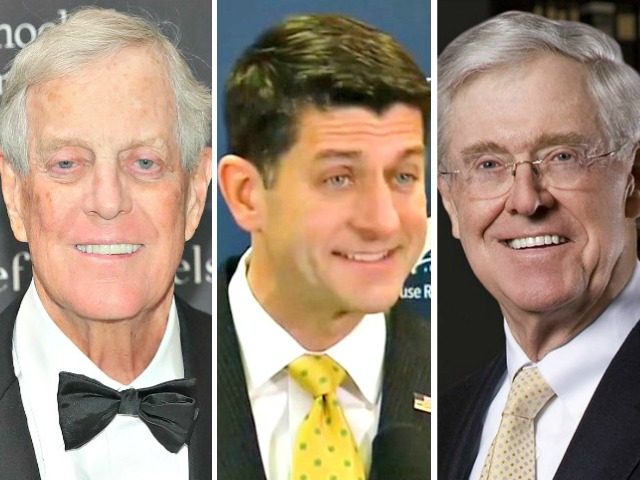 As House Speaker Paul Ryan (R-WI) announced that he will retire from public office after his last term in the House, the leader of the globalist wing of the Republican Party is set to leave behind a legacy that ignored America's working and middle class, while serving up an agenda favored by billionaires Charles and David Koch.
This year — days after Ryan successfully prioritized tax cuts ahead of President Trump's popular immigration reduction agenda — the Koch brothers donated about half a million to Ryan's campaign committee.
Ryan's brand of Republicanism is reliant on pushing unpopular tax and entitlement reform agendas, as when, in 2016, the House Speaker told American workers that tax cuts — not penalties for multinational corporations — were necessary to stop the massive outsourcing of U.S. jobs to third world nations.
The Koch brothers, staunch advocates of mass immigration, geared up alongside Ryan's tax cuts and the two have marched in lockstep together opposing Trump's populist fair trade agenda, where he has placed tariffs on steel and aluminum imports, as well as on Chinese imports, to help rebuild America's depleted manufacturing base.
Charles Koch most recently said that he and his brother's network of organizations were "working hard against" Trump's trade agenda.
"We're working hard against all these other protectionist trade barriers that are just different forms of corporate welfare which, other than a few special interests, will make Americans worse off," Koch said.
Ryan, like the Koch brothers, came out of the gate opposing Trump's fair trade agenda, denouncing the plan by saying he was "extremely worried" about a mainstream media-hyped "trade war."
Wisconsin voters, Ryan's constituents, have been opposed to the House Speaker's free trade as religion, with a majority telling pollsters in 2016 that free trade was responsible for taking U.S. jobs away from them. The poll revealed that only 33 percent of Republican voters said free trade creates jobs in the U.S.
Meanwhile, Ryan has credited his tax cuts for Trump's economic success. Republican voters, though, have repeatedly said that tax reform is not a priority for them. The biggest priority for GOP voters, month after month? Reducing immigration, an initiative supported by Trump but opposed by Ryan and the Koch brothers.
In the latest Harvard-Harris poll, 42 percent of Republican voters said immigration was the most important issue facing the country. The same amount of Republicans said national security, too, is the most important issue.
Meanwhile, only 25 percent of Republican voters said the national debt was the biggest issue in the country, while only 12 percent of Republicans said the same of taxes.
Reducing immigration was a bigger priority for GOP voters than tax cuts, repealing Obamacare, getting the U.S. out of the Iran Deal, destroying ISIS, and expanding family leave.
Immigration is so important to Republicans that it even surpasses the economy and jobs as being the biggest issue.
Supporters of President Trump's say reducing immigration should be the second biggest priority for the White House, just after stimulating American jobs.
Nonetheless, the Koch brothers have remained opposed to cutting the current inflow of low-skilled foreign nationals to the country, where more than 1.5 million illegal and legal immigrants enter the U.S. every year.
Ryan, too, has opposed cutting legal immigration levels, favoring the Washington, D.C.-imposed cheap labor economic model where businesses import foreign workers to compete with American workers at low wages.
The opposition to reducing legal immigration, though, is not in-line with Ryan's constituents' views on immigration, For example, most recent polling shows that a plurality of Wisconsin voters wants legal immigration cut in at least half.
Even in Ryan's retirement announcement, he did not mention any plans for the Republican-controlled House to push Trump's popular agenda of immigration reduction. Instead, Ryan said he would "keep at it" on trying to cut entitlements for Americans as foreigners continue pouring into the country.
With Ryan's agenda to push entitlement reform just ahead of the 2018 midterm elections, the Koch brothers are investing up to $400 million in trying to get globalist-friendly GOP candidates elected to Congress who will vote to continue mass immigration to the U.S. About $20 million of the Koch funding will go towards selling Ryan's tax reform.
Ryan's tax cuts, while getting more money back in the pockets of Americans, does not have a lasting impact on voters. Last month, 50 percent of swing voters told pollsters that the tax reform legislation would have "no impact" on their decision as to whom to vote for. Immigration, for swing-voters, remains more important to their midterm election vote than tax reform.
Still, Ryan's control of the House has put the Trump administration in a bind when it comes to pushing their popular immigration reform agenda, which not only includes reducing immigration, but building a wall along the U.S.-Mexico border and ending the Diversity Visa Lottery program which imports 50,000 random foreign nationals every year.
In the most recent spending bill, signed by Trump, Ryan worked with Democrats to expand the number of low-wage foreign workers entering the U.S. for the big business lobby. The spending bill also did not include any border wall funding, increased the "Catch and Release" program that allows illegal aliens to be released into the interior of the U.S., and did not add any new deportation agents to help deport illegal aliens living across America.
Trump, though he signed the spending bill, called it a "ridiculous situation" – a blow to Ryan's speakership.
The Koch brothers' biggest critique of the spending bill, unsurprisingly, was that it did not include amnesty for illegal aliens.
Enemy of the American Worker,
Speaker Paul Ryan Will Not Run for Re-Election
House Speaker Paul Ryan told Republicans that will not run for re-election, according to his senior adviser Brendan Buck.
"This morning Speaker Ryan shared with his colleagues that this will be his last year as a member of the House," Buck said in a statement to reporters. He confirmed that Ryan would serve out his full term and retire in January.
"After nearly twenty years in the House, the speaker is proud of all that has been accomplished and is ready to devote more of his time to being a husband and a father," Buck continued.
A press conference is scheduled for 10:00 a.m. Wednesday.
The news was first reported by Axios on Wednesday, citing sources close to Ryan who say the speaker is concerned about Republicans losing the House of Representatives in the November mid-terms and does not want to serve as minority leader.
House Majority Leader Kevin McCarthy may be considered as the next Congressman to lead Republicans or House Majority Whip Steve Scalise — both of whom enjoy a good relationship with President Donald Trump.
On Fox News, Scalise described the reports about Ryan as just "a lot of speculation" but confirmed that the Speaker would make an announcement later on Wednesday.
Ryan's announcement comes after he has raised over $54 million from donors for the Republican 2018 midterm elections.
9 Times Paul Ryan Put American Workers Last, Foreigners First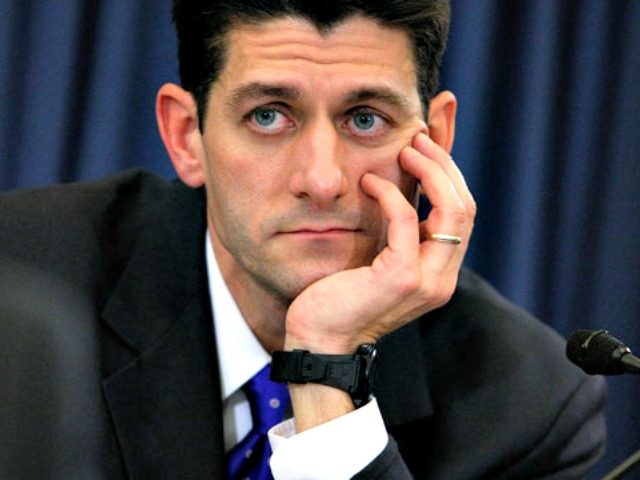 House Speaker Paul Ryan (R-WI) has announced that he will retire from Congress at the end of his term, leaving the door open for an economic nationalist Republican to take over as Speaker.
Here, Breitbart News looks at Ryan's pro-immigration, wage-crushing, big business-first record, whereby American workers have been left behind by multinational free trade and mass immigration.
1. Ryan's Mass Immigration-Packed Omnibus of 2018
This year, Ryan sent President Trump a spending bill that was packed with goodies for big business interests and the open borders lobby. The omnibus spending bill allows the Department of Homeland Security (DHS)
to expand
the H-2B visa program, whereby low-skilled nonagricultural foreign workers are imported to take blue-collar and working-class U.S. jobs.
Ryan's spending bill also did not include any border wall
funding
, while
increasing
the "Catch and Release" program that allows illegal aliens to be released into the interior of the U.S. Neither did it
add
any new deportation agents to help deport illegal aliens living across America.
2. Ryan's Opposition to Trump's Pro-American Worker Tariffs
When Trump announced he would place tariffs on steel and aluminum imports to help rebuild America's manufacturing base, which has been devastated by free trade deals like NAFTA and KORUS, Ryan immediately
began spouting
his opposition to the pro-American worker initiative.
"I think the smarter way to go is to make it more surgical and more targeted," Ryan said. [Emphasis added]
"What we're encouraging the administration to do is to focus on what is clearly a legitimate problem and to be more surgical in its approach so that we can go after the true abusers without creating any kind of unintended consequences or collateral damage," Ryan continued. [Emphasis added]
Meanwhile, American workers thanked Trump for placing the tariffs on imports, noting how free trade had come at the expense of their manufacturing jobs, as
Breitbart News
noted.
3. Ryan Using Nikki Haley to Trash Trump's Popular Immigration Reform Agenda
Breitbart News' Neil Munro
reported
in 2016:
House Speaker Paul Ryan used President Barack Obama's final State of The Union speech to trash Donald Trump's popular pro-American immigration platform — and to call for a radical, wage-cutting, open-borders plan.

The hit was delivered via the GOP response-speech, presented by South Carolina Governor Nikki Haley. Her speech — which was almost certainly approved by Ryan — dumped on Trump and touts

Ryan's preference

for a "any willing worker" economy.

That "any willing worker" term is used to describe nationwide employment rules which would allow any employer to hire any willing foreign workers if American workers decline to take the jobs because the offered wages are too low. President George. W. Bush worked with GOP leaders to push those rules in 2006 and 2007, but saw his poll ratings crash and his plans defeated.
4. Ryan's Attempt to Slip Amnesty for Illegal Aliens into Year-End Spending Bill
Last year, Ryan attempted to
slip an amnesty
for illegal aliens into a year-end spending bill, a move that would have attempted to force an amnesty at the expense of American workers or have the federal government shut down.
Just as Trump's labor market was tightening at the end of the year, securing historic wage gains for America's workers, Ryan's amnesty plan would have crushed those salary increases, giving big business an immediate new flow of cheap, foreign workers.
Ryan's failed secret plan to attach amnesty to the spending bill came less than a month after Breitbart News confirmed that a DACA recipient allegedly murdered a high school student in South Carolina.
5. Ryan's Refusal to Cut Legal Immigration to Raise American Workers' Wages
This year, Ryan made a
rhetorical shift
when he announced that he, like Trump, supports a merit-based immigration system. But, the system Ryan supports does not include actual reductions to legal immigration levels, wherein the U.S. imports more than 1.5 million legal and illegal immigrants every year.
Instead, Ryan prefers to keep importing millions of foreign nationals every year, but through a merit-based system – a plan that would not raise American workers' wages, as it would continue flooding the U.S. labor market at the benefit of big business.
Meanwhile, when pro-American immigration Republicans asked Ryan to promote legislation that reduced legal immigration to the U.S., he refused to help the initiative, allowing it to die in the House despite its popularity among the American public and Republican voters.
6. Ryan's Shooting Down of the RAISE Act
In 2017, there was no legislation that encompassed more of Trump's economic nationalist agenda than Sen. Tom Cotton's (R-AR) "RAISE Act," which would have cut legal immigration in half, delivering wage increases for American workers, but also reducing the foreign competition that U.S. workers have had to endure.
From the beginning of the rollout of the RAISE Act,
Ryan opposed
the plan, favoring the current Washington, D.C.-imposed cheap labor economic model.
"I just think arbitrary cuts to legal immigration don't take into effect the economy's needs as the boomers are retiring," Ryan
told
the
Milwaukee Journal Sentinel
. "With baby boomers leaving the workforce, we're still going to have labor shortages in certain areas and that is where a well-reformed legal immigration system should be able to make up the difference."
7. Ryan Defending Globalization to American Workers
Breitbart News Political Editor Matt Boyle
reported
in 2016:
House Speaker Paul Ryan headed to friendly territory in his home district — Wisconsin's first, which most in state politics expect him to win — to campaign for the final day before blue collar voters who will determine his fate.

But perhaps more importantly than that—Ryan shoring up what is supposed to be his base—Ryan was forced by workers in the two Wisconsin factories he visited on Monday to answer for globalization.

…

In addition to pushing his "A Better Way," agenda which has come under fire during the primary, Ryan made a direct pitch that the way to keep jobs in America—to prevent outsourcing—is to do tax reform. Ryan said:

This business is taxed at the personal level, so their top tax rate here is 44.6 percent. You know what the companies doing this in other countries are taxed at, like the Canadian companies that produce the same kind of stuff? They're taxed at 15 percent. China is at 25. Ireland is 12.5. England is 15. The average in the world is about 23. So when we tax our American made products, our American manufacturers much higher tax rates than our foreign competitors are taxing theirs, they immediately lose. So one of the things we are trying to do is make it so we are in a better position to keep jobs here in America, to keep manufacturing here. So we have proposed a complete overhaul of our tax system to number one get those tax rates down to about the average, 25 [percent]. Number two, we want to give businesses the incentive to hire more people and to build more buildings and to buy more machines.
8. Ryan Squeezing More Imported Foreign Workers Out of Trump Administration
Last year, Ryan was effective in
squeezing
an additional 15,000 imported, cheap foreign workers for his big business donors out of Trump's DHS chief at the time, Gen. John Kelly. The H-2B visa, which the foreign workers use to enter the U.S., has
proven to be
used as a cheap labor visa whereby businesses can readily import low-wage workers rather than having to find American workers to hire.
9. Ryan Falsely Claiming He Passed Legislation to Pause Somali Refugee Program
Breitbart News' Julia Hahn
reported
in 2016:
During the interview, O'Reilly criticized Ryan for failing to message on immigration controls and asked Ryan specifically about the Somali refugee crisis in Minnesota.

O'Reilly: "We have a Somali problem up in Minneapolis-St. Paul. [We] have a problem there and those are refugees from Somalia. And if, God forbid, some refugee comes in and blows people up, it's going to be grisly."

Ryan replied by explaining that he passed a bill to pause the refugee program. Ryan said: "Right. Right. That's why– just so you know that's why we passed a bill pausing this refugee program, because we don't think the refugee program works. That's why we don't want it to continue right now."

However, Ryan did no such thing. The bill Ryan championed did not in any way pause the Somali refugee program– it applied solely to refugees from Syria and Iraq.
No money for teacher pay or textbooks, but…
US CEO pay, bank profits, corporate cash set new records
By Barry Grey
18 April 2018
Across the United States, workers are being told by Democrats and Republicans alike that there is "no money" for decent wages, pensions or health care.
Teachers from West Virginia to Oklahoma, Kentucky, Arizona and other states are rebelling against near-poverty wages and years of school cuts only to be told by the politicians and union leaders that their demands are "unrealistic" and cannot be met.
But a series of reports on CEO pay, bank profits and corporate cash released over the past week reveal that corporate America and the financial oligarchy are wallowing in record levels of wealth. The

Washington Post

reported on Friday that, boosted by the tax cut for corporations and the rich passed in December, the biggest US firms "find themselves sitting on an Everest of cash," with "profits pouring in faster than they can find productive ways to spend it."
"As of the end of 2017," the

Post

noted, "companies in the Standard & Poor's 500 stock index were sitting on the largest cash pile in history: nearly $1.8 trillion."
The windfall from the Trump tax cut, passed with no serious opposition from the Democrats, is not, contrary to the lies used to justify the law, going to create new, good-paying jobs and rebuild the country's crumbing infrastructure. It is being used for stock buybacks, a parasitic squandering of the wealth produced by the labor of the working class to drive up stock prices and the portfolios of rich investors and corporate executives.
In February alone, US corporations announced a single-month record $150.7 billion in buybacks. They are expected to hit a new yearly record in 2018, surpassing the previous record of $589 billion set in 2007, the year before the Wall Street crash. Over the past 10 years, the American capitalist class has spent $5.1 trillion in stock buybacks.
To put this in perspective, the Oklahoma teachers, among the lowest-paid in the country, demanded $200 million in additional school funding to begin to address a decade of brutal cuts. The state government agreed to a mere $50 million, which the Oklahoma Education Association hailed as a "victory."
The amount requested by the teachers represents a mere 0.01 percent of the cash being hoarded by US corporations.
This "Mount Everest" of cash controlled by perhaps one percent of the American people towers above the sums allocated by the federal government for basic social needs. The budget for the Department of Health and Human Services is only 60 percent of the corporate cash hoard. The corporate cash pile is 26 times the Department of Education budget, 56 times the budget for Housing and Urban Development, 150 times the Labor Department budget, and 225 times the budget of the Environmental Protection Agency.
According to a report on CEO pay released last week, requisitioning the combined pay of the three highest-earning chief executives in 2017 would virtually cover the Oklahoma teachers' funding demand. Hock E. Tan (Broadcom) took in $103.2 million, Brian Duperreault (American International Group) received $42.8 million and Mark V. Hurd (Oracle) was paid $40.8 million, for a total of $186.8 million.
These reports, taken together, give a picture of a society that is being ruthlessly plundered by an unaccountable and avaricious financial oligarchy. The waste of resources and diversion of social wealth into the hands of a fabulously rich elite make it impossible to address any of the social problems confronting the population.
The other major squandering of resources is in the form of ever-expanding spending on the military and the preparations of the US ruling class for global war.
CEO pay
On April 11, the executive compensation research firm Equilar published its annual "Equilar 100" report, which examines CEO compensation at the 100 largest companies, by revenue. The study showed that median compensation for the 100 CEOs rose by 5 percent in 2017 from the previous year to reach an 11-year high of $15.7 million.
The median ratio of Equilar 100 CEO pay to that of a worker at the given company was 235 to one. However, some companies on the list had ratios even worse than the median. Manpower Group, whose CEO received $12 million, reported the highest ratio at 2,483 to one. The median pay of the company's 600,000 workers was $4,828. The retail chain Kohl's had a ratio of 1,264 to one.
The average pay of an Oklahoma teacher is $42,460. Median pay for Equilar 100 CEOs is 374 times that amount. The increase in median pay for Equilar 100 CEOs in 2017—$700,000—is itself 17 times the pay of the average Oklahoma teacher.
The second-highest paid CEO, Brian Duperreault ($42.8 million), heads the insurance giant American International Group (AIG), whose speculation in subprime mortgage-backed securities and credit default swaps played a central role in the financial crisis a decade ago that destroyed the savings and livelihoods of millions of people around the world and ushered in the Great Recession. His firm was bailed out by the Federal Reserve and the US Treasury to the tune of $150 billion.
Bank profits
Over the past week the major Wall Street banks have reported record or near-record profits for the first quarter of 2018. On Friday, JPMorgan Chase, Citigroup and Wells Fargo reported a combined profit of more than $19 billion for the first three months of the year.
JPMorgan, the country's biggest bank, reported a record quarterly net income of $8.71 billion. Its profits rose 35 percent over the same period a year ago. Earlier this month, CEO Jamie Dimon issued a

letter to shareholders

warning of rising wages and advising the Federal Reserve to jack up interest rates in order to stunt economic growth and drive up unemployment, so as to preempt the development of a nationwide wages movement.
It was a similar story at Citigroup (13 percent profit rise) and Wells Fargo (8 percent). Bank of America on Monday reported a 34 percent profit increase and Goldman Sachs on Tuesday said its profits jumped 26 percent.
A substantial part of the profit surge on Wall Street was due to the massive cut in the corporate tax rate. The five banks combined saved well above $2 billion as a result of a drastic reduction in their effective tax rates.
Speaking of the windfall from the tax law and other policies being implemented by Trump, with the tacit support of the Democrats, Citigroup Chief Financial Officer John Gerspach told reporters Friday that companies had only begun to take advantage of the changes. "I think the best is yet to come," he said.
Putting an end to social inequality and the capitalist system that produces it are essential to providing employment, education, health care, housing, a comfortable retirement, access to culture, a safe environment and a modern infrastructure—that is, securing the basic social rights of the working class.
"Today, each of the top 5 billionaires owns as much as 750 million people,

more than the total population of Latin America and double the population of the US."
....
AND THEY ALL WANT AMNESTY, OPEN BORDERS, NO E-VERIFY
AND NON-ENFORCEMENT TO KEEP WAGES DEPRESSED!
Report details massive growth of inequality worldwide
By Eric London
10 April 2018
The growth of within-country inequality
Growth of the international working class and homogenization of incomes across continents
Impact of the Russian Revolution and dissolution of the Soviet Union on world inequality
The rise of oligarchy in the US
The inability of governments to respond to social grievances or economic crises
Conclusions
Washington Times: 'Secret Empires' Revelations 'Shocking, Startling, Stunning–and Sickening'
World's richest one per cent are on track to own two thirds of global wealth by the year 2030
SHARE THIS ARTICLE