More US states imposing Medicaid work requirements
By Kate Randall
14 April 2018
With little attention from the media or the Democratic Party, the Trump administration and state governments are carrying out a ruthless campaign against Medicaid, the insurance program for the poor, disabled and elderly that is jointly administered by the federal government and the states. More than 75 million Americans are currently covered by Medicaid and the Children's Health Insurance Program (CHIP).
Under the Obama administration-sponsored Affordable Care Act (ACA), 33 states have expanded Medicaid benefits to cover those earning up to $16,643 a year as an individual or $28,180 for a family of four.
A 2012 US Supreme Court decision ruled that the ACA's individual mandate, which requires those without insurance to purchase private health insurance or pay a penalty, was constitutional, but left it up to the states to decide whether or not to expand Medicaid. To date, 32 states and the District of Columbia have expanded the program, while 18 states, mostly led by Republicans in the South and Midwest, have not.
Some Republican-controlled states are now considering expanding Medicaid, but these moves come with attached stipulations, such as work requirements, aimed at limiting benefits and forcing recipients off of the rolls. The Trump administration's Centers for Medicare and Medicaid Services (CMS) in January 2017 announced that it would allow states to impose

work requirements

.
On Tuesday, Trump took his crusade for work requirements one step further. He issued an

executive order

to six government departments to review all public assistance programs, with the aim of determining which programs currently have work requirements attached to them. Cabinet secretaries are required to issue reports listing programs to be eliminated and new restrictions to be imposed.
A new report from the Center on Budget and Policy Priorities (CBPP) reveals that even people who work will be at serious risk of losing their health insurance under the new Medicaid work requirements. The analysis concludes that a significant number of poorer people on Medicaid who are regularly working might not meet the strict requirements imposed on them.
By the CBPP's estimate, one in four people who worked enough hours over the course of the year to meet the work requirements in Kentucky, the first state to impose them, would have at least one month in which they fell below the state's 80-hour monthly work requirement, therefore putting them at risk of losing coverage. People working lower-wage jobs are more likely to have irregular working hours and gaps in their employment.
The Trump administration has so far approved Medicaid work requirements in Kentucky, Arkansas and Indiana, while several other states have waivers pending. Many people receiving benefits, including those with federally qualifying disabilities, the elderly, children and pregnant women, would be exempt from work requirements.
However, according to the CBPP, two-thirds of the remainder of beneficiaries who are subject to work requirements are actually working. Seventy percent of these people worked 1,000 hours over a year, which translates to 80 hours a month, Kentucky's threshold for meeting the requirement.
The CBPP found that nearly half of the people, or 46 percent, who could be subject to a work requirement—and were working—had at least one month when they failed to meet Kentucky's 80-hour requirement. The top industries for those facing work requirements are food services, retail and construction, occupations that are subject to seasonal and other work-hour changes.
Workers would also face onerous paperwork requirements and could lose benefits if they failed to file the proper forms or if states mismanaged forms that had been submitted. The Tennessee legislature is debating whether to take money from Temporary Assistance for Needy Families, the federal cash welfare program, to use it to pay for the administrative costs the state will bear to set up the Medicaid work requirements.
Work requirements that the White House and state governments claim will foster "personal responsibility" will, in fact, deepen the poverty and suffering of vulnerable sections of the population. The CBPP report's authors write: "In states with work requirements, some workers who lose their jobs due to health setbacks may then lose their health coverage and access to treatment as well, which would make it far harder for them to regain their health and their employment."
Maine just recently expanded Medicaid, and ballot initiatives to do so in Idaho and Nebraska may also lead to expansion. According to the news website Vox, a dozen or more states are now applying for or considering seeking waivers to allow them to impose work requirements, time limits, or drug testing for Medicaid. These include Arizona, Indiana, Kentucky, Arkansas and New Hampshire—Republican-led states that have already expanded Medicaid. Arkansas' waiver includes a "private option" providing "able-bodied" adults on Medicaid with coverage through private insurers.
Kentucky's plan, in addition to implementing Medicaid work rules, requires premium payments for recipients and a lockout for those who don't make the payments. The CMS approved similar waiver requests from Indiana and Arkansas earlier this year.
The Virginia legislature is on the verge of approving some type of Medicaid expansion on a bipartisan basis. State Senator Frank Wagner, a Republican, has said he would back an expansion as long as it required able-bodied adults to work and taxed hospitals to pay the state's share of the estimated $2 billion annual cost. A spokesman for Democratic Governor Ralph Northam said of the proposed work rules, "There were things we didn't want to see in the deal but were important to Republicans." Northam's election last November was hailed by the Democratic Party and its pseudo-left satellites as a victory for "progressive" opponents of Trump.
States are taking aim at Medicaid in other ways as well. Florida Governor Rick Scott, a Republican, and the Florida legislature are proposing to slash the retroactive approval time frame for Medicaid claims from 90 days to 30. While Florida officials say the move would affect about 39,000 individuals, a state official made the preposterous claim that "no Medicaid services are being reduced as a result of the amendment."
Montana's Department of Public Health and Human Services is cutting Medicaid provider rates and contracts as a result of $49 million in budget cuts mandated by the governor and state legislature to balance the budget. As a result, Helena Industries, a non-profit that provides services for people with disabilities, is closing and plans to file for bankruptcy protection on April 17. Nicole Edwards, a Helena Industries case manager whose last day on the job was April 11, told Montana Public Radio, "It is going to be a rocky transition and people will fall through the cracks."
In Louisiana, state legislators are proposing deep cuts to Medicaid in the face of an estimated $1 billion budget deficit. The cuts stipulate that any patient receiving income between $750 and $2,250 a month will no longer be eligible for the Long Term Care Special Income Level Program (LTC). If passed, the cuts could force 46,000 Medicaid recipients out of facilities.
Beverly Everett has a loved one, Dan Coleman Jr., who has been living at a long-term facility in Pineville, Louisiana for more than 40 years, since he was six years old. "Developmentally, he has the mind of an 8-month-old," Everett told KATC television. The $1,400 he receives from his late mother's Social Security could potentially force him to leave the facility.
"I'm 63 years old, my husband is 67 years old. Physically, I don't think I could handle him by bathing him, putting him up, feeding him, changing his diaper, watching him 24/7. Someone would always have to be with him," Everett said. "It would basically destroy our lives."
After passing a tax cut for the rich costing $1.5 trillion over 10 years, Republicans in Congress and the corporate elite have only ramped up their campaign against so-called "entitlement" programs, including Medicare, Medicaid and Social Security. Judith Stein, executive director of the Center for Medicare Advocacy, told FierceHealthcare, "These tax cuts have added so much to the deficit and I can't imagine them going after military spending or raising anyone's taxes."
Jamie Dimon, the chairman and CEO of mega-bank JPMorgan Chase, wrote in his annual letter to shareholders last week, "The real problem with our deficit is the uncontrolled growth of our entitlements. The extraordinary growth of Medicare, Medicaid and Social Security is jeopardizing our fiscal situation."
The Democratic Party and the mainstream media have next to nothing to say about the ruling class assault on Medicaid, instead focusing their fire on pressuring the Trump administration to invade Syria and repeating their claims of "Russian hacking" in the 2016 presidential election.
THE DEATH GAP: INEQUALITY IS KILLING AMERICA!
CALL IT OBAMA-CLINTONOMICS OR TRUMPERNOMICS FOR THE SUPER RICH!
IT'S ALL ABOUT KEEPING WAGES DEPRESSED AND PASSING ALONG
THE ILLEGALS' WELFARE AND CRIME COSTS TO THE AMERICAN
OBAMA'S CRONY BANKSTERISM destroyed a 11 TRILLION DOLLARS in home equity… and they're still plundering us!
Barack Obama created more debt for the middle class than any president in US
history, and also had the only huge QE programs: $4.2 Trillion.
OXFAM

reported that during Obama's terms, 95% of the wealth created went to
the top 1% of the world's wealthy.
L.A. to Pay Residents to House Homeless in Granny Units and Garages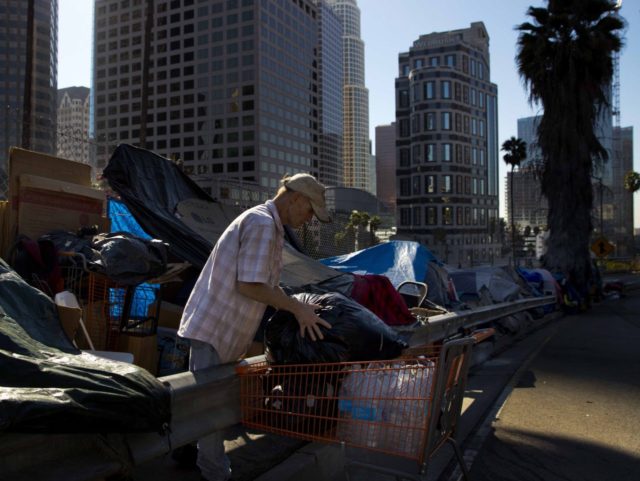 The City of Los Angeles wants to pay property owners to renovate garages and build backyard houses to rent out to the homeless.
The proposal, described by the Los Angeles Times, is mayor Eric Garcetti's latest effort to tackle the growing problem of homelessness as he attempts to build a national profile as a potential presidential candidate in 2020.
The New York Times has reported that California leads the nation with about 118,000 people experiencing homelessness on an average night — a quarter of the nation's homeless population. Many of the homeless in the state are in L.A. County.
The situation is so desperate that the Los Angeles County Board of Supervisors in August 2017 unanimously approved a $550,000 "Second Dwelling Unit Pilot Program" to pay qualifying homeowners in unincorporated areas up to $75,000 to build a second "granny" unit in areas zoned for such structures.
The pilot program will also provide grants of up to $50,000 to try to legalize some of the huge number of existing accessory dwelling units (ADUs) that were never approved by the county or city planning departments.
The City of Los Angeles had planned to build apartments for the homeless in Temple City and Boyle Heights. Butpontaneous "NIMBY" (Not In My Back Yard) protests broke out last month from local residents angry about homeless dumping in their communities.
Breitbart News reported that similar angry protests broke out at the Orange County Board of Supervisors meeting on March 23 when the county tried to move 700 homeless people evicted from the banks of the Santa Ana River to tent camps near city parks near the bedroom communities in Irvine, Huntington Beach, and Laguna Niguel.
The move would have complied with a settlement in a federal civil rights lawsuit and saved Orange County about $780,000 per month in hotel costs. But 2,500 mostly local homeowners from the affected cities shut down the plan by showing up at the weekly board meeting waving hundreds of signs and chanting, "No tent city!" and "Protect our community, protect our children."
Based on the Second Dwelling Unit Pilot Program's supposed success, and a $100,000 Mayor's Challenge feasibility planning grant from Bloomberg Philanthropies, the UK Daily Mail has reported that the City of Los Angeles intends to use a big piece of the $1.2 billion Proposition HHH bond approved by voters in 2016 to house the homeless permanently.
The grannie flats and garages will be required to include kitchenettes, toilets, and shower amenities. The prospective tenants will be screened by social workers, and will work with counselors to obtain job training and ree-nter the work force within 3 years.
FORMER SEN. BARBARA BOXER and NOW SEN. KAMALA HARRIS are a pantheon of staggering self-serving corruption.
They and their families have all gotten filthy rich off of these women's elected office.
Their endless hispandering for the illegals' votes has turned California into Mexifornia, a drug, gang and anchor baby welfare third-world dumpster!
"Liberal governing has transformed beautiful California into the
poverty capital of America
with the worst quality of life.
Crazy taxes
, crazy
high cost of living
, and crazy
overreaching regulations
have crushed the middle class, forcing the middle class to exit the Sunshine State. All that is left in California are illegals feeding at the breast of the state, rapidly growing
massive homeless tent cities
, and the mega-rich." LLOYD MARCUS
AMERICA: ONE PAYCHECK AND TWELVE ILLEGALS AWAY FROM HOMELESSNESS!


A dashcam video of downtown Los Angeles on Christmas day reveals a stunning sight: hundreds of tents and lean-tos on the sidewalks that serve as shelter for the homeless. The scene is reminiscent of a third-world country. RICK MORAN / AMERICANTHINKER com
HOMELESS CRISIS IN LOS ANGELES, MEXICO'S SECOND LARGEST
CITY, WORSENS BY THE DAY…. Approximates the great depression
93% of the murders in Los Angeles are by Mexicans
HOMELESS AMERICA'S HOUSING CRISIS as 40 million illegals have climbed U.S. open borders.
EVERY AMERICAN (Legal) only one paycheck and two illegals away from living in their cars.
March Jobs—Trump Effect OVER,
Displacement/Foreign-Born Population
Surge to New Highs. Legislation
The March job data, reported Friday April 6, was disappointing for conventional Main Stream Media economic commentators—but disastrous for immigration patriot economic commentators i.e. basically us here at VDARE.com. For the third straight month, immigrant displacement of American workers and the immigrant workforce both surged, more than reversing that gains that appeared to be evident by the end of 2017— what we optimistically saw as a "Trump Effect." Simultaneously, it is now clear that illegal immigration is also surging again. The one bright spot: this utterly discredits lying MSM attempts to downplay illegal immigration in the face of backlash to the Pueblos Sin Fronteras caravan and President Trump's fierce reaction. Nevertheless, it is now clear that only vastly stronger executive action, and above all legislation, can stem the Historic American Nation's dispossession via non-traditional immigration.
Grassley Charges 'Colleges' Selling Visas to
Companies pose as educational institutions
WorldNetDaily.com
"Visa mills are those marginal educational institutions that provide visas and work permits to foreign students, but little in the way of actual schooling," explains the Center for Immigration Studies.
The work permits under the Optional Practical Training program "actually give the alien students' employers a tax break for hiring them instead of comparable citizen and green card students."
. . .
"These 'visa mills' profit from the foreign student tuition and face little governmental oversight when issuing work visas under the program, which is not available to American students," the senator explained.
. . .
David North at the Center for Immigration Studies noted, "To my knowledge, this is the first time that DHS has been asked by Congress about visa mills and OPT; one hopes that it will stir some interest in DHS about issues long neglected by that agency."
He previously noted action taken against a visa mill that that had been described in India as "an academic rip-off."
Grassley said foreign students "contribute to a growing population of non-immigrants who overstay their visas."
http://www.wnd.com/2018/03/grassley-charges-colleges-selling-visas-to-foreigners/
IMPOSE E-VERIFY AND YOU INSTANTLY
CREATE MILLIONS MORE JOBS AND
FORCE
WAGES UP!
WE COULD END MEXICO'S INVASION IF WE PUT EMPLOYERS OF ILLEGALS IN JAIL
NumbersUSA's Rosemary Jenks:
E-Verify Ignored in DACA Negotiations Because 'Members of Congress Know It Will Work'
Members of Congress broadly oppose a legislative nationwide E-Verify mandate for employers because "they know it will work," said NumbersUSA's Rosemary Jenks, explaining why E-Verify is not being pushed in congressional negotiations for an amnesty deal for recipients of the Obama administration's Deferred Action for Childhood Arrivals (DACA). Jenks further noted that both parties are beholden to special interests supportive of "mass migration."
10,000 Wealthy Aliens Annually Obtain Visas, Green Cards Via EB-5 Program; 82% of Applicants from 1 Country
About ten thousand wealthy foreign nationals obtain U.S. visas that can lead to permanent-resident green cards each year by utilizing America's EB-5 program.
Under the program, foreign nationals must invest at least a half-million dollars and, in some cases at least a million, in order to qualify, The L.A. Times reports:
"The EB-5 program was created in 1990 to stimulate the U.S. economy through capital investment and job creation.

"Foreigners can qualify for permanent U.S. residency — a green card — if they invest at least $1 million in a new business venture that creates at least 10 jobs. The threshold drops to $500,000 for investments in high-unemployment or rural areas."
EB-5 immigrants can obtain U.S. residency for their spouses and unmarried children (under 21).
Requirements of EB-5 Visa:
$1,000,000 minimum investment in new business venture that creates at least 10 jobs,

$500,000 minimum investment in high-unemployment and rural areas,

File I-526 petition with U.S. Immigration and Customs Enforcement (ICE) for approval,

Complete proposed two-year investment project,

Apply to State Dept. for visa,

Obtain green card
I-526 applications dropped 14% from 2016 last fiscal year. 11,321 of the 12,165 applications were approved. The number of visas issued under the program is capped at "approximately" 10,000 annually.
According to research cited by The L.A. Times, from 2014-2015, the EB-5 visa program contributed:
$11.2 billion in capital investment

207,000 U.S. jobs,

$33 billion in gross domestic product and,

$4 billion in tax revenues.
While there is a seven percent cap on visas granted to any single country, in 2016, more than 82% of the applications came from mainland China, followed by a mere 3% from Vietnam and 2.7% from India.
The six countries subject to the Trump administration's travel ban are excluded from the program:
Chad,

Iran,

Libya,

Somalia,

Syria and

Yemen.
Paul Ryan's Globalist Legacy: Ignoring America's Working Class at the Behest of Billionaire Koch Brothers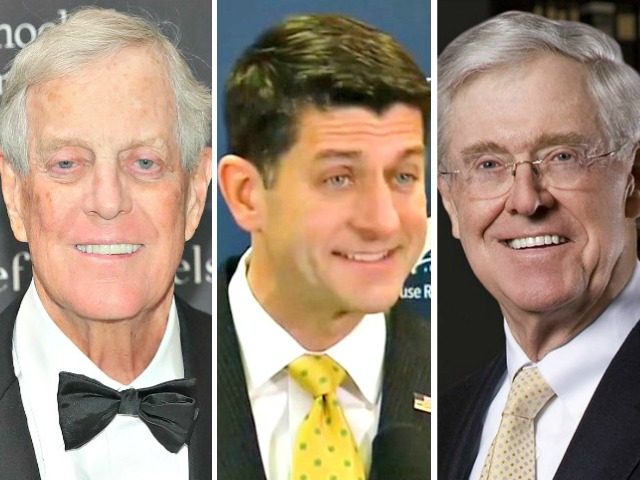 As House Speaker Paul Ryan (R-WI) announced that he will retire from public office after his last term in the House, the leader of the globalist wing of the Republican Party is set to leave behind a legacy that ignored America's working and middle class, while serving up an agenda favored by billionaires Charles and David Koch.
This year — days after Ryan successfully prioritized tax cuts ahead of President Trump's popular immigration reduction agenda — the Koch brothers donated about half a million to Ryan's campaign committee.
Ryan's brand of Republicanism is reliant on pushing unpopular tax and entitlement reform agendas, as when, in 2016, the House Speaker told American workers that tax cuts — not penalties for multinational corporations — were necessary to stop the massive outsourcing of U.S. jobs to third world nations.
The Koch brothers, staunch advocates of mass immigration, geared up alongside Ryan's tax cuts and the two have marched in lockstep together opposing Trump's populist fair trade agenda, where he has placed tariffs on steel and aluminum imports, as well as on Chinese imports, to help rebuild America's depleted manufacturing base.
Charles Koch most recently said that he and his brother's network of organizations were "working hard against" Trump's trade agenda.
"We're working hard against all these other protectionist trade barriers that are just different forms of corporate welfare which, other than a few special interests, will make Americans worse off," Koch said.
Ryan, like the Koch brothers, came out of the gate opposing Trump's fair trade agenda, denouncing the plan by saying he was "extremely worried" about a mainstream media-hyped "trade war."
Wisconsin voters, Ryan's constituents, have been opposed to the House Speaker's free trade as religion, with a majority telling pollsters in 2016 that free trade was responsible for taking U.S. jobs away from them. The poll revealed that only 33 percent of Republican voters said free trade creates jobs in the U.S.
Meanwhile, Ryan has credited his tax cuts for Trump's economic success. Republican voters, though, have repeatedly said that tax reform is not a priority for them. The biggest priority for GOP voters, month after month? Reducing immigration, an initiative supported by Trump but opposed by Ryan and the Koch brothers.
In the latest Harvard-Harris poll, 42 percent of Republican voters said immigration was the most important issue facing the country. The same amount of Republicans said national security, too, is the most important issue.
Meanwhile, only 25 percent of Republican voters said the national debt was the biggest issue in the country, while only 12 percent of Republicans said the same of taxes.
Reducing immigration was a bigger priority for GOP voters than tax cuts, repealing Obamacare, getting the U.S. out of the Iran Deal, destroying ISIS, and expanding family leave.
Immigration is so important to Republicans that it even surpasses the economy and jobs as being the biggest issue.
Supporters of President Trump's say reducing immigration should be the second biggest priority for the White House, just after stimulating American jobs.
Nonetheless, the Koch brothers have remained opposed to cutting the current inflow of low-skilled foreign nationals to the country, where more than 1.5 million illegal and legal immigrants enter the U.S. every year.
Ryan, too, has opposed cutting legal immigration levels, favoring the Washington, D.C.-imposed cheap labor economic model where businesses import foreign workers to compete with American workers at low wages.
The opposition to reducing legal immigration, though, is not in-line with Ryan's constituents' views on immigration, For example, most recent polling shows that a plurality of Wisconsin voters wants legal immigration cut in at least half.
Even in Ryan's retirement announcement, he did not mention any plans for the Republican-controlled House to push Trump's popular agenda of immigration reduction. Instead, Ryan said he would "keep at it" on trying to cut entitlements for Americans as foreigners continue pouring into the country.
With Ryan's agenda to push entitlement reform just ahead of the 2018 midterm elections, the Koch brothers are investing up to $400 million in trying to get globalist-friendly GOP candidates elected to Congress who will vote to continue mass immigration to the U.S. About $20 million of the Koch funding will go towards selling Ryan's tax reform.
Ryan's tax cuts, while getting more money back in the pockets of Americans, does not have a lasting impact on voters. Last month, 50 percent of swing voters told pollsters that the tax reform legislation would have "no impact" on their decision as to whom to vote for. Immigration, for swing-voters, remains more important to their midterm election vote than tax reform.
Still, Ryan's control of the House has put the Trump administration in a bind when it comes to pushing their popular immigration reform agenda, which not only includes reducing immigration, but building a wall along the U.S.-Mexico border and ending the Diversity Visa Lottery program which imports 50,000 random foreign nationals every year.
In the most recent spending bill, signed by Trump, Ryan worked with Democrats to expand the number of low-wage foreign workers entering the U.S. for the big business lobby. The spending bill also did not include any border wall funding, increased the "Catch and Release" program that allows illegal aliens to be released into the interior of the U.S., and did not add any new deportation agents to help deport illegal aliens living across America.
Trump, though he signed the spending bill, called it a "ridiculous situation" – a blow to Ryan's speakership.
The Koch brothers' biggest critique of the spending bill, unsurprisingly, was that it did not include amnesty for illegal aliens.
Enemy of the American Worker,
Speaker Paul Ryan Will Not Run for Re-Election
House Speaker Paul Ryan told Republicans that will not run for re-election, according to his senior adviser Brendan Buck.
"This morning Speaker Ryan shared with his colleagues that this will be his last year as a member of the House," Buck said in a statement to reporters. He confirmed that Ryan would serve out his full term and retire in January.
"After nearly twenty years in the House, the speaker is proud of all that has been accomplished and is ready to devote more of his time to being a husband and a father," Buck continued.
A press conference is scheduled for 10:00 a.m. Wednesday.
The news was first reported by Axios on Wednesday, citing sources close to Ryan who say the speaker is concerned about Republicans losing the House of Representatives in the November mid-terms and does not want to serve as minority leader.
House Majority Leader Kevin McCarthy may be considered as the next Congressman to lead Republicans or House Majority Whip Steve Scalise — both of whom enjoy a good relationship with President Donald Trump.
On Fox News, Scalise described the reports about Ryan as just "a lot of speculation" but confirmed that the Speaker would make an announcement later on Wednesday.
Ryan's announcement comes after he has raised over $54 million from donors for the Republican 2018 midterm elections.
9 Times Paul Ryan Put American Workers Last, Foreigners First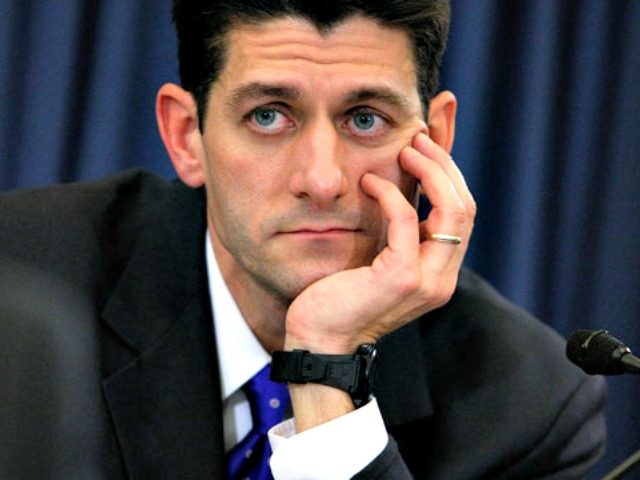 House Speaker Paul Ryan (R-WI) has announced that he will retire from Congress at the end of his term, leaving the door open for an economic nationalist Republican to take over as Speaker.
Here, Breitbart News looks at Ryan's pro-immigration, wage-crushing, big business-first record, whereby American workers have been left behind by multinational free trade and mass immigration.
1. Ryan's Mass Immigration-Packed Omnibus of 2018
This year, Ryan sent President Trump a spending bill that was packed with goodies for big business interests and the open borders lobby. The omnibus spending bill allows the Department of Homeland Security (DHS)
to expand
the H-2B visa program, whereby low-skilled nonagricultural foreign workers are imported to take blue-collar and working-class U.S. jobs.
Ryan's spending bill also did not include any border wall
funding
, while
increasing
the "Catch and Release" program that allows illegal aliens to be released into the interior of the U.S. Neither did it
add
any new deportation agents to help deport illegal aliens living across America.
2. Ryan's Opposition to Trump's Pro-American Worker Tariffs
When Trump announced he would place tariffs on steel and aluminum imports to help rebuild America's manufacturing base, which has been devastated by free trade deals like NAFTA and KORUS, Ryan immediately
began spouting
his opposition to the pro-American worker initiative.
"I think the smarter way to go is to make it more surgical and more targeted," Ryan said. [Emphasis added]
"What we're encouraging the administration to do is to focus on what is clearly a legitimate problem and to be more surgical in its approach so that we can go after the true abusers without creating any kind of unintended consequences or collateral damage," Ryan continued. [Emphasis added]
Meanwhile, American workers thanked Trump for placing the tariffs on imports, noting how free trade had come at the expense of their manufacturing jobs, as
Breitbart News
noted.
3. Ryan Using Nikki Haley to Trash Trump's Popular Immigration Reform Agenda
Breitbart News' Neil Munro
reported
in 2016:
House Speaker Paul Ryan used President Barack Obama's final State of The Union speech to trash Donald Trump's popular pro-American immigration platform — and to call for a radical, wage-cutting, open-borders plan.

The hit was delivered via the GOP response-speech, presented by South Carolina Governor Nikki Haley. Her speech — which was almost certainly approved by Ryan — dumped on Trump and touts

Ryan's preference

for a "any willing worker" economy.

That "any willing worker" term is used to describe nationwide employment rules which would allow any employer to hire any willing foreign workers if American workers decline to take the jobs because the offered wages are too low. President George. W. Bush worked with GOP leaders to push those rules in 2006 and 2007, but saw his poll ratings crash and his plans defeated.
4. Ryan's Attempt to Slip Amnesty for Illegal Aliens into Year-End Spending Bill
Last year, Ryan attempted to
slip an amnesty
for illegal aliens into a year-end spending bill, a move that would have attempted to force an amnesty at the expense of American workers or have the federal government shut down.
Just as Trump's labor market was tightening at the end of the year, securing historic wage gains for America's workers, Ryan's amnesty plan would have crushed those salary increases, giving big business an immediate new flow of cheap, foreign workers.
Ryan's failed secret plan to attach amnesty to the spending bill came less than a month after Breitbart News confirmed that a DACA recipient allegedly murdered a high school student in South Carolina.
5. Ryan's Refusal to Cut Legal Immigration to Raise American Workers' Wages
This year, Ryan made a
rhetorical shift
when he announced that he, like Trump, supports a merit-based immigration system. But, the system Ryan supports does not include actual reductions to legal immigration levels, wherein the U.S. imports more than 1.5 million legal and illegal immigrants every year.
Instead, Ryan prefers to keep importing millions of foreign nationals every year, but through a merit-based system – a plan that would not raise American workers' wages, as it would continue flooding the U.S. labor market at the benefit of big business.
Meanwhile, when pro-American immigration Republicans asked Ryan to promote legislation that reduced legal immigration to the U.S., he refused to help the initiative, allowing it to die in the House despite its popularity among the American public and Republican voters.
6. Ryan's Shooting Down of the RAISE Act
In 2017, there was no legislation that encompassed more of Trump's economic nationalist agenda than Sen. Tom Cotton's (R-AR) "RAISE Act," which would have cut legal immigration in half, delivering wage increases for American workers, but also reducing the foreign competition that U.S. workers have had to endure.
From the beginning of the rollout of the RAISE Act,
Ryan opposed
the plan, favoring the current Washington, D.C.-imposed cheap labor economic model.
"I just think arbitrary cuts to legal immigration don't take into effect the economy's needs as the boomers are retiring," Ryan
told
the
Milwaukee Journal Sentinel
. "With baby boomers leaving the workforce, we're still going to have labor shortages in certain areas and that is where a well-reformed legal immigration system should be able to make up the difference."
7. Ryan Defending Globalization to American Workers
Breitbart News Political Editor Matt Boyle
reported
in 2016:
House Speaker Paul Ryan headed to friendly territory in his home district — Wisconsin's first, which most in state politics expect him to win — to campaign for the final day before blue collar voters who will determine his fate.

But perhaps more importantly than that—Ryan shoring up what is supposed to be his base—Ryan was forced by workers in the two Wisconsin factories he visited on Monday to answer for globalization.

In addition to pushing his "A Better Way," agenda which has come under fire during the primary, Ryan made a direct pitch that the way to keep jobs in America—to prevent outsourcing—is to do tax reform. Ryan said:

This business is taxed at the personal level, so their top tax rate here is 44.6 percent. You know what the companies doing this in other countries are taxed at, like the Canadian companies that produce the same kind of stuff? They're taxed at 15 percent. China is at 25. Ireland is 12.5. England is 15. The average in the world is about 23. So when we tax our American made products, our American manufacturers much higher tax rates than our foreign competitors are taxing theirs, they immediately lose. So one of the things we are trying to do is make it so we are in a better position to keep jobs here in America, to keep manufacturing here. So we have proposed a complete overhaul of our tax system to number one get those tax rates down to about the average, 25 [percent]. Number two, we want to give businesses the incentive to hire more people and to build more buildings and to buy more machines.
8. Ryan Squeezing More Imported Foreign Workers Out of Trump Administration
Last year, Ryan was effective in
squeezing
an additional 15,000 imported, cheap foreign workers for his big business donors out of Trump's DHS chief at the time, Gen. John Kelly. The H-2B visa, which the foreign workers use to enter the U.S., has
proven to be
used as a cheap labor visa whereby businesses can readily import low-wage workers rather than having to find American workers to hire.
9. Ryan Falsely Claiming He Passed Legislation to Pause Somali Refugee Program
Breitbart News' Julia Hahn
reported
in 2016:
During the interview, O'Reilly criticized Ryan for failing to message on immigration controls and asked Ryan specifically about the Somali refugee crisis in Minnesota.

O'Reilly: "We have a Somali problem up in Minneapolis-St. Paul. [We] have a problem there and those are refugees from Somalia. And if, God forbid, some refugee comes in and blows people up, it's going to be grisly."

Ryan replied by explaining that he passed a bill to pause the refugee program. Ryan said: "Right. Right. That's why– just so you know that's why we passed a bill pausing this refugee program, because we don't think the refugee program works. That's why we don't want it to continue right now."

However, Ryan did no such thing. The bill Ryan championed did not in any way pause the Somali refugee program– it applied solely to refugees from Syria and Iraq.