Pro-choice Pelosi touts 'spark of divinity' within MS-13






Someone must have let Nancy Pelosi out on a weekend pass, because the woman is losing it. At her press conference this week, the House minority leader mumbled, zoned out, and chuckled inappropriately. The only thing missing from the event was drool dripping out the corner of Nancy's mouth onto her expensive silk scarf.

The most peculiar thing Nancy had to say concerned the "spark of divinity" she believes resides within the violent street gang, MS-13.

Currently, most of these so-called Salvadoran "divine creatures" roam the streets of America illegally. According to Robert Hur, an official with the Justice Department, the culturally diverse MS-13's motto is "mata, viola, controla" – which translates "kill, rape, control."

Notorious for their hand signs, machetes, and full body tattoos, MS-13 participatein activities that involve things like human- and drug-trafficking, child prostitution, kidnapping, gun-smuggling, murder, and gruesome styles of retribution.

In the Northeast, on Long Island alone, MS-13 committed 25 killings in the past two years.

Recently, President Donald Trump, a man who calls it like it is, referred to MS-13 residing in U.S. prisons as "animals." Based on the bedlam the gang has wrought within America's borders, Trump calling them "animals" was more a compliment than an insult.

Simply put, MS-13 is a band of marauding illegals from Central America who threaten members with death if they attempt to leave the ranks and who wreak havoc wherever they go.

Speaking on behalf of the Democratic Party, Nancy Pelosi said Trump calling illegal rapists and murderers "animals" is offensive and harsh.

So, in between holding up five fingers while referring to the number six and staring out into space mid-sentence, during Pelosi's press conference, the House minority leader also chided the POTUS for insulting MS-13.

Waxing spiritual, it happened during the former Speaker's comments on "food insecurity." After mentioning "God's children," Nancy had this to say about Trump's MS-13 comments:

When the President of the United States says about undocumented immigrants, "These aren't people; these are animals," you have to wonder: does he not believe in the spark of divinity? The dignity and worth of every person?

Democrats are the ones who justify bestowing immigrant status on illegals while denying human status to unborn humans, and now Mrs. Pelosi is suddenly touting the "dignity and worth of every person"?

Nancy Pelosi must have forgotten that she advocates for the unfettered slaughter of 3,000 American babies per day. Based on Nancy Pelosi's own words, if a "spark of divinity" is infused into a fertilized egg, then supporting abortion is far worse than Trump calling MS-13 names.

Either way, House minority leader Nancy Pelosi is still the official spokesperson for a political party that publicly honors the "spark of divinity" in vicious street gangs and does it while disregarding the "spark of divinity" residing within the guiltless unborn.

In other words, when it comes to shedding innocent blood, pro-choice liberals and Central American street gangs are similar. Therefore, before accusing Trump of being hostile toward violent gang members, maybe loopy Nancy Pelosi and her ilk need to acknowledge that the gruesome procedure that ends the life of the innocent and helpless inside the womb is on par with the murder and mayhem MS-13 inflicts on enemies outside the womb.




THE PLUNDERING BARONESS PELOSI:




Nancy Pelosi triples her loot since the banksters nearly destroyed America's economy and demands endless hordes of illegals to keep wages depressed!
OPEN BORDERS: The Democrat Party's Weapon of Mass Destruction on the American Worker
"Los Angeles saw all crime rise in 2015: violent crime up 19.9 percent, homicides up 10.2 percent, shooting victims up 12.6 percent, rapes up 8.6 percent, robberies up 12.3 percent, and aggravated assault up 27.5 percent,"Landry said."
FORMER SEN. BARBARA BOXER and NOW SEN. KAMALA HARRIS are a pantheon of staggering self-serving corruption.
They and their families have all gotten filthy rich off of these women's elected office.
Their endless hispandering for the illegals' votes has turned California into Mexifornia, a drug, gang and anchor baby welfare third-world dumpster!
Democrats Could Face Midterm 'Catastrophe' in California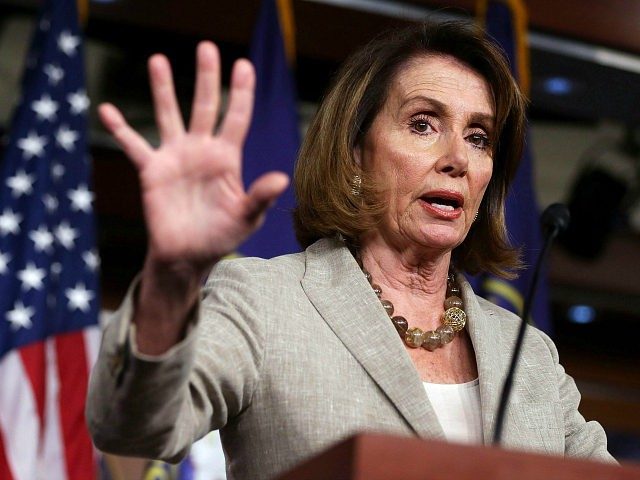 Democrats had been counting on victories in at least half a dozen California congressional districts to bring them closer to the 24 needed to take control of the U.S. House of Representatives.
Republicans only hold 14 seats in the Golden State, and Hillary Clinton won many of those districts in the 2016 election.
But a combination of factors — including an excess of Democratic contenders, and a surge in Republican enthusiasm — could thwart those plans.
California has a unique primary system called the "top two" or "jungle" primary, under which every voter can vote for any candidates, and the top two vote-winners advance to the general election, regardless of party. That means it is theoretically possible for the general election to feature an all-Democrat — or, less frequently, all-Republican — final.
Until recently, Republicans feared being shut out from the November ballot in statewide races for governor and for U.S. Senate. Now, to their horror, Democrats could fail to make the November ballot in congressional races.
Ben Christopher of Calmatters.org reports:
California Democrats know exactly the trouble they're in: They have too much of a good thing.

Competitive congressional districts across Southern California are packed with qualified, enthusiastic and well-financed candidates touting progressive policies and promising stiff resistance to President Trump's agenda.

The only problem: there are too many of them.
Christopher calls the emerging danger of all-Republican contests in several key races a "nightmare scenario" for the party.
The political arm of House Democrats is undertaking a late push to drive up voter turnout in a handful of marquee California congressional districts where the party now faces the possibility of not even having a Democrat make it onto the November ballot.

Democrats are concerned that California's uncommon electoral system — in which the top two vote-getters in a primary advance to the general election regardless of party — will prevent them from winning at least three House seats this fall. The seats – the 39th Congressional District, the 48th Congressional District, and the 49th Congressional District — are each located in the battleground suburbs of Orange County, where a plethora of Democratic candidates in each threatens to split the vote evenly and allow two GOP candidates to move on.
In some races, the party leadership is attempting to persuade voters to unite behind a single primary candidate (which has led to some pushback from the grass roots). In others, the party is simply aiming to boost voter registration and turnout so that there will simply be more votes to divide.
Another reason Democrats are suddenly in trouble is that Republicans are re-engaging in the political process, inspired by a U.S. Department of Justice lawsuit filed in March against California's "sanctuary state" laws.
That lawsuit inspired local activists, especially in Southern California, to push city and county governments to defy the state's "sanctuary" laws and to join the federal government's lawsuit. The White House has stoked the fight by taking on California and Governor Jerry Brown in public.
If Democrats split their vote, and Republicans turn out enthusiastically, California may prove to be the obstacle to Democratic control of the House, rather than the pathway to it.
San Francisco's own House Minority Leader Nancy Pelosi (D-CA) has vowed to come back as Speaker of the House if Democrats win in November.
Joel B. Pollak is Senior Editor-at-Large at Breitbart News. He was named to Forward's 50 "most influential" Jews in 2017. He is the co-author of
How Trump Won: The Inside Story of a Revolution
, which is available from Regnery. Follow him on Twitter at @joelpollak.
It Pays to be Illegal in California
It certainly is a good time to be an illegal alien in California. Democratic State Sen. Ricardo Lara last week pitched a bill to permit illegal immigrants to serve on all state and local boards and commissions. This week, lawmakers unveiled a
$1 billion health care plan
that would include spending $250 million to extend health care coverage to all illegal alien adults.
Look how the liberal drug culture has destroyed Eureka, California
"Particularly since the 2008 economic crisis,
the ruling class and its two parties have slashed
social spending while cutting taxes for
corporations and the rich."
More than 50,000 UC workers on strike
For a political movement of the entire working class against inequality and capitalism!
By David Moore
9 May 2018
Maybe if California and New York Cared as Much about the Middle Class as They Do About Illegal Alien…

Coming soon: Mass exodus from NY, CA due to high taxes
California's Rich May Leave to Avoid $12 Billion in SALT Tax Hit
President Donald Trump's new tax cut, which limiting state and local tax deductions, will cost rich Californians $12 billion more in federal taxes, with $9 billion coming from those making $1 million or more.
Is California Governor Jerry Brown Mentally Ill?

Laura Ingraham: 'California Is Almost Acting Like It's a Separate Country'
Zuckerberg's Investor Group Pushes for Pre-Election Amnesty
Silicon Valley investors, including Facebook owner Mark Zuckerberg, are joining the Koch network's push for a quick amnesty that would also keep the issue of cheap-labor immigration out of the November election.
California zipped past the United Kingdom to become the 5
th
largest economy in the world in 2017.