TRULY, DOES ANYONE BELIEVE THE OL' WHORE FEINSTEIN HIRES LEGALS AT HER S.F. HOTEL?!?!
THE DEMOCRAT PARTY and the RISE OF THE MEXICAN FASCIST WELFARE STATE and MEX FASCIST PARTY of LA RAZA "The Race" NOW CALLING ITSELF UNIDOus.
Not long ago, both Democrats and Republicans advocated safe, secure borders and an immigration policy of admitting immigrants who benefit, not burden, Americans. Que pasó? ….. LARRY ELDER – FRONT PAGE MAG
THE MURDEROUS MEXICANS….IN PELOSI, FEINSTEIN AND KAMALA'S HOMETOWN!
HOW MANY PRAYERS HAS KAMALA HARRIS SAID FOR KATE STEINLE?
Everyday there are 12 Americans murdered and 8 children molested by Mexicans!
Steinle's murderer, Jose Zarate and been deported 5xs!
"While walking with her father on a pier in San Francisco in 2015, Steinle was shot by the illegal alien. Steinle pleaded with her father to not let her die, but she soon passed in her father's arms."
Stop Deporting Cheap Illegal Workers, Say 20 Democratic Senators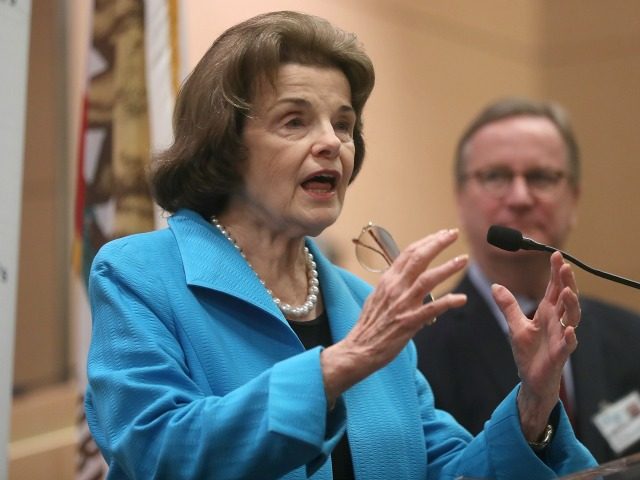 Twenty Democratic Senators are calling for fewer border agents, fewer deportations, and fewer detention beds in the 2019 budget, echoing their home-state demands for a continued inflow of cheap illeg
al-immigrant labor.
"We urge you to reduce funding for the administration's reckless immigration enforcement operations that are tearing families apart and harming our economy," said the Democrats' letter to Sen. Richard Shelby, chairman of the Senate's Committee on Appropriations. The letter continued:
We are particularly concerned about the threat that such [enforcement] operations pose to former and current Deferred Action for Childhood Arrivals (DACA) recipients who are now at risk as a result of the administration's unilateral and callous decision to end the program.
The majority of the 690,000 illegal immigrants with 'DACA' work-permits hold service-class jobs, so dragging down wages for Americans holding similar jobs, and often aiding urban white-collar professionals. A September 2017 report by the billionaire-backed New American Economy advocacy group showed the top 10 jobs held by the Democrats' DACA migrants: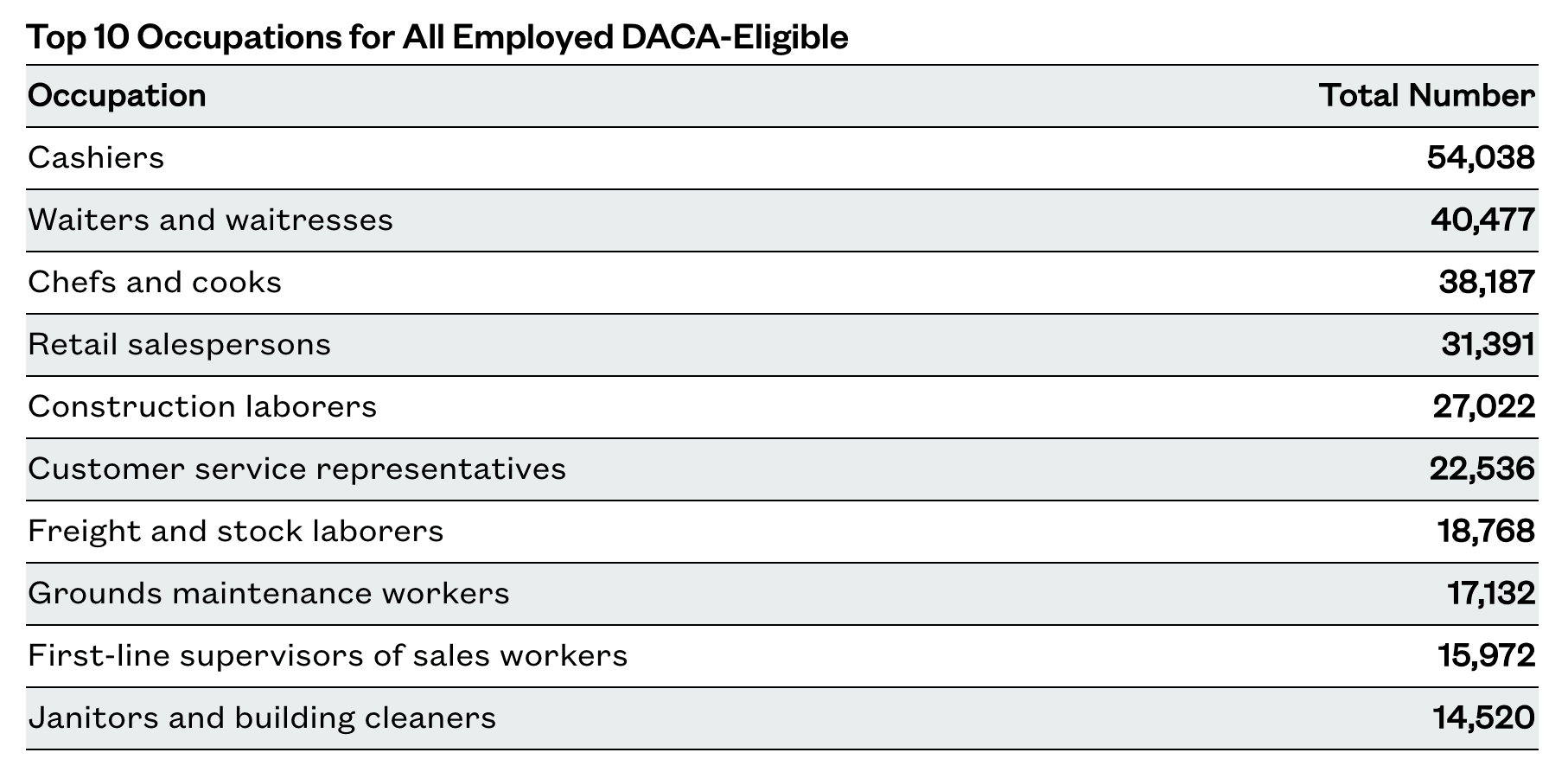 The chart shows that almost 80,000 DACA people wait tables or cooks for customers, indicating their important role in reducing the cost of hiring Americans for restaurant jobs in New York City, Oakland, Calif., and many other places.
The letter also suggested that the federal government should stop deporting migrants holding jobs, and only repatriate migrants who pose a threat to "public safety":
Under current funding levels, the Administration has expanded immigration enforcement within American communities in an indiscriminate manner, failing to distinguish Dreamers and other hardworking individuals with deep community ties from actual threats to our public safety.
The request for a stealth amnesty for the roughly 8 million wage-cutting illegals with jobs was supported by nearly all Democratic Senators and by several GOP Senators in a February 15 vote.
The anti-enforcement letter was pushed by California Democrat Sen. Diane Feinstein, who is facing a tough primary race in a state increasingly dominated by the Democrats' high/low alliance of wealthy business owners and low-skill employees, including many Latino immigrants.
Feinstein's policies have largely being implemented in California, which has lost many middle-class people to neighboring states and now boasts very high levels of economic inequality.
The 19 other co-signers include Senators Kamala Harris, (D-Calif.),
Tammy Duckworth (D-Ill.),
Kirsten Gillibrand (D-N.Y.),
Catherine Cortez Masto (D-Nev.),
Elizabeth Warren (D-Mass.),
Michael Bennet (D-Colo.),
Chris Van Hollen (D-Md.),
In November 2018, the voters will have a chance to replace Feinstein, Baldwin, Hirono, Menendez, Carper, and Cardin.
The 20 Democrats also denounced President Donald Trump's continued push for a border wall, saying:
We also strongly urge the Committee to reject any funding for President Trump's border wall … Investment in port-of-entry security and technologies to monitor border crossings would be a much more effective border security investment than a physical wall.
The pro-migration Senators' complaints about border agents, deportations, and detention beds come as blue-collar wages are beginning to rise after decades of minimal growth, and as Trump's deputies step up their efforts to deter migration by illegal immigrants and asylum-seekers.
On May 2, Attorney General Jeff Sessions announced he is sending 35 extra prosecutors to the border to prosecute illegal immigrants, plus 18 immigration judges to process requests for asylum.
Currently, border officers are forced into "catch and release" practices because the huge number of migrants with children overwhelms their ability to process and deny asylum requests within the 20-day deadline required by the 1997 Flores court settlement. But with the extra judges, migrants claims' can be carefully processed by the 20-day deadline, allowing many to be processed, rejected and sent home before they have to be released into the United States for an eventual asylum plea in a courtroom.
In 2017, Trump asked Congress to fund additional officers can help detain illegal border crossers, and more detention beds so that migrants are not released into the United States while their legal cases are being processed. Trump also asked for more agents to help repatriate illegals living in the United States and asked for $1.6 billion to start building his wall.
When the budget deal was wrapped up in March, Democrats and business-first Republicans blocked all those increases — except for funds to build 50 miles of border fence. The defeat was a surprise to Trump, likely because his aides — including Marc Short — kept him in the dark during the talks.
Since that debacle, Trump has promised to get more funding from Congress this fall. That push for funding will likely fail unless Trump vetoes budgets that exclude his priority items just before the November elections.
Four million Americans turn 18 each year and begin looking for good jobs in the free market.
But the federal government inflates the supply of new labor by annually accepting roughly 1.1 million new legal immigrants, by providing work-permits to roughly 3 million resident foreigners, and by doing little to block the employment of roughly 8 million illegal immigrants.
TRUMP PARTNERS WITH PELOSI AND SCHUMER TO KEEP WAGES DEPRESSED WITH ENDLESS HORDES OF ILLEGALS JUMPING OUR BORDERS and WELFARE LINES
OPEN BORDERS: The Democrat Party's Weapon of Mass Destruction on the American Worker
"Los Angeles saw all crime rise in 2015: violent crime up 19.9 percent, homicides up 10.2 percent, shooting victims up 12.6 percent, rapes up 8.6 percent, robberies up 12.3 percent, and aggravated assault up 27.5 percent,"Landry said."
AS WALL STREET PLUNDERS: A Nation of One Million Homeless and Overrun By Mexico's Export of "cheap labor"!
"But a series of reports on CEO pay, bank profits and corporate cash released over the past week reveal that corporate America and the financial oligarchy are wallowing in record levels of wealth.
"
MASSIVE TRANSFER OF WEALTH TO THE RICH: YOUR DEMOCRAT PARTY AT WORK…. for Wall Street, Banksters, Billionaires and LA RAZA.
"But a series of reports on CEO pay, bank profits and corporate cash released over the past week reveal that corporate America and the financial oligarchy are wallowing in record levels of wealth.
"
PARTNER WITH MEXICO, the LA RAZA DEMOCRAT PARTY and the PRO-BUSINESS GOP to keep wages for LEGALS depressed (today they are depressed to 1973 levels).
But you will still get the tax bills for the Mex welfare state and crime tidal wave!
"Illegal aliens are not supposed to work, and knowingly providing shelter for illegal aliens can be construed as harboring and shielding, elements of a felony under federal law,
Title 8 U.S. Code § 1324
."
"Where aliens and jobs are concerned, even many categories of nonimmigrant aliens (temporary visitors) including aliens who lawfully enter under the Visa Waiver Program or with tourist visas may not work in the United States and immediately become subject to removal (deportation) if they seek gainful employment." ----MICHAEL CUTLER – FRONTPAGE mag
What caused the destruction of the bankster-funded LA RAZA SUPREAMCY Democrat Party in America?