AMERICA'S OPEN AND UNDEFENDED BORDERS:
LA RAZA HEROIN CARTELS CUT HEART OUT OF LIVING MAN AND BEHEAD HIS PARTNER!
MEXICANS ARE THE MOST VIOLENT CULTURE IN THE WESTERN HEMISPHERE!
"A group of cartel gunmen fighting for control of a Mexican coastal state cut out the heart of one of their living victims while another was beheaded. The violence took place not far from the beach resort cities of Acapulco and Ixtapa Zihuatanejo, Guerrero."
Heather Mac Donald of the Manhattan Institute has testified before a Congressional committee that in 2004, 95% of all outstanding warrants for murder in Los Angeles were for illegal aliens; in 2000, 23% of all Los Angeles County jail inmates were illegal aliens and that in 1995, 60% of Los Angeles's largest street gang, the 18th Street gang, were illegal aliens.
Granted, those statistics are old, but if you talk to any California law enforcement officer, they will tell you it's much worse today.
DHS Promises 'Zero Tolerance' for Migrants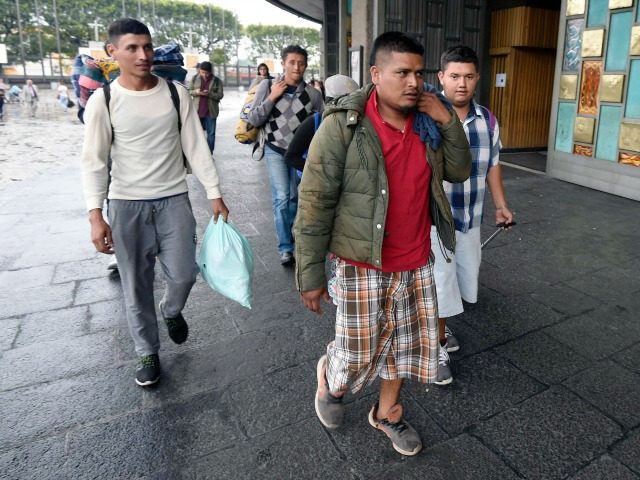 The Department of Homeland Security is promising to prosecute all illegal migrants, likely reducing the economic incentive for poor migrants to risk jail while trying to get jobs in the United States.
"If you enter our country illegally, you have broken the law and will be referred for prosecution," said DHS Press Secretary Tyler Houlton said in a May 4 statement. He warned migrants:
DHS has zero tolerance for those who break the law and will no longer exempt classes or groups of individuals from prosecution. Whether you are a single adult or an adult member of a family unit, if you are apprehended you will be prosecuted and put in removal proceeding.
Houlton also warned migrants who try deceive border patrol officers, saying:
To those seeking to abuse our generous laws – we are watching. We will not sit back and watch our laws exploited. If you make a false immigration claim, you will be referred for prosecution. If you assist or coach individuals in making false immigration claims, you will be referred for prosecution.
Houlton's statement follows the announcement by Attorney General Jeff Sessions that he has added 35 prosecutors to border regions so they can prosecute migrants who sneak across the border or migrants who lie in their asylum claims:
People are not going to "caravan" or otherwise stampede our border. We need legality and integrity in the system. People should wait their turn, ask to apply lawfully before they enter our country. So we're sending a message worldwide: Don't come illegally. Make your claim to enter America in the lawful way and wait your turn.
Sessions is also adding judges to the border to help screen the many economic migrants who ask for some form of humanitarian asylum so they can get work permits in the United States.
The new process may help because "

make it clear to prospective illegal aliens that borrowing large sums of money is likely to be a catastrophic mistake because they will not be able to recoup that expenditure," said Mark Krikorian, the director of the Center for Immigration Studies.
Also, the policy suggests that many migrants will be sent to jail once they are caught a second time. "H
ow many regular construction workers, landscapers, and dishwashers want to spend a year with tattooed gangsters in a federal prison?"
But, he warned, the border policies should be backed up by workplace inspections so that employers are less willing to take the risk of hiring illegals.
We've seen some of that, but not enough … We
need to hear from the DHS secretary [Kirstjen Nielson] a warning for employers as well," he said.
However, these zero-tolerance policies are unlikely to end the border agencies "catch and release" practices.
The new "zero tolerance" policy worked during the presidency of George W. Bush, when prosecutors in Yuma, N.M., started "Operation Streamline" to quickly prosecute, jail and deport nearly all illegal migrants.
The "zero tolerance" program was dismantled by Attorney General Erc Holder once it had successfully cut the transit of migrants by roughly 95 percent. Initially, officials made 140,000 arrests per year in the mid-2000s, but the northward flow dropped so much that officials only had to make 6,000 arrests in 2013, according to a 2014 letter by two pro-migration Senators, Sen. Jeff Flake and John McCain.
The program worked because border officials were able to quickly process large numbers of migrants and then quickly deport them before they occupied a large percentage of the border agencies' detention spaces.
Pro-migration Democrats — aided by business donors — will likely try to block the zero-tolerance policy by imposing more bureaucratic burdens. For example, they may try to cut the number of detention spaces or limit courtroom operations.
Houlton's statement was released after new data showed rising rates of illegal migration:
The recently released April 2018 Southwest Border Migration numbers underscore the continuing security crisis along our southwest border. The number of illegal border crossers increased in April from the previous month, and more than tripled in April 2018 in comparison to April 2017. For the second month in a row, we have seen more than 50,000 individuals try to illegally enter the United States.

JAMES WALSH
AMERICAN? TRAITOR: BARACK OBAMA'S
HISPANICAZATION of AMERICA…
first ease millions of illegals over our borders and into our voting booths!
How the Democrat party surrendered America to Mexico:
"The watchdogs at Judicial Watch discovered documents that reveal how the Obama administration's close coordination with the Mexican government entices Mexicans to hop over the fence and on to the American dole." Washington Times
The "zero tolerance" program was dismantled by Attorney General Erc Holder once it had successfully cut the transit of migrants by roughly 95 percent. Initially, officials made 140,000 arrests per year in the mid-2000s, but the northward flow dropped so much that officials only had to make 6,000 arrests in 2013, according to a
2014 letter
by two pro-migration Senators, Sen. Jeff Flake and John McCain.
The Lawlessness of the Obama Administration: A never-ending story
THE PSYCHOPATH WHO WOULD BE DICTATOR FUNDED BY HIS
CRIMINAL CRONY BANKSTERS AND REELECTED FOR A THIRD TERM BY
The "zero tolerance" program was dismantled by Attorney General Erc Holder once it had successfully cut the transit of migrants by roughly 95 percent. Initially, officials made 140,000 arrests per year in the mid-2000s, but the northward flow dropped so much that officials only had to make 6,000 arrests in 2013, according to a
2014 letter
by two pro-migration Senators, Sen. Jeff Flake and John McCain.
NOT ANY MORE! MEXICO'S INVASION, OCCUPATION AND LOOTING AND HERION SALES IS NOW IN ALL 50 STATES!
"The American Southwest seems to be slowly returning to the jurisdiction of Mexico without
firing a single shot." -- -
EXCELSIOR
--- national newspaper of Mexico
AMERICAN TRAITOR: JOHN McCAIN AND THE LA RAZA HEROIN CARTELS
McCain has spent his entire political career looking for World War III as he has watched Mexico and their heroin cartels walk over and under the borders of his state of ARIZONA.
ONLY OBAMA WORKED AS HARD AS McCAIN TO SABOTAGE OUR BORDERS
Federal agents discovered an underground tunnel crossing the border into Mexico from Naco, Arizona on Tuesday as part of an investigation after a traffic stop that yielded over two tons of marijuana, with a value of approximately $3 million.
The "zero tolerance" program was dismantled by Attorney General Erc Holder once it had successfully cut the transit of migrants by roughly 95 percent. Initially, officials made 140,000 arrests per year in the mid-2000s, but the northward flow dropped so much that officials only had to make 6,000 arrests in 2013, according to a
2014 letter
by two pro-migration Senators, Sen. Jeff Flake and John McCain.
MEXICO'S INVASION, OCCUPATION, LOOTING and EVER- EXPANDING WELFARE STATE ON OUR BACKS:
Sen. John McCain looks for wars all over the globe and fights for open borders with Mexico despite the invasion his own state of Arizona has suffered!
The "zero tolerance" program was dismantled by Attorney General Erc Holder once it had successfully cut the transit of migrants by roughly 95 percent. Initially, officials made 140,000 arrests per year in the mid-2000s, but the northward flow dropped so much that officials only had to make 6,000 arrests in 2013, according to a
2014 letter
by two pro-migration Senators, Sen. Jeff Flake and John McCain.
GRAPHIC: Cartel Civil War Leaves More than 450 Dead in Mexican Border City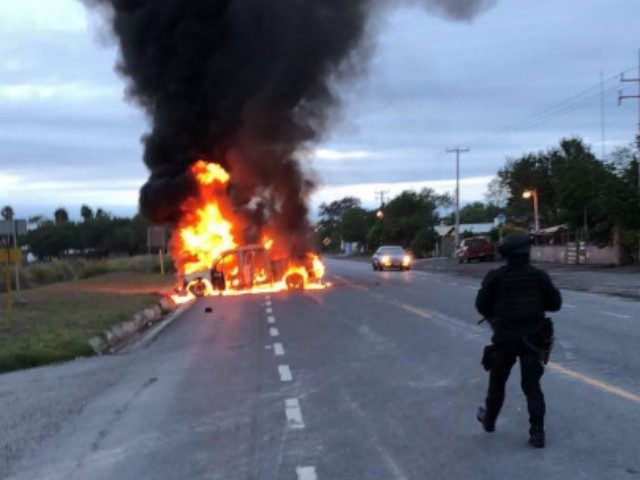 REYNOSA, Tamaulipas —

More than 450 people in the border city of Reynosa, Mexico, died during the past year as a bloody civil war between factions of the Gulf Cartel.

The death toll includes cartel hitmen, policemen, soldiers, as well as innocent bystanders and kidnapping victims.
The violence began shortly after the death of Juan Manuel "Toro" Loza Salinas. The cartel leader died on April 22, 2017. The drug lord's death followed a fierce manhunt and several days of clashes, cartel blockades, and the burning of vehicles by his henchmen. Shortly after his death, images of Toro's body began to pop up on social media.
Many citizens in Reynosa did not believe the rumors about the death of the leader of the Gulf Cartel, who had been responsible for spreading terror in that border city. A
sense of optimism arose throughout the city of Reynosa that peace would finally return to the region after Toro's death. That peace did not happen.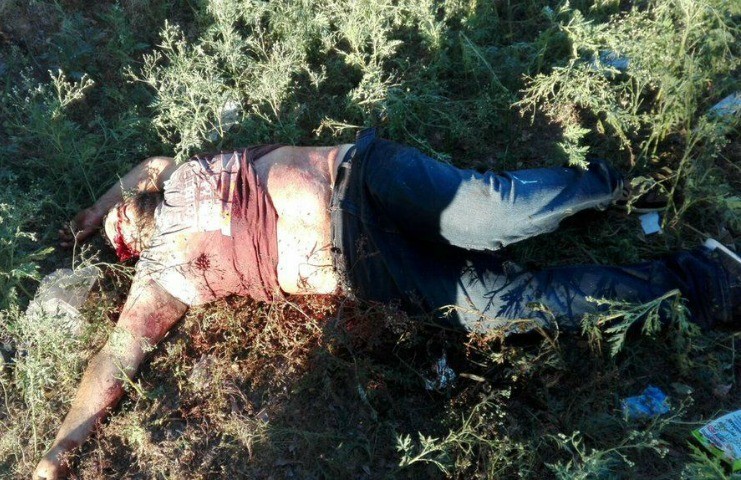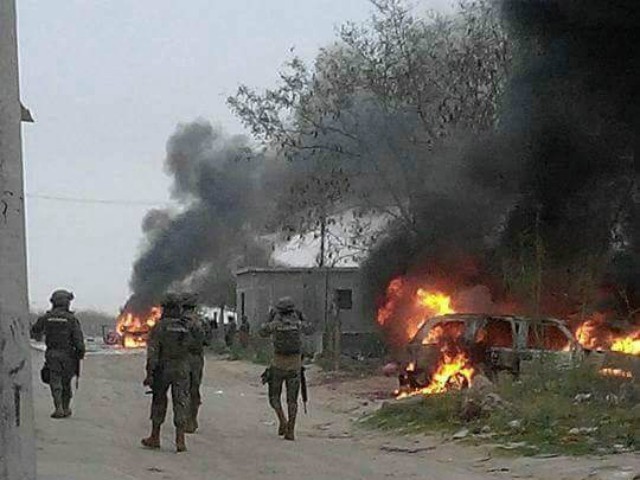 Shortly after Toro's death, the State of Tamaulipas confirmed the death of the capo and a leader of Los Zetas Cartel who operated in the center of the state. Soon after, the government issued a news release with more details on the death of two "priority objectives." Instead of bringing about peace, the death of the feared Toro set off a bloody internal cartel war that began in early May 2017 and continues to this day.
Several commanders of the cartel claimed they had a right to assume command of Reynosa because of their parental relationship to Toro, while others said they were better leaders. The optimism that had risen in Reynosa regarding peace finally arriving soon evaporated.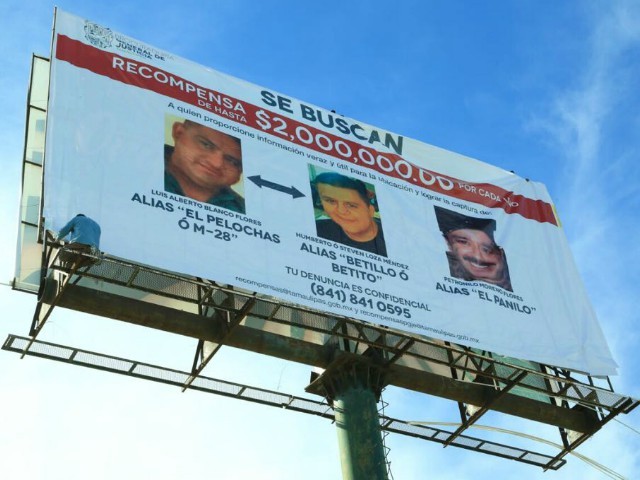 The war for control of Reynosa evolved into two factions — one led by Petronilo "Panilo" Moreno Flores. Luis Alberto "Pelochas" Blanco Flores led the other faction with help from Toro's nephew, Humberto "Betito" Loza Mendez. As part of their fight for control of the region, both sides took part in fierce gun battles as well as horrendous executions where the victims were incinerated in clandestine crematoriums or left in mass graves. Breitbart Texas has been able to document more than 450 murders directly linked to the fight for control. The real number of murdered victims is likely much higher.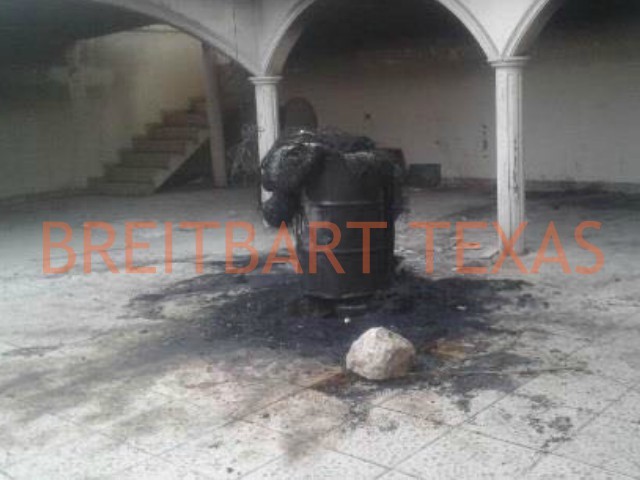 The violence generated by both sides reached such levels that the state government offered a reward for information that would lead to the capture of Panilo, Betito or Pelochas. The death of Betito at the beginning of the year led to the exile of Pelochas from Reynosa. Despite the tides turning in his favor, Panilo could not take control of Reynosa and the cartel removed him from command. Currently, there are three CDG commanders who are fighting for control of Reynosa. They are known only as Miguelito, Flaco Sierra, and Gamma. The three commanders and their armies continue to spread violence throughout the city despite attempts by authorities to restore peace to the region.
Editor's Note: Breitbart Texas traveled to the Mexican States of Tamaulipas, Coahuila, and Nuevo León to recruit citizen journalists willing to risk their lives and expose the cartels silencing their communities. The writers would face certain death at the hands of the various cartels that operate in those areas including the Gulf Cartel and Los Zetas if a pseudonym were not used.
Breitbart Texas' Cartel Chronicles
are published in both English and in their original
Spanish
. This article was written by "A.C. Del Angel" from Tamaulipas.
IT'S MEXICO SUCKING THE BLOOD OF AMERICA…. HUNDREDS OF BILLIONS FOR WELFARE, "FREE" HEALTHCARE, HEROIN SALES, CRIME COST AND THEN THEY SEND TENS OF BILLIONS BACK TO NARCOMEX
"In the U.S. the remittances that come of illegal immigration drive down U.S. wages, particularly of those on the lowest-skilled parts of the ladder, and as money flows out from local communities, leaves them underinvested and run-down. Nobody can live two places at once. Illegal immigrants live here but their money lives in Mexico. And it's often untaxed." MONICA SHOWALTER
Taxing Remittances Can Build the Wall
Among the alleged asylum-seekers parked on the U.S. border is a contingent of Hondurans, allegedly fleeing persecution, poverty, crime, and oppression. If that is the case, then why is the Honduran government helping them, driving them northward under orders given to the Honduran ambassador, who is helping and escorting them?
Leaders of a caravan of Central American migrants traveling toward the United States through Mexico have repeatedly accused the Honduran government of corruption and with failing to address the poverty, crime and economic conditions forcing families to flee by the thousands.

So it shocked some observers when the Honduran ambassador joined the migrants protesting outside the Honduran embassy in Mexico City on Wednesday, and then accepted their invitation to walk 9 miles to a migrant shelter.

"I have been ordered by my government to support the Honduran migrants traveling with the caravan. There are about 200 Hondurans who we will help out with paperwork and whatever is necessary," Alden Rivera Montes, the Honduran ambassador to Mexico, told El Universal.
Why is the country whose oppression they are allegedly fleeing helping them leave? The answer is remittances, the money sent back home by so-called "migrants." Asylum is in large part a colossal scam designed to provide Latin American countries with both a safety valve and a cash cow of foreign exchange. In 2017, remittances sent back to Honduras totaled $4.33 billion and make up a significant part of the Honduran economy:
Within the span of a few short decades, migrants have become an essential engine of economic support for Honduras. Remittances comprised 17 percent of the nation's gross domestic product (GDP) in 2011, according to World Bank estimates, the second largest share of any country in Latin America or the Caribbean. As such, Honduran emigrants have tremendous significance for the country's economy and for the sustenance of many otherwise impoverished communities and families.
Talk about a trade imbalance. We import alleged asylum-seekers and other illegal aliens, and they send home billions sucked out of a benevolent U.S. government and economy.
Trump's wall would do a lot to stop this, but the question is how to pay for it. One U.S. congressman has suggested a way to get Mexico to pay for it, and Honduras, and Guatemala, and the rest of them:
Rep. Mike Rogers (R-Ala.) sponsored a bill in March that would slap a 2 percent tax on all money transfers from the United States to Mexico, Central America, the Caribbean, and South America.

If Rogers expanded the idea to include all transfers to countries outside of the United States, it would generate $2.76 billion, based on the 2016 remittance totals.

"Over 10 years, there it is," Chmielenski said. "There's your wall."
Immigrants in the United States in 2016 sent home more than $138 billion – a sum that exceeds the entire gross domestic product of Kuwait – according to a new report from the Pew Research Center[.] ...

"It's a staggering number," said immigration reform activist Chris Chmielenski, marveling at the $138.2 billion that immigrants wire out of the United States.
President Trump has floated the idea of a tax on remittances as a way of getting Mexico and others to pay for the wall and otherwise cooperate in controlling the flow of illegal immigrants:
President Trump is mulling a tax on cash transfers between immigrants in the U.S. and their relatives in Mexico as a way to fund his promised border wall without forcing American taxpayers to open their wallets, according to sources familiar with the proposal.

Trump first floated the idea of taxing or halting person-to-person wire transfers, known as remittances, during his bid for the White House. A two-page memo released by his campaign last April described a plan "to compel Mexico to pay for the wall" by preventing immigrants from wiring money outside of the U.S. unless they can prove their legal status to law enforcement authorities.

Because the Mexican economy has become so dependent on wages sent home by migrant workers, which surpassed oil revenues as its leading source of foreign income in 2015, Trump said he could convince the country's leaders to make a "one-time payment of $5-10 billion" toward his border wall by threatening to stop the annual flow of billions of dollars from the U.S. to Mexico in the form of cash transfers.
President Trump has shown that border security is not that hard. It merely requires willpower and resolve that put the impact of illegal immigration on America and its citizens above the impact on the political fortunes of pandering politicians.
President Donald Trump's border wall only needs to stop about 10 percent of illegal crossing in order to pay for itself, according to an analysis by the Center for Immigration Studies. The estimated $12 to $15 billion cost of the wall would quickly be offset by the savings to the government if fewer illegal immigrants arrive in the country over the next decade, CIS found. Only a small portion of the population of people who are expected to attempt an illegal crossing in the next decade – between 9 and 12 percent – would have to be stopped for the wall to totally pay for itself.

The analysis from CIS, a group that advocates for moderating immigration levels, relies on fiscal estimates from the National Academies of Sciences, Engineering and Medicine (NAS) for the average cost to taxpayers of illegal immigrants [sic]. NAS estimates one illegal immigrant [sic] costs state and local governments approximately $75,000 in a lifetime, taking into account taxes paid and the cost of providing benefits such as education and health care.
Critics say the costs of illegal immigration fall largely on state and local governments, and it is a federal government burdened with debt that has to write the checks. But the costs in either case are borne by the American taxpayer and the American worker. Ask Kate Steinle's father what the true costs of illegal immigration are and who pays for them
Remittances are the huge carrot attracting illegal aliens and alleged asylum-seekers. Open borders advocates like to talk about how much illegal aliens contribute to the U.S. economy. It would seem they are benefiting the nations from whence they came more than the United States.
The proposed tax cut bill 2.0 making individual tax cuts permanent should include a tax on remittances to not only pay for the wall, but set up a compensation fund for the victims of crimes committed by illegal aliens. MS-13 members have been found among the latest round of asylum-seekers.
As with most everything else, if you want to learn the truth about illegal immigration and alleged asylum-seekers, just follow the money.
CHRISTIAN SCIENCE MONITOR
WHAT DOES MEXICO DO FOR THEIR POOR? THEY EXPORT THEM ALONG WITH THEIR CRIMINAL CLASS TO LOOT AMERICA, AND LOOT THEY DO!
MEXICO'S BIGGEST EXPORT TO AMERICA… POVERTY, CRIMINALS, ANCHOR BABY BREEDERS FOR WELFARE and HEROIN
Mexico prefers to export its poor, not uplift them
Adios, Sanctuary La Raza Welfare State of California



A fifth-generation Californian laments his state's ongoing economic collapse.

By Steve Baldwin

American Spectator, October 19, 2017

What's clear is that the producers are leaving the state and the takers are coming in. Many of the takers are illegal aliens, now estimated to number over 2.6 million.
The Federation for American Immigration Reform estimates that California spends $22 billion on government services for illegal aliens, including welfare, education, Medicaid, and criminal justice system costs.
Billionaire Mexicans tell their poor to JUMP U.S. OPEN BORDERS and LOOT THE STUPID GRINGO… and loot they do!
Billions of dollars are sucked out of America from Mexico's looting!
1) Mexico ended legal immigration 100 years ago, except for Spanish blood.
2) Mexico is the 17th richest nation but pays the 220th lowest minimum wage to force their subjects to invade the USA. The expands territory for Mexicans, spreads the Spanish language, and culture and genotypes, while earning 17% of Mexico's gross GDP as Foreign Remittance Income.
America builds the La Raza "The Race" Mexican welfare state
THE GRUESOME VIOLENCE OF THE MEXICAN… over, under and in our open borders.
WHO WILL RID US OF THE INVADERS?
MEXIFORNIA under LA RAZA SUPREMACY RULE: CA has the largest and most expensive prison system in the nation. Half the inmates are Mexicans.

Half the murders in CA are by Mexican gangs.
In Mexico's second largest city of Los Angeles, 93% of the murders are by Mexicans.
"The state of California and the sanctuary city laws that make it a safe-haven for criminal illegal aliens is likely responsible for at least 5,000 crimes that were committed by criminal illegal aliens released by local authorities rather than being handed over to federal immigration officials."