Mexican National Indicted in Election Fraud Case
---
---
Laura Janeth Garza is charged with voter impersonation and ineligible voting, both second-degree felonies. If convicted, she faces two to 20 years in prison and a $10,000 fine.
A joint investigation by Texas Attorney General Paxton's office and the state Department of Public Safety (DPS) determined that Garza obtained documents to steal the identity of a U.S. citizen and illegally register to vote in Harris County. She cast ballots there in 2004, 2012 and the 2016 presidential election.
Garza's case came to light when a citizen attempted to obtain a U.S. passport, only to discover that Garza had already done so using the woman's identity. The U.S. State Department referred Garza's case to the Criminal Investigations Division of DPS, which ultimately handed it over to Paxton's office for an election fraud investigation.
The Garza affair gives more ammunition to an ongoing legal tussle over voter-registration records in Harris County (Houston).
"A Mexican national stands accused of impersonating a U.S. citizen and voting three times—largely thanks to a broken honor system which local officials do not feel compelled to answer for," said J. Christian Adams, president and general counsel at the Public Interest Legal Foundation.
PILF has a pending federal lawsuit seeking Harris County voter-registration records of individuals who have been found to be noncitizens. Last week,
PILF countered
Harris County's claim in a state court that the group had no right to the data. PILF is seeking access to voter-registration records before the 2018 midterm elections.
Section 8 of the National Voter Registration Act of 1993 allows individuals to request inspection or seek copies of "records concerning the implementation of programs and activities conducted for the purpose of ensuring accuracy and
Nearly
700
Migrants Rescued in Single Texas Border Patrol Sector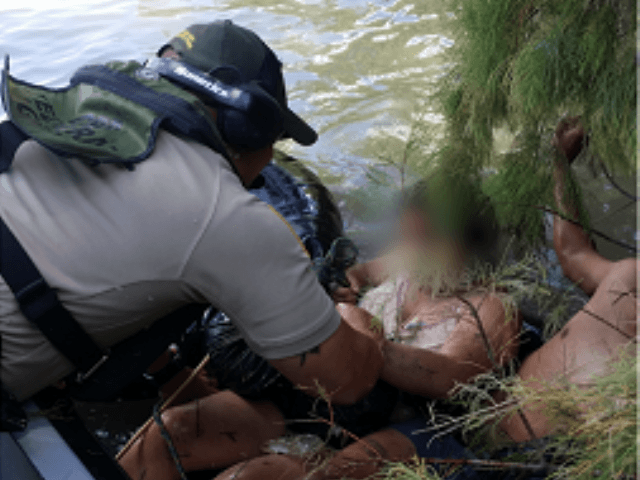 Border Patrol agents assigned to the Laredo Sector saved the lives of nearly 700 illegal immigrants this fiscal year while being smuggled into the U.S.
Laredo Sector agents reported the rescues of more than 680 illegal immigrants whose lives were put in danger by cartel-connected human smugglers, according to information obtained by Breitbart Texas from Laredo Sector officials. The rescues occurred along the Rio Grand River, in ranches where migrants attempt to circumvent Border Patrol immigration checkpoints, also in cars, trucks, and 18-wheelers. Officials report that while the number is high, it is actually down nine percent from the previous year in the same period.
In the past week, agents added to their totals in four separate rescue efforts.
Laredo Sector Marine Unit agents rescued five Guatemalan nationals on May 10 who were clinging to branches after being abandoned by their callous human smugglers. The river is currently experiencing rapid currents and deep-water conditions, Laredo Sector officials stated. The Marine Unit agents quickly pulled all five Guatemalans into their boat and took them to the station where they could face prosecution for illegal entry into the U.S.
Laredo North agents responded to a call for assistance from an illegal immigrant who became lost on a ranch located northwest of the Texas border town. After being abandoned by his human smuggler and wandering in the brush for three days without food or water, the Mexican national finally called for help on May 9. Agents located the Guatemalan national and found him suffering from dehydration and severe foot blisters. An agent trained in emergency medicine treated the man.
Agents assigned to the Cotulla Station and the Laredo Horse Patrol Unit rescued another illegal immigrant on a ranch located northwest of Laredo. The agents came upon the man while tracking a group of illegal immigrants who had just crossed the border. The agents treated the man for dehydration. The Mexican national also claimed to have been assaulted by his human smuggler. After addressing the man's immediate medical needs, the agents transported him to a hospital for further treatment.
On May 7, Laredo North agents responded to another call of an illegal immigrant lost on a ranch northwest of Laredo. The call came too late for the man's cousin, who died from exposure to the harsh conditions in South Texas, officials stated.
After locating the lost migrant, agents assisted the man for dehydration and transported him to a hospital for treatment. Later that day, agents recovered the body of the man's cousin.
"These events illustrate how the men and women of the United States Border Patrol not only serve to protect our borders, but are also committed to the preservation of life and assist anyone in need," Assistant Chief Patrol Agent Gabriel H. Acosta said in a written statement.
Bob Price serves as associate editor and senior political news contributor for Breitbart Texas. He is a founding member of the Breitbart Texas team. Follow him on Twitter
@BobPriceBBTX
,
GAB
, and
Facebook
.
WILL MEXICO ELECT ALL FUTURE U.S. PRESIDENTS?
"Mexicans cheat, distribute drugs, lie, forge documents, steal and kill as if it's a normal way of life. For them, it is. Mexico's civilization stands diametrically opposed to America's culture." FROSTY WOOLDRIDGE
TRUMP PARTNERS WITH MEXICO TO GET MEXICANS INTO OUR VOTING BOOTHS TO VOTE FOR MORE LA RAZA SUPREMACY and EXPANSION OF THE MEX WELFARE STATE.
"Mexicans cheat, distribute drugs, lie, forge documents, steal and kill as if it's a normal way of life. For them, it is. Mexico's civilization stands diametrically opposed to America's culture." FROSTY WOOLDRIDGE
Trump initially tried to investigate real interference in our elections. He set up a commission to investigate voter fraud chaired by Kansas secretary of state Kris Kobach. But when the liberal media cried that the commission was all about voter suppression,
Trump folded like a cheap umbrella
. He shut down the commission before it could complete its research into what is probably massive voter fraud on the part of Mexican and other foreign nationals. ED STRAKER
'Eleven of California's 58 counties have registration rates exceeding 100% of the age-eligible citizenry.'
'California has the highest rate of inactive registrations of any state in the country. Los Angeles County has the highest number of inactive registrations of any single county in the country'
THE LA RAZA SUPREMACY DEMOCRAT PARTY:
Getting LA RAZA illegals into the voting booths will assure endless hordes of "cheap" labor and destroy the GOP to make America a one-party country and massive, border to open border LA RAZA welfare state.
The Pew Research Center
found
in 2012 that a plurality of Hispanic illegal aliens are Democrats, while only 4 percent said they identified with the Republican Party.
ILLEGALS VOTING IN MASSIVE NUMBERS IN MEX-OCCUPIED CA
'Eleven of California's 58 counties have registration rates exceeding 100% of the age-eligible citizenry.'
'California has the highest rate of inactive registrations of any state in the country. Los Angeles County has the highest number of inactive registrations of any single county in the country'
''California is going to be a Hispanic state," said Mario Obeldo, former head of MALDEF. "Anyone who does not like it should leave."
The letter notes that the percentage in L.A.
County may be as high as 144%.
I.R.S. ILLEGALS STOLEN 1.3 MILLION IDENTITIES!
THEY STEAL SOCIAL SECURITY NUMBERS TO STEAL JOBS, DRIVE ILLEGALLY, CONTRACT IN THE TRADES ILLEGALLY, AND VOTE FOR MORE ILLEGALLY and do it by invitation of the Democrat Party!
Mexicans cheat, distribute drugs, lie, forge documents, STEAL and kill as if it's a normal way of life. For them, it is. Mexico's civilization stands diametrically opposed to America's culture. FROSTY WOOLDRIDGE
Texas Deputy Seizes $3M
in Meth During Traffic Stop
http://www.breitbart.com/texas/2018/05/10/texas-deputy-seizes-3m-meth-traffic-stop/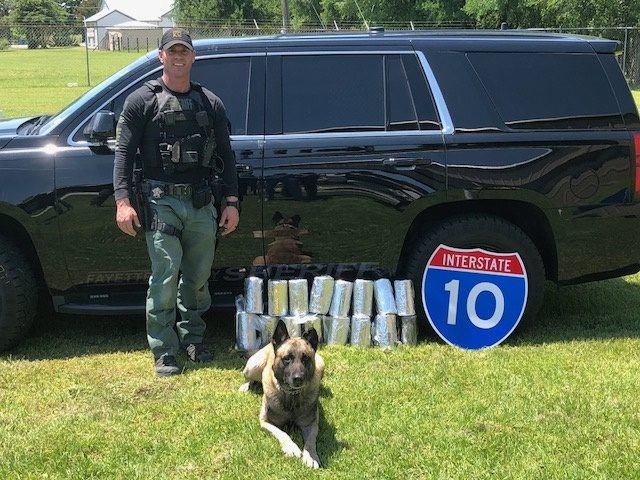 A Texas sheriff's deputy seized nearly $3 million in methamphetamine following a routine traffic stop between San Antonio and Houston. The deputy, and his K-9 partner, routinely make multi-million dollar drug seizures and find large quantities of cash proceeds from narcotics trafficking.
Fayette County Sheriff's Office
Sergeant Randy Thumann
and his K-9 partner "Lobos" made a traffic stop on Interstate 10 near Schulenburg, Texas. During the traffic stop, Sgt. Thumann used his drug interdiction skills during an interview with the driver and his wife. Thumann became suspicious that the driver could be smuggling drugs from Mexico to Houston after uncovering discrepancies in his travel itinerary, according to a statement provided to Breitbart Texas by Fayette County Sheriff's Office Lt. David Beyer.
The sergeant obtained permission to search the vehicle. During the search, Lobos executed a walk-around search and alerted to the scent of illegal narcotics coming from the vehicle.
Sgt. Thumann carried out a visual inspection of the Nissan Murano and discovered anomalies with the fuel tank. After dropping the fuel tank, Thumann found 16 bundles of drugs, Beyer stated.
The drugs tested positive for methamphetamine and weighed 27 kilograms. Fayette County officials estimate the value of the meth to be approximately $2.7 million.
Thumann arrested Mendez Ramos and seized the vehicle and drugs. The deputy transported the Mexican national to the county jail for processing.
Breitbart Texas learned from Lt. Beyer that the Mexican national is legally present in the U.S. on a visa. Jail officials said the man could be deported if he is convicted.
Breitbart Texas also reached out to U.S. Immigration and Customs Enforcement officials. Officials could not immediately respond to requests about the driver's status.
In February, Sgt. Thumann and Lobos found $6 million worth of methamphetamine in the fuel tank of a Chevy Tahoe driving in Interstate 10 near Flatonia, Texas, Breitbart Texas
reported
. He also uncovered
$21,000 in cash
during a traffic stop in March.
Bob Price
serves as associate editor and senior political news contributor for Breitbart Texas. He is a founding member of the Breitbart Texas team. Follow him on Twitter
@BobPriceBBTX
,
Gab
, and
Facebook
.
WHAT DO YOU THINK OF TRUMP'S PRETEND WALL???
PUT EMPLOYERS OF ILLEGALS IN PRISON AND HALT THE LA RAZA WELFARE STATE ON OUR BACKS AND WE END THE INVASION!!!
WE COULD END MEXICO'S INVASION IF WE PUT EMPLOYERS OF ILLEGALS IN JAIL
NumbersUSA's Rosemary Jenks:
E-Verify Ignored in DACA Negotiations Because 'Members of Congress Know It Will Work'
Members of Congress broadly oppose a legislative nationwide E-Verify mandate for employers because "they know it will work," said NumbersUSA's Rosemary Jenks, explaining why E-Verify is not being pushed in congressional negotiations for an amnesty deal for recipients of the Obama administration's Deferred Action for Childhood Arrivals (DACA). Jenks further noted that both parties are beholden to special interests supportive of "mass migration."
Feds Extradite 4 Mexicans on Transnational Human Trafficking Charges
May 4, 2018 4:45 pm
Last Updated: May 8, 2018 3:41 pm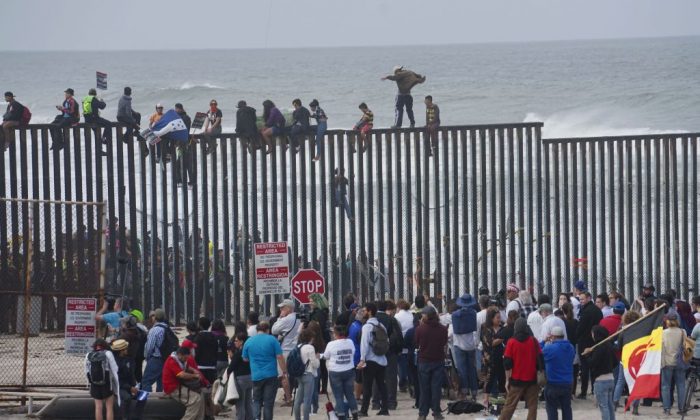 Four Mexican nationals were extradited back to the United States, on April 26 and May 2, to face charges for egregious sex trafficking offenses committed in both countries, as detailed in a 23-count indictment.
The 16-page indictment (
pdf
) alleges that the defendants were members of an international sex trafficking organization that exploited and trafficked women and children, in both Mexico and the United States, from 2000 to 2016.
The traffickers used "romantic promises, physical and sexual violence, threats of the same, lies and coercion to force and coerce adult and minor women" to work as prostitutes in both countries, according to the indictment. The organization operated largely as a family business.
"Sex trafficking is a heinous crime that violates both the rule of law and the most basic standards of human dignity," Geoffrey S. Berman, the U.S. attorney for the Southern District of New York, said in a
statement
. "The scope of devastation these defendants allegedly inflicted on countless victims is beyond comprehension. But now they face significant criminal charges in an American court, and will have to answer for their allegedly reprehensible actions."
Berman announced the extraditions on May 4, with Acting Assistant Attorney General John M. Gore and Angel M. Melendez, special agent in charge of the New York field office of ICE's Homeland Security Investigations.
The extraditions come as the Trump administration is pushing for enforcement of border laws as thousands of illegal immigrants, mostly from Mexico and Central America, continue to illegally cross the southern border.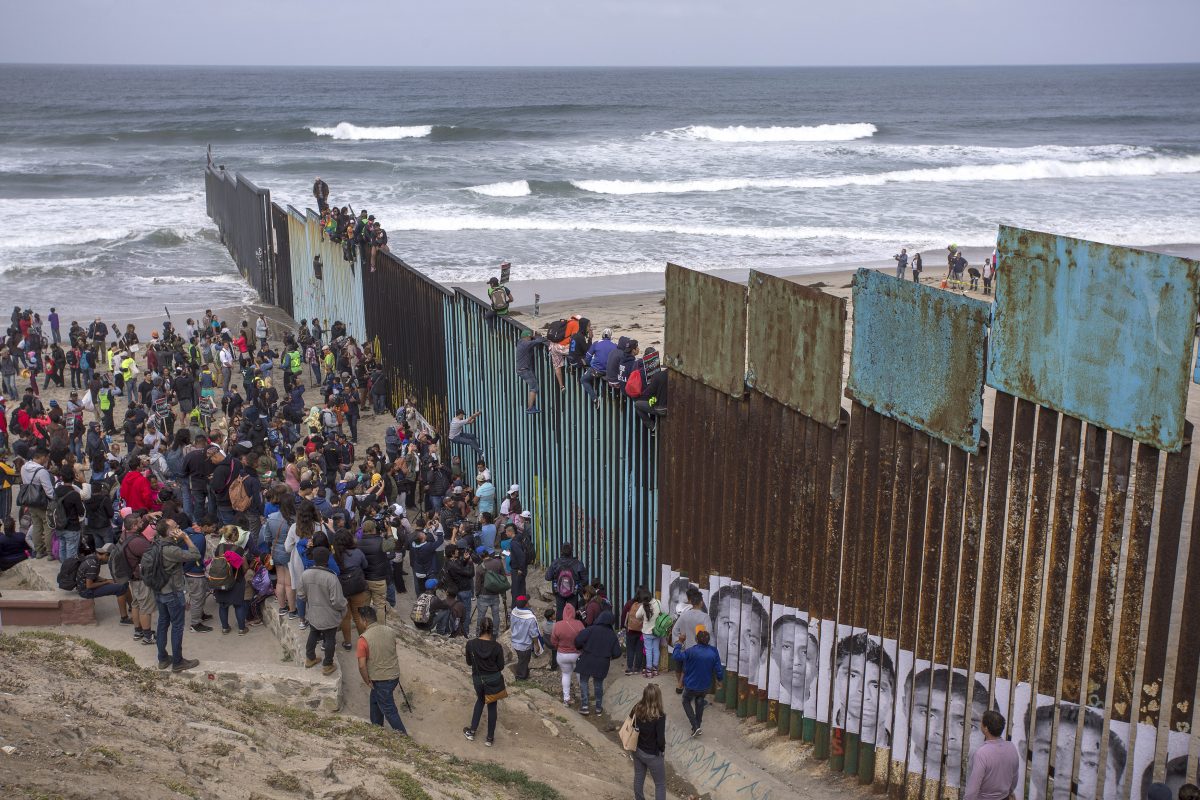 "Our immigration laws in this country are a total disaster," President Donald Trump
said during
a press conference on April 30. "We are a nation of laws—we have to have borders. If we don't have borders, we don't have a country."
Out of the four nationals, Efrain Granados-Corona and Emilio Rojas-Romero were extradited to the United States from Mexico on April 26, while Alan Romero-Granados and Pedro Rojas-Romero were both extradited on May 2, according to the Department of Justice.
"These four individuals were transported more than 2,000 miles from Mexico to be held accountable for the callous criminal actions alleged in this case," Melendez said in the release. "Now these traffickers will face justice where they allegedly made their income, right here in New York."
Six defendants, including the four that were recently extradited, were arrested in Mexico and taken into government custody after the U.S. government requested provisional arrest warrants back in August 2016. Julio Sainz-Flores, the fifth defendant, was previously extradited in June last year, while the sixth, Juan Romero-Granados, remains in Mexico, pending extradition proceedings.
Since taking office, Trump has vowed to battle international human trafficking rings and has emphasized border security as an important deterrent.
"The drugs are a big factor, but … human trafficking is worse than it's ever been in the history of this world. And who would think in this modern-day age?" Trump
said
on April 19. "So it really is a big problem."
Based on data published in government releases and media reports, nearly
3,300 victims
of human trafficking have been rescued around the world and more than 5,300 suspects have been arrested since Trump took office.
Last month
, nearly 350 victims of modern-day slavery were rescued as part of a coordinated police raid across 13 countries in the Americas by Interpol. About 500 officers helped to arrest 22 people after the victims comprising of men, women, and children were found working in nightclubs, farms, mines, factories, and open-air markets. Some worked in extremely cramped conditions.
Trump fumes at Homeland Security head over immigration
Trump unloads on Homeland Security Secretary Kirstjen Nielsen over immigration
Trump unloads on Homeland Security Secretary Kirstjen Nielsen over immigration
Yahoo News Video
Scroll back up to restore default view.
WASHINGTON (AP) — President Donald Trump unloaded on Homeland Security Secretary Kirstjen Nielsen at a heated Cabinet meeting this week, railing against her for failing to stop illegal border crossings.
Trump, who has grown increasingly frustrated by a spike in border apprehensions and legal setbacks, blamed Nielsen Wednesday for failing to do enough to stop them, according to people familiar with the exchange.
Nielsen, one person said, tried to explain the issues were complex and that the department's powers were limited by a slew of legal restrictions. She told the president her team was doing everything it could, but the president was left unconvinced.
The episode, first reported by The New York Times, left Nielsen on the verge of resignation, according to the paper, which also said Nielsen, the former deputy White House chief of staff, had drafted — but not submitted — a resignation letter.
The department pushed back against that characterization.
Homeland Security spokesman Tyler Houlton said in a tweet that, "The @nytimes article alleging that the Secretary drafted a resignation letter yesterday and was close to resigning is false."
The secretary, he added, was "hard at work" Thursday "on the President's security-focused agenda and supporting the men and women of @DHSgov."
Nielsen did not deny the meeting had grown heated in a statement Thursday evening, but said she shared the president's frustrations.
"The president is rightly frustrated that existing loopholes and the lack of congressional action have prevented this administration from fully securing the border and protecting the American people. I share his frustration," she said in a statement.
She added that "border security is the most basic and necessary responsibility of a sovereign nation" and said she would "continue to direct the department to do all we can to implement the president's security-focused agenda."
White House Chief of Staff John Kelly, who pushed for Nielsen — his former deputy — to be DHS secretary, told reporters Friday that he expects her to stay on the job.
He declined to say whether Nielsen had been treated fairly in the meeting, saying only, "We had a good Cabinet meeting," during a brief question-and-answer session in the White House Rose Garden.
Trump has growing increasingly angry about his inability to secure the border and has repeatedly called on Congress to pass new legislation to strengthen what he calls the nation's "horrible" immigration laws.
Trump has also been frustrated with Nielsen, according to people familiar with the dynamic. They spoke on condition of anonymity because they were not authorized to disclose private conversations.
During a rally in Elkhart, Indiana, Thursday evening, Trump complained, "We have the worst immigration laws in the history of mankind." He urged voters to "give me some reinforcements, please" in the form of new Republican members.
While border apprehensions dipped last year to their lowest levels ever, the numbers have been ticking up in recent months, returning to more typical historical levels.
Trump has also been frustrated with Congress's refusal to fully fund his promised border wall along the nation's southern border, and some in the administration had accused DHS leaders of slow-walking more aggressive efforts to separate children from their parents at the border.
U.S. Attorney General Jeff Sessions this week announced a new "zero-tolerance" policy toward people who enter the United States illegally that may cause more separations. A conviction for illegal entry carries a maximum penalty of six months in custody for first-time crossers, though they usually do far less time, and two years for repeat offenses.
Report: DHS Sec. Kirstjen Nielsen 'Was Close to Resigning' After Trump Blasted Her for Not Securing Border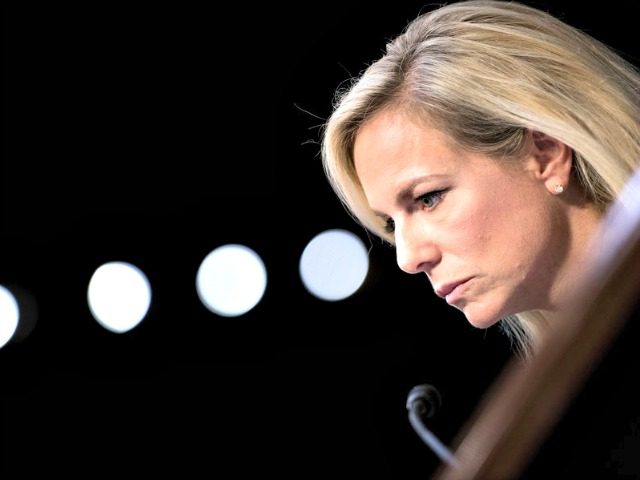 Department of Homeland Security (DHS) Secretary Kirstjen Nielsen "was close to resigning" from President Trump's administration after she was blasted for failing to secure the U.S.-Mexico border against a caravan of Central Americans, a report says.
According to the New York Times, Nielsen almost left the Trump administration following a series of complaints from Trump in front of the entire White House cabinet that she had not successfully secured the southern border.
Kirstjen Nielsen, the homeland security secretary, told colleagues she was close to resigning after President Trump berated her on Wednesday in front of the entire cabinet for what he said was her failure to adequately secure the nation's borders, according to several current and former officials familiar with the incident. [Emphasis added]

Ms. Nielsen, who is a protégée of John F. Kelly, the White House chief of staff, has drafted a resignation letter but has not submitted it, according to two of the people. As the head of the Department of Homeland Security, Ms. Nielsen is in charge of the 20,000 border agents who work for Immigration and Customs Enforcement.

Mr. Trump's anger toward Ms. Nielsen at the cabinet meeting was part of a lengthy tirade in which the president railed at his entire cabinet about what he said was their lack of progress toward sealing the country's borders against illegal immigrants, according to one person who was present at the meeting. [Emphasis added]
DHS press secretary Tyler Houlton said in an online post that the claims that Nielsen was on the verge of quitting are untrue.
Nielsen's DHS has been swamped with rising illegal immigration levels at the southern border. In the month of April, nearly 40,000 illegal aliens were
caught
attempting to cross into the U.S.
At the same time, DHS failed to keep a caravan of Central Americans at bay, with hundreds storming the border and seeking asylum through the ports of entry.
Most recently, in congressional testimony, Nielsen begged foreign nationals to use the ports of entry to enter the U.S. legally and seek asylum, despite DHS already being overwhelmed with border-crossers and asylum-seekers.
Nielsen
formerly worked
for President George W. Bush when thousands of illegal aliens were allowed to enter the U.S. after Hurricane Katrina to take coveted blue-collar jobs. Nielsen also previously authored a report promoting mass immigration as a win for big business.
John Binder is a reporter for Breitbart News. Follow him on Twitter at @JxhnBinder.
CUT LA RAZA'S WELFARE AND FIND THE FUNDS TO BUILD THE


WALL AGAINST THE LA RAZA HEROIN CARTELS!


Mexican drug cartel killers dissolve at least 12 people in a vat of ACID, including three film students, after mistaking them for members of a rival gang
Authorities found traces of 12 different people's DNA in a vat in a home in Mexico
It was near Guadalajara where three film students were abducted in March
Salomon Aceves Gastelum, 25, Daniel Diaz, 20, and Marco Avalos, 20 were abducted
They had gone to a house owned by one of their uncles for a film project
It was being watched by the Jalisco drug cartel which mistook them for members of a rival gang
Rapper Christian Omar Palma Gutierrez admitted to police that he disposed of the students' bodies in acid
Rapper Christian Omar Palma Gutierrez (above) was hired by the Jalisco cartel to dispose of three students' bodies in acid after they were abducted in March
A drug cartel's assassins who killed three film students apparently mistaken for members of a rival gang and dissolved their bodies in acid did the same thing to nine other people, authorities said.
Interior Secretary Alfonso Navarrete said investigators had detected DNA from 12 separate people in residual fats found at a location where one of the killers confessed to having dissolved bodies in sulfuric acid.
Navarrete did not say whether any of the DNA profiles matched those of Salomon Aceves Gastelum, 25, Daniel Diaz, 20, and Marco Avalos, 20, three film students who were abducted March 19 on the outskirts of the western city of Guadalajara.
He did say that three of four suspects in the students' abduction and killing had been arrested
The three students were unwittingly working on a film project for school at a house that was apparently being watched by members of the Jalisco New Generation drug cartel.



The house had once been used by a rival drug gang, and the Jalisco cartel apparently suspected the students were part of that gang.
One suspect said the cartel killed the students after interrogating them and then dissolved their bodies.
The DNA findings lent more credence to the tale told by a young rapper who said he had been employed by the cartel to dissolve bodies.
A protester holds up a -3 sign at a protest in Mexico City on April 24. It stands for the three students who were abducted and murdered in March after being mistaken for rival gang members
That suspect, Christian Omar Palma Gutierrez, is a 24-year-old rapper who built a YouTube channel with more than a half-million views based on songs describing an anguished, violent life of drugs and crime.
Palma Gutierrez confessed to working for the Jalisco New Generation cartel, Mexico's fastest-growing and most violent gang, as what the gang calls a "cook."
By his account, for 3,000 pesos a week, he dumped bodies head-first into acid baths set up in water tanks in the yard of a cartel safe house.
He would come back after two days - after the acid had done its work - and open drain valves to release the fluid into the storm drain, and remove remaining sludge to dump it in fields.
However, some sludge remained in the bottom of the tanks, and that is apparently where investigators found the DNA.
JUDICIALWATCH.org
Mexican Gang Charged With Terrorizing Blacks
To demonstrate its loyalty to the notoriously violent Mexican Mafia prison gang, an affiliate Latino street organization has worked to cleanse a southern California city of black residents by terrorizing, threatening and intimidating them.
Details of the decades-long genocide operation in the Los Angeles County city of Azusa are laid out in a huge grand jury indictment issued by the Department of Justice this week. More than 50 Latino gang bangers, many of them surely in the U.S. illegally, have been charged for targeting blacks by beating, robbing and threatening them.
The goal was to drive blacks out of the predominantly working-class Latino city of about 46,000. The crimes were committed by members of the Azusa 13 gang, which runs a sophisticated criminal enterprise financed with lucrative drug-trafficking proceeds. The gang also taxes the area's drug dealers and shares some of the money with the Mexican Mafia, according to the 112-page indictment.
Latino gangs have for more than a decade targeted blacks in the sprawling southern California County, which is an illegal alien hotbed that has long offered sanctuary. In the last few years alone, dozens of Latino gangbangers have been charged with murdering, harassing or attacking blacks in the area, the feds say in their indictment.
As far back as 1999 the Azusa 13 was targeting blacks in the area, prosecutors say. That year a 17-year-old member named Ralph "Swifty" Flores murdered a black teenager and was sentenced to life in prison without parole. In 2008 an illegal immigrant from a different gang murdered a Los Angeles high school footballs star shortly after completing a prison sentence for a separate felony.
LA RAZA "THE RACE"

NEIGHBORHOOD DRUG DEALER

MARIA "CHATA" LEON… she voted dem

for more!
LA RAZA MEXICANS BEHEADING IN AMERICA'S OPEN BORDERS
"From the house, Maria "Chata" Leon, an
illegal immigrant, her family and associates
controlled drug and gang activity on the street
for years, police said."
The two-bedroom stucco house at 3304 Drew St. in Glassell Park was once the center of one of the most menacing drug marketplaces in Los Angeles.
From the house, Maria "Chata" Leon, an illegal immigrant, her family and associates controlled drug and gang activity on the street for years, police said.
During at least two raids at the house, according to court documents, officers found guns and drugs as well as surveillance cameras, laser trip wires and a shrine to Jesus Malverde, a Mexican folk hero whom drug traffickers have made their patron saint.
75 GANG LEADERS ARRESTED IN LA
RAZA INFESTED CA CENTRAL VALLEY!
Four in 10 homicides in California are gang-related, Harris said. Those cases also account for 80% of the state's effort to relocate witnesses whose lives are in danger because of their cooperation with law enforcement, she said.
latimes.com
Dozens of Central Valley gang leaders arrested in one-day sweep
By Maura Dolan
Police arrested 75 alleged gang leaders Tuesday in a one-day sweep in the Central Valley for offenses including attempted murder and drug trafficking, state Atty. Gen. Kamala Harris said Wednesday.

The raids, which involved helicopters and canine units, occurred at 50 locations in the cities of Madera, Los Banos, Livingston, Merced, Atwater and Dos Palos as part of the Operation Red Zone crackdown, Harris said.



LOS ANGELES – GATEWAY FOR THE MEXICAN DRUG CARTELS
LOS ANGELES TOP 200 LA RAZA CRIMINALS… they're all registered dems and getting anchor baby breeders' welfare!
206 Most wanted criminals in Los Angeles. Out of 206 criminals--183 are hispanic---171 of those are wanted for Murder.