America builds the La Raza "The Race" Mexican welfare state
Billionaire Mexicans tell their poor to JUMP U.S. OPEN BORDERS and LOOT THE STUPID GRINGO… and loot they do!
Billions of dollars are sucked out of America from Mexico's looting!
1) Mexico ended legal immigration 100 years ago, except for Spanish blood.
2) Mexico is the 17th richest nation but pays the 220th lowest minimum wage to force their subjects to invade the USA. The expands territory for Mexicans, spreads the Spanish language, and culture and genotypes, while earning 17% of Mexico's gross GDP as Foreign Remittance Income.
California's Travis Allen: GOP's Winning Issue Is Immigration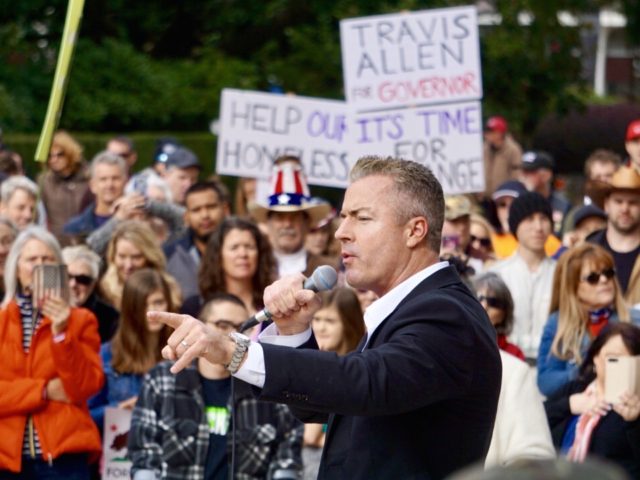 California assemblyman and Republican gubernatorial candidate Travis Allen cast illegal immigration in the Golden State as the highest priority issue among Californians during a Monday interview with SiriusXM hosts Rebecca Mansour and Joel Pollak on Breitbart News Tonight.
Allen prioritized the fight against "sanctuary" policies across the state. "I've always been against this illegal sanctuary state from the very beginning," he said. "Last year in the legislature, I put forth legislation — AB 1252 — to defund every sanctuary jurisdiction in California, and of course the Democrats killed that, so in January of this year I was on Tucker Carlson, and I hoped the White House might be watching Fox News, so I called out on national news for Donald Trump and Jeff Sessions to get out to California and to sue California, and this is exactly what they did just last month."
Allen continued, "But the fight didn't stop there. One of my local cities — I represent 13 cities in the legislature for Orange County — and one of my local cities, a tiny town, Los Alamitos, just 12,000 people, decided they had enough and they opted out of the legal sanctuary state, and this was really the match that lit the fire, so I began gathering signatures, first on my Facebook page and my website … and urging everyone across California to have their local cities also opt out, and this grew to their sheriffs opting out and their counties opting out."
Allen said "sanctuary" laws are a "flagrant violation of our constitutional rights, and it's actually putting us in danger."
Pollak invited Allen to contrast Californians' view of two political issues. "You're involved in the forefront of both of these fights," he said. "Can you tell us which has been more powerful in terms of mobilizing voters. What are voters more concerned about, the 12-cent per gallon tax on gasoline or the sanctuary state laws?"
Allen replied, "I really think the intensity is on the sanctuary state, because just understand that this is a flagrant violation of our constitutional rights, and it's actually putting us in danger."
Allen spoke against a 12-cent per gallon state-wide gasoline tax increase implemented in 2017. "

The gas tax affects every single Californian, and the real problem with the gas is not just that that money doesn't go to the roads and not just that Jerry Brown lied when he said there's no new taxes without voter approval, it's that it hits the poorest and hardest working Californians the very most," he said. 'The single mom that's go to drive 30 minutes to and from work to pick up her kids from daycare and just to put food on the table. This is who it hurts the very most."
Allen cast illegal immigration and "sanctuary" laws as top priority crises in California. "Californians for decades now have been very upset about illegal immigration, and we have every right to be," he said. "We are on the border and there's been a lot of illegal immigration ever since they got rid of the Bracero Program, decades ago. Now we have this illegal sanctuary state where we're not just talking about illegal immigration. We're not just talking about someone's grandmother sitting on a couch. We're talking about someone who's come to our state illegally, is now committing crimes while they are here and now Jerry Brown and the California Democrats want to shelter them with our taxpayer dollars. You need to look no further than the Kate Steinle case … where Kate's only crime was walking down the pier with her father in San Francisco. She was shot in the back by a guy who had been deported five times and was a seven-time felon, and the only reason he was out and walking around these streets was because of sanctuary city policies put in place by Gavin Newsom and the California Democrats."
A poll published April 26 by the University of California Institute of Governmental Studies shows Allen behind Lt. Gov. Gavin Newsom (D-CA) but ahead of former Los Angeles mayor Antonio Villaraigosa in the race for California's governorship. The poll shows Allen and his GOP opponent garnering support from 16% and 18% of likely voters, respectively.
With Villaraigosa's support falling, Allen said California's gubernatorial race has "t
urned into Gavin Newsom versus whoever the top Republican is going to be."
Allen cast California's illegal immigration crisis as a function of decades of Democrats' political dominance of the state. "The California Democrats have run the state for 39 of the last 40 years where they've controlled both houses of the state legislature," he said. "Jerry Brown and his father have controlled the governor's seat for essentially 24 years of the last half century. California used to have the best schools, the best roads, the best water system, now we have among the worst schools in the nation, the second-worst roads in the nation with the worst traffic, a water system that bursts every time it seems to rain, and then you look at cities like San Francisco with 22,000 intravenous drug users. They're opening up legalized heroin injection centers. They've got massive human waste so you have to know which streets you can walk on and which streets you've got to avoid, and kids are literally having to step over hypodermic needles on their way to elementary school."
Allen continued, "

Violent crime has risen 15.4% in the last 3 years, higher poverty rates and exploding homelessness. We now have the nation's highest unsheltered homeless population, and people know there is something rotten in California, and it is coming out of the liberal Bay Area of San Francisco, which has been running the state now for decades. This is Jerry Brown, Nancy Pelosi, Barbara Boxer, Dianne Feinstein, Kamala Harris, Gavin Newsom, every single one of them are coming out of San Francisco, and California is starting to look at San Francisco and say, 'Wait a second, we don't want California to look like Detroit. We don't want California to look like the streets of San Francisco.' It is time to change this, and that's why we're seeing such a massive push now across the state of this silent supermajority of Californians that will be silent no longer."
Allen described his political campaign strategy as promoting "m

assive voter engagement" by "g

etting in front of as many people in California" as possible.
Allen's five-point plan includes a voter-ID proposal to "get rid of all this voter fraud which we know is happening."
Allen reflected on what he described as California's decline under decades of Democrat "mismanagement." He said, "Take back California and you're going to make California, once again, the greatest state in the nation. Every Californian knows that it's possible. It's just that Republicans for decades now have not had a real leader, someone who can truly inspire Californians…. There's one person in this race who has the ability to stand on that stage and take down Gavin Newsom and the California Democrats."
Unlike his primary Republican competitor, Allen supported Donald Trump's presidential campaign and continues to support the Trump administration. "I am someone that supported the president," he said. "I'm the only person in the entire race that actually supported, voted for, and even wrote op-eds in favor of Donald Trump. The other Republican in the race voted for Gary Johnson, who was a Never Trumper in 2016. Gary Johnson thinks that open borders and legalized drugs and legalized prostitution are all great ideas. There really is only one person in the race that represents true conservative values — somebody like Ronald Reagan, not somebody Arnold Schwarzenegger — but this is what it takes, it takes inspiring Californians."
Breitbart News Tonight airs Monday through Friday on SiriusXM's Patriot channel 125 from 9:00 p.m. to midnight Eastern (6:00 p.m. to 9:00 p.m. Pacific).
CALIFORNIA MOVES CLOSER TO FINAL SURRENDER TO LA RAZA SUPREMACY
DE FACTO CITIZENSHIP PER LA RAZA:
NO TEST, NO BACKGROUND CHECKS ON CRIMINALITY, NO BACK TAXES, NO
FINES.... JUST JUMP STRAIGHT TO VOTING BOOTHS! AND VOTE OFTEN!!!
In 2013, California lawmakers passed legislation that allowed illegal aliens to obtain driver's licenses if they can prove to the Department of Motor Vehicle (DMV) their identity and state residency. The plan was one of the largest victories to date by the open borders lobby
.… JOHN BINDER – BREITBART.com
STAGNANT WAGES and the Dem Party's obsession with open borders, amnesty and no damned legal need apply!
THE LA RAZA SUPREMACY PARTY for OPEN BORDERS, AMNESTY, NON-ENFORCEMENT, NO E-VERIFY and no Legal need apply!!!
The Democratic Party
used to be
the party of blue collar America- supporting laws and policies that benefited that segment of the U.S. population. Their leaders may still claim to be advocates for American working families, however their duplicitous actions that betray American workers and their families, while undermining national security and public safety, provide clear and incontrovertible evidence of their lies…. MICHAEL CUTLER …FRONTPAGE mag
Maybe if California and New York Cared as Much about the Middle Class as They Do About Illegal Alien…
---

Coming soon: Mass exodus from NY, CA due to high taxes
California's Rich May Leave to Avoid $12 Billion in SALT Tax Hit
President Donald Trump's new tax cut, which limiting state and local tax deductions, will cost rich Californians $12 billion more in federal taxes, with $9 billion coming from those making $1 million or more.
Is California Governor Jerry Brown Mentally Ill?

Laura Ingraham: 'California Is Almost Acting Like It's a Separate Country'
Zuckerberg's Investor Group Pushes for Pre-Election Amnesty
Silicon Valley investors, including Facebook owner Mark Zuckerberg, are joining the Koch network's push for a quick amnesty that would also keep the issue of cheap-labor immigration out of the November election.