May 2, 2018
Caravan illegals enrage other migrants by cutting into the line
After the big splashy build-up, along with a few middle fingers at Uncle Sam, the leftist illegal migrants of the famous caravan have gotten several of theirs into the country as asylum-seekers, where, if they are anything like other illegals, they are sure to disappear into the gang-infested Central American neighborhoods of Los Angeles, where they can experience the same gang violence they are purportedly running away from back in Honduras, and then not show up for their parole hearings.
One problem: There are other migrants awaiting to enter as asylum-seekers at the Tijuana border, and these caravaners have cut in front of them.
Get a load, from the report filed by the San Diego Union-Tribune's estimable Sandra Dibble, who actually checked out what was going on on the ground over there:
But while members of the caravan wait, so are other asylum seekers, and they have been growing increasingly upset, complaining that caravan members were trying to enter ahead of people who have been waiting for more than a week.

"The ones from the caravan are trying to break the line," said René García, who said he is from the state of Michoacan, and had been waiting for eight days for a chance to walk up to the port and present himself for asylum. Others in the group include Hondurans, Venezuelans and Haitians, he said.
It rather resembles the fights among illegals that have taken place over the Deferred Action for Childhood Arrivals issue. The non-DACA recipients are angry that they are being ignored and view the DACA recipients as getting special treatment.
What it points to is the lack of fairness in the immigration system. For every group muscled through by the left with its vast publicity machine of handpicked sob stories for the press, there are countless others who are being pushed aside, punished for their faith in the U.S. process and adherence to the rule of law.
It has to make them feel like suckers for waiting in line and not just jumping the fence, as some caravaners have done, or joining with the leftist organizers and empowering that group with more numbers. There's an incentive problem here.
The question to ask is why this nonsense is going on. If the caravaners want to apply for asylum (and since most of them are military-aged young men traveling alone, they had better not get asylum), let them do it same as normal people do. There is a line in Tijuana, and the line is already long. I don't understand why this bunch got special treatment, and someone up the chain of command in the Trump administration needs to start explaining himself. If the caravaners were real asylum-seekers, they would do what real asylum-seekers do, which is apply for asylum in their first safe country of refuge, which happens to be Mexico. That question is going unanswered, as is the issue of why these publicity-seeking caravaners are now getting preferential treatment in the asylum line.
The whole point of President Trump's stance on immigration is to restore a sense of fairness, equal treatment, and rule of law to the immigration process. The left yells "racism," but it's not racism Americans are calling for in this. It's just basic rule of law. Now we are seeing special treatment even from the Trump-led government. What's going on here?
Report: Mexican Migrants Angry Illegals in Caravan Cutting in Line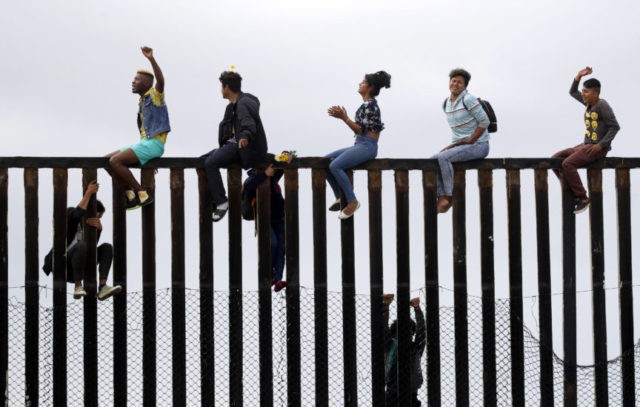 Some migrants from Mexico and other asylum seekers who have been at the border for more than a week are reportedly getting angry that illegal immigrants in the migrant caravan are jumping in line ahead of them to enter the United States.
Rene Garcia, who is reportedly from Michoacan in Mexico,
told
the
San Diego Union-Tribune
on Monday evening that other asylum seekers who had been waiting for eight days are becoming increasingly upset that Central American migrants in the caravan are jumping the line.
"The ones from the caravan are trying to break the line," Garcia told the outlet.
Fourteen Central American migrants from the caravan have reportedly been allowed to enter the San Ysidro Port of Entry to seek asylum on Monday and Tuesday. The Justice Department also announced on Monday evening that it filed criminal charges against 11 possible caravan members for illegally entering the United States.
"When respect for the rule of law diminishes, so too does our ability to protect our great nation, its borders, and its citizens," Attorney General Jeff Sessions said in a Monday evening statement. "The United States will not stand by as our immigration laws are ignored and our nation's safety is jeopardized."
Adam Braverman, the United States Attorney for the Southern District of California, stressed that those seeking to come to the United States "must pledge fidelity to the law, not break them."
"The American Dream has beckoned immigrants from across the globe because of the promise that prosperity and success are within reach for all," Braverman said. "Those immigrants have contributed their voices and perspectives to make up our uniquely American experience. But the foundation for the American Dream, and what allows our democracy to flourish, is commitment to the rule of law. These eleven defendants face charges now because they believed themselves to be above the law. Those seeking entry into the United States must pledge fidelity to the law, not break them, or else face criminal prosecution."
DENY ACCESS TO CARAVAN ARRIVALS
Border standoff shows need for wall, tougher stand against Mexican regime and its leftist collaborators.
The caravan of Central Americans marching through Mexico recently showed up at the U.S. border near San Diego, where according to news reports the arrivals are
"taunting watchful U.S. authorities.
"
Pueblo Sin Fronteras,
organizer of the caravan, portrays the Central Americans as legitimate refugees who deserve asylum in the United State and said in an online post that "the group of mothers and fathers" would wait "until CBP (Customs and Border Protection) is willing to follow the law and process their requests."
So at this writing it's something of a standoff, but the marchers have gained much free publicity from the old-line establishment media. Rodrigo Abeja, a Mexico-based organizer with
Pueblo Sin Fronteras
,
told NBC news
that the original caravan included "20 youths who identify as LGBT and about 400 women." NBC did not interview any of the women or LBGT youths about their need to demand asylum in the United States.
Daniella Burgi-Palomino of the Latin American Working Group told NBC "People are not leaving for economic reasons or to take advantage of a system in the U.S. They have real valid claims of fear of returning to the country." NBC simply accepted those claims uncritically and echoed the official description of the caravan as Viacrucis, the "Migrants Way of the Cross." On the other hand, NBC provided little information on caravan organizers.
Officially, this is the project of
Pueblo Sin Fronteras
, whose website provides no founder, staff, board of directors or funders. "We are a collective of friends who decided to be in permanent solidarity with displaced peoples," the site explains. "Our dream is to build solidarity among peoples and turn down border walls imposed by greed."
Click on "Donate" and the site sends you to PayPal with the message "Send money to Pueblo." Click on "Caravans" and you find the religious concept of Viacrucis paired with "Migrantes en la Lucha," the language of political militancy. That was evident from the start.
"It is an organized attack on the American border by open borders activists, aided and abetted by Mexican authorities,"
Rick Moran said on PJ Media
as the caravan set forth. "This is not only a direct challenge to U.S. sovereignty, it could be considered an act of war. These illiterate, uneducated 'international workers' are simply pawns being used by the Mexican government and international migrant activists. They don't like the new U.S. immigration policies and are trying to change them."
As the bogus refugees taunted U.S. officials at the border this week, vice president Mike Pence said the migrants were being "exploited by open-border political activists and an agenda-driven media," in a quest to "undermine our laws." For President Trump, it was more evidence that, as he said, "we need a wall."
For their part, the old-line media neglected a key back story. Some Central American parents have chosen to break up their families and put their minor children in the hands of human traffickers they don't even know. Mexico has no problem with this massive act of child abuse, but the United States has no legal, moral or humanitarian reason to cooperate.
Not a single member of this caravan was invited to enter the United States. Likewise, no caravaner has any right to enter the United States, for good reason. U.S. officials have no knowledge of who these people are, and the United States has no obligation to heed Mexico-based Pueblo Sin Fronteras organizer Rodrigo Abeja, or any other foreign national.
If people fear violence or oppression in their country, it does not follow they should come and live in the United States. If LBGTQ youth have a tough time in Honduras, they can opt for Costa Rica, Panama, or Cuba, which has a
dynamic new leader in Miguel Diaz-Canel
. And the Spanish-speaking nation already features the kind of single-payer health care Democrats want for everyone.
The United Nations could also argue for placement in Spain, Argentina, Chile, or even Sweden. If Syrian Muslim refugees are acceptable, Honduran LBGTQ youths should also find a home there. After all, as Daniella Burgi-Palomino said, the refugees are not fleeing for economic reasons and not out to take advantage of any country.
Even so, the migrantes en la lucha are now the border taunting U.S. officials and demanding asylum. A ballpark figure for the number the USA should accept is zero. Meanwhile, for all its professed concern for justice, Pueblo Sin Fronteras has been rather quiet about recent events in Mexico.
Mexico's reactionary PRI regime violates U.S. sovereignty and empowers the migrantes en la lucha now at the border. We need a wall, tougher immigration laws, and more troops on the border.