A county by county chart:
According to the nonpartisan Center for Immigration Studies, the deportations occurred between October 2008 and February 2015. The
three counties
with the most deportations during this period were Los Angeles County, Calif.; Maricopa County, Ariz.; and Harris County, Texas.
President Gives Voice to Permanently Separated 'Ignored Families' Amidst Immigration Debate
June 25, 2018 6:46 pm
Last Updated: June 26, 2018 1:35 pm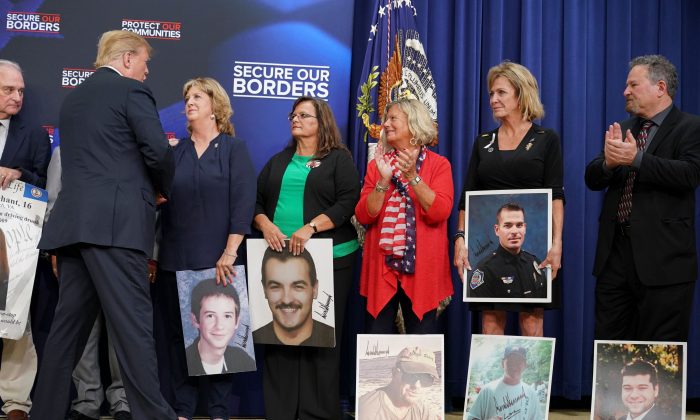 WASHINGTON—They are the families that have been permanently separated.
"Any time we want to see or be close to our kids, we go to the cemetery, because that's where they are," said Laura Wilkerson from Pearland, Texas. Her 18-year-old son, Josh, was killed in 2010.
"He was brutally tortured, strangled over and over. He was set on fire after death," Wilkerson said.
Josh was murdered by a classmate, an illegal immigrant from Belize, who is now serving life in prison.
Amid all the rhetoric around the families being temporarily separated at the border for crossing illegally, President Donald Trump invited a group of parents whose children have been killed by illegal aliens to the White House on June 21.
The stories are heartbreaking.
"My daughter was Christy Sue Piña," said Juan Piña from Greenfield, California. "Back in 1990, she was kidnapped, strangled, stabbed, raped, and sodomized, and her body was found in an artichoke field."
Piña said he has been fighting to extradite the killer from Mexico for more than 28 years.
"And on May 3, God answered my prayers and Mexico finally turned him loose to us. And he is now in the Monterey County Jail and we can start court procedures for my daughter's death."
Sarah Root was killed in 2016 on the night of her college graduation by an illegal alien who was drunk and speeding. He was subsequently released on a $5,000 bail and hasn't been seen since.
"Our separation, like everybody has said, is permanent," said Sarah's mother, Michelle Root. "Sarah never gets to go on to be a wife, a mother, a grandmother, an aunt. My son does not have his only sibling any longer. My life has been devastated and so has my daughter's family and friends."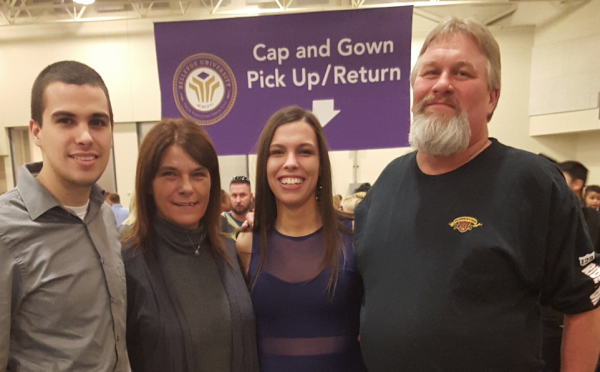 Root said she often gets asked why it matters that the driver, Edwin Mejia, was in the country illegally.
"What if he hadn't been here? My daughter would be," she said in a prior interview.
"I can't play 'what ifs,' because he was. And, guess what, nobody else died in Omaha, Nebraska, on January 31 from a drunk driver. So what if Sarah would have lived?"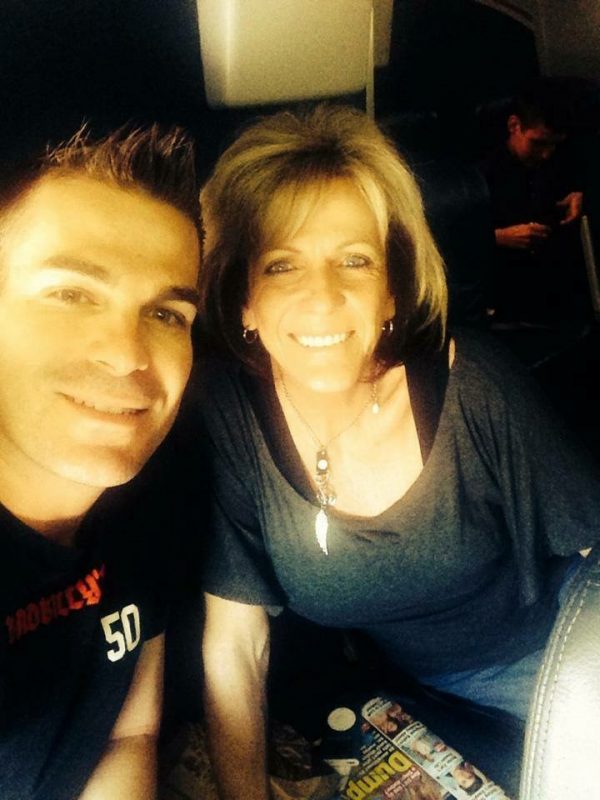 Mary Ann Mendoza said her son, Sgt. Brandon Mendoza, was killed as he drove home from work by an illegal alien who was drunk and high on meth.
Mendoza wrote a letter to former President Barack Obama in 2014 to ask why the driver, Raul Silva-Corona, was not deported 20 years earlier after he was convicted for crimes in Colorado.
She didn't receive a response.
She expressed her gratitude to Trump and Vice President Mike Pence. "You have just been there for us, and there are no words to describe what your support and your caring has meant to each and every one of us."
Now, as all the family members do, Mendoza also has to deal with vitriol on social media.
"I get called racist, I get called a Nazi pig. 'Your son is a pig, you're a Nazi pig,'" she said in a prior interview. "I can't even say some of the names people have called me on Twitter."
But, she said, she blocks them and keeps on with her work. Several of the family members launched a victim support group last year called Advocates for Victims of Illegal Alien Crime (
AVIAC
).
Media Coverage
Mendoza also accused the media of not reporting on crimes by illegal aliens.
"There's hundreds of thousands of victims every year who are affected by illegal alien crime—rape, assault, identity theft," she said.
"These are things that go unreported, unchecked. You know, if the public would go to IllegalAlienCrimeReport.com and see the magnitude of crimes being committed against your fellow Americans by illegal aliens allowed to stay in this country, you will be sickened, because the mainstream media does not let you know what's really happening."
Trump said the media coverage is unfair.
"These are the families the media ignores. They don't talk about them. Very unfair," he said.
"Where is the media outrage over the catch-and-release policies that allow deadly drugs to pour into our country? Where is the condemnation of the Democrat sanctuary cities that release violent criminals into our communities and then protect them?"
Immigration and Customs Enforcement (ICE) Deputy Director Tom Homan said that as of July 31, 2017, almost 10,000 criminal aliens who had been released onto the streets—rather than being turned over to ICE—have committed another crime.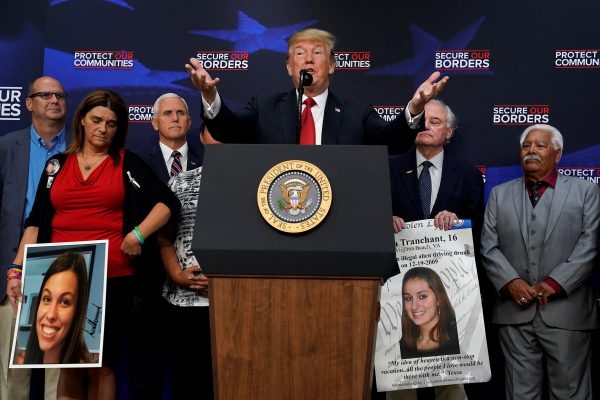 Crime Data
Most available crime data does not differentiate between illegal and legal immigrants, but federal prison statistics provide some detail.
Ninety-four percent of foreign-born federal prisoners are in the United States illegally, according to a December report by the departments of Homeland Security and Justice.
Illegal alien prisoners could make up as much as 19 percent of the total number of prisoners in the federal system. The estimated population of illegal aliens in the United States is 3 to 4 percent.
A total of 58,766 known or suspected aliens were in federal custody at the end of fiscal 2017, including 39,455 persons in Bureau of Prisons custody and 19,311 in U.S. Marshals Service custody, the report said.
Of this total, 37,557 were confirmed as aliens by ICE, while 21,209 foreign-born people were still under investigation to determine whether they are deportable. An alien is a noncitizen and non-national, according to ICE.
Attorney General Jeff Sessions said noncitizens commit a substantially disproportionate number of drug-related offenses in particular, fueling the national drug crisis.
"Our citizens are being victimized by illegal aliens who commit crimes. The simple fact is that any offense committed by a criminal alien is ultimately preventable. One victim is too many," Sessions said in a statement on Dec. 21.
The report doesn't include data on the foreign-born or alien populations in state prisons and local jails—which account for approximately 90 percent of the total U.S. incarcerated population.
As of June 2016, there were 191,161 convicted criminals with pending deportation proceedings who were at large in the United States, according to an ICE Weekly Departures and Detention Report.
VOICE Report
Trump held the immigration event to coincide with the publication of the first quarterly report from the new office to assist victims of illegal alien crime, Victims of Immigration Crime Engagement (VOICE).
ICE launched the VOICE office in April 2017, in response to an executive order by the president.
The office can help provide social services to victims, as well as allow them to track the alleged perpetrator in custody.
In one case, the victim's call to VOICE led to an alien being arrested and detained, the report said. Another led to a criminal being deported.
The hotline took a total of 1,251 calls between April 26, 2017, and Sept. 30, 2017.
"VOICE assisted hundreds of families already, connected them to crucial services such as grief counseling, followed up their cases, and helped ensure that the criminal aliens that harmed their families so egregiously were detained, removed, and deported," Trump said.
Watch Next:
US Border Patrol: 'There is no policy to separate families'
The United States Border Patrol on Sunday allowed reporters to briefly visit the facility where it holds families arrested at the southern US border, responding to questions over the Trump administration's "zero tolerance" policy.
PAUL KRUGMAN
The disintegration of California, a Mexican satellite welfare state of poverty, crime and high taxes
MEXICAN-OCCUPIED CA…. The La Raza Welfare State
Gov. Jerry Brown, on a trip to Mexico, seeks to position California as a more welcoming place for immigrants... $35 BILLION PER YEAR IN WELFARE NOT WELCOMING ENOUGH?!?
"This October, Governor Jerry Brown signed SB 54, the California Values Act, which turns the entire state into an immigration-enforcement-free haven for all but the most heinous illegal-alien criminals." Heather Mac Donald - CITY JOURNAL
We've got an even more ominous enemy within our borders that promotes "Reconquista of Aztlan" or the reconquest of California, Arizona, New Mexico and Texas into the country of Mexico…. AND IT IS THE DEMOCRAT PARTY!
THE DEMOCRAT PARTY'S VISION OF AMERICA:
49 MORE MEXIFORNIAS
…. How many illegals are occupying and looting your state now?
JUDICIAL WATCH:


JUNE 26, 2018
While the mainstream media and much of the nation are preoccupied with sob stories about the shelter accommodations of illegal immigrants, the U.S.-Mexico border remains a cesspool of crime where federal agents have confiscated more than 360,000 pounds of drugs, arrested thousands of individuals with criminal convictions and busted hundreds of violent gangbangers so far this year. The latest statistics issued by the Border Patrol are downright disturbing and illustrate the urgency of properly securing the famously porous southwest border.
Through the end of May 2018, the frontline Department of Homeland (DHS) agency reveals that it seized 360,241 pounds of marijuana, 7,205 pounds of methamphetamine, 5,321 pounds of cocaine, 315 pounds of heroin and 309 pounds of fentanyl. The agency also encountered 18,568 criminal aliens convicted of a crime or wanted by law enforcement and 509 gang members, mostly from the Mara Salvatrucha (MS-13), a feared street gang of mostly Central American illegal immigrants that's spread throughout the U.S. and is renowned for drug distribution, murder, rape, robbery, home invasions, kidnappings, vandalism and other violent crimes. The Justice Department's National Gang Intelligence Center (NGIC) says criminal street gangs like the MS-13 are responsible for the majority of violent crimes in the U.S. and are the primary distributors of most illicit drugs. The criminal aliens listed in the 2018 Border Patrol figures include those convicted of felonies such as assault, battery and domestic violence as well as burglary, possession of illegal weapons and driving under the influence of drugs or alcohol.
In the last few days alone, as media coverage focuses almost exclusively on the separation of illegal alien families, Border Patrol sectors tasked with guarding the 2,000-mile southern border report large quantities of smuggled drugs and other illicit activity from Mexico. Just a few days ago a Honduran man, convicted of raping a child, was caught trying to re-enter the U.S. through the Eagle Pass station in Texas. The man is a registered sex offender in Houston who got deported after serving a five-year sentence. Press release after press release issued by the Border Patrol in the past week alone offer alarming details of the crime that has gripped the Mexican border region. Drug smuggling appears to be the most popular activity with most southern border sectors reporting multiple busts in the last few weeks.
More than 123 pounds of methamphetamine were seized in one day in Arizona's Port of San Luis last week and a day later the Laredo sector in Texas seized nearly 26 pounds of methamphetamine. Less than 24 hours earlier, the Laredo sector seized $4.2 million worth of crystal meth at the Gateway to the Americas International Bridge.
In the same week, federal agents in Hidalgo Texas confiscated nearly $3 million worth of methamphetamine and agents in nearby Pharr discovered commercial trailer moving more than half a million dollars in heroin from Mexico. This week, officers in New Mexico seized more than $1.1 million in narcotics smuggled in a wrecked vehicle and violent gangbangers were captured by Border Patrol in Arizona, California and Texas. One of the men, a Mexican national arrested in El Centro California, was convicted of child molestation. Another Mexican national apprehended near San Ysidro California was convicted of murder and served more than three decades in prison, the government states in its press release. Two of the illegal immigrants—one arrested in Three Points Arizona and the other in McAllen Texas—are members of the MS-13.
Circling back to the media frenzy involving the supposed separation of illegal immigrant families, Judicial Watch spent a few days on the U.S.-Mexico border last week and spoke to Border Patrol and U.S. Customs officers who say the vast majority of kids arriving from Mexico are either totally unaccompanied or with adults that are not their parents. In a June 18
White House press briefing
, DHS Secretary Kirstjen Nielsen said illegal immigrants are separated if there's no documentation to confirm the claimed relationship between an adult and a child or if the parent is a national security, public or safety risk, including when there are criminal charges at issue. "We also separate a parent and child if the adult is suspected of human trafficking," Nielsen said. "There have been cases where minors have been used and trafficked by unrelated adults in an effort to avoid detention.
And I'd stop here to say, in the last five months, we have a 314 percent increase in adults and children arriving at the border, fraudulently claiming to be a family unit."
WH: More Than 8,000 Criminal Illegal Aliens Released Into U.S. in 2017
By
Natalia Mittelstadt
| June 26, 2018 | 11:18 AM EDT
(CNSNews.com)
-- "In fiscal year 2017, more than 8,000 criminal illegal aliens in police custody were released back into our communities as a result of sanctuary policies," the
White House
said on Friday, the day that President Donald Trump met with the families of victims of crimes committed by illegal aliens.
On Friday, Sabine Durden described how she was unable to protect her 30-year-old son "because an illegal alien from Guatemala, with two felonies, one deportation, two DUIs — he was protected. Riverside, California: sanctuary. The judge, the DA, they knew who he was. They gave him probation after his second DUI. Five weeks later, he killed my child."
Durden's son and only child, Dominic, was killed when the illegal alien driving a truck struck him on his motorcycle, July 12, 2012.
Miss Durden was among 14 other family members of victims who were killed by illegal immigrants that were invited to the White House on Friday by President Trump.
Another woman, Laura Wilkerson, from Pearland, Texas, described how her son had been "brutally tortured, strangled over and over. He was set on fire after death. His last hours were — was brutal."
"[M]ore than 250,000 criminal aliens have been arrested and charged with over 600,000 criminal offenses" in Texas alone since 2011, according to the White House in a
fact sheet
on illegal alien crime.
Also, a 2011
Government Accountability Office report
shows that nearly 3 million offenses were found to be related to criminal illegal aliens. More than 25,000 of these offenses were homicide; almost 70,000 sex crime offenses; over 42,000 robbery offenses; and about 15,000 kidnapping offenses.
"In May 2015, U.S. Border Patrol apprehended a UAC [Unaccompanied Alien Children] who was later released into American communities. The illegal alien was arrested in November 2017 in connection with the MS-13 related killing of a man who was stabbed over 100 times and decapitated," the White House said.
Another similar incident occurred back in December 2014, when a UAC who was taken into custody by U.S. Border Patrol "was later released into American communities." This illegal immigrant "was listed as a known MS-13 gang member and placed on the State of Texas' 10 Most Wanted list" in July 2017, and has since "been arrested and is awaiting trial for the murder of two individuals,"
stated the White House
in its fact sheet on victims of illegal crime.
Also, in September 2016, a UAC who had been released back into the United States after being apprehended by U.S. Border Patrol in December 2013, "was one of 11 MS-13 gang members involved in the killing of teenage girls in Long Island, NY."
"These are the stories that Democrats and people that are weak on immigration, they don't want to discuss, they don't want to hear, they don't want to see, they don't want to talk about," President Trump said on Friday.
"No major networks sent cameras to their homes or displayed the images of their incredible loved ones across the nightly news," said Trump. "They don't do that. They don't talk about the death and destruction caused by people that shouldn't be here, people that will continuously get into trouble and do bad things."
Sanctuary City: 11 Alleged MS-13 Gang Members from El Salvador Charged in Murder of Two Teens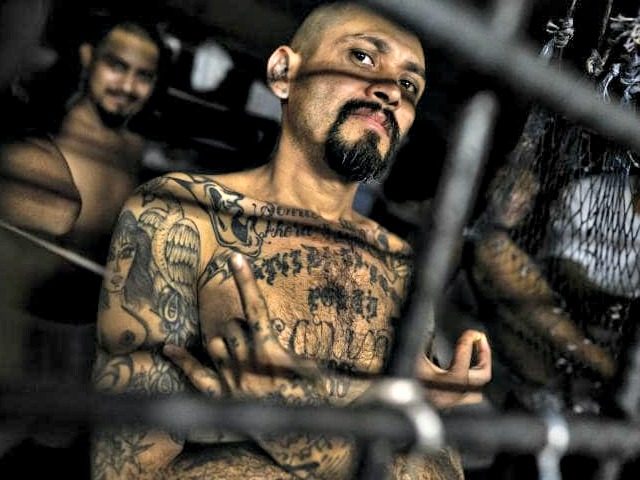 Eleven alleged members of the murderous El Salvadorian MS-13 gang have been hit with murder charges in connection to the deaths of two American teenagers in the sanctuary city of Fairfax County, Virginia.
The U.S. District Attorney's Office revealed last week that a total of 11 MS-13 gang members, all from El Salvador, have been hit with kidnapping charges and conspiracy to commit murder charges in the deaths of two teenage boys who were 14-years-old and 17-years-old.
In August 2016, according to the district attorney, MS-13 gang members Elmer Zelaya Martinez, Erick Palacios Ruiz, Ronald Herrera Contreras, and Josue Vigil Mejia plotted together in bringing the 17-year-old victim to a Fairfax County park where they would kill him and bury his body.
A month later, the district attorney says MS-13 gang members Elmer Zelaya Martinez, Erick Palacios Ruiz, Ronald Herrera Contreras, Henry Zelaya Martinez, Oscar Contreras Aguilar, Yonathan Melgar Martinez, Pablo Miguel Barrera Velasco, Anderson Villatoro, Francisco Avila Avalos, and Fredys Baires Abarca all conspired to kill a 14-year-old teenage boy because they believed he was working with law enforcement.
The MS-13 gang members allegedly used the same Fairfax County park to conduct the attack and murder of the teenager. Likewise, the victim's body was buried.
Nine of the 11 suspects are in the custody of the U.S. Marshals, while another is in the custody of Fairfax County. The 11th MS-13 gang member charged in the murders is suspected to have already fled the United States.
For years, Breitbart News has chronicled the rise and violence of the MS-13 gang, which has used the country's mass legal immigration and lax illegal immigration laws to enter the U.S. as unaccompanied minors.
Most recently, teachers and students at William Wirt Middle School in Riverdale, Maryland revealed that the MS-13 gang has terrorized their middle school.
John Binder is a reporter for Breitbart News. Follow him on Twitter at
@JxhnBinder
.
JAMES WALSH
THE DEMOCRAT PARTY'S HISPANICAZATION of AMERICA… first ease millions of illegals over our borders and into our voting booths!
How the Democrat party surrendered America to Mexico:
"The watchdogs at Judicial Watch discovered documents that reveal how the Obama administration's close coordination with the Mexican government entices Mexicans to hop over the fence and on to the American dole." Washington Times
The "zero tolerance" program was dismantled by Attorney General Erc Holder once it had successfully cut the transit of migrants by roughly 95 percent. Initially, officials made 140,000 arrests per year in the mid-2000s, but the northward flow dropped so much that officials only had to make 6,000 arrests in 2013, according to a
2014 letter
by two pro-migration Senators, Sen. Jeff Flake and John McCain.
"The cost of the Dream Act is far bigger than the Democrats or their media allies admit. Instead of covering 690,000 younger illegals now enrolled in former President Barack Obama's 2012 "DACA" amnesty, the Dream Act would legalize at least
3.3 million illegals
, according to a pro-immigration group, the Migration Policy Institute."
WIKILEAKS EXPOSES THE OBAMA CONSPIRACY TO FLOOD AMERICAN WITH DEM VOTING ILLEGALS
"The watchdogs at Judicial Watch discovered documents that reveal how the Obama administration's close coordination with the Mexican government entices Mexicans to hop over the fence and on to the American dole." Washington Times
Obama Funds the Mexican Fascist Party of LA RAZA "The Race"… now calling itself UNIDOus.
DURING OBAMA'S 8 YEAR BANKSTER REGIME, HE OPERATED LA RAZA (NOW CALLING ITSELF UNIDOus FROM THE WHITE HOUSE UNDER LA RAZA V.P. CECILIA MUNOZ. HE FUNDED THE MEX FASCIST PARTY WITH U.S. TAX DOLLARS.
BOTH OF OBAMA'S SECRETARY of (ILLEGAL) LABOR WERE LA RAZA SUPREMACIST. THESE WERE HILDA SOLIS AND TOM PEREZ.
The "zero tolerance" program was dismantled by Attorney General Erc Holder once it had successfully cut the transit of migrants by roughly 95 percent. Initially, officials made 140,000 arrests per year in the mid-2000s, but the northward flow dropped so much that officials only had to make 6,000 arrests in 2013, according to a
2014 letter
by two pro-migration Senators, Sen. Jeff Flake and John McCain.
Jose Angel Gutierrez, professor, University of Texas, Arlington and founder of La Raza Unida political party screams at rallies: "We have an aging white America. They are d ying. They are s hitting in their pants with fear! I love it! We have got to eliminate the g ringo, and what I mean by that is if the worst comes to the worst, we have got to k ill him!"
FIFTEEN THINGS YOU SHOULD KNOW ABOUT LA RAZA "THE RACE"

by Michelle Malkin
Only in America could critics of a group called "The Race" be labeled racists. Such is the triumph of left-wing identity chauvinists, whose aggressive activists and supine abettors have succeeded in redefining all opposition as "hate."
JUDICIAL WATCH
OBAMA HANDS TAX DOLLARS TO LA RAZA MEXICAN SUPREMACIST:
*
MICHAEL BARONE
"The Lawlessness of the Obama Administration: A never-ending story."
THE PSYCHOPATH WHO WOULD BE DICTATOR FUNDED BY HIS
CRIMINAL CRONY BANKSTERS AND REELECTED FOR A THIRD TERM BY
MEXICO
The "zero tolerance" program was dismantled by Attorney General Erc Holder once it had successfully cut the transit of migrants by roughly 95 percent. Initially, officials made 140,000 arrests per year in the mid-2000s, but the northward flow dropped so much that officials only had to make 6,000 arrests in 2013, according to a
2014 letter
by two pro-migration Senators, Sen. Jeff Flake and John McCain.
SOARING POVERTY AND DRUG ADDICTION UNDER OBAMA
"These figures present a scathing indictment of the social order that prevails in America, the world's wealthiest country, whose government proclaims itself to be the globe's leading democracy. They are just one manifestation of the human toll taken by the vast and all-pervasive inequality and mass poverty.
MEXICO: AMERICA'S DRUG DEALER!
OBAMA-CLINTONOMICS to serve the filthy rich
The same period has seen a massive growth of social inequality, with income and wealth concentrated at the very top of American society to an extent not seen since the 1920s.
"This study follows reports released over the past several months documenting rising mortality rates among US workers due to drug addiction and suicide, high rates of infant mortality, an overall leveling off of life expectancy, and a growing gap between the life expectancy of the bottom rung of income earners compared to those at the top."
THE LA RAZA PLAN: California's final surrender to fly the Mexican flag within 4 years.
NOT ANY MORE! MEXICO'S INVASION, OCCUPATION AND LOOTING AND HEROIN SALES IS NOW IN ALL 50 STATES!
"The American Southwest seems to be slowly
returning to the jurisdiction of Mexico
without firing a single shot." --
- EXCELSIOR --- national newspaper of
Mexico
The "zero tolerance" program was dismantled by Attorney General Erc Holder once it had successfully cut the transit of migrants by roughly 95 percent. Initially, officials made 140,000 arrests per year in the mid-2000s, but the northward flow dropped so much that officials only had to make 6,000 arrests in 2013, according to a
2014 letter
by two pro-migration Senators, Sen. Jeff Flake and John McCain.
THE UNIDIOSus MAP OF LA RAZA-OCCUPIED AMERICA
They claim all of North America for Mexico!
CA Dems Urge Jerry Brown to Remove National Guard from Border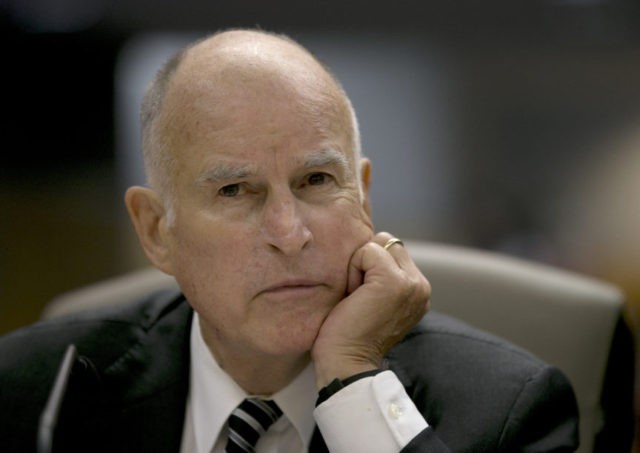 Thirty California Democrats are calling on Governor Jerry Brown to remove the state's 400 National Guard members from the U.S.-Mexico border because of President Donald Trump's "zero-tolerance" illegal immigration policy.
Brown deployed the Golden State's National Guard troops to the border in April so long as they did not participate in enforcing immigration laws or constructing a border wall. In a letter dated June 22 and released on Monday, state Senator Kevin de Leon and 29 other Democrats called on Brown to "reconsider providing material support to federal agencies executing" the Trump administration's "zero-tolerance" enforcement policy.
"While we appreciated the fact that your agreement to deploy California's National Guard was conditioned to be focused primarily on improving public safety and not enforcing immigration law, we can no longer tolerate using our state resources to support government agencies detaining young children involuntarily ripped from their parents, many of whom were seeking refuge in accordance with national and international laws," the letter reads. "Unless the Trump Administration abandons that unnecessary and cruel policy, we encourage you to rescind California's Memorandum and Understanding with Secretary Kirstjen Nielsen of the Department of Homeland Security and recall our National Guard's men and women from the border."
The California Democrats add that "in this dark chapter of American history, California should not play any part in the irreparable trauma being [inflicted] upon thousands of young vulnerable children."
"California must be clear and unequivocal in its opposition to such policies and should not be complicit in any manner in the indefinite incarceration of families and young children, particularly when less costly and more humane options exist," the lawmakers continue.
Though governors from states like New York and Massachusetts reversed their National Guard commitments last week, Brown, who said in a January statement that breaking up families at the border is "callous" and "very insensitive," did not follow suit and kept California's National Guard troops at the border.
California Gets 'F' Grade from 'Truth in Accounting'
The non-partisan "Truth in Accounting" project, which analyzes government financial reports, has awarded California an "F" grade for claiming surpluses instead of a $269.9 billion deficit.
Skyrocketing crime rate in California called 'good progress' after jails emptied
Cal 3: 'Three Californias' Referendum to Appear on November 2018 Ballot
"Cal 3," a proposal to split California into three states will likely appear on the November 2018 ballot after gathering far more than the minimum number of signatures required, organizers announced Tuesday.
Will Californians Prevail Against the Little Picture of Hell?
The one topic Democrats don't dare bring up in today's SoCal primary
It Pays to be Illegal in California
Look how the liberal drug culture has destroyed Eureka, California
"Particularly since the 2008 economic crisis,
the ruling class and its two parties have slashed
social spending while cutting taxes for
corporations and the rich."
More than 50,000 UC workers on strike
For a political movement of the entire working class against inequality and capitalism!
By David Moore
9 May 2018
Maybe if California and New York Cared as Much about the Middle Class as They Do About Illegal Alien…

Coming soon: Mass exodus from NY, CA due to high taxes
California's Rich May Leave to Avoid $12 Billion in SALT Tax Hit
President Donald Trump's new tax cut, which limiting state and local tax deductions, will cost rich Californians $12 billion more in federal taxes, with $9 billion coming from those making $1 million or more.
THE INVISIBLE CALIFORNIA
De facto apartheid world in the Golden State.
Is California Governor Jerry Brown Mentally Ill?

Laura Ingraham: 'California Is Almost Acting Like It's a Separate Country'
Zuckerberg's Investor Group Pushes for Pre-Election Amnesty
Silicon Valley investors, including Facebook owner Mark Zuckerberg, are joining the Koch network's push for a quick amnesty that would also keep the issue of cheap-labor immigration out of the November election.
California zipped past the United Kingdom to become the 5thlargest economy in the world in 2017.