What caused the destruction of the bankster-funded LA RAZA SUPREAMCY Democrat Party in America?
IMPOSE E-VERIFY AND YOU INSTANTLY CREATE MILLIONS MORE JOBS AND FORCE WAGES UP!
WE COULD END MEXICO'S INVASION IF WE PUT EMPLOYERS OF ILLEGALS IN JAIL
NumbersUSA's Rosemary Jenks:
E-Verify Ignored in DACA Negotiations Because 'Members of Congress Know It Will Work'
Members of Congress broadly oppose a legislative nationwide E-Verify mandate for employers because "they know it will work," said NumbersUSA's Rosemary Jenks, explaining why E-Verify is not being pushed in congressional negotiations for an amnesty deal for recipients of the Obama administration's Deferred Action for Childhood Arrivals (DACA). Jenks further noted that both parties are beholden to special interests supportive of "mass migration."
Exclusive–Mickey Kaus: 'Crucial Economic Fight' Is Stopping Amnesty to Secure Higher Wages for Americans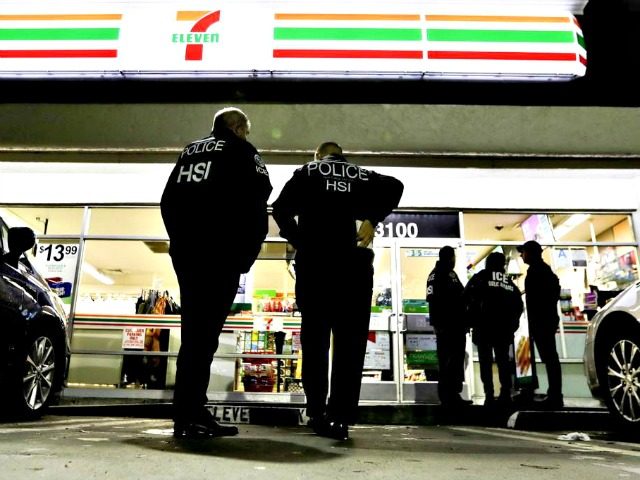 Author and immigration expert Mickey Kaus says an expansive amnesty for illegal aliens threatens Americans' wages first and foremost, as a flooded labor market keeps U.S. wages low and stagnant.
In an interview with SiriusXM's Breitbart News Sunday, Kaus told Deputy Political Editor Amanda House that staving off an amnesty for millions of illegal aliens — a plan the GOP House is considering — is "crucial" to securing higher wages for American workers, as President Trump's tightened labor market has done thus far.
Listen to Mickey Kaus' full interview here:
If the amnesty was just the 700,000 people that are in Obama's DACA program now, that are protected now, it would be limited. We know who they are, the impact would be contained. What [Congress] is talking about is everybody who might be eligible for Obama's program and even sort of into the future, people who age into it, and that's like 1.8 million [illegal aliens], but really it's going to be much more because of the potential for fraud. There's going to be millions and millions of people coming across the border and then claiming that they've been here all along and it's going to be a big mess. [Emphasis added]

We are finally getting to the stage of people who do basic work… maybe not college graduates, maybe college graduates who took majors that have no economic value, are starting to make some money because employers are desperate for workers. So we see Costco raising their wages and some fast food places are paying $17, $18 an hour. There are only a few [fast food chains raising wages], but if the market stays tight, there will be more of them. And that will be a huge shift in American culture that ordinary workers will be able to become middle class people again, or close to middle class, lower middle class at least. [Emphasis added]

Employers want to bring in cheap immigrants to stop this. They would rather not pay wages, so there's a huge lobbying campaign… that is the crucial economic fight going on now and that's the main affect of immigration. [Emphasis added]
A group of business first Republicans have signed onto the discharge petition to force a vote to bring an expansive amnesty plan for illegal aliens enrolled and eligible on the President Obama-created Deferred Action for Childhood Arrivals (DACA) program to the House floor.
The discharge petition could lead to the massive DREAM Act amnesty — which could give amnesty to a great portion of the 12 to 30 million illegal aliens in the U.S. — being passed out of the House and Senate with a veto-proof majority.
In an effort to stop the discharge petition amnesty, House Republicans are working on an immigration compromise bill. The legislation, as Breitbart News reported, would not immediately reduce legal immigration levels, at which more than 1.5 million immigrants enter the U.S. every year.
Mass immigration for decades has resulted in stagnant wages for American workers. In one example, as Breitbart News reported, construction wages in California were once upwards of $45 an hour. When illegal aliens and legal immigrants flooded the U.S. labor market over the past four decades, wages drastically dropped, with starting construction wages at anywhere between $10 to $11 an hour, a whistleblower revealed.
The big business-preferred cheap labor economic model of importing more than one million new legal immigrants every year to compete mostly for working and middle-class jobs against Americans has resulted in decades of stagnant and even decreased wages for U.S. workers:

For instance, the massive importation of low-skilled foreign nationals to the U.S. has translated to a cheap labor economy that has aided in keeping American men's wages stagnant for at least 44 years, as Breitbart News reported. Median earnings for American men working full-time were actually lower in 2016 than they were in 2007.
John Binder is a reporter for Breitbart News. Follow him on Twitter at @JxhnBinder.
CEO to Business Owners: Raise U.S. Wages to Bring Disenfranchised Americans Back into Workforce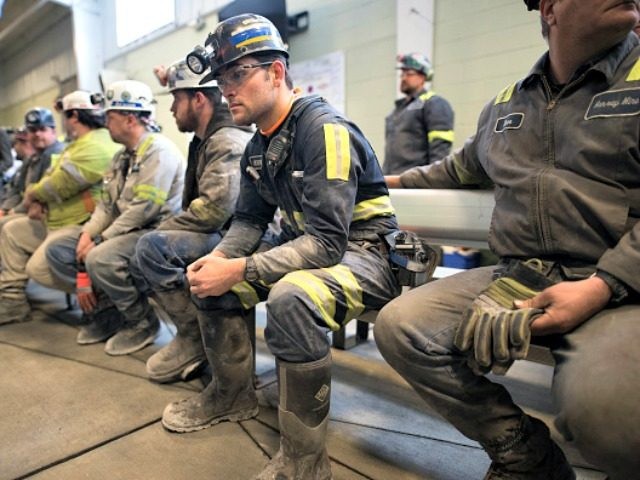 The chairman and CEO of a billion dollar financial planning company is urging American businesses to raise U.S. workers' wages to attract disenfranchised Americans back into the labor market.
Karen Firestone, the CEO of Aureus Asset Management, tells businesses in her column for CNBC that they should raise Americans' wages to integrate workers back into the workforce instead of demanding that more foreign workers be imported to take coveted white collar and blue collar jobs.
Therefore, I would conclude that the ubiquitous "Help Wanted" signs I see in multiple storefronts and restaurants, and articles about industries such as trucking, airlines, nursing, and IT will force employers, faced with labor shortages, to ultimately pay more. After the recession, millions of people who lost jobs became self-employed or under-employed – Uber drivers, personal trainers, dog walkers, home relocation experts, etc., and they were simply not in the data set.

Offer them enough, and many will come back to the labor force. Meanwhile, I've lost my dog walker. She's back working for a digital advertising company.
In President Trump's tightened labor market, sects of blue collar American workers have seen rising wages as immigration enforcement is ramped up. But, overall, wages have grown at a slow pace, indicating that the labor market could be further tightened to help more quickly raise U.S. wages.
While Firestone says businesses should be working to bring Americans back to the labor force, the majority of the big business, Wall Street, and financial industry has lobbied the Trump administration and Congress to import more foreign workers to compete against Americans.
Most recently, the U.S. Chamber of Commerce wrote in a letter to Trump and Congress that not only should illegal aliens be given amnesty, but the president's popular plan to reduce legal immigration to boost Americans' wages should be opposed and halted.
The tight labor market has also secured higher wages for overtime workers and high-paying, coveted white collar jobs for American teenagers. Most recently, Breitbart News reported how the construction industry has had to recruit women to take jobs at higher wages rather than hiring illegal aliens. A Chick-Fil-A in California even raised wages to $18 an hour to retain workers.
Labor data does not accurately explain the wage growth in pockets of blue-collar industries that Americans across the U.S. have experienced due to the Trump administration's stricter immigration enforcement. This is largely due to the fact that labor data does not break down wage growth by occupation and industry.
John Binder is a reporter for Breitbart News. Follow him on Twitter at @JxhnBinder.
JOE LEGAL
v LA RAZA
JOSE ILLEGAL
Here's how it breaks down; will make you want to be an illegal!
THE TAX-FREE MEXICAN UNDERGROUND ECONOMY IN LOS ANGELES COUNTY IS ESTIMATED TO BE IN EXCESS OF $2 BILLION YEARLY!
Staggering expensive "cheap" Mexican labor did not build this once great nation! Look what it has done to Mexico. It's all about keeping wages depressed and passing along the true cost of the invasion, their welfare, and crime tidal wave costs to the backs of the American people!