"Chairman of the DNC Keith Ellison was even spotted
wearing
a shirt stating, "I don't believe in borders" written in Spanish.
According to a new CBS news
poll
, 63 percent of Americans in competitive congressional districts think those crossing illegally should be immediately deported or arrested. This is undoubtedly contrary to the views expressed by the Democratic Party.
Their endgame is open borders, which has become evident over the last eight years. Don't for one second let them convince you otherwise."
Evan Berryhill Twitter @EvBerryhill.
Poll: Vast Majority of Democrats Do Not Want ICE Abolished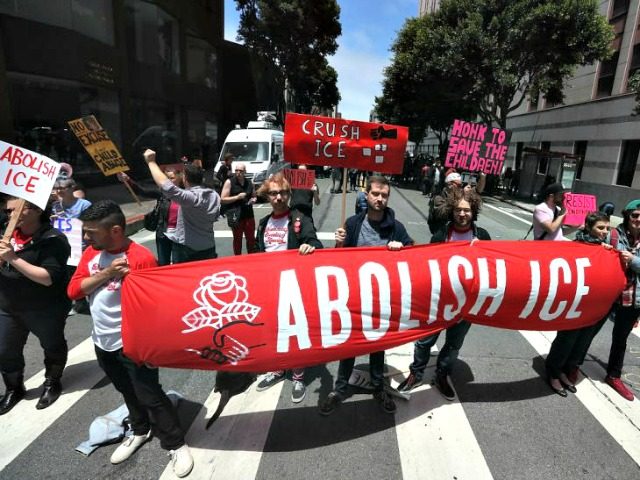 The vast majority of Democrat voters say they do not want to abolish the Immigration and Customs Enforcement (ICE) agency, which is tasked with deporting the 12 to 30 million illegal aliens currently living across the United States.
I
n recent weeks, Democrats in the House and Senate, along with progressive liberals like Cynthia Nixon in New York and most recently insurgent Democrat candidate for Congress, Alexandria Ocasio-Cortez, have been demanding ICE be abolished and all immigration enforcement be ended.
However, the latest Harvard/Harris Poll reveals that the overwhelming majority of Democrat voters say they do not want ICE abolished.
Nearly 60 percent of Democrats said they do not want ICE to be disbanded. Abolishing the deportation agency, as Breitbart News reported, would have allowed more than 1.6 million illegal aliens to have gone free throughout the U.S. in the last five years.
Additionally, swing voters are vastly opposed to abolishing ICE as well. Nearly 75 percent of swing voters said they supported ICE and did not want the agency to disband. About 78 percent of Republicans said the same, as well as nearly 70 percent of all Americans.
As Breitbart News reported, Democrats lost ground game in the 2018 midterm elections in battleground districts after weeks of opposing all immigration enforcement and promoting an agenda that ends all border enforcement.
Americans overwhelmingly support ending illegal immigration and reducing legal immigration levels, at which more than 1.5 million immigrants are admitted to the U.S. every year. The majority of swing voters say they oppose importing more foreign workers to compete against Americans for jobs. Meanwhile, nearly two out of three Americans say they support reducing legal immigration, and more Americans support zero immigrationto the U.S. than current legal immigration levels. More than four in nine in blackAmericans in swing districts across the country say immigration has made life "worse" in America.
John Binder is a reporter for Breitbart News. Follow him on Twitter at @JxhnBinder.
COUNTRY OVERBOARD! WOMEN AND CHILDREN LAST!
I
'm still ticked off at him for not building the wall, but THANK YOU, PRESIDENT TRUMP, FOR POINTING OUT THAT MAXINE WATERS HAS A LOW IQ!
And there's more great news! Contrary to every single New York Times editorial and opinion piece on the president's "Muslim ban," this week, the Supreme Court upheld the ban.
Or, as a Times op-ed titled "Trump's Immigration Ban Is Illegal" by David J. Bier, immigration policy analyst at the Cato Institute, put it back on Jan. 27, 2017: "[The] order is illegal. More than 50 years ago, Congress outlawed such discrimination against immigrants based on national origin."
For your immigration news, New York Times, maybe stop thinking you're getting "both sides" by going to open-borders activists at the International Refugee Assistance Project and, for the opposing view, open-borders activists at the Cato Institute.
Last week, in a column that does
not
misstate the facts and the law about immigration, I covered some typical asylum and refugee admissions to our country, including Beatrice Munyenyezi. She was the Rwandan who got into our country by claiming to be a victim of the genocide that killed nearly a million people, even though she had helped orchestrate it.
Munyenyezi wasn't the only participant in the Rwandan genocide who got in as a victim and was then unmasked as a perpetrator. So far, nearly 400 Rwandans granted special refugee status have been convicted of lying on visa applications about their role in the genocide. Great job, U.S. refugee admissions officials!
Courts are dealing with so many genocidal Rwandans who came to America as "refugees" that just last Friday, a federal appeals court upheld the conviction of another one, Gervais "Ken" Ngombwa, who not only lied about his participation in the genocide, but also about his family relationships. (You can't get
anything
past our State Department!)
Aside from our immigration authorities missing little things like the Rwandan genocide, what is the argument for taking in millions of people from backward cultures, hotbeds of
real
racism, pederasty, misogyny — as opposed to the "microaggressions" that are the bane of our culture?
It's one thing to use quotas as a response to slavery and Jim Crow in our own country, but why do we have to have an immigration quota for "people who don't live here, have never seen an indoor toilet, and rape little girls for sport?"
Liberals act as if they are striking a blow for feminism by importing desperate women from misogynistic cultures to America. But, even to the extent they're telling the truth, the women aren't always victims only. They're often co-conspirators.
Remember the Baby Hope case? In 1991, a little girl's unidentified body was found in an Igloo cooler alongside the Henry Hudson Parkway. Twenty-two years later, the New York City police finally solved the case: The perpetrator turned out to be Baby Hope's illegal alien cousin from Mexico, who had raped and killed her when she was 4 years old.
And how had he escaped justice for 22 years? The girl's mother and aunt, also illegals, helped orchestrate the cover-up. The aunt helped dispose of the body and the girl's mother never said a peep, despite admitting that she suspected all along that the corpse in the cooler was her unreported, missing daughter.
Hmong girls in Minnesota are regularly gang raped by Hmong men, but the Hmong community — even the girls' mothers — blame the rape victims, and the attacks go unreported. These aren't cultures of strong women and criminal men. It's more like criminal men and complicit women.
(One of the major articles reporting on the Hmong rape culture, helping diversify America, was Pam Louwagie and Dan Browning's "Shamed Into Silence," published in the Minneapolis Star Tribune in 2005. It used to be here: startribune.com/local/11594631.html. The detailed story won first place for 'in-depth reporting' from the Minnesota Society of Professional Journalists, but it seems to have disappeared from the Tribune's website. Welcome to the Soviet Union!)
In San Francisco, we had the young Indian sex slaves of pederast Lakireddy Bali Reddy
testifying on his behalf.
Once he was finally busted — not by our fantastic "democracy dies in darkness" mainstream media, but by a local high school newspaper — we found out his child rape victims thought they deserved it. They could not be coaxed to testify against him. Some took the stand on his behalf. They were all given asylum. We didn't change them; they just moved here, without altering their belief in human slavery or the caste system one iota.
Americans are told we have to understand that it's part of their native cultures.
Exactly! It's
their
culture. We're not rescuing anybody; we're bringing in diseased cultures. The alleged refugees don't float above and apart from their societies. Feminists may see the world as The Boy Team versus The Girl Team, but in reality, it's The Civilized Team versus The Primitive Team. Virtually every woman outside of the First World lives in an abusive society. We can't take them all in.
How did violent, backward, misogynistic cultures become our problem? Did we take a vote and agree to be the world's charity ward?
Democrats who claim to be defenders of the weak, the marginal and vulnerable are happy to toss our safe, functioning country aside — as long as they can wreck America (and get their housework done at the same time!). The left's central political philosophy is based on resentment toward historical America.
They're just like the feminists willing to forgive Bill Clinton for rape.
Well, you know, taking in the totality of his contributions …
Today, it's: Who cares what kind of society we become — provided America is no more.
Primitive people will not stop trying to come here until America is no different from Calcutta. Then, liberals' work will be done. And there will be no charity ward left for anyone to flee to.
That's
how much liberals care about women and children.
Ann Coulter is a syndicated columnist and lawyer.
The disintegration of California, a Mexican satellite welfare state of poverty, crime and high taxes
AMERICA vs MEXICO: CLASHING CULTURES
By Frosty Wooldridge
Mexicans cheat, distribute drugs, lie, forge documents, steal and kill as if it's a normal way of life. For them, it is. Mexico's civilization stands diametrically opposed to America's culture.
The legal age of sexual consent in Mexico is 12 years old. Sex with children at this age and younger is socially acceptable in Mexico. For example: A Mexican Lopez-Mendez pleaded guilty to sexual assault on a 10 year old girl in West Virginia.
MEX GIVES 7-YEAR-OLD CHILD HERPES AFTER REPEATEDLY RAPING HER
"The molestation was reported after the child was taken to a hospital for an outbreak of genital herpes early this month. When asked how she might have contracted the disease, the child claimed that Morales had molested her "a lot of times."
"The legal age of sexual consent in Mexico is 12 years old. Sex with children at this age and younger is socially acceptable in Mexico. For example: A Mexican Lopez-Mendez pleaded guilty to sexual assault on a 10-year-old-girl in West Virginia." FROSTY WOOLDRIGE
HOW "CHEAP" IS ALL THAT INVADING "CHEAP" LABOR?
Natalio Vitervo-Vasquez was deported twice but returned to provide "cheap" labor. He can't read or write and raped his 10-year-old daughter.
"Prosecutors say the girl, who was 11-years-old at the time, went to a medical center where it was determined she was pregnant. Officials say she would have conceived the child at ten years of age."
THE LA RAZA CRIME TIDAL WAVE
Unlicensed ILLEGAL Daycare Worker Accused of Breaking Child's Legs
Tells Cops: I'd 'Rather Be Deported than Go to Jail'
"The infant's legs were reportedly broken below the knees."
7-Year-Old Unaccompanied Migrant Found with Smuggler in Texas — 80 Miles from Border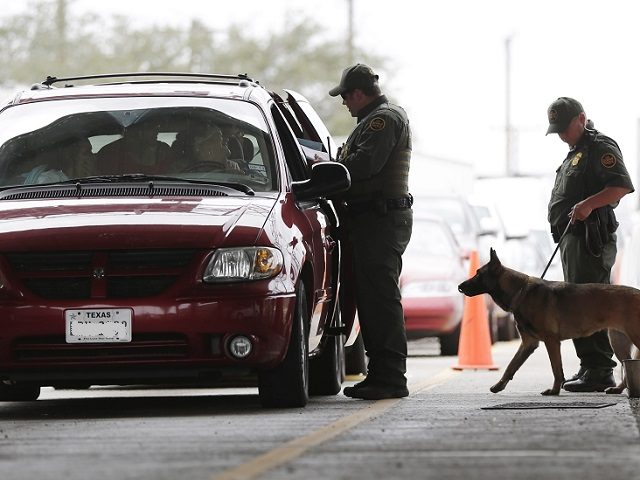 Border Patrol agents in South Texas found a 7-year-old unaccompanied minor in the custody of a human smuggler 80 miles north of the Texas-Mexico border.
Agents assigned to the Falfurrias Immigration Checkpoint in Brooks County, Texas, observed a 2013 Dodge Caravan approaching for inspection on June 23. Agents referred the driver, a female U.S. citizen, to the secondary inspection station, according to Rio Grande Valley Sector officials.
The woman presented documents claiming the two children inside her vehicle were her children. Further investigation revealed one of the children was not her own, officials stated. Instead, officials identified the child as an unaccompanied minor from Honduras. The minor was not related to the woman or to the child, officials stated.
"It is truly concerning when a child is encountered unaccompanied in the hands of a smuggler," Rio Grande Valley Sector Chief Patrol Agent Manuel Padilla, Jr. said in a written statement, "It is equally frustrating when a smuggler uses their juvenile child as an accessory to commit such a crime."
Agents arrested the woman for human smuggling.
Border Patrol agents frequently tell Breitbart Texas that they find people attempting to use unaccompanied minors as some form of shield against deportation when they are found near the border. In this case, the unaccompanied child is transported surreptitiously into the U.S. interior for unknown reasons by a non-related adult who is an American citizen.
"To find an unaccompanied illegal immigrant child with a non-related adult 80 miles inland is particularly disturbing," Brooks County Sheriff Benny Martinez told Breitbart Texas. "We also find unaccompanied minors being forced to march through very dangerous conditions through ranches to get around the summer heat."
Bob Price serves as associate editor and senior political news contributor for Breitbart Texas. He is a founding member of the Breitbart Texas team. Follow him on Twitter
@BobPriceBBTX
,
GAB
, and
Facebook
.
'Abolish ICE!' Alexandria Ocasio-Cortez Upsets Rep. Joe Crowley in New York Primary
http://www.breitbart.com/big-government/2018/06/26/abolish-ice-alexandria-ocasio-cortez-far-left-resistance-candidate-upsets-rep-joe-crowley-in-new-york-primary/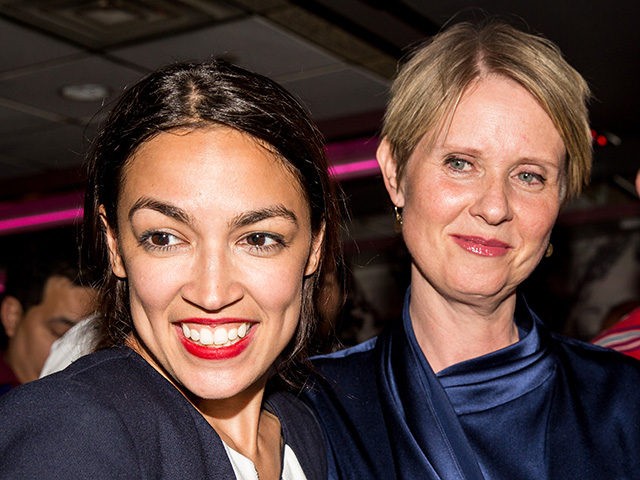 Alexandria Ocasio-Cortez, a 28-year-old, Bernie-Sanders-supporting political novice, has defeated incumbent Rep. Joe Crowley (D-NY) in the 14th congressional district in the New York primary.
With 88% of precincts reporting in the heavily-Democratic district that
spans
Queens and the Bronx, Ocasio-Cortez had crushed Crowley, 57.6% to 42.4%, a margin of nearly 3,600 votes.
CNN
notes
that Ocasio-Cortez is a self-described "democratic socialist."
Crowley, currently in his 10th term and the chair of the House Democratic Caucus — ranked 4th in the whole caucus — was considered a possible future candidate for Speaker of the House, and had not faced a primary challenge in 14 years.
He has now become the first major casualty of the so-called "Resistance" — the left-wing movement that emerged to oppose President Donald Trump but has also clashed with the Democratic Party establishment.
Politico
observes
that Ocasio-Cortez "challenged Crowley on ideological and racial grounds." She argued that the district needed a more left-wing representative, as well as someone who reflected the "majority-minority" demographic of the area, which has become increasingly Latino. (Or, as she prefers, "
Latinx
.")
Ocasio-Cortez ran on an explicit promise to abolish the federal Immigrations and Customs Enforcement (ICE) agency, as well as to nationalize health care.
In the last days before the primary, Ocasio-Cortez traveled to McAllen, Texas to join left-wing protests against President Trump's immigration policies. She organized a large volunteer contingent to canvass her district while she was away.
Ocasio-Cortez also appears to hold anti-Israel views, calling Israel's response to violent Hamas "protests" at the Gaza border a "massacre."
She also attacked Crowley for his alleged support for the transfer of the U.S. embassy in Israel from Tel Aviv to Jerusalem.
Ocasio-Cortez enjoyed the support of left-wing celebrities like
Susan Sarandon
, who hails from the area. Her campaign ads were sharp, innovative, and eye-catching. And she drew on widespread grassroots frustration with the Democratic Party establishment.
The left may have found a new standard-bearer — and Republicans may have found a new target.
President Trump celebrated her win over one of his loudest critics:
Trump also framed her win in terms of the overall 2018 contest:
Ocasio-Cortez will face Republican Anthony Pappas, an economics professor, in November.
FOR EVERY INVADER CAUGHT THERE ARE EIGHT THAT NEVER ARE!!!
12 Illegal Immigrants Found in Texas Border City Stash Houses in One Day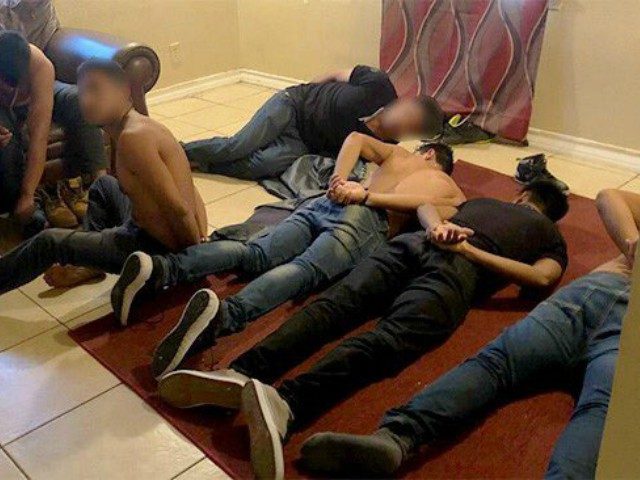 In the border city of Laredo, Texas, U.S. Border Patrol agents and Webb County Sheriff's Deputies teamed up to target stash house operations run by groups connected to factions of Los Zetas.
In one of the operations, Border Patrol agents and sheriff's deputies responded to a stash house on South Jarvis Avenue where they found 10 illegal immigrants, primarily males who recently crossed into Texas from Mexico, information released by U.S. Border Patrol revealed. South Jarvis is a few yards away from the banks of the Rio Grande in an area where the river has no fence or other types of physical barrier.
In a second raid, USBP agents working with Webb County Sheriff's Deputies responded to a home off McPherson Avenue where they found two women staying there after illegally crossing from Mexico.
In the same day as the two raids, USBP agents near Laredo saved four illegal immigrants lost in the brush and became ill from heat exposure and dehydration. Authorities responded to a 911 call by the same immigrants who grew desperate after trekking for days to circumvent a Border Patrol checkpoint. According to information released by the agency, the migrants got lost and spent days in 100-degree temperatures before they ran out of water and called for help. It is believed the four men from Mexico would have died if authorities did not render first aid.
Ildefonso Ortiz is an award-winning journalist with Breitbart Texas. He co-founded the Cartel Chronicles project with Brandon Darby and Stephen K. Bannon.

You can follow him on Twitter and on Facebook. He can be contacted at Iortiz@breitbart.com.
Brandon Darby is managing director and editor-in-chief of Breitbart Texas. He co-founded the Cartel Chronicles project with Ildefonso Ortiz and Stephen K. Bannon. Follow him on
Twitter
and
Facebook
. He can be contacted at
bdarby@breitbart.com
.
Feds Finally Take On Occupy ICE Portland
At dawn Thursday, federal forces took the first steps to secure and reopen the ICE HQ in Portland, Oregon. The facility had been shut down for 9 days as hundreds of radical "occupiers" set up a tent city camp and blocked access to the building, preventing its employees from conducting normal business. Initial reports made it appear that the government agents from the Federal Protective Service, dressed in riot gear, meant business.
After the dust settled, a mere eight people had been arrested, charged with minor misdemeanors, and immediately released to rejoin the hundreds of their comrades who remained in the tent city adjacent the building. The Feds promised not to disturb the occupiers' encampment, only to ensure that the front entrance to the building would be made accessible so normal business could resume next week. After accessing the local media coverage, studying Occupy ICE PDX'sTwitter feed and Web site, and reading the government's statements, I scored Thursday's opening round: Occupy ICE PDX 1, Feds Zero.
The events on Thursday in Portland are a case history in how law enforcement in many areas of this country has come to a complete standstill as radical activists not only run wild in the streets but exert a commanding influence on local and state government policy. Portland has declared itself a sanctuary city. This now appears to mean that the city will not cooperate with the Federal government on any law enforcement. The Feds seem absolutely cowed in the face of the well-organized street mobs and their legions of supporters at all levels of Portland's city government and among its über left population.
The ragtag collection of mostly unemployed counterculture kooks on the streets and sidewalks adjacent to the ICE facility advocate things that once seemed unthinkable. The demands include no borders, no prisons, shutting down ICE, total amnesty and immediate rights of full citizenship for any illegal alien who wants to come here. The radical occupiers issue these demands amidst a hail of obscenities and verbal attacks ("Nazi," "fascist," "racist," and numerous four-letter words). These invectives are communicated via social media, the use of which the radicals have mastered, and screamed directly in the faces of government employees when they are finally confronted.
Scene outside of Portland ICE HQ June 28, 2018 Source:
Twitter
Occupy ICE PDX's caption: "Federal cops firmly in control of the building. But dozens and dozens of tents remain on adjacent property. Bulk of camp."
A press release from "OccupyICEpdx camp" at 10 A.M. P.T. on June 28 included:
Folx [sic] on the grounds have been engaging in nonviolent protest, peacefully holding the space despite DHS and PPB [Portland Police Bureau] presence. We know that the world is watching, and we are holding strong. . .

We stand in solidarity with undocumented immigrants, who face violence from ICE and DHS every single day. We know that these white supremacist organizations would not hesitate to extend their violence. . .

1. The Portland Police Bureau must withdraw from the Joint Terrorism Task Force (JTTF)

2. The City of Portland must end all cooperation, monetary and otherwise, with the Department of Homeland Security

3. Portland must fund an Office of Immigrant Rights, and provide universal immigration legal defense

To the movement that is igniting across the country: be alert but be unafraid. We send our solidarity to camps and prisons everywhere. . .

And, remember what we are fighting for: the complete and final abolition of ICE.

¡Chinga la Migra! [Translation: F-ck U.S. Border Patrol] Abolish ICE! Abolish borders!
Graphic from
a tweet
by Occupy ICE PDX on June 28 as the group claimed victory
The mayor of Portland, a far left wing Democrat named Ted Wheeler, has totally taken the side of the anti-government radical street mobs. He has ordered Portland's police to leave the tent city housing radicals and hangers on alone. Still, the Occupy ICE PDX group was angry that Portland police were observed redirecting vehicle traffic as part of a detour to prevent accidents after the Feds temporarily closed the street in front of the ICE building Thursday morning. The mayor's office quickly tried for a mea culpa with this statement in the name of the vacationing mayor:
This morning, Federal Protective Service officers initiated an action to remove demonstrators from their property. Consistent with my direction, no Portland Police officers provided aid to federal police during this action.

Once on the site, Federal police blocked the roadway. Because motorists were suddenly unable to access the roadway, Portland Police officers arrived to assist motorists in identifying alternative routes around road closures.

I join those outraged by ICE actions separating parents from their children, and support peaceful protest to give voice to our collective moral conscience. The City of Portland does not enforce federal immigration law, and I have been clear that Portland Police will not be used to break up a nonviolent occupation on federal property of a federal agency that has its own police force.
An hour-by-hour account of what went down outside the ICE HQ at 4310 SW Macadam Avenue in Portland on Thursday is too depressing to detail here. Interested readers with their blood pressure under control can access some primary sources from June 28 including the Occupy ICE PDX Twitter account, local coverage by TV stations KOIN6 and KATU2, and published reporting byWilliamette Week and The Oregonian.
As noted in my previous article on the subject published early on June 28, Occupy ICE direct actions have now spread nationwide. Newly created Twitter accounts in different cities follow the same format, for example OccupyIceNYCrepresents the New York cell, while OccupyICEchi points to the direct actions in Chicago. These burgeoning social media platforms gain new followers by the hour as they spew the details to far flung comrades and potential new recruits. The online presentations are aided by a plethora of cell phone videos, manifestos, lists of demands, and clips of local respectful MSM TV news coverage that makes it all sound like a reboot of the 1960s Civil Rights movement.
Occupy ICE NYC spreads its message in Manhattan: At least they didn't use spray paint Source:
Twitter
What the current situation in these cities and nationally actually represents is the most dangerous potential threat to law and order since the Civil War. It's an insurrection in slow motion that is quickly gaining momentum and followers. While some observers may look back fondly to the 1960s for comparisons, the left wing counter cultural "revolution" then was more limited and constrained, with the Silent Majority still representing most Americans who wanted nothing to do with it. Governments – Federal, state, and local in the '60s – had not yet succumbed to the invasive seditious influences that now pervade much of American society including its popular culture and its most prominent institutions. It was a time when the concept of law and order was popular and won elections, as in Richard Nixon's defeat of Hubert H. Humphrey in 1968 following a year of chaos in the streets.
Hold onto your hats for the next round, scheduled to come to a city and town near you tomorrow, June 30. On the Saturday before the Fourth of July, as described in a fawning article titled "Everything to Know About the Nationwide Immigration Separation Protest" at The Cut at New York Magazine:
Organizers throughout the country will host "Families Belong Together" protests in response to the Trump administration's zero-tolerance immigration policy. . .

There are more than 628 protests planned in every state, as well as in international locations, on June 30. Altogether, hundreds of thousands of people are expected to demonstrate across the country.
Over 400 organizations are co-sponsoring the June 30

th

event. Here are a few of them:
ACLU, Centro de los Derechos del Migrante, Inc., Council on American-Islamic Relations, In Our Own Voice: National Black Women's Reproductive Justice Agenda, Latino Victory Foundation, LGBTQ Task Force, MoveOn.org, Muslim Advocates, Organizing for Action (a nonprofit 501(c)4 organization and community organizing project that advocates for the agenda of former U.S. President Barack Obama), Planned Parenthood Federation of America, Southern Poverty Law Center, US Campaign for Palestinian Rights, Voto Latino, Women's March (the organization that sponsored the worldwide protests against President Trump on January 21, 2017 that featured the plethora of pink Pussyhats), and YWCA USA.
Counter protests, anyone?