ENDORSED BY MEXICO, HISPANDERING HILLARIA CLINTON VOWS THAT MEXICO WILL ELECT ALLF FUTURE U.S. PRESIDENTS!
VIVA LA RAZA SUPREMACY?
(DO A SEARCH FOR THE CLINTON'S LONG HISTORY WITH THE MEXICAN FASCIST PARTY of LA RAZA "The Race" NOW CALLING ITSELF UNIDOSus.)
Losing America
Not too long ago we as a people could generally agree upon a certain set of core values. Today a smaller majority of the American people still believe in the US Constitution and many people are starting to lose focus on the things that really matter the most.
When did certain members of our society all of sudden become selective regarding the laws they wished to be enforced ?
When exactly did some US citizens lose their basic instinct for survival ?
Sadly, we now have a substantial force within the Democratic Party who currently advocate and even believe in wide open borders and illegal immigration. When did the acceptance of such a lawlessness become a norm ?
When did the people who actually make it a point to stand up for the rule of law and who believe in securing our borders suddenly become the enemy ? Can a sovereign nation without a secure border, without a common language, and soon without a common culture survive?
The Democratic Party's leadership not too long ago believed illegal immigration was wrong (video). Why have their minds now suddenly shifted ?
Has importing a new Democrat voter base into this nation become just too appealing an idea for them not to take advantage of?
A voter base which would be beholden to big government from cradle to grave. A voting bloc of people that would cast their votes depending upon what government could provide them.
Most rational citizens understand that unfettered and unchecked illegal immigration is a recipe for disaster. Yet huge factions of the new radical leftist Democrats currently believe illegal immigration is some kind of noble cause involving social justice. Many within the current party leadership have become all too willing to completely toss away the former US immigration melting pot model and happily replace it with a new "salad bowl" model.
Reality and history have proven to all of us that a nation simply we cannot safely absorb relentless waves of unassimilated immigration and expect to survive.
Illegal immigrants bring with them so many different languages and cultures, and many of them have no desire to assimilate or learn the English language. Diversity is not always necessarily a strength. Change is not always a positive thing. Illegal immigrants who refuse to assimilate and learn our language are placing a heavy burden upon us.
Illegal aliens who are willing to work for extremely low wages are helping to eliminate the US blue collar middle class.
These illegal aliens currently flooding the US labor force are driving down the wages of American workers. I am sick of hearing the line, "Americans are not willing to do those jobs." In reality Americans would be willing to do those jobs, but obviously not for slave wages.
Illegal immigration is placing an enormous financial burden upon our health care system. It has become common place for illegal aliens to use the emergency rooms of US hospitals as their personal doctors. This inevitably drives up the cost of healthcare for all of us.
A decade-and-a-half ago, a former liberal Democrat named Dick Lamm gave a prophetic five minute speech on how a nation like America could easily self-destruct. The former governor of Colorado was issuing a warning to all of us in the United States who were willing to listen. Lamm unveiled a chilling point by point hypothetical plan on how to destroy America through the immigration process.
Every citizen within this country should consider listening to this five minute audio clip and hear the chilling prophetic words of Lamm ring out so loud and true today.
A nation that makes allowances for illegal immigration, especially without any significant time for assimilation, eventually becomes a nation under invasion, something which then eventually results in colonization.
The rule of law becomes a moot point when corrupt agenda-driven politicians within the government get to pick and choose the laws they wish to be enforced. When this type of selective law enforcement is facilitated, our country becomes nothing more than a banana republic.
The many remaining law-abiding citizens, along with Republican politicians, need to start adamantly calling out the Democrats for their irrational supportive stance regarding illegal immigration. We all need to confront the radical Democrats head on. They are the party whose senior members have the audacity to lecture and virtue signal conservatives on how evil and uncaring we have all become. Constantly painting those of us on the right as the bad guys. Simply because we conservatives dare to hold our American sovereignty sacred and know our borders need to become more safe and secure. All the rational people within this country are demanding the immigration process be a legal and closely monitored one.
Immigration could be a winning issue for Republicans in November. But they need to hammer this issue home with courage and fortitude, not backing down for fear of being called a racist or xenophobe. If the Republicans expect to win in November, they need to highlight all the negatives of uninterrupted waves of illegal immigration. A non-stop flow of illegal immigration being shoved down our throats by the Democrats and their puppet media.
We conservatives all need to stand as one with President Trump and affirm his policies regarding immigration. Trump's immigration plan adheres to basic common sense. Trump is putting individual American citizen's lives above political correctness, and this is making us all safer.
Illegal immigration has become the catalyst for big changes in this country. Changes within a nation which inevitably become irreversible if we fail to act. Change for the sake of change is a most dangerous thing.
An America that ignores the problems that come attached to open borders and illegal immigration is doomed for destruction. A citizenry which no longer believes in the rule of law and which pays lip service to our US Constitution is no longer free. A people who are no longer willing to hold their leaders accountable in regard to enforcing the rule of law, eventually become enslaved within a tyranny.
OC Judge Fast-Tracks Huntington Beach Lawsuit Against 'Sanctuary State'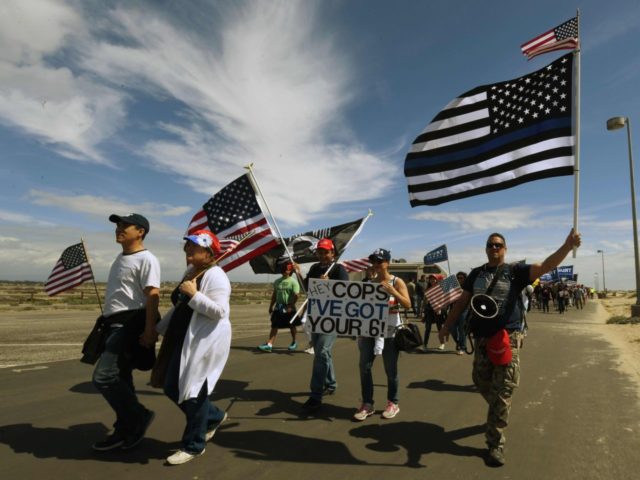 An Orange County Superior Court Judge decided July 19 to fast-track the City of Huntington Beach's lawsuit challenging one of California's "sanctuary state" laws, and set a date for a September 27 trial.
The Huntington Beach City Council voted April 2 to be the first California city to sue the state to overturn Senate Bill 54 (SB 54), titled the "California Values Act." Mayor Mike Posey and Councilman Erik Peterson that sponsored the closed session agenda item that passed on a 6 to 1 vote in closed session, called SB 54 "constitutional overreach." The council directed City Attorney Michael Gates to to invite other cities and counties to join the suit, according to the local Los Alamitos Patch.
Mayor Posey issued a press release the next morning that stated that unlike other cities that had passed ordinances and resolutions protesting the SB 54, Huntington Beach had independent authority as a "charter city" to file its own lawsuit to preserve local residents' right to protections under the California and U.S. Constitutions.
California Deputy Attorney General Jonathan Eisenberg filed an early July motion to halt Huntington Beach's lawsuit on the grounds it would be more efficient to delay the state court action until judgement was rendered in two similar federal lawsuits filed earlier this year.
A federal judge upheld SB 54 earlier this month, along with one other "sanctuary state" law, while blocking part of AB 450, a law that penalized California businesses for voluntary cooperation with federal immigration law enforcement.
The Los Angeles Times reported that at the July 19 trial setting hearing, Judge Crandall denied the State of California's request to delay trial, writing that the "two federal actions do not cover the same subject matter" as the Huntington Beach lawsuit.
City Attorney Gatesto said he was pleased with the ruling and believed "the court is interested in taking up the matter." Gatesto added that SB 54 improperly forbids certain types of general fund spending on law enforcement by municipalities.
The Federation for Immigration Reform argues that SB 54 effectively makes California a "sanctuary state" by legalizing and standardizing statewide non-cooperation policies between California law enforcement agencies and federal immigration authorities.
CRIMINALS WIN BIG IN CALIFORNIA SANCTUARY RULING
Bush appointee upholds protections for false-documented illegals.
U.S. District Court Judge John Mendez, an appointee of George W. Bush, ruled that the state could not prevent private employers from denying federal immigration authorities from worksites. Mendez found that AB 450 "which imposes monetary penalties on an employer solely because that employer voluntarily consents to federal immigration enforcement's entry into nonpublic areas of their place of business or access to their employment records impermissibly discriminates against those who choose to deal with the federal government."
On the other hand, Mendez upheld the law's requirement that companies inform workers within 72 hours of any federal request to examine employment records. So
in the style of Oakland mayor Libby Schaaf,
employers can still provide lookout services for false-documented illegals.
Mendez denied the federal request against SB 54, the state's sanctuary law. As author Kevin de Leon told reporters, "today, a federal judge made clear what I've known all along, that SB 54, the California Values Act is constitutional and does not conflict with federal law. California is under no obligation to assist Trump tear apart families. We cannot stop his mean-spirited immigration policies, but we don't have to help him, and we won't."
As Mendez ruled, "refusing to help is not the same as impeding." The federal judge also upheld AB 103, allowing the state attorney general to inspect detention facilities. Current attorney general Xavier Becerra, once on Hillary Clinton's short list as a running mate and
a key player in the Democrats' IT scandal
, proclaimed, "The Constitution gives the people of California, not the Trump Administration, the power to decide how we will provide for our public safety and general welfare."
Californians had a right to wonder about the "safety" part. In this 2-1 split decision the biggest winners are criminal illegals.
Senate Bill 54, the Bee report noted, "has eliminated much of the discretionary power that local law enforcement previously had to privately share information with federal immigration agents about people who have been arrested and put in county jails." So despite the protestations of hereditary, recurring governor Jerry Brown, California is protecting criminal illegals. With that in mind, legitimate citizens might look ahead to the November election.
Brown, a three-time presidential loser, recently signed off on a budget that spends tens of millions of dollars to help illegals fight efforts to deport them. This includes some $45 million in legal services steered to state colleges, and $10 million to help younger illegals, including "undocumented migrants." This outlandish spending is hardly the state's only way to privilege false-document illegals.
A 2015 law, "streamlines" the process of voter registration and kicks in when someone gets a driver's license at the DMV. As of March, 2018, more than one million illegals have received licenses. Secretary of state Alex Padilla touts "firewall" protections against ineligible voters. This is the same official who refused to cooperate with a federal probe of voter fraud, so legal residents and taxpayers have good reason to wonder what he is hiding.
Senate boss Kevin de Leon, author of SB 54, is on record that half his family would be eligible for deportation under Trump's executive order because they used false Social Security cards and other bogus identification. In his own case, as
Christopher Cadelago of the
Sacramento Bee
explains
, "The name on his birth certificate isn't Kevin de León."
On his birth certificate and voter rolls, "the 50-year-old politician is Kevin Alexander Leon," born on December 10, 1966 at California Hospital on South Hope Street in Los Angeles. The birth certificate "describes his father, Andres Leon, as a 40-year-old cook whose race was Chinese and whose birthplace was Guatemala. De León's mother, Carmen Osorio, was also born in Guatemala, the document states." As a child, "de León spent time on both sides of the border," but he "identifies strongly with Mexican culture."
Skyrocketing crime rate in California called 'good progress' after jails emptied
Here's a thought experiment: what happens if you release criminals, a lot of them, from jail?
If you asked a liberal in California, he would tell you these criminals were unjustly jailed in the first place (think racism on the part of liberal inner-city judges, juries, and prosecutors) and that these unjustly imprisoned would return to become productive parts of society.
Imagine their surprise to learn, then, that after reducing or eliminating sentences for certain property crimes, the rate of property crimes
has only increased
!
California voters' decision to reduce penalties for drug and property crimes in 2014 contributed to a jump in car burglaries, shoplifting and other theft, researchers reported.
Larcenies increased about 9% by 2016, or about 135 more thefts per 100,000 residents than if tougher penalties had remained, according to results of a study by the nonpartisan Public Policy Institute of California released Tuesday.
Thefts from motor vehicles accounted for about three-quarters of the increase. San Francisco alone recorded more than 30,000 auto burglaries last year, which authorities largely blamed on gangs.
Proposition 47 lowered criminal sentences for drug possession, theft, shoplifting, identity theft, receiving stolen property, writing bad checks and check forgery from felonies that can carry prison terms to misdemeanors that often bring minimal jail sentences.
Do you think liberals have learned anything from this? Think again:
California still has historically low crime rates despite recent changes in the criminal justice system aimed at reducing mass incarceration and increasing rehabilitation and treatment programs, said Lenore Anderson, the executive director of Californians for Safety and Justice and a leader in the drive to pass Proposition 47.
"This report shows we are making progress," she said in a statement calling for less spending on prisons and more on programs to help reduce the cycle of crime.
The ballot measure led to the lowest arrest rate in state history in 2015 as experts said police frequently ignored crimes that brought minimal punishment.
They say a conservative is a liberal who has been mugged. If that's true, then it must also be true in California that a liberal is a liberal who has had his car or home broken into. Indeed, people in San Francisco have had their cars broken into so frequently that they think this is the "new normal," and people talk laughingly to each other about how often their cars have been broken into, as if it's a subject of conversation as common as the doings of the local sports team.
Reality will never intrude on a liberal's ideology. An illegal alien could shoot a woman dead on Fisherman's Wharf, and liberals would still never see a problem with sanctuary cities. Homeless people can roam the streets like swarms of giant rats, leaving fetid excrement and bloody hypodermic needles in their wake, and people would accept it, because it is part of their ideology.
That's how they can call this abomination "progress."
Will Californians Prevail Against the Little Picture of Hell?
The state of California has descended into a modern-day version of Dante's Inferno, where treachery of all kinds occupies the bottom circle. Public sector unions are running (or rather ruining) the state into bankruptcy, betraying the public trust while charging the taxpayers for the perverse privilege. Republicans collude with the supermajority of Democrats to raise taxes, fees, and unrelenting regulatory burdens.
The public schools indoctrinate their young charges to hate this country and the rule of law. Illegal aliens continue overwhelming the state, draining California's already depleted public services while endangering our lives, the rule of law, and public safety for all citizens. The federal government has filed lawsuits against Sanctuary California, and ICE is rounding up illegals in their homes and in workplaces. However, demonic pro-illegal forces still parade in the streets and cross our borders, defying American sovereignty. Larger cities have more homeless than homes for citizens.
The natural disasters are hitting crisis level, too. The Bible depicts torturous flames with respite in hell without respite, (Luke 16: 24). So too parched conditions have engulfed California. Wildfires have become a year-round terror, yet the state's leadership refuses to prepare emergency water storage. This past week, two hundred firefighters had to quell another massive conflagration in south Orange County, and summer hasn't even begun yet. To make matters legislation to make the current drastic water rationing permanent!
Even wealthy coastal elites have found that the cost of living in California is slowly exceeding its value. Money can't create water, and financial gain provided nothing for West Los Angeles socialites when a few homeless transients set a blaze along the 405 Freeway overpass along the Santa Monica mountains.
All of this is a testimony to the damage wrought by progressive policies which have transformed California into a picture of hell. That's precisely what Evangelical preacher Franklin Graham called California … or at least that's what he called the sanctuary cities. During an interview on the

Todd Starnes Show,

Graham commented:
"People are leaving the state. The tax base is eroding. They are turning their once beautiful cities into sanctuary cities, which are just a little picture of Hell," Graham said. "Just go to San Francisco and go to this once-beautiful city and see what has happened to it."
But why did the son of the renowned Reverend Billy Graham take time to comment on the harrowing horrors of California? For his latest Gospel Crusade, he visited ten cities in the once-Golden State. Starting on May 20 in Escondido (one of several cities to challenge SB 54, aka the Sanctuary State law over the past three month), Graham is bringing the message of the Good News to the dispirited wasteland along the Left Coast.
Returning to Pastor Graham's signature statement from the Starnes interview, finally a pastor of stature and renown is condemning sanctuary city policies, and a welcome response from the all-too-quiet church leadership in California and across the country. Pastors should be the first to denounce this misnamed, misleading agenda. The concept of sanctuary comes from the Bible, better known as "cities of refuge" (cf. Numbers 35:11-28), locations reserved for those who had accidentally killed someone. To avoid retribution, they would flee to those cities.
In California, sanctuary policies bar local and state law enforcement from cooperating with federal immigration officials to arrest and deport illegal aliens. These cities are not safeguarding otherwise innocent people, but are protecting criminals who have broken into the United States and reside illegally to this day. Pundits left and right contend that these policies actually protect otherwise law-abiding residents to seek help and report crimes. Nothing could be further from the truth.
However, is it fair to tie the long list of hellish outcomes from these left-wing enclaves to their refusal to enforce federal immigration laws?
What has happened to sanctuary city San Francisco, for example? The progressivism that made God nothing and man's "ideas" everything created the s***-hole dystopia that resides there today. It's an overpriced progressive utopia, to put it charitably. For the vast-majority of residents, even for those who can afford it, a salary of $100,000 a year barely pays the rent. Roommates doubling up is the norm, especially among the Big Tech interns who take the bus to Silicon Valley to work all day on the latest app for the Google, Facebook, EBay overlords.
For the price they pay to live in the city, San Franciscans aren't getting their money's worth. Intravenous drug needles litter the streets everywhere. Homelessness is more common than homeownership. "S***hole" better describes the streets of the city, where the feces piles have so overwhelmed the streets, that visitors receive maps on how best to navigate away from the crap and corruption. Street fights among transients and the mentally ill have exploded, rampant moral decline has overshadowed the once great city. Tourists find enough to see, then flee.
Freedom of speech and freedom of religion have lost their place, even though Graham's latest crusades have succeeded in otherwise unfriendly territory, like Berkeley. Last year, the Patriot Prayer movement, headed by Joey Gibson, attempted to throw two rallies for freedom of speech and thought. The elected officials of San Francisco (including Nancy Pelosi) and the now-deceased mayor Ed Lee, smeared the peaceful program as a "White supremacy rally." Gibson is half Japanese, by the way.
Where Gibson had tried and failed, Graham's message of hope accomplished peaceful gatherings with a call to action to California's Christians. And I say it's about time. There have been flickers of hope in spite of the deranged left-wing agenda ravaging my home state. Californians in general, and Christians in particular, need to step up. They are called to be light in a dark, hellish world, but nothing good will happen if they don't vote for their values, then educate the public how to fight against the devilish lawlessness foisted upon us by our political leaders and the cultural elites running—or rather ruining—the state.
The one topic Democrats don't dare bring up in today's SoCal primary
The airwaves in Southern California are flooded with Democratic candidate ads, with most openly touting extremely loony far-left positions – promises of free health care for all, free college for all, beefed up public funding for Planned Parenthood, full gun control, pretty much the full Bernie Sanders plate of pie-in-the-sky goodies. Democrats, whether in the House, Senate, governor, or assembly races, are all openly offering all the free stuff on the far left's wish list, not holding back at all. Fiscal discipline isn't in fashion with this bunch. If I had to speculate, I'd say it's because at the time these platforms were formulated, Democrats were convinced that a blue wave was upon them. In a crowded field, and at primary time, where only the most committed voters show up, extremism seems to be the way to stand out and get ahead of the pack.
There's one topic among these offerings that isn't being touched – not even in one campaign ad:
As the sign says: "Caution."
We all know that Democrats favor open borders, given the potential for muscling mendicant votes in the state's poorest cities from their well oiled political machines.
Democrats favor DACA, DAPA for the parents, amnesty, state benefits for illegals – from driver's licenses to free health care – an end to deportations, and no border wall, let alone National Guardsmen at the borders. You can find vague admissions of these stances on candidates' websites, buried deep.
But somehow, this topic isn't one they want to bring up in the heat of the primaries, at least not in ads, where they have an overcrowded slate of candidates on the June ballot, and face the real prospect of seeing no Democrats making it to the slate in November.
Illegal immigration seems to be the electric third rail.
That says a lot about the sentiment of the voters in illegal alien-filled California, which houses one quarter of the nation's illegals. Nobody's brought up the Democratic plan for free health care for illegals, now wending its way through the California statehouse. Nobody's asked Gavin Newsom, the frontrunner for the Democratic nomination for governor, what he thinks of the state's inundation of illegals, and he's certainly said nothing to the broad public about it in his ads.
The costs of illegal immigration are being
carefully hidden
by Democrats.
Meanwhile, city after city and county after county in Southern California has joined the lawsuit against the state for its "sanctuary state" laws, which require them to house and feed illegals instead of turn them over to the feds for breaking the law. It's probably significant that increasingly blue
San Diego
and Orange Counties, the two areas Democrats have placed all their hopes and cash on for winning the House back, have joined this movement.
It all suggests that this topic is dry tinder among voters, the internal polls look bad for Democrats on their free everything for illegals, and the Democratic Party line is far more unpopular than anyone on the left is willing to admit.
President Trump should have a field day enacting his orderly immigration agenda, even in California, when crunch time comes at the November midterms.
It Pays to be Illegal in California
It certainly is a good time to be an illegal alien in California. Democratic State Sen. Ricardo Lara last week pitched a bill to permit illegal immigrants to serve on all state and local boards and commissions. This week, lawmakers unveiled a
$1 billion health care plan
that would include spending $250 million to extend health care coverage to all illegal alien adults.
"Currently, undocumented adults are explicitly and unjustly locked out of healthcare due to their immigration status. In a matter of weeks, California legislators will have a decisive opportunity to reverse that cruel and counterproductive fact," Assemblyman Joaquin Arambula said in Monday's
Sacramento Bee
.
His legislation,
Assembly Bill 2965
, would give as many as 114,000 uninsured illegal aliens access to Medi-Cal programs. A companion bill has been sponsored by State Sen. Richard Lara.
But that could just be a drop in the bucket. The Democrats' plan covers more than 100,000 illegal aliens with annual incomes bless than $25,000, however an estimated 1.3 million might be eligible based on their earnings.
In addition, it is estimated that 20 percent of those living in California illegally are uninsured – the $250 million covers just 11 percent.
So, will politicians soon be asking California taxpayers once again to dip into their pockets to pay for the remaining 9 percent?
Before they ask for more, Democrats have to win the approval of Gov. Jerry Brown, who cautioned against spending away the state's surplus when he
introduced
his $190 billion budget proposal in January.
Given Brown's openness to expanding Medi-Cal expansions in recent years, not to mention his proclivity for blindly supporting any measure benefitting lawbreaking immigrants, the latest fiscal irresponsibility may win approval.
And if he takes a pass, the two Democrats most likely to succeed Brown – Lt. Gov. Gavin Newsom and former Los Angeles Mayor Antonio Villaraigosa – favor
excessive social spending
and are actively courting illegal immigrant support.
THE ILLEGALS' AND THEIR CRIME TIDAL WAVE!
Heather Mac Donald of the Manhattan Institute has testified before a Congressional committee that in 2004, 95% of all outstanding warrants for murder in Los Angeles were for illegal aliens; in 2000, 23% of all Los Angeles County jail inmates were illegal aliens and that in 1995, 60% of Los Angeles's largest street gang, the 18th Street gang, were illegal aliens.