Election 2018: Open Border Socialist Delusions—and Reasons for Hope
The Democratic Party has become the new socialist party. What does that say for our nation's future?

House Majority Leader Kevin McCarthy

could not hold back his outrage at how self-destructive and left-wing the Democratic Party has become. Their rising stars seem more like falling meteors, or like the arrogant Icarus with wax wings rushing toward heights of glory. These younger, brainless socialists didn't learn much in high school, and they certainly never found out how the myth of Icarus ended. They haven't lived through the hard times and privations brought on by government mismanagement. A field trip to Venezuela would change their minds about the soul (and stomach) of man under socialism.
Yet this penchant of redistribution of wealth seems to afflict the young—and the rich, mostly because they want the levers of power. Some young idealists have all the money, and they don't plan on losing any of it. Another part of their grand, secular utopian fantasies rests on the erasure of borders and the promotion of a global, one-world government. Think of John Lennon's "Imagine", and the key verse that haunts the rest of the song:
Imagine there's no countries
It isn't hard to do
Nothing to kill or die for
And no religion too
Imagine all the people living life in peace
Ignoring the bad grammar, let's look at the bad political philosophy. Nations are not just God's idea, but they remain a good idea for individuals of common interests (language, culture, legacy) to assimilate and assign themselves within the grand scheme of things. Borders reduce conflict, just as good fences make good neighbors. Speaking of fences, Colombia has a big beautiful wall keeping out the starving Venezuelans. So does Mexico, Israel, and China. Sorry, sorry socialists: walls work.
The rearing head of the socialist left has no interest in these petty verities, however. They want one world, no borders, no wall, and sanctuary for all. Of course, they chant for these demands while safely nestled in their safe spaces. They have their doors, their walls, and their gated communities bought and paid for by their well-connected moms and dads. They don't worry about private security, since they have hired guards, too. Then they find out about the rest of us little people, the uneducated masses.
We don't know what's in our best interests, so all those rich, well-endowed socialists want to make the world a better place for us—and they will do it by force, even if it means a boot in our faces forever. Does this stark hypocrisy surprise you? Bernie Sanders owns three homes. Millennial Socialist superstar Alexandria Ocasio-Cortez grew up in uber-preppy Westchester County, New York then carpetbagged to the Bronx to take Joe Crowley's House Seat. Such is the socialist mindset. Men, women, and society will thrive where equality of results and diffusion of differences becomes the attainable goal—and that means open borders and "Abolish ICE!".
Of course, these anti-social dreams have wax wings, and they are waxing more precarious by the day. Social media has made it all too easy for the same despised masses young and old to behold what socialist policies do to a country. Open border policies have ruined Europe, and they have destroyed the European Union experiment. That's one piece of good news—the end of the border-wary European Union.
There's more good news despite this open borders-mass migration upheaval, but let's dispense with the bad news first.
In California, voters will have the choice between wannabe leftist fossil Democratic incumbent Dianne Feinstein (who couldn't get a water bill passed in Congress), and the uber-leftist state senator Kevin De Leon for United States Senate. The California Democratic Party has embraced every left-wing, open-border, pro-illegal platform imaginable, including the abolition of ICE. And they endorsed De Leon instead of the incumbent: unusual, unprecedented, and unsettling. California has served as a vanguard for left-wing lunacy, in large part because of the massive university systems indoctrinating professional graduates, but also the unimpeded influx of illegal aliens: call it the "porous border to graduate school pipeline." This is America's future if we don't take a stand.
In Tennessee, the state legislature

banned sanctuary cities, which includes state requirements for local jurisdictions to work with ICE. This reform became law without the governor's signature. It's a red state, though, so that victory is kind of expected.
In long-time blue state Oregon, concerned citizens collected enough signatures for a statewide initiative

to repeal their Sanctuary State law

. In spite of the determined left-wing tilt of the state (Oregon hasn't elected a Republican governor in over three decades), residents are fed up with the illegal immigration lawlessness. They repealed drivers licenses for illegal aliens by initiative in 2014. They will strike down sanctuary state this year, too.
In Massachusetts, another uber-liberal Commonwealth (or Commie-wealth according to outraged critics), the state legislature passed the annual budget, minus a key talking point among the ravaging left-wing activist base:

no sanctuary state provisions

. Governor Charlie Baker may have torn down the wall between men and women when it comes to accommodating gender dysphoria, but the lively primary challenge on his right for re-election has forced him to see right on immigration. No sanctuary for illegal aliens in Massachusetts—at least for the time being. This is huge, especially considering that Democrats have a supermajority in Beacon Hill and could have easily overridden a veto.
Even in California, there's hope. Don Rosenberg, a parent whose son was killed by an illegal alien, is sponsoring another initiative to repeal the sanctuary state law passed by Kevin De Leon, and also repeal drivers licenses for illegal aliens, end the automatic voter-motor law (which has enabled illegals to vote!), and compel cities to comply with ICE detainers.
Even though open border socialist lunacy has become the rage, it's facing a steady defeat across the country. The Democrats are going hard left but will endure devastating losses on Election Day.
STARING IN THE FACE of AMERICA'S UNRAVELING and the ROAD TO REVOLUTION
"It will more likely come on the heels of economic dislocation and dwindling wealth to redistribute."
"The kind of people needed for violent change these days are living in off-the-grid
rural compounds, or the "gangster paradise" where the businesses of drugs, guns, and prostitution are much more lucrative than "transforming" America along Cuban lines."
BRUCE THORNTON
There can be no resolution to any social problem confronting the population in the United States and internationally outside of a frontal assault on the wealth of the financial elite.
The political system is controlled by this social layer, which uses a portion of its economic plunder to bribe politicians and government officials, whether Democratic or Republican.
Losing America
Not too long ago we as a people could generally agree upon a certain set of core values. Today a smaller majority of the American people still believe in the US Constitution and many people are starting to lose focus on the things that really matter the most.
When did certain members of our society all of sudden become selective regarding the laws they wished to be enforced ?
When exactly did some US citizens lose their basic instinct for survival ?
Sadly, we now have a substantial force within the Democratic Party who currently advocate and even believe in wide open borders and illegal immigration. When did the acceptance of such a lawlessness become a norm ?
When did the people who actually make it a point to stand up for the rule of law and who believe in securing our borders suddenly become the enemy ? Can a sovereign nation without a secure border, without a common language, and soon without a common culture survive?
The Democratic Party's leadership not too long ago believed illegal immigration was wrong (video). Why have their minds now suddenly shifted ?
Has importing a new Democrat voter base into this nation become just too appealing an idea for them not to take advantage of?
A voter base which would be beholden to big government from cradle to grave. A voting bloc of people that would cast their votes depending upon what government could provide them.
Most rational citizens understand that unfettered and unchecked illegal immigration is a recipe for disaster. Yet huge factions of the new radical leftist Democrats currently believe illegal immigration is some kind of noble cause involving social justice. Many within the current party leadership have become all too willing to completely toss away the former US immigration melting pot model and happily replace it with a new "salad bowl" model.
Reality and history have proven to all of us that a nation simply we cannot safely absorb relentless waves of unassimilated immigration and expect to survive.
Illegal immigrants bring with them so many different languages and cultures, and many of them have no desire to assimilate or learn the English language. Diversity is not always necessarily a strength. Change is not always a positive thing. Illegal immigrants who refuse to assimilate and learn our language are placing a heavy burden upon us.
Illegal aliens who are willing to work for extremely low wages are helping to eliminate the US blue collar middle class.
These illegal aliens currently flooding the US labor force are driving down the wages of American workers. I am sick of hearing the line, "Americans are not willing to do those jobs." In reality Americans would be willing to do those jobs, but obviously not for slave wages.
Illegal immigration is placing an enormous financial burden upon our health care system. It has become common place for illegal aliens to use the emergency rooms of US hospitals as their personal doctors. This inevitably drives up the cost of healthcare for all of us.
A decade-and-a-half ago, a former liberal Democrat named Dick Lamm gave a prophetic five minute speech on how a nation like America could easily self-destruct. The former governor of Colorado was issuing a warning to all of us in the United States who were willing to listen. Lamm unveiled a chilling point by point hypothetical plan on how to destroy America through the immigration process.
Every citizen within this country should consider listening to this five minute audio clip and hear the chilling prophetic words of Lamm ring out so loud and true today.
A nation that makes allowances for illegal immigration, especially without any significant time for assimilation, eventually becomes a nation under invasion, something which then eventually results in colonization.
The rule of law becomes a moot point when corrupt agenda-driven politicians within the government get to pick and choose the laws they wish to be enforced. When this type of selective law enforcement is facilitated, our country becomes nothing more than a banana republic.
The many remaining law-abiding citizens, along with Republican politicians, need to start adamantly calling out the Democrats for their irrational supportive stance regarding illegal immigration. We all need to confront the radical Democrats head on. They are the party whose senior members have the audacity to lecture and virtue signal conservatives on how evil and uncaring we have all become. Constantly painting those of us on the right as the bad guys. Simply because we conservatives dare to hold our American sovereignty sacred and know our borders need to become more safe and secure. All the rational people within this country are demanding the immigration process be a legal and closely monitored one.
Immigration could be a winning issue for Republicans in November. But they need to hammer this issue home with courage and fortitude, not backing down for fear of being called a racist or xenophobe. If the Republicans expect to win in November, they need to highlight all the negatives of uninterrupted waves of illegal immigration. A non-stop flow of illegal immigration being shoved down our throats by the Democrats and their puppet media.
We conservatives all need to stand as one with President Trump and affirm his policies regarding immigration. Trump's immigration plan adheres to basic common sense. Trump is putting individual American citizen's lives above political correctness, and this is making us all safer.
Illegal immigration has become the catalyst for big changes in this country. Changes within a nation which inevitably become irreversible if we fail to act. Change for the sake of change is a most dangerous thing.
An America that ignores the problems that come attached to open borders and illegal immigration is doomed for destruction. A citizenry which no longer believes in the rule of law and which pays lip service to our US Constitution is no longer free. A people who are no longer willing to hold their leaders accountable in regard to enforcing the rule of law, eventually become enslaved within a tyranny.
Why Do We Need More People In This Country, Anyway?
By Michael Anton
The Washington Post, June 21, 2018
No matter, because the Democrats are no longer the party of labor. Back when they were — in the prelapsarian Clinton years — they sought tight labor markets precisely for their efficacy in boosting lower-end wages. But today's Democrats are the party of high class, high tech and high capital.
This glamour coalition is not big enough by itself to win elections. So the left has hoodwinked some (but, as the 2016 election shows, by no means all) low-income voters into thinking that their interests align with those of Wall Street and Silicon Valley oligarchs.
https://www.washingtonpost.com/amphtml/opinions/why-do-we-need-more-people-in-this-country-anyway/2018/06/21/4ee8b620-7565-11e8-9780-b1dd6a09b549_story.html
2020: Hillary Backed Illegal Border Crossers, Slammed Trump at NY Music Festival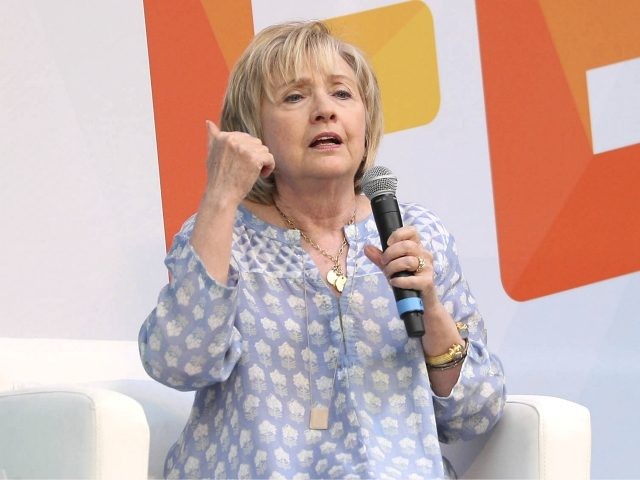 NEW YORK (AP) — Hillary Clinton is offering a helping hand to immigrants looking to reunite with their families: She says she'll help organize transportation they might not be able to afford.
"I'm going to be tweeting about this in the days to come, but if any of you work for an airline please direct message me because these families will need vouchers and discounted tickets to be reunited over these thousands of miles," she told a crowd cheering her Saturday in Central Park when she took the stage as part of a star-studded summer festival of conversation, music and food.
Immigrants separated from their children after crossing the U.S. border illegally was only one topic addressed by the former Democratic presidential candidate, secretary of state and U.S. senator from New York as part of the OZY Fest in the park's Rumsey Playfield.
She was interviewed by Laurene Powell Jobs, founder of the Emerson Collective, a nonprofit advocate of liberal causes that led the event.
Clinton also took on this week's burning topic: Republican President Donald Trump's encounter with Russian President Vladimir Putin in Helsinki, amid special counsel Robert Mueller's warning that Russian intelligence services have active "interference operations" in U.S. politics.
"It's really distressing and alarming," Clinton said. "It should concern every American of any political party because this was a direct attack on our democracy."
Clinton, who lost to Trump in the 2016 election, said "It's fair to say it was a broad and unfortunately successful attack on our electoral system."
She said the United States has four main adversaries: Russia, China, North Korea and Iran.
"If anyone gets away with the attack Russia did, it empowers them all to keep probing."
As for the Helsinki meeting, "now we have Putin telling the world what was decided," she said, while "we're hearing crickets from the White House; nothing has been put out that contradicts or replaces Putin's agenda."
Clinton described the Russian leader as a "very aggressive guy," and said she believes he "wants to dominate his neighborhood again."
"In this case it seems like our president doesn't care," she said. "He wants to be friends with Putin for reasons we aren't sure of."
Clinton concluded: "We are still very vulnerable."
Other announced guests at the festival included comedians Michelle Wolf and Hasan Minhaj; the band Passion Pit; rapper Common; authors Malcolm Gladwell and Salman Rushdie.
What caused the destruction of the bankster-funded LA RAZA SUPREAMCY Democrat Party in America?
Kevin De Léon is the LA RAZA "The Race" FASCIST SUPREMACIST for U.S. Senate.
De Léon holds far-left views on immigration, gun control, and other issues. Last year, he
admitted
that half of his family was in the country illegally. Earlier this year, he
appointed
an illegal alien to a statewide office. He is also the author of SB 54, one of the three surviving "sanctuary state" laws that the Trump administration challenged earlier this year.
Who ultimately really pays for all the true cost of all that "cheap" labor?
THE DEVASTATING COST OF MEXICO'S WELFARE STATE IN AMERICA'S OPEN BORDERS
"The Democrats had abandoned their working-class base to chase what they pretended was a racial group when what they were actually chasing was the momentum of unlimited migration". DANIEL GREENFIELD / FRONT PAGE MAGAZINE
THE DEMOCRAT PARTY'S WAR ON AMERICA'S LEGAL WORKERS, BORDERS AND LAWS as they build the LA RAZA welfare state on our backs.
One in every
eleven persons
born in Mexico has gone to the U.S. The National Review reported that
in 2014
$1.87 billion was spent on incarcerating illegal immigrant criminals….Now add hundreds of billions for welfare and remittances!
MICHAEL BARGO, Jr…… for the AMERICAN THINKER.COM
"Chairman of the DNC Keith Ellison was even spotted
wearing
a shirt stating, "I don't believe in borders" written in Spanish.
According to a new CBS news
poll
, 63 percent of Americans in competitive congressional districts think those crossing illegally should be immediately deported or arrested. This is undoubtedly contrary to the views expressed by the Democratic Party.
Their endgame is open borders, which has become evident over the last eight years. Don't for one second let them convince you otherwise."
Evan Berryhill Twitter @EvBerryhill.
THE INVITED INVADING HORDES: IT'S ALL ABOUT KEEPING WAGES DEPRESSED!
"In the decade following the financial crisis of 2007-2008, the capitalist class has delivered powerful blows to the social position of the working class. As a result, the working class in the US, the world's "richest country," faces levels of economic hardship not seen since the 1930s."
"Inequality has reached unprecedented levels: the wealth of America's three richest people now equals the net worth of the poorest half of the US population."
THE NEXT MEXICAN INVASION IS AT HAND:
"Mexican president candidate Andrés Manuel López Obrador called for mass immigration to the United States, declaring it a "human right". We will defend all the (Mexican) invaders in the American," Obrador said, adding that immigrants "must leave their towns and find a life, job, welfare, and free medical in the United States."
"Fox's Tucker Carlson noted Thursday that Obrador has previously proposed granting AMNESTY TO MEXICAN DRUG CARTELS. "America is now Mexico's social safety net, and that's a very good deal for the Mexican ruling class," Carlson added."
"Many Americans forget is that our country is located against a socialist failed state that is promising to descend even further into chaos – not California, the other one. And the Mexicans, having reached the bottom of the hole they have dug for themselves, just chose to keep digging by electing a new leftist presidente who wants to surrender to the cartels and who thinks that Mexicans have some sort of "human right" to sneak into the U.S. and demographically reconquer it." KURT SCHLICHTER
Understanding LA RAZA / UNIDOSus: The U.S. tax dollar funded Mexican fascist party which is the fastest growing political party in America
Only in America could critics of a group called "The Race" be labeled racists. Such is the triumph of left-wing identity chauvinists, whose aggressive activists and supine abettors have succeeded in redefining all opposition as "hate."
Previous generations of immigrants did not believe they were racially superior to Americans. That is the view of
La Raza Cosmica
, by Jose Vasconcelos, Mexico's former education minister and a presidential candidate. According to this book, republished in 1979 by the Department of Chicano Studies at Cal State LA, students of Scandinavian, Dutch and English background are dullards, blacks are ugly and inferior, and those "Mongols" with the slanted eyes lack enterprise. The superior new "cosmic" race of Spaniards and Indians is replacing them, and all Yankee "Anglos." LLOYD BILLINGSLEY/ FRONTPAGE mag
PAUL KRUGMAN
The disintegration of California, a Mexican satellite welfare state of poverty, crime and high taxes
"Chairman of the DNC Keith Ellison was even spotted
wearing
a shirt stating, "I don't believe in borders" written in Spanish.
According to a new CBS news
poll
, 63 percent of Americans in competitive congressional districts think those crossing illegally should be immediately deported or arrested. This is undoubtedly contrary to the views expressed by the Democratic Party.
Their endgame is open borders, which has become evident over the last eight years. Don't for one second let them convince you otherwise."
Evan Berryhill Twitter @EvBerryhill.
Charlie Daniels:
We Need a Wall – But That's Just the Beginning
"I believe that if Hillary had been elected she would have found a way to give amnesty and eventually citizenship to all the millions of Hispanics who are now here illegally and would have, in theory, have opened the border so that more and more could cross and be eligible to vote, until an undefeatable voting block would have been created, putting a more and more progressive electorate into power." CHARLIE DANIELS
"If the Constitution did not forbid cruel and unusual punishment, the sentence I
would like to see imposed would place both Bill and Hillary Clinton in the same 8-by-12 cell." ROBERT ARVAY – AMERICAN THINKER com
MEXICO'S BIGGEST EXPORT TO AMERICA… POVERTY, CRIMINALS, ANCHOR BABY BREEDERS FOR WELFARE and HEROIN
CHRISTIAN SCIENCE MONITOR
"Mexico prefers to export its poor, not uplift them."
"
The following is a partial list of politicians that are La Raza members working for open borders, amnesty (illegal Mexicans are not interested in citizenship) and no wall. The ultimate goal of Mexico is to continue successfully using the United States as their welfare system, cut a deal whereby the illegals can hop the border, give birth, pillage, make their pesos and then return home.
"
DAVID SIROTA.com
CHRISTIAN SCIENCE MONITOR
What will America stand for in 2050?
The US should think long and hard about the high number of Latino immigrants.
It's not just a short-run issue of immigrants competing with citizens for jobs as unemployment approaches 10 percent or the number of uninsured straining the quality of healthcare. Heavy immigration from Latin America threatens our cohesiveness as a nation.
The political realities of the rapidly growing Latino population are such that Mr. Obama may be the last president who can avert the permanent, vast underclass implied by the current Census Bureau projection for 2050.

CHRISTIAN SCIENCE MONITOR
What will America stand for in 2050?
The US should think long and hard about the high number of Latino immigrants.
It's not just a short-run issue of immigrants competing with citizens for jobs as unemployment approaches 10 percent or the number of uninsured straining the quality of healthcare. Heavy immigration from Latin America threatens our cohesiveness as a nation.
The political realities of the rapidly growing Latino population are such that Mr. Obama may be the last president who can avert the permanent, vast underclass implied by the current Census Bureau projection for 2050.
Billionaire Mexicans tell their poor to JUMP U.S. OPEN BORDERS and LOOT THE STUPID GRINGO… and loot they do!
Billions of dollars are sucked out of America from Mexico's looting!
BUT OBAMA AND HIS LA RAZA SUPREMACY DEMS ONLY OPENED THE FLOODGATES WIDER, SABOTAGED HOMELAND SECURITY, OUR LAWS AND VOTING TO KEEP THE INVASION COMING!
Adios, Sanctuary La Raza Welfare State of California
A fifth-generation Californian laments his state's ongoing economic collapse.
By Steve Baldwin
American Spectator, October 19, 2017
What's clear is that the producers are leaving the state and the takers are coming in. Many of the takers are illegal aliens, now estimated to number over 2.6 million.

The Federation for American Immigration Reform estimates that California spends $22 billion on government services for illegal aliens, including welfare, education, Medicaid, and criminal justice system costs.
IN HER FIRST RUN FOR THE PRESIDENCY, HISPANDERING HILLARY CLINTON PROMISED LA RAZA FASCIST and MEMBER OF THE MEX SEPARATIST MOVEMENT OF M.E.Ch.A. A CABINET POST IF HE DELIVERED THE ILLEGALS' VOTES IN MEX-OCCUPIED LOS ANGELES. HE PROMISED!
LA RAZA FASCIST XAVIER BECERRA removes from CA Attorney General's website TEN MOST WANTED CRIMINALS IN CA…. because they were all MEXICANS!
HALF THE MURDERS IN MEX-OCCUPIED CA ARE NOW BY MEX GANGS.


93% OF THE MURDERS IN MEXICO'S SECOND LARGEST CITY of LOS ANGELES ARE BY MEXICANS!
Heather Mac Donald of the Manhattan Institute has testified before a Congressional committee that in 2004, 95% of all outstanding warrants for murder in Los Angeles were for illegal aliens; in 2000, 23% of all Los Angeles County jail inmates were illegal aliens and that in 1995, 60% of Los Angeles's largest street gang, the 18th Street gang, were illegal aliens.
CALIFORNIA'S LA RAZA SUPREMACIST FASCIST ATTORNEY GENERAL XAVIER BECERRA…. A LONG HISTORY OF SERVING THE INVADING MEXICANS!


California's La Raza Supremacist Attorney General Xavier Becerra mocks Trump's wall in a state where half the murders are by fellow Mexicans and the La Raza Heroin cartels walk over and under the open border!
BECERRA AGAIN GIVES THE MIDDLE FINGER TO LEGALS!
The laws don't apply to Mexicans in Mexifornia!


LA RAZA FASCIST A.G. of MEXIFORNIA TELLS MEXICANS "DON'T BE COUNTED IN CENSUS! WE DON'T WANT THE STUPID GRINGOS TO KNOW HOW GREAT THE OCCUPATION IS!"


California Attorney General Xavier Becerra and Former Los Angeles Mayor Antonio Villaraigosa….. Members of the racist, violent, fascist M.E.Ch.A. separatist movement.
"Many wonder why Xavier Becerra was chosen by Brown. But all anyone has to do is peek into the radical California Legislature, and fanatical Gov. Jerry Brown, to see the trend of militant Marxist, Socialist, Jesuit, Liberation Theology, Latino activism on the increase."
"If the racist "Sensenbrenner Legislation" passes the US Senate, there is no doubt that a massive civil disobedience movement will emerge. Eventually labor union power can merge with the immigrant civil rights and "Immigrant Sanctuary" movements to enable us to either form a new political party or to do heavy duty reforming of the existing Democratic Party. The next and final
steps would follow and that is to elect our own governors of all the
states within Aztlan."
U.S. Election Meddling: Nationwide Voter Fraud, Importation of 15M Foreign-Born Voters
Shelby Lum, Richmond Times-Dispatch via The Associated Press
19 Jul 2018
Washington, D.C.
As the establishment media, GOP, and Democrats fret over the influence foreign countries have on U.S. elections, the leading threats to the American electorate remain nationwide voter fraud and mass immigration.
·
Immigrants, particularly Hispanics and Asians, have policy preferences when it comes to the size and scope of government that are more closely aligned with progressives than with conservatives. As a result, survey data show a two-to-one party identification with Democrats over Republicans.
·
By increasing income inequality and adding to the low-income population (e.g. immigrants and their minor children account for one-fourth of those in poverty and one-third of the uninsured) immigration likely makes all voters more supportive of redistributive policies championed by Democrats to support disadvantaged populations.
·
There is evidence that immigration may cause more Republican-oriented voters to move away from areas of high immigrant settlement leaving behind a more lopsided Democrat majority.