ICE 'VOICE' Office Aids Victims of Criminal Illegal Alien Assaults, Murders, Domestic Violence
Criminal illegal aliens who have assaulted and even killed American citizens are now facing certain deportation and their victims are getting help, thanks to President Donald Trump's 2017 Executive Order to increase public safety inside the United States.
"The Executive Order titled Enhancing Public Safety in the Interior of the United States directed ICE's Victims of Immigration Crime Engagement Office (VOICE) to create quarterly reports studying the effects of the victimization by criminal aliens present in the United States," the report, released in June, states.
The report detailed seven "anonymized case studies" to show how victims have been helped but by the VOICE office since it opened on April 26, 2017, through September 30, 2017:
The office helped a victim whose child was murdered three decades ago by an illegal alien who was about to be released with an ankle monitor after serving 30 years in prison for murder and drug trafficking. The VOICE office was able to intervene, and an immigration judge ordered the alien be deported.
An illegal alien who was convicted and serving time in a local county jail for attacking the victim who contacted the VOICE office because the alien was about to be released. Since he entered the United States illegally as a minor, ICE did not have information about him but was able to place a detainer on the alien and he was deported following an order issued by an immigration judge.
A murdered victim's mother submitted a victim impact statement and testimony for an immigration hearing, leading to the criminal illegal alien's removal. The alien is a Mexican citizen who entered the United States illegally. She was convicted of Intoxication Manslaughter with a Vehicle and Intoxication Assault with a Vehicle Causing Serious Bodily Injury. She was sentenced to seven years and five years confinement, respectively, for killing a 20-year-old woman and injuring five other passengers. An immigration judge rejected the alien's request for voluntary departure and ordered her removed to Mexico.
The VOICE Office received an email from a victim about the alien in the case who had reached a plea agreement with the county district attorney, and as a result, would soon be released from local custody. The alien, who was convicted of simple assault, was sentenced to a maximum of 12 months incarceration. ICE ERO officers arrested the alien when he was released and placed the individual in removal proceedings, which led to his deportation.
A woman and her children who had been abused by her ex-spouse — a criminal illegal alien and alleged gang member — sought confirmation from the VOICE office that her abuser had been removed from the United States.
A sexual assault victim whose attacker was found guilty for the attack contacted VOICE office about his whereabouts. The VOICE office was able to confirm the alien was in ICE custody and inform her later that he was deported.
The sibling of a manslaughter victim called the VOICE office seeking information on the whereabouts of the criminal alien responsible for the death because of rumors the alien was freed from state prison. The criminal alien's previous removal order was reinstated and was subsequently deported.
The office also connects victims with resources that can help them and established a toll-free hotline: 1-855-48-VOICE or 1-855-488-6423.
"From April 26, 2017, to September 30, 2017, the VOICE Office's hotline referred 843 calls to CROs in ICE's Areas of Responsibility (AORs) across the United States who were tasked with engaging with victims and ensuring they had access to information and resources," the report states.
U.S. Immigration and Customs Enforcement (ICE) protects America from the cross-border crime and illegal immigration that threaten national security and public safety. To carry out that mission, ICE focuses on smart immigration enforcement, preventing terrorism, and combating transnational criminal threats.

The agency has an annual budget of approximately $6 billion, primarily devoted to three operational directorates—Enforcement and Removal Operations (ERO), Homeland Security Investigations (HSI), and the Office of the Principal Legal Advisor (OPLA). A fourth directorate—Management and Administration (M&A)—supports the three operational branches to advance the ICE mission.
Illegal Alien Charged with Raping Teen Sisters Deported Four Times from U.S.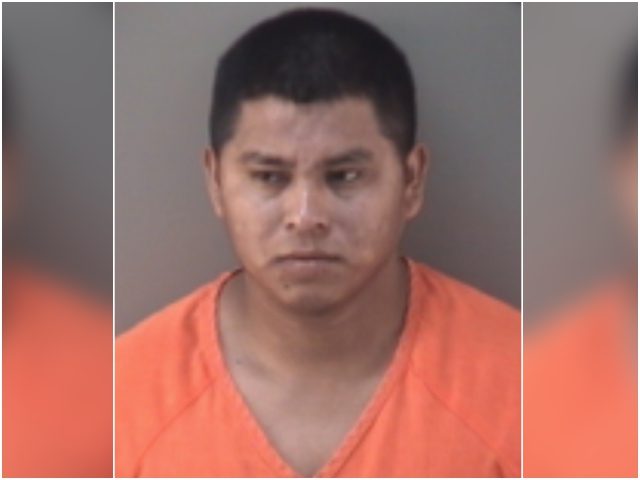 John Binder is a reporter for Breitbart News. Follow him on Twitter at
@JxhnBinder
.
Report Shines Light on Aliens Behind Bars
---
---