"Democrats
criticized the executive order
because it allowed illegal immigrants to be held "indefinitely." To their dismay, the Supreme Court also upheld President Trump's travel ban. Once again, Democrats were on the losing end. They needed something else."
One in every
eleven persons
born in Mexico has gone to the U.S. The National Review reported that
in 2014
$1.87 billion was spent on incarcerating illegal immigrant criminals….Now add hundreds of billions for welfare and remittances!
MICHAEL BARGO, Jr…… for the AMERICAN THINKER.COM
THE DEVASTATING COST OF MEXICO'S WELFARE STATE IN AMERICA'S OPEN BORDERS
"The Democrats had abandoned their working-class base to chase what they pretended was a racial group when what they were actually chasing was the momentum of unlimited migration". DANIEL GREENFIELD / FRONT PAGE MAGAZINE
Dianne Feinstein, Kamala Harris Oppose Brett Kavanaugh for Supreme Court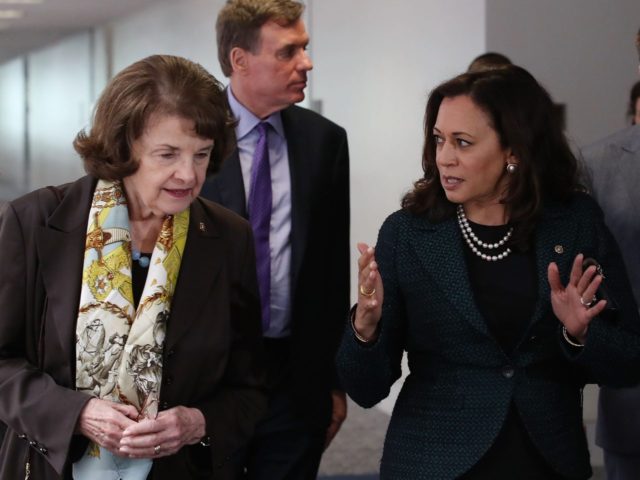 California's two U.S. Senators both declared immediately on Monday evening that they will oppose the confirmation of D.C. Circuit Judge Brett Kavanaugh to the U.S. Supreme Court.
Their votes are largely irrelevant, since the Republican Party has a slim majority in the Senate and can confirm Supreme Court justices on a simple majority vote — thanks in part to former Senate Majority Leader Harry Reid (D-NV), who broke with tradition and ended the filibuster rule for most judicial nominees in 2013.
Feinstein's opposition is relevant, however, as she is the ranking member — the leading member of the Democratic Party minority — on the Senate Judiciary Committee. Harris's opposition is also important for symbolic reasons, as she is widely considered a leading contender for the Democratic Party nomination for president in 2020.
Both attacked Kavanaugh in strident terms without citing any specific decisions he had made:
Feinstein also rejected a White House invitation to attend the announcement of Kavanaugh's nomination on Monday evening.
Neither Feinstein nor Harris mentioned Kavanaugh's qualifications. A liberal Yale Law School professor wrote in the New York Times Tuesday that "it is hard to name anyone with judicial credentials as strong as those of Judge Kavanaugh."
TRUMP TAPS BRETT KAVANAUGH FOR SUPREME COURT
The Dem smear machine is about to go into overdrive.
July 10, 2018
President Trump on Monday named "judge's judge" Brett Kavanaugh for a seat on the U.S. Supreme Court. The president sought a nominee of "impeccable credentials" who would "do what the law requires" and "apply the Constitution as written." He found such a person in Kavanaugh, 53, who has served on the D.C. Circuit court of appeals since 2006. The conservative Yale Law alum clerked for the associate Justice Anthony Kennedy, who stepped down just 12 days ago.
Democrats see the Supreme Court as a robed politburo that will give them what they can't win through the electoral process. Democrats appear to believe they own the court and even before President Trump's announcement they were gearing up for the fight.
House Minority Leader Nancy Pelosi, who doesn't have a vote on the nominee, said she is "determined to avenge President Obama if it's the last thing I do."
Other Democrats, led by Charles Schumer, said they would oppose any Trump pick for the high court. The battle to confirm Kavanaugh is certain to be fierce, so all age groups might review the Democrats' grand inquisitors of the past.
Ohio Democrat Howard Metzenbaum, a veteran of the Communist Party fronts such as the National Lawyers Guild, took the lead against black conservative Clarence Thomas in 1991. Metzenbaum thought he was intellectually superior to the Bush nominee, but Thomas, a Yale man like Kavanaugh, made him look a fool. It was likely Metzenbaum who leaked Anita Hill's fake story, and the leftist Democrat pushed hard on the sexual harassment allegations.
When black businessman John Doggett testified in favor of Thomas, Metzenbaum charged that Doggett was also guilty of sexual harassment. White liberal Joe Biden also attacked on that front.
"From my standpoint as a black American," Thomas said, "as far as I'm concerned, it is a high-tech lynching for uppity blacks who in any way deign to think for themselves, to do for themselves, to have different ideas, and it is a message that unless you kowtow to an old order, this is what will happen to you. You will be lynched, destroyed, caricatured by a committee of the U.S. Senate, rather than hung from a tree."
Thomas' "high-tech lynching" charge enraged West Virginia Democrat Robert Byrd, a former Ku Klucker who also voted against Thurgood Marshall, the first black Supreme Court Justice. Byrd voted against Thomas and so did Sen. Ted Kennedy who in 1969 left Mary Jo Kopechne to die at Chappaquiddick. In 1984, Kennedy colluded with KGB boss Yuri Andropov to prevent the reelection of Ronald Reagan, who in 1987 nominated Robert Bork to the high court.
"Robert Bork's America is a land in which women would be forced into back-alley abortions," Sen. Ted Kennedy famously charged. "Blacks would sit at segregated lunch counters, rogue police could break down citizens' doors in midnight raids, schoolchildren could not be taught about evolution, writers and artists would be censored at the whim of government, and the doors of the federal courts would be shut on the fingers of millions of citizens for whom the judiciary is often the only protector of the individual rights that are the heart of our democracy. America is a better and freer nation than Robert Bork thinks. Yet in the current delicate balance of the Supreme Court, his rigid ideology will tip the scales of justice against the kind of country America is and ought to be."
And so on, with high-volume accompaniment from Norman Lear's People for the American Way, which was anything but.
Metzenbaum and Kennedy are tough acts to follow but Democrats are up to the task. Their lead inquisitor will be Dianne Feinstein, 85, ranking member of the Senate Judiciary Committee. Long before Donny Deutsch charged that even Trump voters are Nazis the San Francisco Democrat, now 85, was the loudest voice for the leftist boilerplate that America is overflowing Nazis and that religious conservatives are Nazis.
In 1992 in rural Idaho, FBI sniper Lon Horiuchi shot Vicki Weaver through the head as she held her 10-month-old daughter. As husband Randy told the Senate in 1995, "She was not wanted for any crime. There were no warrants for her arrest."
Democrats Herb Kohl and Patrick Leahy showed sympathy but as the San Francisco Examiner reported, "Feinstein dealt sternly with Weaver, asking whether his children wore Nazi arm bands and shouted Nazi slogans at neighbors." Feinstein sought to show that the family was a pack of Nazis, implying that the killing of Vicki Weaver might have been justified.
Last September, in a confirmation hearing involving Amy Coney Barrett and Joan Larsen, both on President Trump's original list, Feinstein said the backdrop for the hearing was the "neo-Nazis and white supremacists" in Charlottesville. "These are ideologies that people across the world died in a war fighting to defeat Nazism," and just in case anybody wondered, "there isn't any good in Nazism."
Feinstein recently compared immigration policies under President Trump to "Nazi Germany." Under her lead, Democrats will doubtless deploy the Nazi smear in the confirmation hearing for Brett Kavanaugh, along with the usual fake accusations and sub-infantile non-arguments. In 2018, as in 1991 and 1987, bigotry, fakery and slander live loudly within them.
NANCY PELOSI, and her LA RAZA SISTERS, SEN. DIANNE FEINSTEIN, FORMER SEN. BARBARA BOXER and NOW SEN. KAMALA HARRIS are a pantheon of staggering self-serving corruption.
They and their families have all gotten filthy rich off of these women's elected office.
Their endless hispandering for the illegals' votes has turned California into Mexifornia, a drug, gang and anchor baby welfare third-world dumpster!
JERRY BROWN WILL RETIRE TO A JESUIT MONASTERY AND PRAY OVER THE MUCKED-UP MESS HE CALLS MEXIFORNIA!
Liberal Law Professor in New York Times: Brett Kavanaugh is a Great Supreme Court Pick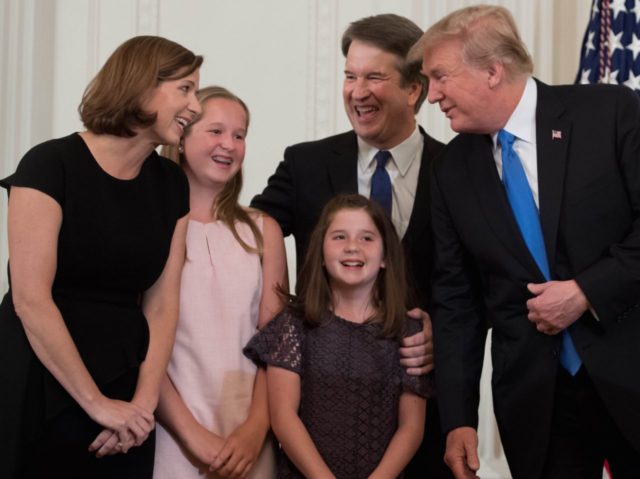 Yale Law School professor Akhil Reed Amar, a self-described supporter of Hillary Clinton in 2016, published an op-ed in the New York Times on Monday evening defending President Donald Trump's nomination of Judge Brett Kavanaugh to the Supreme Court.
Amar, who presumably disagrees with Kavanuagh on matters of judicial philosophy, writes that based on his judicial credentials alone — the traditional criteria for selecting Supreme Court justices — Kavanaugh is the best choice Trump could have made.
In the op-ed, "A Liberal's Case for Brett Kavanaugh," Amar wrote:
In 2016, I strongly supported Hillary Clinton for president as well as President Barack Obama's nominee for the Supreme Court, Judge Merrick Garland. But today, with the exception of the current justices and Judge Garland, it is hard to name anyone with judicial credentials as strong as those of Judge Kavanaugh. He sits on the United States Court of Appeals for the District of Columbia Circuit (the most influential circuit court) and commands wide and deep respect among scholars, lawyers and jurists.

Judge Kavanaugh, who is 53, has already helped decide hundreds of cases concerning a broad range of difficult issues. Good appellate judges faithfully follow the Supreme Court; great ones influence and help steer it. Several of Judge Kavanaugh's most important ideas and arguments — such as his powerful defense of presidential authority to oversee federal bureaucrats and his skepticism about newfangled attacks on the property rights of criminal defendants — have found their way into Supreme Court opinions.

Most judges are not scholars or even serious readers of scholarship. Judge Kavanaugh, by contrast, has taught courses at leading law schools and published notable law review articles. More important, he is an avid consumer of legal scholarship. He reads and learns. And he reads scholars from across the political spectrum.
Amar adds: "(Disclosure: I was one of Judge Kavanaugh's professors when he was a student at Yale Law School.)"
Read the whole op-ed
here
.
Trump vs. the Democrats: Aces Galore!
Have you ever watched a tennis match where the server consistently loses the point because the player returning the serve is simply better, smarter, and more talented? After a while, the server gets desperate and begins to throw everything over the net in the hopes that something works.
Welcome to the modern-day Democrat. Like the server, the Democrats have tried to throw everything against President Trump and/or Republicans, hoping that something would stop his/their momentum. Despite their efforts, each attempt has been swatted away and/or returned for an ace.
First, Democrats tried to pin President Trump's triumphant election victory on alleged Russian collusion, the nature of which they have been unable to prove despite a long and costly investigation by Robert Mueller. To date, the investigation continues, additional money and resources are being wasted, and no evidence of collusion has been found. As a matter of fact, the investigation reeks of bias given the fact that the FBI agent who originally put the investigation into motion couldn't stand the president (and wanted him to lose) as disclosed in the IG report.
After the tragic events in Parkland, the Democrats then turned their attention to the Second Amendment and politicized this tragedy because Republicans were not necessarily willing to severely limit their right to bear arms pursuant to the Second Amendment. In response, some Republicans, including Governor Rick Scott, addressed some of their concerns by signing new gun regulations. This was not enough for the Democrats, who called for an all-out ban on semi-automatic weapons (this would cover many handguns, etc. today). Fortunately, the Second Amendment remains strong. As Democrats saw that this issue was losing steam, they moved on.
Democrats then seized on the North Korea issue. President Trump was scheduled to meet the North Korean dictator in a history-making summit. While this was an incredible accomplishment, some Democrats criticized President Trump for making certain concessions during the negotiations and/or expressed displeasure with the way that the president described the release of several prisoners who were being detained by North Korea. Chuck Schumer stated:
"We can't be fooled into giving the North Korean regime credit for turning (over) Americans that never should have been detained in the first place," Schumer said. "It is so troubling to hear President Trump say that Kim Jong-Un treated the Americans excellently."
Obviously, the summit took place and, while a lot of work remains to be done, the two countries have better diplomatic relations now than they had before President Trump took office. This was yet another Democratic misstep.
Democrats then turned to immigration as their next hot-topic issue. They argued that President Trump's zero-tolerance policy tore kids away from their families. Of course, this was the law before President Trump took office, but that was a "technicality" that the left was willing to ignore to score political points. In response, President Trump issued an executive order keeping children and families who entered the country illegally together. Of course, even though this directly addressed their initial complaints,
Democrats criticized the executive order because it allowed illegal immigrants to be held "indefinitely." To their dismay, the Supreme Court also upheld President Trump's travel ban. Once again, Democrats were on the losing end. They needed something else.
Recently, Justice Anthony Kennedy announced that he will be retiring from the Supreme Court. Upon hearing this, Democrats immediately began to attack President Trump's potential list of nominees before he even narrowed down the list of prospects. For example, Chuck Schumer threatened that no Republican nominee would be confirmed from Trump's list of twenty-five potential candidates.
Democrats started painting a picture that a Republican-leaning Supreme Court would overturn Rose v. Wade, take away a woman's right to choose, limit the rights of immigrants, etc. President Trump is scheduled to announce his nominee on July 9, 2018. Even though Democrats will likely refuse to confirm a Republican nominee, Republicans, including Mitch McConnell, can always resort to the "nuclear" option if need be (this does not create good precedent, however). Time will tell what happens in this chapter.
Although this piece only covers several issues, many would argue that the set and match ended long ago. Democrats are suffering losses everywhere, including in the courts, within their own party (e.g. the #WalkAway movement), and in the important court of public opinion. Americans want results, which the president and Republicans are delivering. So long as this continues, it should be game, set, and match for the president, Republicans, and their followers.
Mr. Hakim is a writer and a practicing attorney. His articles have been published in the Palm Beach Post, Sun-Sentinel, Florida Jewish Journal, World Net Daily, American Thinker, and other online publications.
https://thoughtfullyconservative.wordpress.com
THE DEMOCRAT PARTY'S WAR ON AMERICA'S LEGAL WORKERS, BORDERS AND LAWS as they build the LA RAZA welfare state on our backs.
One in every
eleven persons
born in Mexico has gone to the U.S. The National Review reported that
in 2014
$1.87 billion was spent on incarcerating illegal immigrant criminals….Now add hundreds of billions for welfare and remittances!
MICHAEL BARGO, Jr…… for the AMERICAN THINKER.COM
"Chairman of the DNC Keith Ellison was even spotted
wearing
a shirt stating, "I don't believe in borders" written in Spanish.
According to a new CBS news
poll
, 63 percent of Americans in competitive congressional districts think those crossing illegally should be immediately deported or arrested. This is undoubtedly contrary to the views expressed by the Democratic Party.
Their endgame is open borders, which has become evident over the last eight years. Don't for one second let them convince you otherwise."
Evan Berryhill Twitter @EvBerryhill.
Illegal Alien Charged with Raping Teen Sisters Deported Four Times from U.S.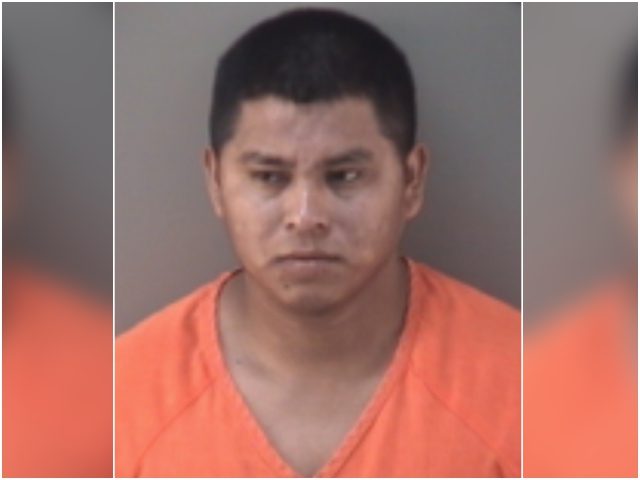 An illegal alien who is one of four men accused of kidnapping and raping teen sisters was previously deported from the United States four times.
Four illegal aliens — including 24-year-old illegal alien Simon Juan Thomas from Guatemala — are alleged to have kidnapped and raped a 13-year-old girl and her 14-year-old sister at a Days Inn near Wooster Street in Bowling Green, as
Breitbart News
reported.
While authorities continue a nationwide manhunt to find illegal aliens Arnulfo Ramos and Juan Adiel, Thomas and 27-year-old illegal alien David Ramos Contreras have been arrested and are in police custody.
Thomas,
according
to Immigration and Customs Enforcement (ICE) officials, has been deported from the U.S. four times previously, shedding light on the country's weak immigration system whereby criminal illegal aliens repeatedly re-enter the country after being deported.
Thomas was arrested and charged by Bowling Green Police with raping minors and is currently imprisoned on a $50,000 bond.
Police say 27-year-old Contreras is from Mexico and was supposed to be deported from the U.S. last year but instead was released back into the public after getting out of prison for multiple drunk driving charges.
All four illegal aliens were using fake IDs, according to police.
Police are advising anyone with information on the whereabouts of Arnulfo Ramos and Juan Adiel to contact the Bowling Green Police Division at 419-352-1131, Wood County CrimeStoppers at 1-800-54-CRIME, or a local law enforcement agency.
Anyone with information on the whereabouts of Arnulfo Ramos and Juan Adiel is allowed to stay anonymous and is eligible for an up to $1,000 reward should the information provided lead to the arrest and conviction of any of the suspects.
ICE 'VOICE' Office Aids Victims of Criminal Illegal Alien Assaults, Murders, Domestic Violence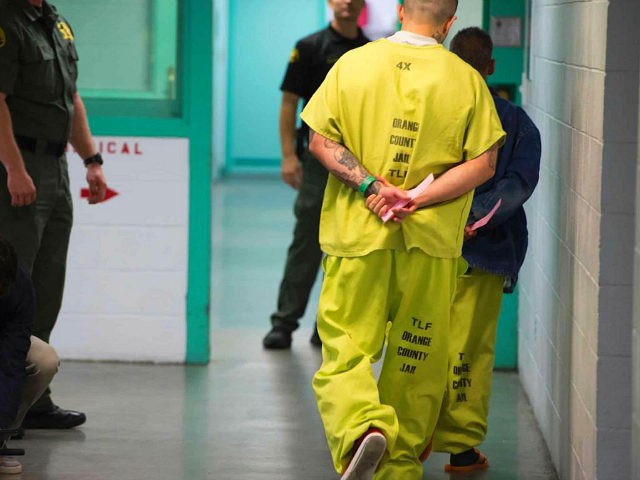 Criminal illegal aliens who have assaulted and even killed American citizens are now facing certain deportation and their victims are getting help, thanks to President Donald Trump's 2017 Executive Order to increase public safety inside the United States.
That's the conclusion of the latest Immigration and Customs Enforcement (ICE) quarterly
report
required by the EO.
"The Executive Order titled Enhancing Public Safety in the Interior of the United States directed ICE's Victims of Immigration Crime Engagement Office (VOICE) to create quarterly reports studying the effects of the victimization by criminal aliens present in the United States," the report, released in June, states.
The report detailed seven "anonymized case studies" to show how victims have been helped but by the VOICE office since it opened on April 26, 2017, through September 30, 2017:
The office helped a victim whose child was murdered three decades ago by an illegal alien who was about to be released with an ankle monitor after serving 30 years in prison for murder and drug trafficking. The VOICE office was able to intervene, and an immigration judge ordered the alien be deported.
An illegal alien who was convicted and serving time in a local county jail for attacking the victim who contacted the VOICE office because the alien was about to be released. Since he entered the United States illegally as a minor, ICE did not have information about him but was able to place a detainer on the alien and he was deported following an order issued by an immigration judge.
A murdered victim's mother submitted a victim impact statement and testimony for an immigration hearing, leading to the criminal illegal alien's removal. The alien is a Mexican citizen who entered the United States illegally. She was convicted of Intoxication Manslaughter with a Vehicle and Intoxication Assault with a Vehicle Causing Serious Bodily Injury. She was sentenced to seven years and five years confinement, respectively, for killing a 20-year-old woman and injuring five other passengers. An immigration judge rejected the alien's request for voluntary departure and ordered her removed to Mexico.
The VOICE Office received an email from a victim about the alien in the case who had reached a plea agreement with the county district attorney, and as a result, would soon be released from local custody. The alien, who was convicted of simple assault, was sentenced to a maximum of 12 months incarceration. ICE ERO officers arrested the alien when he was released and placed the individual in removal proceedings, which led to his deportation.
A woman and her children who had been abused by her ex-spouse — a criminal illegal alien and alleged gang member — sought confirmation from the VOICE office that her abuser had been removed from the United States.
A sexual assault victim whose attacker was found guilty for the attack contacted VOICE office about his whereabouts. The VOICE office was able to confirm the alien was in ICE custody and inform her later that he was deported.
The sibling of a manslaughter victim called the VOICE office seeking information on the whereabouts of the criminal alien responsible for the death because of rumors the alien was freed from state prison. The criminal alien's previous removal order was reinstated and was subsequently deported.
The office also connects victims with resources that can help them and established a toll-free hotline: 1-855-48-VOICE or 1-855-488-6423.
"From April 26, 2017, to September 30, 2017, the VOICE Office's hotline referred 843 calls to CROs in ICE's Areas of Responsibility (AORs) across the United States who were tasked with engaging with victims and ensuring they had access to information and resources," the report states.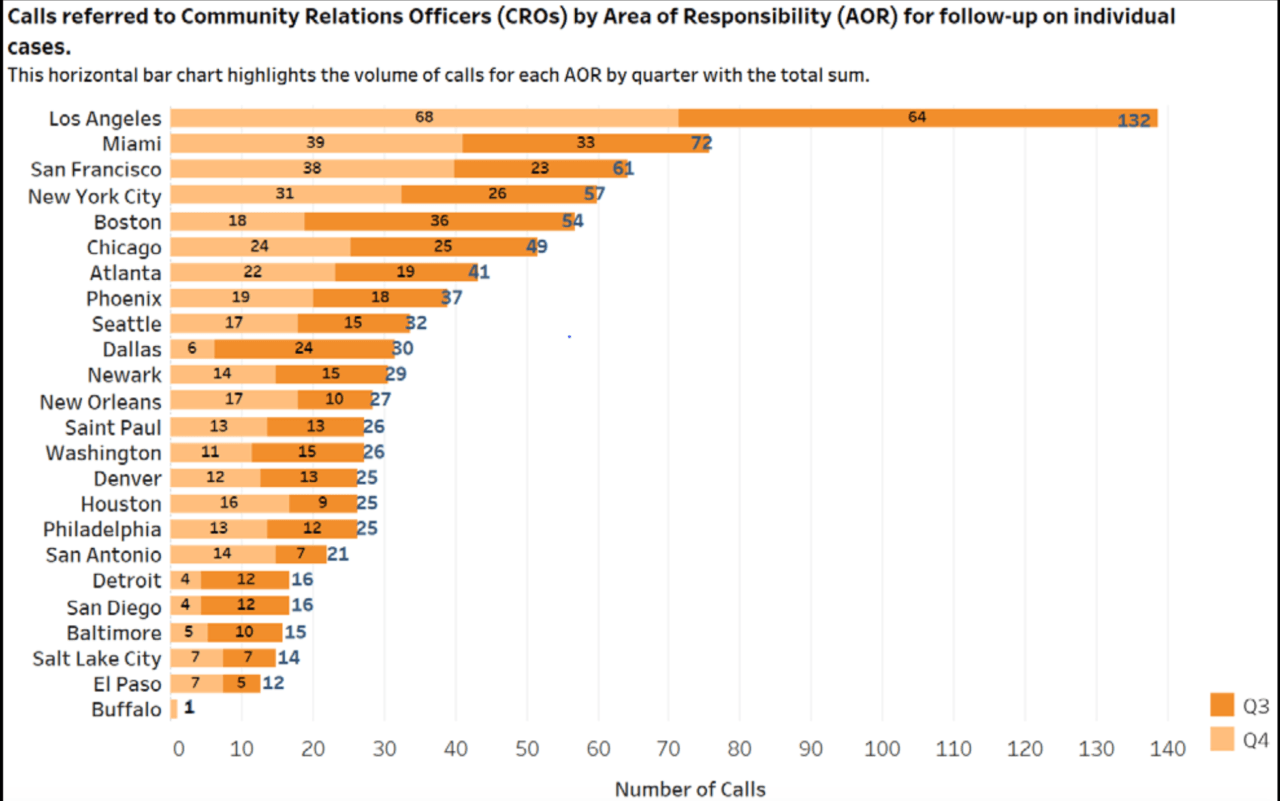 The report's
overview
explains the role ICE plays in protecting American citizens:
U.S. Immigration and Customs Enforcement (ICE) protects America from the cross-border crime and illegal immigration that threaten national security and public safety. To carry out that mission, ICE focuses on smart immigration enforcement, preventing terrorism, and combating transnational criminal threats.

The agency has an annual budget of approximately $6 billion, primarily devoted to three operational directorates—Enforcement and Removal Operations (ERO), Homeland Security Investigations (HSI), and the Office of the Principal Legal Advisor (OPLA). A fourth directorate—Management and Administration (M&A)—supports the three operational branches to advance the ICE mission.
Report Shines Light on Aliens Behind Bars
---
---
One in four prisoners in federal custody is an alien, according to a new report from the Departments of Justice and Homeland Security.
That sounds bad enough, but it's a low-ball figure because the report does not fully account for inmates at local jails and state prisons, which house roughly 90 percent of America's incarcerated population. DOJ and DHS say they are rounding up those numbers.
Meantime, here are three salient facts from end of the first quarter of Fiscal 2018:
57,820 known or suspected aliens were in federal custody.

Drug trafficking, not immigration violations, was the primary offense of aliens locked up by the Bureau of Prisons.

The U.S. Marshals Service spent more than $134 million to house known or suspected aliens during the quarter. This, too, is a conservative tally, since the Bureau of Prisons' much larger costs were not included.
Also missing are clear breakdowns of resident and illegal aliens, as well as comparative data from prior years.
But let's not quibble. If it weren't for President Donald Trump's executive order to compile and release these quarterly reports, the American public would know even less about the impact and presence of criminal aliens in this country.
So, like border enforcement and national security, proper accounting remains a work in progress. As we all know, Rome wasn't built (or overrun) in a day.
ICE: Once-Deported Illegal Alien Now Faces Rape, Assault Charges in Massachusetts
(CNSNews.com)
– An illegal alien from Brazil, who was deported once in 2007, was arrested in Massachusetts in late June and now faces charges of rape, assault and battery, and solicitation of a felony, reported
U.S. Immigration and Customs Enforcement
(ICE).
As ICE reported in a June 28 statement, the Brazilian national Antonio Ferreira was arrested by the Barnstable County Sheriff's office on June 22 on "charges of rape, assault and battery, and solicitation of a felony."
The Barnstable police office works with ICE to ensure that illegal aliens, after facing potential prosecution and sentencing in the United States are turned over to ICE for deportation through the 287g program.
"All current 287(g) agreements operate under a jail enforcement model, which operates solely within the confines of a jail," said ICE. "Under this model an alien must first be arrested by local law enforcement on other criminal charges and brought to the facility before any 287(g) screening activity takes place."
"The goal of this program is to enhance public safety by identifying aliens, lodging immigration detainers, and initiating removal proceedings by issuing charging documents on potentially deportable criminal aliens booked into the jail facility."
Commenting on the cooperative program with ICE, Barnstable Sheriff James Cummings told the
Boston Herald
, ""This cooperative program is officially off to a good start. The end result will never charge. It will make our county and our country a safer place. If that means doing it one case at a time, so be it."
"This is exactly why we wanted to be involved in this program, so individuals like this would not be released to the community in Barnstable County," said the sheriff.
If Ferreira is convicted and sentenced for his alleged crimes in Massachusetts, after his sentencing he will be turned over to ICE for deportation.
LLEGAL IMMIGRANT KILLS 2 LAW ENFORCEMENT OFFICERS IN CAR CRASH, ONLY FINED $280
An illegal immigrant killed two law enforcement officers in a car accident last December and was only fined $280.
The case was resolved at the end of last month when Roberto Garza Palacios was fined but avoided any jail time, according to a story by the Washington Post.
The prosecution proved that he drove in a "careless and imprudent manner," but did not reach the level of a "gross deviation" from careful driving or a "reckless disregard" for human life, both of which would be necessary for more serious charges.
Back on Dec. 8, 2017, Carlos Wolff — an FBI agent and legal immigrant from Venezuela — was texting while driving and hit the concrete median on I-270 in Maryland. Sander Cohen — an arson investigator — stopped to help him.
While both of them were standing on the side of the highway, Garza Palacios struck them, sending both off-duty officers over the median and into the traffic. They both died.
Wolff's widow said the Post that, "It's ridiculous. He just pays $280, and that's all he has to do."
Palacios, a Guatemalan native, is facing deportation after being taken into custody by the Immigration Customs Enforcement (ICE) agency on May 3 for overstaying a work visa that expired in 2009, according to ICE officials.
Back in 2015, he pleaded guilty to driving while impaired, and Palacios also served about four months in jail after being arrested for smashing the windows on over a dozen cars and for lighting a couch on fire.
ICE found out he had been arrested and requested Montgomery County, Maryland, to hold him, but he was released anyway.
Invaders Are Not Immigrants
The Democratic Party, along with its shills in the mainstream media, has misleadingly blurred the lines between the definition of "immigrant" and "invader." An immigrant is an alien who has been granted the right to permanently reside in the United States by U.S. Citizenship and Immigration Services. An "invader," as defined by Merriam Webster, is one who "trespasses, encroaches, and infringes upon another's property." The United States is our collective home and those who come here without seeking and gaining permission to enter our collective home are no different than an uninvited guest who enters our personal home to take up residence without permission.
As a legal immigrant brought to the United States from Germany at a young age by my parents, I and many legal immigrants who waited sometimes years to obtain the necessary visa for entry resent those who merely walk across our border and claim to be "immigrants." An immigrant is one who seeks and gains approval to enter, while invaders disrespect our laws put in place by "We the people."
Currently the Democratic Party, under the leadership of Tom Perez, a Marxist, and Keith Ellison, a Muslim Brotherhood operative, have been campaigning for open borders. They have resisted President Trump's border enforcement, and many others are now calling for the abolishment of ICE (Immigration Custom Enforcement). One only has to look at crime statistics committed by illegals to see a glimpse of what a borderless United States holds for us.
The Daily Wire reported that 92 percent of confirmed aliens in Federal Bureau of Prisons custody are illegals and that 97 percent of confirmed aliens in the U.S. Marshal Service custody are illegals. Furthermore, 21 percent of those convicted of non-immigration crimes were non-citizens and 2.5 times their share of the population. The Government Accountability Office reported in 2011 that there were 251,000 criminal aliens in federal, state, and local prisons. Those aliens represented nearly three million criminal offenses, which ranged from homicide and kidnappings to drugs, burglary, and larceny. These criminal offenses would not have occurred here had these criminals been prevented from gaining a foothold into our home and thousand of lives would not have been lost.
T
he use of language is key to influencing public policy and the Socialist Democrats are experts at using it to conjure up images that play to our emotions. By falsely portraying invaders as immigrants, they are attempting to connect and tie our past history of immigration to today's unlawful invasion by those who believe invading our home is their right and not a privilege. Mexico's newly elected President Andres Manuel Lopez-Obrador recently stated his government will assist migrants who seek to enter the United States as it is a "human right we will defend".
Lopez-Obrador's pronouncement is laughable in light of his government immigration policy. Unlike the U.S., illegal entry into Mexico is punishable by two years in prison and re-entry is punishable by up to ten years. Foreigners are kicked out without due process and native Mexicans can make citizen arrests of illegals and turn them over to authorities. Additionally, the Mexican government will bar foreigners if they upset "the equilibrium of the national demographics.". How's that for ethnic and racial profiling?
The desire to erase our borders will spell the end of U.S. sovereignty, a mission the left and its anti-American allies could not achieve politically or militarily. As a powerful superpower, the defeat of the United States was not likely; thus, the left's only hope was to destroy us from within. The importation of millions of legal and illegal foreign nationals whose allegiance and customs they refuse to surrender at the border continues to permanently alter the face, language, and culture of America.
Instead of becoming the melting pot, as symbolized by the motto e pluribus unum, the promotion of multiculturalism has fragmented and balkanized America into two very distinct and divisive camps. One (the GOP) seeks a return to Constitutional governance while the other (DNC) seeks a Socialist/Marxist Statism. There are now enough minority lobbyists with funding from George Soros and the Arab oil barons influencing American foreign policy to change the direction of our country. It is the heartland of America that refuses to surrender.
Clearly, until the election of Donald Trump, no one in Washington represented the interests of the American people. An immigration system based on merit with priority given to our interests and not the interests of foreign nationals should have been put in place decades ago. Instead we have an entire political Democratic party fighting and championing the interests of foreign nationals at the expense of the American public. Rightfully, Americans are angry and seek to stop the invasion. President Trump's popularity is a direct result of his promise to build the wall and protect our shores. While the Democrats have promised to resist his every move, they are increasingly finding themselves being branded as the party of aliens. The distinction is very clear and the GOP would be foolish not to take advantage of the distinction.
America is our collective home and we have a right to protect our home from foreign and domestic threats. It is not for lack of compassion we seek an end to the invasion. It is an act of self-preservation. Please remember that at the ballot box when it is time to cast your vote.
Shari Goodman is an educator, activist, and public speaker. She has previously written for
American Thinker
,
World Net Daily
,
Israel Today
, and other journals. She is a red dot residing in the blue state of California.
Experts Praise Kavanaugh: Will Safeguard American Workers and Sovereignty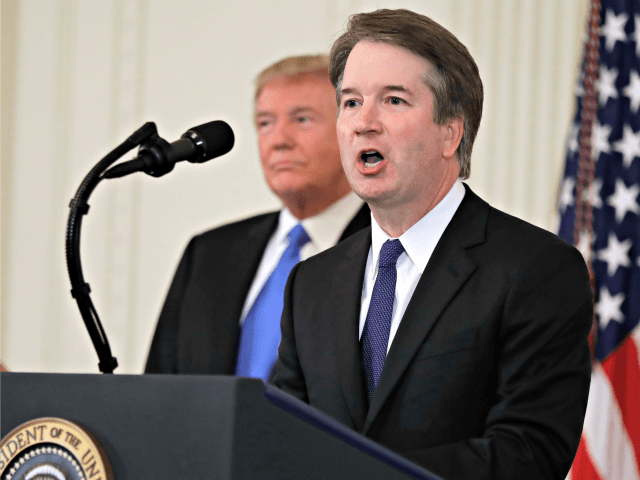 Pro-American immigration reformers who want to see less immigration to the United States are praising President Trump for choosing Judge Brett Kavanaugh to replace Justice Anthony Kennedy on the Supreme Court.
Many reformers — who have supported Trump's "America First" candidacy and presidency from its early days — say they believe the choice of Kavanaugh was not only a win for American workers, but a victory for the sovereignty of the country.
"From the few immigration cases I have seen, Judge Kavanaugh seems to have great instincts that enabled him to see through the claims of the special interests trying to stretch the boundaries of immigration law to bypass U.S. workers. How refreshing," Center for Immigration Studies Director of Policy Jessica Vaughan told Breitbart News.
"He seems to get that immigration law should not disadvantage Americans," Vaughan said.
As Breitbart News outlined in a widely read report, Kavanaugh's record on immigration and issues impacting domestic industries and American workers were directly in line with Trump's long held belief that the U.S. economy and immigration policy should work in favor of its citizens rather than foreign countries and foreign nationals.
"… an illegal immigrant worker is not an 'employee' under the National Labor Relations Act for the simple reason that, ever since 1986, an illegal immigrant worker is not a lawful 'employee' in the United States," Kavanaugh wrote in one of his dissenting opinions on immigration.
Mickey Kaus, a longtime advocate for immigration controls to increase the wages of American workers, told Breitbart News that the choice of Kavanaugh was a "disaster averted," noting that "at least one of the other top candidates threatened to bring a 'we need more immigrant workers' mindset to the court."
"Kavanaugh seems to recognize that voters may choose an economy where all American workers benefit over an economy with maximum GDP and profits," Kaus told Breitbart News.
"We can now hope that immigration policy will be made by elected officials, not courts, in accord with the Constitution — and that SCOTUS will stop undisciplined lower court judges from throwing up obstacles to securing the borders and bringing immigration under democratic control," Kaus continued.
Legal experts with the Immigration Reform Law Institute (IRLI), which represents Americans' interests in the immigration debate, likewise were overjoyed by Trump's nomination of Kavanaugh.
"Judge Kavanaugh has shown wisdom in past rulings on one of our nation's biggest challenges, immigration," IRLI Executive Director Dale Wilcox told Breitbart News.
"He has sided with U.S. citizens and American manufacturers, farmers, and ranchers in cases where American jobs were threatened by cheap labor, union elections were undermined by illegal alien voting, and foreign competition had the potential to harm American businesses," Wilcox continued. "As vexing immigration questions are sure to arrive at the Supreme Court, there is reason to believe Judge Kavanaugh will safeguard American workers and sovereignty."
Dan Stein, the director of the Federation for American Immigration Reform (FAIR) — which annually tallies up the expensive cost of mass immigration to U.S. citizens — praised Kavanaugh in a statement, saying he "clearly understands the nation's patchwork of immigration laws and how they are intended to protect both American workers and the overarching national interest."
"In several immigration-related dissents, Judge Kavanaugh rejected illegal alien voting in union elections and noted that 'mere economic expediency does not authorize an employer to displace American workers for foreign workers,'" Stein said.
"With important immigration-related decisions heading to the Supreme Court – including the challenge to the Obama-era Deferred Action for Childhood Arrivals (DACA) – Judge Kavanaugh will provide expert insight into the legality of the program and the ability of future administrations to circumvent Congress and create tailored amnesty programs for large groups of illegal aliens," Stein continued.
Indeed, Kavanaugh's entrance onto the Supreme Court will come as a number of immigration cases face the panel of justices.
For example, Kansas Secretary of State Kris Kobach's fight for proof of citizenship laws for voters is expected to make it to the Supreme Court, as Kobach's push is being attacked by the ACLU, as well as issues surrounding the Flores Settlement Agreement, which the Trump administration has sought to have reversed.