TRUMP SLAPS SANCTIONS ON TURKEY FOR DETAINING AMERICAN PASTOR
President Donald Trump will impose sanctions on Turkey for detaining an American pastor for nearly two years, he announced Thursday on twitter.
Trump's tweet comes after the official Thursday announcement by Vice President Mike Penceat a conference on religious freedom warning Turkey that the president would impose sanctions should they continue to detain American Pastor Andrew Brunson.
"To President Erdogan and the Turkish government," Pence started, "I have a message on behalf of the president of the United States of America: Release Pastor Andrew Brunson now, or be prepared to face the consequences"
"If Turkey does not take immediate action to free this innocent man of faith and sending home to America, the United States will impose significant sanctions on Turkey until pastor Andrew Brunson is free," he declared.
Brunson was detained in alleged connection with an attempted coup against Erdogan in 2016. The U.S. government maintains that Brunson is being unfairly treated and used as leverage and should be immediately released.
Trump: US Will Impose Sanctions on Turkey Over Detention of American Pastor
July 26, 2018 12:13 pm
Last Updated: July 26, 2018 10:21 pm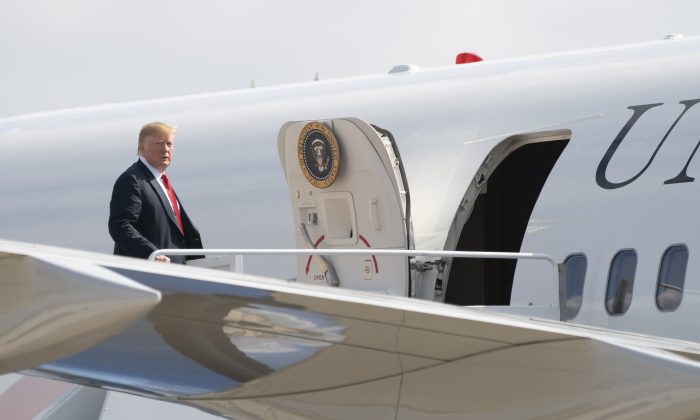 President Donald Trump said that the United States will impose sanctions on Turkey over its protracted detainment of an American pastor.
"The United States will impose large sanctions on Turkey for their long time detainment of Pastor Andrew Brunson, a great Christian, family man and wonderful human being. He is suffering greatly. This innocent man of faith should be released immediately!" Trump wrote on Twitter on July 26.
Shortly before Trump's announcement, Vice President Mike Pence threatened to impose sanctions on Turkey if the country continues to detain Brunson, an American pastor from North Carolina who is at the epicenter of tensions between Washington and Ankara.
Speaking at a three-day ministerial on religious freedom, Pence said the United States "will impose significant sanctions on Turkey" if Brunson is not freed.
Turkey's minister of foreign affairs, Mevlut Cavusoglu, indicated on
Twitter
that Ankara will not give in to Washington's threat.
"Noone dictates Turkey," Cavusoglu wrote. "We will never tolerate threats from anybody. Rule of law is for everyone; no exception."
The spokesman for Turkey's President Recep Tayyip Erdogan said in a statement that Brunson's detention "falls within the jurisdiction of (Turkey's) independent judiciary." The spokesman called on the United States to "reconsider its approach and adopt a constructive position before inflicting further damage to its own interests and its alliance with Turkey."
The United States and Turkey are both members of NATO.
Brunson was moved from jail to house arrest on July 26 due to health problems, according to Turkey's official news agency. The 50-year-old spent a year and a half in jail awaiting the conclusion of his trial.
Trump had previously called Brunson's detention "a total disgrace" and issued repeated calls for the pastor's release.
"Brunson is an innocent man, there is no credible evidence against him," Pence said.
American officials had been under the impression that a deal was in place to free Brunson, a source in the United States familiar with the developments said. When Brunson was not released, Pence spoke with Trump and the two agreed harsh new policy measures were needed to force the issue.
In April, a bipartisan group of 66 senators sent a letter (
pdf
) to Erdogan calling for Brunson's release.
In June, the U.S. Senate passed a bill prohibiting Turkey from buying F-35 fighter jets because of Brunson's imprisonment and Turkey's purchase of Russia's S-400 air defense system.
And in July, a group of senators introduced
legislation
to restrict loans from financial institutions to Turkey until it stops detaining American citizens.
"The continued detention of Pastor Andrew Brunson, other American citizens, and embassy staff is both inhumane and unwarranted and is causing tremendous pain to their families and loved ones. Turkish officials can end this now by releasing the detained Americans," Sen. Jeanne Shaheen (D-N.H.), one of the bill's sponsors, said in a statement.
"The United States and Turkey are NATO allies, and we should be working together like allies. But the unjustified imprisonment of American citizens cannot stand, so it is imperative that Congress take action to demand their freedom, which is precisely what this bill will do."
Turkey accuses Brunson of aiding a failed coup attempt, "committing crimes on behalf of terror groups without being a member," and espionage. He faces 35 years in prison if convicted. Brunson denies the charges.
Erdogan previously asked the United States to extradite his political rival, Fethullah Gulen, in exchange for Brunson's release. Turkey accuses Gulen of orchestrating a 2016 military coup. Gulen denies the charges.
Gulen is a Muslim cleric living in Pennsylvania. The United States has not granted Turkey's extradition requests.
Brunson's trial is one of several legal cases that have raised tensions between Washington and Ankara. A U.S. judge sentenced a Turkish bank executive in May to 32 months in prison for helping Iran evade U.S. sanctions, while two locally employed U.S. consulate staff in Turkey have been detained.
The NATO allies are also at odds over U.S. policy in Syria, where Washington's ally in the fight against Islamic State is a Kurdish militia Turkey says is an extension of the PKK, which has waged a three-decade insurgency in southeast Turkey.
A Turkish court
declined an offer
from Brunson's lawyer at a recent hearing to release the pastor pending the conclusion of the trial.
Brunson was pastor of the Izmir Resurrection Church, serving a small Protestant congregation in Turkey's third-largest city, south of the Aegean town of Aliaga, where he is now on trial.
His lawyer, Ismail Cem Halavurt, said on July 18 the prosecution has added the testimonies of two new anonymous witnesses to the case and that the court will hold its next hearing on Oct. 12 to hear them and view new evidence.
Brunson lived in Turkey for more than two decades before his detention.
"My service that I have spent my life on, has now turned upside down. I was never ashamed to be a server of Jesus but these claims are shameful and disgusting," Brunson told the court in the town of Aliaga.
Reuters contributed to this report.
https://www.theepochtimes.com/trump-u-s-will-impose-sanctions-on-turkey-over-detention-of-american-pastor_2605245.html?utm_source=Epoch+Times+Newsletters&utm_campaign=fa892ee130-Epoch
Turkey Advises US to 'Review its Manners' After Sanctions Threat Over Pastor's Trial
(CNSNews.com) – Turkey on Thursday sharply criticized President Trump's threats to impose sanctions unless it releases an American pastor on trial for espionage and terrorism, saying it would "never tolerate threats from anybody" and urging the U.S. to "review its manners."
"No one dictates Turkey," Foreign Minister Mevlut Cavusoglu tweeted in response to Trump's earlier tweet. "We will never tolerate threats from anybody. Rule of law is for everyone; no exception."
There was no immediate response from Turkish President Recep Tayyip Erdogan, who is attending a BRICS summit in South Africa, but the Anadolu state news agency
quoted
his spokesman, Ibrahim Kalin, as saying the Trump administration should "review its manners immediately" before ties between the NATO allies deteriorate further.
"No one can give orders to Turkey and threaten our country," foreign ministry spokesman Hami Aksoy said. "The rhetoric of threat against Turkey is unacceptable."
Anadolu later reported, citing diplomatic sources, that Cavusoglu had spoken to Secretary of State Mike Pompeo by phone.
In response to queries, a State Department official confirmed only that Pompeo had spoken with his Turkish counterpart.
Trump and Vice President Mike Pence on Thursday both warned Turkey that it could face sanctions unless Pastor Andrew Brunson – whom Turkish prosecutors want sentenced to a 35-year jail term – is released.
"The United States will impose large sanctions on Turkey for their long time detainment of Pastor Andrew Brunson," Trump tweeted. "He is suffering greatly. This innocent man of faith should be released immediately!"
During remarks at the State Department's Ministerial to Advance Religious Freedom, the vice president called on President Recep Tayyip Erdogan by name to free Brunson "or be prepared to face the consequences," in the form of "significant sanctions."
Turkey's treatment of the evangelical pastor has been a simmering irritant in relations between the two NATO allies, but took a new turn when a court in Izmir last week once again
refused to release him on bail
, prompting a Trump tweet describing Brunson as a "hostage" and urging Erdogan to act.
On Wednesday, the court ordered his transfer from prison to house arrest, citing "health problems." He has been incarcerated since October 2016, charged with offenses including supporting Turkey's most-wanted man, the U.S.-based Turkish Muslim cleric, Fethullah Gulen.
Pence in his speech called the transfer from prison "a welcome first step" but said it was "not good enough."
Turkey's Islamist government has argued that it does not and cannot interfere with the independent courts. Anadolu described Trump's tweet as "an attempt to interfere with NATO-member Turkey's judiciary."
But Brunson is widely seen as a victim of Erdogan's wider campaign targeting Gulen, who was once a close ally of Erdogan but is now regarded as a bitter foe.
Erdogan accuses Gulen of masterminding a failed coup in July 2016 and has been demanding that the U.S. extradite him. Gulen denies responsibility and the U.S. says Turkey has not provided sufficient evidence to support the extradition bid.
Following the coup attempt Erdogan launched a massive crackdown which saw some 50,000 arrests and a purge of 150,000 judges, teachers, soldiers and others. Brunson, who after working and living in Turkey for more than two decades was caught up in the post-coup sweep, denies supporting Gulen.
He has also denied other charges, including supporting the outlawed Kurdistan Workers' Party (PKK), and charges of "dividing and separating" Turkey by spreading the Christian gospel.
"Pastor Andrew Brunson is an innocent man," Pence said. "There is no credible evidence against him."
Erdogan's spokesman Kalin complained Thursday that the U.S. "has never taken a step against" Gulen's movement.
The administration, he said, "should know that it cannot get any result by threatening Turkey using a matter, which is being handled by the independent Turkish judiciary, as an excuse."
U.S. ambassador-at-large for international religious freedom, Sam Brownback, told reporters after the ministerial at the State Department that he believed the prospects for Brunson returning home were "excellent."
He noted interventions and pressure over months from Trump, Pence, Pompeo, himself, and members of Congress: "This has continued to build and build and build."
The NDAA was passed by the House on Thursday after weeks of negotiations between House and Senate members.